This ham and potato casserole recipe is cheesy, creamy, and super delicious! You can make this dish any time, from weeknight dinners to holidays feasts, or even for a hearty breakfast. Use up that leftover ham and you'll have the best potato casserole ready to serve!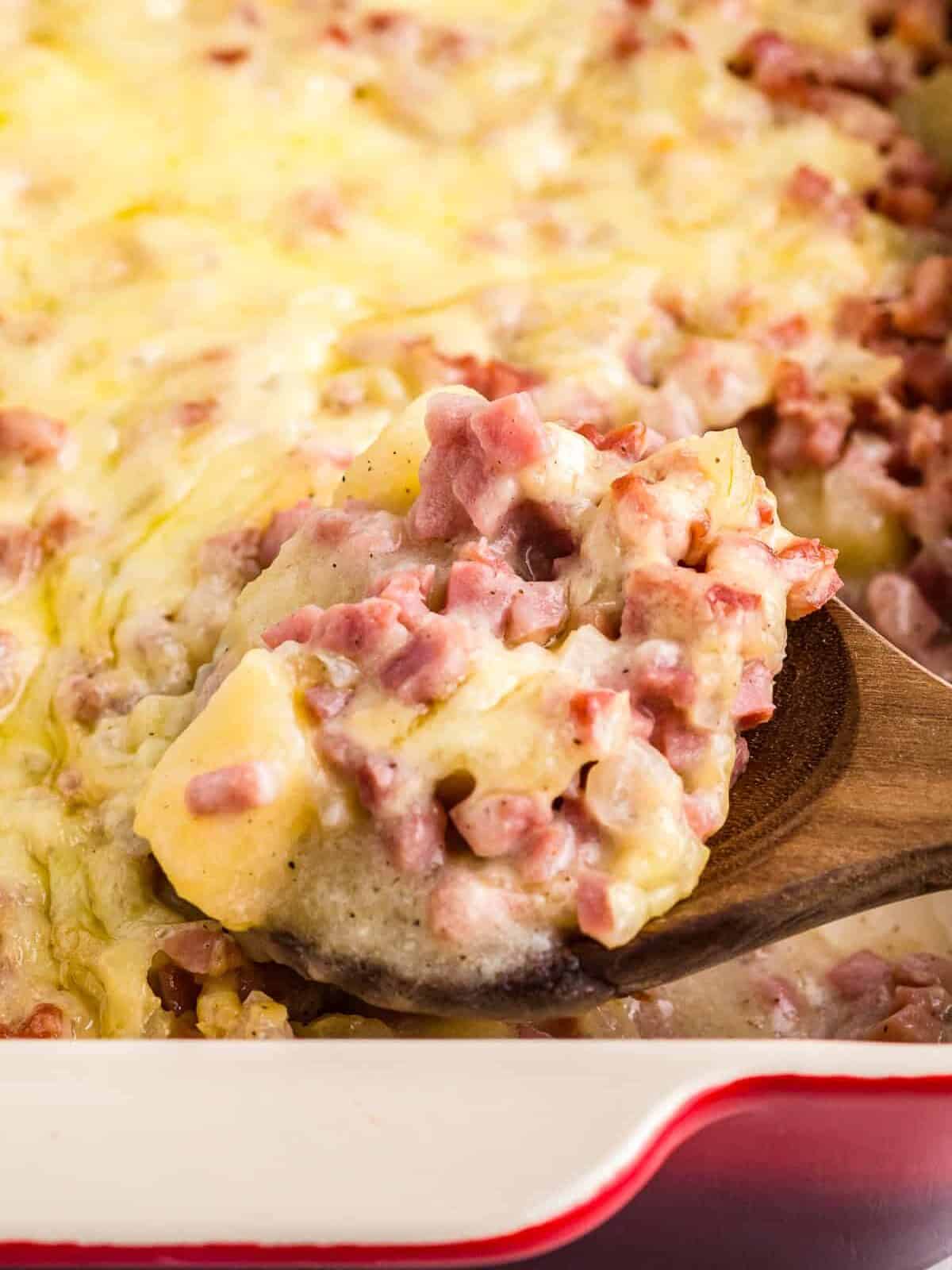 What's in this Cheesy Ham Potato Casserole?
Hearty potatoes and ham are combined with a creamy, flavorful sauce, and baked with plenty of cheese.
If you love ranch, try adding in this ranch seasoning mix!
What else can I add to this casserole?
Feel free to make simple ingredient swaps or add a few more things to this ham casserole recipe. Here are some easy ideas.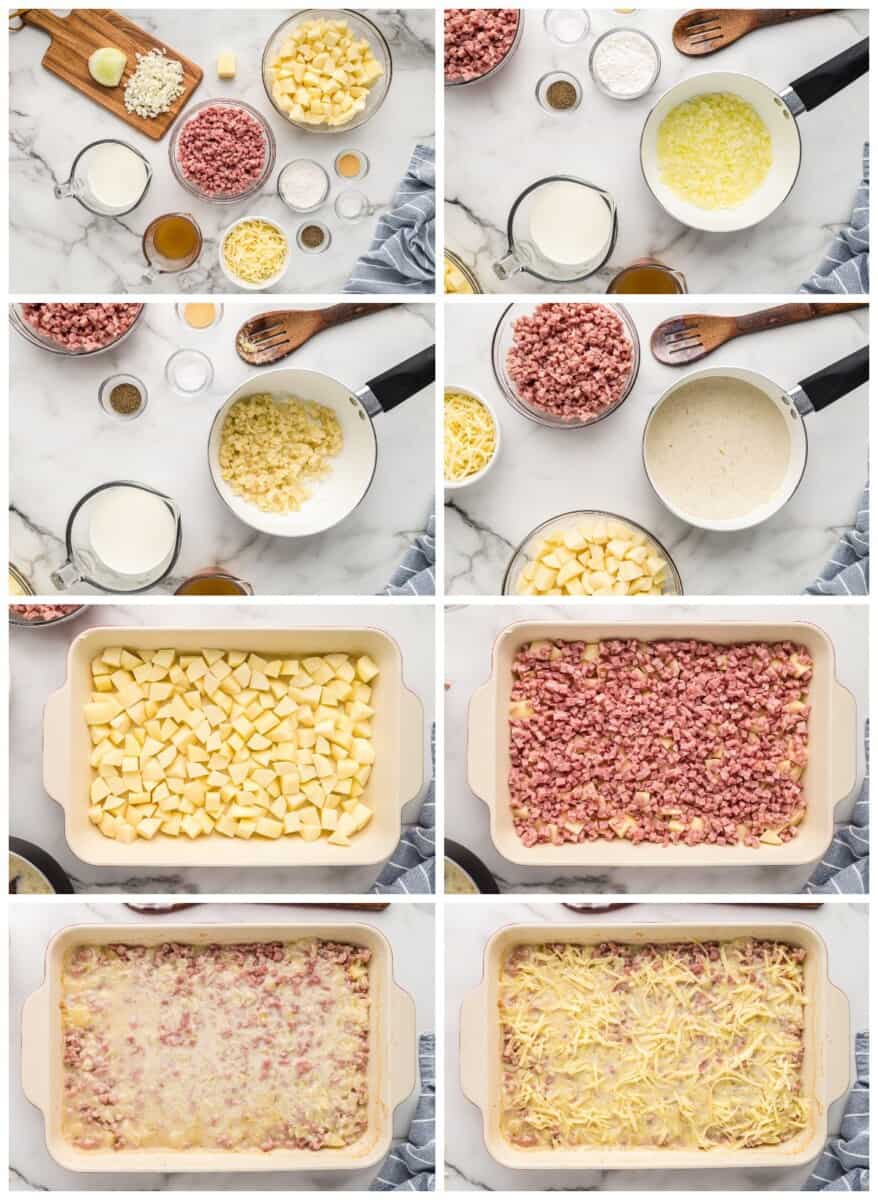 What ham is best for this casserole?
Make sure you are using cooked ham in this recipe. Use leftover ham, pre-cooked ham, or cook your own ham for this casserole. You can easily find cooked hams at the grocery store or deli.
Can I halve this casserole recipe?
This recipe serves about 8 people. You can halve the recipe if needed. I recommend also using a smaller baking dish if you do. Note: if this recipe is more than you need, you can eat half and freeze half for another meal.
Can I use turkey or chicken in this casserole instead?
You can substitute turkey or chicken in this recipe if you prefer. Just be sure whatever meat you use is fully cooked, and dice it up.
Do I need to parboil the potatoes before baking?
There's no need to par-boil the potatoes, as they'll cook through fully in the oven.
How long do you bake ham and potato casserole?
This casserole will take around 50-60 minutes total to cook at 400F.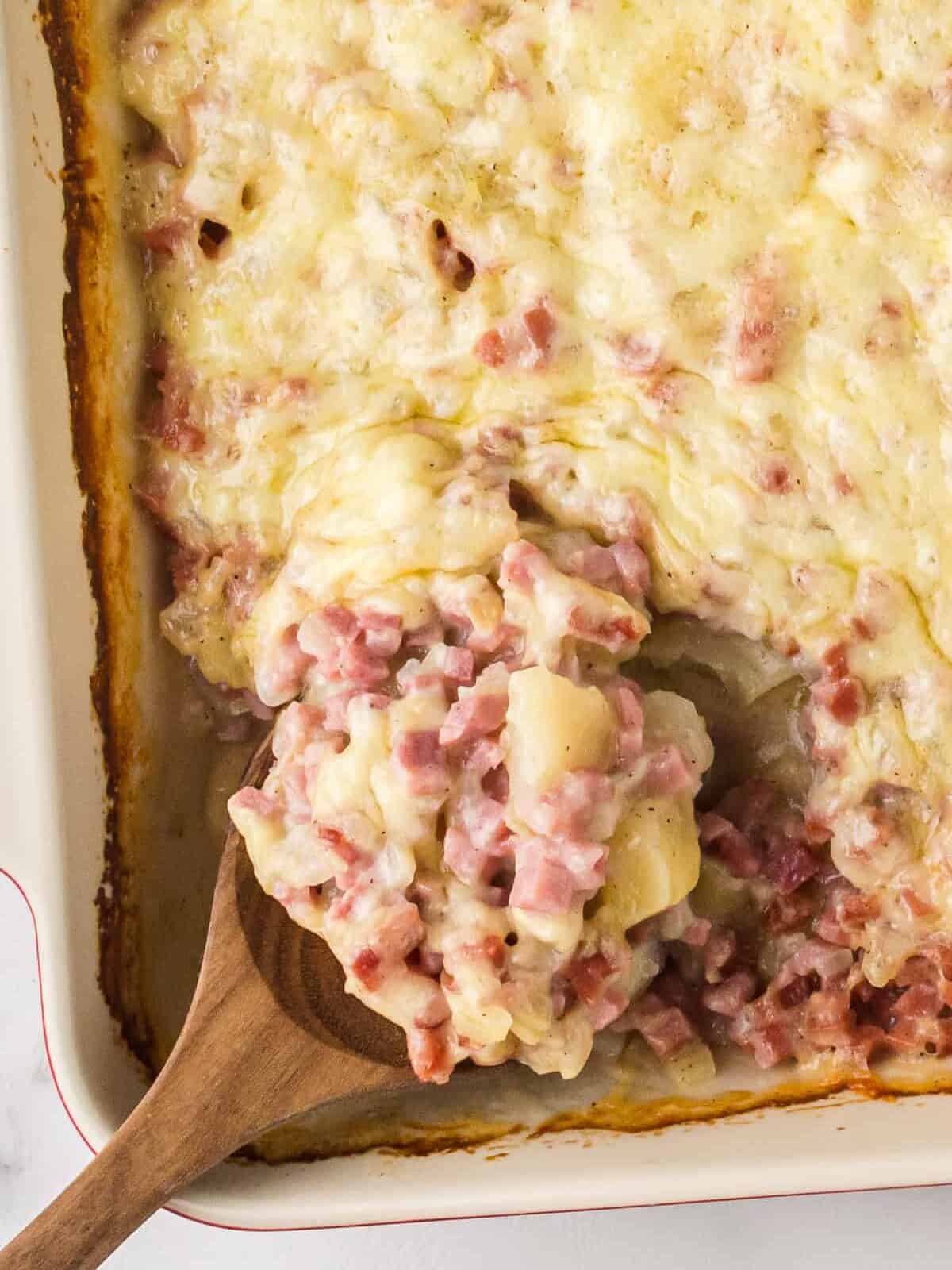 How to Store and Reheat Cheesy Ham Casserole
Store leftover ham and potato casserole in an airtight container, or cover the casserole dish with plastic wrap. Keep in the refrigerator up to 4 days.
To reheat any leftovers, place an individual portion in a microwave-safe dish. Heat on 50% power for 1-2 minutes at a time until heated through. Stir well at least once during heating.
To reheat a larger portion, warm the casserole in the oven at 350°F for about 20 minutes or until warmed through.
How to Freeze Leftover Ham Casserole
Let the casserole cool to room temperature, then cover the dish tightly with plastic wrap and/or aluminum foil. You can also scoop it into a freezer-safe bag. Freeze up to 3 months, then thaw in the fridge before reheating.
What to Serve with Ham and Potato Casserole
This dish can be served as a simple dinner, a side dish, or even for breakfast or brunch. It's truly one of the most versatile recipes.
If you make this recipe be sure to upload a photo in the comment section below or leave a rating. Enjoy! You can also jump to recipe.