For me it doesn't get better than CHERRY LIMEADE MARGARITAS! Tart, tangy, and DELICIOUS! Such a fun recipe for happy hour with friends!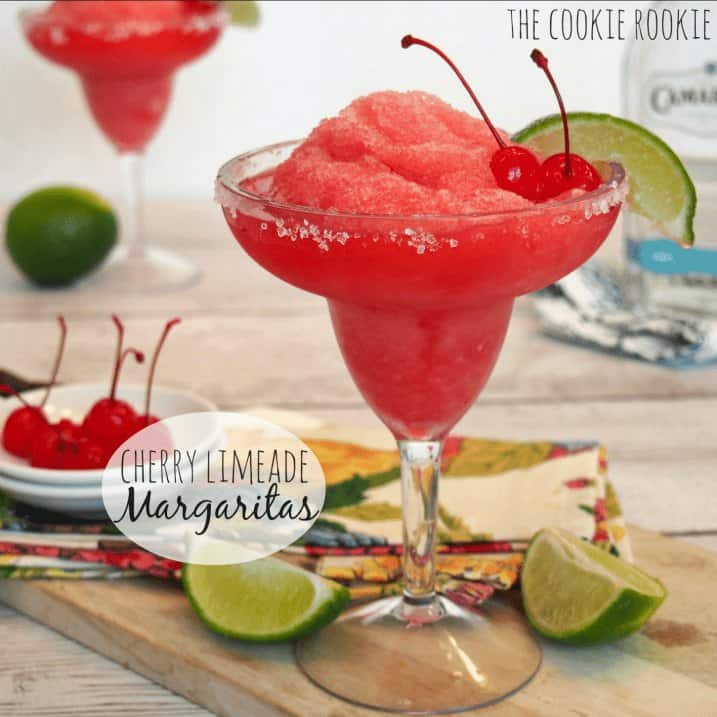 I have made a lot of drinks on my blog, but these Cherry Limeade Margaritas are one of the tastiest and easiest. This will definitely be my cocktail of choice for Cinco De Mayo! These are tart and sweet at the same time, something to cherish. Sipping on this deliciousness seems to be the perfect way to welcome in the summer months!! If you're still looking for the perfect Margarita to celebrate with next weekend, this is just the ticket!
As a kid, my very favorite drink in the WORLD was a cherry limeade from Sonic. Are there Sonics everywhere?? Or just in the midwest? If they're just in the midwest…ya'll are missing out! When I order a cherry limeade now, they just taste like summer. So refreshing and good. Want to take them up a notch? How 'bout a Cherry Limeade Margarita! Yes please :)
One of the best things about this drink is how easy and quick it is to prepare. You can't go wrong with a cocktail needing only three ingredients!! All you need Limeade Concentrate, Tart Cherry Juice, and Tequila!! Sounds like the perfect summer drink to me! Summer cocktails should not be complicated. Summer cocktails should be as easy as possible.
I cannot wait until summer rolls in and frozen drinks outside by the pool are a reality!! This will be the first drink I make for people. A taste of summer, one sip at a time. I have a batch ready and waiting for when my husband gets home…now we just need hot weather and a pool. Missouri weather doesn't want to cooperate. (they're still good even without the hot weather and the pool)
The Guide to making Ultimate Margaritas Every Time
We have compiled all of our fave Margarita Recipes in a guide! Be sure to check it out for all our best tips, tricks, barware, variations, and more!
Enjoy :)