When summer rolls around every year, all I want to do is lay by the pool sipping on frozen margaritas. Imagine how good it feels to drink this Frozen Cherry Limeade Margarita to refresh and rehydrate from the hot sun!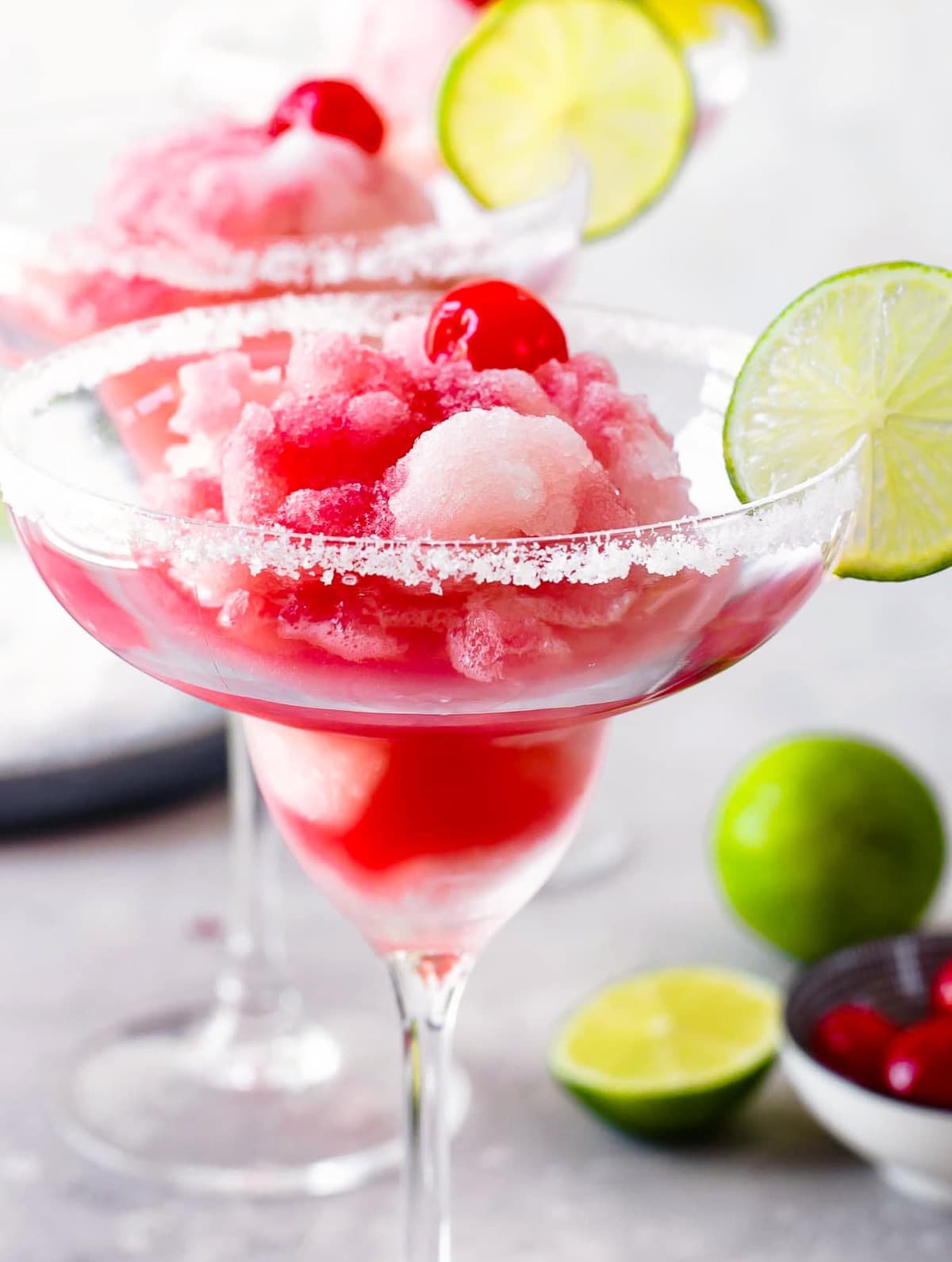 Frozen Cherry Limeade Margarita
I love Homemade Limeade for an alcohol-free way to cool off, but you can't beat this frozen concoction when it's just the adults by the pool.(Did you pick up on that Jimmy Buffett reference?)
As a kid, my very favorite drink in the world was a cherry limeade from Sonic. That flavor always reminds me of summertime, no matter what time of year it is.
I finally made my own Homemade Cherry Limeade recipe (there's a regular version and a cocktail version), but that just wasn't enough.
I had to take it up a notch and create this amazing Cherry Limeade Margarita recipe for the ultimate summer happy hour. And better yet, it's a FROZEN cherry limeade margarita, because icy drinks are a necessity on pool days.
I've made a lot of drinks (and specifically, a lot of margaritas) on my blog, but these are some of the tastiest and easiest. They're tart and sweet at the same time– a cherry-flavored drink to cherish.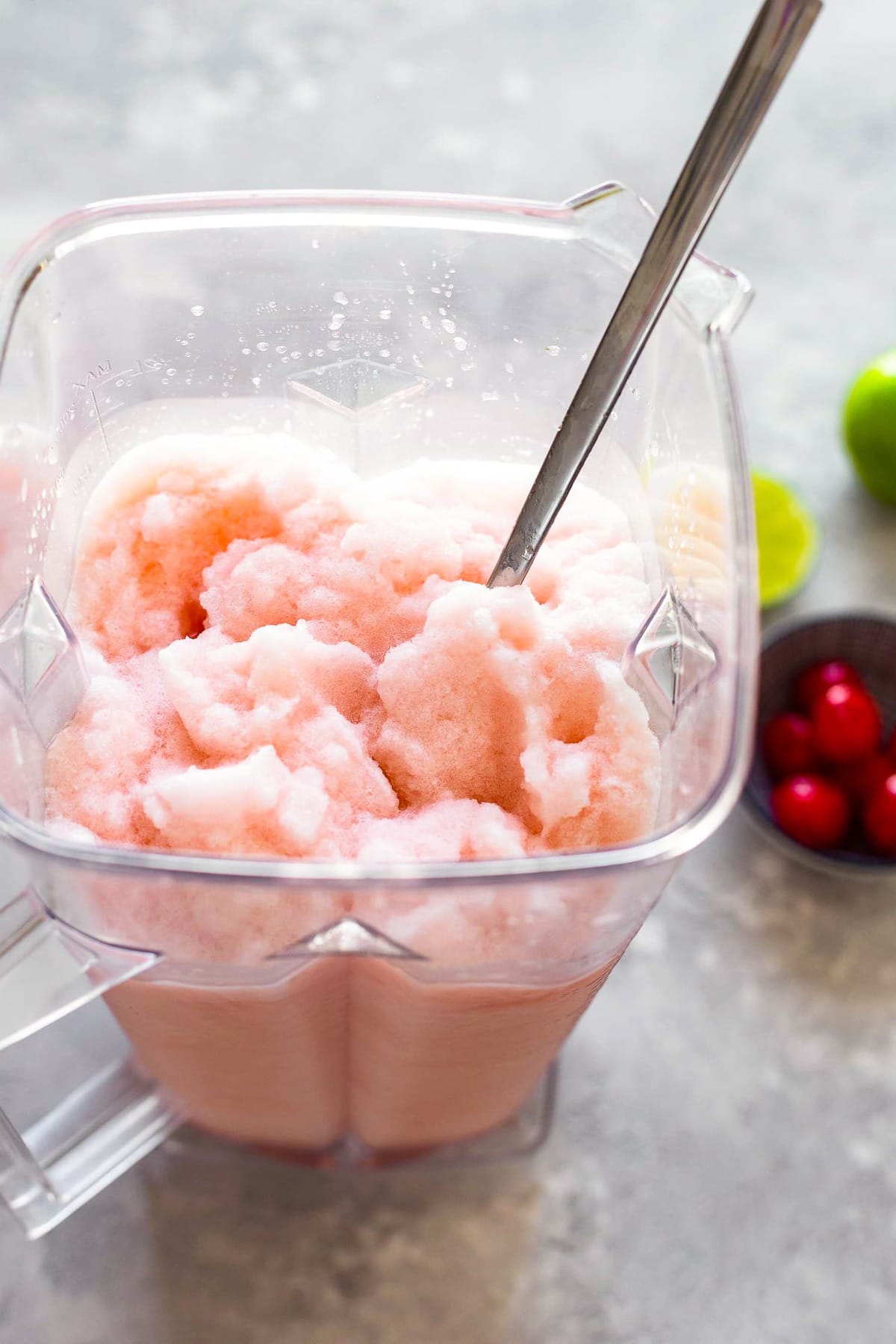 Why you'll love Cherry Limeade Margarita Recipe:
Summer heat recovery: After a hot day at the pool (or the beach!), nothing refreshes and rehydrates like a frosty cocktail!
Nostalgia: Cherry Limeade. 'Nuff said!
Quick and easy: You only need three ingredients; put everything in a blender, add ice water, and you're set!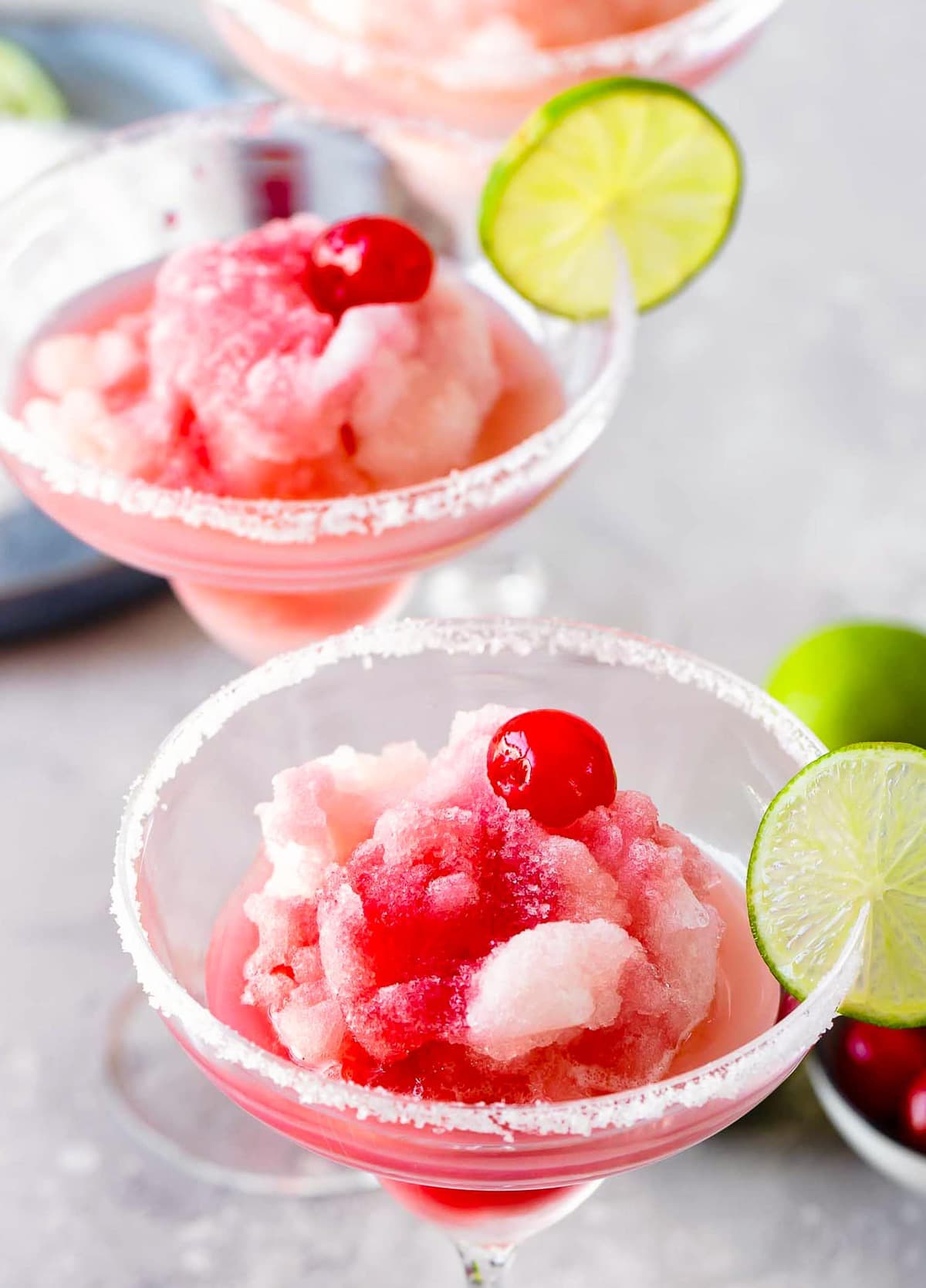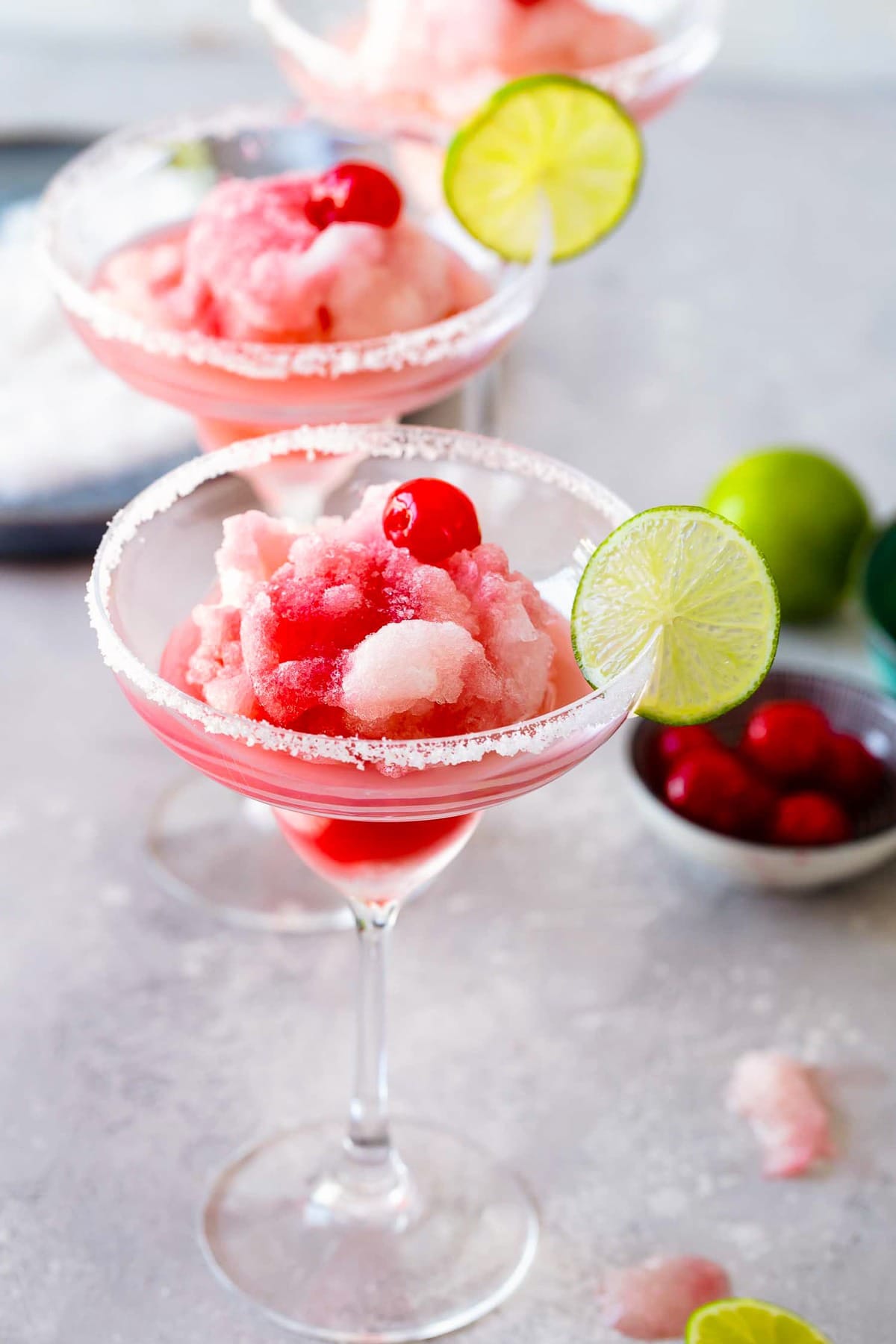 How to Make Frozen Cherry Limeade Margaritas
One of the best things about this Frozen Cherry Limeade Margarita recipe is how easy and quick it is to make. You can't go wrong with a cocktail that only requires three ingredients! All you need is limeade concentrate, tart cherry juice, and tequila (plus lots of ice).
Pour the limeade concentrate, water, cherry juice, and tequila into a blender, then fill it up with ice.
Blend on high until the ice crushes and smooths out to the consistency you prefer.
Salt the rims of your glasses, pour the margaritas, and top off with cherries and lime slices.
You can jump to the recipe card for full ingredients & instructions!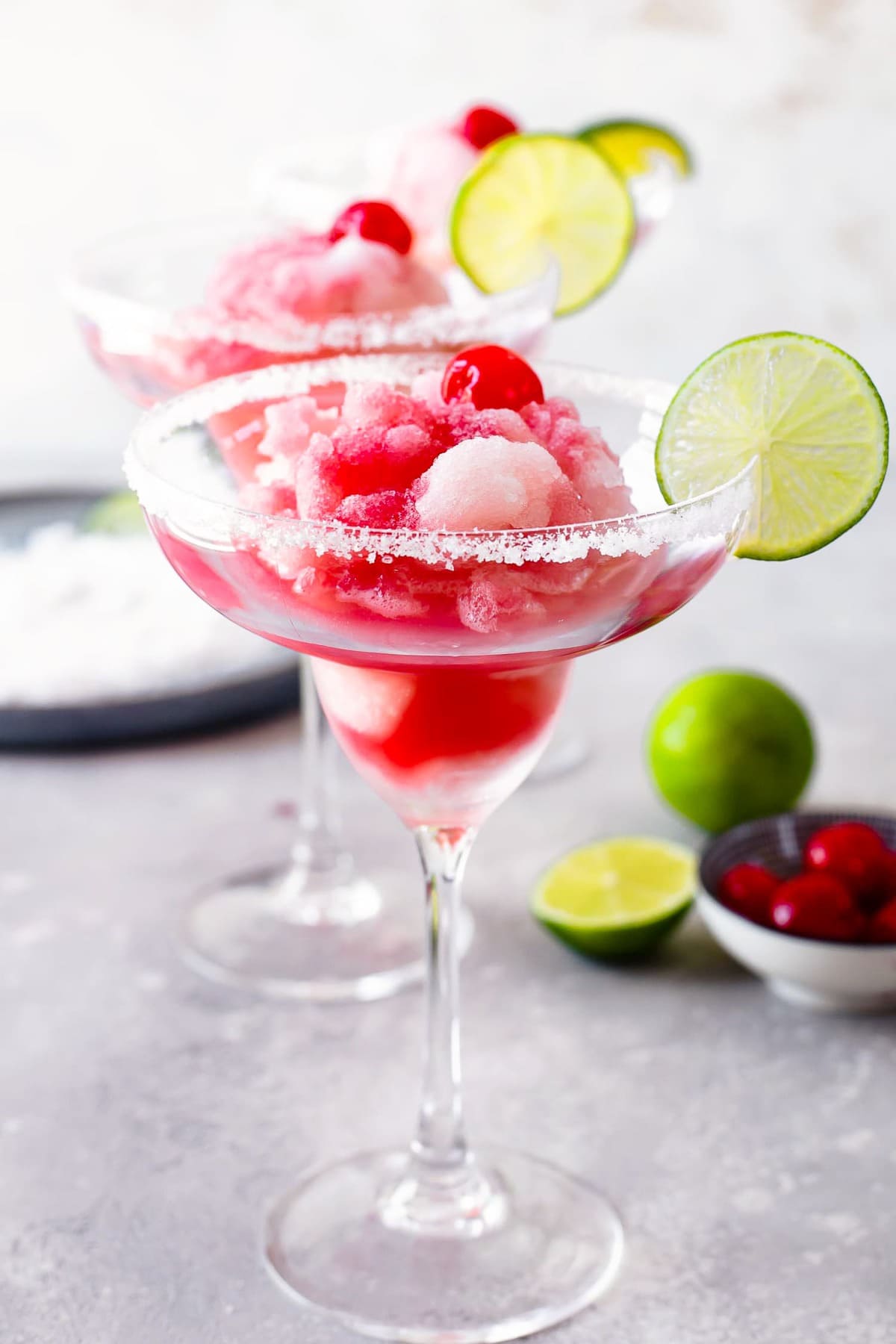 What's Tart Cherry Juice?
Tart cherries aren't what you see in the produce section of your local grocery store. Farmers used to call them sour cherries because they are, well, sour.
It turns out that tart cherries are something of a superfood with their antioxidant properties, so you could maybe even push the idea and call these margaritas a healthy tonic. Or not!
If you can't find tart cherry juice, you can use grenadine syrup instead.
What's the Best Consistency for a Frozen Margarita?
There are two schools of thoughts on frozen margaritas. Some folks like them with crunchy with chunks of ice mixed throughout, while others like them smooth and slushy. As long as you're the person running the blender, you can make the call!
Do You Have Any More Margarita Recipes?
Frozen Cherry Limeade Margaritas like the perfect summer drink to me! Summer cocktails should not be complicated. Luckily this one is as easy as can be! Be sure to watch the video for a quick tutorial.
As you may have noticed, I love, love, love margaritas. I even have an entire guide to the Best Margarita Recipes (favorites from myself and other bloggers). I'm not playing around when it comes to this delicious cocktail!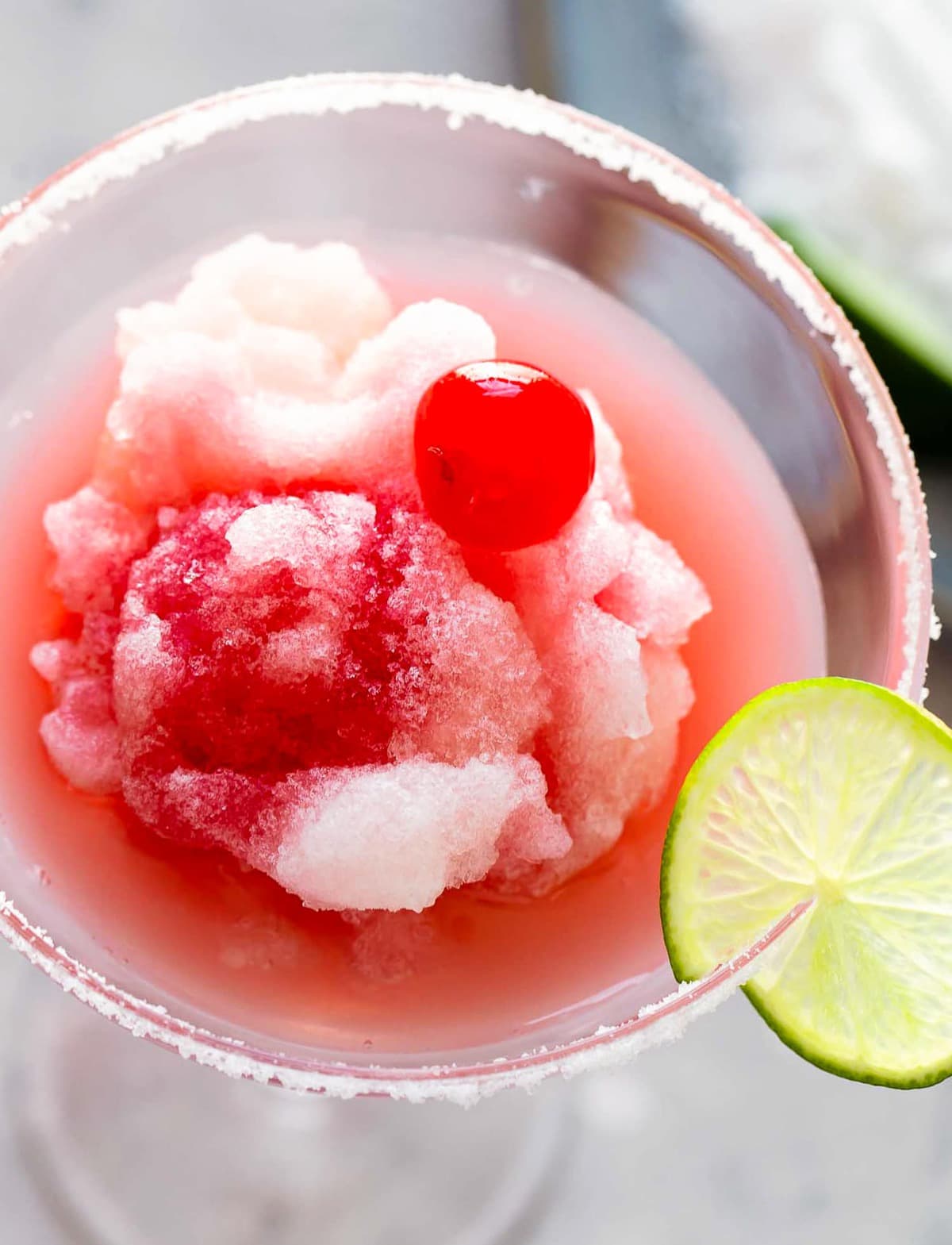 More Fun Summer Cocktails to Try
If you make this recipe be sure to upload a photo in the comment section below or leave a rating. Enjoy! You can also jump to recipe.