This Peach Frosé Recipe is a cocktail you definitely need for this hot Summer heat! All you need is frozen peaches, some Rosé wine, and a little honey. Frozen Rose is such a quick and easy fun cold drink to throw together for parties, friends and family, or just a quiet afternoon at home. We will show you how to make Frosé and spice things up with this Peach Frosé Recipe. So delicious, easy, fresh, and fun!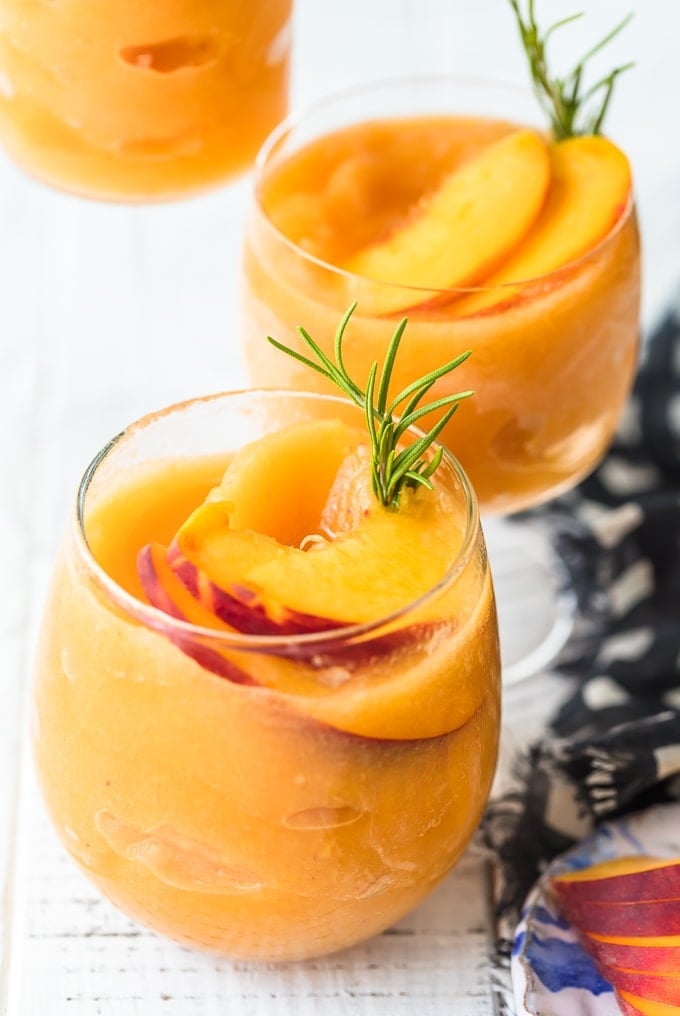 Peach Frosé Recipe
This Frosé recipe is the perfect summer cocktail to keep you cool. Frozen Rosé Wine Slushies are icy, chill, and delicious!
This Peach Frosé recipe is super chill and refreshing! I'm really into peach cocktails this summer, as you may have noticed. I've made Frozen Peach Margaritas and a Peach Lemonade Cocktail (a non-alcoholic version can also be made). Peaches are just so juicy, and they seem to be the fruit of the summer for me!
Frozen Rosé (aka Frosé) is basically a wine slushie. It's become pretty popular over the last few years, and I can see why. It's cold and icy, which is absolutely perfect for hot summer evenings. Wine in the form of a slushie…what's not to love?
Plus it's absolutely delicious, sweet, and refreshing. A lot of the recipes out there are just straight Rosé with ice, but I wanted to create a different flavor by using frozen peaches. Yum!
Now that I know how to make frosé, I'll be serving (and drinking) this Frozen Peach Rosé alllll summer long. It's ideal for an evening on the patio with friends, a summer bridal shower, or any summer occasion you can think of!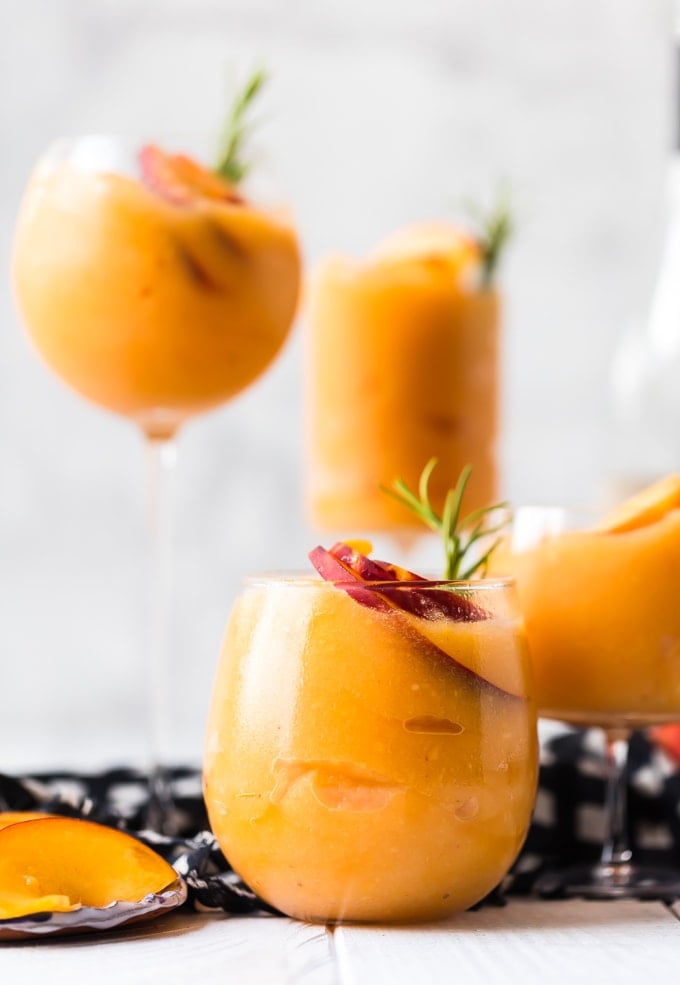 Frozen Rosé is the Perfect Summer Cocktail
There's nothing better on a hot summer evening than some fruity summer cocktails. A chilled glass of wine, a frozen margarita, a boozy lemonade, sweet tea sangria, this summertime wine slush…these are just a few of my favorite things to drink in the summer. But you can never have enough beverages to choose from, right?
This Frozen Rosé is the perfect addition to the line up! Frozen peaches blended with Rosé to create delicious wine slushies to sip on. It's so tasty and so easy to make. Peach Frosé for the win!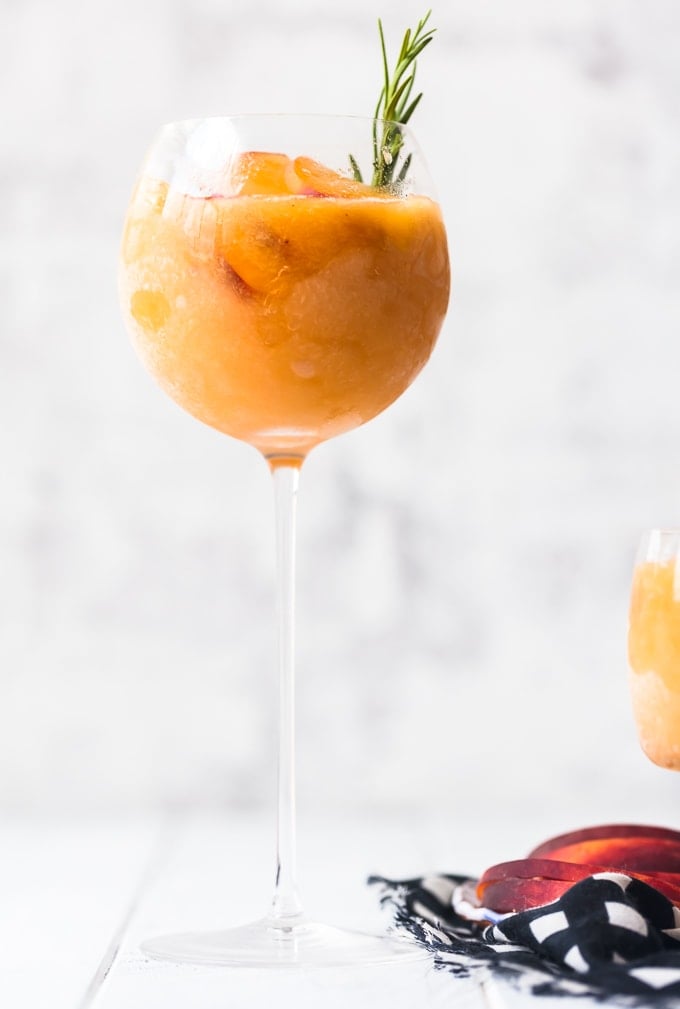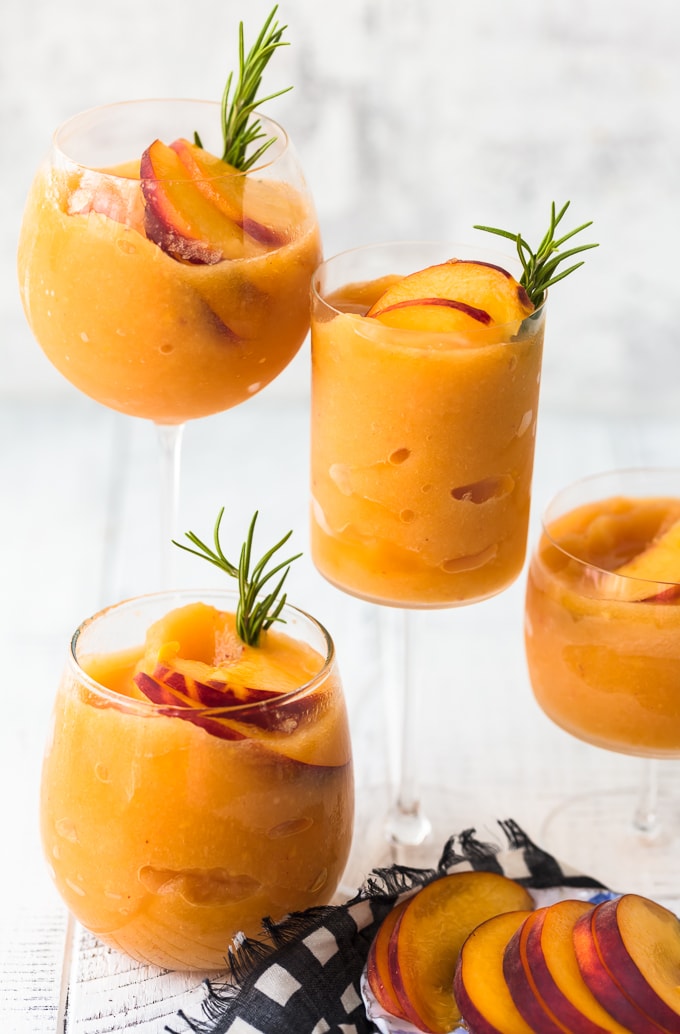 How to Make Frosé
Frozen Rosé might just be one of the easiest drinks to make. It's just a matter of blending wine with something frozen…yup, it's that simple!
A lot of frosé recipes just use ice to mix with the Rosé to keep its flavor, and it's really good. But I changed things up a bit for this Peach Frosé. Instead of ice, I just used frozen peaches. You get the iciness you need to make the drink AND the sweet peachy flavor.
Just add your ingredients (frozen peaches, rosé wine, and honey) into a blender and mix until it reaches your desired consistency. I like it nice and smooth so that it's really drinkable. If you want it a bit chunkier, add more ice into the mix and make an icy wine slushie.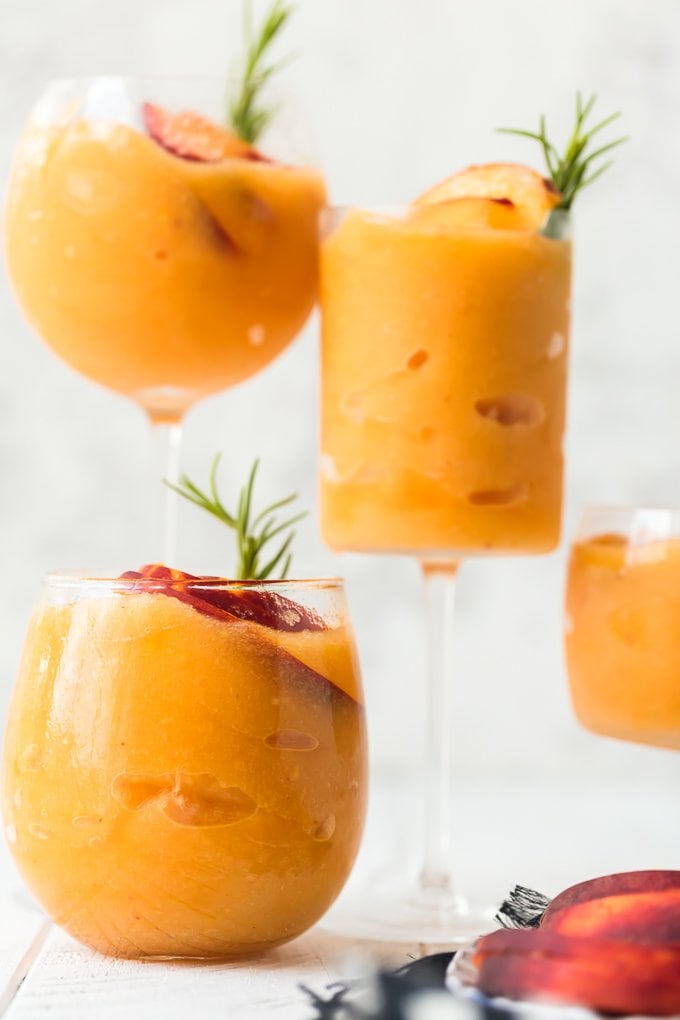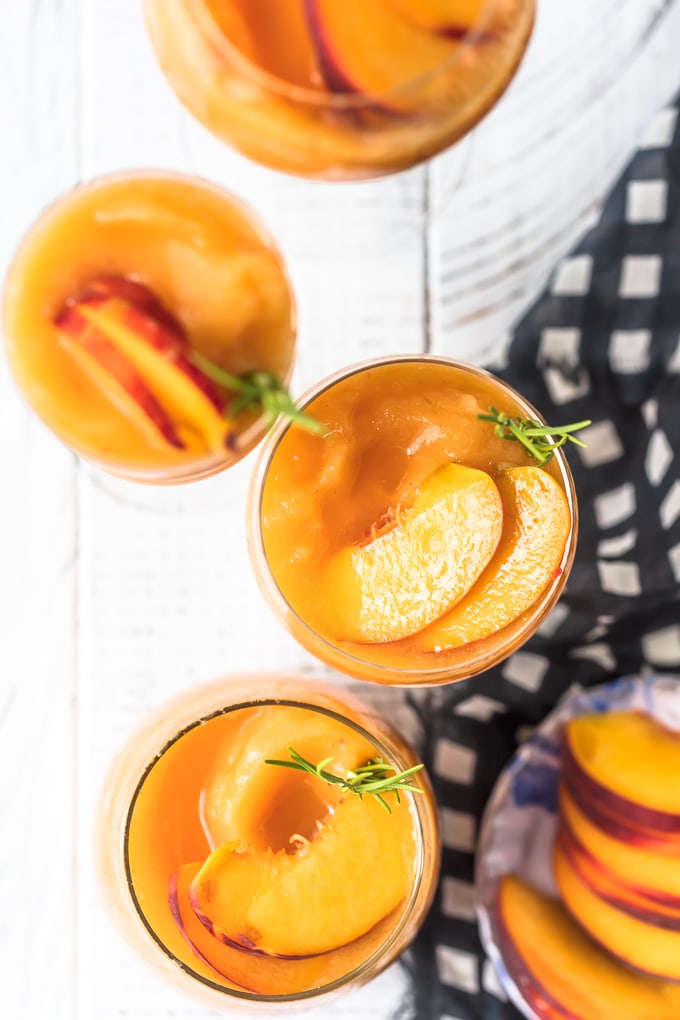 Peach Rosé Wine Slushies
These Frozen Peach Rosé Wine Slushies are absolutely delicious and so incredibly refreshing! I really can't get enough of the peachy flavor in this frosé recipe.
None of the flavors are too overwhelming…it all blends together perfectly into a tasty summer cocktail. Whether you keep it smooth or make it a bit more slushie-like, it tastes just as good!
After making a Raspberry Rosé Granita recently, I'm thinking this Peach Frosé recipe could easily be turned into an icy dessert to serve up by the spoonful. You really can't go wrong with fruit, wine, and ice…it all comes out so refreshing, no matter how you serve it!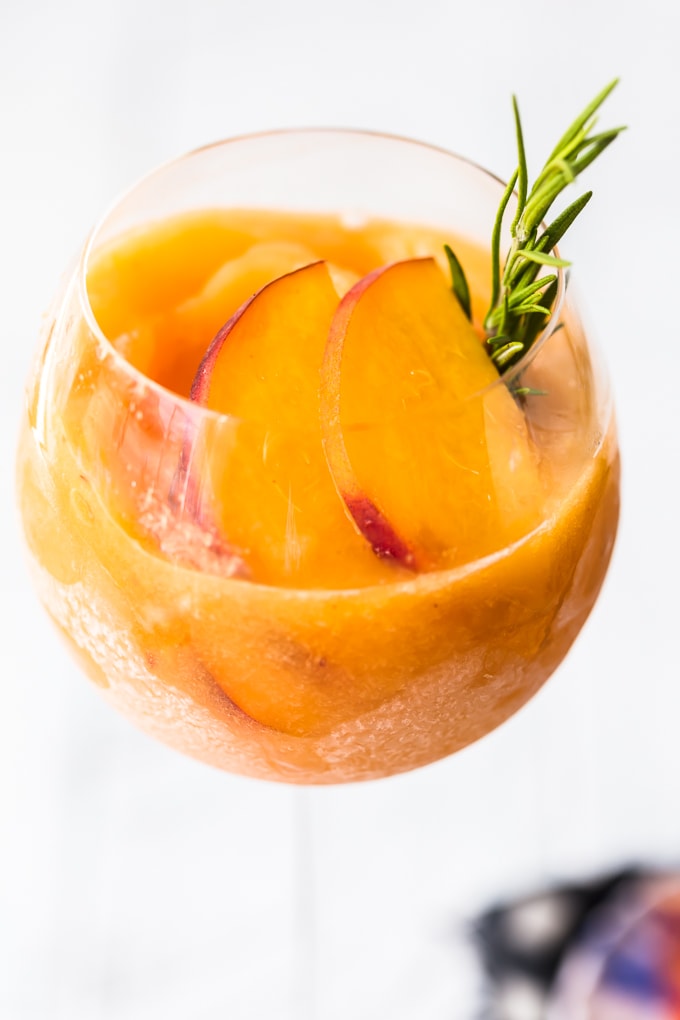 I'm so happy about this tasty Peach Frosé Recipe. The perfect summer drink made up of Rosé wine, frozen peaches, and a bit of honey. Serve it up for a summer party or simple evening at home. Either way, it's incredibly delicious and refreshing!
If you like this recipe, try these other fun cocktail recipes too:
If you make this recipe be sure to upload a photo in the comment section below or leave a rating. Enjoy! You can also jump to recipe.