Mexican Stuffed Shells make for a and hearty weeknight meal! This cheesy pasta casserole is packed with taco seasoned ground beef and topped with a fiesta of Mexican flavors!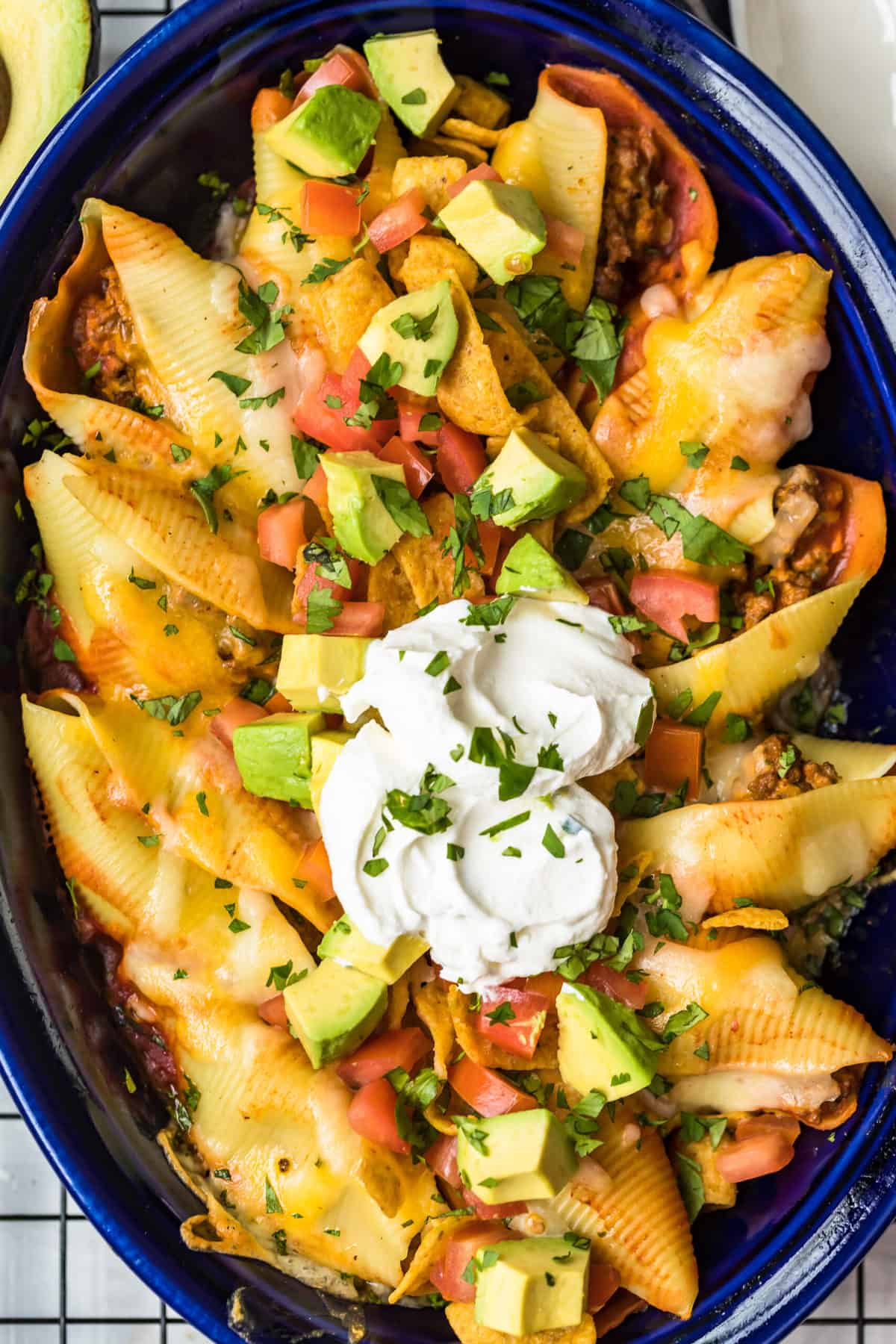 This recipe for Mexican Stuffed Shells is jumbo pasta shells loaded with taco meat, then slathered with cheese and baked for perfection. It's a Mexican twist on classic stuffed shells, a hearty dinner you can top with all your favorite goodies, like sour cream, corn chips and your favorite taco sauce. It's a hands down crowd pleaser!
If you like this recipe, be sure to try these Italian Stuffed Shells or our Crockpot Stuffed Shells Recipe.
Why this is so good
Full of Mexican Flavors! Taco seasoned beef, topped in taco sauce and sour cream, with a bunch of delicious toppings.
A Great Make Ahead Meal: You can prep this ahead of time and freeze, perfect recipe for meal prep.
Perfect for a Crowd: This will please even the hungriest of bellies – a scrumptious pasta casserole!
Ingredients
Pasta: Jumbo pasta shells, so you can stuff in a good amount of beef.
Vegetable Oil: Or you can use canola.
Veggies: Onion and jalapenos.
Ground Beef: Lean ground beef works great as it isn't too greasy.
Cream Cheese
Kosher Salt and Freshly Ground Pepper
Taco Seasoning: Or chili seasoning.
Taco Sauce
Cilantro: Fresh is best.
Cheese: You can use a Mexican cheese blend or Colby Jack.
Corn Chips: I like Fritos.
Garnishes: Like sour cream and green onions.
How to make these Mexican Stuffed Shells
Be sure to scroll to the bottom for the full recipe
Cook the pasta al dente and set aside. Then, in a large skillet, cook onions and jalapenos until fragrant and set aside.
Then cook the ground beef in the skillet until brown and stir in the seasoning, cream cheese, shredded cheese and taco sauce. Stir well.
Stuff the jumbo shells with the Mexican filling and place in a casserole dish, then pour in taco sauce.
Bake the casserole for 20 mins, then top with crushed chips and cheese. Bake for another 15 mins.
Garnish, serve and Enjoy!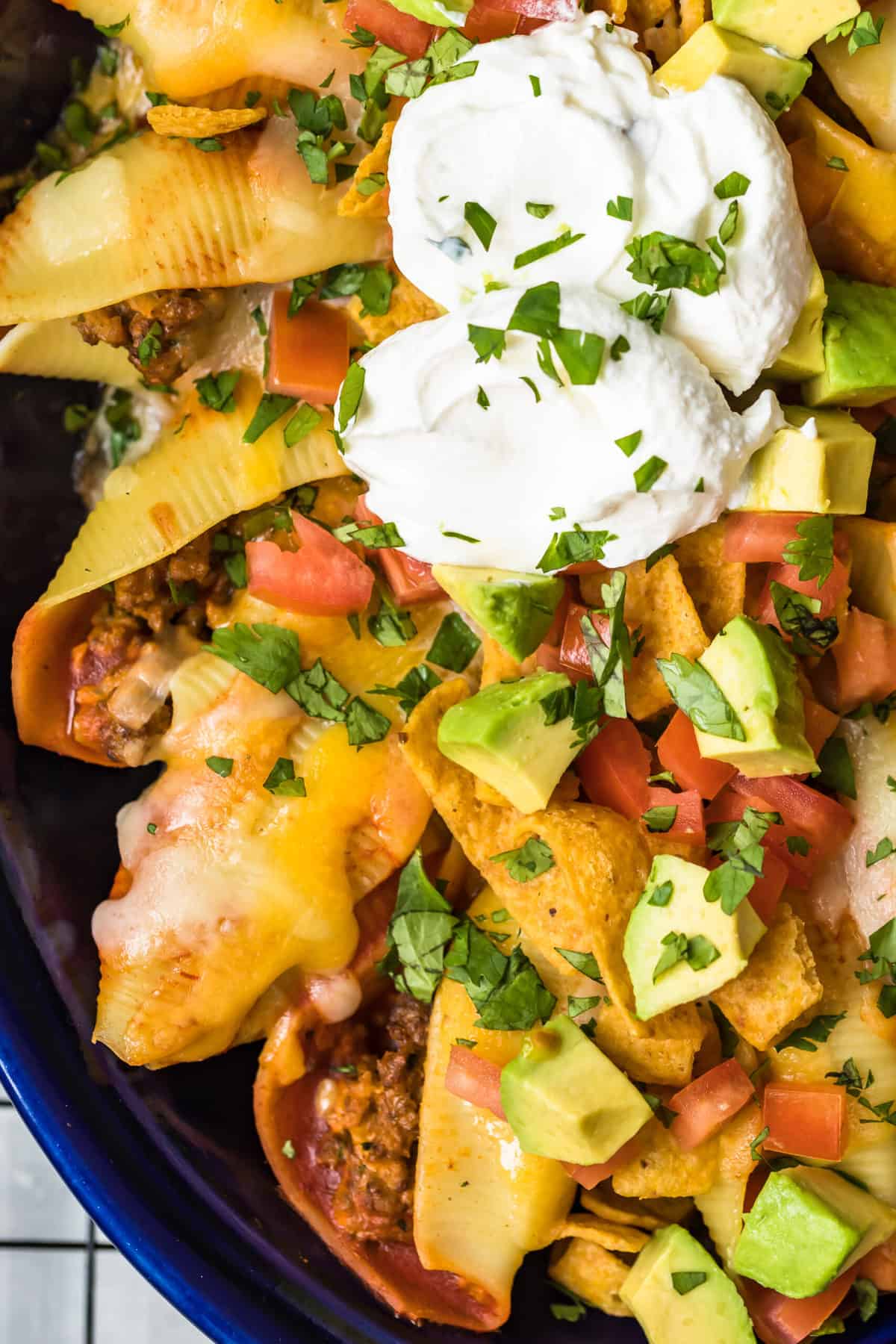 An easy weeknight meal
These Mexican Stuffed Shells are the perfect easy dinner that will satisfy everyone in your house! The meal makes a hearty serving for 6 people and is ready in about an hour, it's great for any day of the week!
Toppings for these Stuffed Shells
These taco stuffed shells taste so good with traditional taco toppings, they're delicious topped with:
Shredded lettuce
Diced tomatoes
Olives
Sour cream
Cilantro
Avocado
Sliced green onion
Crushed tortilla chips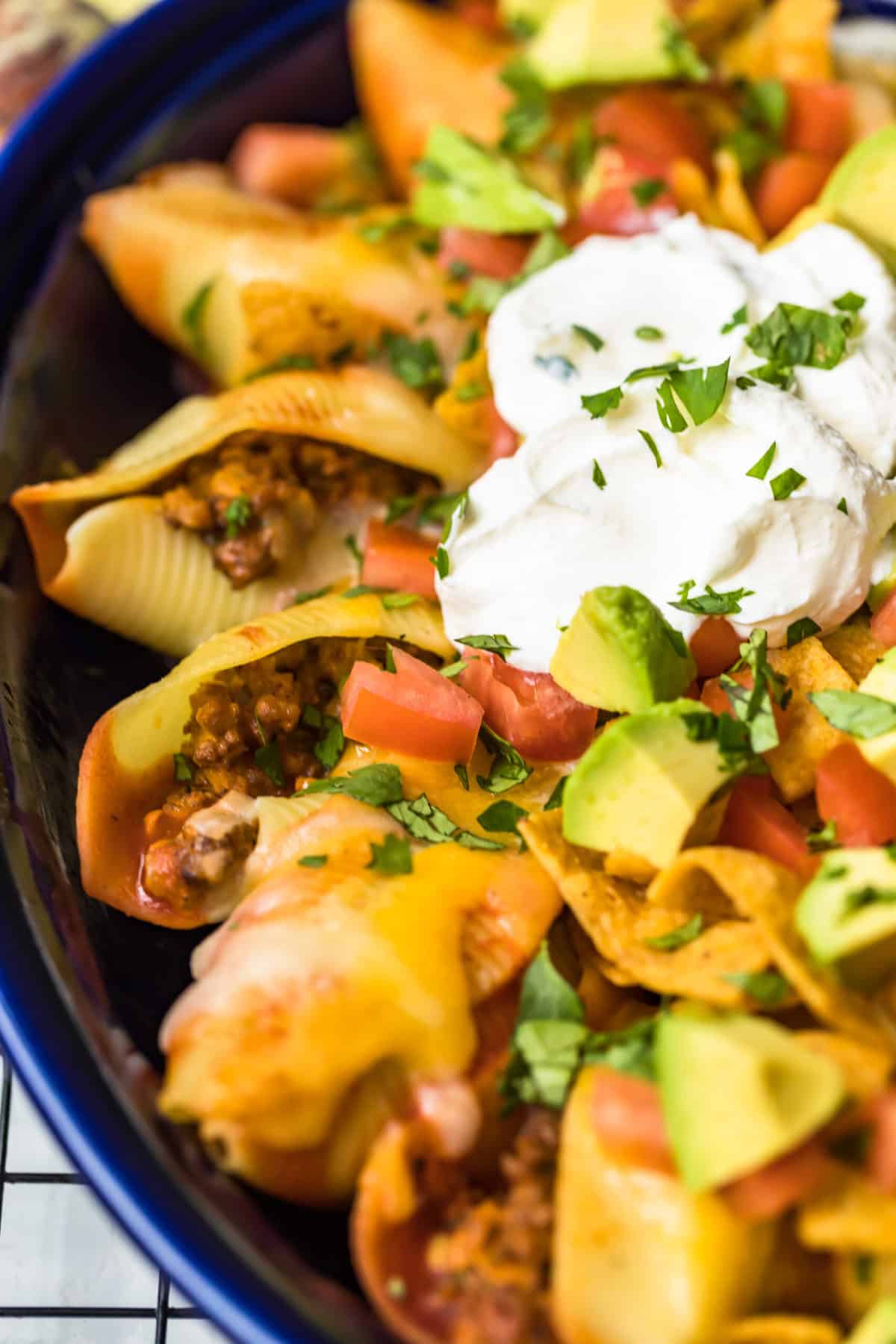 Can you freeze Mexican Stuffed Shells?
These shells are a great freezer meal. Perfect for a make ahead feast. You can make a double batch and freeze one of the pans (as long as freezer safe), then you'll you have a delicious meal for later that is already ready to go!
If you freeze a pan of these shells, make sure to cover the pan tightly with foil. Using a disposable aluminum pan is a good idea, so no problem with the dish cracking.
When you are ready to eat just bake the shells directly from the freezer at 350 degrees for about 45 minutes with the foil on top, then remove it for an additional 15 minutes of baking until the shells are hot throughout.
Top Tips
You can use ground turkey or chicken instead of beef if you prefer. Whatever the case, go for lean as it's less greasy.
I used taco sauce. You can also use enchilada sauce or a spicy salsa for a different flavor take.
These shells can be assembled up to 8 hours before you plan to bake them. Simply cover the pan and store in the refrigerator until you're ready to heat them up. You will have to increase the bake time accordingly.
You can use your favorite kind of cheese for these stuffed shells. For more spice you can use a habanero cheese blend.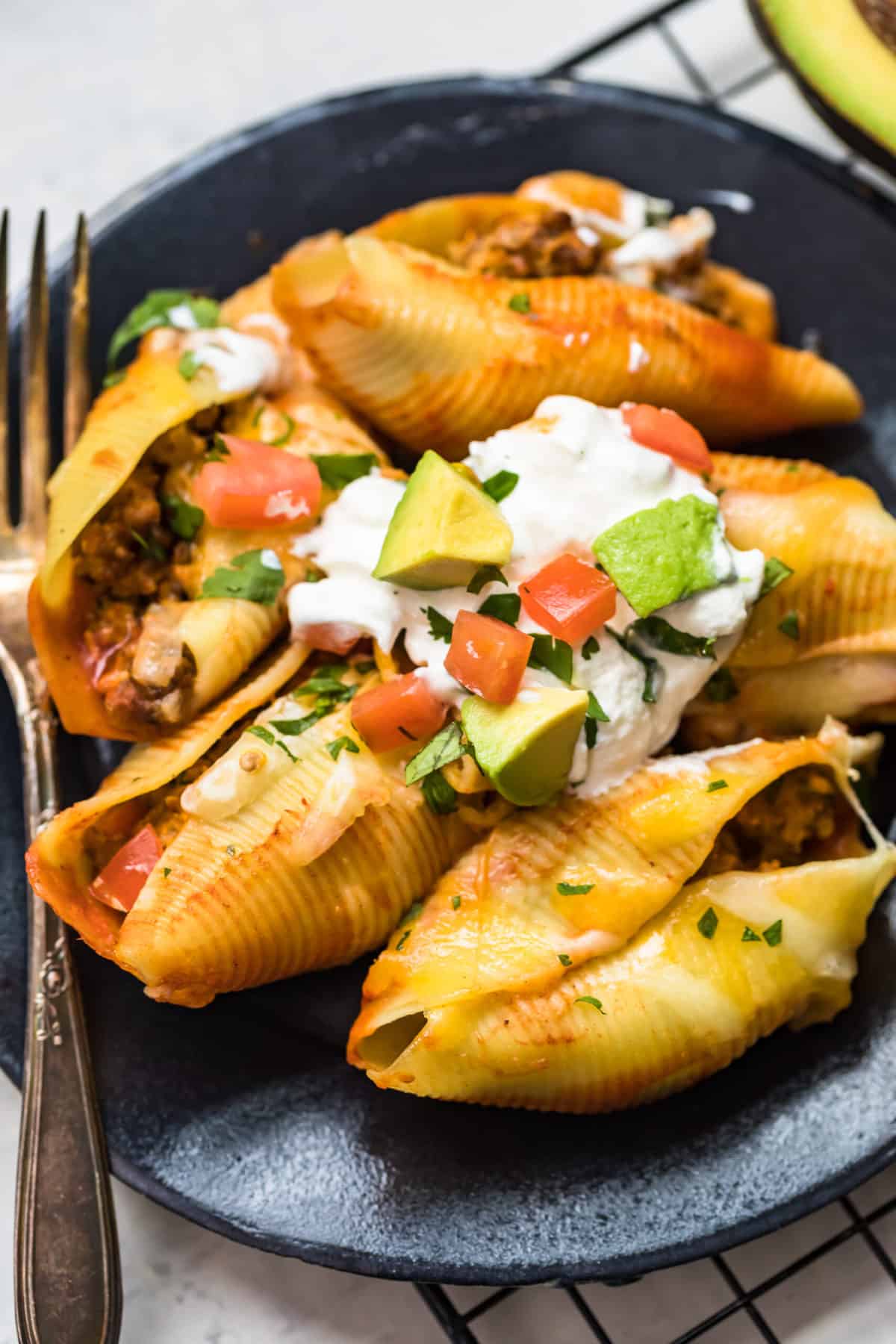 Other Mexican inspired recipes
Have you tried this Mexican Stuffed Shells recipe? Feel free to leave a star rating and I'd love to hear from you in the comments below!