Chicken Fried Steak with Gravy is a southern comfort dish that always hits the spot! Flavorful, crispy fried steaks are served with the most decadent creamy gravy. The best part? It's ready to serve in just 30 minutes!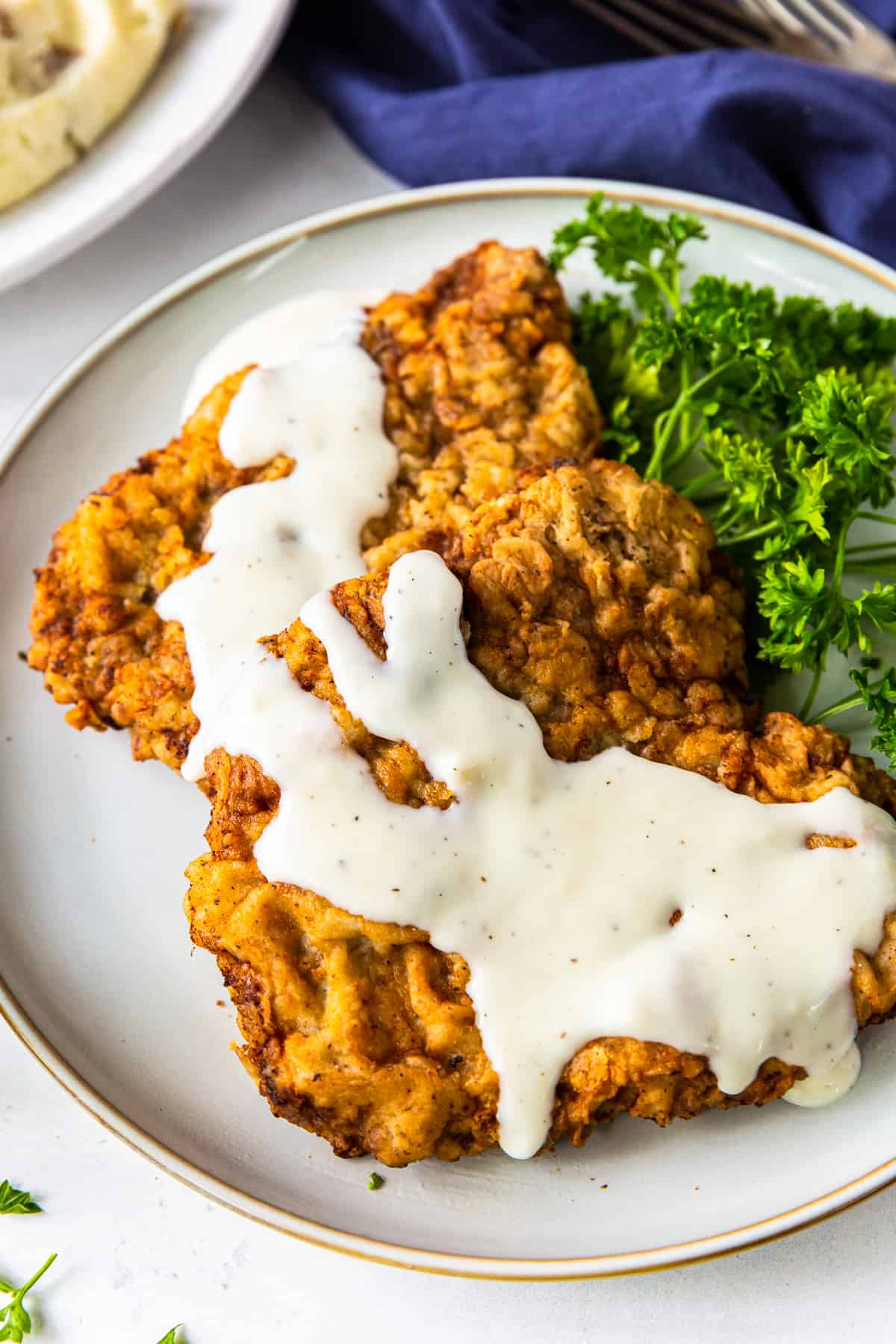 What's in Chicken Fried Steak with Gravy
You might just have all of these simple ingredients already on hand!
Cube Steaks: This is the most common steak for chicken fried steak because of how well it's tenderized and flattened.
Milk: Whole milk works best.
Egg: I like to use free range organic eggs when possible.
All-Purpose Flour: You can swap this with gluten-free flour if needed.
Seasoning Salt: This adds great but subtle flavor to the steak.
Black Pepper: Freshly ground black pepper creates the most noticeable flavor.
Oil: You'll need vegetable oil for frying.
Butter: You can use reserved oil from cooking the steaks instead if preferred.
PRO TIP: If you can't get cube steak, be sure to use a meat tenderizer to flatten your steaks so that the cook evenly and are nice and tender.
Is chicken fried steak made with beef?
Yes! This classic southern recipe features cube steak that's pounded, breaded, deep fried and served with thick gravy. It gets its name because it's prepared in a similar way to fried chicken.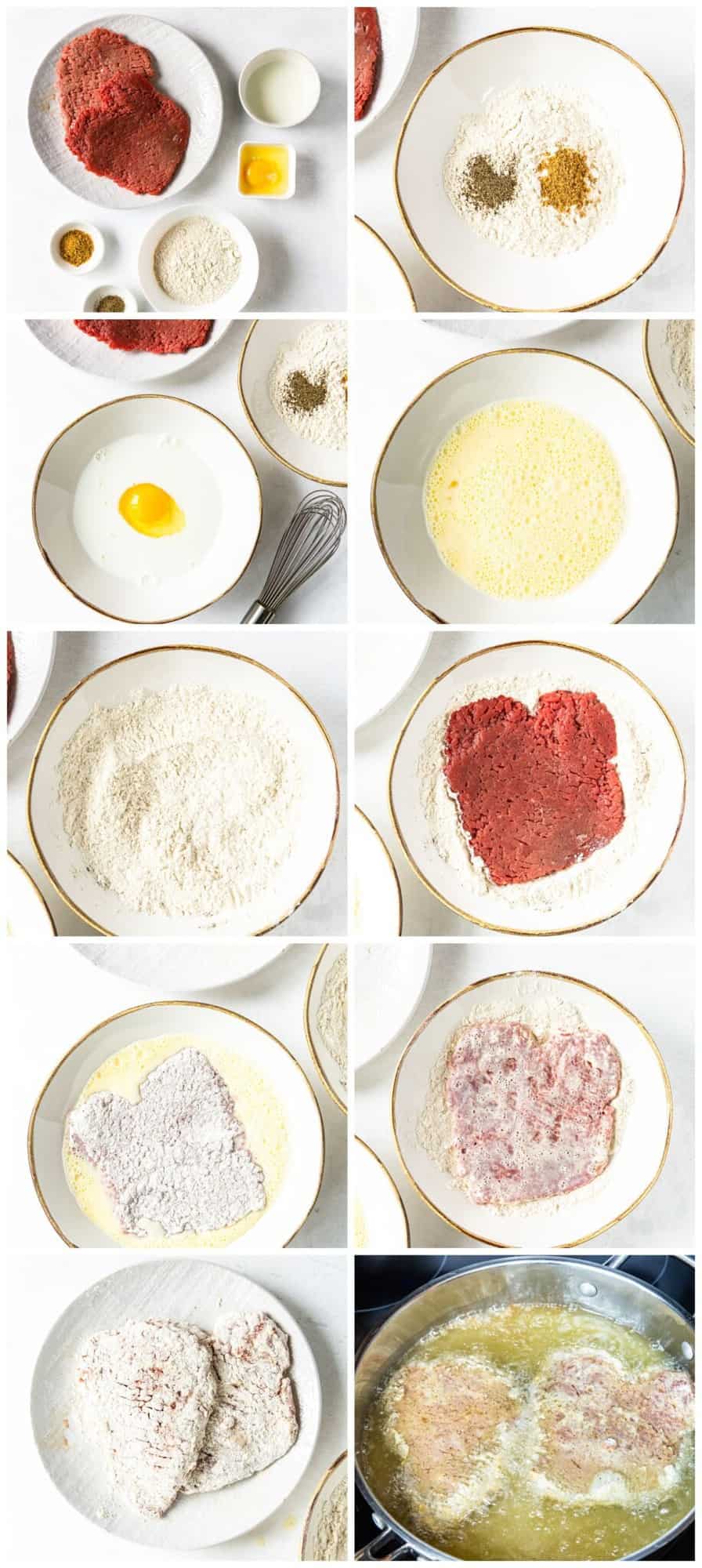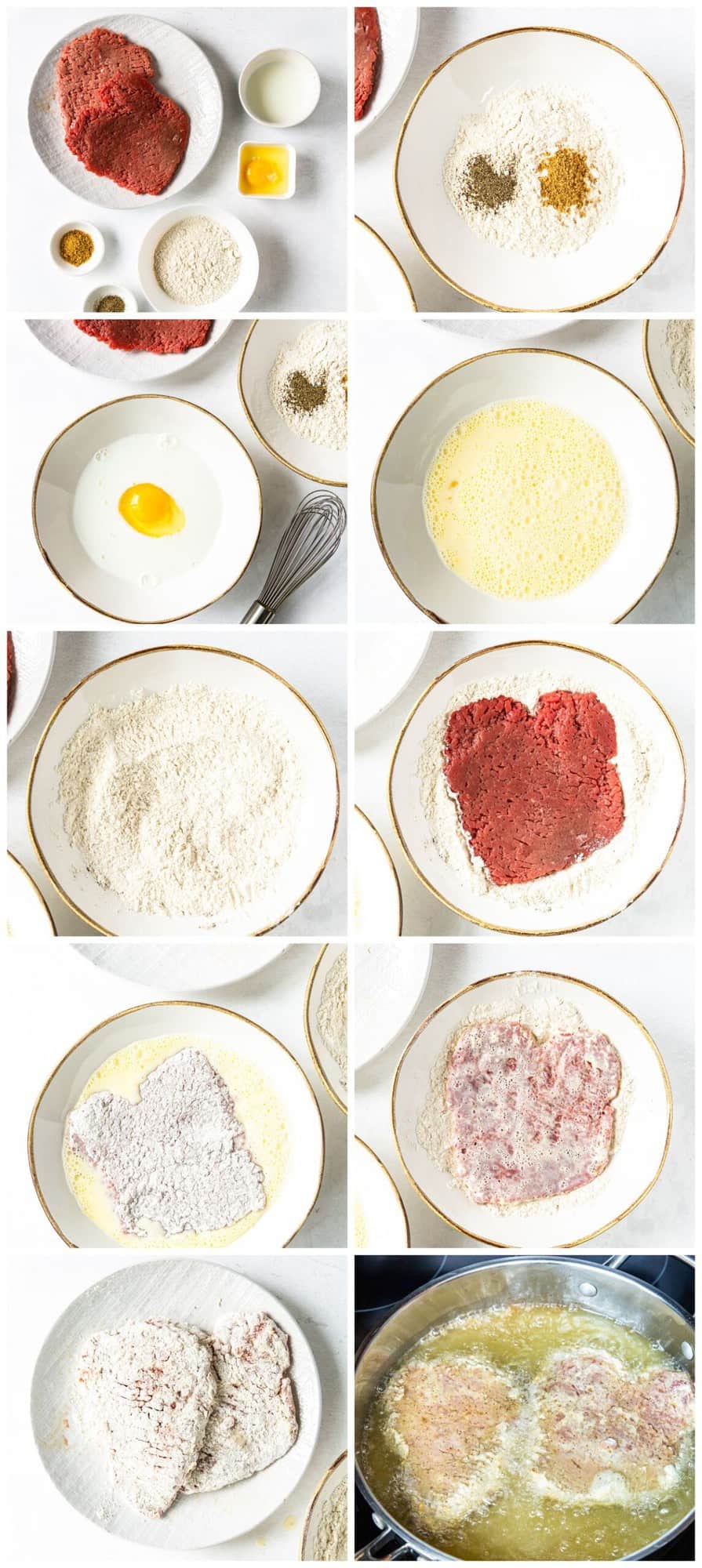 What's the best steak to use for chicken fried steak?
Cube steak is perfect for this recipe. It's an inexpensive cut that has been pre-tenderized so it's super flavorful. It looks a bit like ground beef in the store, but it's definitely not.
If you can't find cube steak, you can use flank or skirt and use a meat mallet to pound it down.
Can you make it ahead of time?
This chicken fried steak is best served as soon as it's made so that the coating is nice and crispy. You can dredge the steak a few hours ahead of time and keep it covered in the fridge til you are ready to cook. The gravy can be made a couple of days ahead and reheated on the stovetop to serve.
Is there a difference between chicken fried steak and country fried steak?
Typically, the only difference is the gravy! Chicken fried steak is slathered in white gravy while country fried steak usually has brown gravy.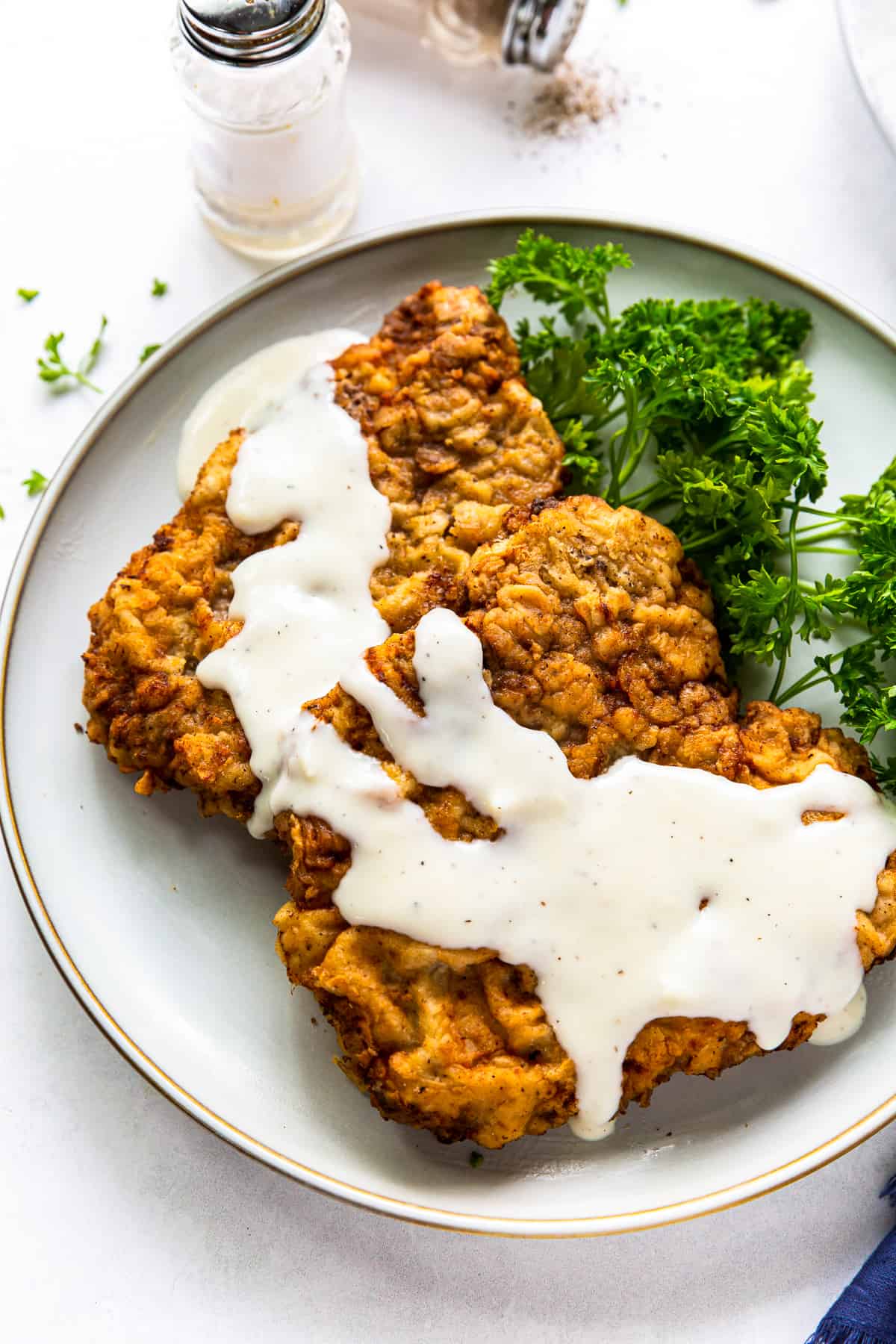 How to Store/Reheat
Once cooled to room temperature, you can store your leftovers in an airtight container in the fridge for up to 2 days. Keep in mind that once the gravy is slathered on the fried steak, it's best served fresh! Reheat leftovers in the microwave in 30 second intervals until warmed through.
How to Freeze
Freeze chicken fried steak without the gravy for up to 3 months in an airtight freezer safe container. I recommend letting it slowly thaw in the fridge prior to reheating.
Serving Suggestions
This Southern dish is traditionally served with a side of mashed potatoes, and of course the gravy, but any potato or veggie side will work well. Try it with: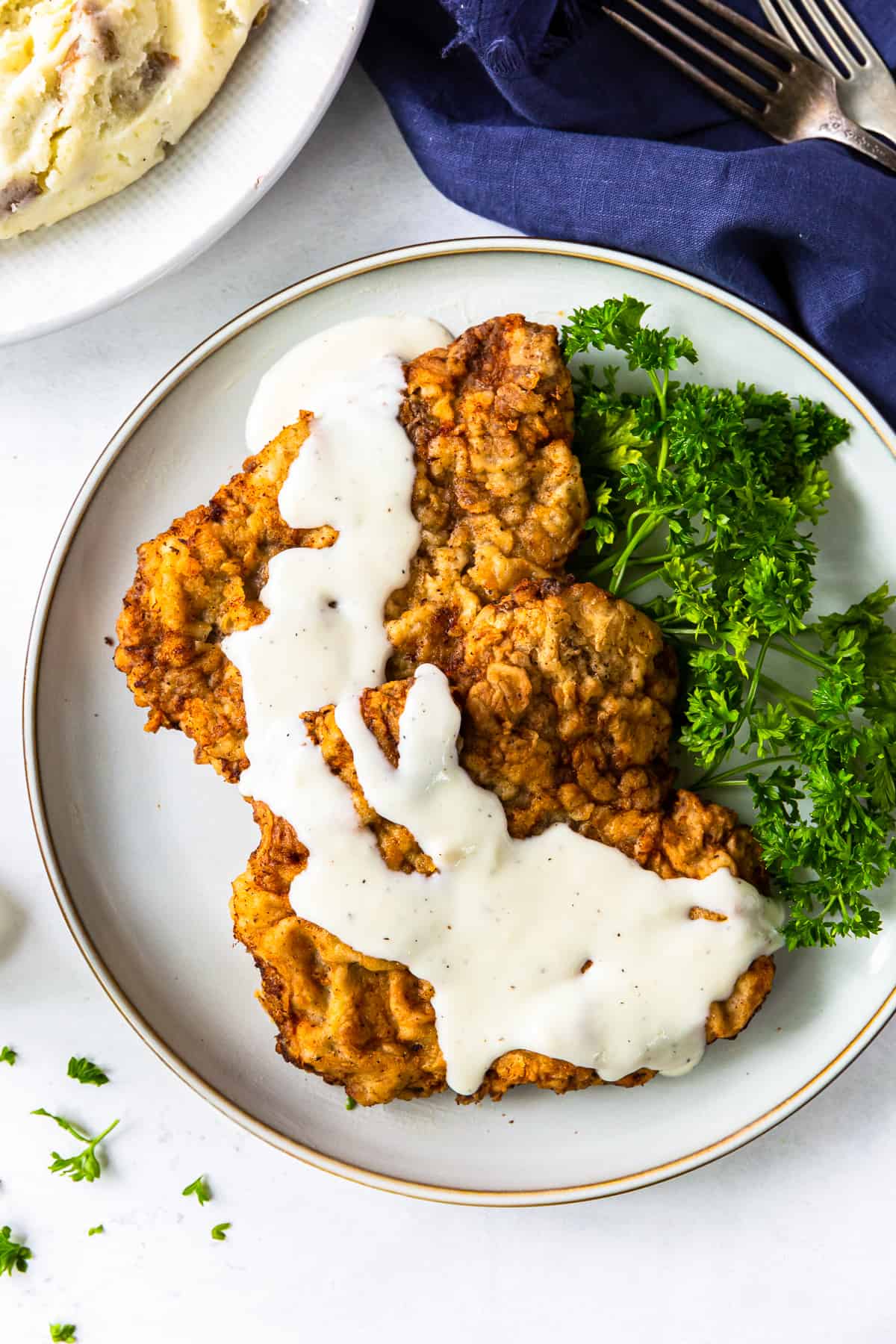 5-Star Review
"Thank you for your delicious recipe. Means a lot to Texans and Southerners." – Debra S.
More Easy Beef Recipes We Love