The BEST Mashed Potatoes recipe also happens to be the simplest mashed potatoes recipe. Why make things complicated for a dish that everyone already loves? These homemade mashed potatoes are made with potatoes, butter, salt & pepper, and nothing else. It's the perfect side for holidays or any dinner!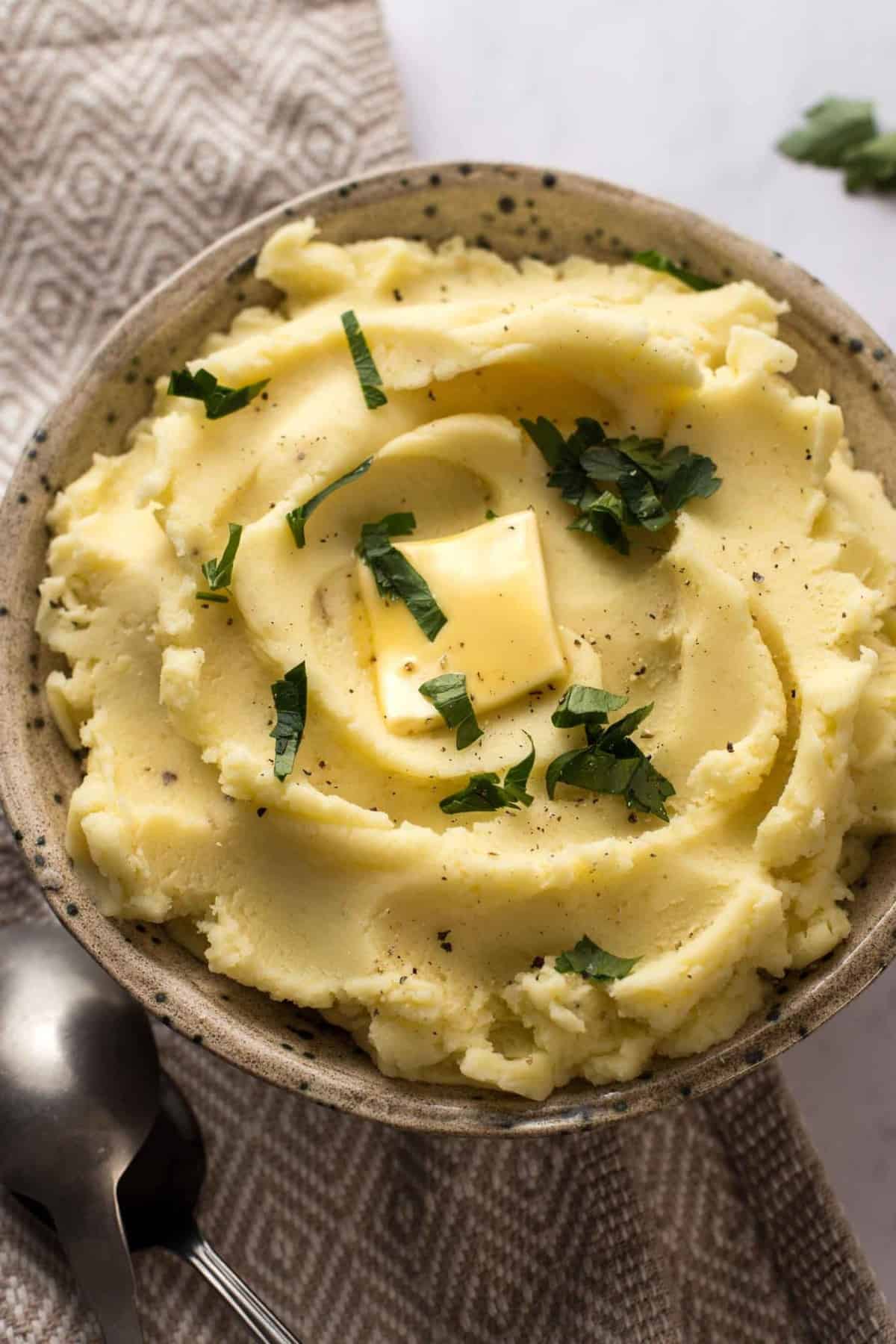 Best Mashed Potatoes
If you're looking for the BEST mashed potatoes recipe, you've come to the right place. This recipe is simple, delicious, and so easy to make!
Every holiday table needs a simple mashed potatoes recipe, and you might as well serve the BEST OF THE BEST while you're at it. Luckily you can have the best without any stress!
The only ingredients for these homemade mashed potatoes are potatoes (duh), butter, salt, and pepper. No cream, no milk, nothing extra. Just the absolute necessities are in here. Sometimes I like the simple stuff.
I just love the flavor of these potatoes, and I can't get over how creamy they are. We steamed the potatoes (instead of boiling), and it definitely makes a difference in the texture! The perfect side dish!
Find out how to make the BEST mashed potatoes for your holiday dinner, or any meal that needs a simple side dish!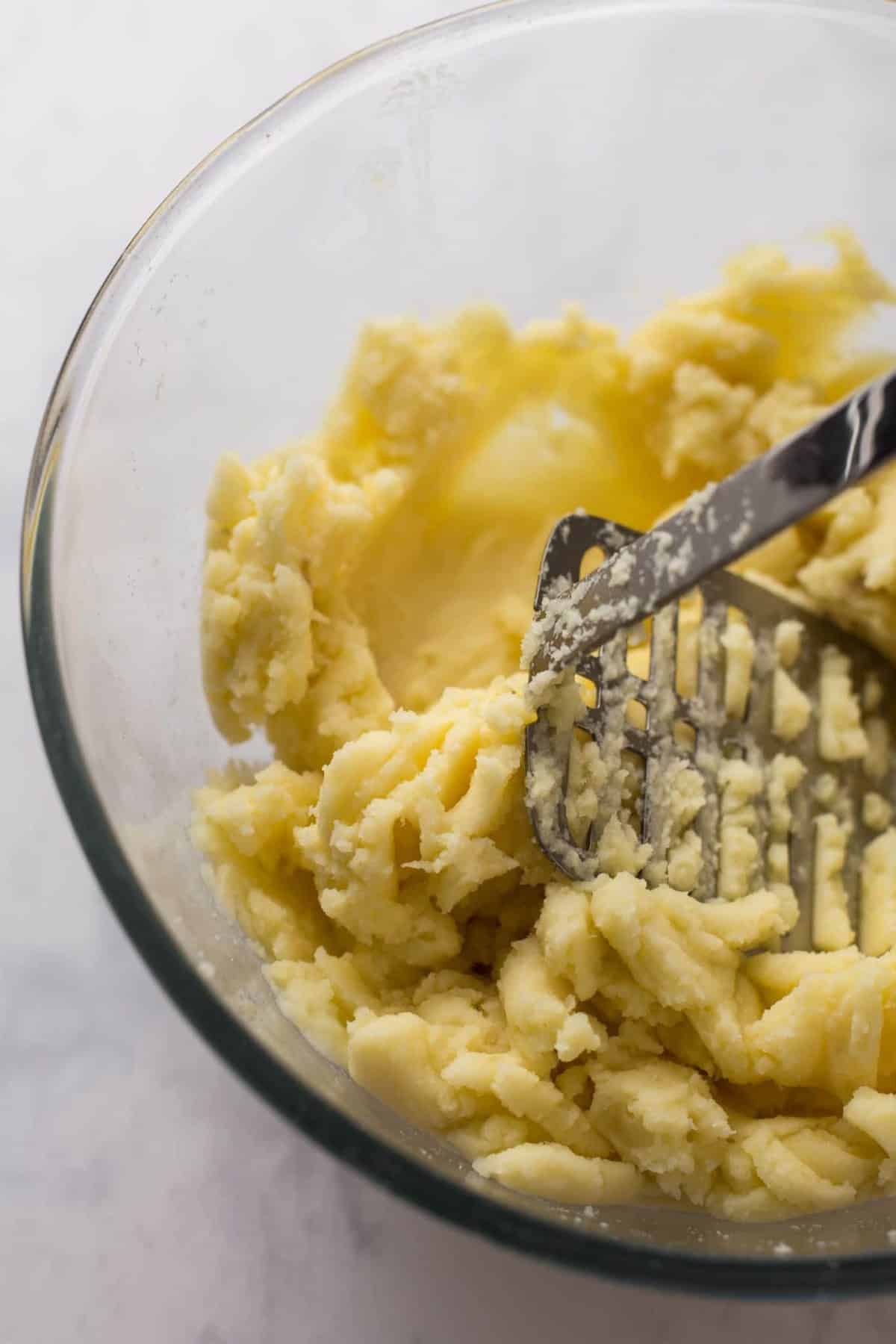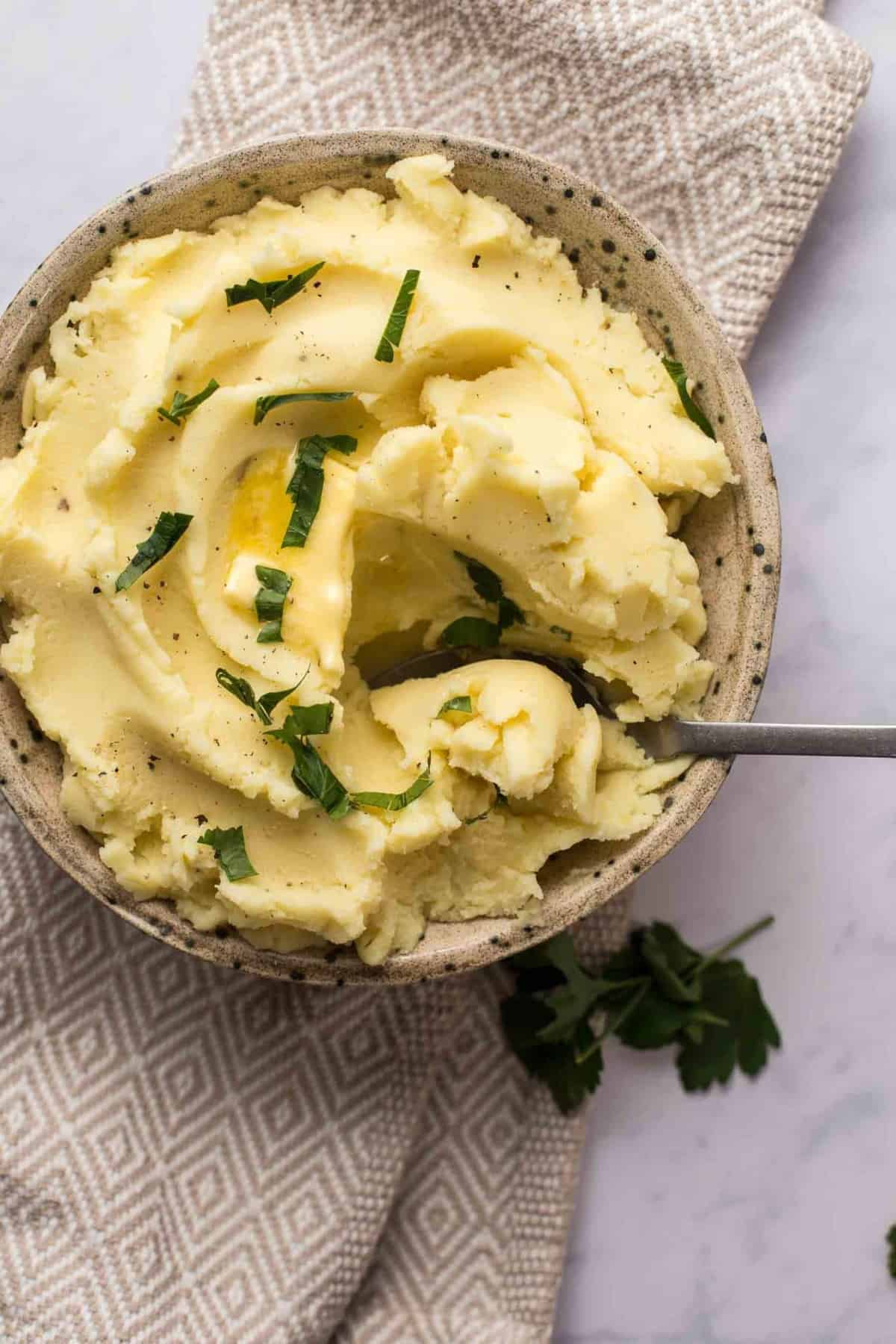 How to Make the Best Mashed Potatoes
This simple mashed potatoes recipe is truly the BEST, because you only need a few ingredients, it's easy to make, and the flavor is amazing!
First, peel the potatoes and cut them into quarters. Then place them in a steamer rack and place that in a large pot.
Add 2 inches of water into the pot and bring to a simmer.
Then turn the heat to medium-high and steam potatoes for 20 minutes (they're done when you're able to pierce easily with a fork). Then let them cool.
Mash the potatoes up with a potato masher, or put them through a potato ricer.
Stir in the butter, and season to your liking with salt and pepper.
Tip: To make them extra creamy, add in more butter. And feel free to add herbs (like parsley or chives) for a little bit of flavor kick.
Be sure to watch the video to see the step by step recipe!
Simple Mashed Potatoes Ingredients:
Yukon Potatoes – great for mashing
Butter – makes them super creamy
Salt & Pepper – simple seasoning for amazing flavor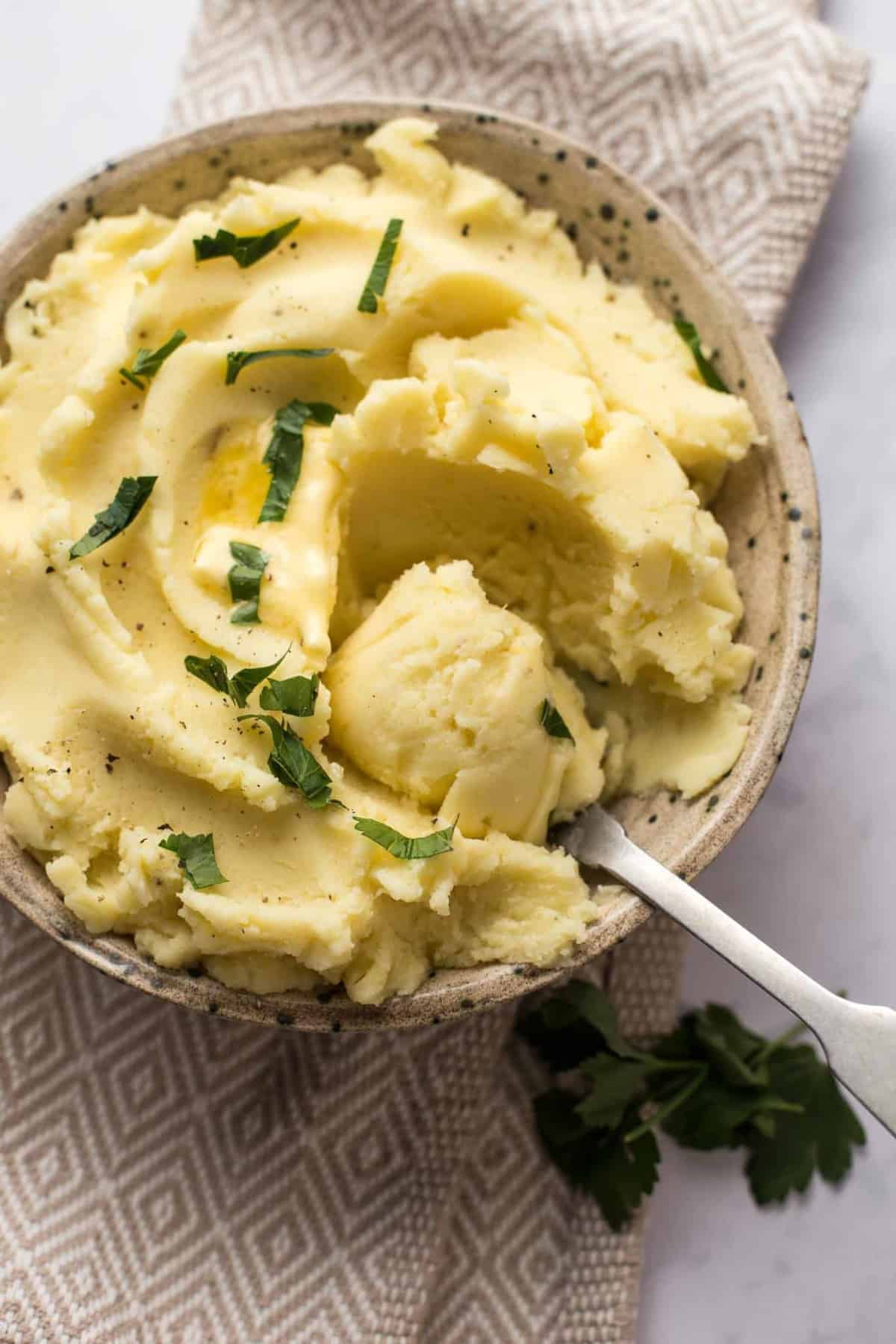 Which potatoes are best for mashing?
Yukon potatoes are perfect for mashed potatoes. Because of their high starch content, they're easy to mash, so you get creamy, fluffy potatoes. Yum!
How do you store leftover mashed potatoes?
Store mashed potatoes in a container with fitted lid.
They'll keep in the refrigerator for up to 4-5 days.
To reheat, just warm in the microwave.
Best Mashed Potatoes Recipe for Thanksgiving
We've got lots of great mashed potatoes recipes (see below for our favorites), but these are the best for Thanksgiving and other holidays. They're so simple, which is really the best way to go when you've got lots of other side dishes on the holiday table. They don't need to show off with tons of ingredients and flavors; just stick to the butter, salt, & pepper and everyone will devour these!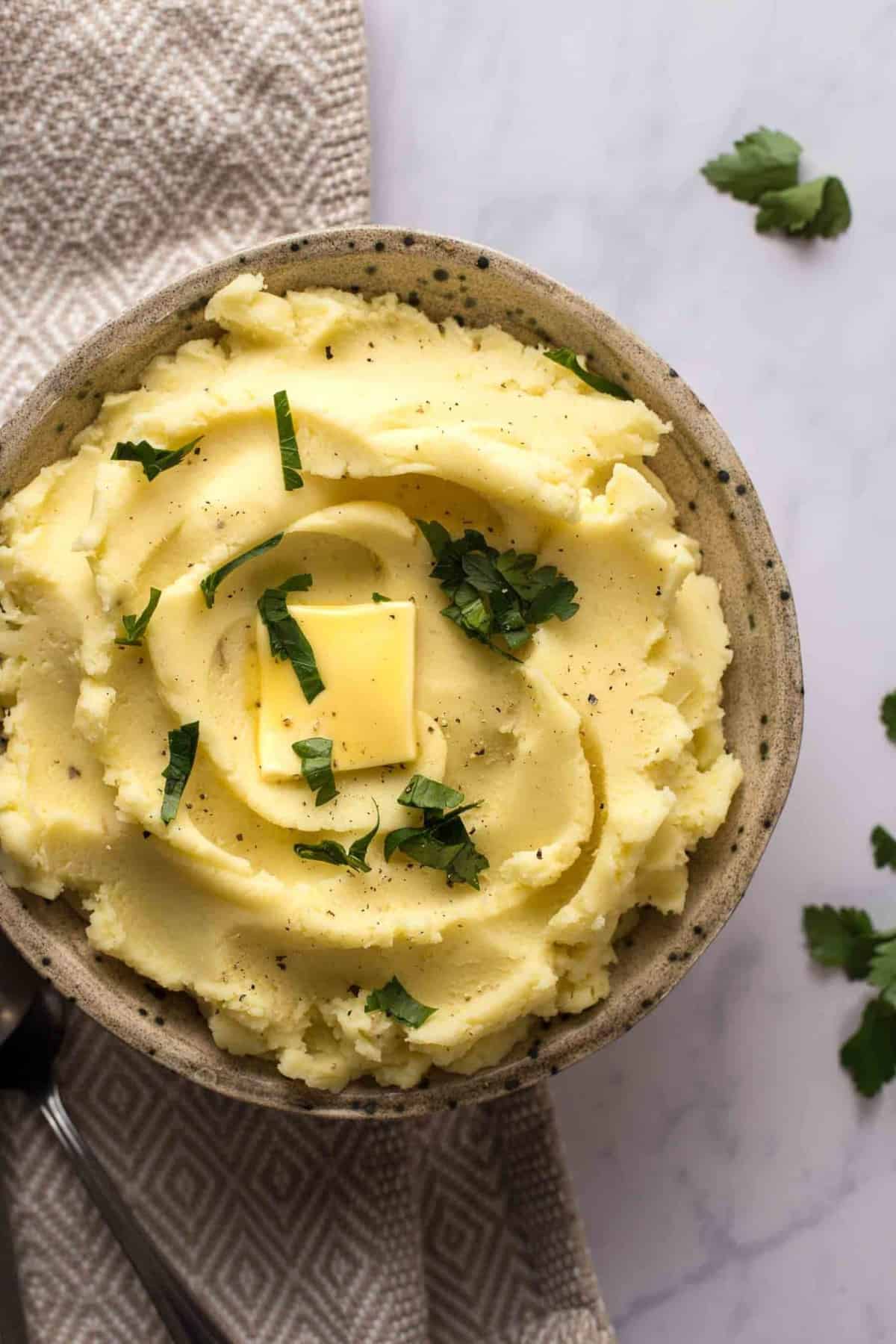 These are the best homemade mashed potatoes ever, and I find myself going back to them over and over again. Sometimes keeping it simple makes the best dish. Make sure these are on your Thanksgiving and Christmas and Easter tables (and every weeknight dinner table, while you're at it)!
Watch the video and see the recipe card for details on how to make the best mashed potatoes. Enjoy!
More Mashed Potatoes recipes to try (you can never have enough!):