When you need a delicious dinner in a hurry, I've got you covered with this skillet steak and potatoes recipe! This recipe only has a handful of ingredients and is ready in under 20 minutes.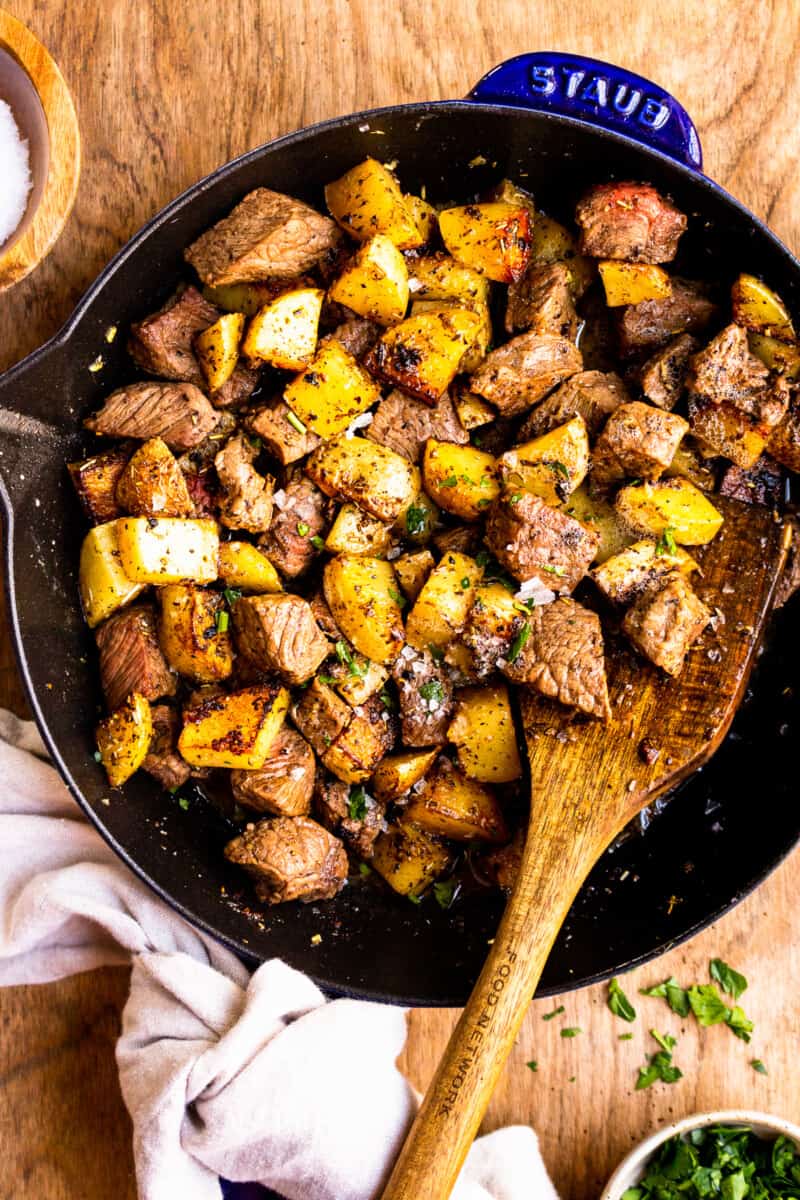 Garlic Butter Steak and Potatoes Recipe
I just know that you are going to love this recipe! This has become a firm favorite in my house and is a great go to family meal after a busy day. Don't be fooled they, it's certainly not lacking in flavor!
These garlic steak bites are so simple, but so delicious! Seasoned with garlic butter and herbs and the steak is perfectly tender.
For more skillet recipes, be sure to try my Cottage Pie and French Onion Chicken.
Why you'll love this Garlic Butter Steak and Potatoes Recipe:
Quick: Ready to serve in 20 minutes, this is a great go-to recipe after a busy day.
One pan: The potatoes and steak are cooked together in one skillet on the stovetop making cleanup a breeze.
Simple ingredients: There's nothing fancy you need for this recipe and you'll have a lot of them already in your pantry.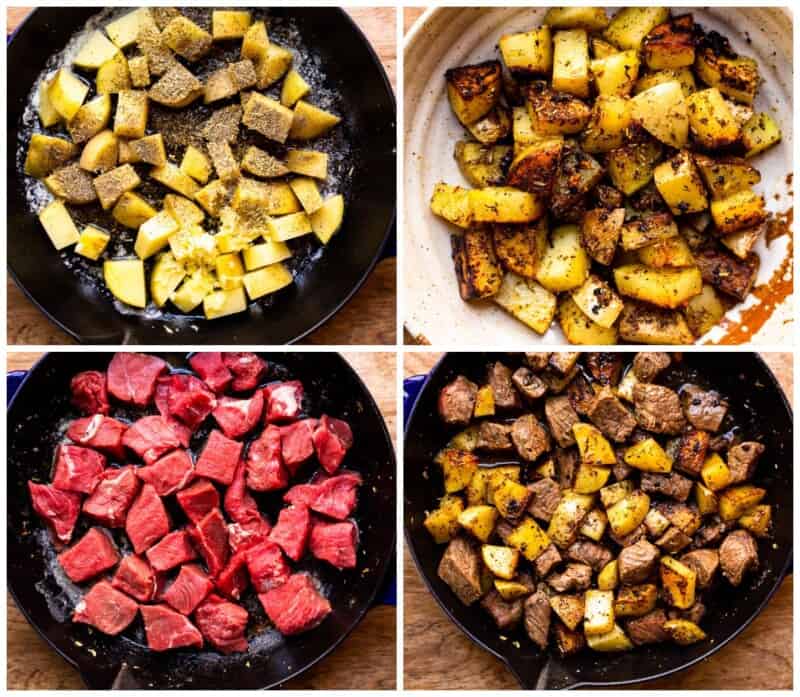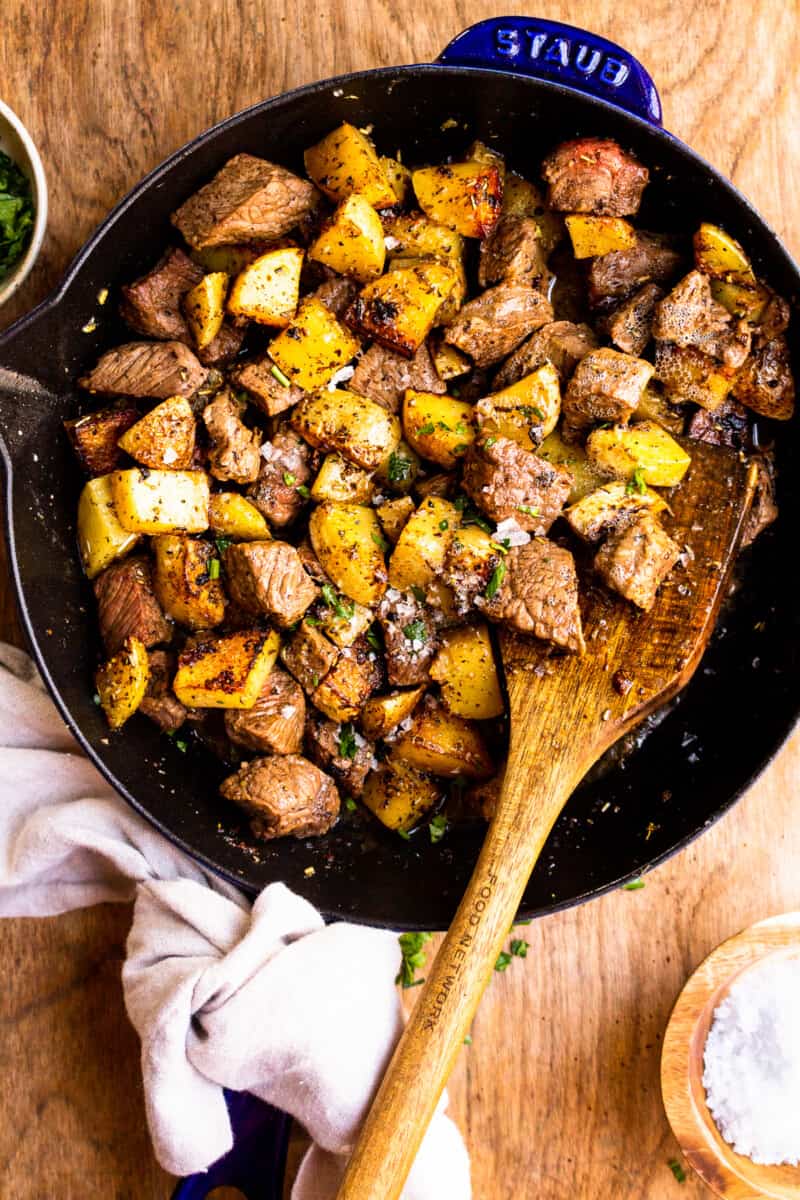 How to make Garlic Butter Steak with Skillet Potatoes
You can jump to the recipe card for full ingredients & instructions!
Heat the oil and butter in the skillet.
Add the potatoes with the seasonings.
Cook until fork tender. Remove and et to one side.
Cook the steak bites on both sides.
Add the potatoes and combine to serve.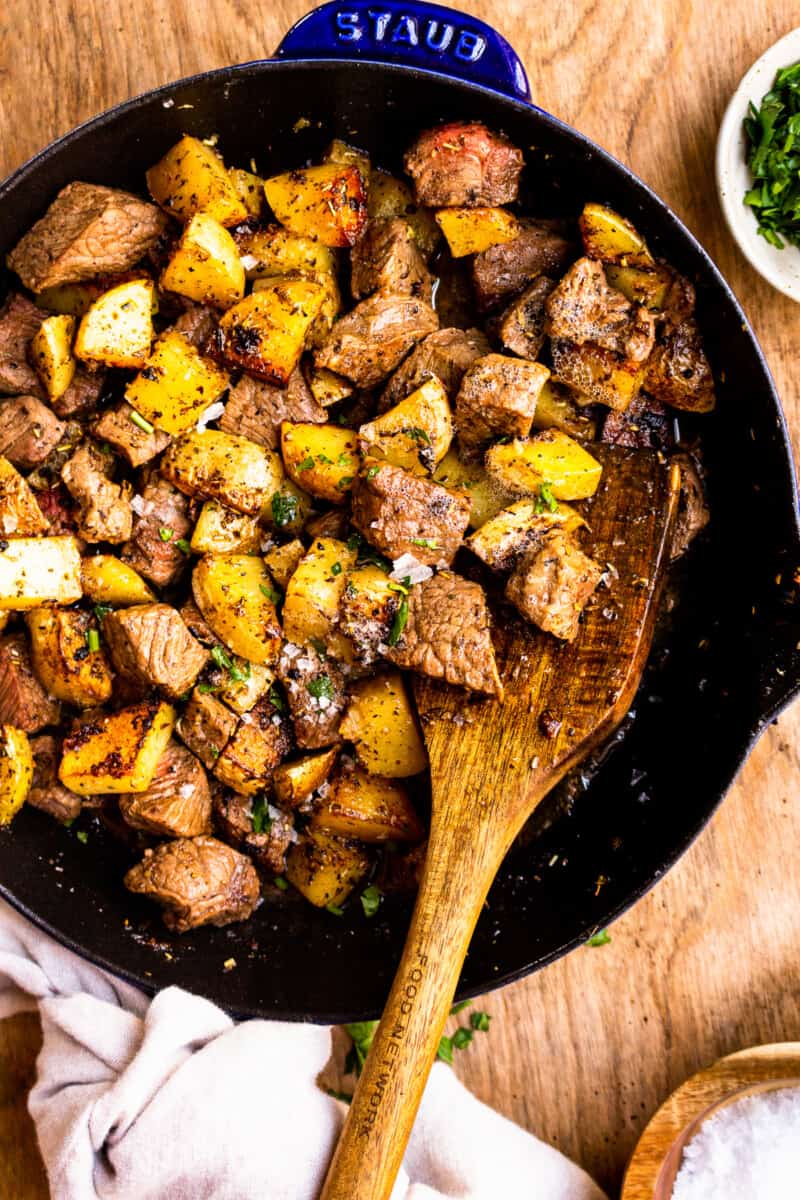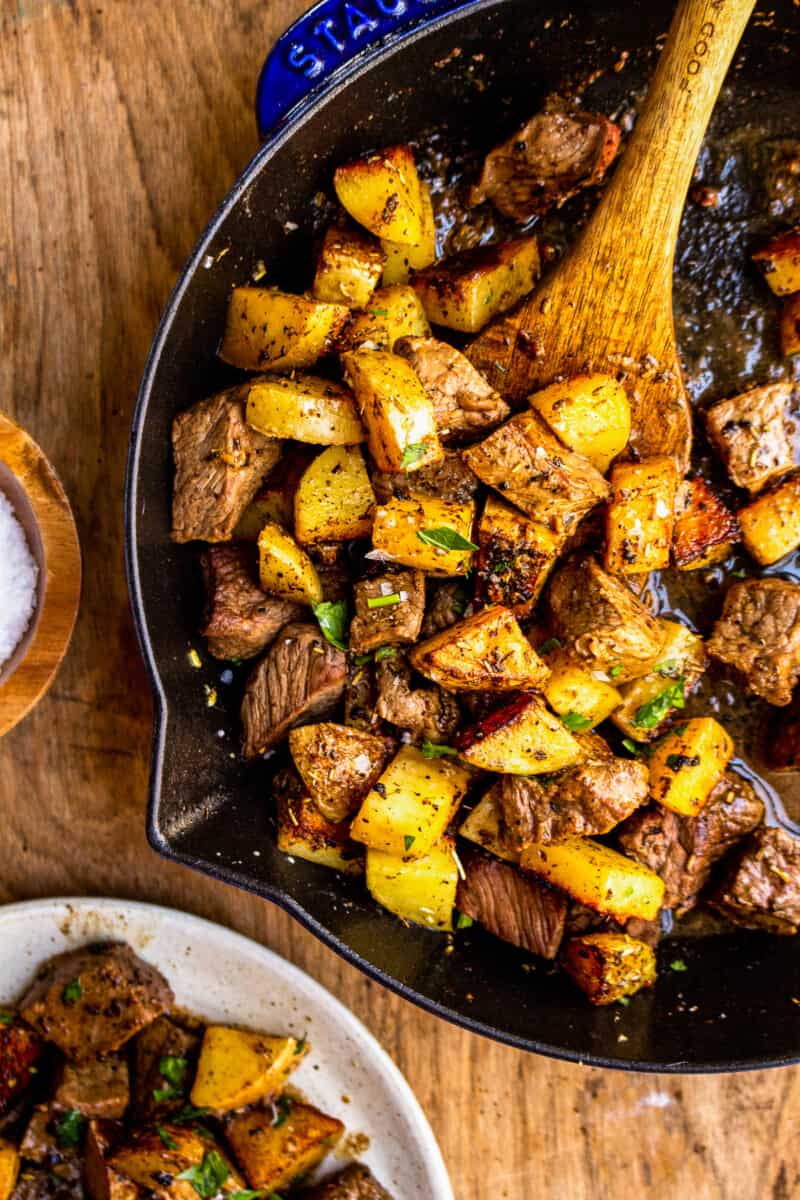 What's the best steak to use for garlic butter steak and potatoes?
Because the steak is meant to cook quickly, it's best to choose a tender cut. I like to use sirloin, but you can also use beef tenderloin (filet mignon), New York strip steak or stir fry meat. It's best to avoid tougher cuts like skirt and flank steak.
What are the best potatoes to use?
I like to use Yukon Gold for this recipe. They hold their shape well, but are moderately starchy so that they still get soft and fluffy in the middle. It's best to avoid Russet potatoes as these are too starchy and can fall apart.
Waxy potatoes like reds or fingerlings, will work well in this recipe.
Serving Suggestions
The potatoes in this recipe already serve as a great side, but these garlic steak bites are also great to serve with your favorite veggies sides like green beans or asparagus. A simple accompaniment of steamed broccoli would be a perfect pairing. Here are some more side dish ideas:
This Garlic Butter Steak and Potatoes is just the beginning! Try these other favorites after you're done devouring this steak and potatoes.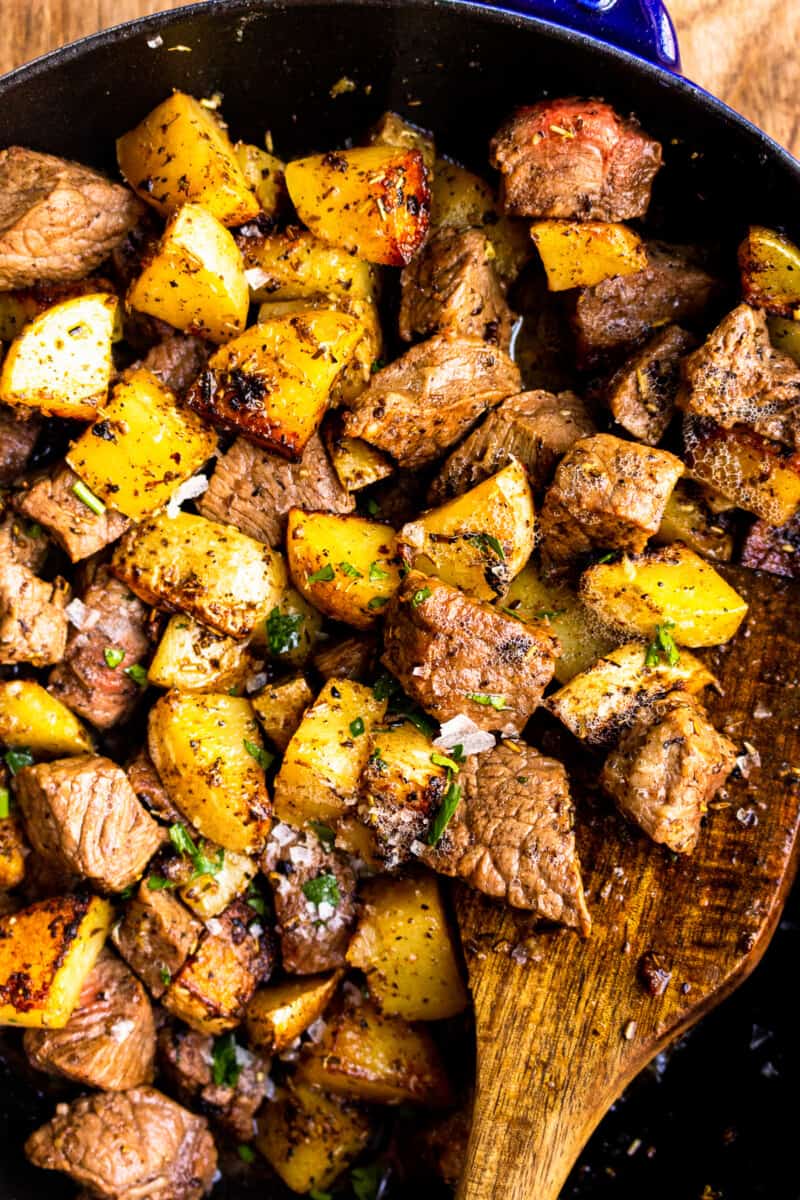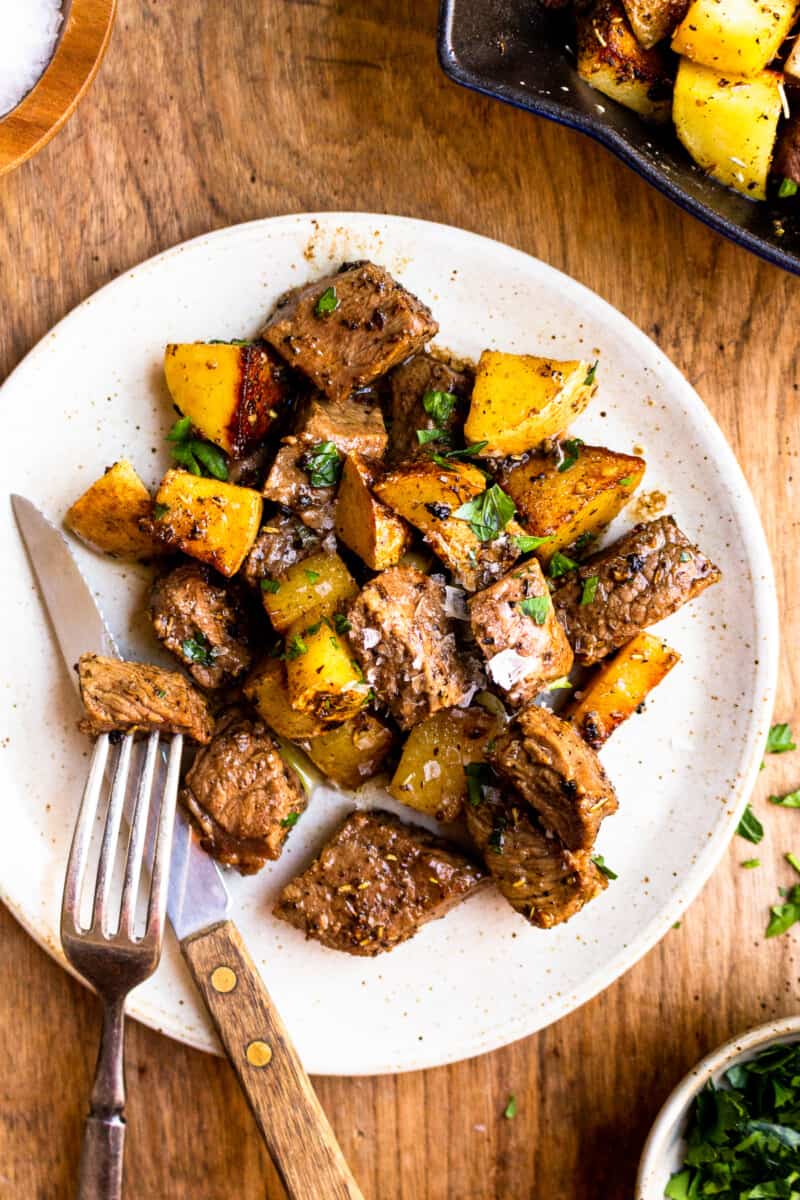 Tips!
Other choice of meat can be used as well such beef tenderloin (filet mignon), New York strip steak or stir fry meat.
Substitute red-skinned and fingerling potatoes for Yukon gold. (Russet potatoes may not hold they shape well)
If potatoes are not tender (after 8 minutes) but are starting to get too brown, turn down the heat to medium-low, add 2 tablespoons of warm water, cover and cook for about 3-4 minutes until water evaporates.
Try adding some caramelized onions!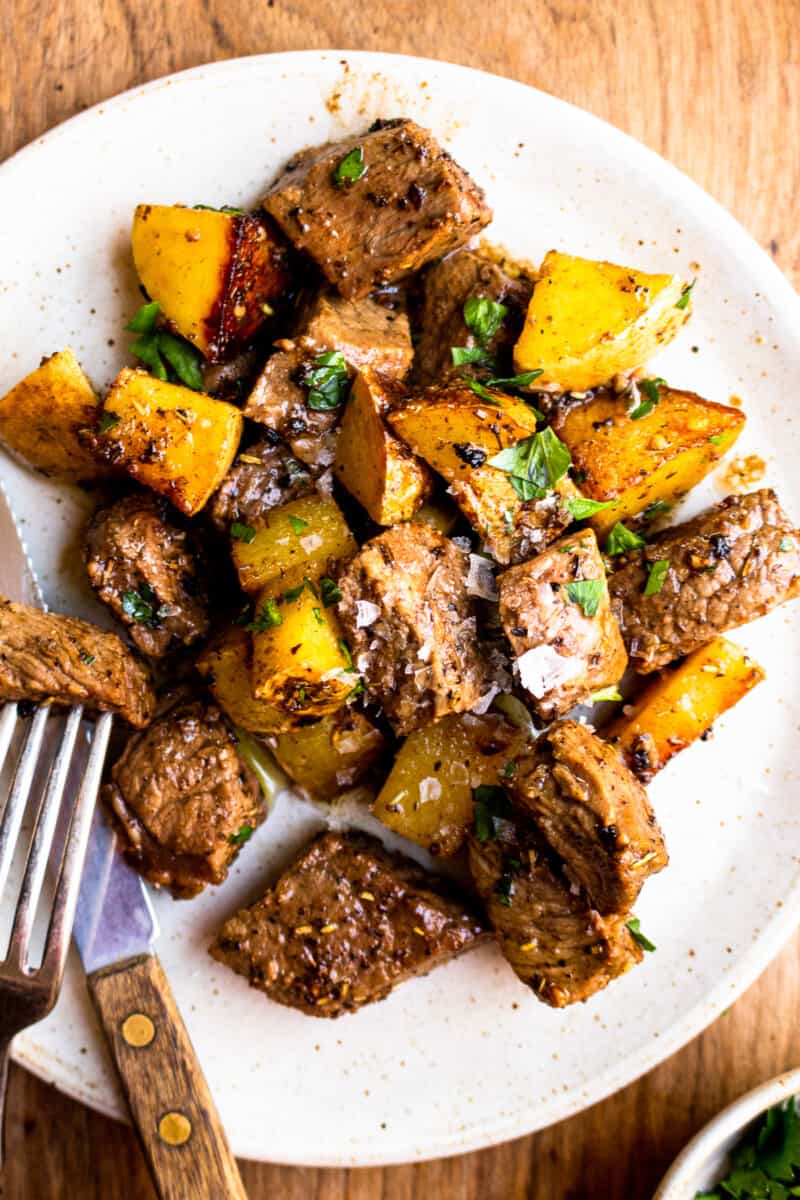 If you make this recipe be sure to upload a photo in the comment section below or leave a rating. Enjoy! You can also jump to recipe.