When you need a delicious dinner in a hurry, I've got you covered with this skillet Steak and Potatoes recipe! This recipe only has a handful of ingredients and is ready in under 20 minutes.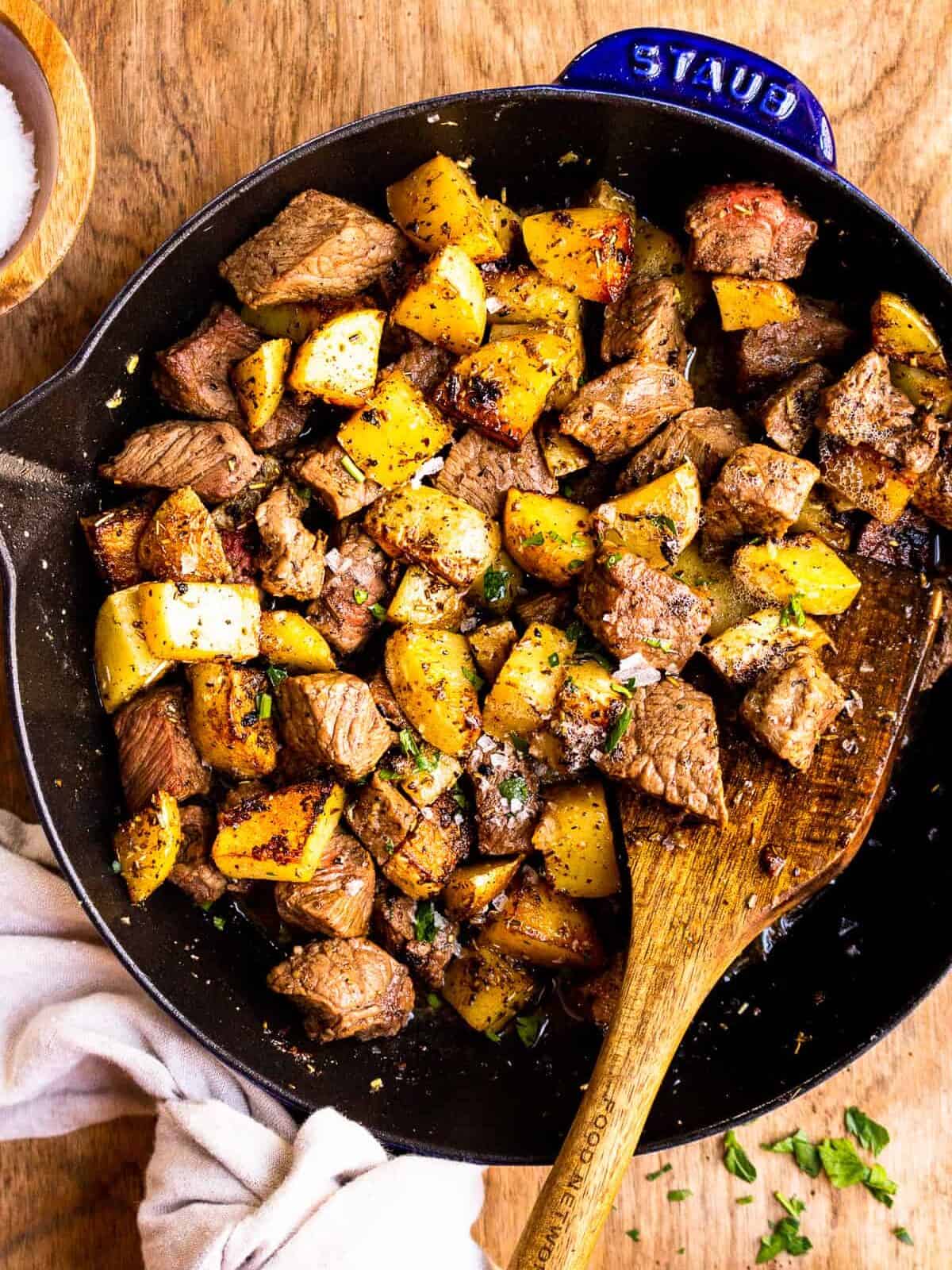 What's in this Steak and Potatoes Recipe?
These garlic steak bites are so simple, but so delicious! Seasoned with garlic butter and herbs and the steak is perfectly tender.
Olive Oil: Helps the steak and potatoes cook without burning.
Unsalted Butter: Adds rich flavor to the recipe.
Potatoes: I used Yukon Gold potatoes, but any waxy potatoes will work.
Garlic: Adds an earthy flavor and a pungent aroma.
Spices: Rosemary, oregano, kosher salt, and ground black pepper enhance the flavor of the steak and potatoes.
Steak: I used Sirloin, but any tender cut of steak will work well.
Pro Tip: Don't crowd the pan; this will cause the potatoes and steak to cook unevenly or even steam rather than sear.
Variations on Garlic Butter Steak Bites
This steak and potatoes recipe has a distinctive garlic and herb flavor. You could change up that flavor by swapping out the spices for a spice blend, like Creole seasoning, ranch seasoning, blackened seasoning, Italian seasoning, taco seasoning, or herbs de Provence. Try adding some caramelized onions or crumbled bacon for an even richer taste.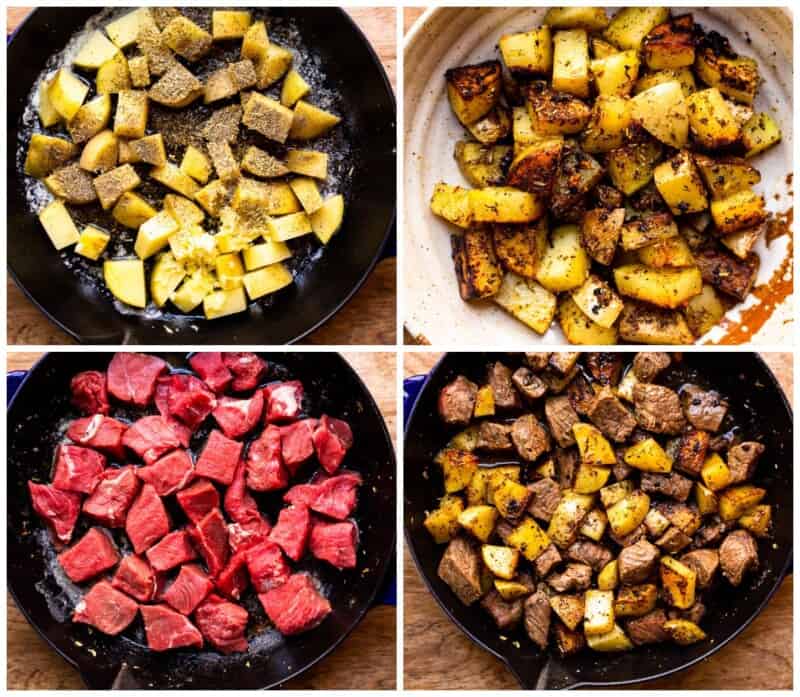 What's the best steak to use for garlic butter steak and potatoes?
Because the steak is meant to cook quickly, it's best to choose a tender cut. I like to use sirloin, but you can also use beef tenderloin (filet mignon), New York strip steak or stir fry meat. It's best to avoid tougher cuts like skirt and flank steak.
What are the best potatoes to use?
I like to use Yukon Gold for this recipe. They hold their shape well, but are moderately starchy so that they still get soft and fluffy in the middle. It's best to avoid Russet potatoes as these are too starchy and can fall apart. Waxy potatoes like reds or fingerlings, will work well in this recipe.
Should you eat potatoes with steak?
Absolutely! In fact, studies have shown that eating resistant carbs like potatoes with red meat promotes better digestive health than eating red meat on its own.
What does covering steak in butter do?
Butter helps the steak to develop a rich, caramelized crust. It also helps the steak to cook more quickly, and it adds a ton of flavor.
Why are my potatoes undercooked?
It's important to cut your potatoes into small, bite-sized pieces of about equal size to ensure that they all cook at the same rate. However, some potatoes need a little bit of help softening up. If you find that your potatoes are not quite fork-tender yet, turn down the heat to medium-low, add 2 tablespoons of warm water, cover, and cook for about 3-4 minutes, until the water evaporates. This should help them finish cooking all the way through.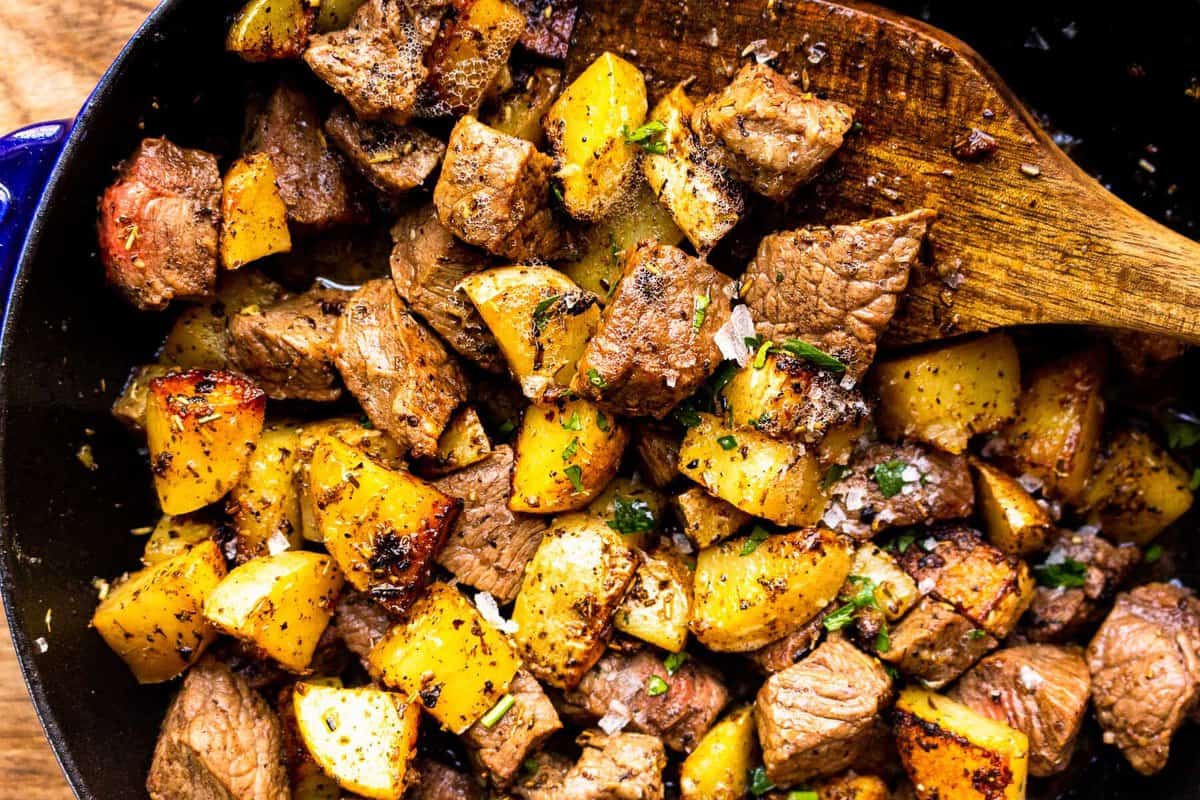 How to Store and Reheat
Store leftover steak and potatoes in an airtight container in the refrigerator for up to 3 days. Reheat in an oiled pan set over medium-low heat or in a 350°F oven for 8-10 minutes, until warmed through.
How to Freeze
Freeze steak and potatoes in an airtight container or Ziplock bag for up to 3 months. Let thaw overnight in the refrigerator before reheating.
Serving Suggestions
The potatoes in this recipe already serve as a great side, but these garlic steak bites are also great to serve with your favorite veggie sides like Pennsylvania Dutch green beans, asparagus almondine, or cheesy roasted broccoli. A chopped Caprese salad, roasted Brussels sprouts, or corn on the cob would also be delish!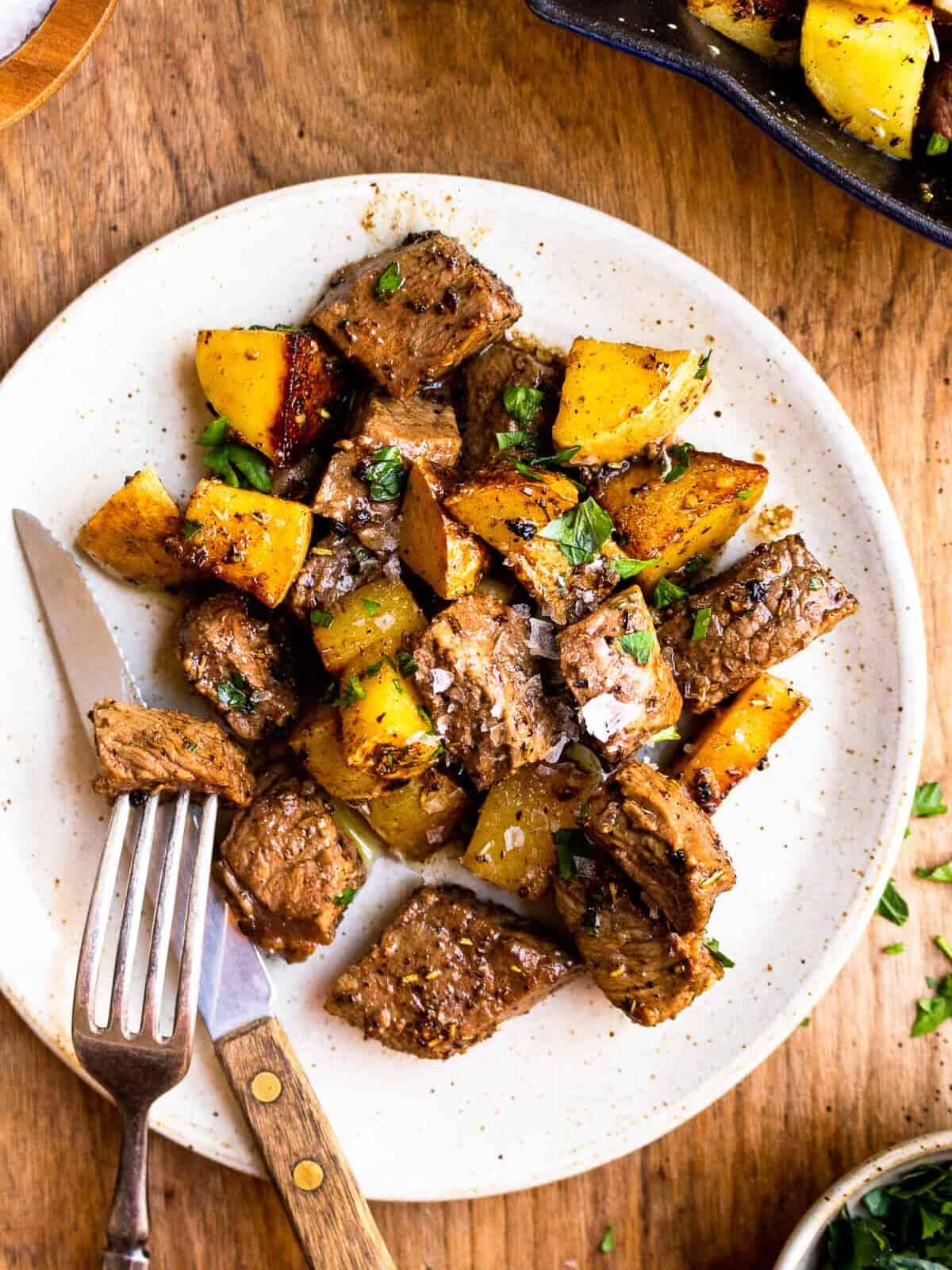 5-Star Review
"My husbands new weeknight fave. I served with a salad and naan bread and it felt like a holiday! Delicious!" – Liz
More Steak Recipes We Love