Sophisticated yet simple, Surf and Turf is the best date night dinner ever! Buttery, tender lobster pairs famously with perfectly cooked filet mignon steaks. Serve this protein-heavy meal with some fresh greens of your choice and a glass of wine for an unforgettably good dinner – you deserve it!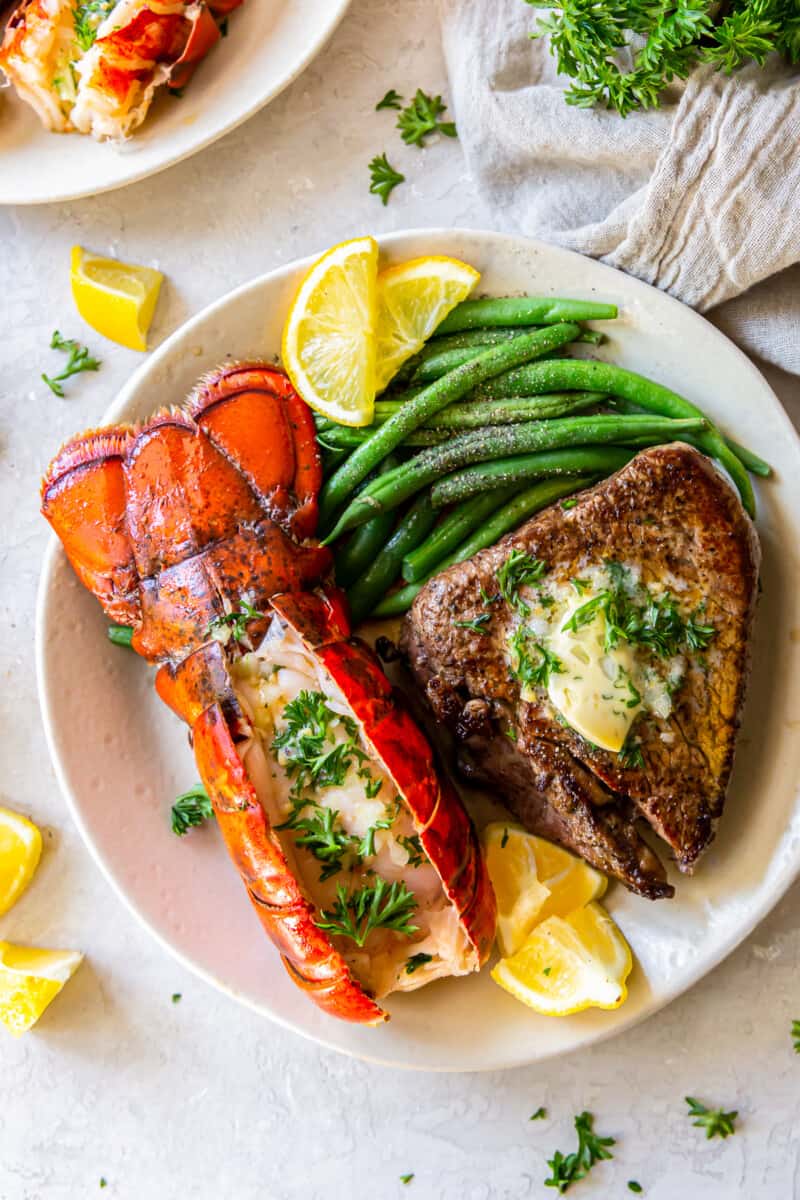 Steak and Lobster Dinner
Remember when all of the restaurants shut down just a few summers ago? We all had to make our own restaurant staples at home, and for so many of us, it was a summer of trials and errors. Through those long summer days, I can confidently say I've developed the BEST surf and turf recipe EVER! Trust me on this one – it's really better than any restaurant.
The best thing about making steak and lobster at home is that you can personalize it just how you like it. If you like your steak cooked to just the right balance of pink in the middle and your lobster extra buttery, you can make sure it's up to your standards without having to ask a server. Just follow these incredibly easy steps and you'll have a Michelin worthy meal in the comfort of your own home!
Why You'll Love this Surf and Turf Recipe:
BUTTERY: Making your own compound butter is what elevates the lobster tails to a whole new level of delicious. You can even add a little extra… I won't judge.
FOOLPROOF: There are quite a few ways to ruin a steak or lobster tail, but don't worry. The step by step instructions here are clear, low-stress, and foolproof!
SOPHISTICATED: Whether you're planning a date night with your significant other or trying to impress the in-laws, you should use this tried and true sophisticated dinner recipe that always impresses.
Perfectly cooked steak and lobster made with homemade compound butter… Are you drooling yet?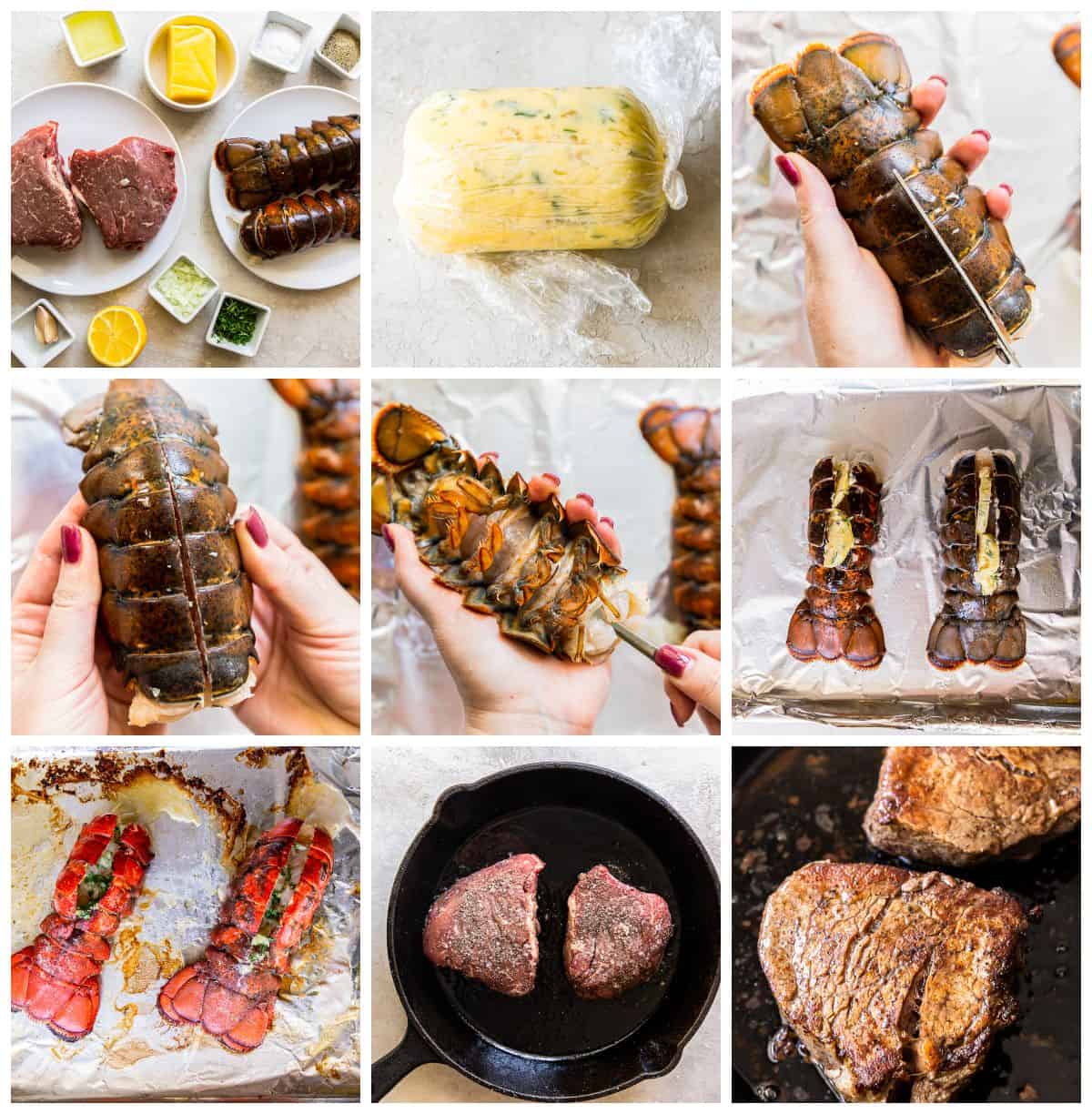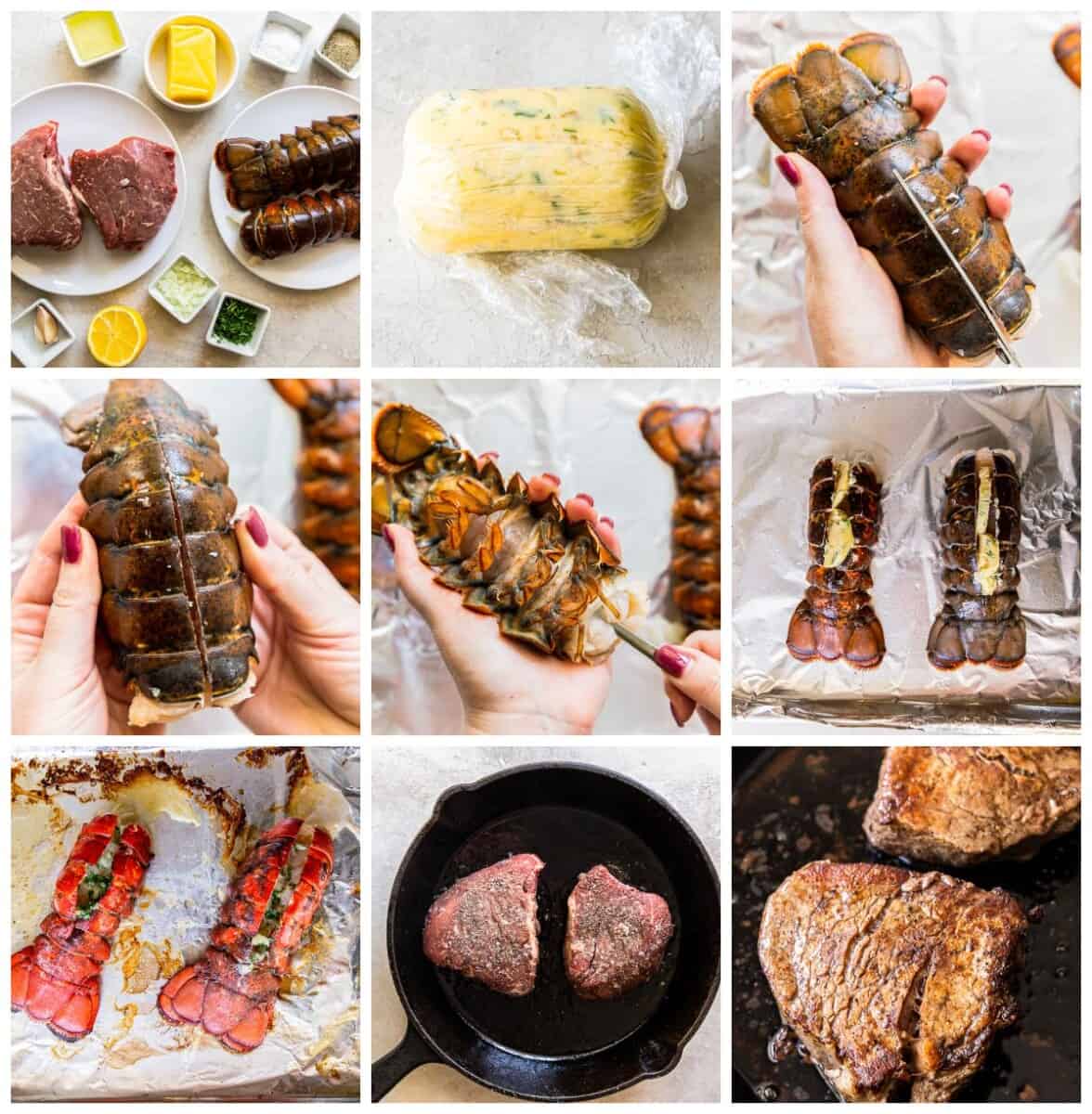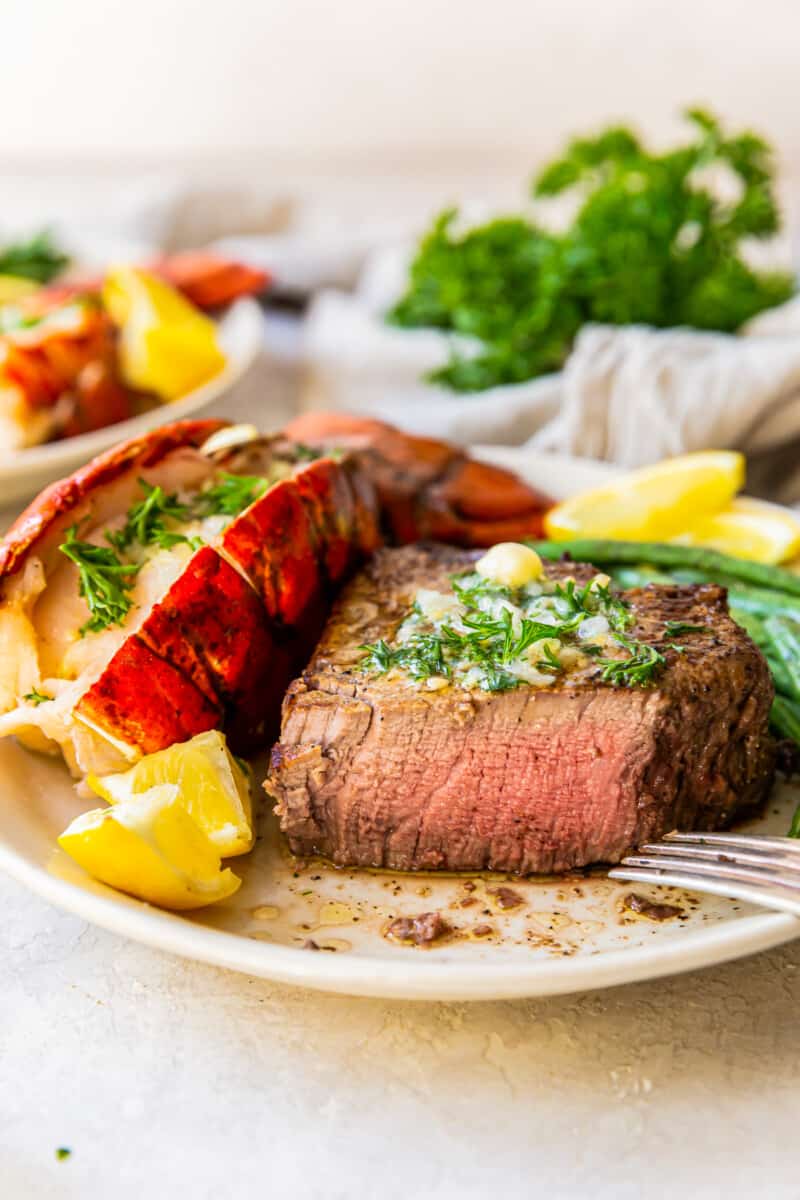 How to Make Surf and Turf – Steak and Lobster
You can jump to the recipe card for full ingredients & instructions!
Start off by making the compound butter. Simply combine all of the ingredients, then roll it into a log using wax paper. Freeze it for 10 minutes, then refrigerate until you're ready to use it.
Preheat your oven to 375°F and line a baking sheet with foil before spraying it down.
Prep the lobster tails by splitting the top shells of the lobsters with kitchen shears. Use a teaspoon to loosen the meat.
Place the tails on the baking sheet, then drizzle them with lemon juice before patting butter into the shells.
Time to prep the steaks! Drizzle them with olive oil and season with salt and pepper.
Heat oil in a cast iron skillet. Sear the steaks for about 1-2 minutes per side. Bake the steaks in the skillet for about 4-8 minutes.
Bake the lobsters for about 6-8 minutes.
Let the steaks rest for 5 minutes before serving.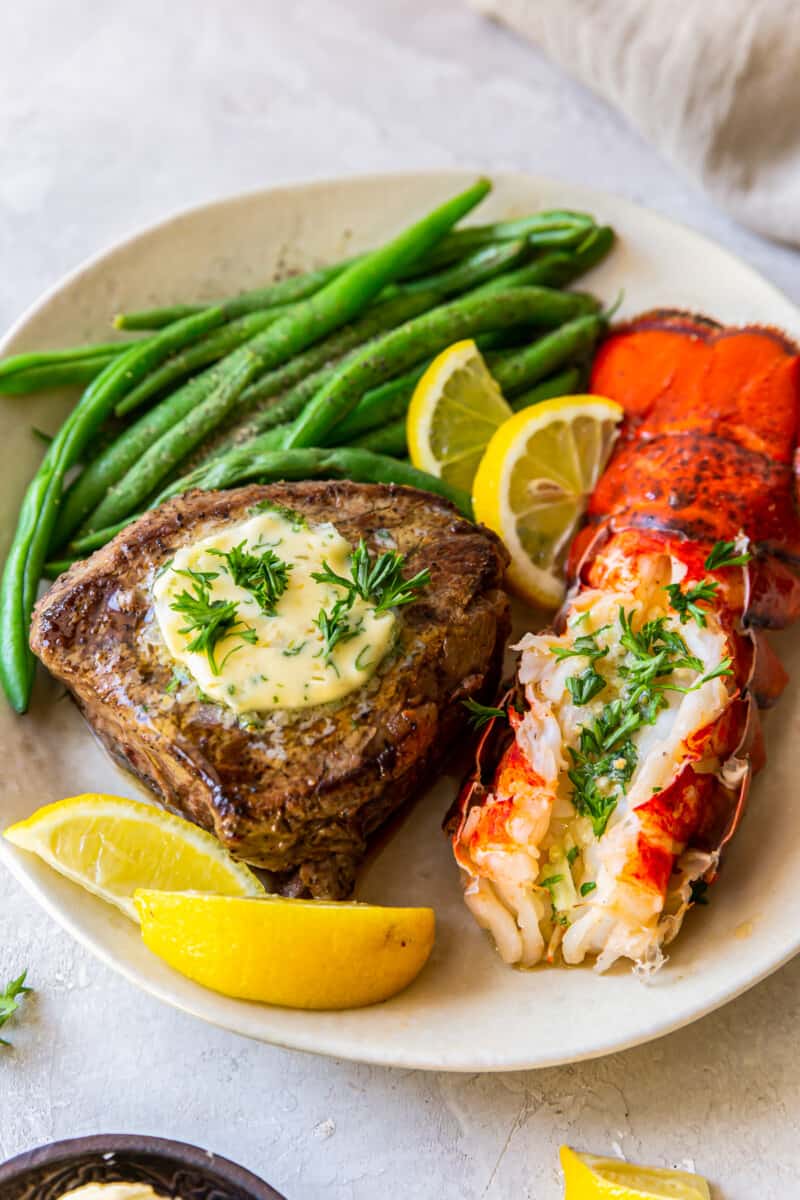 What is surf and turf?
The lobster is the surf, and the steak is the turf! Essentially, surf and turf is just a fun name for this classic lobster and steak dinner.
What is compound butter?
Simply put, compound butter is just butter that's been mixed with other ingredients to make it more flavorful.
What kind of skillet should I use?
A cast iron skillet works best for making these steaks! Cast iron skillets are oven safe, and are known for giving steaks the most perfect sear.
Can I make surf and turf ahead of time?
While this is a dinner best served fresh, you can make both the lobster and steak ahead of time, then reheat it. To reheat both the lobster and steak, make sure to use the oven, not the microwave!
Serving Suggestions
Make sure to offer some fresh side dishes alongside this hearty meal! However, a serving of carbs is also great when plated with buttery lobster, as it helps absorb every last drop of that delicious compound butter.
No matter what you serve this classic dinner with, it's bound to be delicious. Just don't forget to plate it with some extra lemon wedges!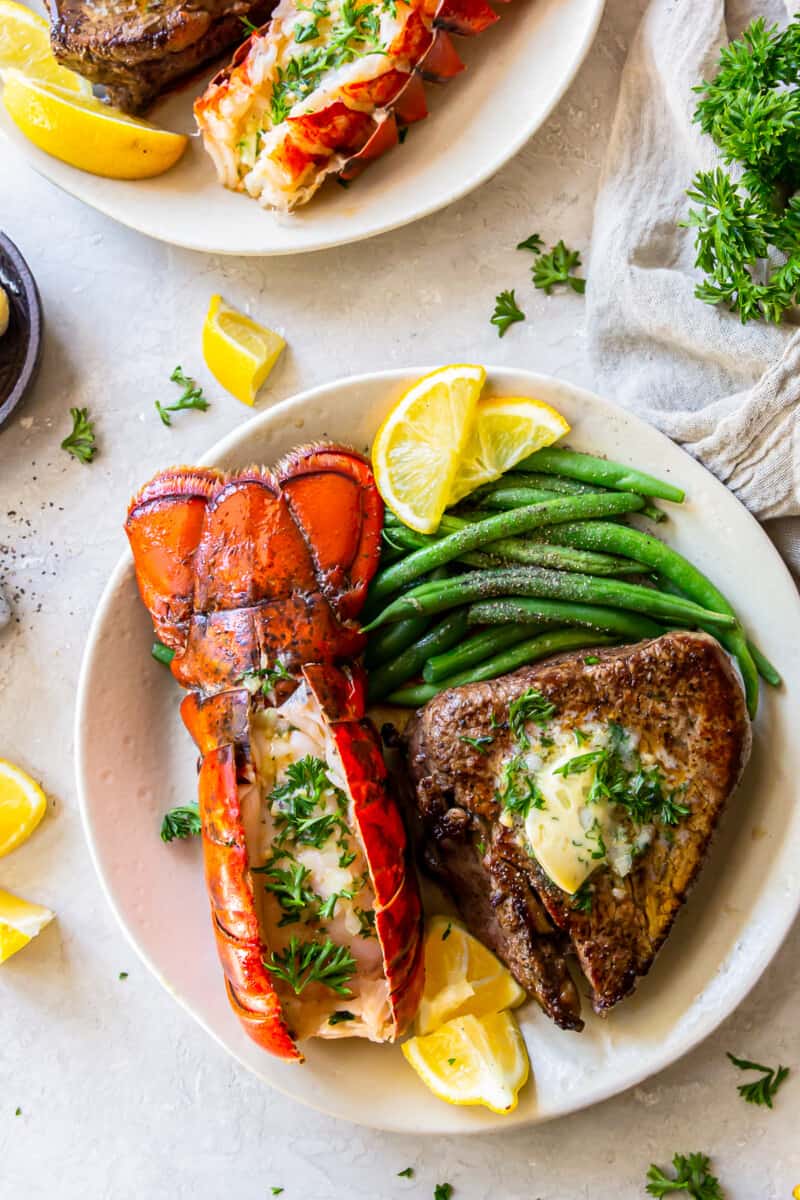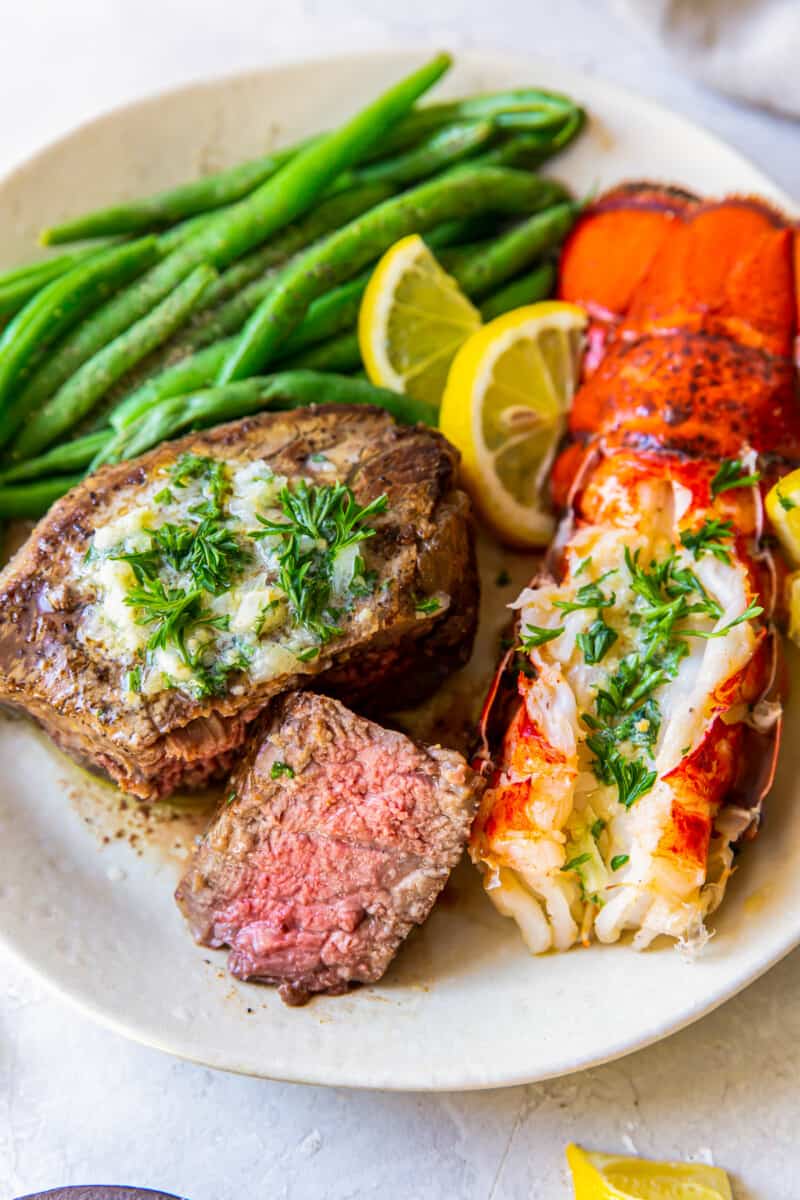 Tips!
Use a meat thermometer to check the internal temperature of your steaks, that way you know when they're done to your liking.
Do NOT over cook the lobster! Over cooked lobster is rubbery and flavorless.
Letting the steaks rest for just 5 minutes helps prevent them from releasing all of their juices once cut.
Can I use shrimp or scallops instead of lobster?
You sure can! Garlic Butter Shrimp and Creamy Garlic Scallops are both tasty options.
Can I double this recipe?
Yes, but you'll likely need to work in batches to avoid overcrowding your oven.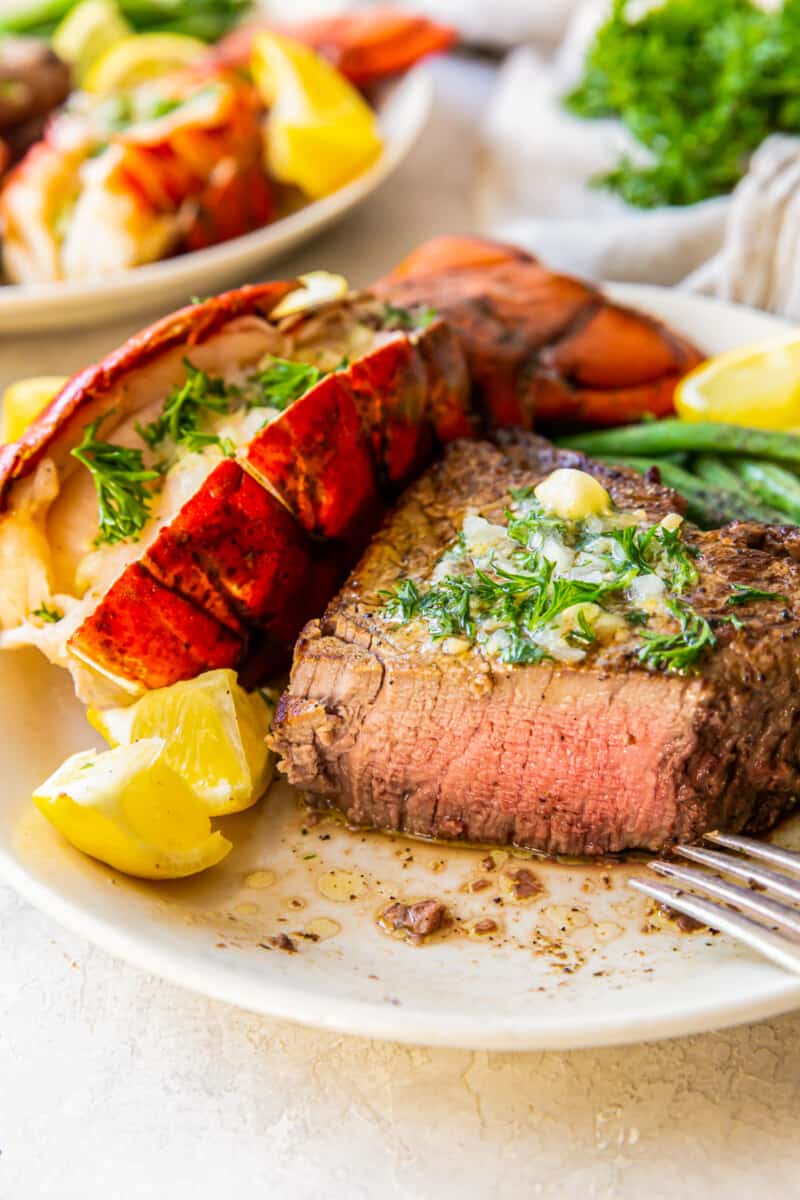 Next time you're searching for an easy seafood dinner, but you're also in the mood for a perfect filet mignon, you've got to treat yourself to this simple surf and turf! This steak and lobster dinner is simply what dreams are made of.
If you make this recipe be sure to upload a photo in the comment section below or leave a rating. Enjoy! You can also jump to recipe.