Teriyaki Chicken is one of our favorites! This EASY Teriyaki Chicken recipe is a simple Asian inspired dinner that can replace your Chinese takeout. You can put together a delicious teriyaki chicken and rice dinner in minutes (with the best teriyaki chicken sauce) at home!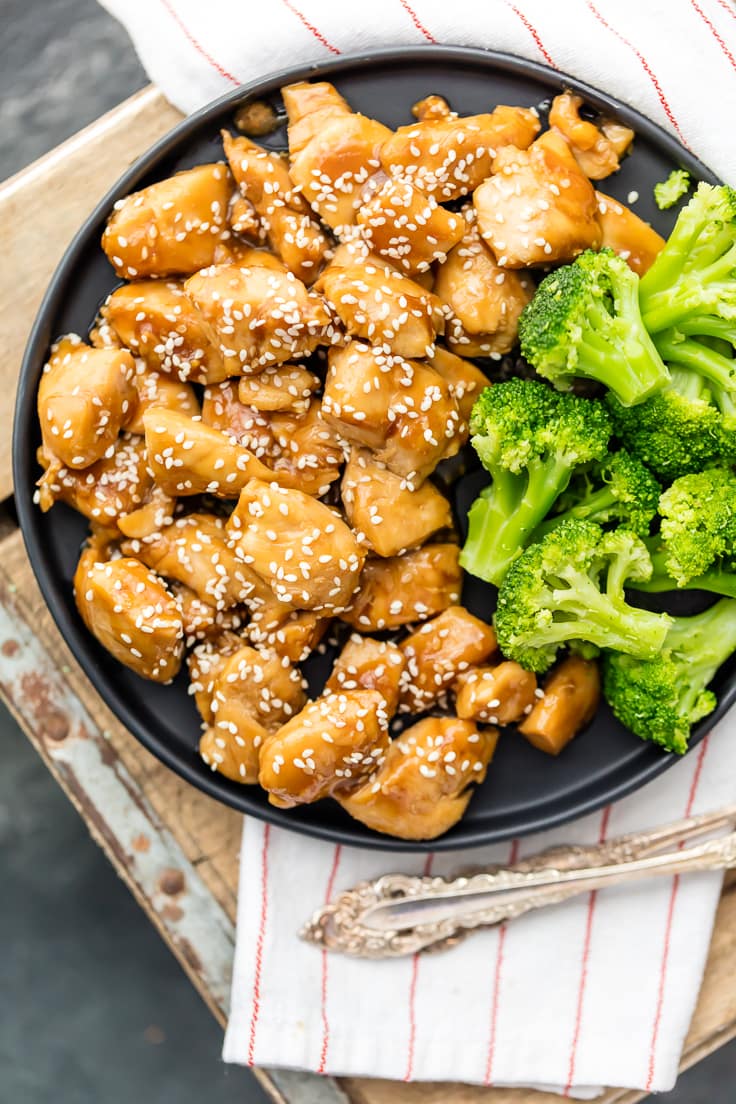 Easy Teriyaki Chicken Recipe
This super easy teriyaki chicken recipe is an awesome weeknight dinner solution. This easy chicken recipe pairs perfectly with rice and sauteed veggies!
We absolutely love everything about where we live…except one important thing. Finding really good quality takeout is DIFFICULT here. We just haven't found any places that we love, and we definitely NEED some Chinese food for those lazy Netflix nights. I miss living in the city for that reason and that reason only.
But it's forced me to figure out how to make my favorites at home, so I guess in that sense, this has really been a win. I've been pleased to find out just how easy it is to make some of our favorites at home, instead of ordering out. Pizza can be made in a flash, Cashew Chicken can be made in a slow cooker, and now we've got this EASY Teriyaki Chicken recipe that can be made in minutes. It's not a bad compromise at all!
I've made a super delicious teriyaki chicken sauce, making this recipe, dare I say, BETTER than takeout! Turn it into a full teriyaki chicken and rice dinner by adding some rice and veggies, and start with egg rolls for an appetizer. So quick and so delicious!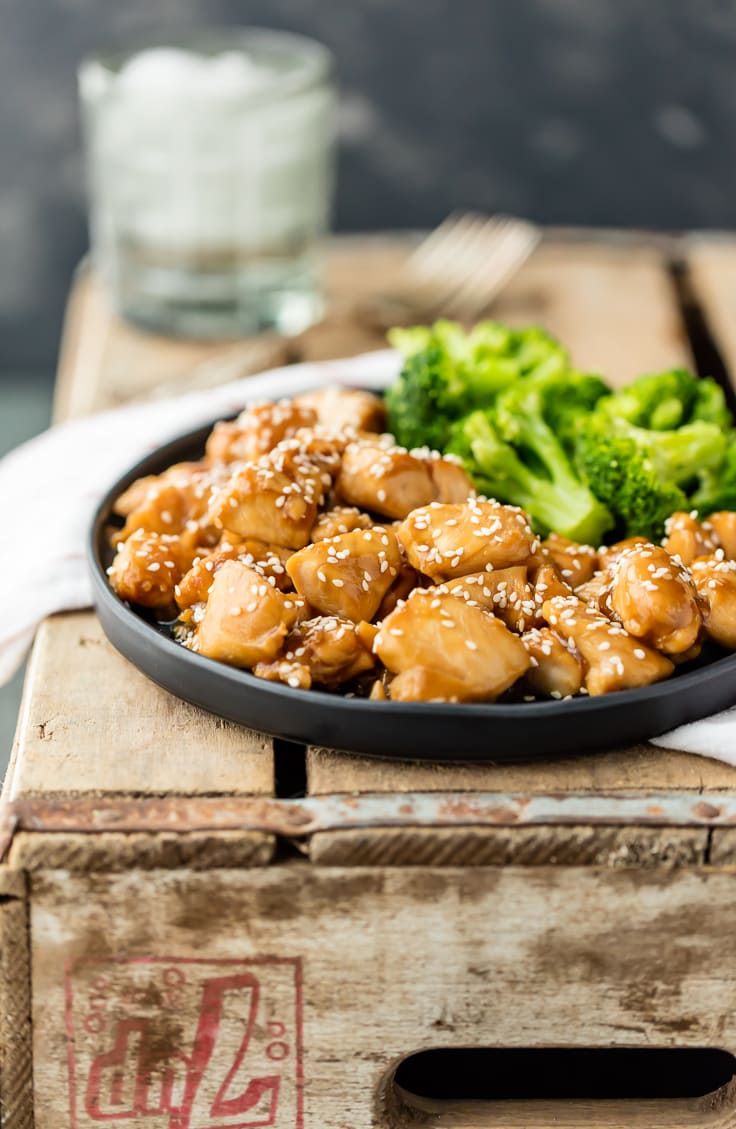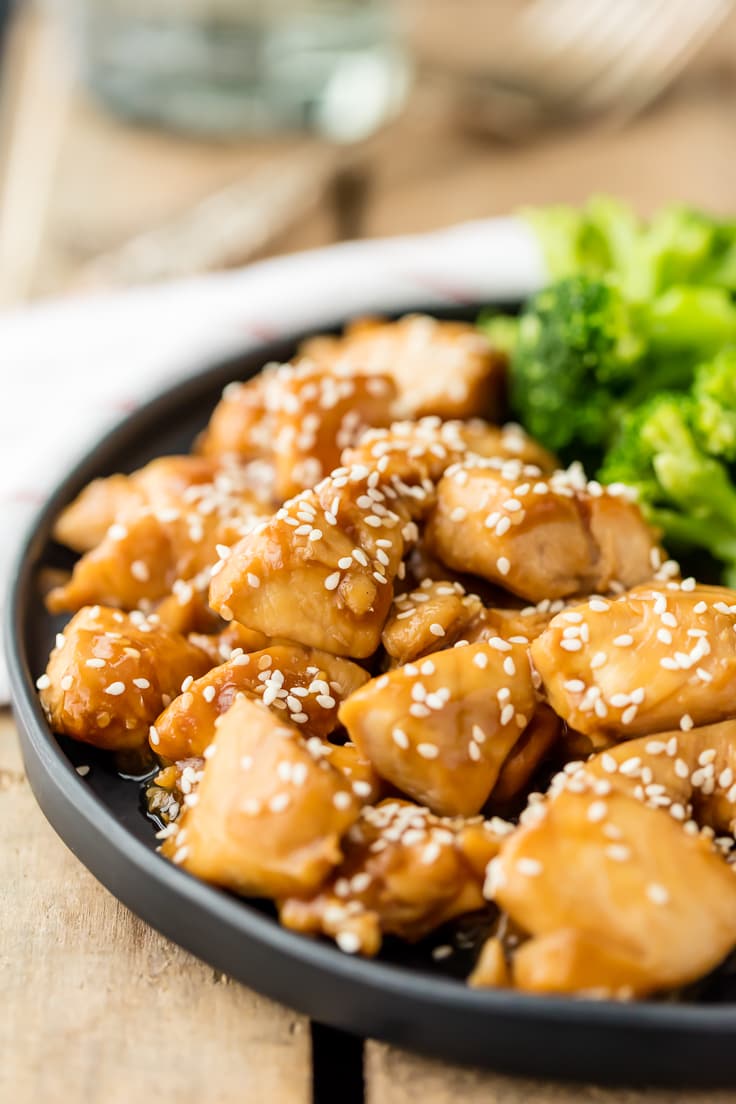 Best Chicken Teriyaki Sauce
I love this easy teriyaki chicken recipe. It is such a simple and versatile dinner or lunch. It's perfect for taking to work and reheating, or perfect for staying in on lazy nights with your family.
This recipe is really all about the chicken teriyaki sauce. That's what makes this chicken so good! It's so easy to make and so tasty. The perfect blend of sweet and salty.
Ingredients:
Soy Sauce
Water
Sugar
Rice Wine Vinegar
Ginger
Garlic
Cornstarch
You could use this same sauce on things other than chicken (pork would be awesome), or even just use it as a sauce for sauteed veggies. So get creative and use this teriyaki sauce any time you want!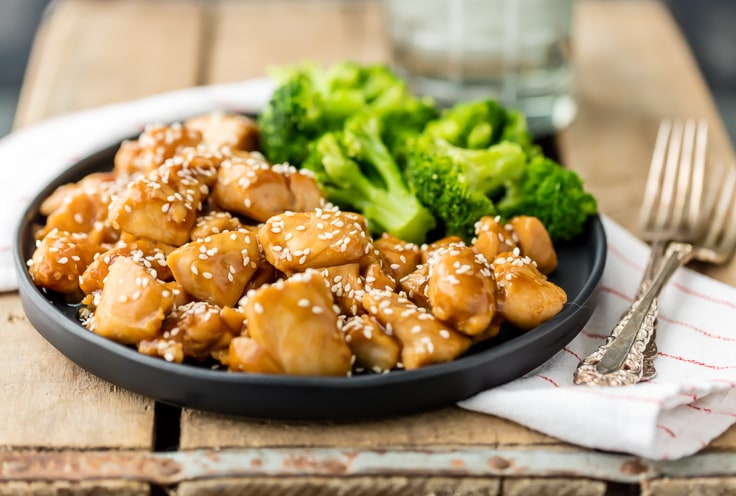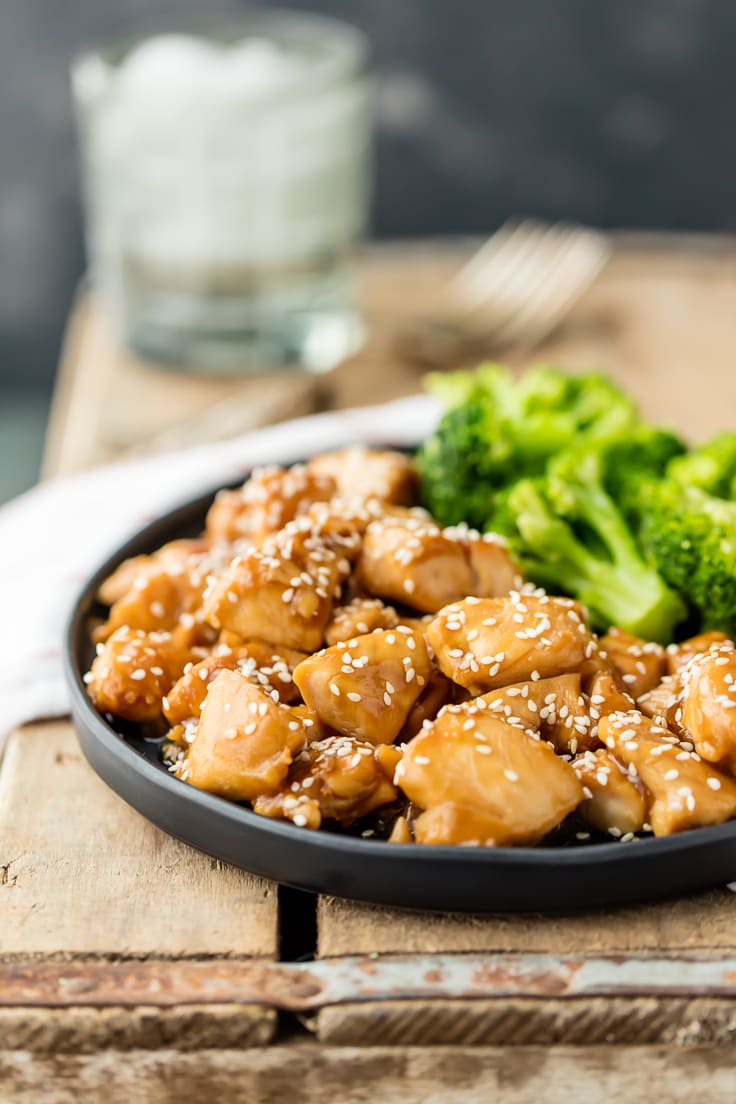 How to Make Teriyaki Chicken
This easy teriyaki chicken recipe is really focused on the chicken, so it's super simple. You'll need to let the chicken marinate for about 30 minutes, but cooking time is only about 10-15 minutes tops. So you can have this meal ready in no time.
Cut chicken breasts into 1 inch cubes, then place them in a resealable plastic bag and set aside.
Mix soy sauce, water, sugar, and rice wine vinegar to make the chicken marinade. Pour it into the bag with chicken, seal, and refrigerate it for 30 minutes.
While the chicken is marinating, prepare the teriyaki sauce.
Mix cornstarch and water, then set it aside.
Then whisk together soy sauce, water, rice wine vinegar, sugar, garlic, and ginger in a saucepan. Bring sauce to a boil, then reduce heat to low.
Add in the cornstarch/water, and stir until the sauce has thickened.
Now remove the chicken from the fridge and heat it up in a skillet. Pour the sauce directly over it, and cook the chicken breast 3-4 minutes on each side, until it's fully cooked.
Sprinkle on some sesame seeds to finish it off!
It's a simple process, and now you can serve it as you like. Be sure to watch the video and check the recipe card for more detailed instructions.
Teriyaki Chicken and Rice
This chicken can be served in so many ways. It's delicious served over rice, with veggie loaded chow mein noodles, or simply with your favorite vegetables. Chicken, rice, and veggies is a simple meal but so tasty, and fully balanced. This quick Asian dinner has been a hit with kids and adults alike, so it's sure to be a winner in your house.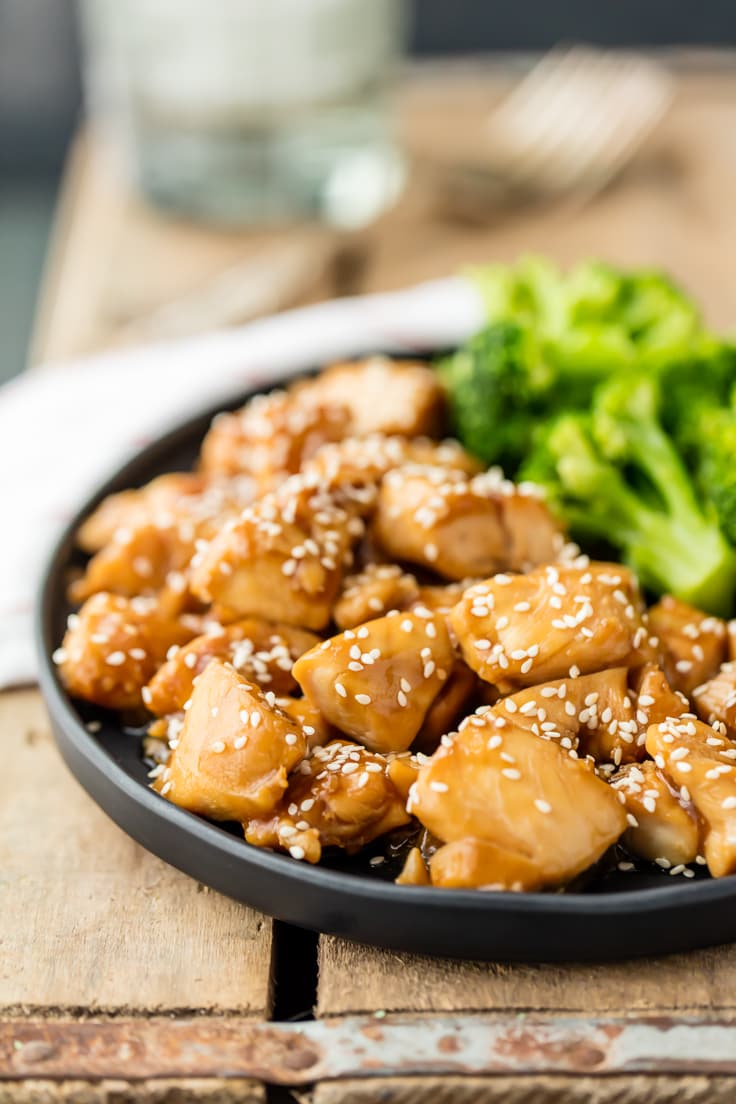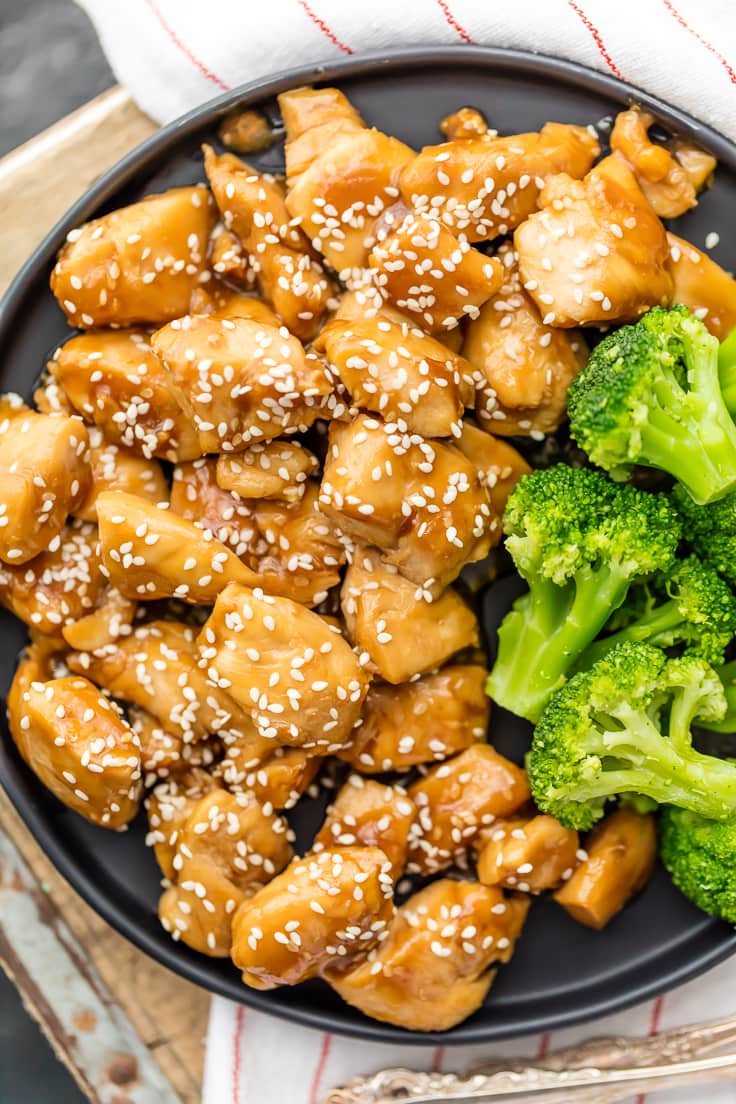 I hope you enjoy this Super Easy Teriyaki Chicken recipe as much as we do! It's one of our favorite weeknight dinners because it's such a quick recipe to make. Don't waste your time on takeout; just make this for yourself instead! And try this Sweet and Sour Pork recipe if you want to recreate the takeout experience with lots of options.
Watch the Video and See the recipe card for details on how to make Teriyaki Chicken. Enjoy!
If you like this recipe, you'll love these other easy chicken recipes: