WE LOVE this easy Chicken Teriyaki recipe! It's a simple Asian dinner, made in minutes, and delicious for the entire family.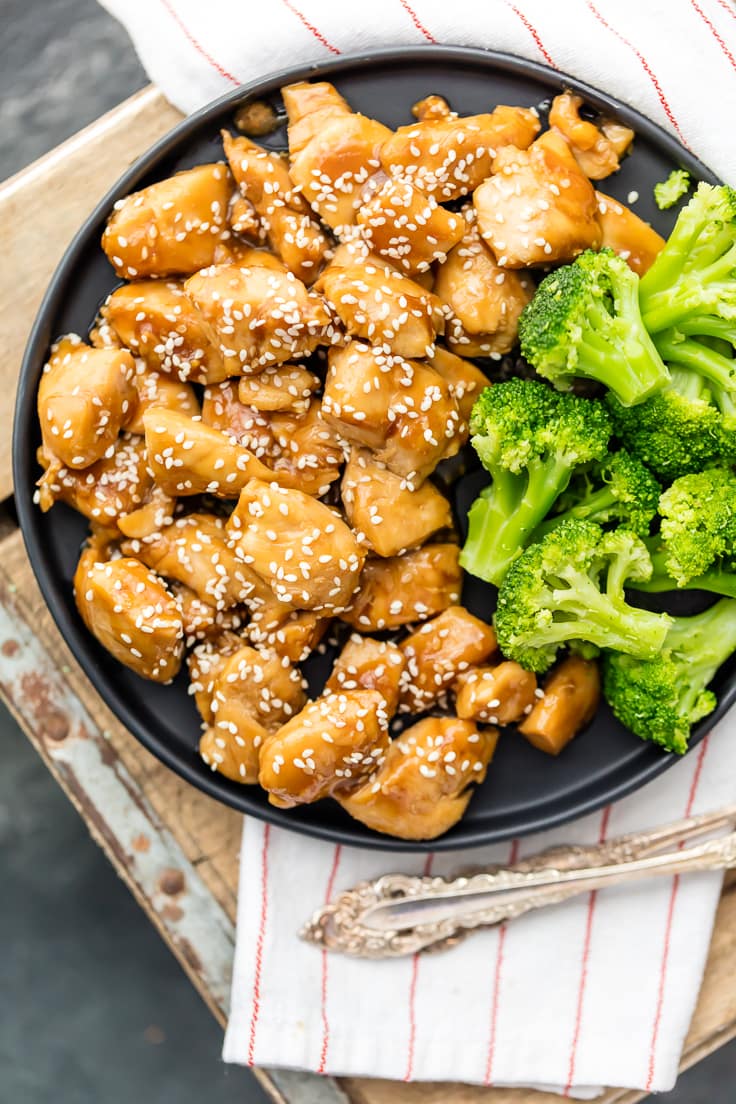 We built our house and love where we live. Our neighborhood feels safe and quiet, and our neighbors are friendly. There are lots of kids and dogs running around at all times. We are only lacking one thing. QUALITY TAKEOUT. We haven't found any that we love, and are left without a clue where to order on those lazy Netflix nights. I miss living in the city for that reason and that reason only.
It's forced me to figure out how to make my favorites at home, and I've been pleased to find out just how easy some of our go-tos really are to make. Pizza can be made in a flash, Cashew Chicken can be made in a slow cooker, and now Chicken Teriyaki can be made in minutes. It's not a bad compromise at all!
This easy chicken teriyaki recipe is, dare I say, BETTER than takeout!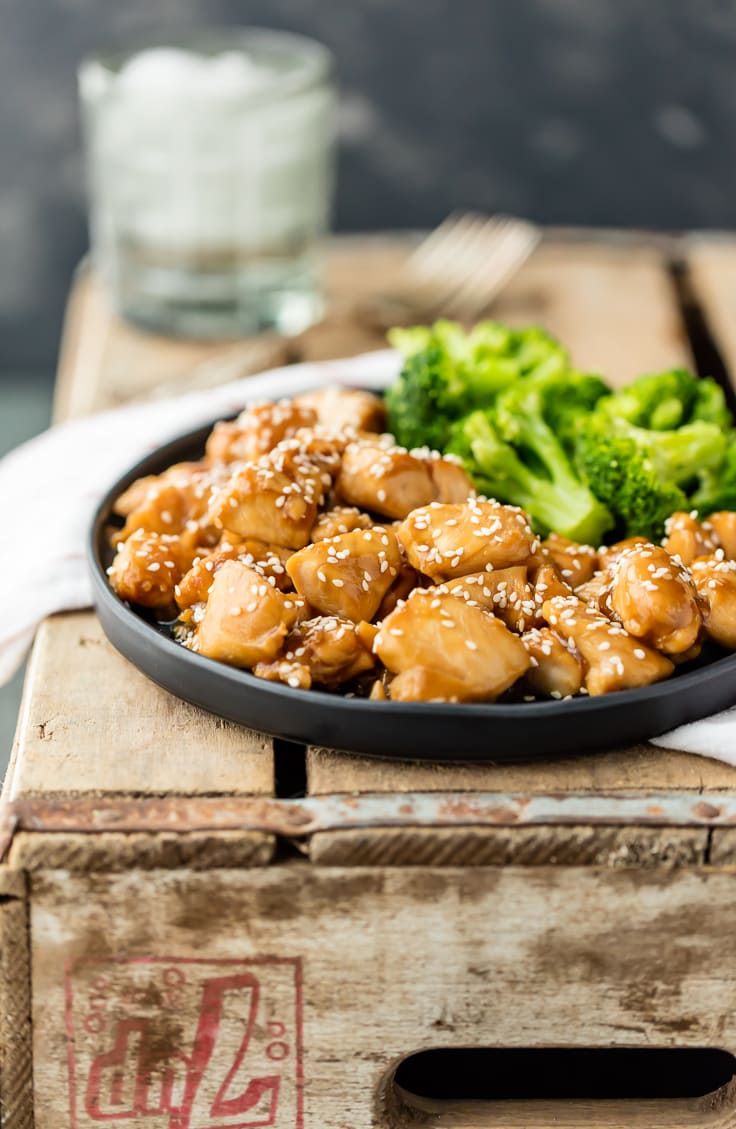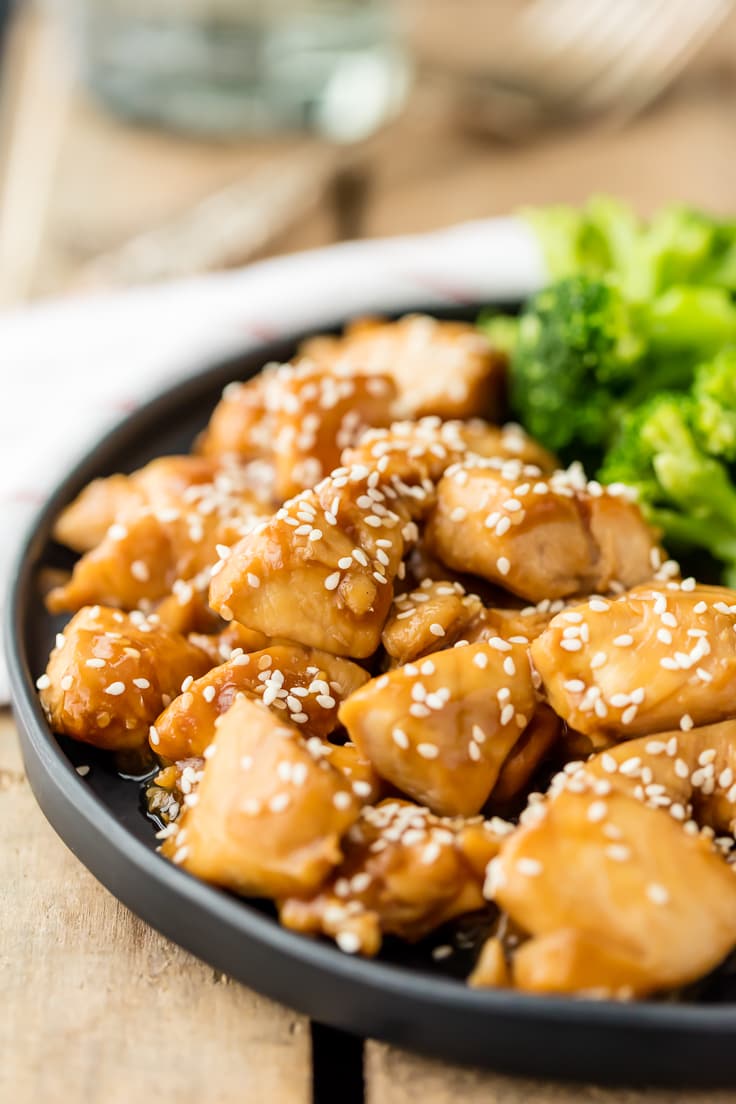 Such a simple and versatile dinner or lunch. Perfect for taking to work and reheating, or perfect for staying in and making with the ones you love for dinner.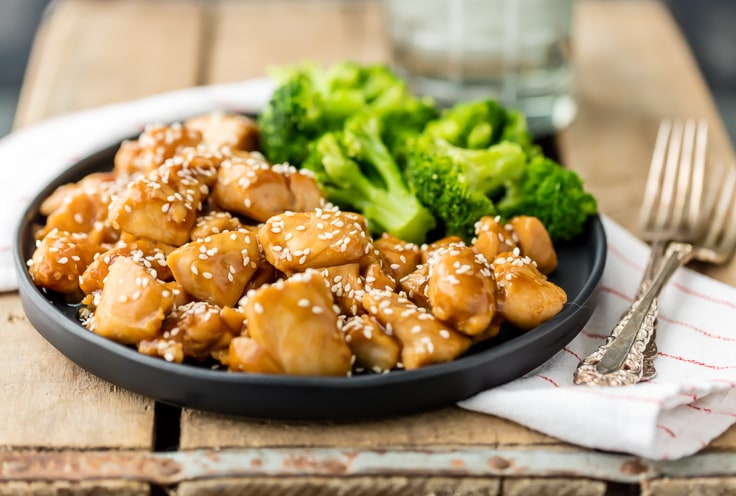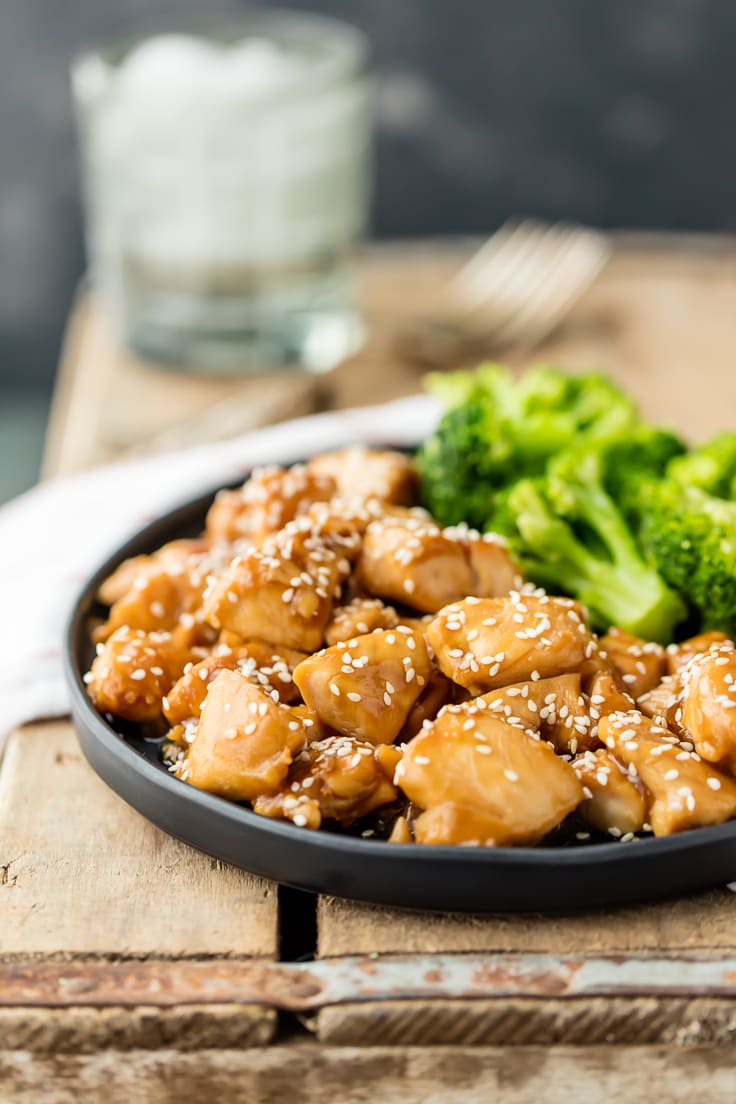 It's delicious served over rice, with veggie loaded chow mein noodles, or simply with your favorite vegetables. This quick Asian dinner has been a hit with kids and adults alike. Simply yum.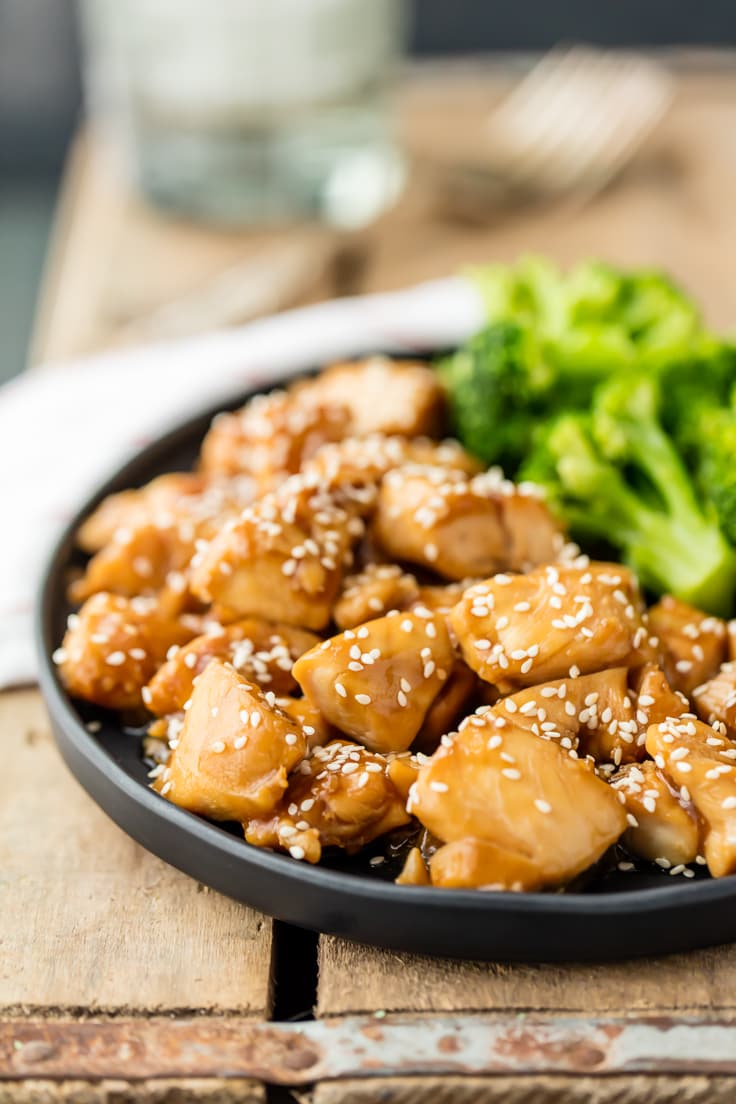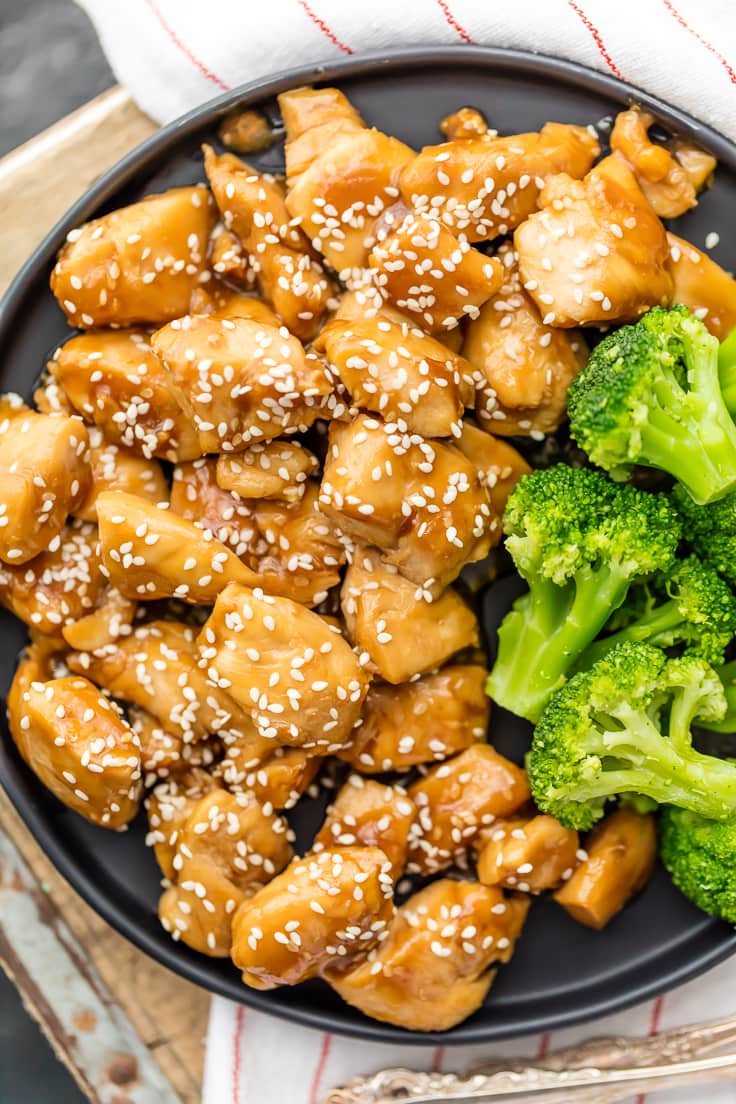 I hope you enjoy this Super Easy Chicken Teriyaki as much as we do!
Super Easy Chicken Teriyaki
30 minPrep Time
10 minCook Time
40 minTotal Time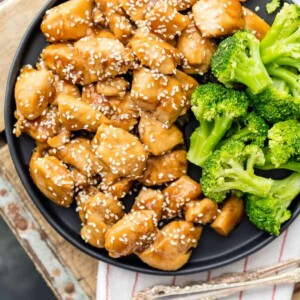 Ingredients
4 boneless chicken breasts
3 tablespoons soy sauce
1 tablespoon water
1 tablespoon sugar
1 tablespoon rice wine vinegar

FOR TERIYAKI SAUCE

3/4 cup soy sauce
3/4 cup water
1/2 cup sugar
1 tablespoon rice wine vinegar
1/2 teaspoon ground ginger
1/4 teaspoon garlic powder
4 teaspoons cornstarch
2 tablespoons water
1 tablespoon sesame seeds for serving
Instructions
Cut chicken breasts into 1 inch cubes and place inside a large ziplock bag. Set aside.
Mix together 3 tablespoons soy sauce, 1 tablespoon water, 1 tablespoon sugar, and 1 tablespoon rice wine vinegar.
Add marinade to ziplock bag and coat chicken completely. Refrigerate for 30 minutes.
Meanwhile, mix 4 teaspoons cornstarch with 2 tablespoons water and set aside.
In small saucepan mix together 3/4 cup soy sauce, 3/4 cup water, 1 tablespoon rice wine vinegar, sugar, garlic powder, and ground ginger.
Use a whisk to mix together the ingredients and then bring to a boil. Reduce heat to low.
Add cornstarch mixture into the saucepan and stir constantly until fully combined and thickened.
Heat chicken in a large skillet over medium high heat.
Pour the teriyaki sauce over all the chicken (reserving some sauce for serving) and cook until chicken is fully cooked, about 3-4 minutes on each side; depending on the thickness of the chicken.
Sprinkle the chicken with sesame seeds.
Serve over rice or with your favorite veggies, with extra teriyaki sauce on the side.
Enjoy!
Nutrition
7.8.1.2
2032
https://www.thecookierookie.com/super-easy-chicken-teriyaki/