If your family loves Mexican food as much as mine, then you won't want to miss out on the amazing flavors of Chicken Tinga. Known as Tinga de Pollo in the Puebla region of Mexico, where the easy recipe originated, tender shredded chicken in a rich, flavorful chipotle sauce creates the perfect Mexican food recipe for your next Cinco de Mayo fiesta.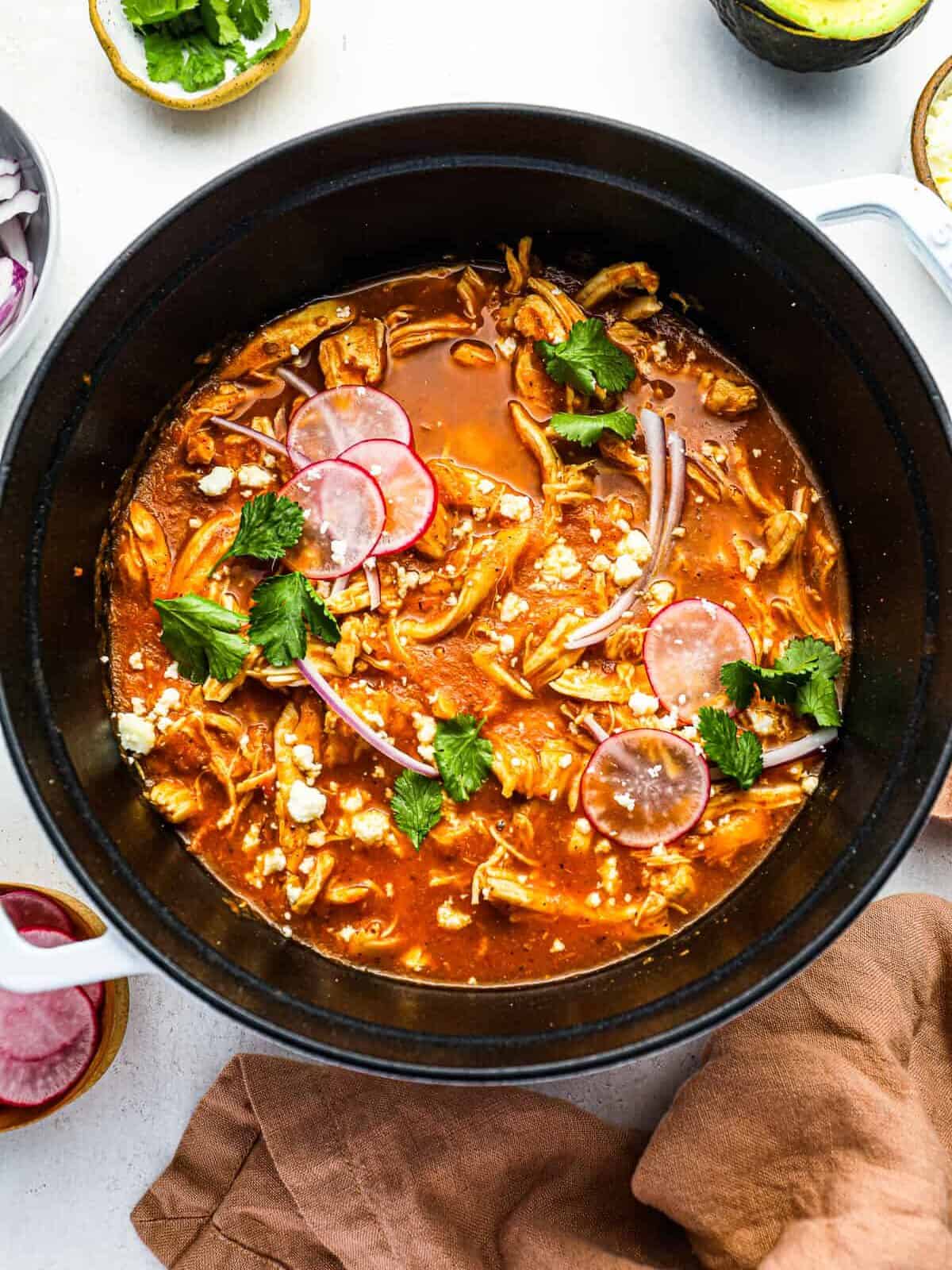 What's in this Tinga de Pollo recipe?
The incredible aromas that will fill your kitchen when making Chicken Tinga start with the rich tomato-based chicken broth, flavored with onions, garlic, herbs, and spices. What makes this dish so irresistibly good is the smoky chipotle peppers that add depth and medium heat to the dish.
Chicken Breasts: Skinless and boneless chicken breasts are a delicious and low-fat choice for this chicken tinga recipe.
Tomatoes: I use Roma tomatoes for this recipe since they are meatier and less watery than other varieties.
Chipotle Peppers in Adobo Sauce: This ingredient is made from ripe jalapeño peppers that have been smoked and then preserved in a tangy, slightly sweet, and mildly spicy sauce made from a blend of spices, vinegar, and tomatoes.
Onion: Yellow onions work best in this recipe, but you can use white or even red.
Garlic: If you're out of fresh garlic (or don't like chopping fresh garlic), minced garlic in water or olive oil is a convenient alternative.
Mexican Oregano: Unlike the Mediterranean oregano commonly used in Italian and Greek cuisine, Mexican oregano has a distinct flavor and aroma that is slightly more citrusy and floral.
Cumin: Cumin is a versatile spice often found in Mexican food recipes. It adds depth and warmth to a wide range of dishes, and I always keep some close by in my pantry.
Bay Leaves: Whole bay leaves are a common staple dropped into stews and sauces to deepen flavors before getting removed when the cooking is complete.
Chicken Broth: While you can always buy premade, homemade chicken broth is easy to make and often more flavorful.
Salt + Pepper: These seasoning staples are essential to bringing out the flavor of the chicken breasts and other ingredients.
Olive Oil: A little olive oil is all you need to get the tomato-based chicken broth sauce started.
Variations on Mexican Chicken Tinga
There are quite a few ways to change up this recipe to suit your needs. You can use boneless, skinless chicken thighs instead of breasts if you prefer the taste. If you're short on time, you can skip adding the chicken in step 3 and instead stir in shredded rotisserie chicken at the end. To make this recipe spicier, feel free to add more chipotle peppers in adobo sauce to your tastes.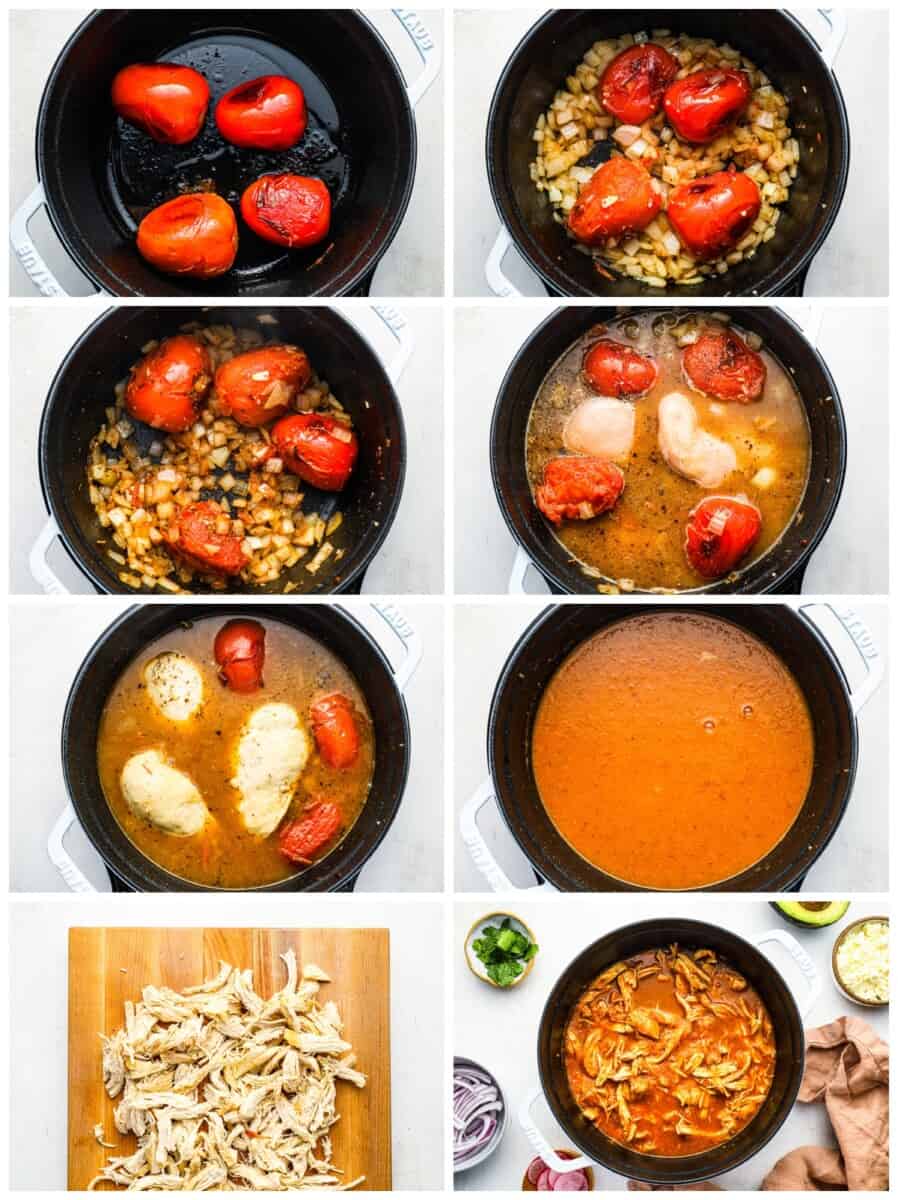 What is chicken tinga?
Chicken Tinga is a Mexican dish consisting of shredded chicken in a sauce made from tomatoes, chipotle chilis in adobo, and onions.
What does chicken tinga taste like?
Chicken tinga is smoky and slightly spicy. It's a perfect balance!
Is chicken tinga spicy?
Yes, chicken tinga is spicy, but not overly so. To make it less spicy, use the sauce from the chipotle peppers in adobo sauce rather than the actual peppers.
What's the best chicken for chicken tinga?
I like to use boneless, skinless chicken breasts, but chicken thighs would also work!
Is there a difference between oregano and Mexican oregano?
Yes! Mexican oregano is actually part of the verbena family, not the oregano family, and it has a citrusy flavor. If you can't find Mexican oregano, the best substitute is marjoram, not regular oregano!
What should I do if I can't find chipotle peppers in adobo sauce?
If you can't find chipotle peppers in adobo sauce and you don't have time to order them online, don't panic! You can make your own substitute by mixing 1 tablespoon tomato paste, 1 tablespoon cider vinegar, ½ teaspoon smoked paprika, ½ teaspoon ground cayenne pepper, a pinch of garlic powder, and a pinch of salt together. Use this mixture in place of the 2 tablespoons of chipotle peppers in adobo sauce.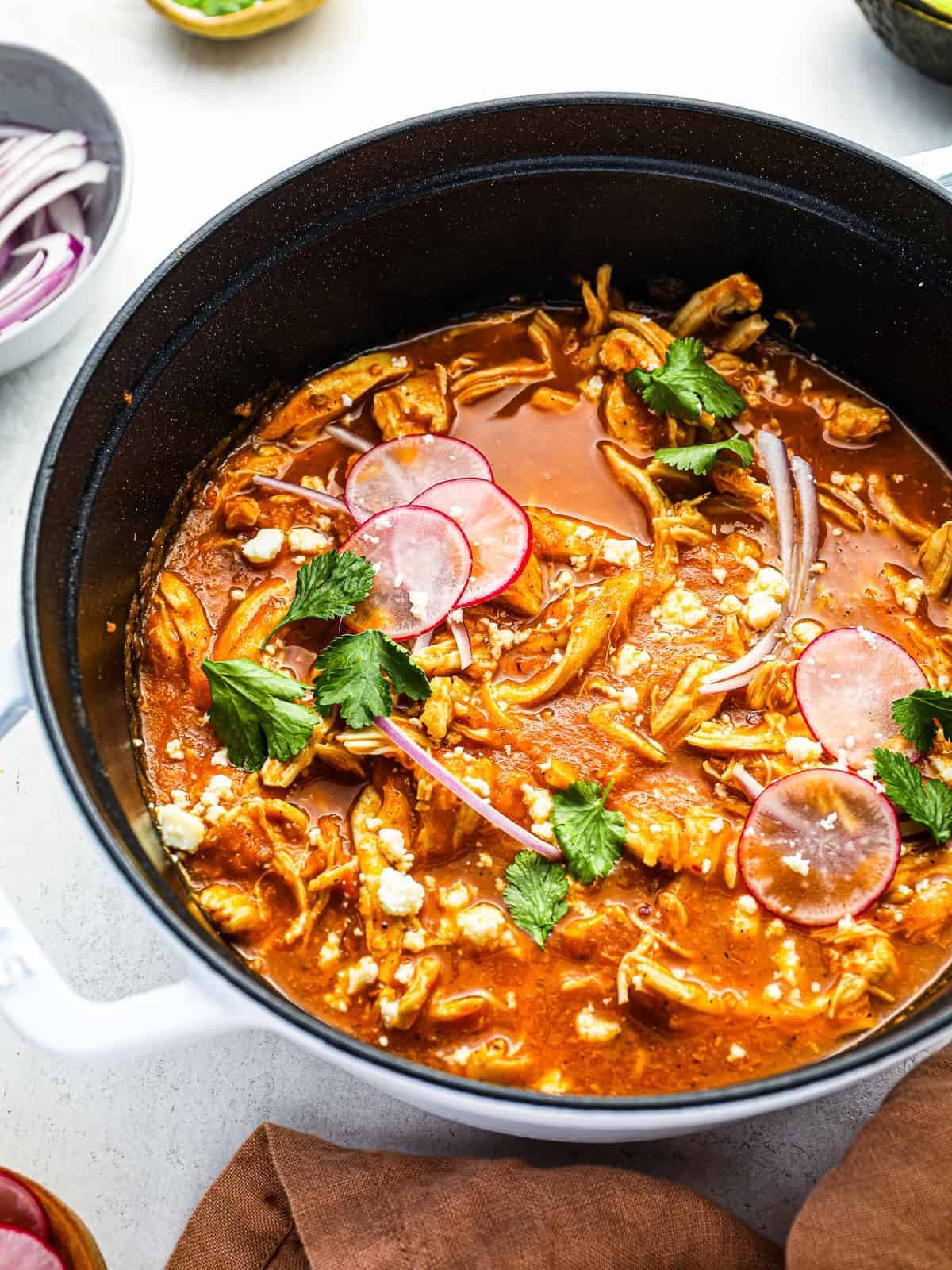 How to Store and Reheat Shredded Chicken Tinga
Store leftover chicken tinga in an airtight container in the refrigerator for up to 3 days. Reheat in a saucepan set over medium-low heat until warmed through.
How to Freeze Spicy Chicken in Tinga Sauce
Freeze tinga de pollo in an airtight container or Ziplock bag for up to 3 months. Let thaw overnight in the refrigerator before reheating.
How to Serve Authentic Mexican Chicken Tinga
Serve this chicken tinga traditionally on top of tostadas, or use it to make chicken tinga tacos, chicken enchiladas, burritos, quesadillas, or nachos! Add a side of Mexican rice and refried beans, and you have a full meal!
More Taco Meat Recipes We Love