These Chicken Tinga Tacos delight the tastebuds and are easy to whip up on even the busiest weeknights. Shredded chicken cooked in tinga sauce will wow everyone who tries them. The best part? Prep only takes 10 minutes. Give taco night a new look full of smoky flavor and your favorite toppings!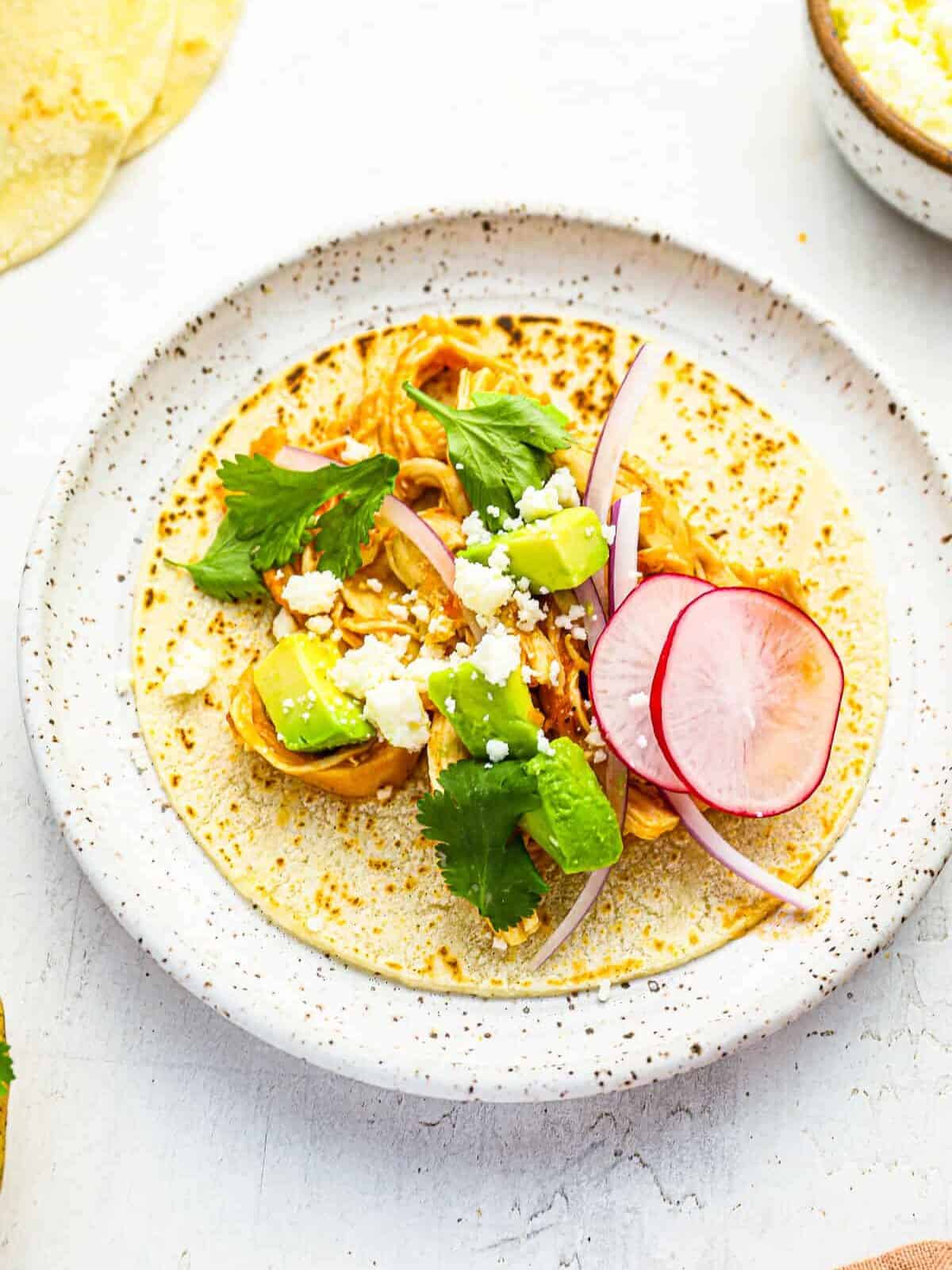 What's in Smoky Chicken Tacos?
Flavorful chicken tinga makes a great filling for tacos! Cook up chicken breasts in a delicious, smoky, seasoned tinga sauce, then shred it up to fill tortillas.
Chicken Breasts: Juicy chicken is the star of this show. Use skinless, boneless chicken breasts, or use boneless thighs.
Olive Oil: Sauté, sauté, sauté!
Tomatoes: Try fresh Roma tomatoes.
Onion: A yellow onion is best for the filling.
Garlic: We'll need two garlic cloves tonight.
Mexican Oregano: Keep in mind, Mexican oregano and the usual oregano in your spice cabinet are not the same thing.
Cumin: Cumin adds an earthy flavor.
Bay Leaves: An under-appreciated powerhouse.
Chicken Broth: Use broth or chicken stock.
Salt + Pepper: To taste.
Chipotle Peppers in Adobo Sauce: Tinga sauce needs its signature ingredient.
Corn Tortillas: All that chicken filling needs a place to go!
Variations on Crispy Chicken Tinga Tacos
There are tons of fun and easy ways to change up these chicken tinga tacos for Taco Tuesday or Cinco de Mayo.
Add extra protein with black beans or refried beans.
No corn tortillas? No problem. Use flour or cassava flour tortillas instead.
Taco toppings are the best way to change things up. Some of my favorites are fresh guacamole, diced red onion, cotija cheese, queso fresco, and sour cream.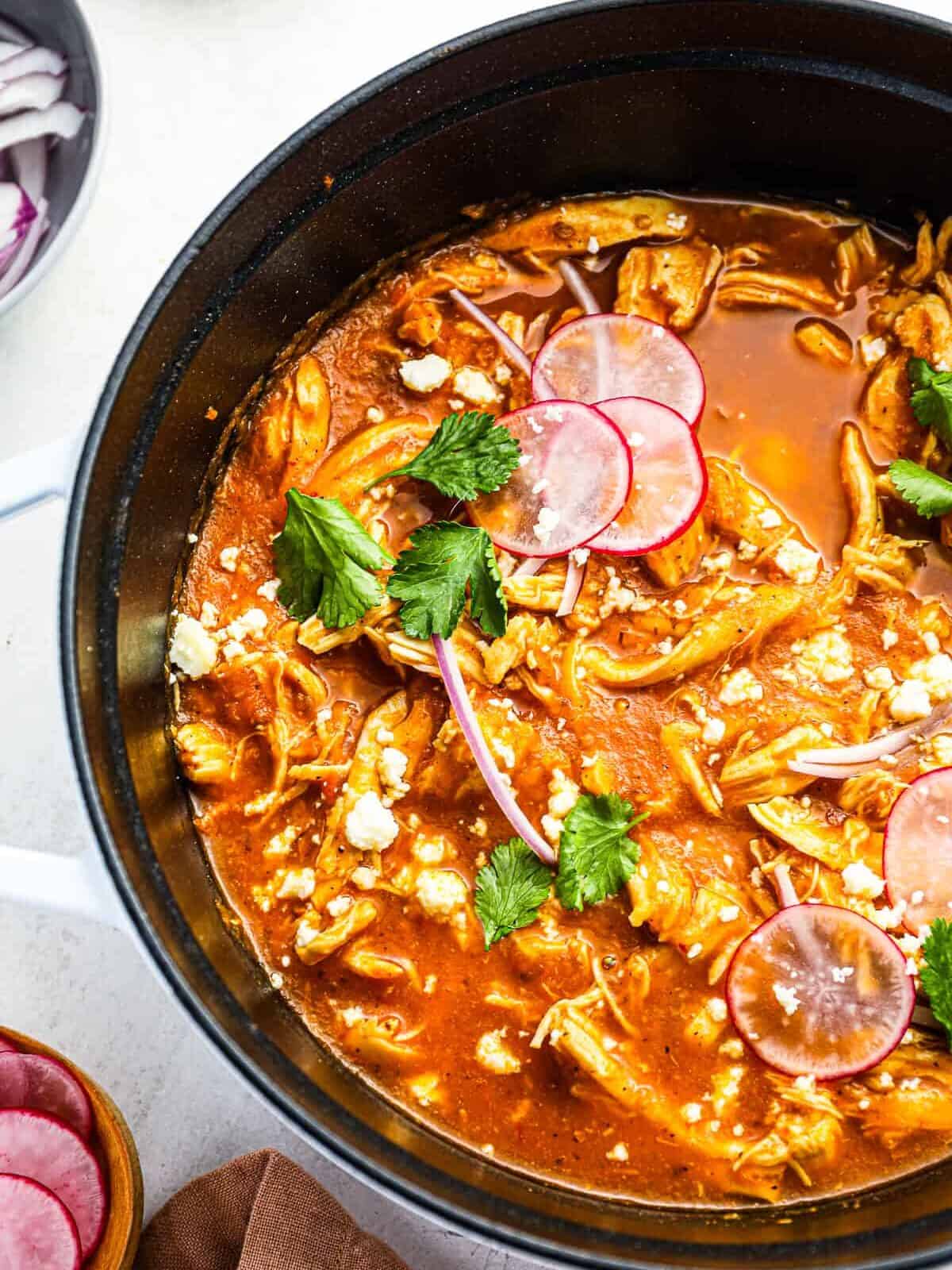 What does tinga mean in Mexican food?
Tinga refers to a Mexican dish made with shredded beef or chicken in a smoky tomato sauce.
What does chicken tinga taste like?
Chicken tinga is smoky and slightly spicy. It's a perfect balance!
Are chicken tinga tacos gluten-free?
Yes, these tacos are naturally gluten-free. Just be sure to use certified gluten-free corn tortillas.
What's the best chicken for chicken tinga tacos?
I like to use boneless, skinless chicken breasts, but chicken thighs would also work!
Is there a difference between oregano and Mexican oregano?
Yes! Mexican oregano is actually part of the verbena family, not the oregano family, and it has a citrusy flavor. If you can't find Mexican oregano, the best substitute is marjoram, not regular oregano!
How do you shred chicken for tacos?
The easiest way to shred chicken for these tacos is to let the chicken breasts cook whole, then use two forks to pull and shred them into pieces. You'll have one fork in each hand, hold one steady, then pull the other through the chicken until it shreds. Really simple!
What should I do if I can't find chipotle peppers in adobo sauce?
If you can't find chipotle peppers in adobo sauce and you don't have time to order them online, don't panic! You can make your own substitute by mixing 1 tablespoon tomato paste, 1 tablespoon cider vinegar, ½ teaspoon smoked paprika, ½ teaspoon ground cayenne pepper, a pinch of garlic powder, and a pinch of salt together. Use this mixture in place of the 2 tablespoons of chipotle peppers in adobo sauce.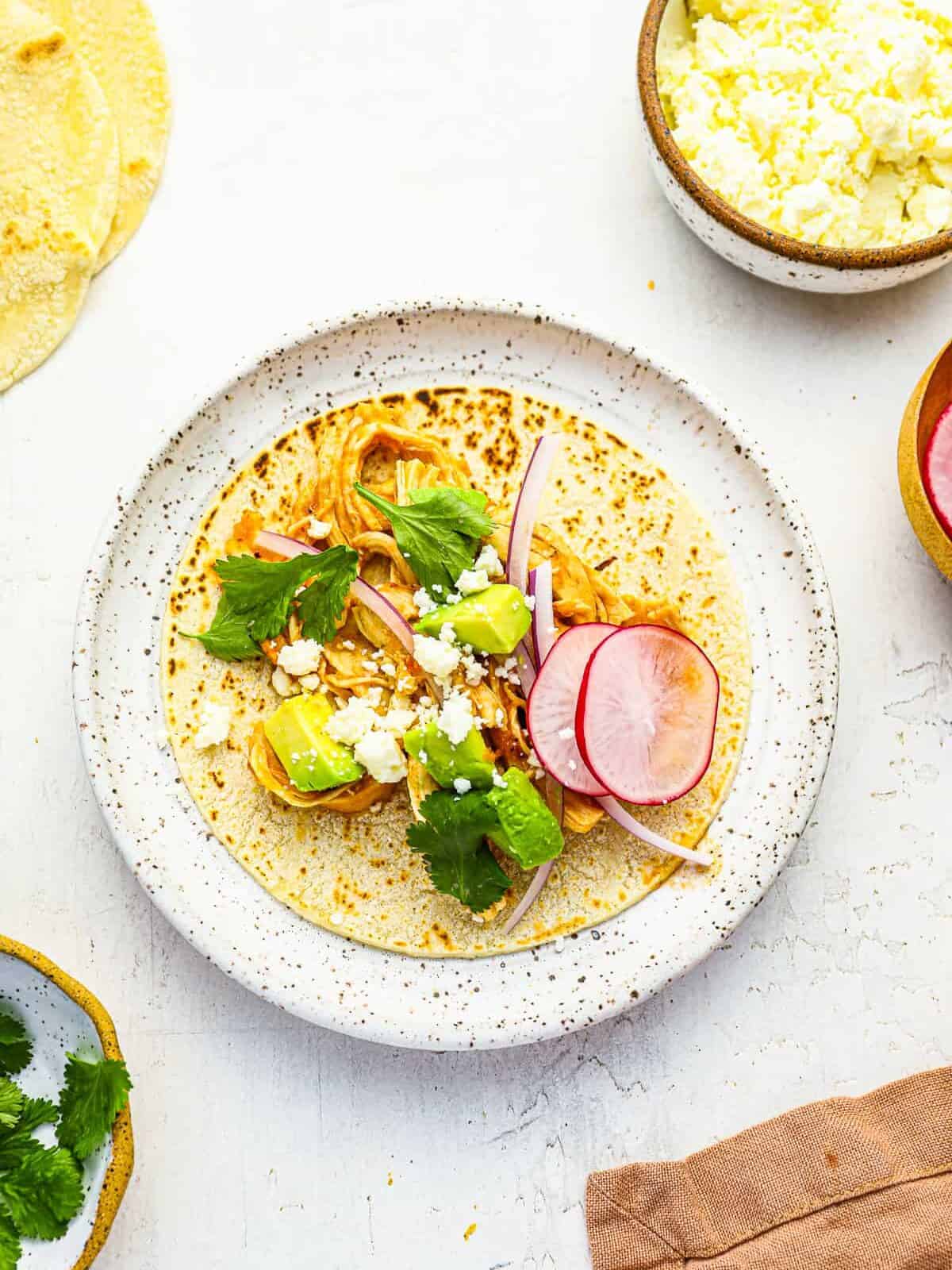 How to Store and Reheat Stovetop Chicken Tacos
Store leftover chicken tinga tacos in an airtight container in the refrigerator for up to 3 days. I highly recommend storing the meat and tortillas separately and assembling after reheating the components. Reheat the taco meat in a saucepan set over medium-low heat until warmed through, and heat the tortillas as described in step 8 of the recipe!
How to Freeze Shredded Chicken Tinga
Freeze chicken tinga in an airtight container or Ziplock bag for up to 3 months. Let thaw overnight in the refrigerator before reheating and assembling the tacos.
What to Serve with Healthy Chicken Tinga Tacos
It's Taco Tuesday time! This smoky chipotle chicken is delicious in tacos, but can easily be used in a burrito bowl on a bed of Cilantro Rice. Grab a tortilla chip and dig into this Crock Pot Queso Dip or Street Corn Dip and wash it all down with a tart, yet sweet Limeade.
More Chicken Taco Recipes We Love