Easy to make Chocolate Peanut Butter Protein Balls are perfectly poppable snacks that will keep you going throughout the day! Oats, flaxseed, protein powder and more are combined to create the best on the go snack or breakfast. They're sweet, chewy, and perfectly filling!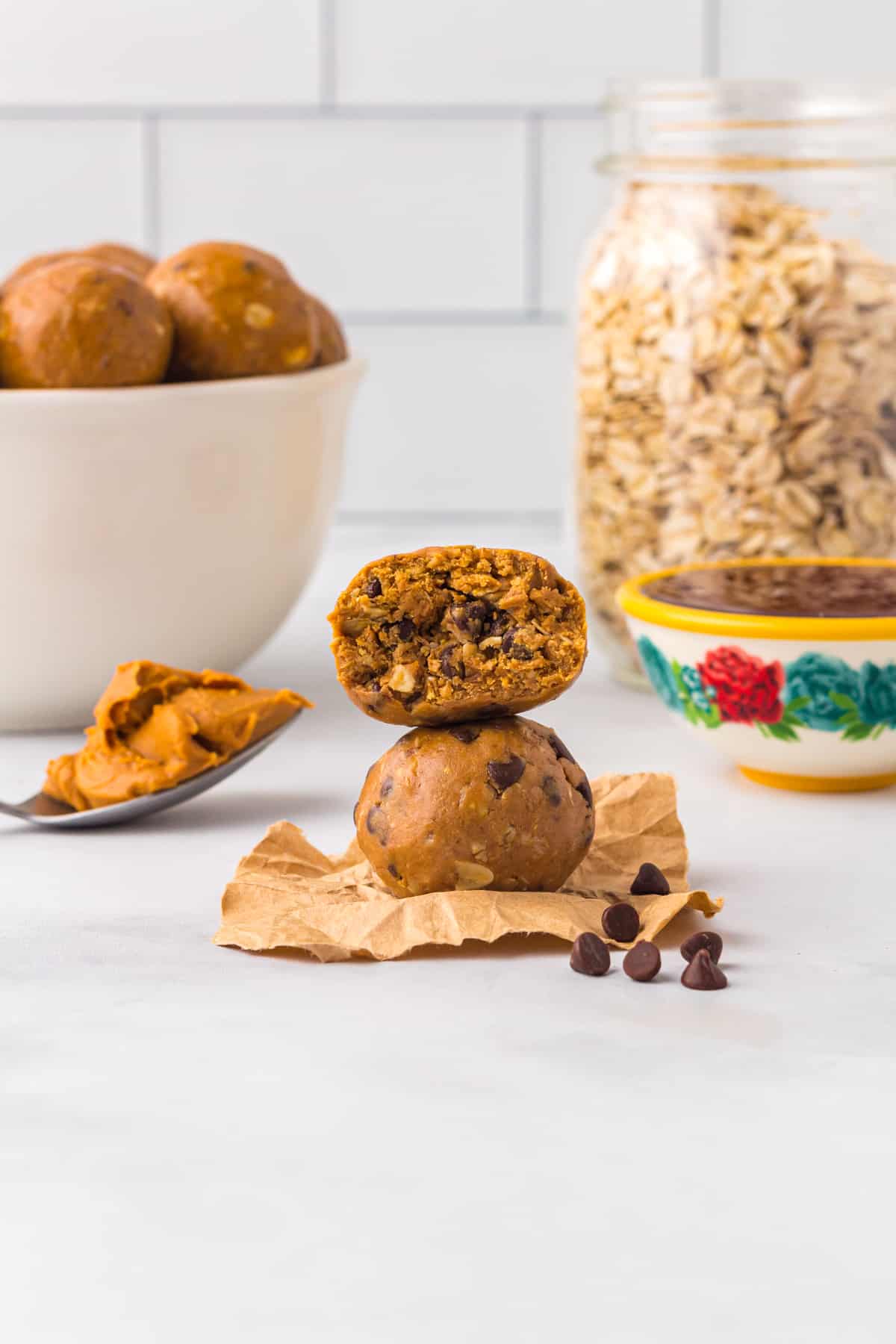 Peanut Butter Protein Balls
If you're a busy person, chances are you need a snack that can travel with you. Whether you're dealing with a crazy day in the office, cleaning the house, or driving across town, you need a snack that will actually hit the spot and fill you up.
Peanut butter and chocolate protein balls are tasty, so they actually satisfy your craving. Plus, they've got just enough protein to actually curb your appetite and give you energy to get through the day. Eat a few before your next workout or while you're chasing kids around the house for an extra energy kick!
Why You'll Love this Energy Bites Recipe:
FILLING: The combination of peanut butter and protein powder work together to curb your appetite.
TASTY: If you love peanut butter and chocolate flavors combined with chewy oats, you're going to love these tasty protein balls!
EASY TO MAKE: This is a quick and easy no-bake recipe that even the kids can help you with.
All-natural ingredients mix together to create these seriously satisfying chocolate peanut butter protein balls. They make a healthy meal prep breakfast, so they're ready to go every morning.
Be sure to try these Walnut Brownie Protein Balls and these Peanut Butter Energy Balls too!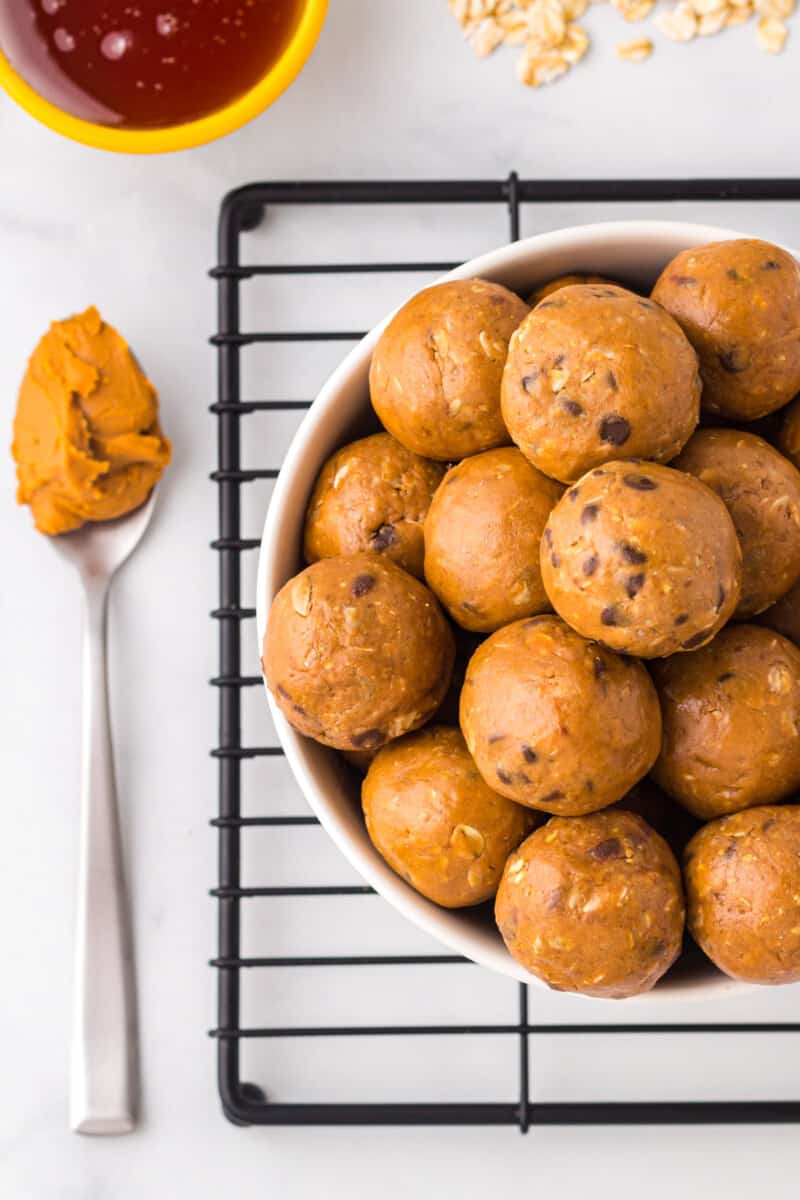 How to Make Chocolate Peanut Butter Protein Balls
You can jump to the recipe card for full ingredients & instructions!
Combine the oats, flaxseed, and protein powder.
Add peanut butter.
Scoop the protein balls and place them on a prepared baking sheet.
Refrigerate, then enjoy!
Recipe Notes
I love the chocolatey flavor from the protein powder! However, you can substitute it with peanut butter protein powder for even more PB flavor.
Use a good-quality honey to ensure that your protein balls are as naturally flavored as possible.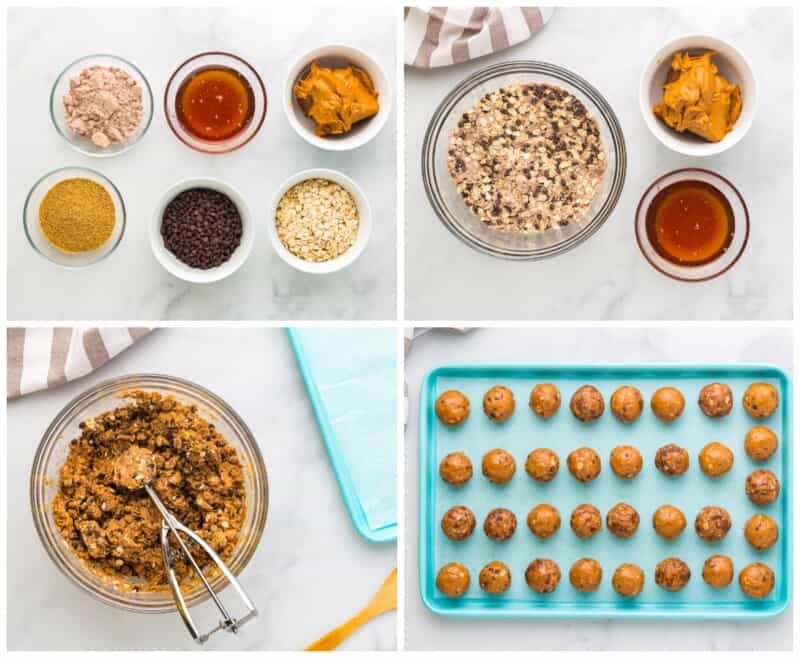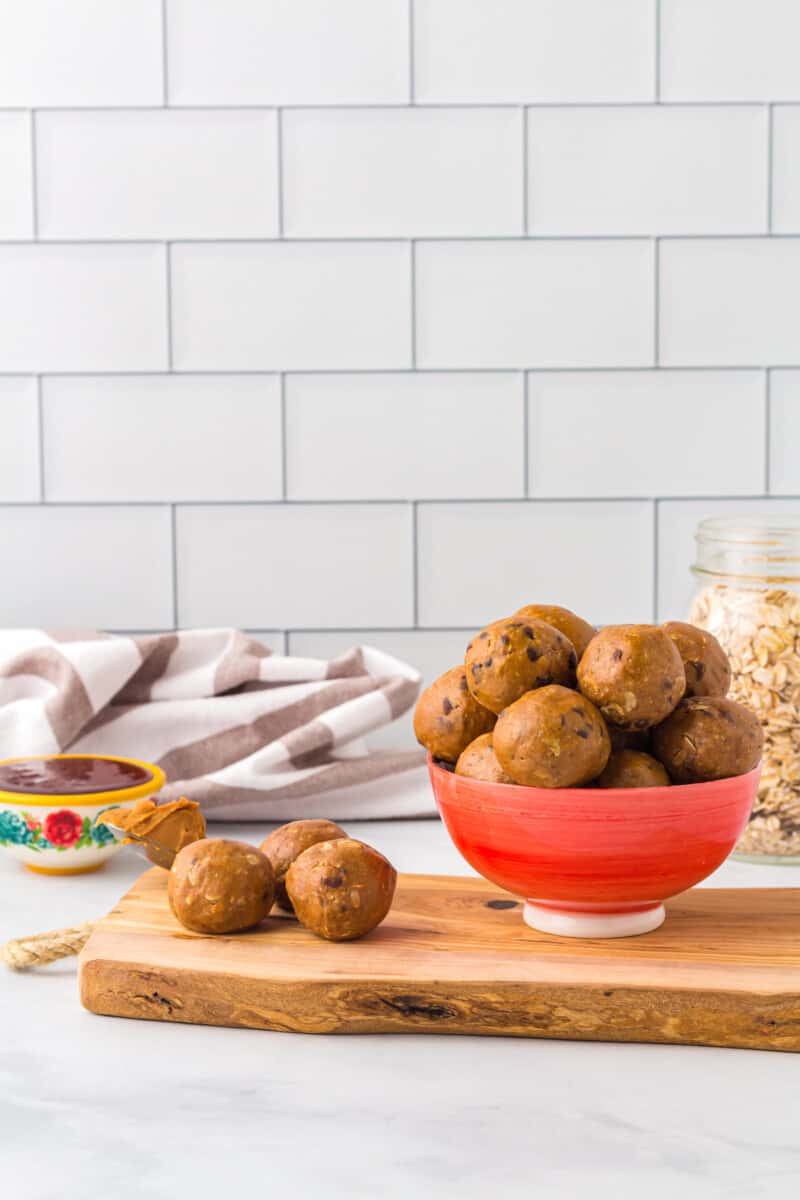 What kind of protein powder should I use?
Use 60 grams of your favorite kind of chocolate protein powder! This is typically about 2 scoops, but make sure to read the label or weigh the powder before adding.
Can I use any kind of nut butter?
Yes! Instead of peanut butter, try using cashew or almond butter for a little something different.
How can I make these protein balls without nuts?
Replace the peanut butter with an equal amount of a nut butter alternative (like sunflower seed butter) and make sure all of the other ingredients you use are also nut-free.
Are these protein balls gluten-free?
To ensure these protein balls are gluten-free, use certified gluten-free oats and protein powder.
Chocolate chips and honey are the perfect touches of sweetness in these protein-packed little snacks.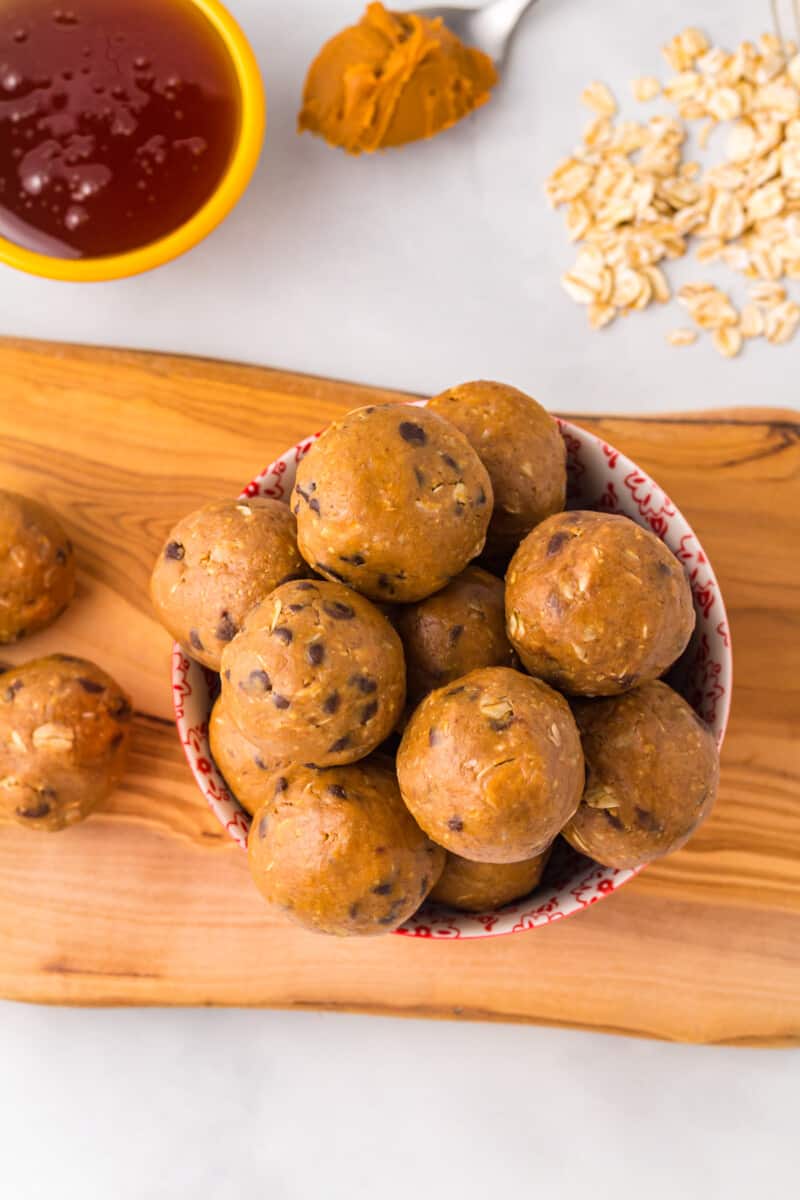 Tips!
Use parchment paper on your baking sheet! This will make the chilling process easier to clean up afterward, and it helps to prevent the balls from sticking to the baking sheet.
Use a cookie scoop while scooping the balls. If you try to freehand it, the balls may end up unevenly sized.
If you don't have time to chill the protein balls for an hour, no worries! They can be enjoyed immediately.
Chewy, sweet, and oh so peanut buttery – there is SO much to love about these healthy protein balls.
How long do these chocolate peanut butter protein balls last?
Store protein balls in an airtight container in the refrigerator for up to 1 week or in the freezer for up to 2 months. Make sure they've chilled in a single layer in the refrigerator first to prevent the protein balls from sticking to each other.
What kind of oats should I use?
For best results, use old-fashioned rolled oats. In a pinch, you can use quick oats but they won't have the same chewy texture.
Can I use any kind of chocolate chips?
I love using mini chocolate chips in this recipe but regular-size chocolate chips of any kind (white, milk, dark) are all delicious choices.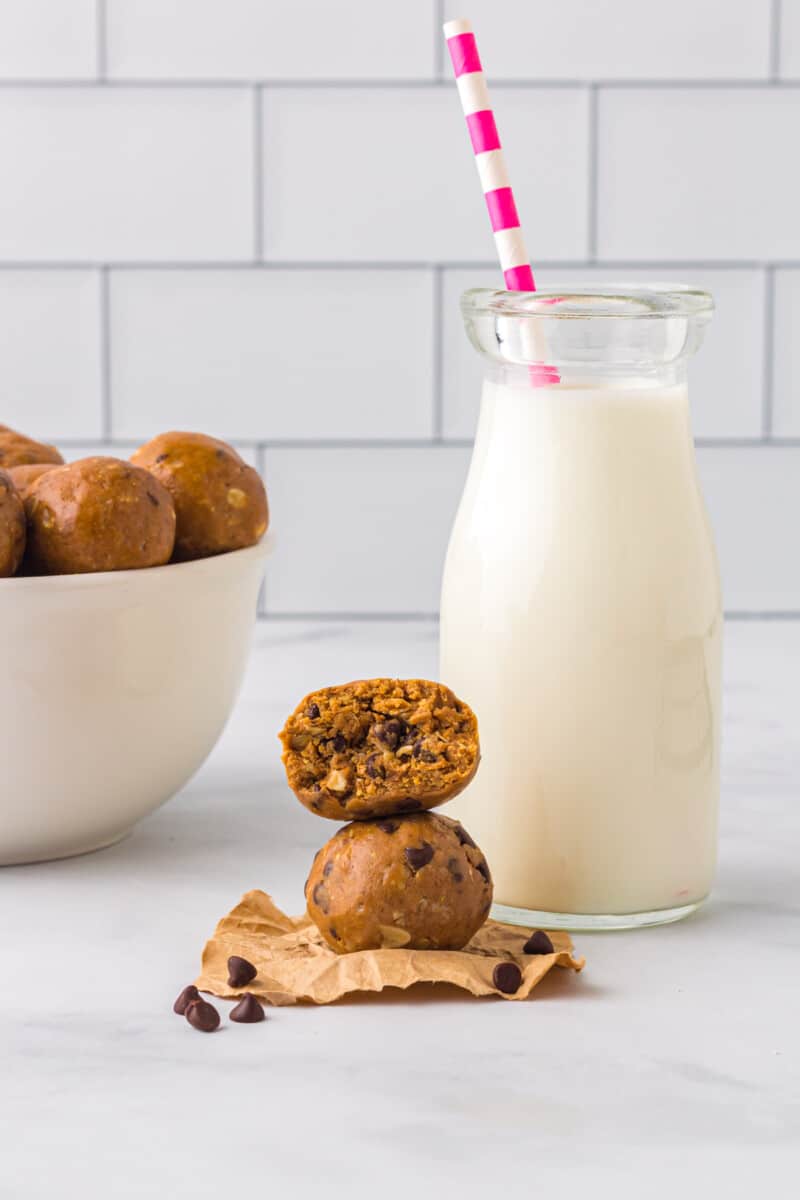 When you need a snack to hold you over to the next meal, skip the overpriced protein bars from the store! Instead, make these quick, easy, and delicious chocolate peanut butter protein balls.
If you make this recipe be sure to upload a photo in the comment section below or leave a rating. Enjoy! You can also jump to recipe.