Skip the coffee shop lines and make your own pumpkin spice latte at home in minutes. Full of the flavors of fall, this will be your new favorite coffee recipe!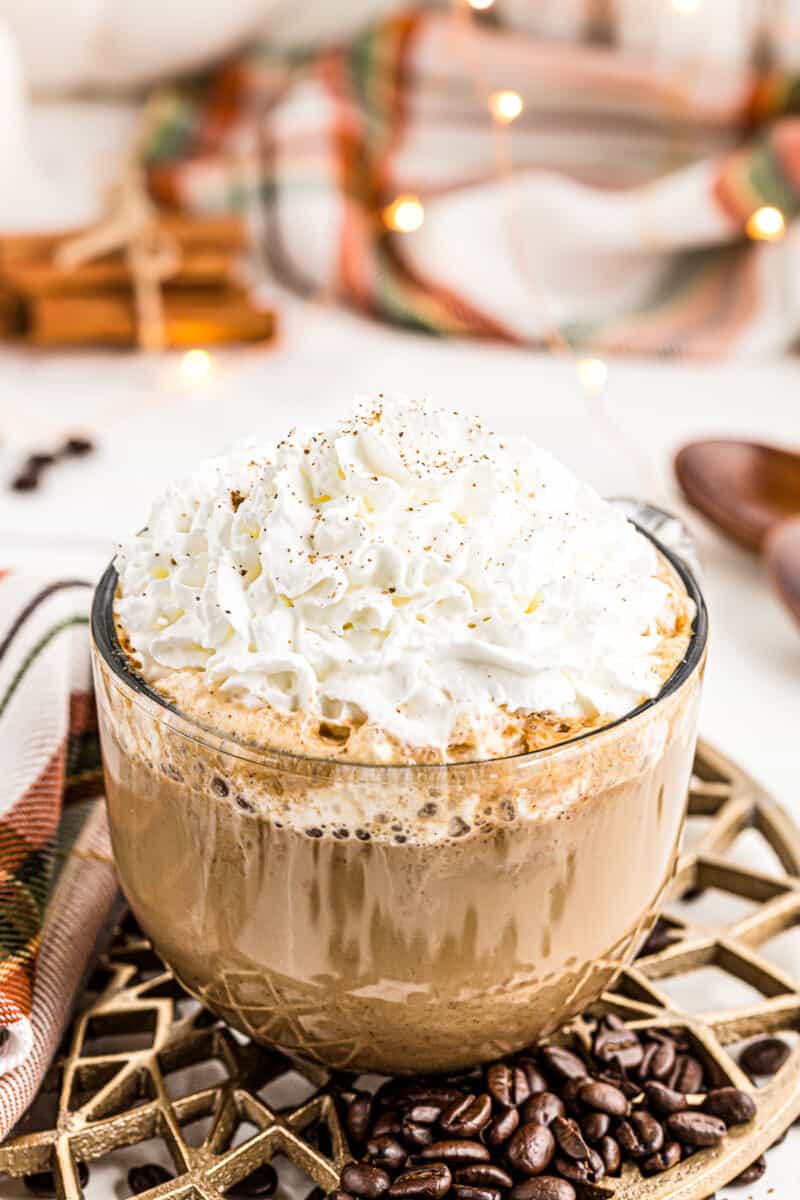 One of my favorite things about fall is definitely all of the pumpkin spice recipes. It's so warming with just the right amount of sweet. A pumpkin spice latte is one of my top indulgences.
This year, I decided to make my own Starbucks copycat, and let me tell you, it tastes just as it should! I love to enjoy this on chilly mornings for breakfast and it's great for an afternoon caffeine fix!
If coffee is your jam, be sure to check out my Iced Honey Almond milk Flat White and Iced Brown Sugar Shaken Espresso!
Why you will love this pumpkin spice latte!
Easy: It's easier than you think to make a latte at home, you don't need any special equipment!
Quick: You can make this coffee recipe in less than 15 minutes.
Delicious! This tastes exactly like your usual order from your favorite coffee shop. It's so comforting and warming!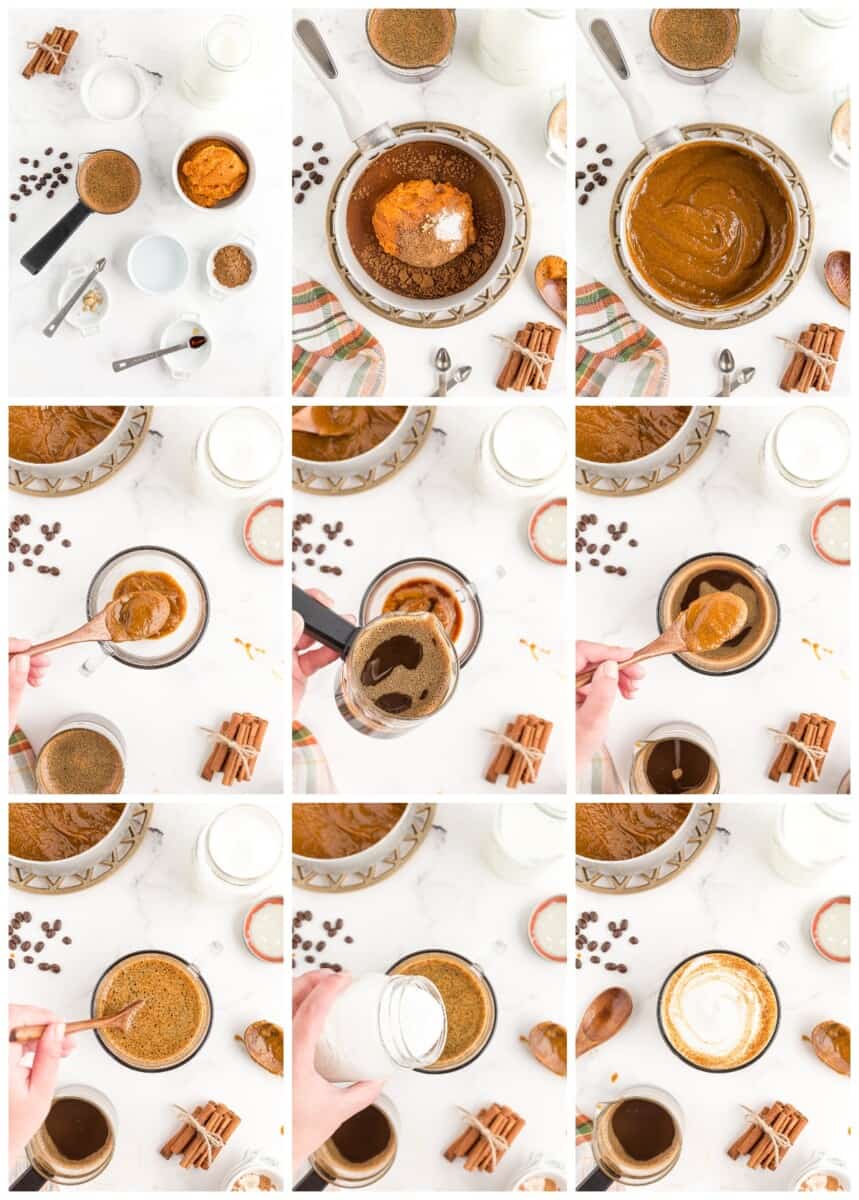 If you absolutely love pumpkin flavored everything, be sure to try this Homemade Pumpkin Cream Cold Brew, or this pumpkin cold foam that you can add on top of any cold brew or iced coffee.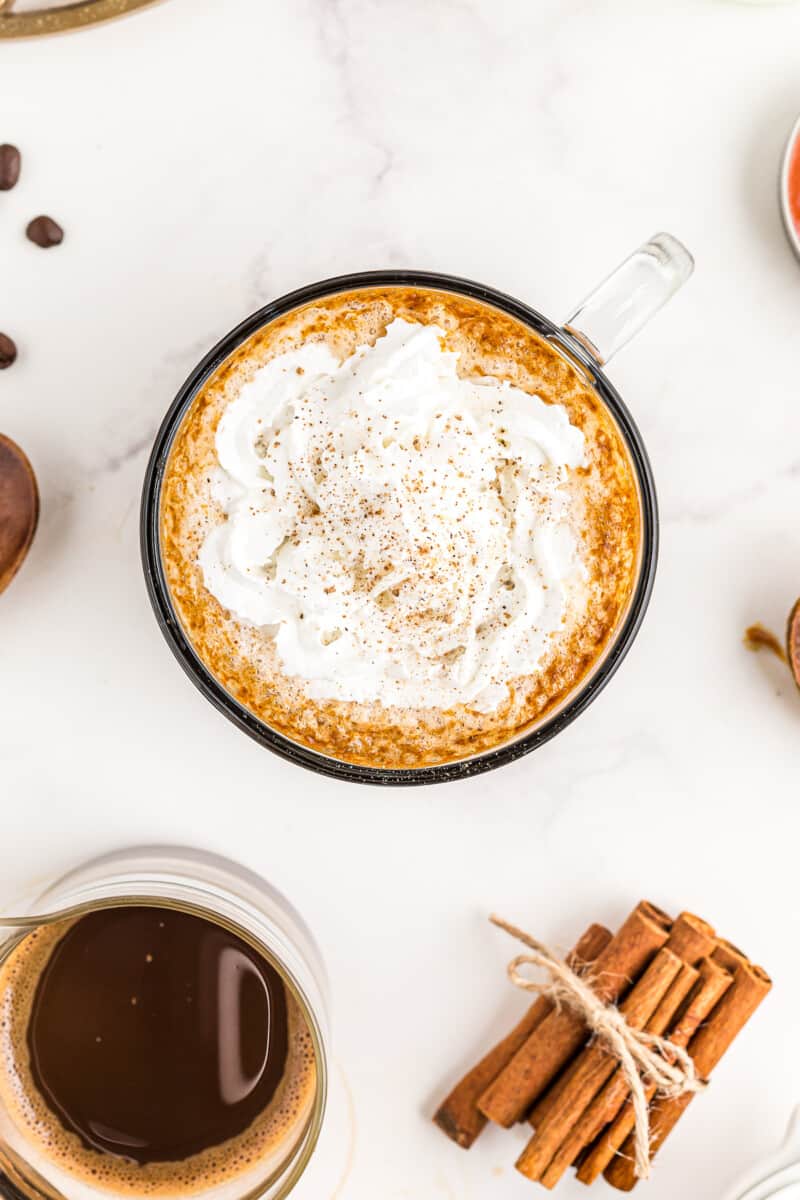 How to make a homemade pumpkin spice latte
Be sure to see the recipe card below for full ingredients & instructions!
Make your espresso.
Combine the sauce ingredients in a pot and simmer.
Shake your milk in a jar to make it frothy and then warm in the microwave.
Add the sauce to your mug, top with expresso and top with milk and stir to combine.
Top with whipped topping and grated nutmeg to serve.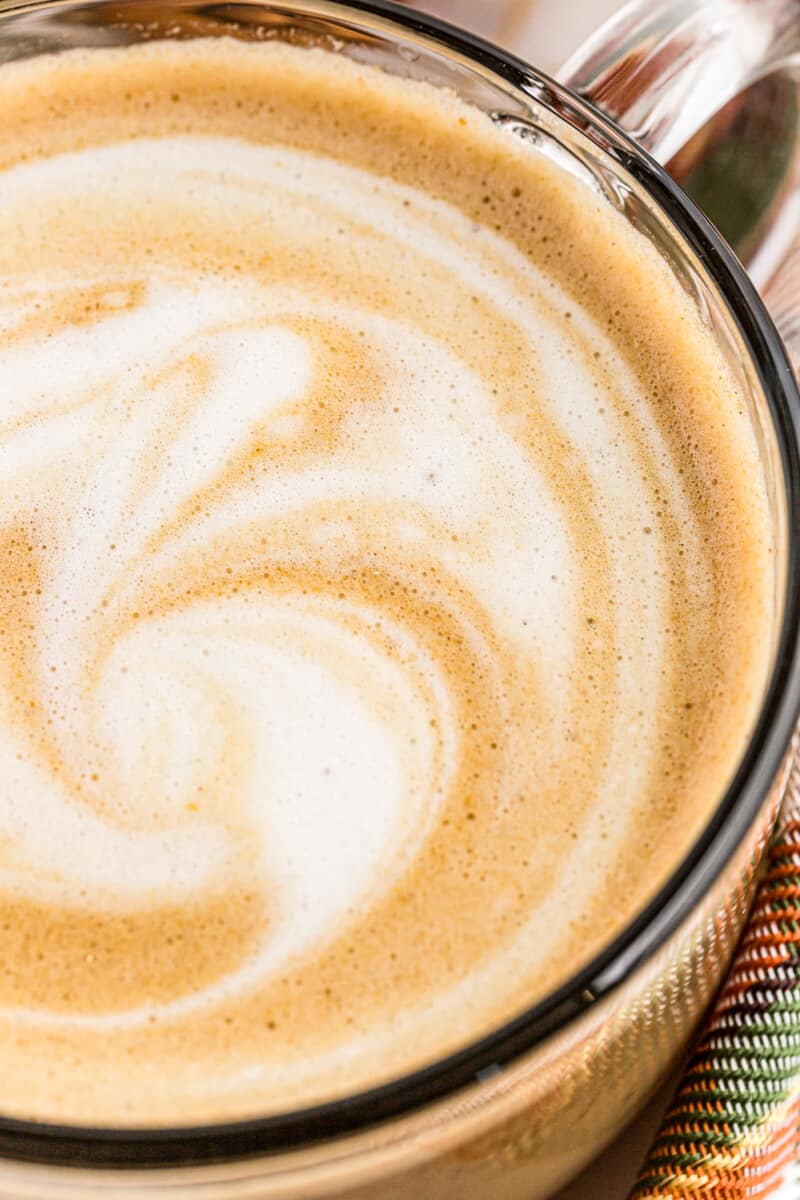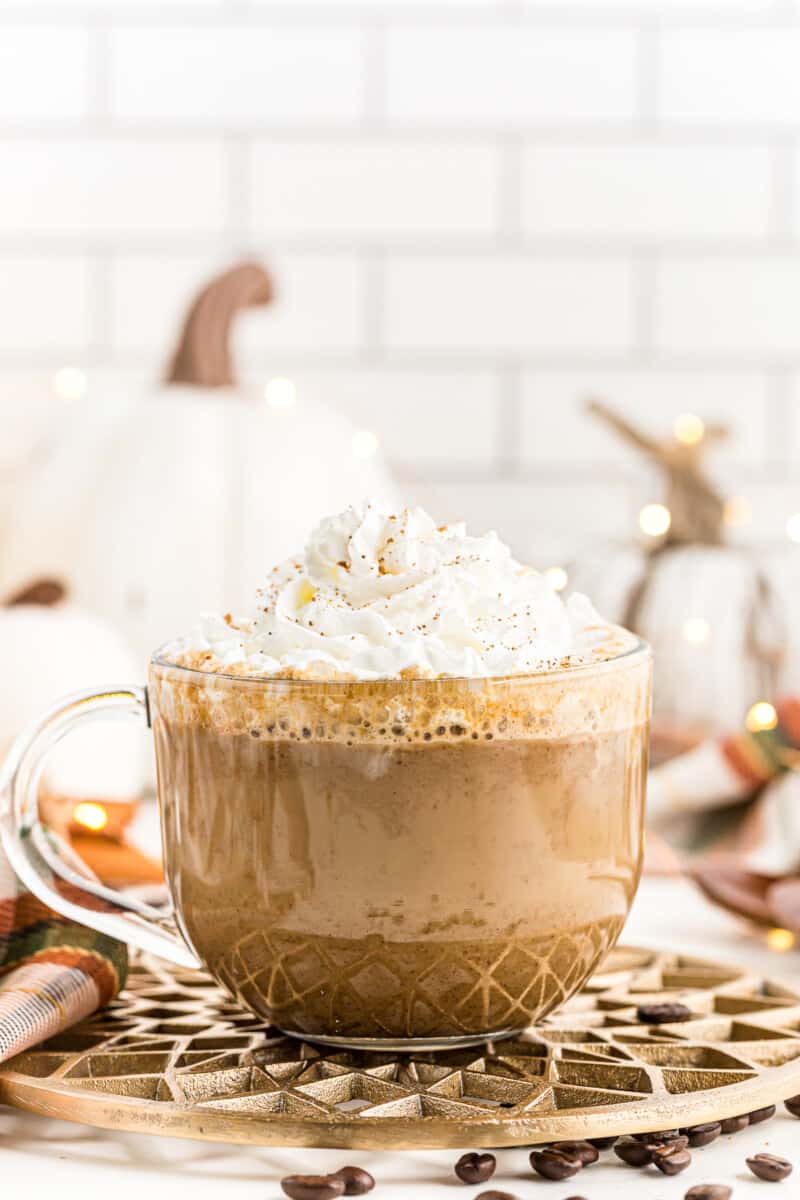 Can you make it ahead of time?
This is best served as soon as you've made it, but the pumpkin sauce can be made ahead of tie so that you can whip up a cup in no time at all. Refrigerate the cooled pumpkin sauce in an airtight container for up to a week.
What's the best milk to use?
I like to use a 2% milk in this latte, but you can use 1% if you prefer. You can make this latte with a plant based milk if you prefer They generally don't froth up quite as well as dairy milk, but oat milk, almond and soy milk make good alternatives.
Latte Toppings
You can of course serve this latte with just the pumpkin sauce, coffee and milk, but the fun is in the toppings! I like to finish mine with lashings of whipped topping and a grate of nutmeg or pumpkin spice.
If you like, drizzle some caramel or chocolate sauce on top to go full out! And if you want an extra decadent drink, top it off with this Pumpkin Whipped Cream!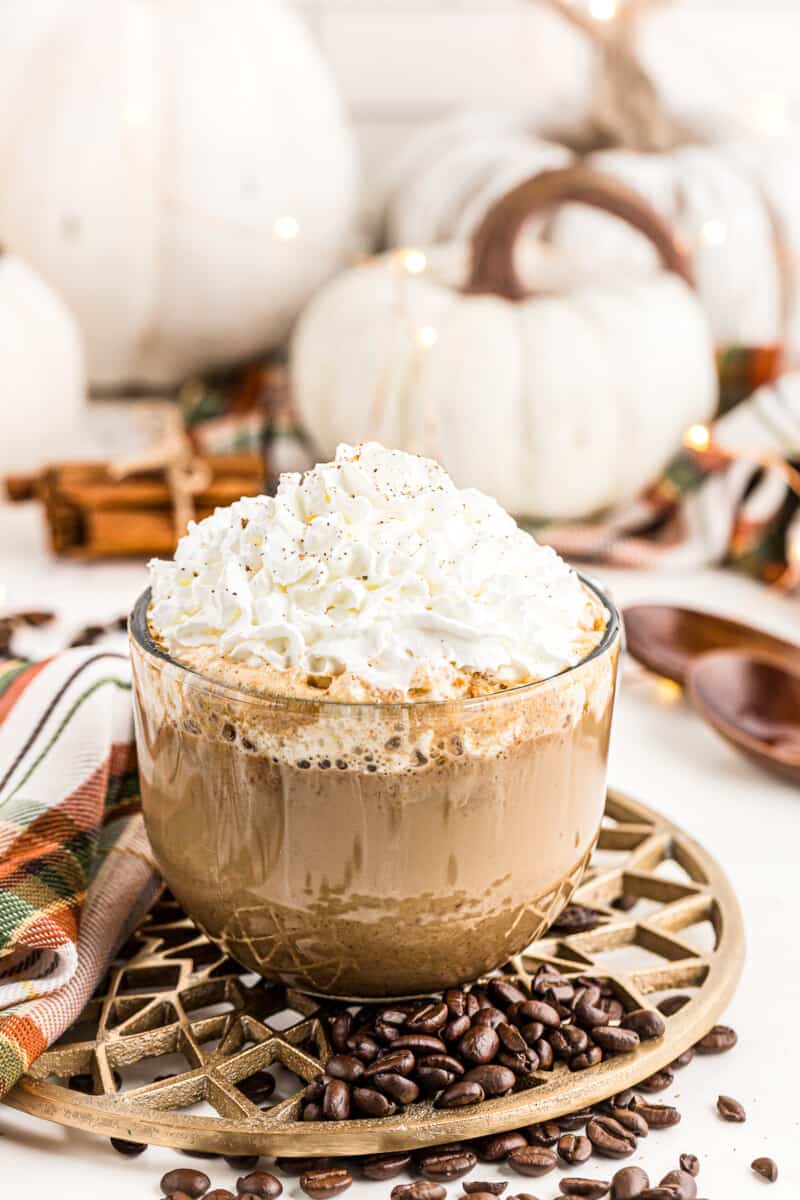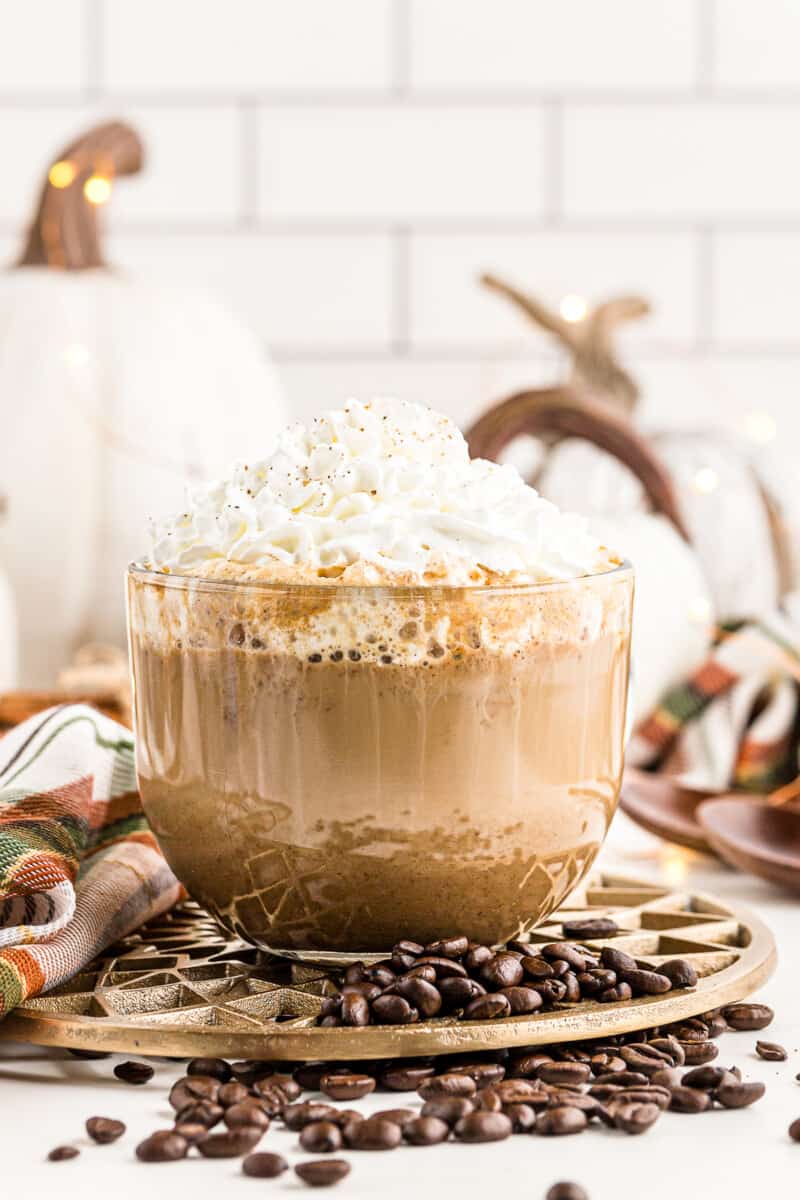 Tips!
I like to use freshly brewed espresso for the best flavor, but you can you instant coffee if you are in a pinch.
When heating the milk in the microwave, be careful to watch it to make sure it doesn't overflow. You can also heat it up on the stovetop.
Use a homemade pumpkin puree OR buy canned pure pumpkin.