Sausage Balls are a classic Southern recipe perfect for party appetizers and holidays. This Bisquick Sausage Balls recipe is a simple combination of sausage, Bisquick mix, cheddar cheese, and a bit of sauce to add some spice. They are easy to make and they're always a hit at parties, especially on game day. Paired with an Apricot Sweet Chili Dipping Sauce, these sausage cheese balls are absolutely irresistible!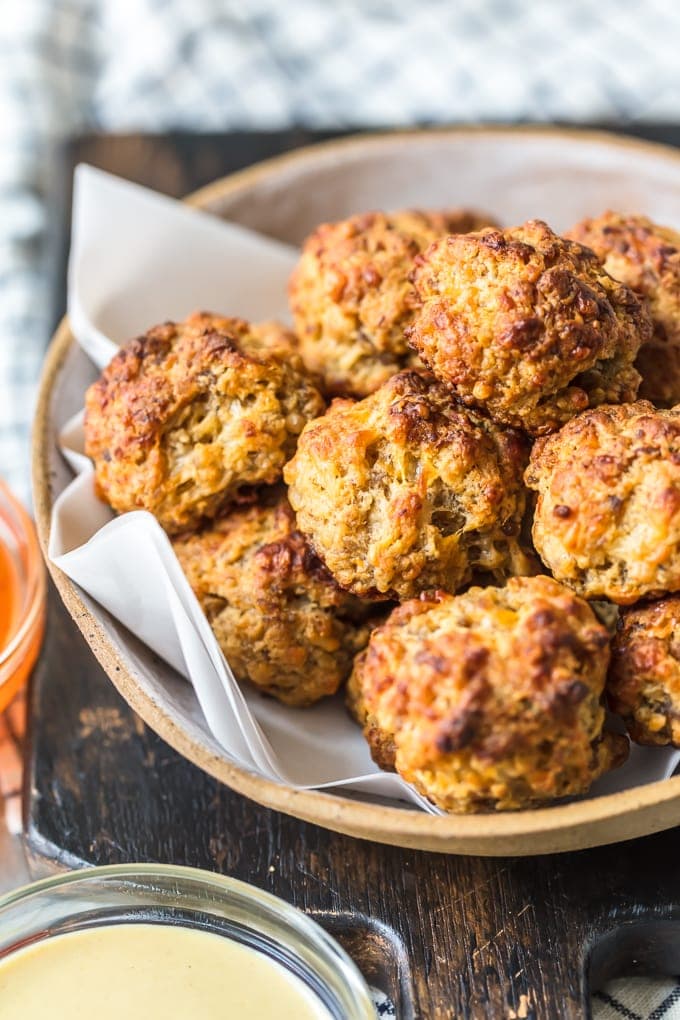 Sausage Balls Recipe
Sausage Balls are a classic for a reason. The simplicity of these sausage cheese balls is what makes them so good; you don't need anything more than a ball of sausage filled with cheese to please your party guests!
This classic sausage balls recipe will be a hit on game day, holidays, or at any party. Bisquick Sausage Balls are always a favorite, because who doesn't love sausage stuffed with cheese?!
These little appetizers are the perfect bite-sized finger food to pop into your mouth while the game is on, or while you're waiting for dinner to be served. Sausage cheese balls are hearty, cheesy, savory, and a little bit spicy…all the best flavors! And when you dip them in this homemade Apricot Sweet Chili Sauce, you'll never want to eat anything else. The sauce is sweet and spicy, the perfect complement to the sausage balls.
Make this classic Bisquick sausage ball recipe for your next holiday appetizer, or just any time you need something savory to snack on. They take less than 30 minutes and you can save them to eat later if you have extra.
Make this classic Bisquick Sausage Balls recipe for your next party appetizer. Savory, cheesy, and delicious!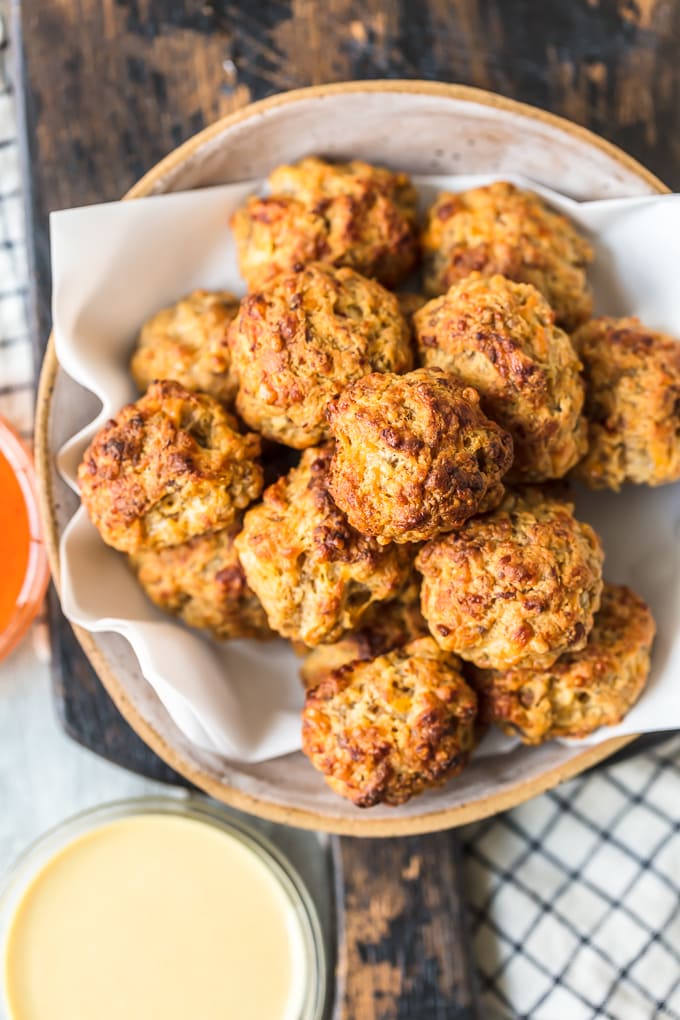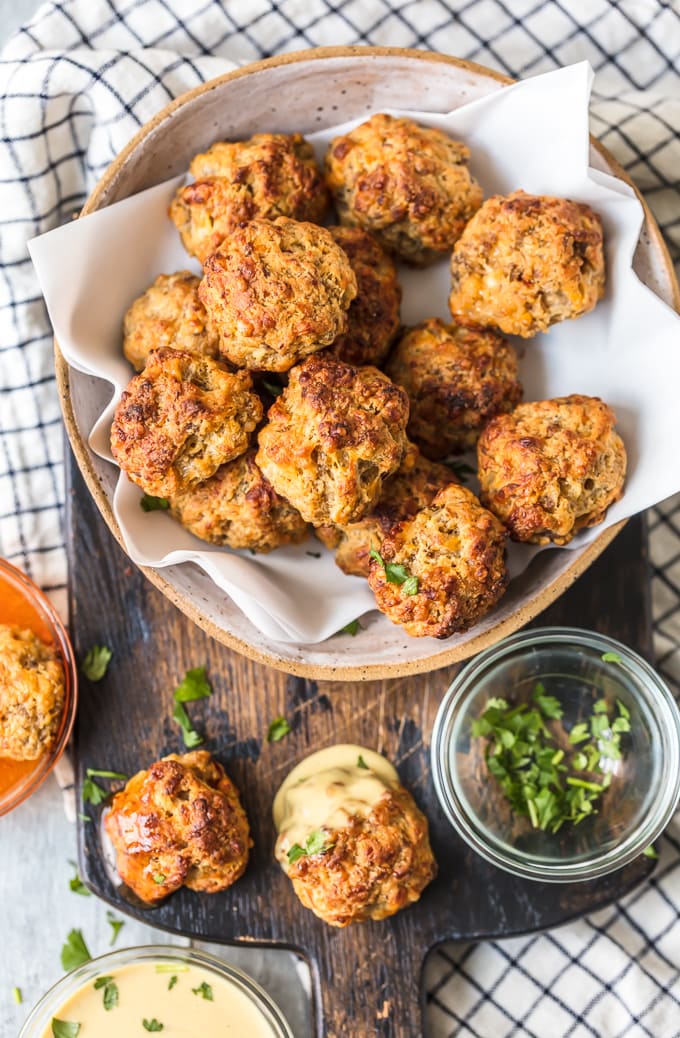 Classic Bisquick Sausage Balls
This Bisquick Sausage Balls recipe is a classic Southern appetizer. It's a great appetizer for Easter, Christmas Day or New Year's Eve, and of course it's the perfect thing to serve on game day. The Bisquick mix gives it a biscuit-y texture that just makes these sausage cheese balls hard to resist. It's kind of like eating a sausage biscuit, but better because it's all combined into one sausage ball.
These even make for a good quick breakfast; just pop a few in your mouth before running out the door, or add them to a Christmas morning breakfast buffet.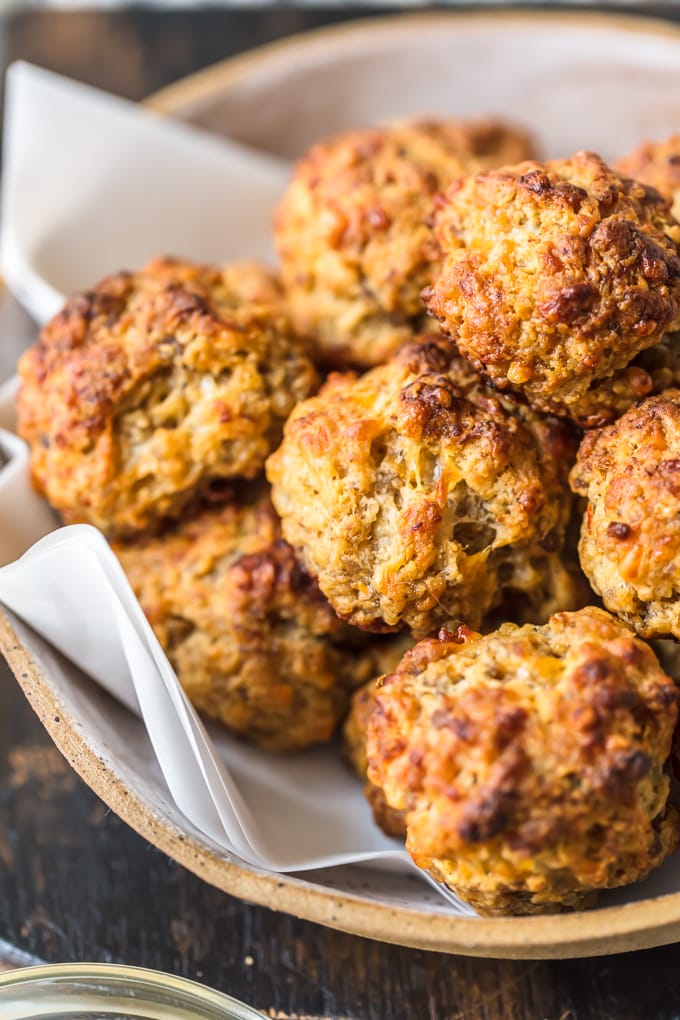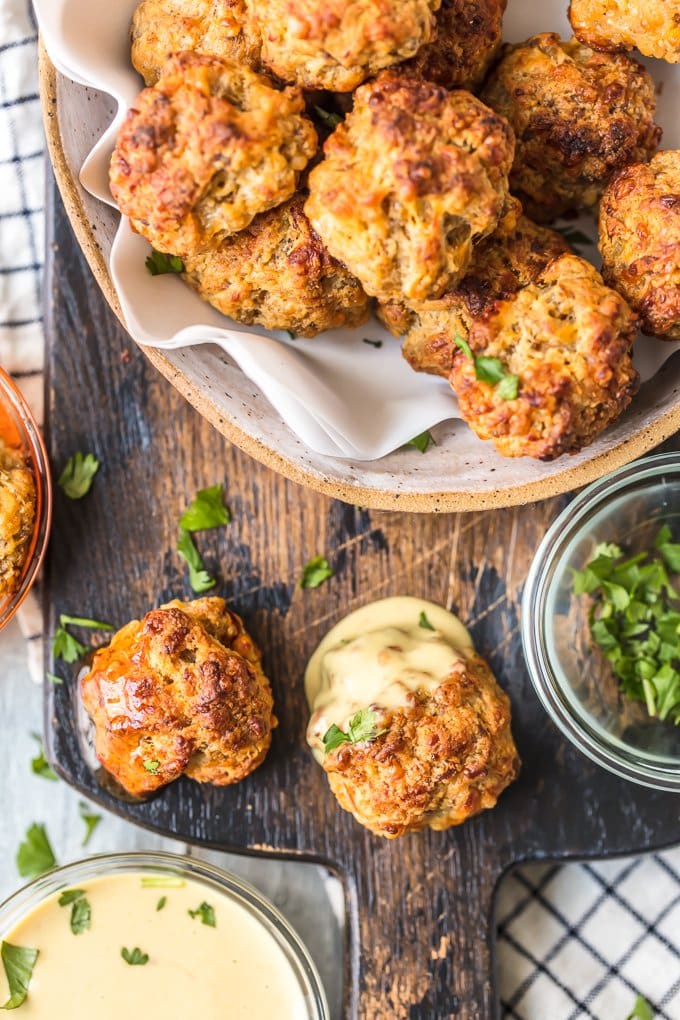 How to Make Sausage Balls
These sausage cheese balls are super easy to make. You've got four ingredients (sausage, cheddar cheese, Bisquick mix, & sweet chili sauce OR hot pepper jelly), you mix them together, and you bake the sausage balls. It's hard not to make these ALL the time when they're so tasty and so simple.
How to make Sausage Balls:
Start with all ingredients at room temperature
Combine sausage and cheese and mix well
Add in the Bisquick and the sweet chili sauce, & mix until smooth
Create 1 1/2 inch balls out of the sausage mixture
Place the balls of sausage on the prepared baking sheet & bake for 10-12 minutes at 400°F
Once they're done baking, serve the sausage cheese balls on a paper towel lined platter. Don't forget the dipping sauce!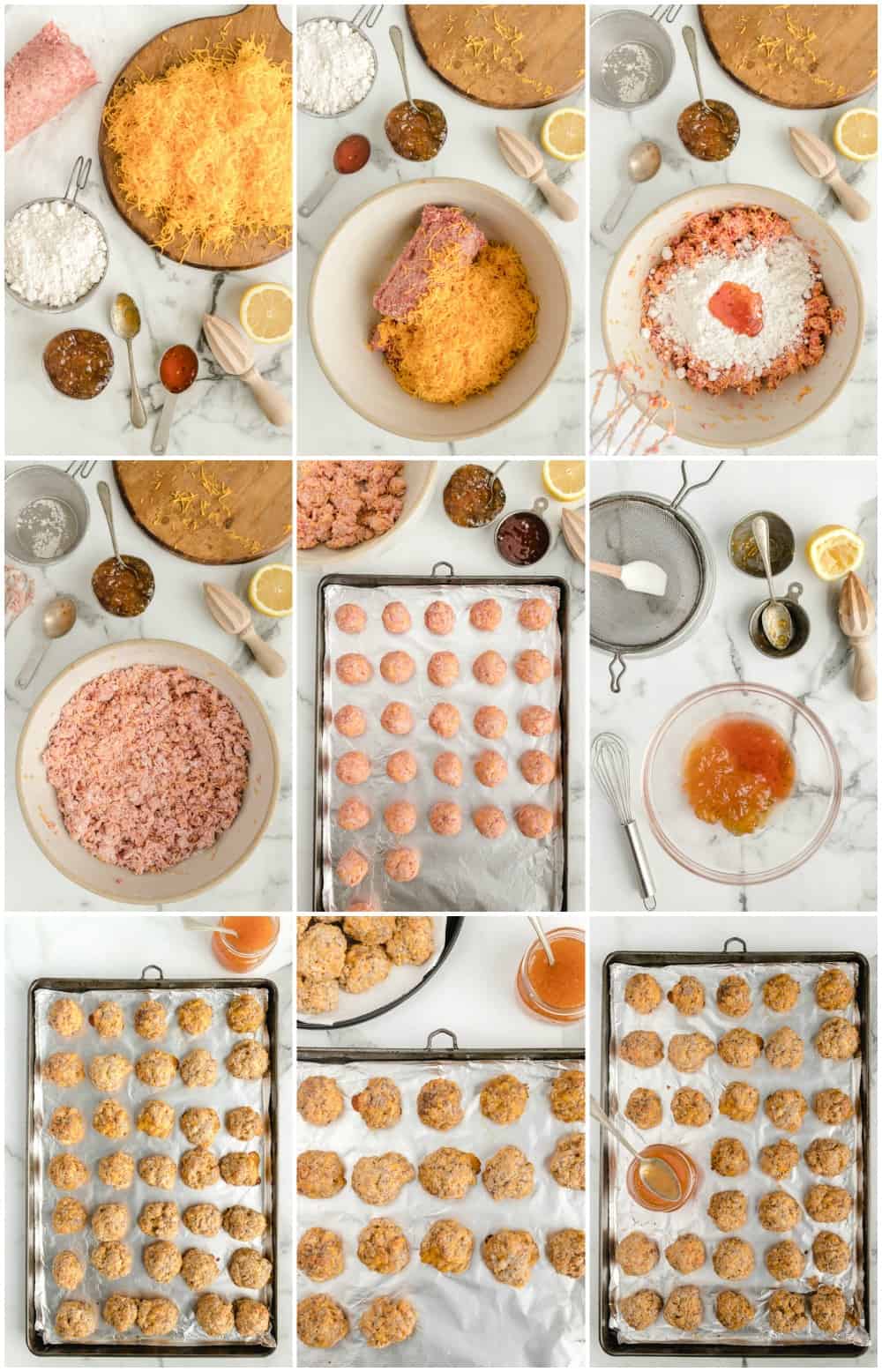 Dip for Sausage Balls
These Bisquick Sausage Balls are MADE for dipping. They have so much flavor baked into them, but it's just not complete without the perfect dipping sauce. I made an Apricot Sweet Chili dipping sauce for these sausage cheese balls. The Apricot jam (or preserves) is sweet, fruity, and smooth. Mixed with a sweet chili sauce, you can just the right amount of spice in there.
This is the best dip for sausage balls hands down!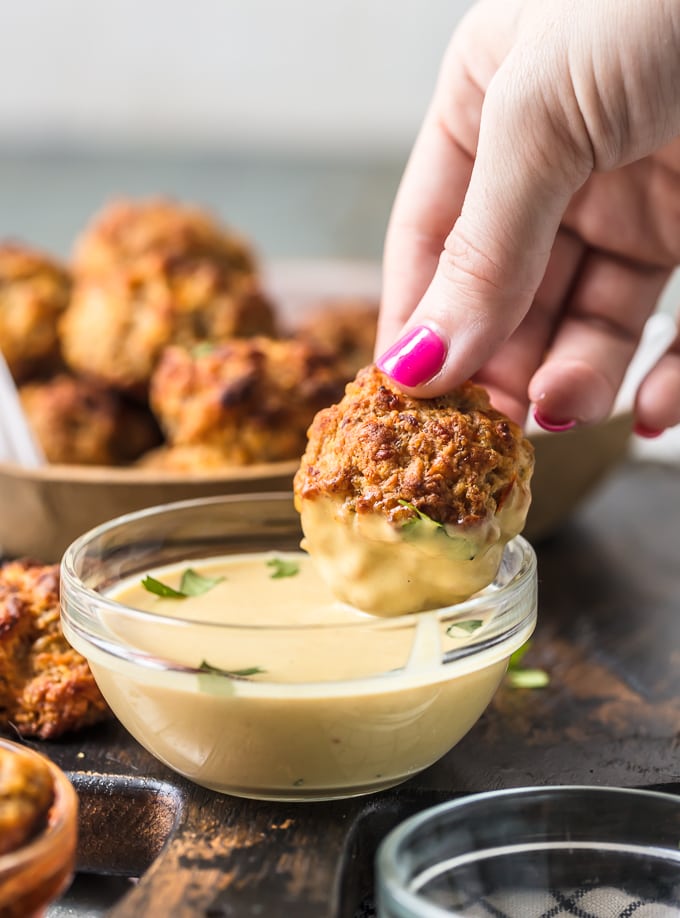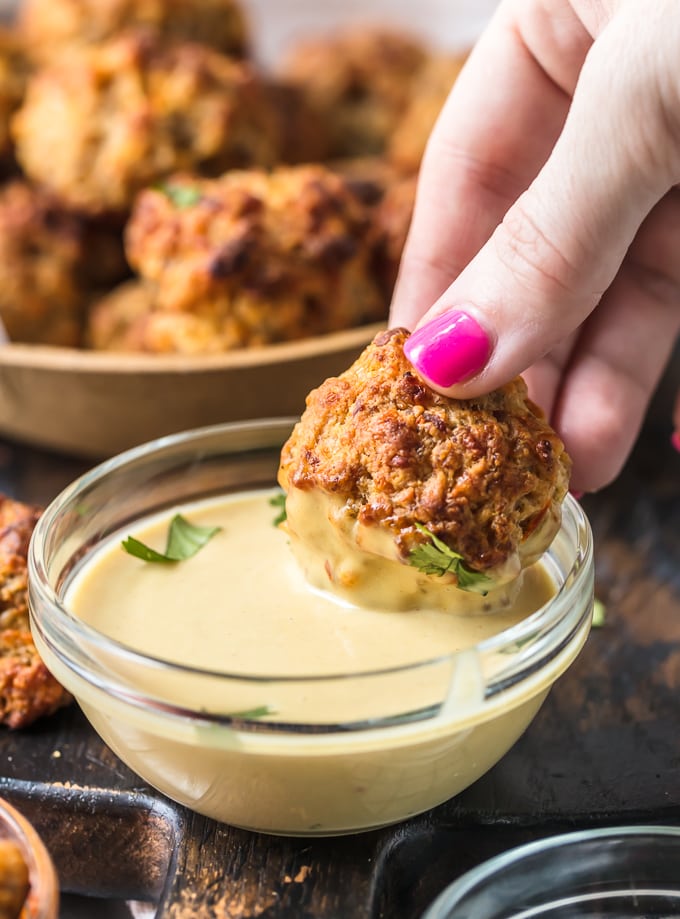 This classic Bisquick Sausage Balls recipe is so tasty, and it's a classic for a reason. Make these easy sausage cheese balls for Christmas or New Year's, on game day, or for any party appetizer. Guests will devour them, so make plenty! And don't forget the amazing Apricot Sweet Chili dipping sauce to go with them.
Watch the video and See the recipe card below for details on how to make Sausage Balls. Enjoy!
If you like this sausage cheese balls recipe, try these other appetizers too: