Sausage Balls are a classic Southern recipe perfect for party appetizers and holidays. This recipe is a simple combination of sausage, Bisquick mix, cheddar cheese, and a bit of sauce to add some spice. They are easy to make and they're always a hit at parties, especially on game day. Paired with an Apricot Sweet Chili Dipping Sauce, these sausage cheese balls are absolutely irresistible!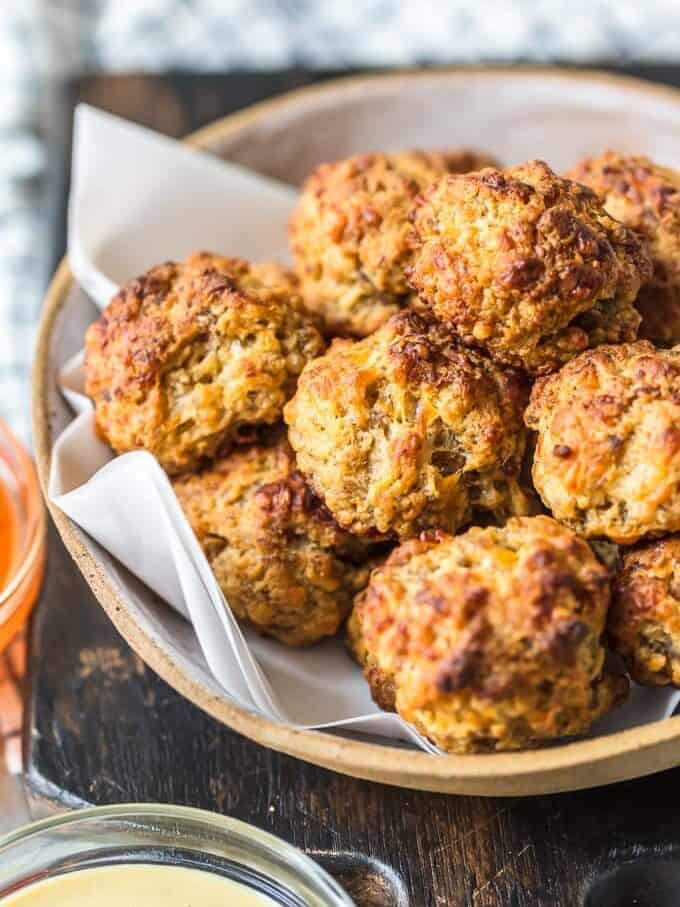 What's in this Sausage Balls Recipe?
Sausage cheese balls are hearty, cheesy, savory, and a little bit spicy…all the best flavors! And when you dip them in this homemade Apricot Sweet Chili Sauce, you'll never want to eat anything else.
Sausage: Bulk pork sausage is the classic choice. I like Jimmy Dean, but any brand will work.
Cheese: Cheddar cheese makes these balls gooey and cheesy.
Bisquick: Baking mix binds the ingredients together and ensures they don't turn out too dense.
Sweet Chili Sauce: Adds a sweet and spicy flavor. You can also use hot pepper jelly.
Dipping Sauce: A combination of apricot jam, sweet chili sauce, and lemon juice makes the perfect sweet, fruity, and slightly spicy dipping sauce for these rich sausage cheese balls.
Pro Tip: Use freshly shredded cheese for the best results. Pre-shredded cheese is too dry!
Variations on Bisquick Sausage Balls
This classic sausage ball recipe, in my opinion, can't be beat. But if you're looking for some different options to offer up, try these:
Spinach: Add finely chopped cooked spinach (squeezed to remove excess moisture) and mozzarella cheese.
Bacon Jalapeño: Add some crumbled cooked bacon and finely diced jalapeños to the mix.
BBQ Pineapple: Add drained diced pineapple, and swap out the chili sauce for your favorite BBQ sauce.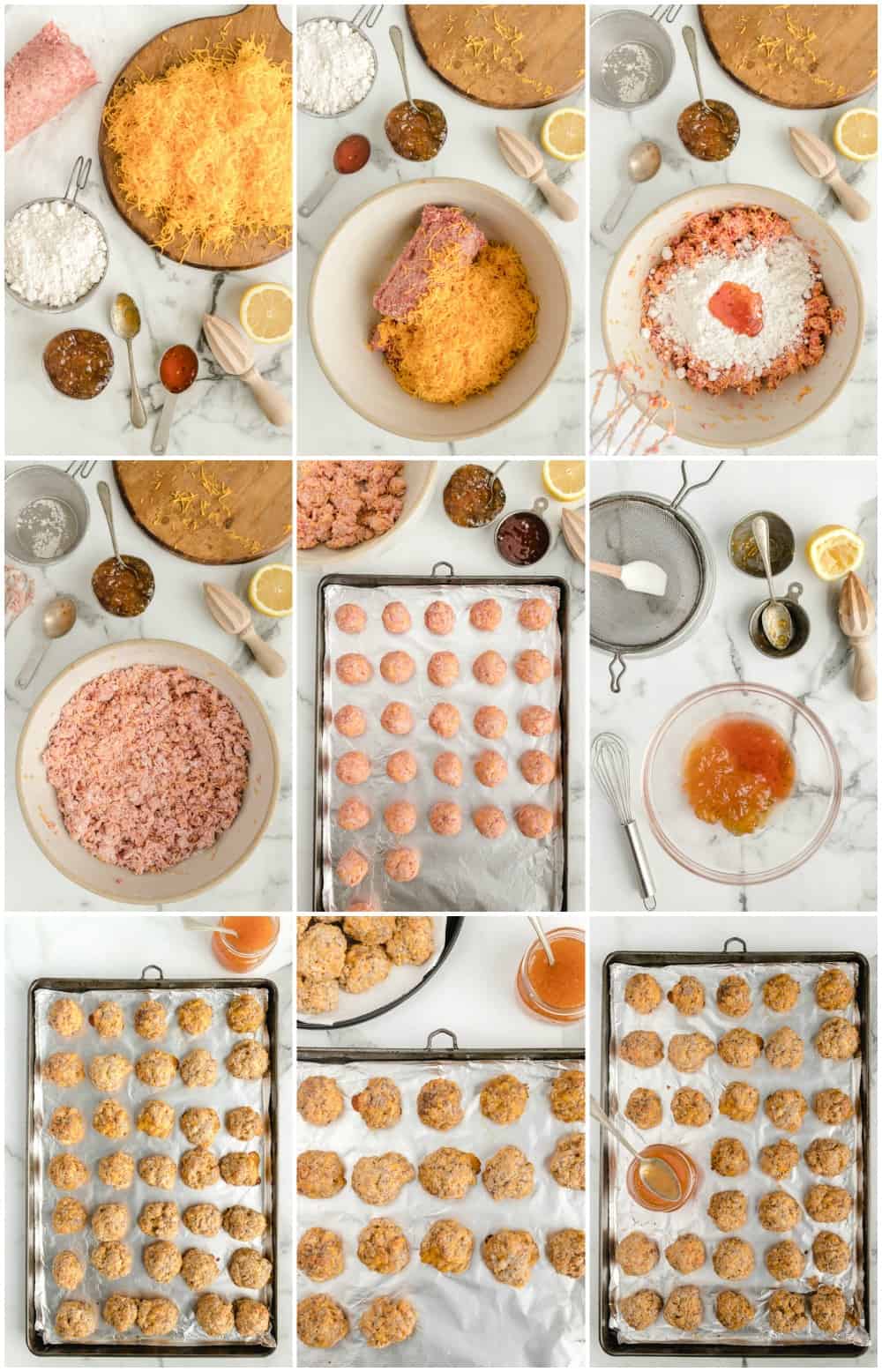 What are sausage balls made of?
Sausage balls are made of just 4 ingredients– pork sausage, cheddar cheese, Bisquick baking mix, and sweet chili sauce. Easy peasy!
What kind of sausage should I use?
Bulk pork sausage meat works best here since you don't have to remove the casings. However, you could really use any kind of sausage you like, so feel free to get creative!
What is a substitute for Bisquick?
Bisquick is great for simplicity, but if you don't have any on hand, don't fret! You can substitute 2 cups of flour, 2 teaspoons of baking powder, and ¼ teaspoon of salt.

How do you keep sausage balls from falling apart?
Sausage balls are a delicate balance of ingredients. If you find that yours are crumbly or falling apart, it's likely because you used packaged shredded cheese or low-fat sausage. The fat in the sausage and the moisture in freshly grated cheese go a long way! But you can fix the problem by adding a bit of milk to the mixture.
Why are my sausage balls so dry?
If you've followed my recipe exactly and your balls are still dry, make sure that you're measuring the Bisquick using the spoon-and-level method. If you scoop directly from the box with a measuring cup, you are packing the mix into the cup, which can cause you to use more than intended. Again, you can remedy this problem by adding a bit of milk!
How do you know when sausage balls are done?
These balls are finished baking when they are nicely browned and have a crisp outer layer. They should register 160-165°F internally on an instant-read thermometer.
Can you leave sausage balls out overnight?
No! Pork should not be left out for more than 2 hours at room temperature. Otherwise, bacteria can begin to grow which could give you food poisoning.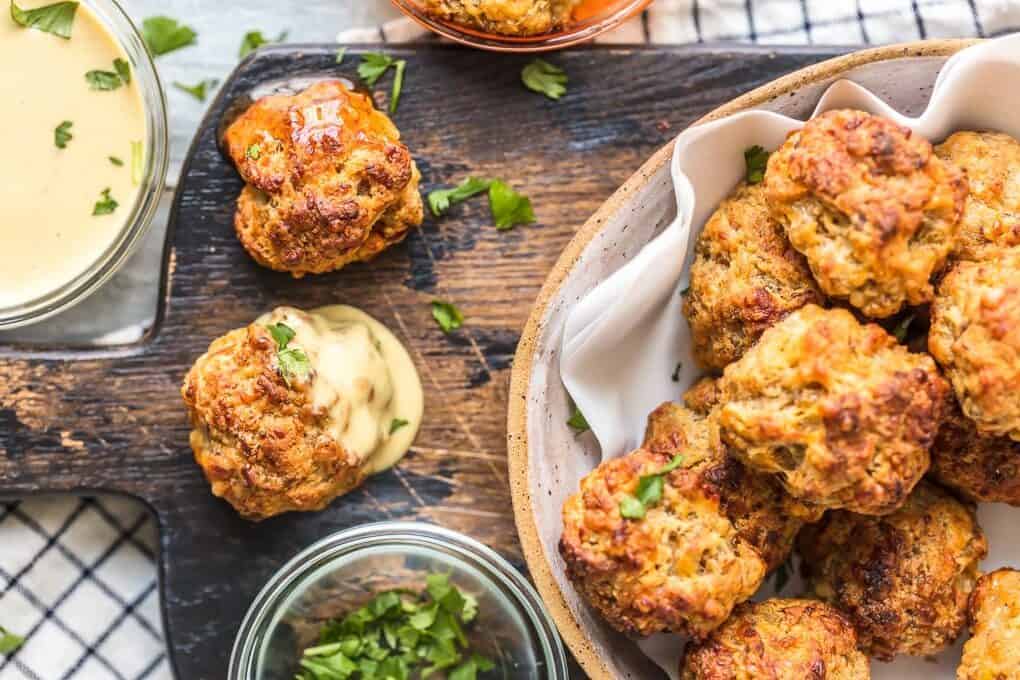 How to Store and Reheat
Store leftover sausage cheese balls in an airtight container in the refrigerator for up to 4 days. Reheat in 350°F oven for 5-10 minutes, or until warmed through.
How to Freeze
Freeze Bisquick sausage balls in a single layer on a lined baking sheet until solid, about 1-2 hours. Transfer to an airtight container or Ziplock bag to store for up to 3 months. Bake directly from frozen at 400°F for 18-20 minutes, or until golden brown.
Serving Suggestions
These sausage Bisquick balls are made for dipping. I made an Apricot Sweet Chili dipping sauce for these sausage cheese balls. The Apricot jam is sweet, fruity, and smooth. Mixed with a sweet chili sauce, you can just the right amount of spice in there.
Some other great options for dipping include garlic aioli, honey mustard, BBQ sauce, or sweet and sour sauce.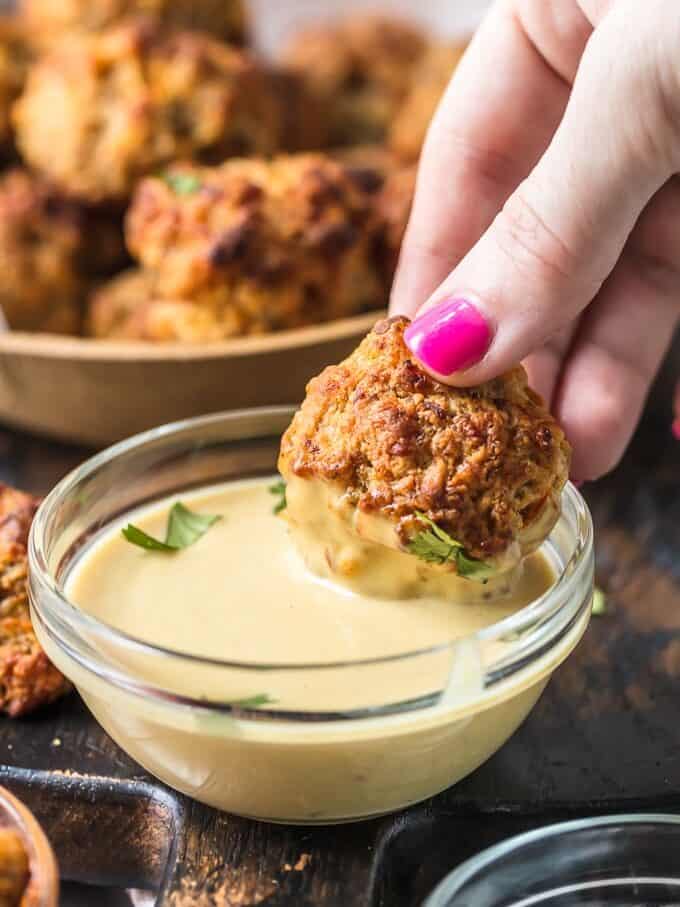 More Sausage Ball Recipes We Love