Give your appetizer game a boost with these Air Fryer Sausage Balls! They're simple to make and so delicious, no one will be able to resist. Plus, they're the perfect party food that everyone will love!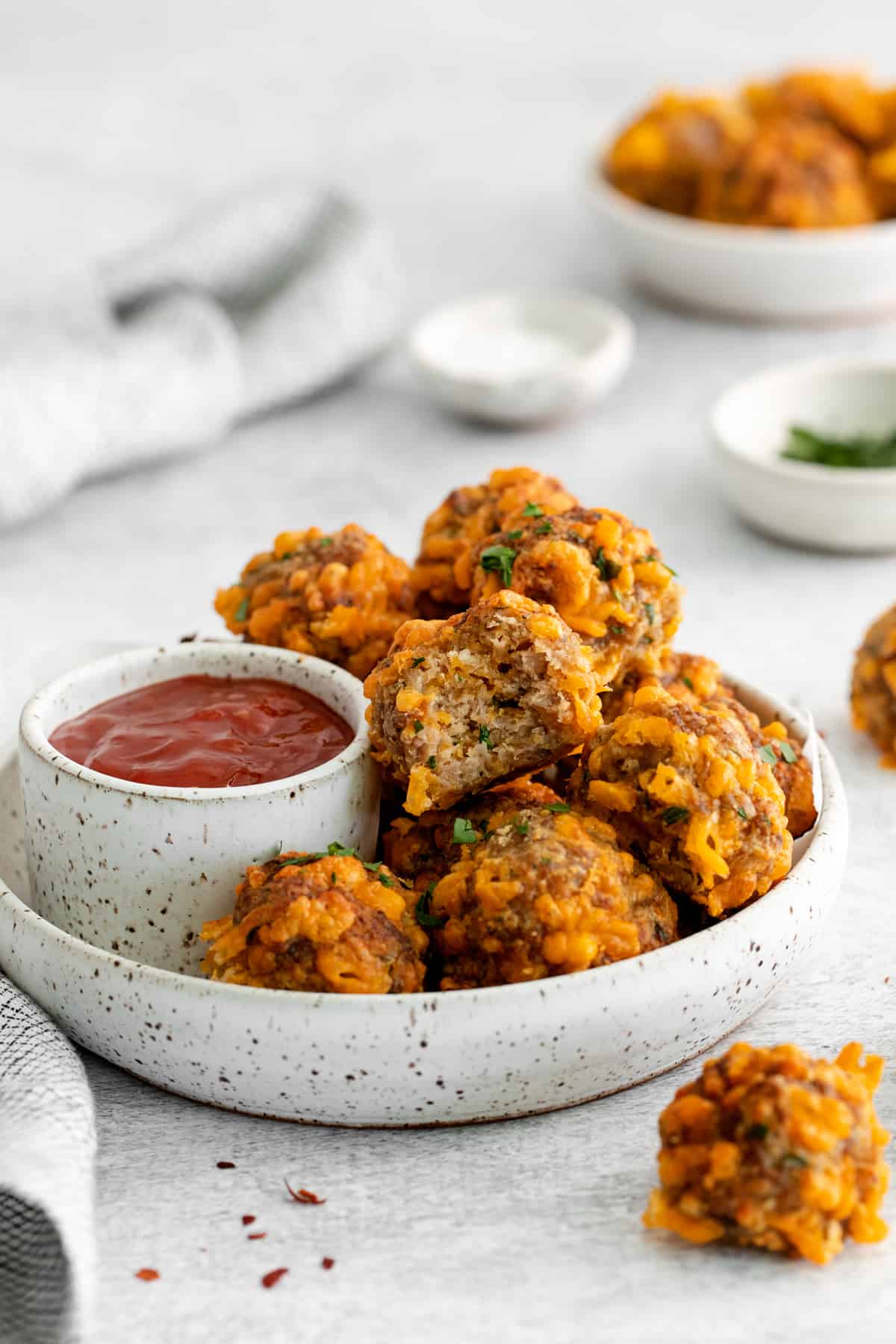 Bisquick Sausage Balls
Sausage balls are a traditional Southern finger food that is undeniably delicious! The biscuit coating creates the perfect texture for the pork, and they're just so fun to dip.
Making sausage balls in the Air Fryer is the quickest, easiest way to make this party food favorite. Make as many batches as you need!
Why You'll Love this Sausage Ball Recipe:
Perfect flavor and texture: These Air Fryer sausage balls are juicy and tender inside, with a chewy yet fluffy coating. The pork is richly flavorful–they're hard to resist!
Make ahead of time: These appetizer can be made ahead of time and frozen, so they're always on hand when you need them.
Perfect for a crowd: They're perfect for parties, potlucks, and tailgates. We guarantee that your guests will love them!
Trademark Note: In the spirit of transparency, I want to note that some of these ingredients are trademarked products. Bisquick is a proprietary brand that I want to acknowledge and give credit to.
This sausage ball recipe is my go-to for any potluck or party. They're always a hit! The best part is that they're so easy to make.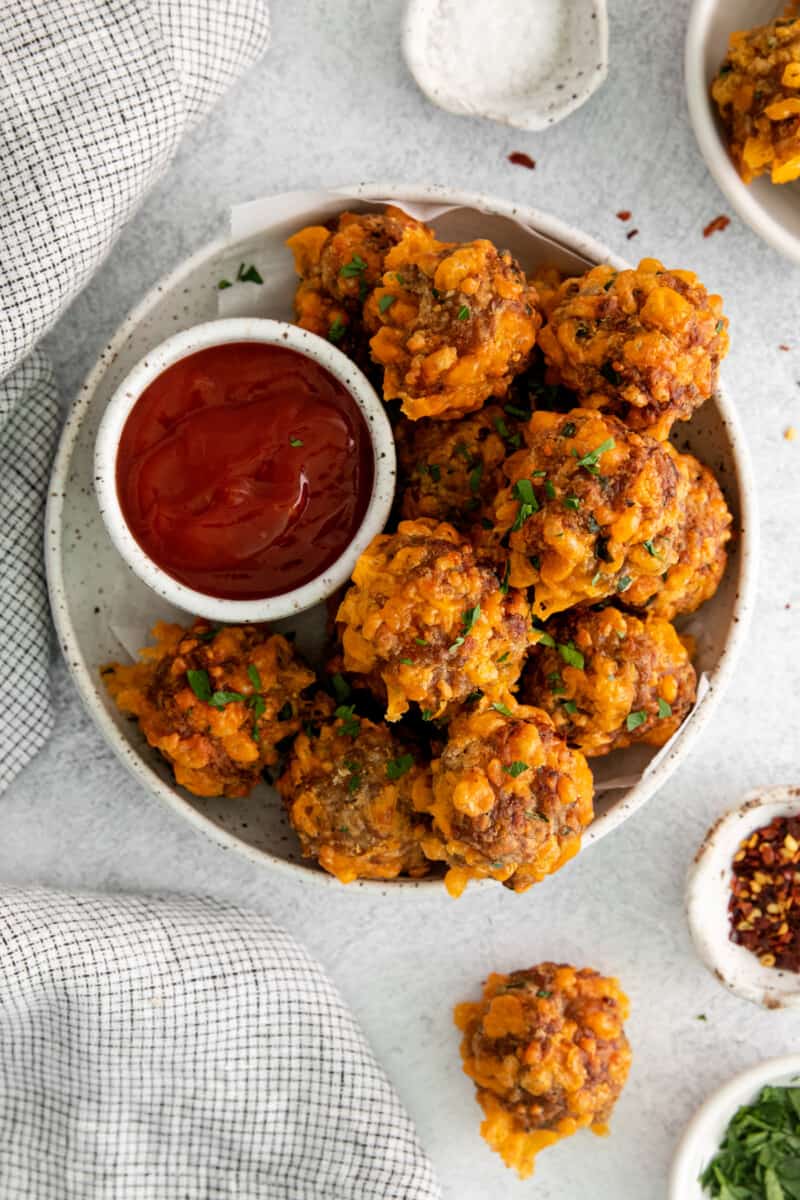 How to Make Air Fryer Sausage Balls
You can jump to the recipe card for full ingredients & instructions!
Combine ingredients to make the sausage mixture, then form it into evenly-sized balls. Place the sausage balls in the Air Fryer, cook for just a few minutes, and they'll be ready to go! It's really as simple as that.
I highly recommend whipping up the sweet chili ketchup for dipping–it's a little bit sweet and spicy, and complements the sausage so well.
Recipe Notes
Sausage: I love the flavor of pork sausage so that's what I use in my sausage balls! I'm using a mild sausage and adding red pepper flakes so I can control the heat.
Cheese: Just like the sausage, cheddar cheese is my go-to for sausage balls but you could switch it up if you like– try white cheddar, pepper Jack, Colby, etc.
Bisquick: Helps hold the sausage balls together.
Parsley: Adds a hint of freshness and grassiness that goes well with the sausage.
Red Pepper Flakes: I'm adding a bit of spice with red pepper flakes, but feel free to add as much or as little as you like.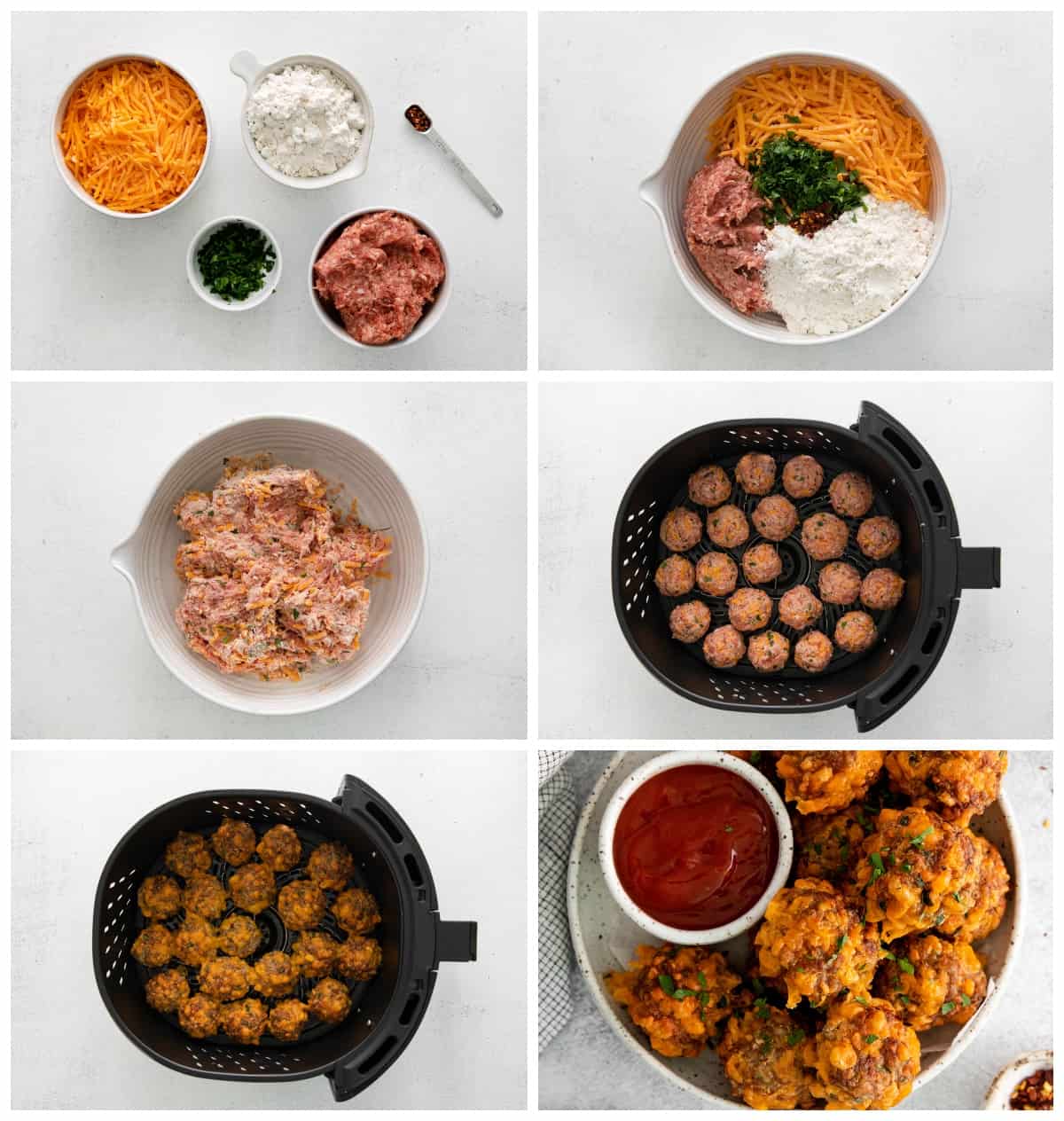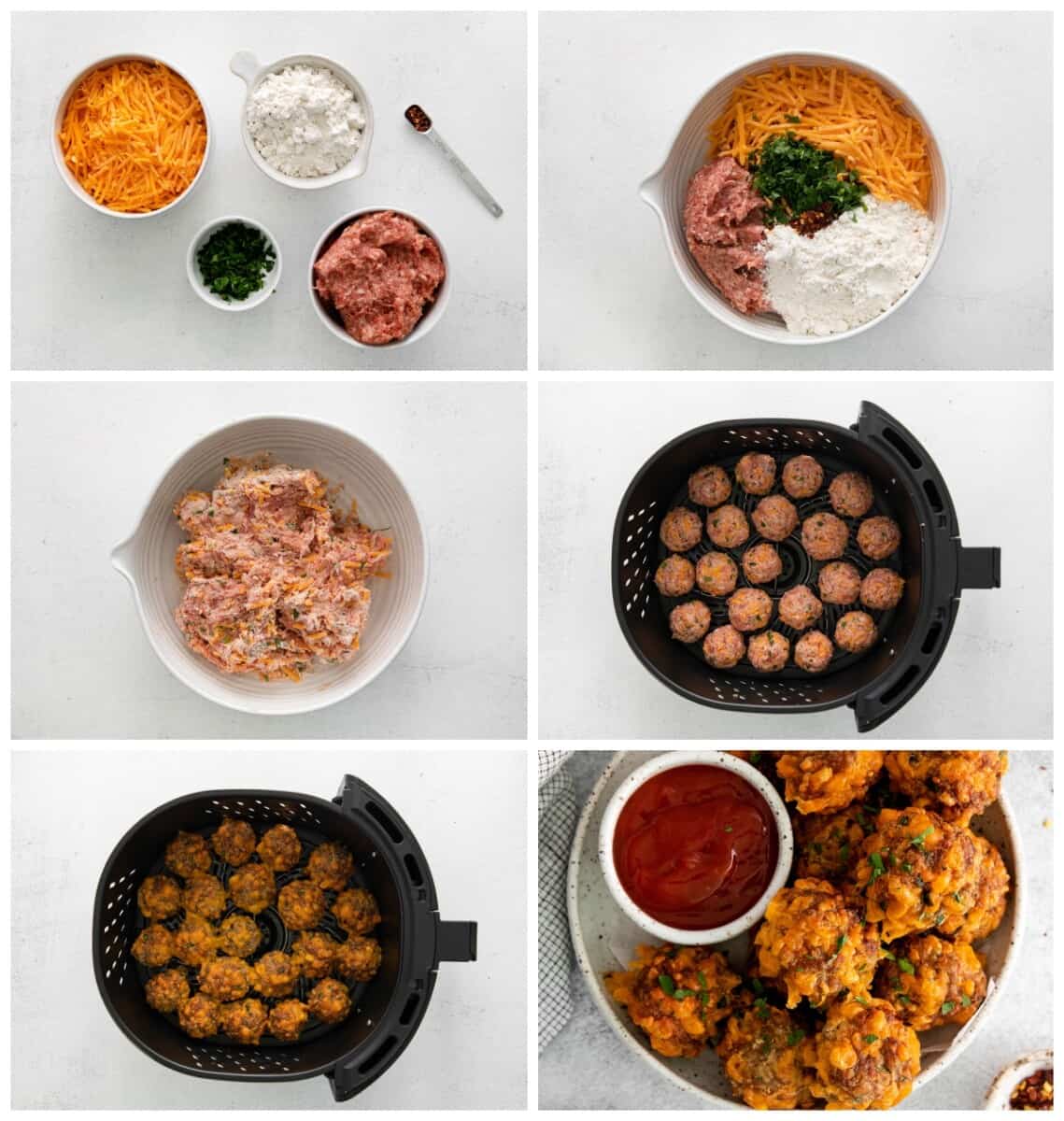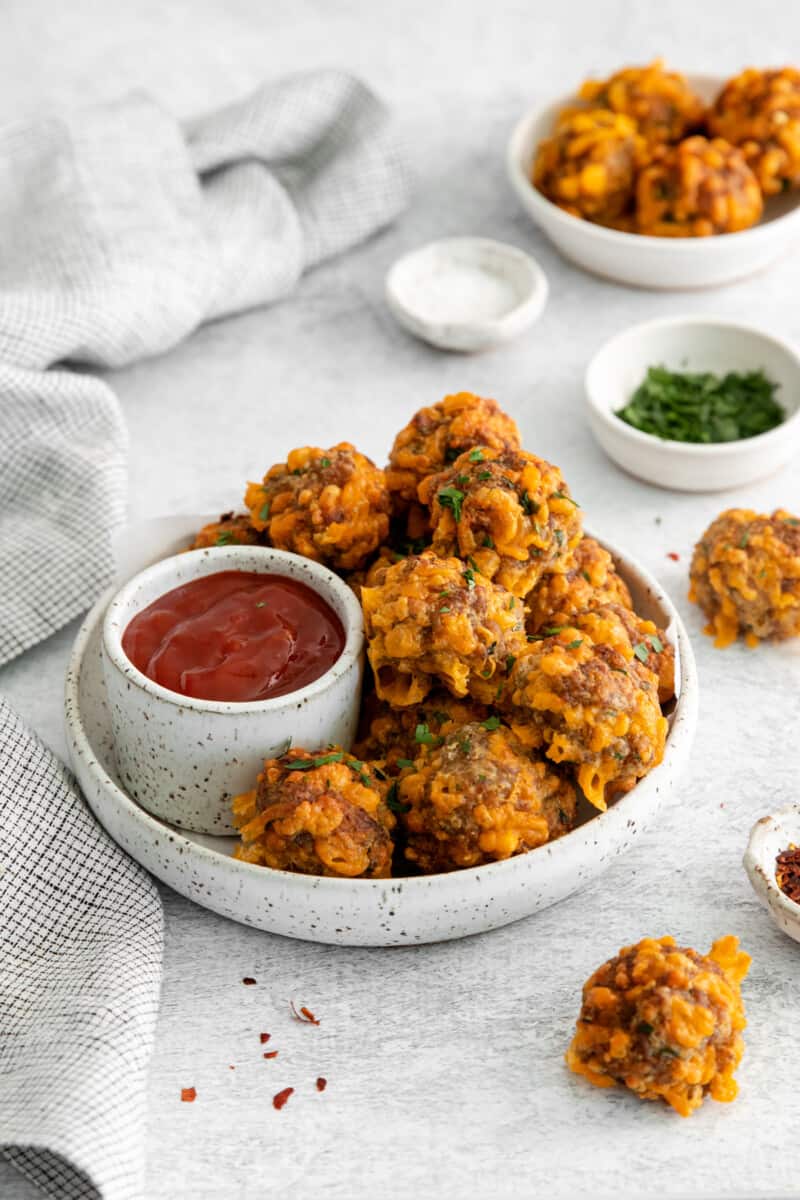 What are sausage balls?
Sausage balls are a tasty appetizer consisting of ground sausage, cheddar cheese, and Bisquick baking mix. They're super quick and easy to make!
What's the best type of sausage for sausage balls?
I like to use mild pork sausage so that I can control the level of spice, but you could really use any kind of sausage you like, such as hot Italian, chicken, or turkey sausage!
Can I bake sausage balls in the oven instead of in the air fryer?
Yes! To bake these sausage balls in the oven, spread them out on a lined baking sheet and bake in a 400°F oven for 12-15 minutes, or until golden brown and 160°F internally.
How can I tell when pork sausage is cooked through?
While regular cuts of pork can be safely eaten at 145°F, ground pork requires additional cooking to ensure it is safe to eat. Pork sausage is fully cooked when it reaches 160°F internally on an instant-read thermometer. The meat should be opaque, light brown in color, and no longer be pink in the middle.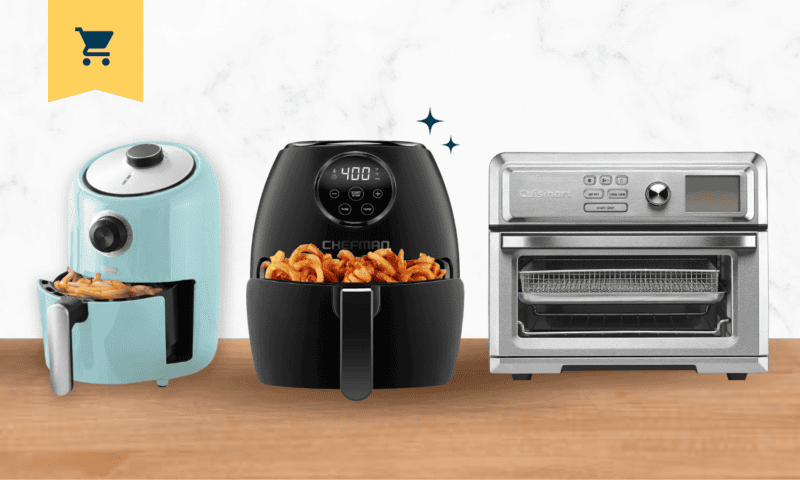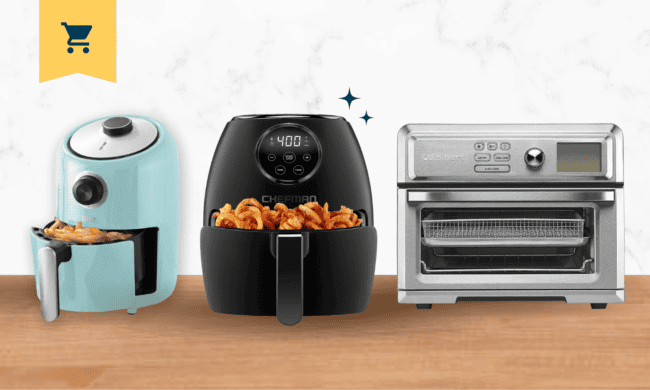 Best Small Air Fryers
We have reviewed our top 6 Small Air Fryers! Get reviews, pros, cons, and prices!
Top Small Air Fryers
Serving Suggestions
You can serve these delicious air fryer sausage balls as an appetizer along with all your favorite dips and finger foods.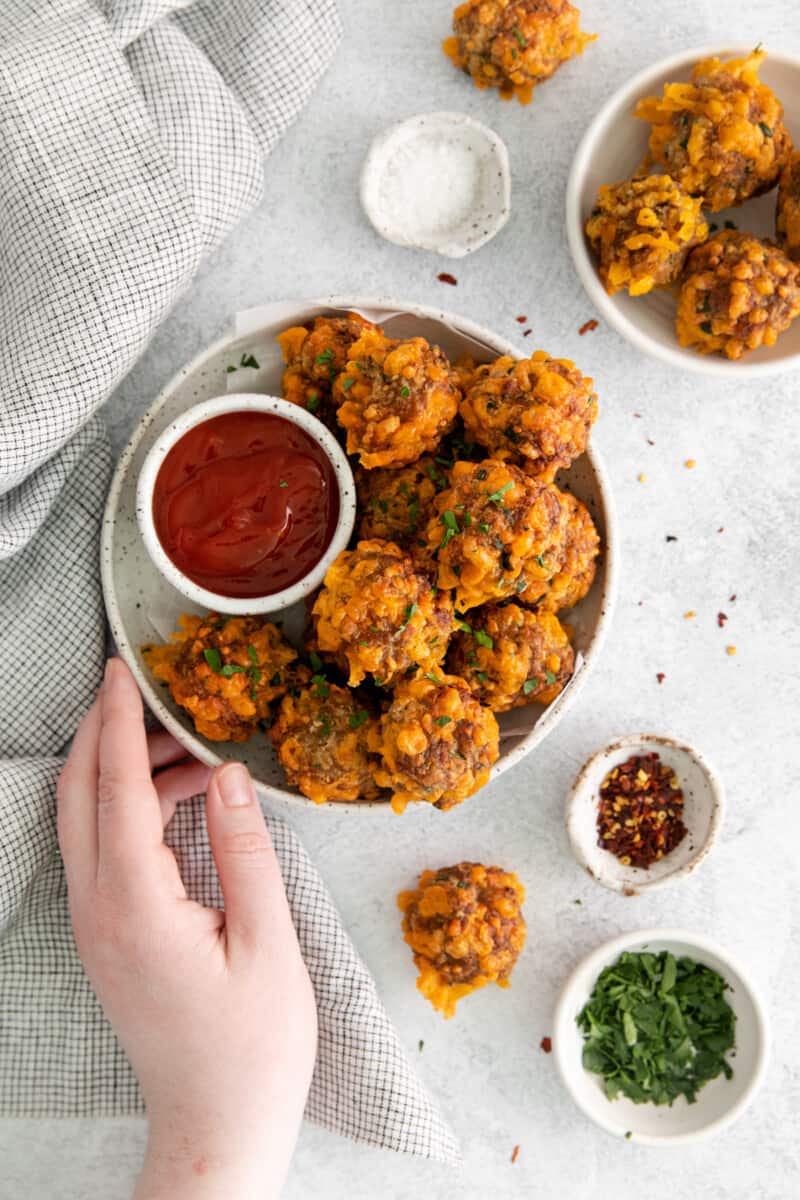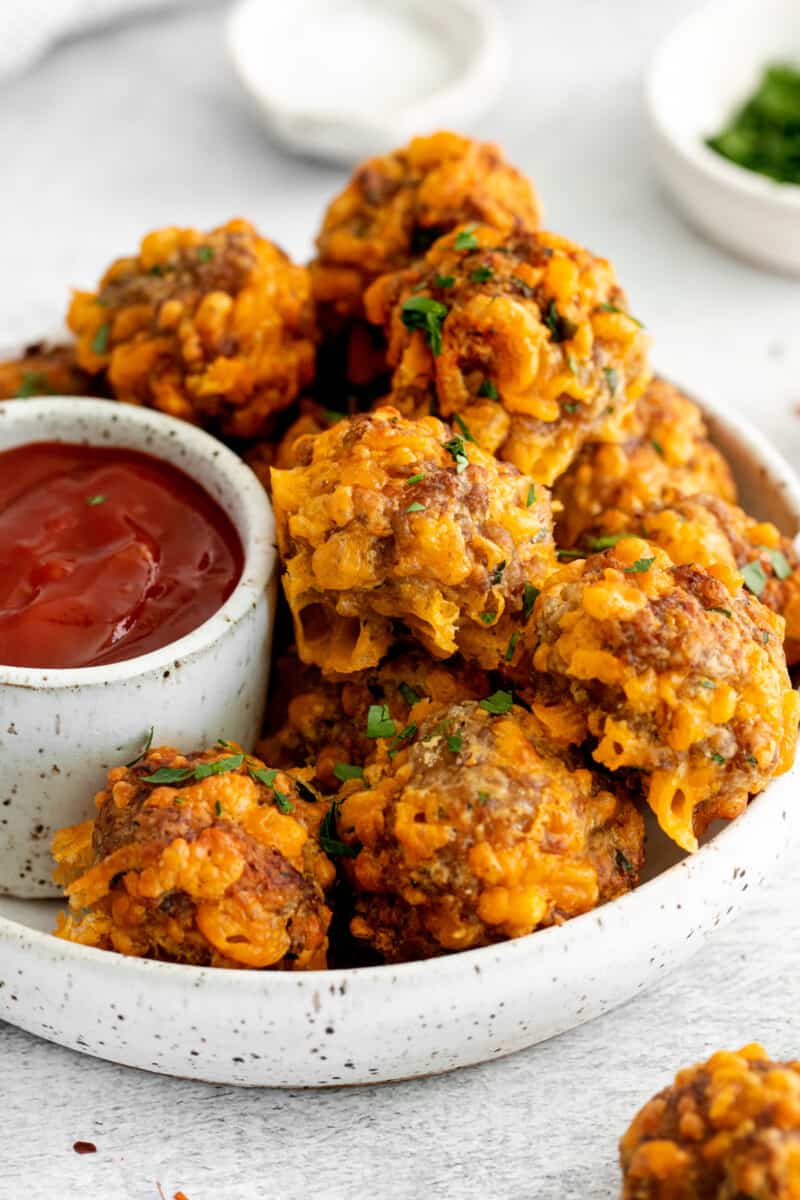 Make Ahead Instructions
You can preroll the sausage balls up to 2 days in advance of when you plan to air fry them. Store the sausage balls in an airtight container in the refrigerator until ready to air fry.
Storage Instructions
Store leftover air fryer sausage balls in an airtight container in the refrigerator for up to 3 days. Reheat in a 320°F air fryer for 15-18 minutes, until warmed through.
Freezing Instructions
Air fryer sausage balls can be frozen raw or cooked. Freeze the sausage balls in a single layer on a lined baking sheet until solid, about 1-2 hours. Transfer to an airtight container or Ziplock bag to store for up to 3 months. Air fry directly from frozen, adding 1-2 minutes to the final air fry or reheating time.
Substitutions
You can use any kind of sausage you like for these sausage balls. Try hot Italian, breakfast, chicken, or turkey sausage!
You can use any kind of cheese you like in place of the cheddar, such as white cheddar, pepper Jack, Colby, or Monterey Jack.
For gluten-free sausage balls, use gluten-free Bisquick baking mix.
You can omit the red pepper flakes if you'd like these sausage balls less spicy.
Tips for the Best Air Fryer Sausage Balls
Do not overmix the sausage balls, as this will make them tough.
Use a standard 1 tablespoon to create equal-sized balls that cook more evenly.
Make sure to leave space between the sausage balls to let air circulate; otherwise, they may come out soggy. Air fry in batches if needed.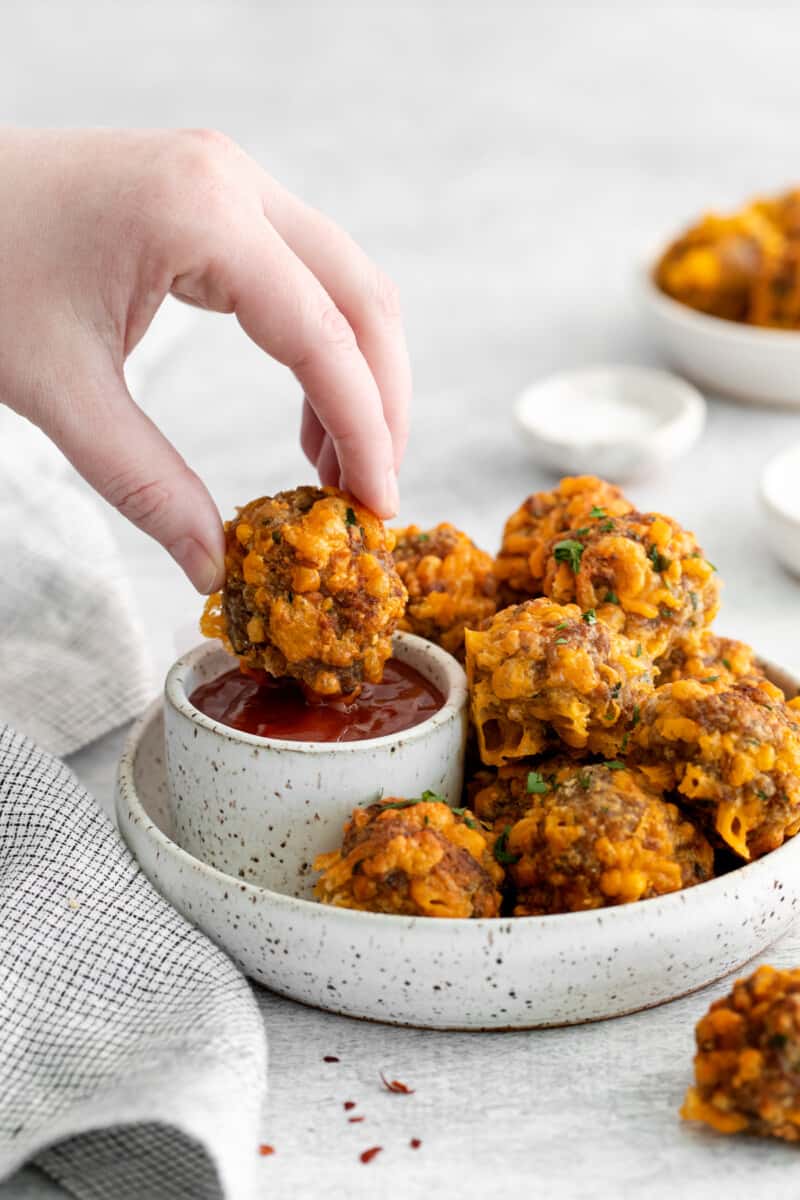 Make these Air Fryer Sausage Balls the next time you need a tasty, easy, and quick appetizer for any party!
More Game Day Appetizers to Try:
If you make this recipe be sure to upload a photo in the comment section below or leave a rating. Enjoy! You can also jump to recipe.