Garlic Aioli is a super flavorful sauce that goes with so many recipes. This creamy Roasted Garlic Aioli recipe is easy, tasty, and slightly addicting. It's one of my favorite dips for fries, and goes perfectly with vegetables, chicken, fish, and more! Let me show you how to make the BEST aioli!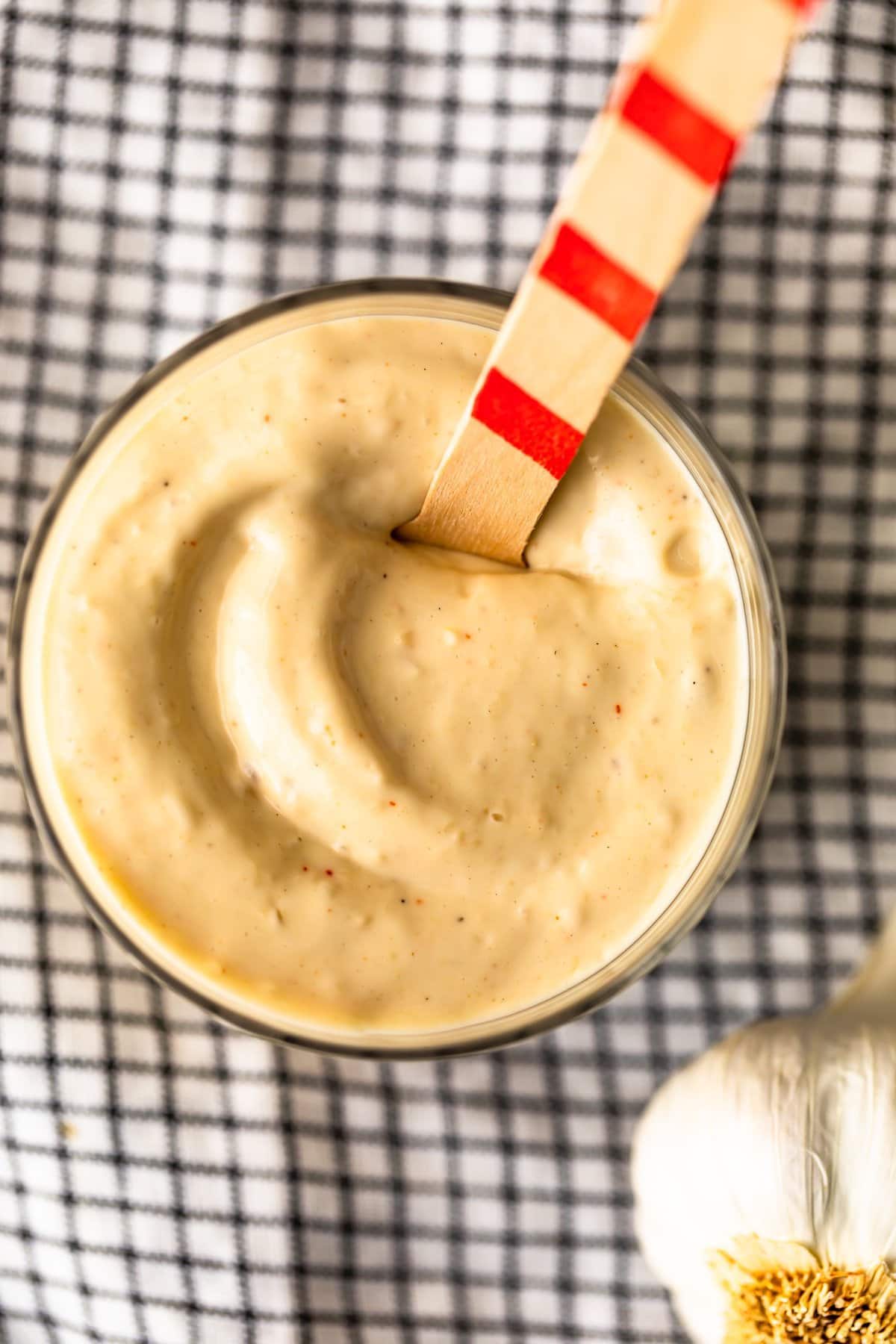 Garlic Aioli Recipe
This creamy aioli is the perfect dip, sauce, or condiment for your favorite side dishes and appetizers!
I'm a big fan of garlic. I feel like it has a place in just about every dish, along with salt and pepper. I especially love freshly roasted garlic as a quick addition to meals, because it just tastes BETTER that way.
So it should come as no surprise that I LOVE aioli. It's a dipping sauce based entirely on garlic…YUM.
Aioli is easy to make a basic version at home, and I wanted to make a Roasted Garlic Aioli recipe to add in that truly fresh roasted garlic taste. And let me tell you, it makes such a huge difference!
I love making this as a dipping sauce for fries, to put on chicken or fish, and even to take vegetables up a notch. Dip or pour this over anything for an extra kick of flavor, and you won't be disappointed!
Learn how to make garlic aioli with freshly roasted garlic for the BEST aioli recipe!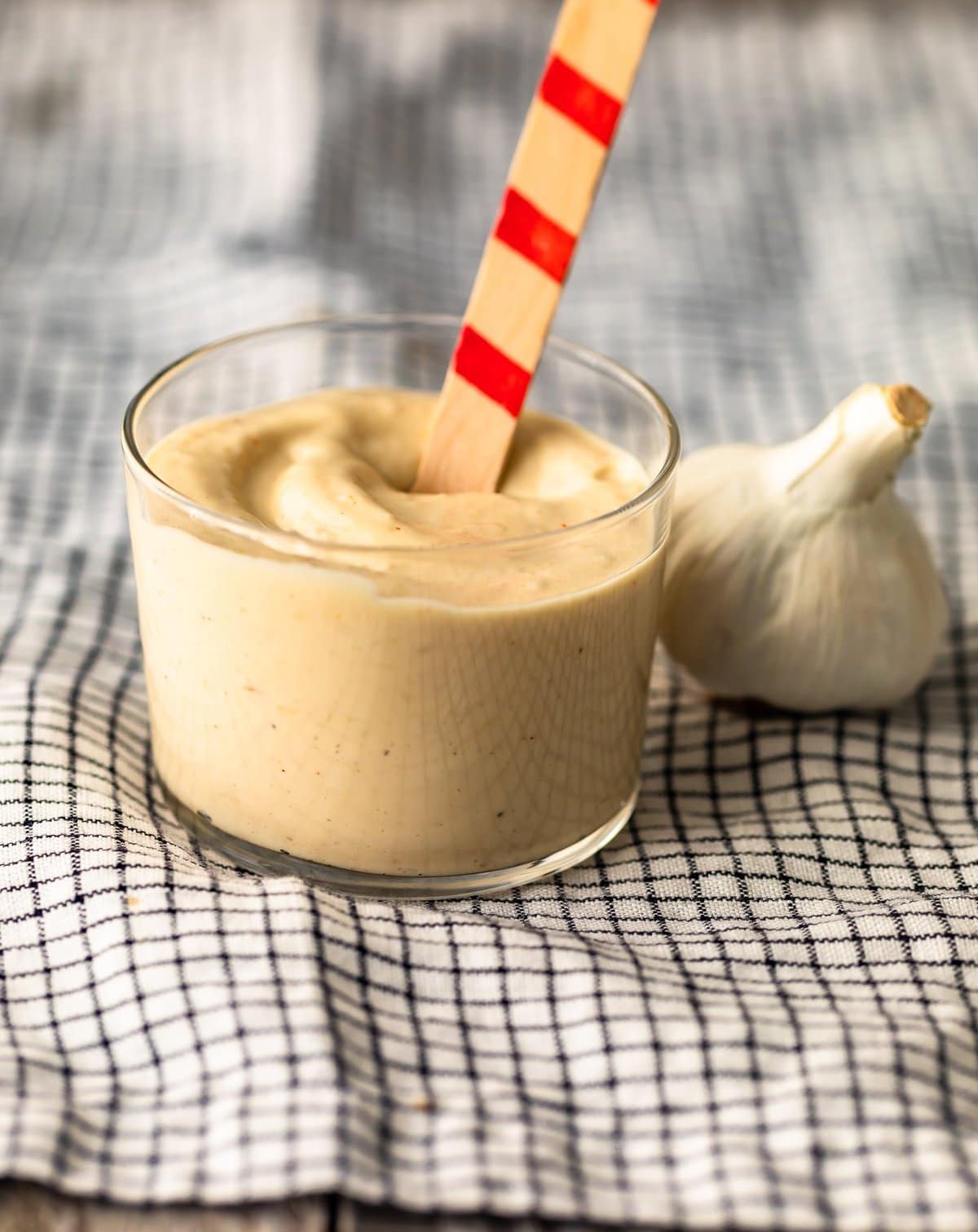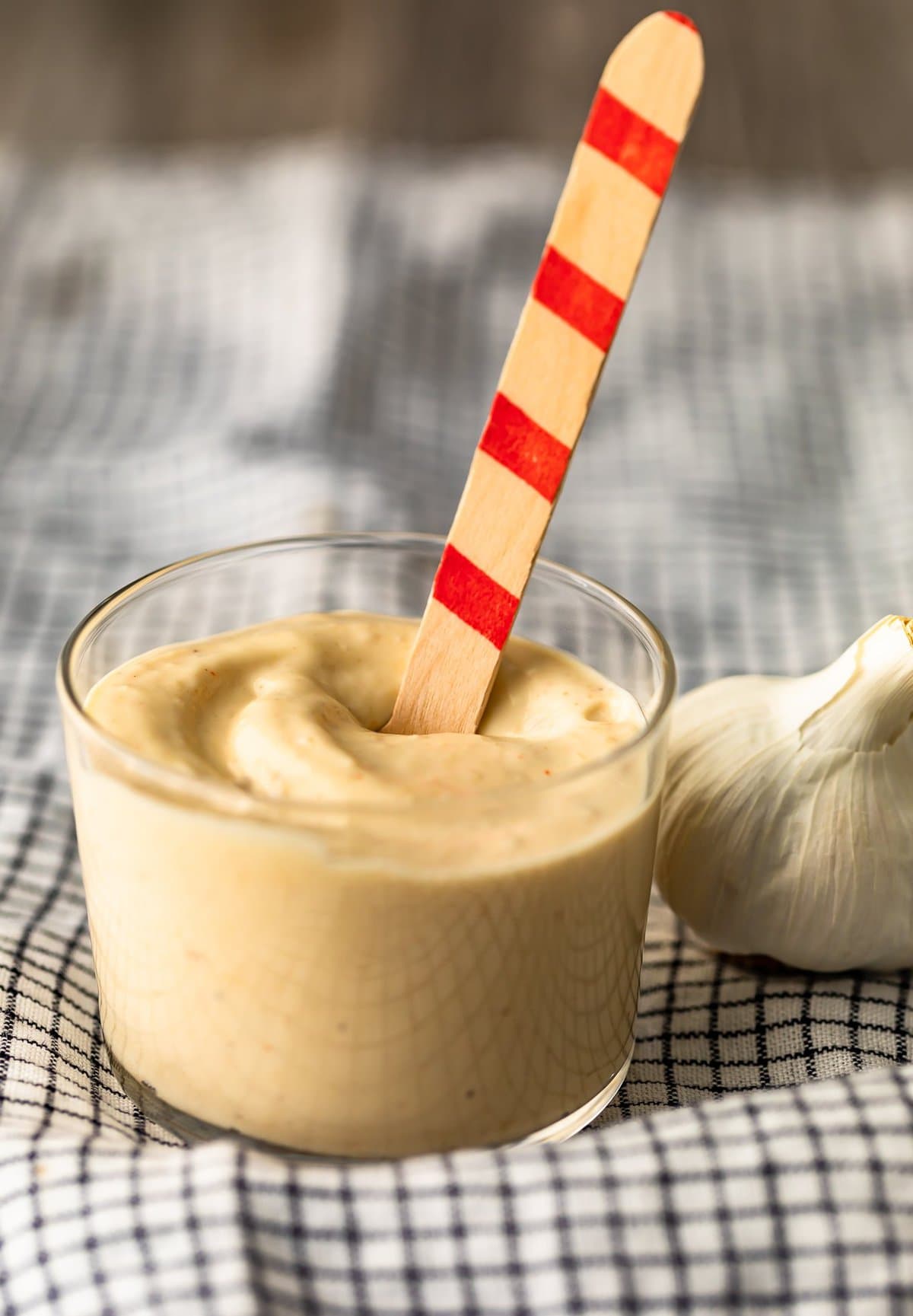 What is Aioli Made of?
Traditionally, aioli is simply a mixture of garlic, oil, and salt. However, most of us are probably used to mayonnaise-based versions that are much creamier, and more like a paste.
Garlic Aioli Ingredients:
Garlic
Olive Oil
Mayonnaise
Lemon Juice
Worcestershire Sauce
Cayenne Pepper
How to Make Garlic Aioli
This dip is really easy to make, but it takes a little bit of time just so that we can roast the garlic first. This step makes the flavor so much better, so it really is worth it!
Basically, all you have to do is roast the garlic, mix everything together, and then refrigerate.
Be sure to see the recipe card below for full ingredients & instructions!
Start by preparing the garlic to roast. Trim a 1/2 inch off the top of each head of garlic, then rub them together between your fingers to remove all the skin (except for one layer around the cloves).
Drizzle olive oil over the garlic, then sprinkle with salt and pepper. Wrap the garlic heads in aluminum foil and place them in a small baking dish.
Bake the garlic for about 50-60 minutes at 400°F.
Remove the garlic from the oven, unwrap it, and let it cool for 10 minutes. Then mash it up with a fork.
In a mixing bowl, whisk together the mayonnaise, lemon juice, Worcestershire sauce, cayenne pepper, and mashed garlic. You want to mix it well until it becomes a creamy paste.
Refrigerate at least 30 minutes before serving, or up to 48 hours.
Grab this stuff and dip away, or use it as a sauce on all your favorites. It's sooo yummy, and slightly addicting (you've been warned!).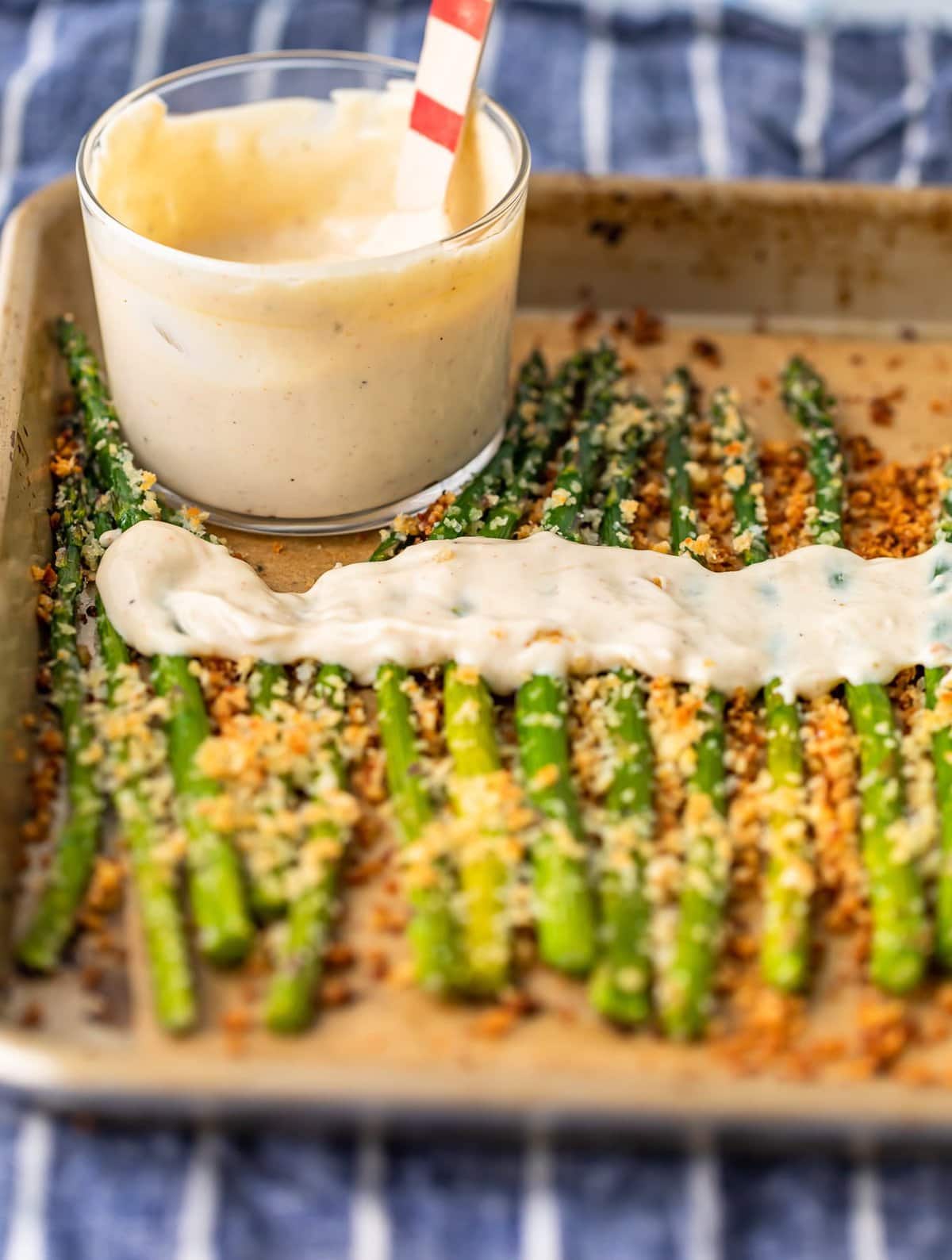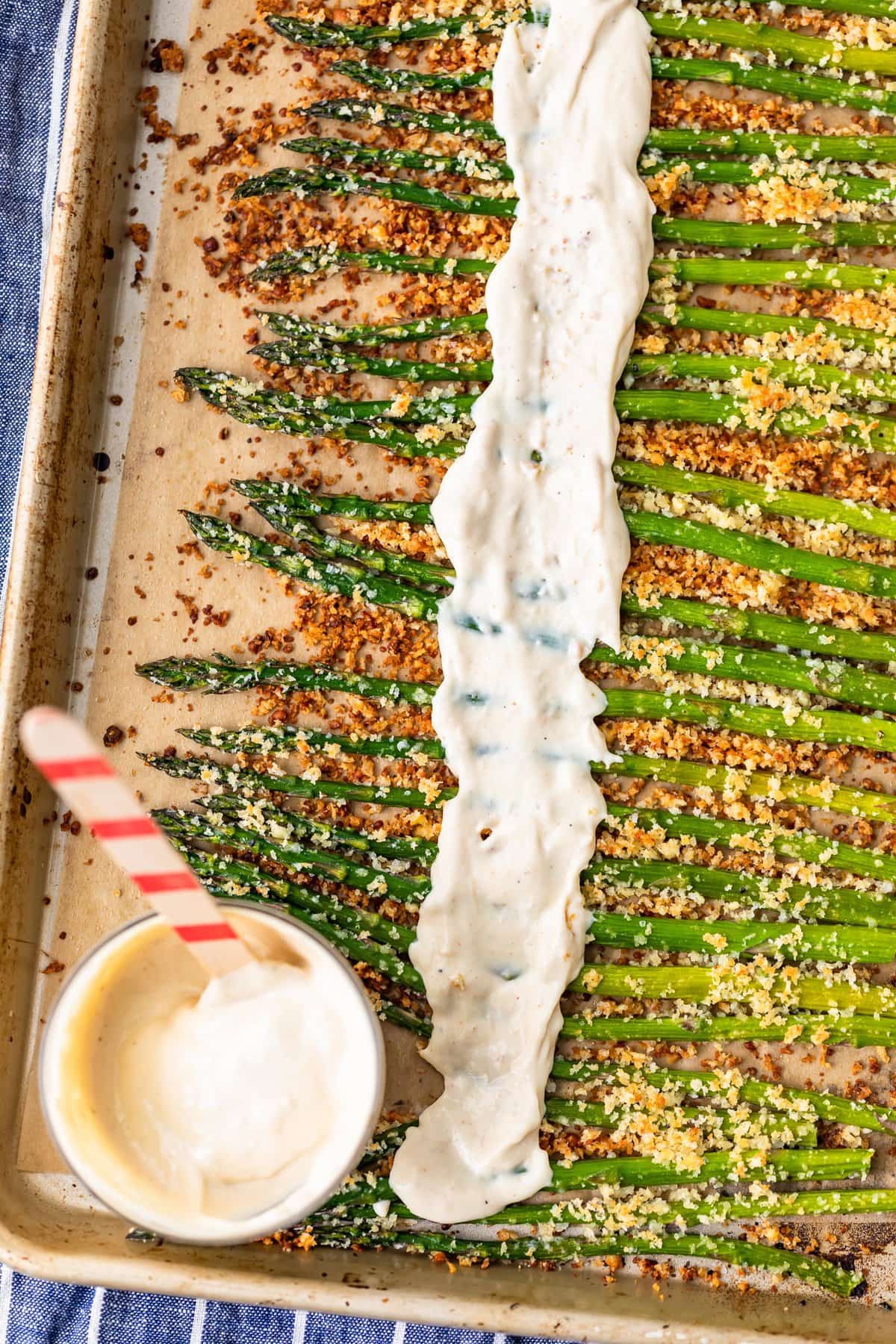 Serving Suggestions
One of my favorite things to eat with this is FRENCH FRIES. Any kind of fries or potatoes will do, honestly. I could dip these Shoestring Fries in aioli alllll day looooong. It's such a great appetizer, or snack food when having a few drinks.
I also love this roasted garlic aioli recipe as a sauce for our Crispy Garlic Butter Asparagus. The two recipes go hand-in-hand really, so I definitely recommend trying the asparagus with this. But the great thing about dips and sauces is you can use them on whatever you want.
It tastes good with fish, chicken, vegetables, fried foods…basically everything!
Recipes to Serve with Garlic Aioli
We think these favorite easy recipes would be delicious paired with Garlic Aioli!
Make Ahead Instructions
Yes! This sauce will keep well in the refrigerator for about 2 days. So you can make this up to 48 hours in advance.
Can I freeze garlic aioli?
Unfortunately, you can't really freeze aioli. It just doesn't work very well once it thaws (as is the case with any emulsified sauce that separates).
This Garlic Aioli Recipe is easy to make, so you can whip some up fresh whenever you need it.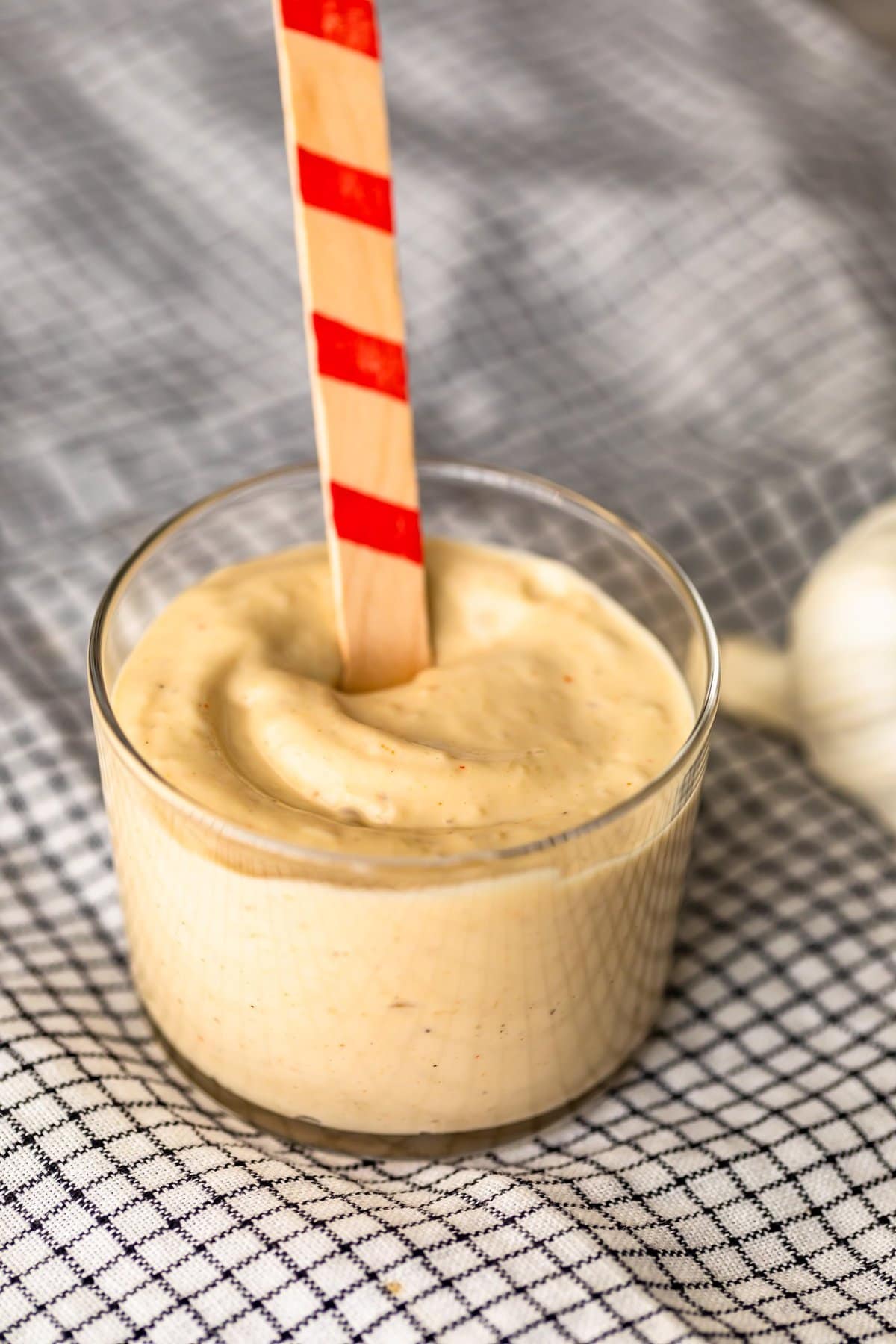 What are you waiting for? Whip up some of this creamy roasted garlic aioli and start dipping. I'd love to hear what you like to eat it with!
More Dips + Sauces
This Garlic Aioli Recipe is just one of our homemade dips and sauces. Be sure to try them all!
See All
If you make this Garlic Aioli Recipe, be sure to upload a photo in the comments below and let us know how you love using it! Enjoy.