Shrimp Ceviche (Ceviche de Cameron) is a fresh and delicious seafood appetizer. This CEVICHE STYLE SHRIMP COCKTAIL is our favorite light and healthy appetizer for the holidays. This gorgeous seafood starter is bursting with flavor and sure to please. This Shrimp Ceviche Recipe is ULTIMATE NYE APPETIZER!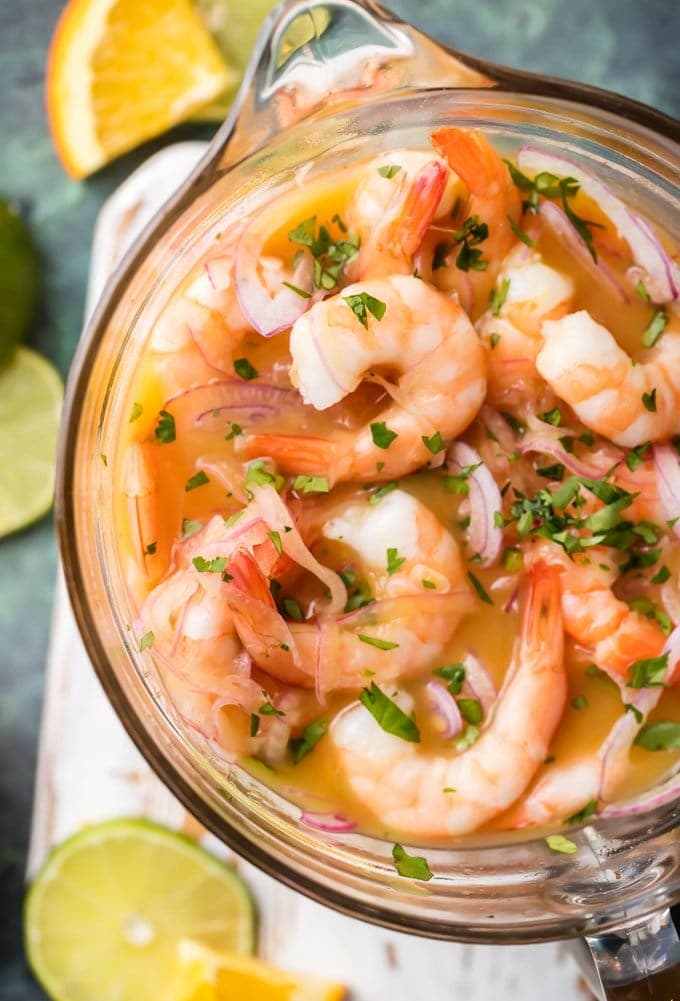 Shrimp Ceviche – Shrimp Cocktail
This Shrimp Ceviche Recipe is a twist on the classic Shrimp Cocktail
When I lived in Florida I worked at a little martini bar and restaurant and absolutely fell in love with seafood. There's just something about living on the ocean and how shrimp, salmon, and other seafood can taste so incredibly fresh. One of my favorite dishes at the restaurant was Ceviche. It can be made with fish or shrimp and it is utterly amazing. The meat cooks in citrus juices to create a bright flavor that is second to none.
It's healthy, amazing, and oh so pretty. This Shrimp Ceviche Recipe is a play on that kind of recipe…using orange and lime just to cook the shrimp but adding in ketchup/tomato, cilantro, and other spices to bring a shrimp cocktail flair. Instead of chopping the shrimp and creating more of a ceviche dip, we left them whole for more of a shrimp cocktail appearance. We just LOVE to have this beautiful appetizer on our holiday tables, and it's gone in no time!
This Shrimp Ceviche Recipe is a fun spin on the classic Shrimp Cocktail!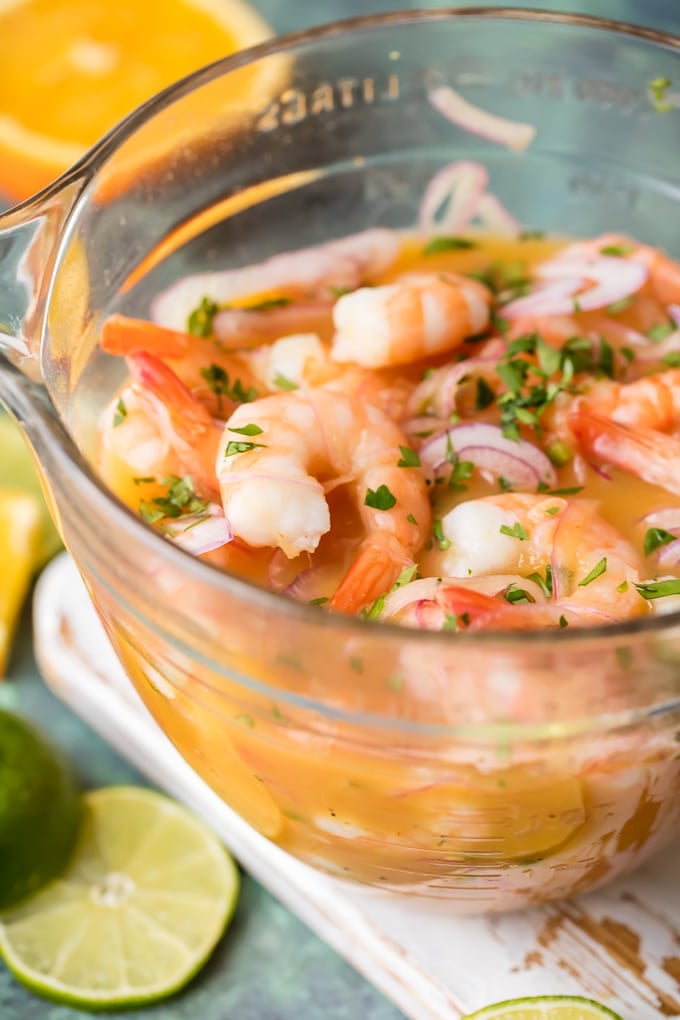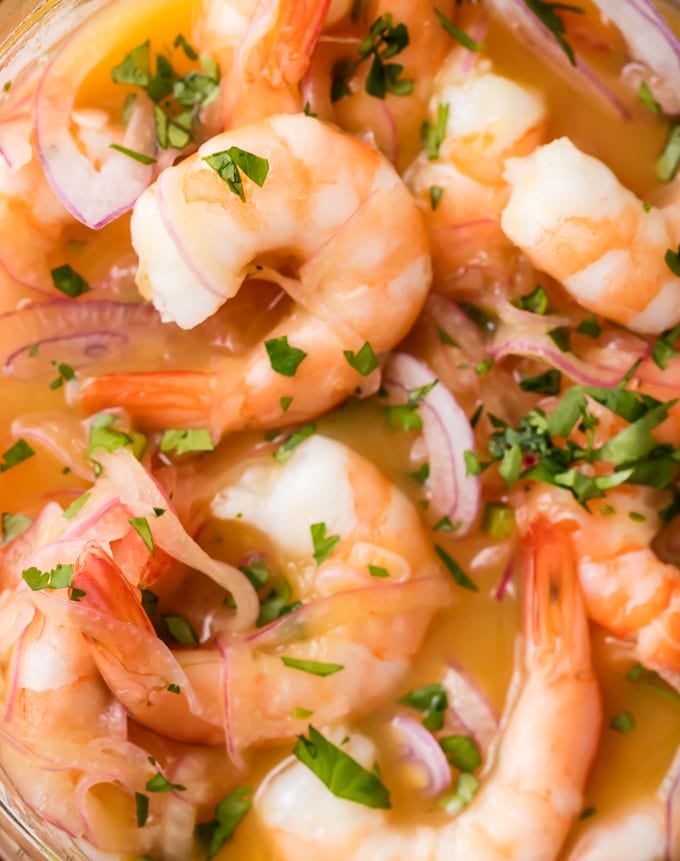 Homemade Shrimp Ceviche Recipe
If you love shrimp than I'm confident you'll be OBSESSED with this Shrimp Ceviche recipe. I remember my grandparents having traditional Shrimp Cocktail every Christmas Eve at their house. Then men would stand around it eating the shrimp until they were gone. I always thought it was so gross! Well that feeling is in the past.
I'm a huge fan now…especially when the shrimp is cooked in citrus juices. It's just so tasty I can't describe it in a way that does it justice. You'll just have to try it for yourself!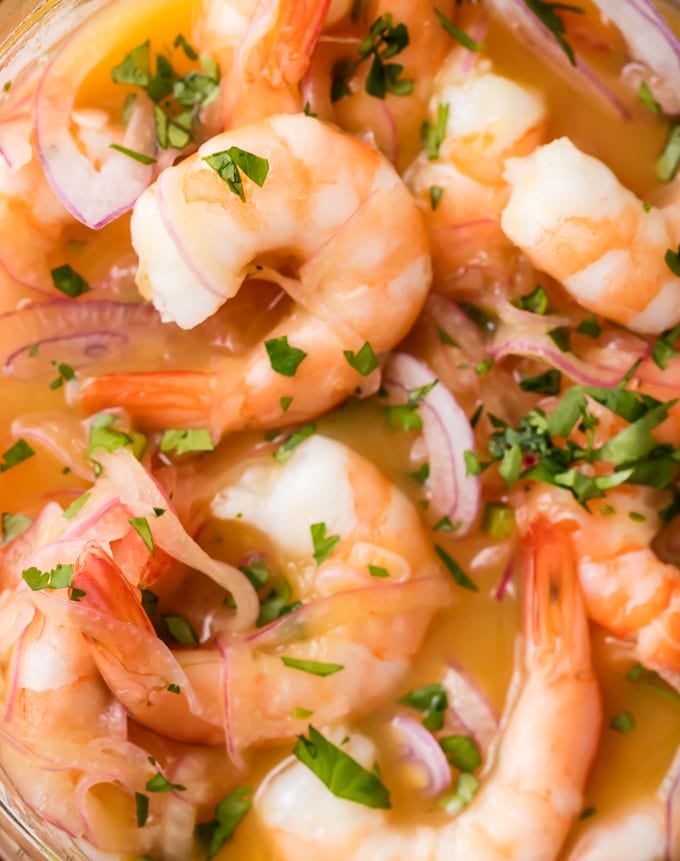 How do you make shrimp ceviche?
Ceviche is an interesting dish. Instead of cooking the fish or shrimp on heat, shrimp ceviche is "cooked" by soaking it in lime juice. The citric acid in the lime juice is what essentially cooks the raw shrimp or fish to make it safe to eat.
Shrimp Ceviche is served cold, usually as an appetizer. This shrimp cocktail inspired dish is bursting with flavor.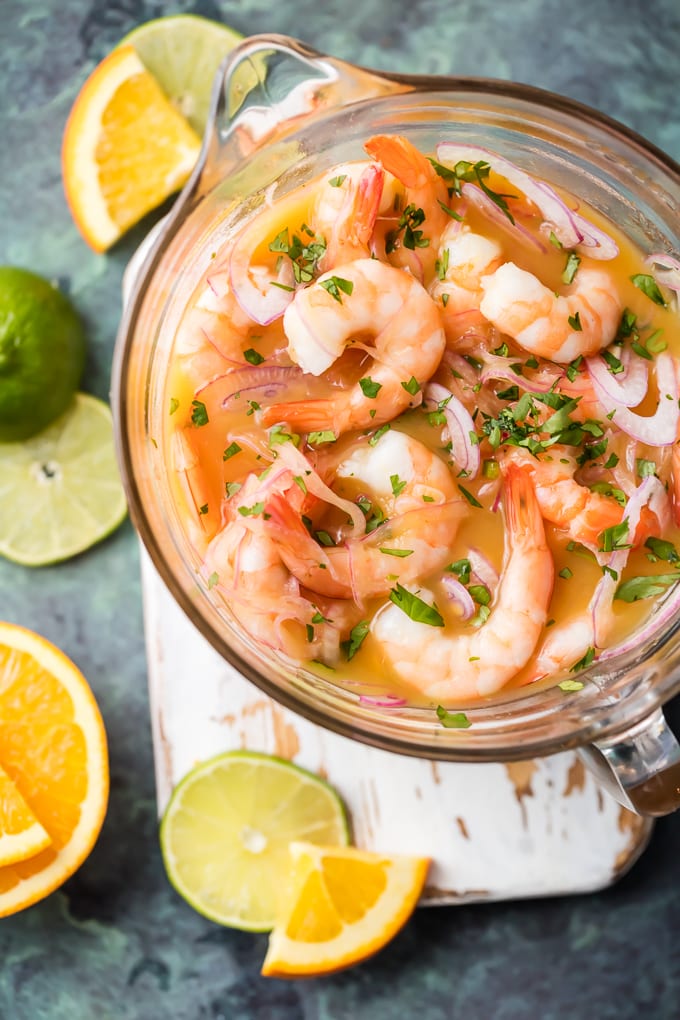 This Shrimp Ceviche recipe is perfect for the holiday season but also so awesome for Summer. It's light, fresh, and delicious. Plus its SO simple and requires pretty much zero work. I hope you love it as much as we do!
Enjoy!
If you like shrimp, you'll love these other recipes:
HOP OVER TO MY MOM'S SITE, SIMPLY SATED, TO GRAB THE RECIPE TO THIS CEVICHE STYLE SHRIMP COCKTAIL! (CLICK THE TITLE) ENJOY!