This is the easiest, prettiest, and tastiest appetizer you'll ever make! Blistered sweet peppers are served alongside a creamy goat cheese dip for one delicious bite. It's great to have a healthy appetizer up your sleeve for any occasion, and this is just perfect.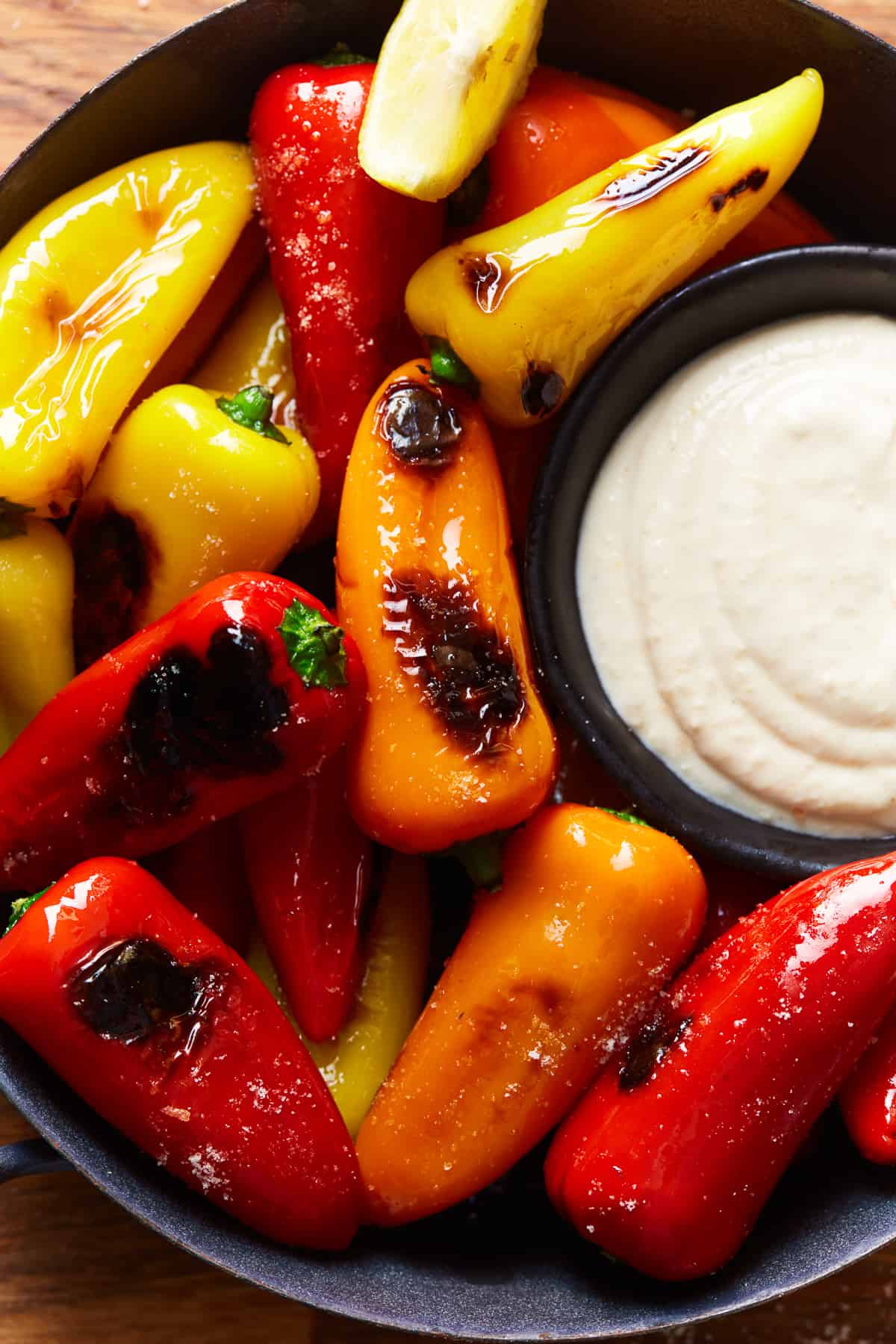 What's in Blistered Peppers with Lemon Goat Cheese Dip?
This recipe is made with beautiful, colorful little peppers, and sautéing them really brings out their natural sweetness! Paired with a lemon pepper goat cheese dip, it becomes the most delicious appetizer.
Peppers: You'll want to look for mini sweet peppers. They're the perfect size for dipping! If you can't find them, opt for bell peppers cut into strips.
Cooking Oil: I used canola oil for its high smoke point, but you could use vegetable oil or avocado oil instead.
Salt: I like to sprinkle these peppers with a bit of sea salt, but you can leave it off if you prefer.
Goat Cheese: Plain goat cheese forms the base of this dip. It's rich, creamy, and tangy!
Milk: I used skim milk to thin out the dip without adding too many calories. You could use 2%, whole, or plant-based milk instead.
Lemon Juice: Fresh lemon juice adds freshness and acidity to the dip. I do not recommend using bottled lemon juice, as the flavor will not be as good.
Seasoning: Lemon pepper seasoning gives this dip its lemon pepper taste. This is a premade seasoning blend you can buy at the grocery store.
Garlic: Adds garlicky flavor to the dip. You'll need one clove. If you don't have fresh garlic, you can use ⅛ teaspoon of garlic powder.
Pro Tip: Goat cheese comes in packages of 4 and 8 ounces, so opt for an 8-ounce package and save the rest for another use, like mashed potatoes.
Spicy Blistered Peppers
For a spicier take, swap the mini sweet peppers for Shishito peppers. Shishitos are generally mild but with a bit of a kick. You can also add crushed red pepper flakes to the goat cheese dip.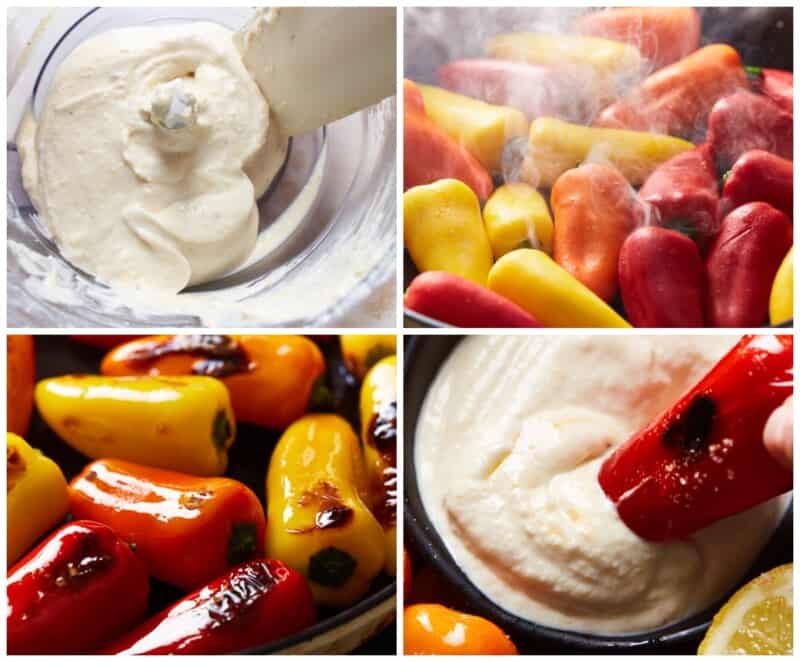 What are blistered peppers?
In cooking, "blistering" means to briefly cook food on high direct heat until the skin blackens. This is a quick caramelization process, which brings out lots of flavor and natural sweetness.
What kind of peppers should I use for this recipe?
This is a recipe for sweet peppers, which have a mild sweet flavor, rather than spicy. Bell peppers are one example. You can often find a bag of small, colorful sweet peppers in the produce aisle of your local grocery store, like what I used here.
Is this recipe spicy?
No, these do not end up spicy. If you want more heat, add a few flakes of red chili flakes after blistering. Or try using a spicier pepper variety, like shishitos!
Can I make these ahead of time?
These are best served warm, straight off the skillet! They only take a matter of minutes to cook up, so no need to prep ahead of time. However, you can make the lemon goat cheese dip 2 or 3 days ahead of time and just keep it covered in the fridge.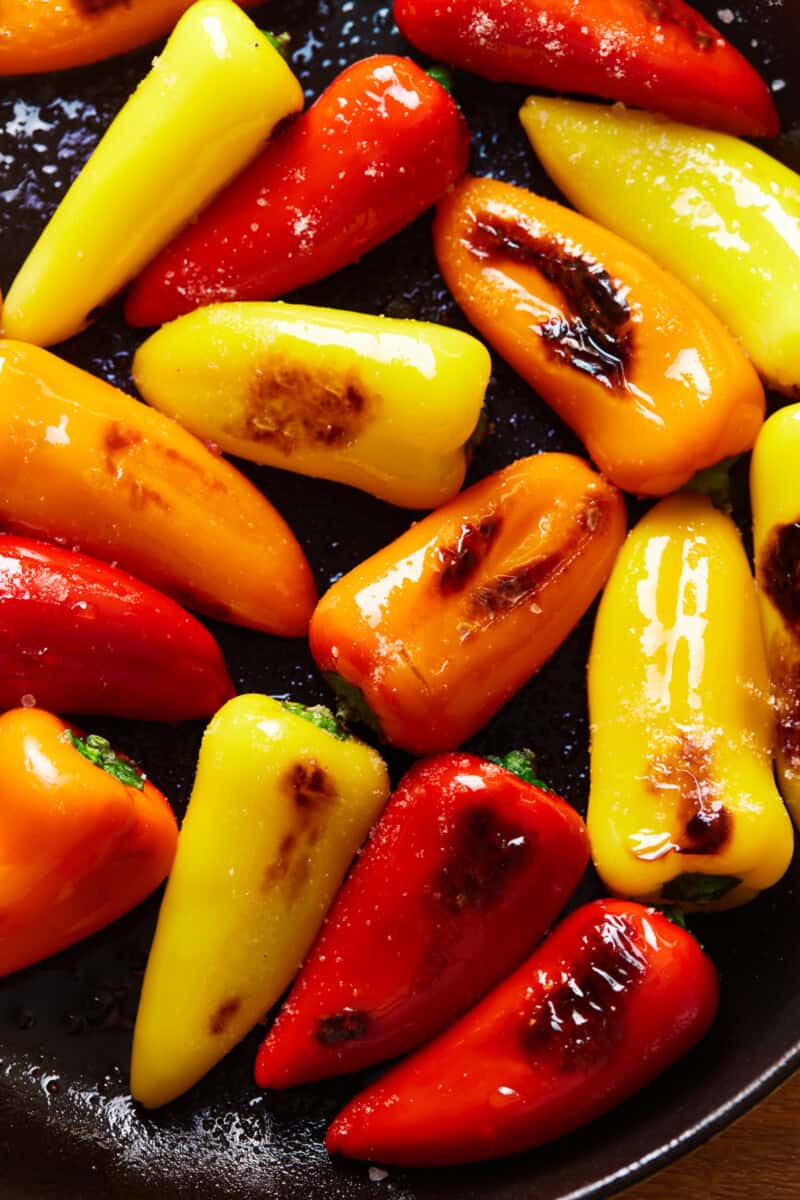 How to Store Blistered Mini Peppers
Store leftover peppers and goat cheese dip separately in airtight containers. They will both keep in the refrigerator for 3-4 days.
What to Serve with Sweet Peppers
Every good appetizer includes a bit of dipping. These blistered sweet peppers are perfectly paired with a quick-to-make lemon pepper goat cheese dip! It's super creamy, and has a balanced flavor that is a little bit acidic, a little bit savory, with a nice bite from the goat cheese.
These would also be great with a simple hummus, pepper jelly dip, white queso, or herb cream cheese dip. Or add them to a fun charcuterie board.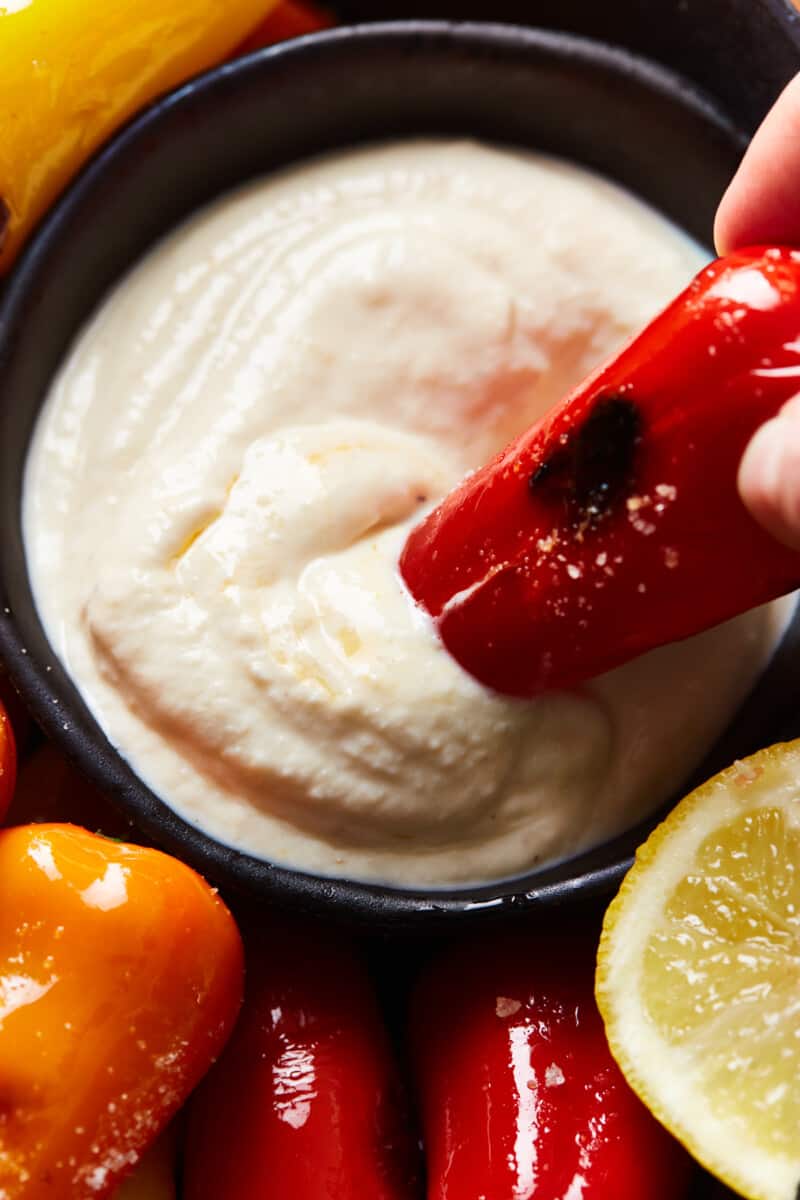 More Goat Cheese Recipes We Love