Blistered Sweet Peppers with Lemon Pepper Goat Cheese Dip!! The easiest, prettiest, and TASTIEST appetizer you'll ever make! It's great to have a healthy appetizer up your sleeve for any occasion.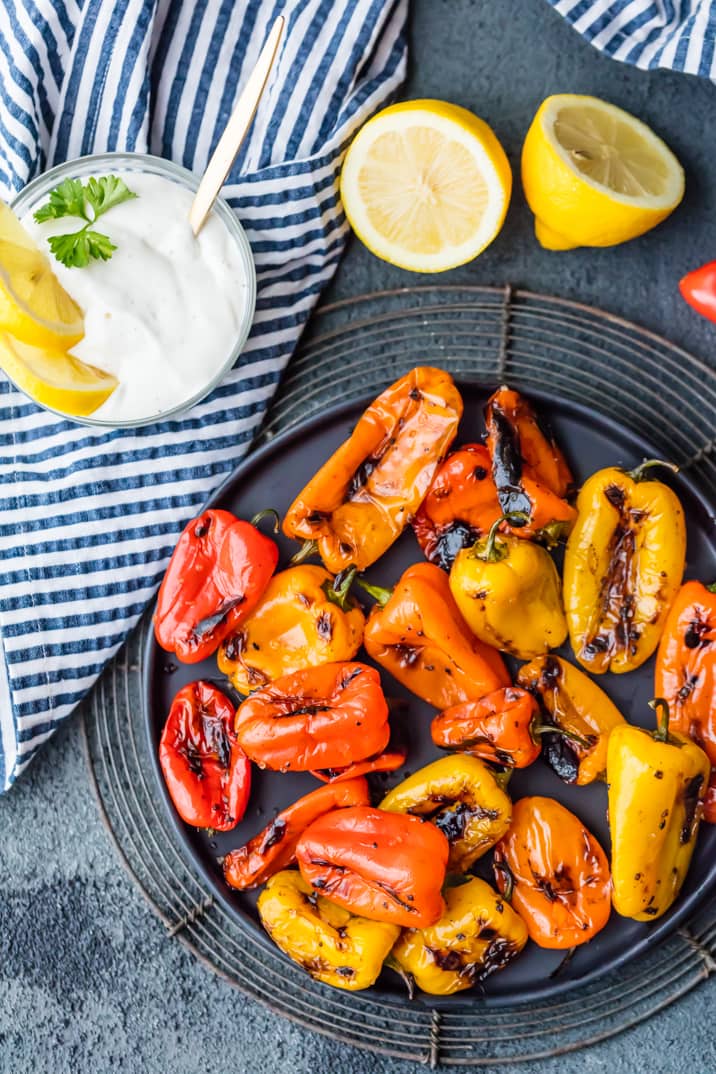 When I was in San Francisco earlier in the Summer, Anetta and I were at lunch and ordered Blistered Shishito Peppers. I think she ate 3 and I ate about 25. I could not stop!! Spicy, smokey, amazing! When I came back to STL, I ordered them again with a friend at happy hour. I loved them just as much the second time, but she thought they were ways too spicy. I've seen Blistered Shishito Peppers all over Pinterest lately, and if you love spice, you have to make them! But if you want something less spicy with a hint of sweet, this variation is for you!! Blistered Sweet Peppers with Lemon Pepper Goat Cheese Dip is everything I love about the spicier version; super easy, beautiful, and delicious.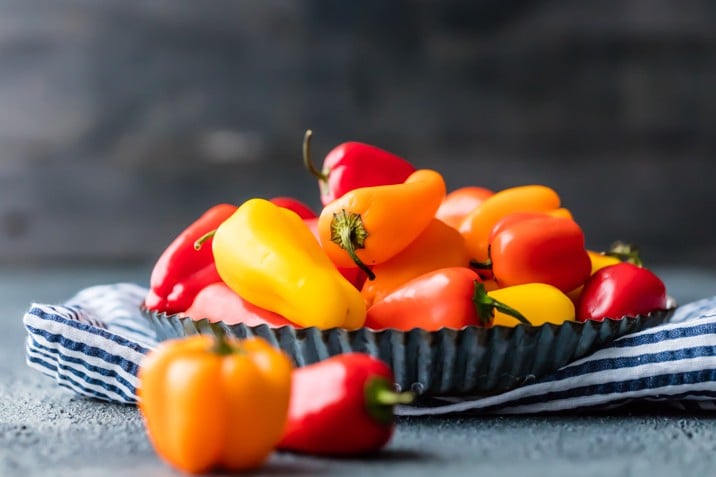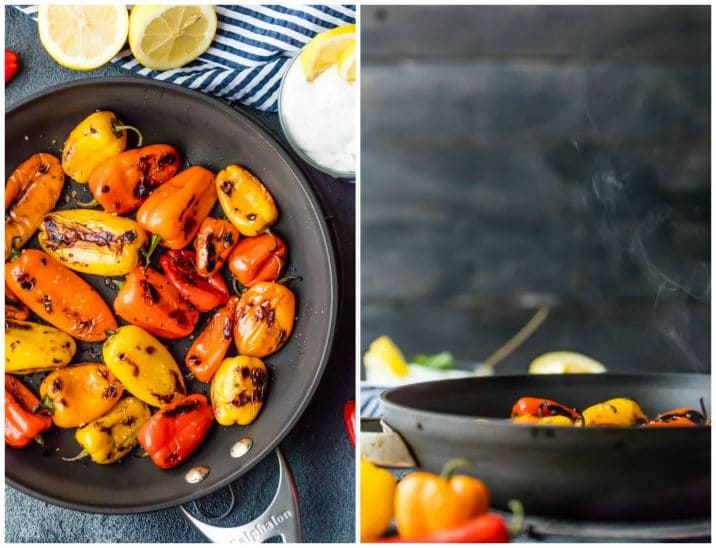 You can get a big bag of multi-colored sweet peppers in any grocery store. They're delicious and pop-able raw; perfect dipped in hummus or greek yogurt. But if you REALLY want to make them shine, cook them in a skillet with a little oil and sea salt, and serve them with this Lemon Pepper Goat Cheese Dip. I'm telling you…it's all kinds of perfection!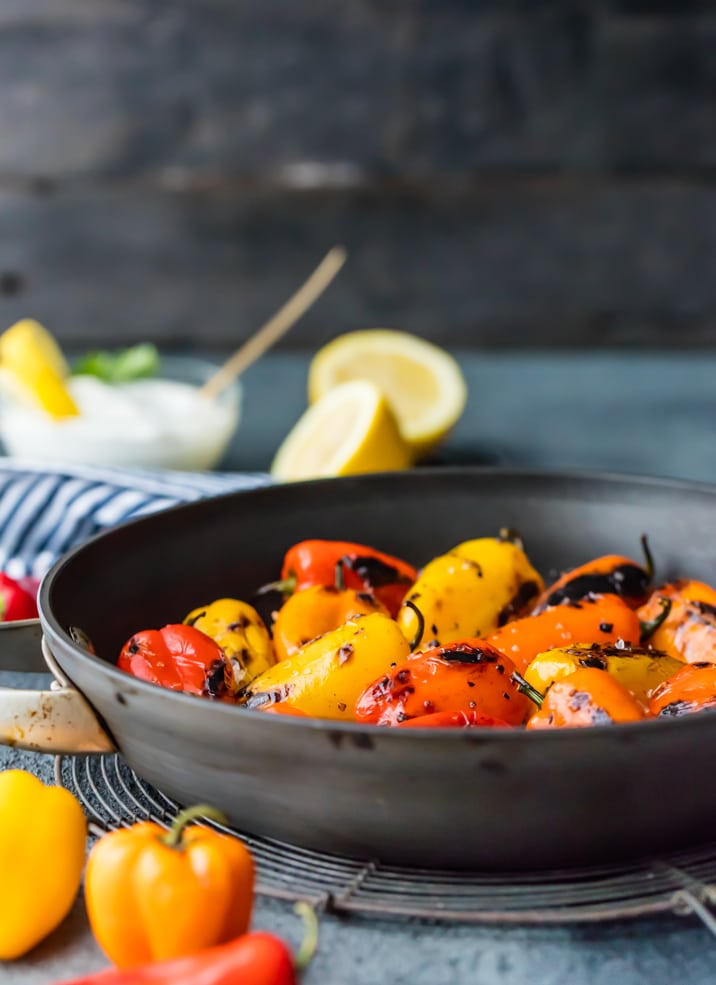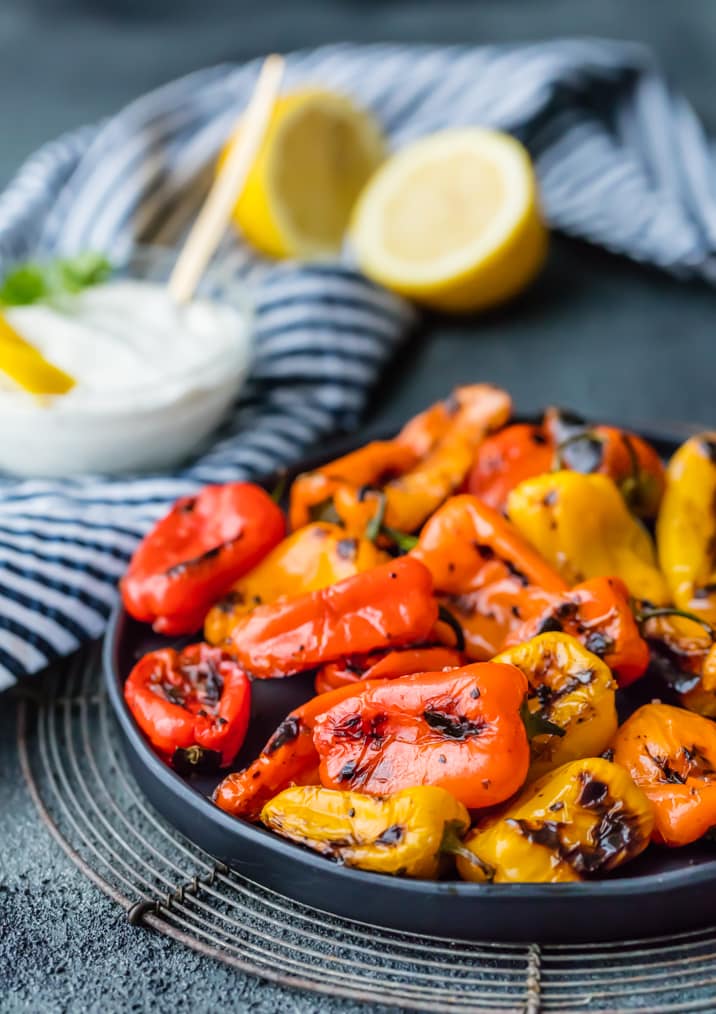 I love the simplicity and easy of this recipe. It can be made year round (in the Summer, just throw them on the grill instead of cooking in a skillet!), and pair with so many meals. You can feel good about eating them and don't have to stop at just one. And you will not want to stop at just one!
And guys…THIS Blistered Sweet Peppers with Lemon Pepper Goat Cheese Dip!!. Amazing!!!
Enjoy!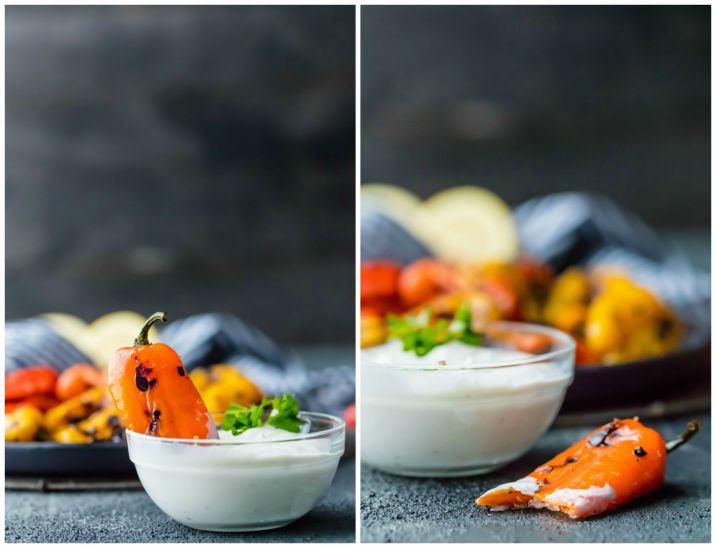 PS: Does it look like this lil pepper is taking a dip in a goat cheese hot tub? No…okay just ignore me. :)
Ingredients
20-25 small sweet peppers
1 tablespoon canola oil
Sea Salt to taste
5 ounces plain goat cheese, crumbled or sliced
2 tablespoons skim milk
2 tablespoons lemon juice (juice from one lemon)
2 teaspoons lemon pepper seasoning
1 teaspoon garlic, minced
Instructions
In a large skillet, heat oil over medium/high heat. I used canola oil because it has a high smoke point.
Add the peppers and stir to coat in the oil. Allow to cook for about 3-4 minutes on each side, until smoking and blistered to your liking. Sprinkle with sea salt to taste.
While peppers are cooking, combine goat cheese, milk, lemon juice, lemon pepper, and garlic in a food processor or blender. It should be creamy. If too thick, add a bit more milk. If too thin add a bit more goat cheese.
Serve peppers warm with goat cheese dip. Enjoy!
7.6.4
1882
https://www.thecookierookie.com/blistered-sweet-peppers/

JOIN OUR MAILING LIST
TO GET COOKING!
Subscibe to recieve all the latest, greatest, and EASIEST recipes sent straight to your email inbox. If we post something yummy, you'll be the first to know.