This Broccoli Salad recipe is a twist on a holiday classic! Almond Broccoli Cranberry Salad has so much flavor because it's filled with best ingredients. This delicious charred broccoli salad with bacon is sure to be your favorite Thanksgiving or Christmas side dish!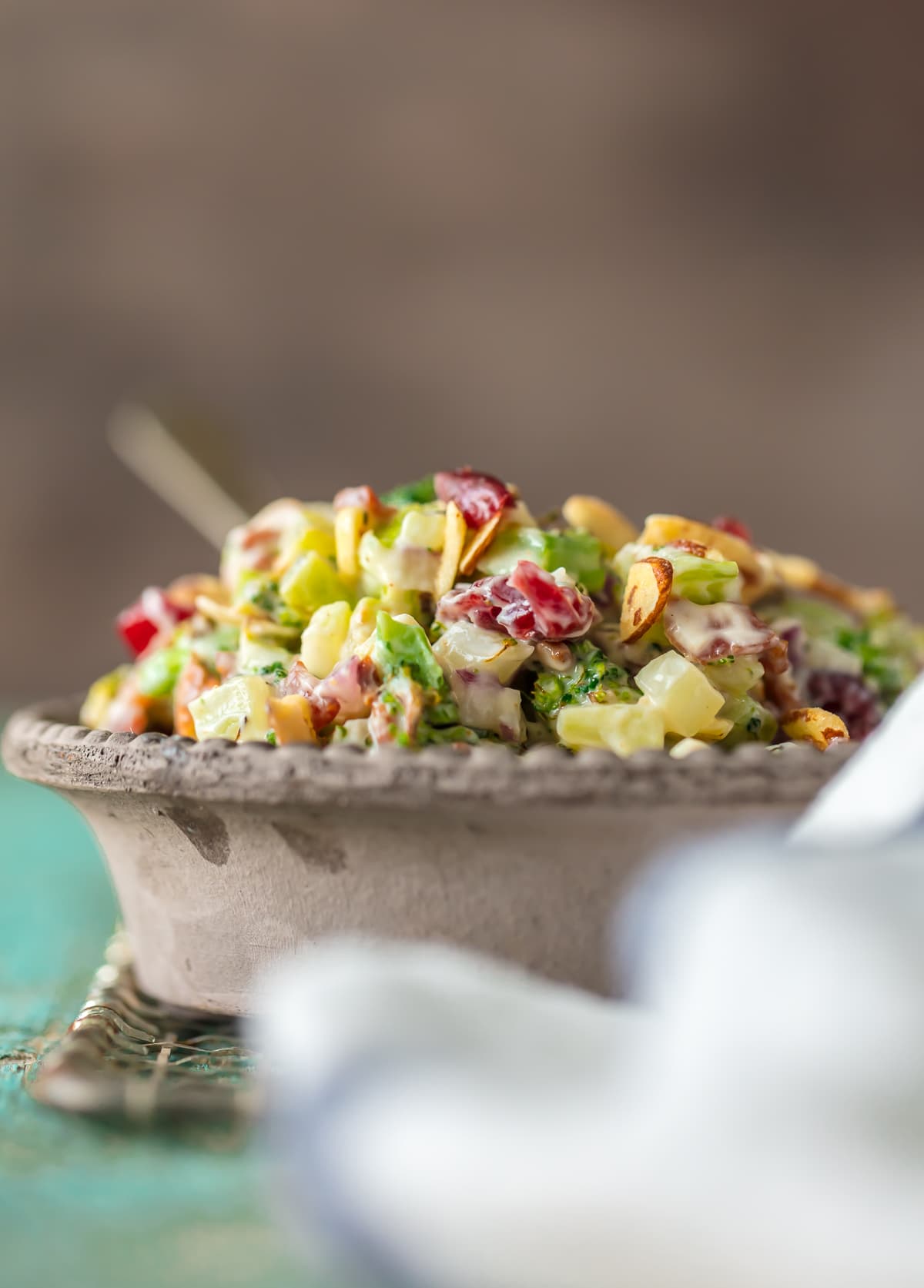 Broccoli Salad Recipe
This broccoli salad recipe with bacon is the perfect holiday side dish. Charred Broccoli Cranberry Salad is so delicious and so easy!
Sometimes little tweaks to a classic recipe take it from pretty good to AMAZING! Everyone has heard of Broccoli Salad, but has everyone heard of Cranberry Almond CHARRED Broccoli Salad? Charring the broccoli before stirring everything together doesn't seem like a huge deal, but it's a huge flavor boost. I'm so excited to share this broccoli cranberry salad with you, just in time for the holidays!
I liked this Cranberry Almond Broccoli Salad recipe so much that I ate it solely for dinner one night, and then solely for lunch the next day. It's an amazing side dish, but good enough to eat alone! Did I mention there's bacon? This Charred Broccoli Salad with BACON is a new favorite that can't be beat.
The flavor combo in this recipe is simply stunning, plus it's really pretty and it's the perfect Thanksgiving side dish! I can't wait for you to try it.
Cranberry Almond Charred Broccoli Salad with Bacon is the ULTIMATE side dish recipe for any occasion. The flavor combo is especially perfect for the holidays!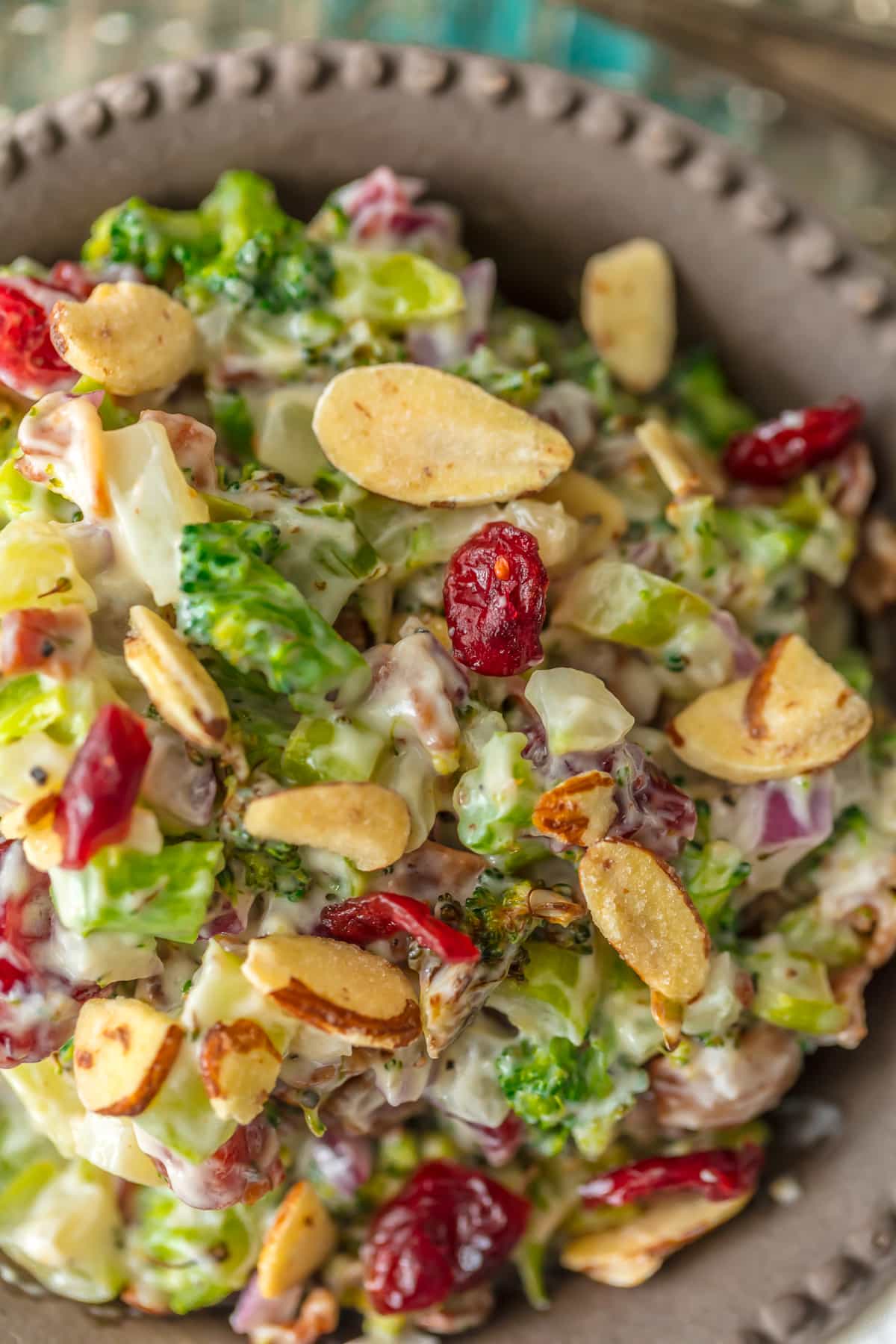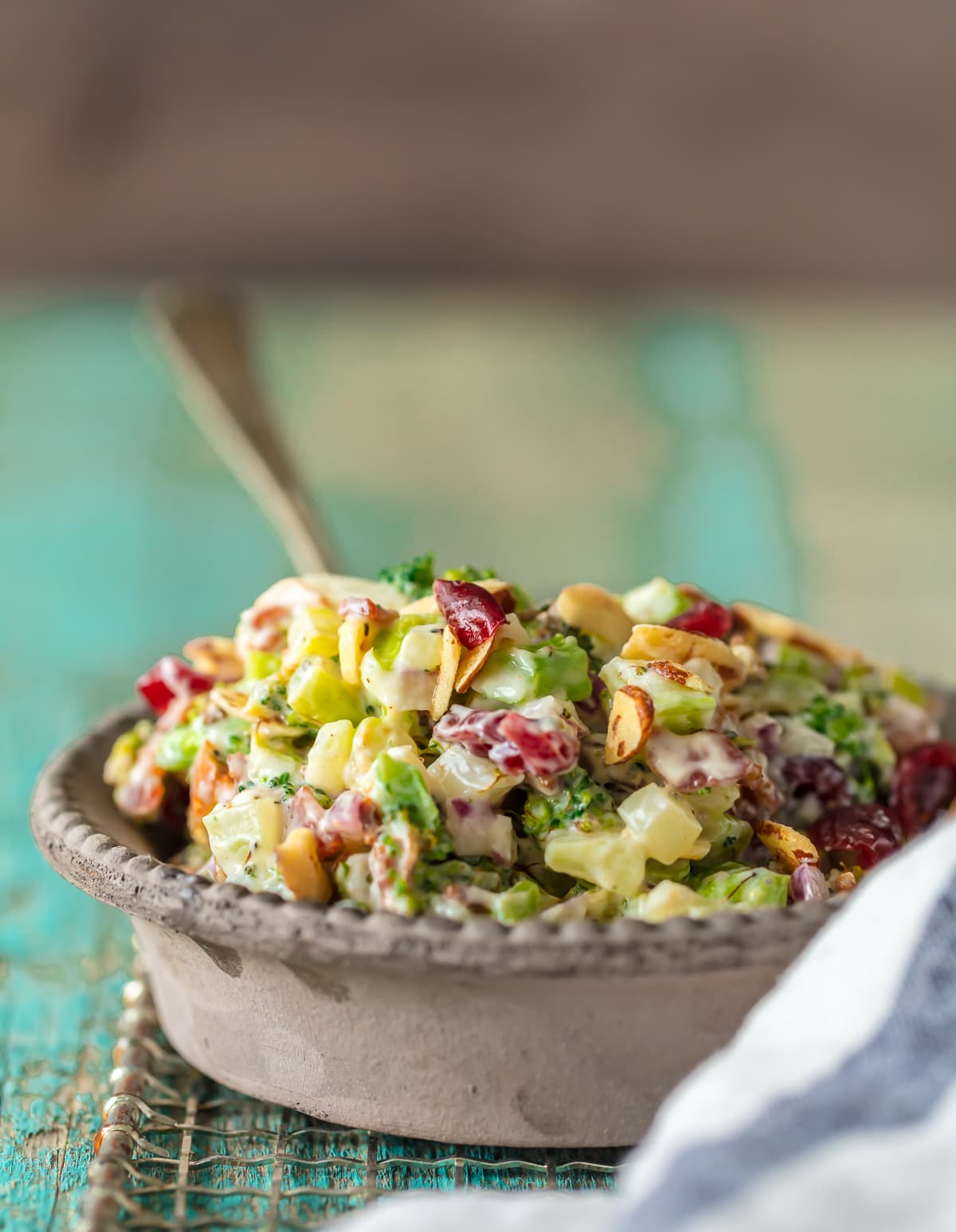 Almond Broccoli Cranberry Salad
This Charred Broccoli Cranberry Salad is the kind of recipe that will be on your holiday table this year, and then every year after that. It's a new tradition in the making! You'll want to pass it down through the generations and you'll be known for it among family members. This broccoli salad with bacon is just SO simple and good, just the way I love all of my recipes to be! Sometimes easy recipes are the best, allowing the flavor to shine through and be the star of the show.
Broccoli Cranberry Salad Ingredients:
Charred Broccoli Bits
Dried Cranberries
Honey Roasted Almonds
Red Onion
Honey
Mayonnaise
Cider Vinegar
Salt & Pepper
Crispy Bacon Bits
The flavors in this broccoli salad recipe combine so perfectly. It turns into a creamy, delicious side dish that is absolutely tasty!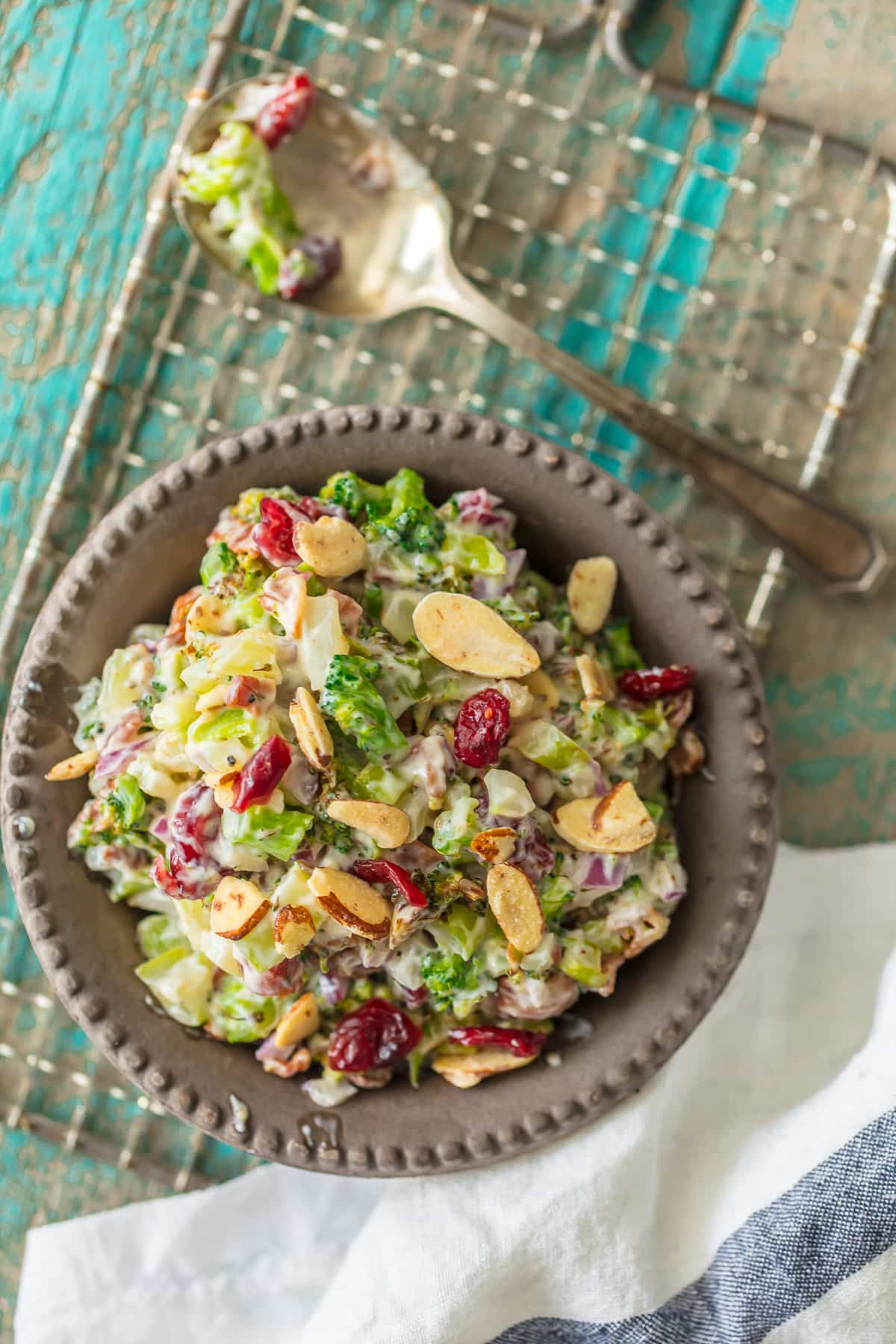 How to Make Cranberry Broccoli Salad with Bacon
There's nothing better than an EASY holiday recipe, and this broccoli cranberry salad is exactly that. I love side dishes like this that take almost no time to prepare, and can sit in the refrigerator until it's time to eat. No hassle with this delicious broccoli salad recipe!
How to make Charred Broccoli Salad with Bacon:
Dice broccoli into small pieces, spread it onto a baking sheet lined with foil, drizzle olive oil, then place it in the broiler until the broccoli becomes slightly charred.
Place the rest of the ingredients (except for the bacon) along with charred broccoli into a serving bowl, and mix well.
Refrigerate the broccoli salad for a couple of hours to chill, or until ready to serve.
Just before serving, crisp up some bacon bits and toss them into the salad.
This cranberry broccoli salad recipe is so easy to make and it tastes so great! It makes for the perfect leftovers since the flavors really combine and become even better as it sits in the fridge. That is, if you don't eat it all during the meal (you will).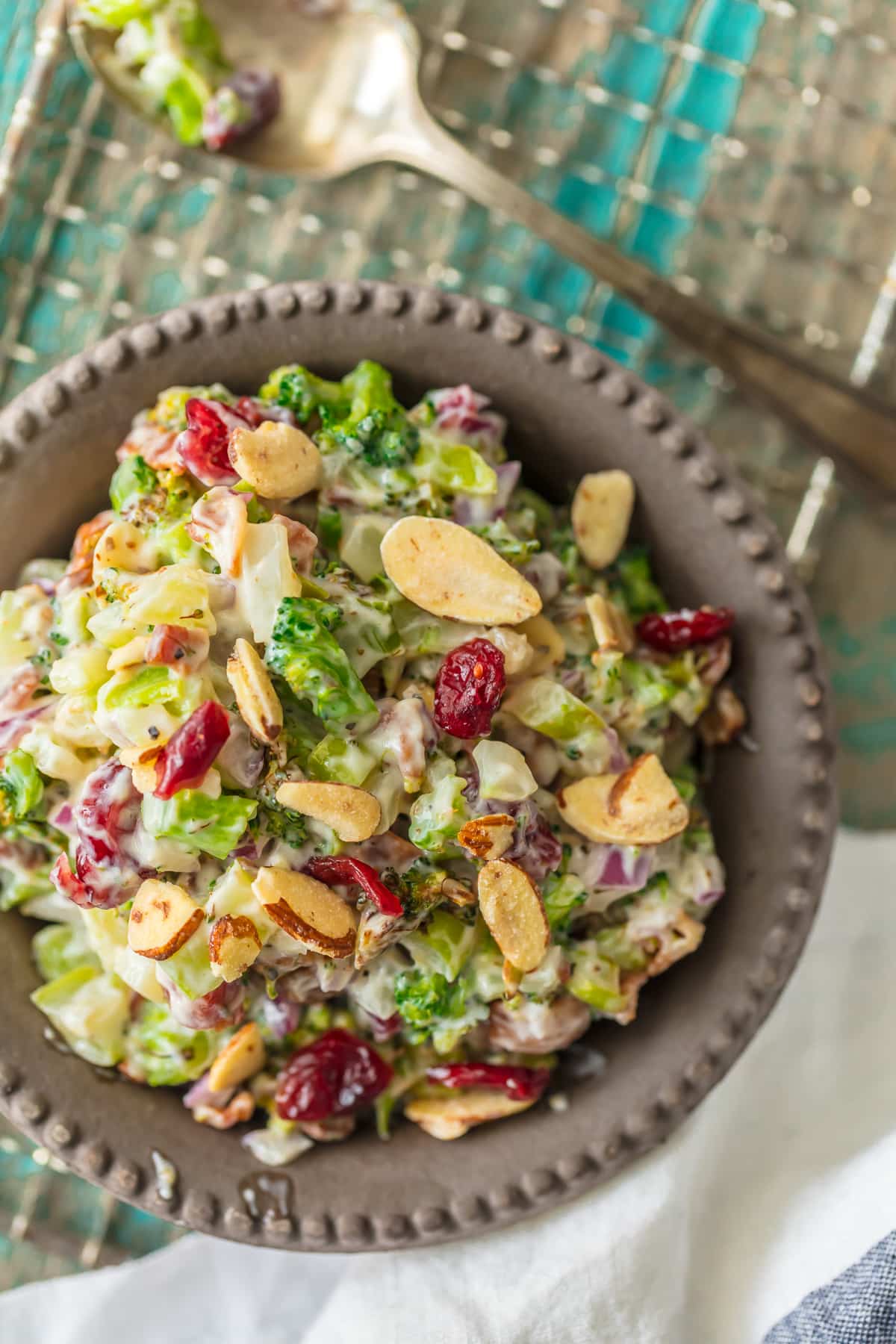 I hope you love this Cranberry Almond Charred Broccoli Salad recipe just as much as we do! We will be making it for Thanksgiving AND Christmas every year! And then most likely on Easter too. Once you taste this broccoli cranberry salad, you'll understand why we can't get enough of it. It's just too good to leave off the menu! I'm telling you guys, Charred Broccoli Salad with bacon FOR THE WIN!
See the recipe card below for details on how to make Cranberry Almond Broccoli Salad with Bacon. Enjoy!
If you like this broccoli cranberry salad recipe, try these other delicious side dish recipes: