For an evenly cooked roast chicken that comes out of the hot oven faster with crispy skin, Spatchcock Chicken is my go-to recipe, perfect for Sunday dinners. After the first tender and juicy bite, bursting with tangy and savory Mediterranean flavors, you may never make roast chicken the same way again.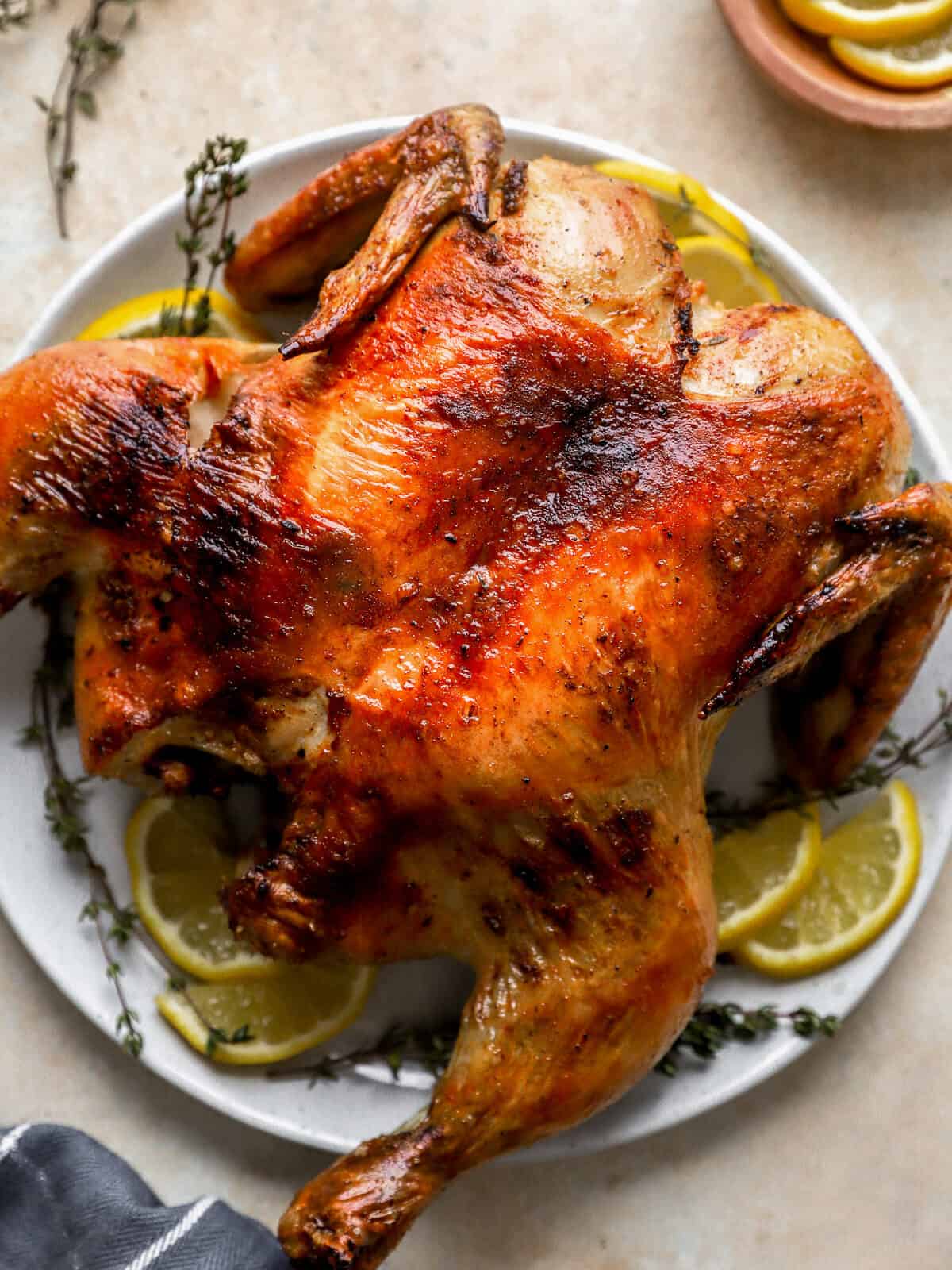 What's in Spatchcocked Chicken?
This old Irish recipe for dispatching the unlucky rooster to the dinner table involves cutting out the backbone of the chicken with a sharp knife. Perfectly seasoned with fresh thyme, lemon, and other staple ingredients, the flavor of this juicy roasted chicken recipe is unbeatable.
Fresh Thyme: Fresh thyme is a fragrant and flavorful Mediterranean herb that brings out the best savory flavor in any chicken dish.
Spices: The other seasonings and spices in this recipe are classic pantry staples you likely already have on hand, such as garlic powder, onion powder, and paprika.
Garlic: No chicken recipe would be complete without the addition of garlic, the holy grail of seasonings!
Lemon: The bright and fresh taste of the lemon zest perfectly complements the other spices.
Butter: When spread beneath the chicken skin with the herbs, the butter helps create an out-of-this-world flavor and crispy skin.
Chicken: No roosters are needed for this recipe. Buy a fresh whole chicken, preferably antibiotic-free or free-range.
How to Make a Spicy Roasted Chicken
If you want to kick up the heat of the chicken and make it spicier, add more red spices to the recipe, such as harissa powder, cayenne pepper, or crushed red pepper flakes.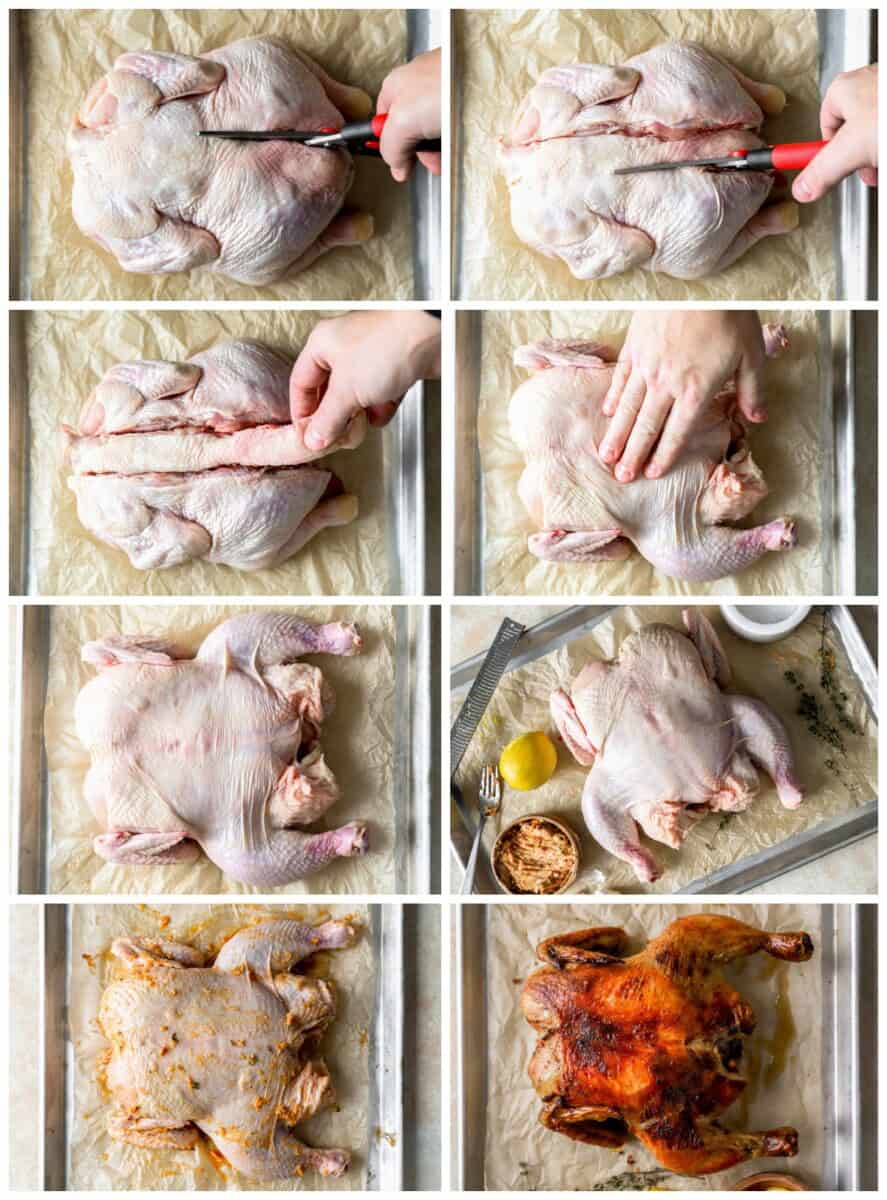 Why should I spatchcock a chicken?
Spatchcocking a chicken helps it to roast more quickly and evenly. Since different parts of a chicken cook at different rates, traditional roast chicken can end up with either dry breasts or undercooked thighs. When you flatten the chicken onto the baking sheet, it allows all of the parts to bake at the same rate.
How do you spatchcock a chicken?
To spatchcock a chicken, use sharp kitchen shears to cut the backbone out of a chicken, then flip the chicken and press firmly on the breast bone to flatten the chicken onto the baking sheet.
Do you flip spatchcock chicken when cooking?
There is no need to flip spatchcocked chicken while cooking it.
How can I tell when spatchcock chicken is done baking?
Spatchcocked chicken is finished baking when the breasts read 165°F and the thighs read between 165-175°F on an instant-read thermometer.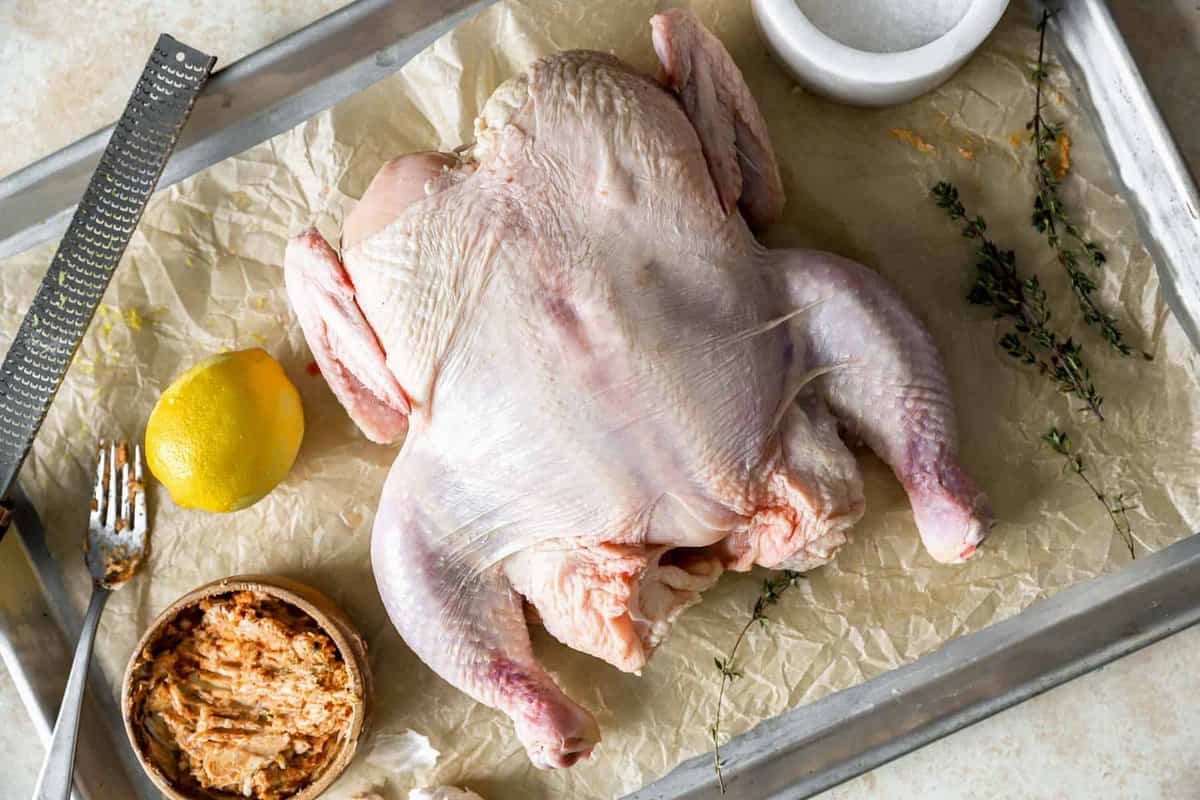 How to Store and Reheat Roast Spatchcock Chicken
Store leftover chicken in an airtight container in the refrigerator for up to 3 days. Reheat in the microwave or in a 350°F oven for 10-15 minutes, or until warmed through.
How to Freeze Spatchcock Roast Chicken
To freeze the chicken, remove the meat from the bones and place it in an airtight container or Ziplock bag to store for up to 3 months. Let thaw overnight in the refrigerator before reheating.
What to Serve with Roasted Spatchcock Chicken
There are so many side dishes that go perfectly with this roasted chicken, such as Crockpot Mashed Potatoes, Bourbon Green Beans with Bacon (Skillet Green Beans), and Corn Casserole. You may also want to serve Dinner Rolls with your feast.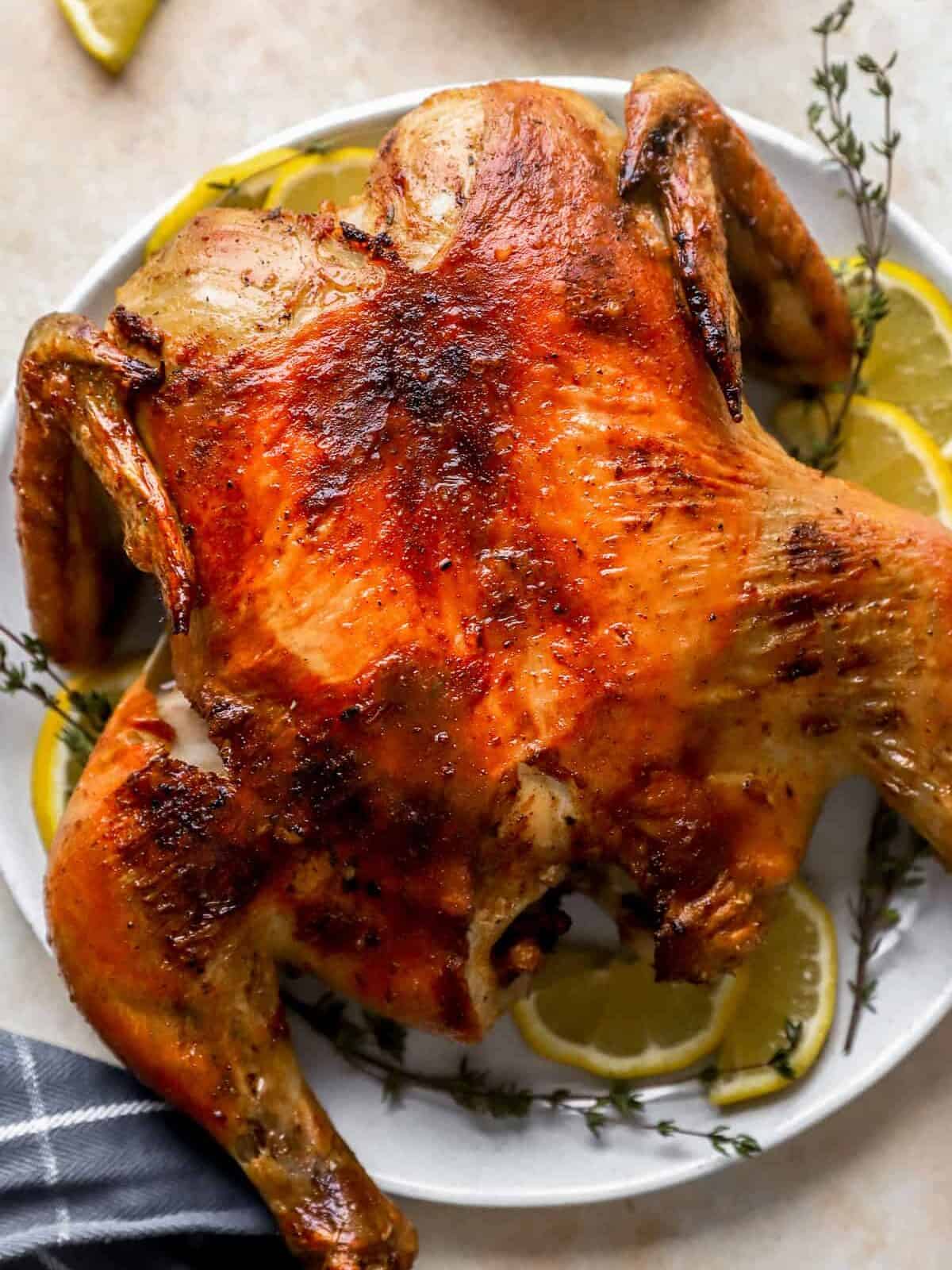 More Whole Chicken Recipes We Love