This Smoked Ham recipe deserves its moment of stardom at the center of any feast! Smoke a spiral ham on the grill, then finish with a lip-smacking, sweet and savory, honey dijon glaze that caramelizes beautifully. You'll want to add this smokey ham to your next holiday menu!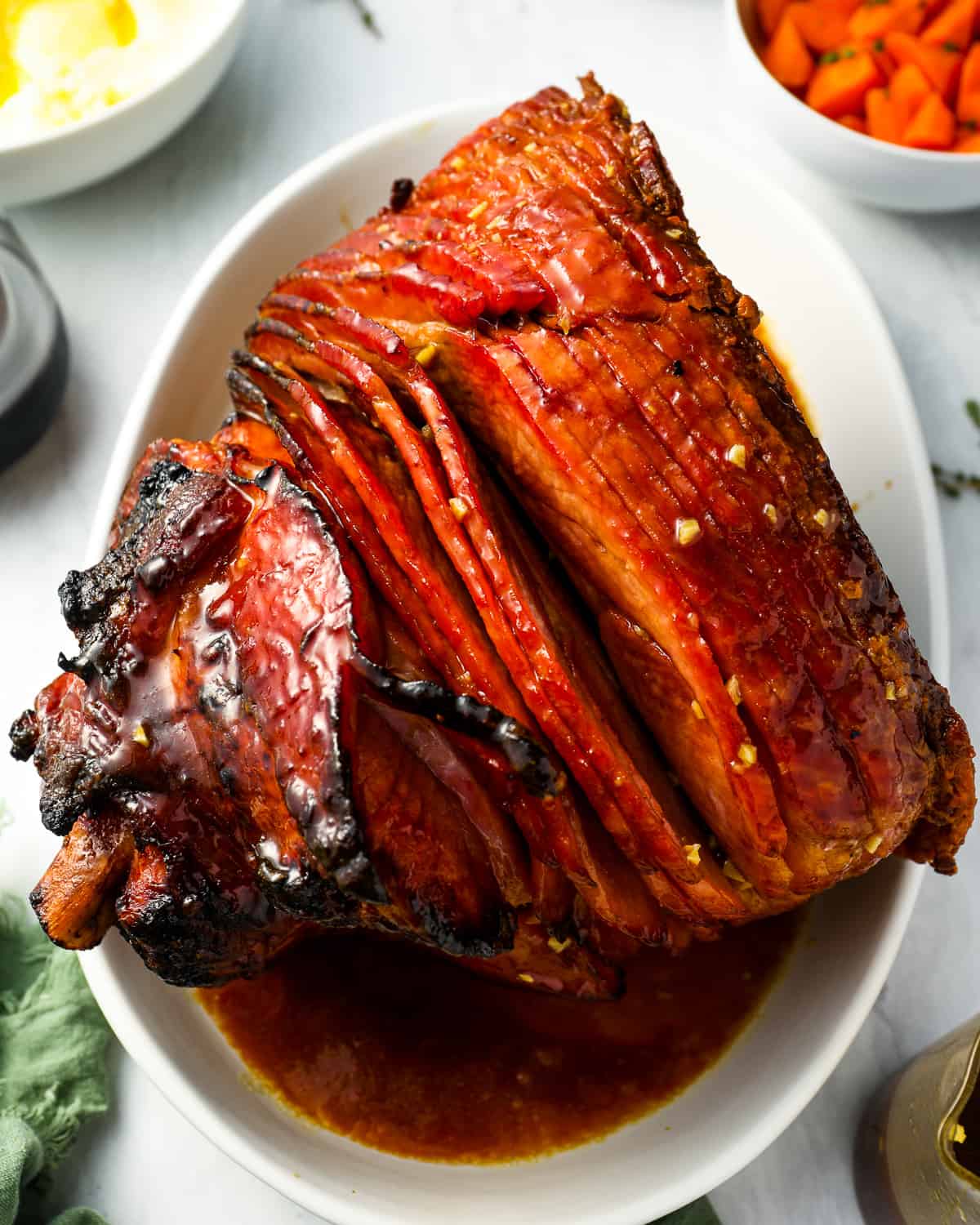 What's in this Smoked Ham Recipe?
Smoking a spiral ham makes it so juicy! The combination of the smoky meat and the sweet glaze creates a mouthwatering balance of flavors.
Ham: You'll want a 9-12 pound, fully cooked, bone-in spiral ham. Plan for about ¾ pound of meat per person.
Brown Sugar + Honey: Sweeten the glaze and add a rich flavor.
Dijon Mustard: Adds a spicy and earthy flavor to the glaze.
Unsalted Butter: Adds richness to the glaze.
Apple Cider Vinegar: Adds a sweet and acidic note to the glaze.
Garlic: Adds an earthy flavor and a pungent aroma.
Cinnamon + Ginger: Adds warmth to the glaze.
Pro Tip: Don't simmer the glaze for too long, otherwise it will turn into a hard caramel once cooled.
Variations on Smoked Spiral Ham
There are so many delicious flavors that pair so well with smoked ham. Try swapping the honey for maple syrup to create a maple glazed ham. Or use pineapple juice instead of apple cider vinegar for a pineapple glazed ham. Using orange marmalade in place of the brown sugar adds a great citrus flavor, or try adding bourbon to the glaze for a bit of a boozy flavor.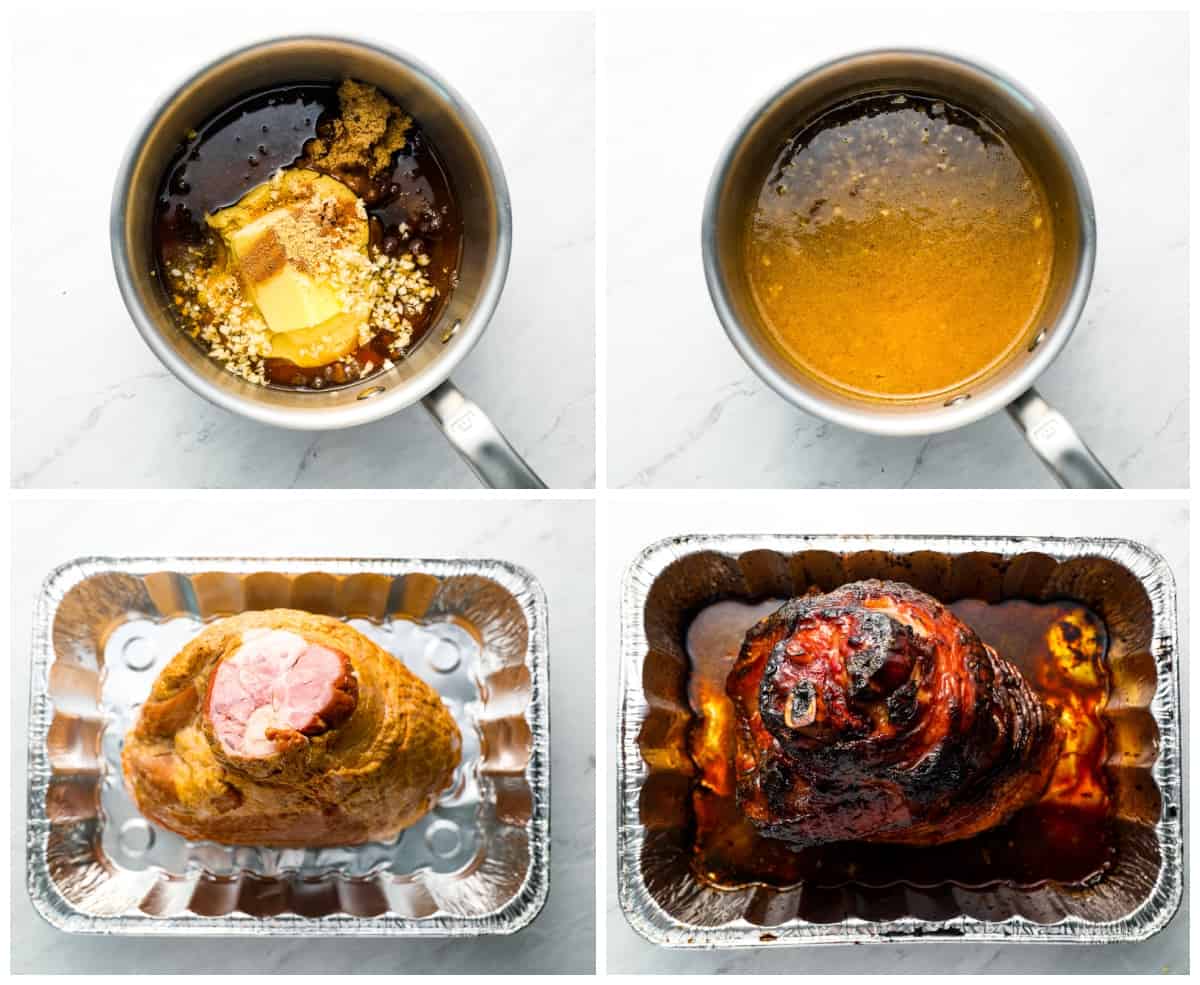 How long does it take to smoke a ham?
Depending on the size of your ham, it can take anywhere from 2-3 hours to smoke it. It is finished smoking when it reaches an internal temp of 140°F at the thickest point.
Can you smoke a precooked spiral ham?
Yes! Most of the spiral hams you buy at the grocery store have already been cooked, so we are just heating it up and infusing it with flavor!
Do you wrap a ham in foil to smoke?
There's no need to wrap the ham in foil to smoke it, as the smoker should hold in the moisture.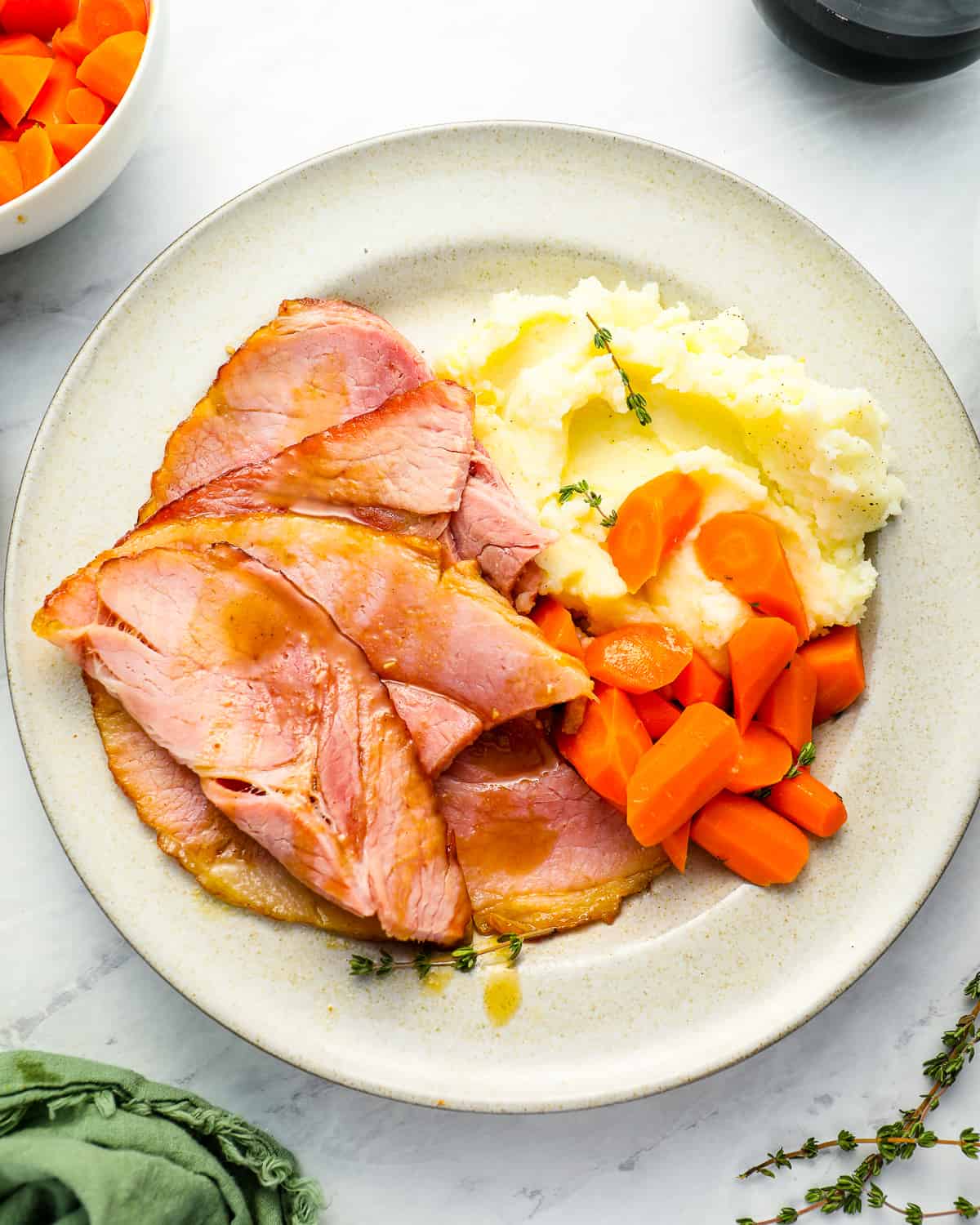 How to Store and Reheat
Store leftover smoked ham in an airtight container, resealable bag, or wrapped in foil, in the refrigerator for up to 4 days. You can wrap the whole/partial ham in layers of aluminum foil, or carve it into slices before storing.
Enjoy cold, or reheat in the oven at 325°F until warmed through.
If you have extra glaze, store it in an airtight container in the fridge for up to 3 days. You can gently reheat it on the stovetop and use it with your leftover ham.
How to Freeze
Freeze slices of smoked ham in a Ziplock bag for up to 3 months. Let thaw overnight in the refrigerator before reheating and serving.
Serving Suggestions
This smoked ham is a tasty centerpiece for your holiday table. It's the perfect Easter ham, makes a great alternative to turkey on Thanksgiving, and makes a great Christmas dinner too.
Serve it up with roasted Brussels sprouts or green beans with molasses, crockpot glazed carrots, and roasted potatoes or mashed potatoes.
Leftover slices make delicious sandwiches or sliders with Hawaiian rolls!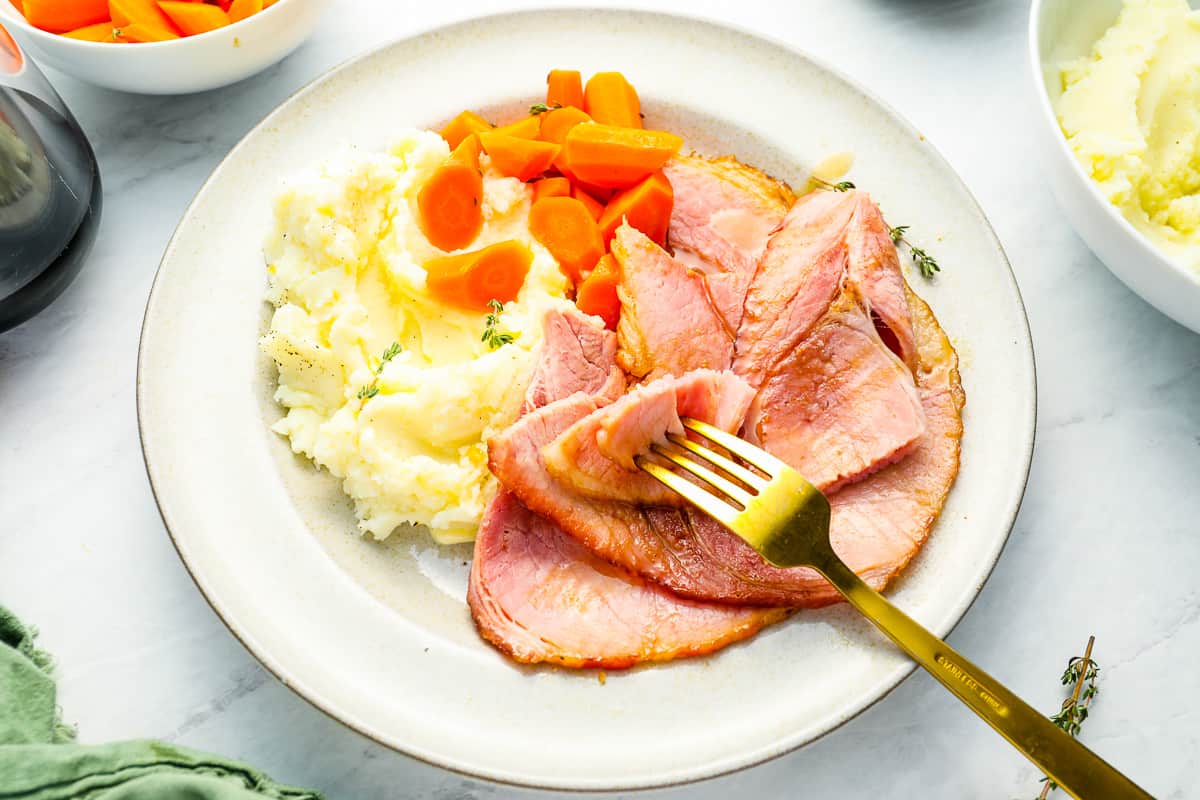 More Smoker Recipes We Love
More Holiday Ham Recipes We Love