Crockpot Goulash is flavorful, beefy, and delightfully cheesy! Easy to make in the slow cooker, this pasta recipe is incredibly simple and wholly satisfying. Indulge in this comforting meal tonight – your family will thank you!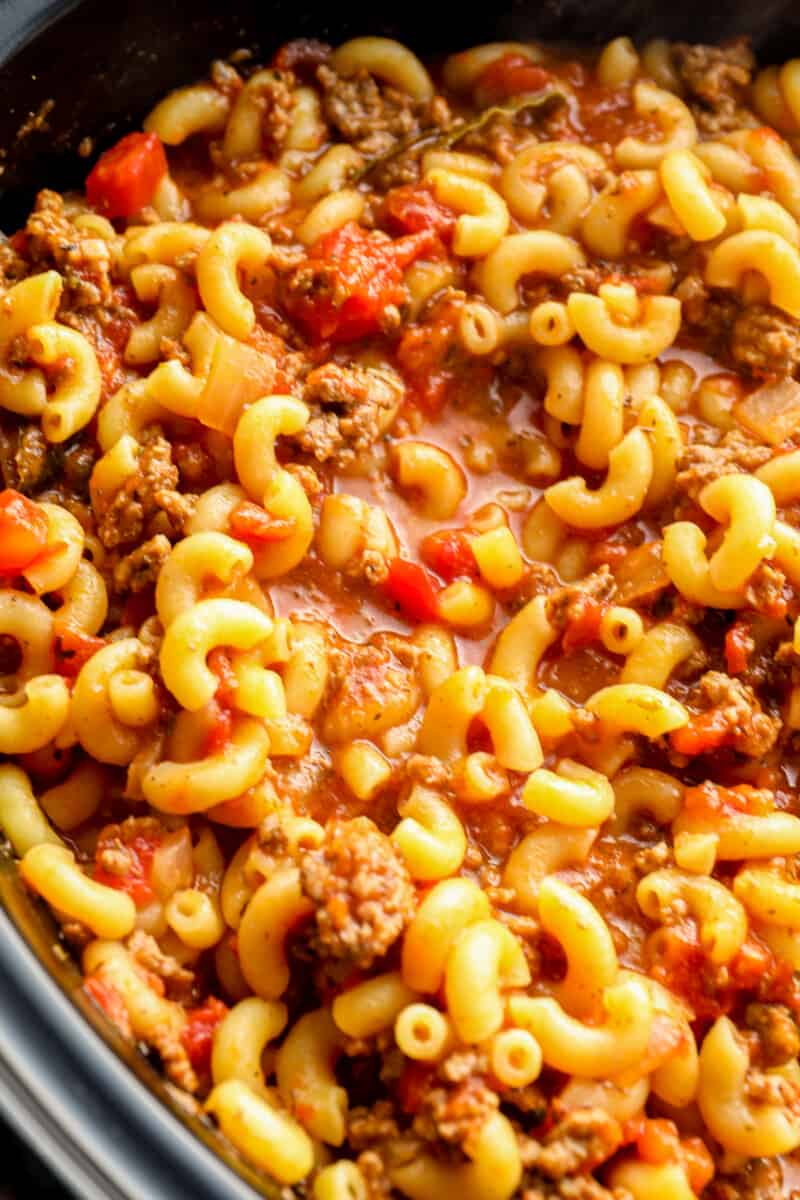 Easy Beef Goulash
American goulash is probably the best comfort meal of all time. It's essentially just a dressed up, more flavorful mac and cheese! Made with plenty of beef to keep you full and shredded cheddar cheese to keep you coming back for more, this goulash recipe is downright delicious.
Making it in the Crockpot makes this recipe even more perfect! Just plop the ingredients into the Crockpot and let it do all the work for you. When it slow cooks, it's not only easier on you, but it gives all of the bold flavors a chance to really meld together. It's truly mouthwatering!
Why You'll Love this American Goulash Recipe:
CHEESY: Cheese lovers, rejoice! This dressed up mac and cheese recipe calls for plenty of cheddar cheese to keep your taste buds happy.
EASY: It's a slow cooker recipe, so you already know it's going to be simple! The steps are easy as can be and just require a bit of patience as you wait for everything to slowly cook to perfection.
COMFORTING: If you need a big warm bowl of something comforting and delicious after a long day, this is the easy dinner recipe for you!
Tender macaroni pasta mixed with ground beef, cheese, and a bounty of flavorful ingredients to keep things savory… Are you drooling yet?!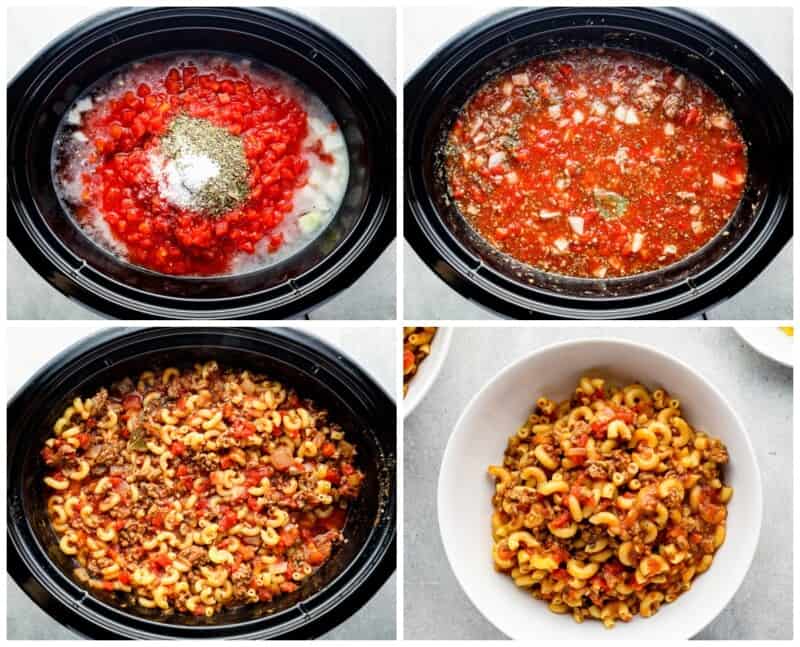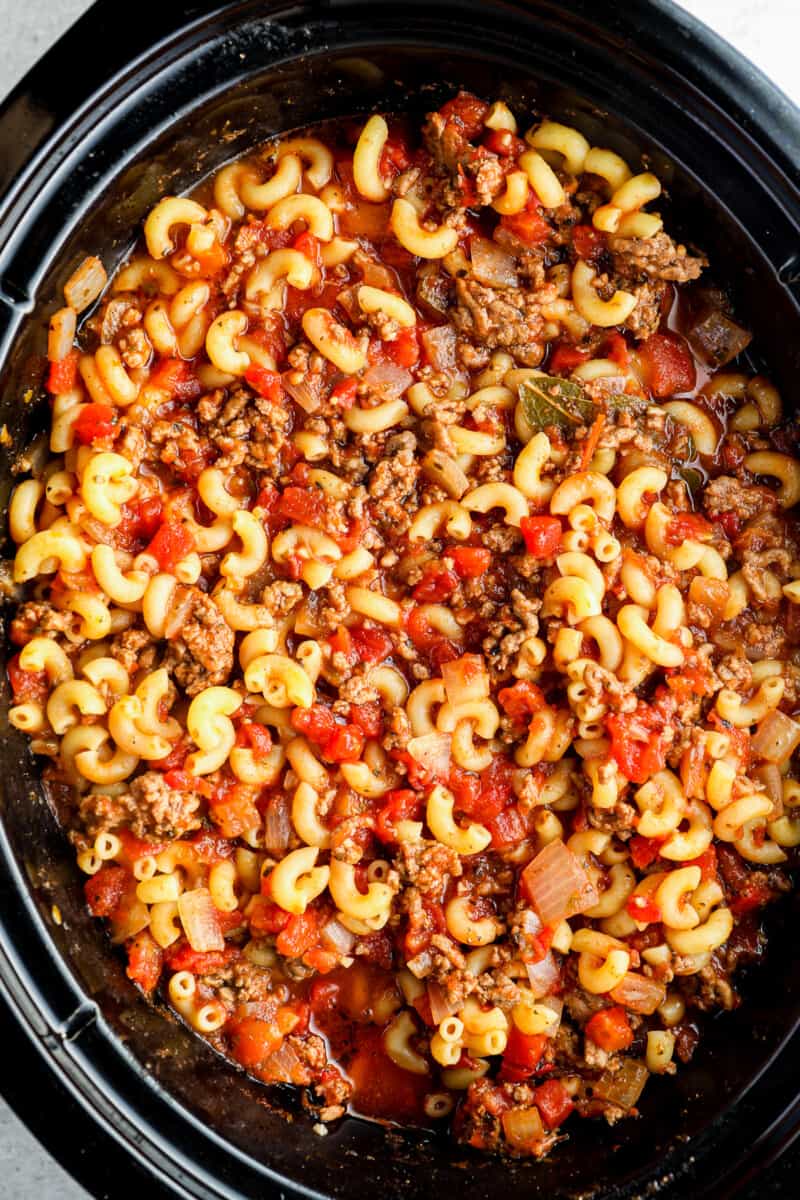 How to Make Crockpot Goulash
You can jump to the recipe card for full ingredients & instructions!
Crook the ground beef in a pan over medium heat, then drain it and toss it into the Crockpot.
Add the onion, garlic, water, bouillon cubes, crushed tomatoes, diced tomatoes, Worcestershire sauce, bay leaves, Italian seasoning, and salt. Stir.
Cover and cook on low for 4-5 hours or high for 2 hours.
Stir in the macaroni noodles 30 minutes prior to serving.
Remove the bay leaves.
Stir in the shredded cheddar cheese.
Serve immediately, and enjoy!
Recipe Notes
Freshly shredded cheddar cheese will yield the best results.
Don't let the macaroni keep cooking after it's fully cooked and tender, or it will turn mushy.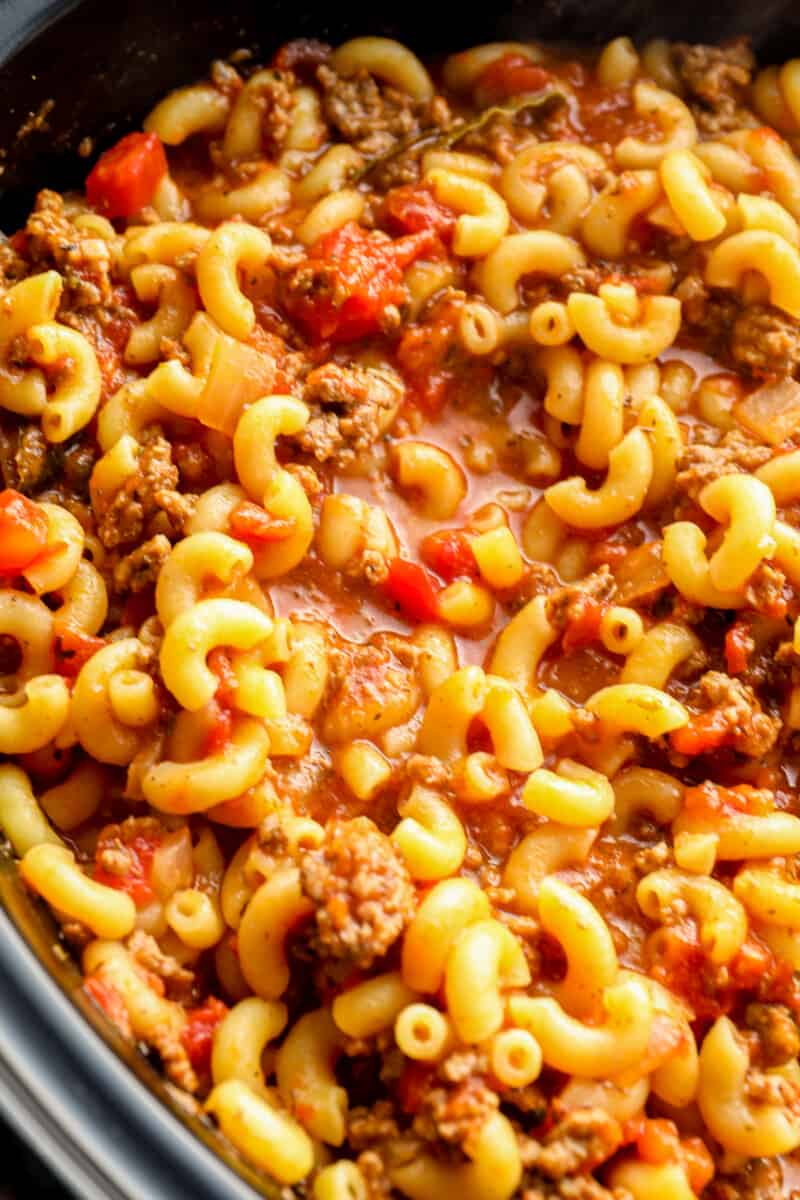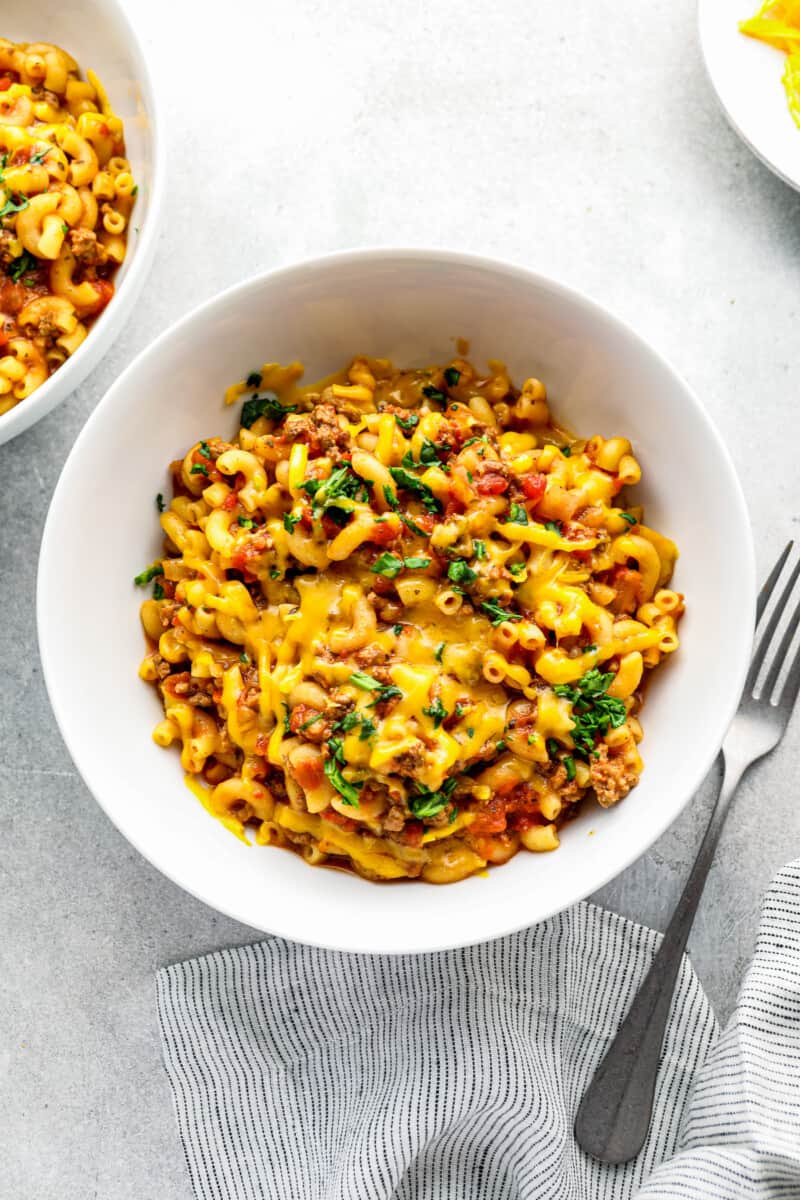 What is goulash?
Goulash is traditionally a Hungarian dish, but what we're making today is the American version! It's a combination of ground meat, macaroni pasta, cheese, and an array of other ingredients like tomatoes and spices. We have a recipe for traditional Hungarian Goulash as well.
What size Crockpot should I use?
An average sized Crockpot between 5 and 6 quarts will get the job done.
Can I make goulash ahead of time?
Yes, but I don't recommend tossing the noodles into the mix until 30 minutes prior to serving. If you'd like to make the rest of the goulash ahead of time, boil the noodles separately then stir them in just prior to serving or they'll get soggy.
Can I freeze goulash?
Yes! Place room temperature fully cooked goulash in a freezer safe food storage container. It will stay fresh in the fridge for up to 3 months.
Serving Suggestions
This goulash is a meal all on its own! However, if you want to add a bit of freshness to the side, here are some good options. They're still kid friendly, since this is SUCH a kid friendly dinner!
Since this slow cooked goulash is such a heavy dish, it can be served as a hearty meal all by itself, or with a side dish that will provide a few more nutrients than the pasta dinner.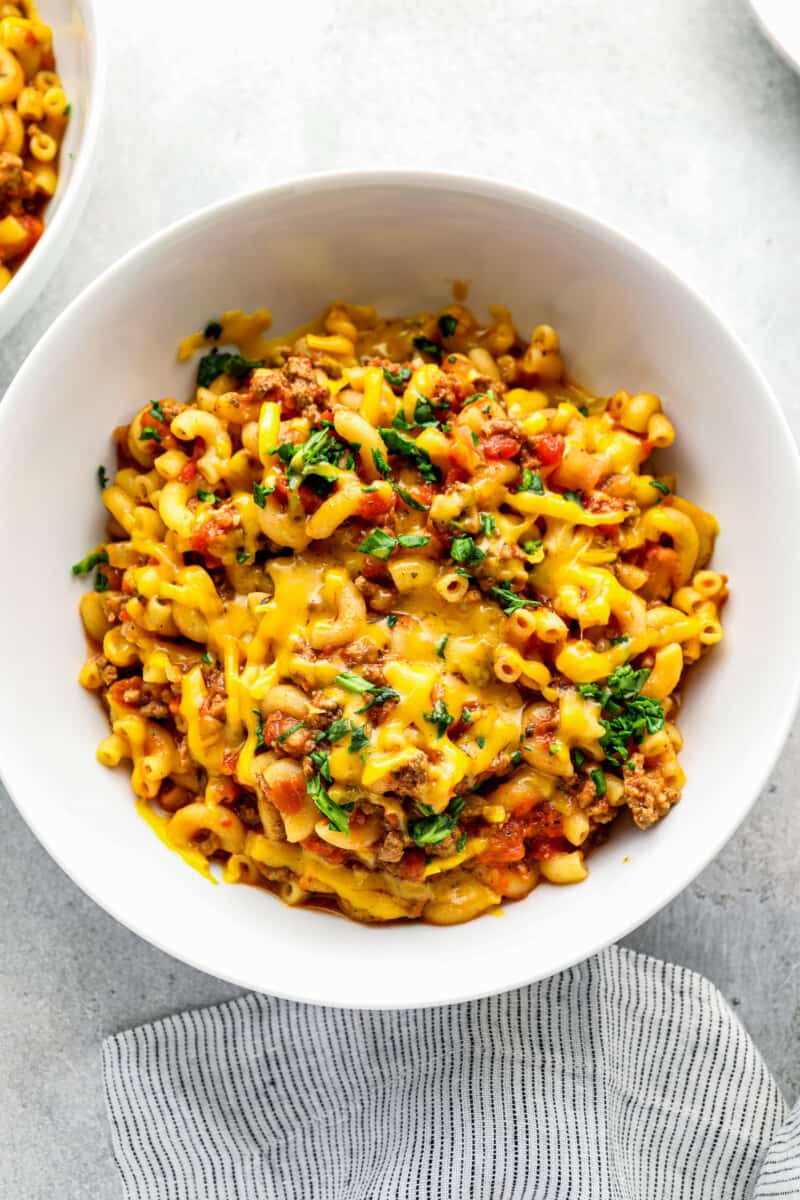 Tips!
Remember to drain the ground beef before placing it in the Crockpot, or your goulash will be greasy in its consistency.
I like to use elbow macaroni, but shells will also work. You just want a pasta that has shape so it'll really grip that cheesy sauce!
You can use a white or yellow onion – both will get the job done deliciously.
After a long hard day, is there anything better than curling up with a warm bowl of goulash? I don't think so!
Can I use any kind of ground meat?
Yes! Ground turkey, chicken, pork, or beef will all work in this easy goulash recipe.
Can I use gluten free noodles?
Absolutely! Any noodles you prefer will work out just fine in this flexible recipe.
How can I make this goulash vegetarian?
Use a plant based protein instead of traditional ground meat.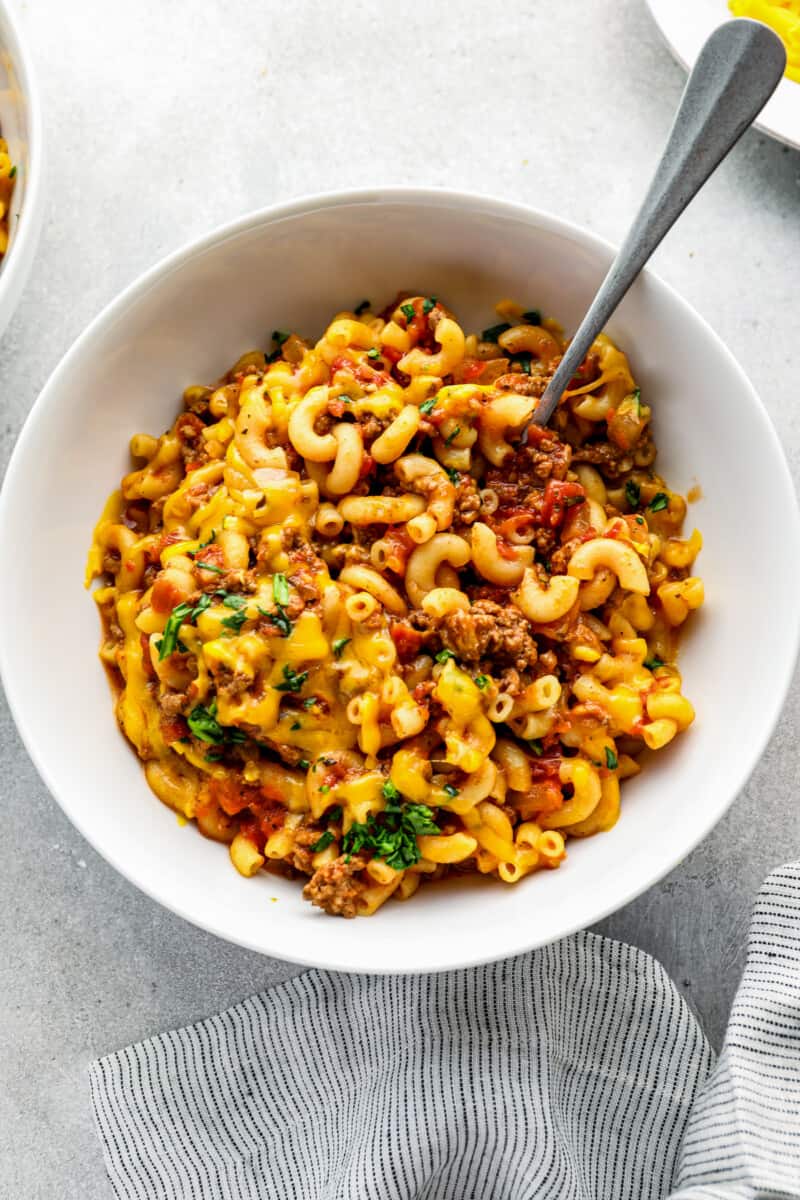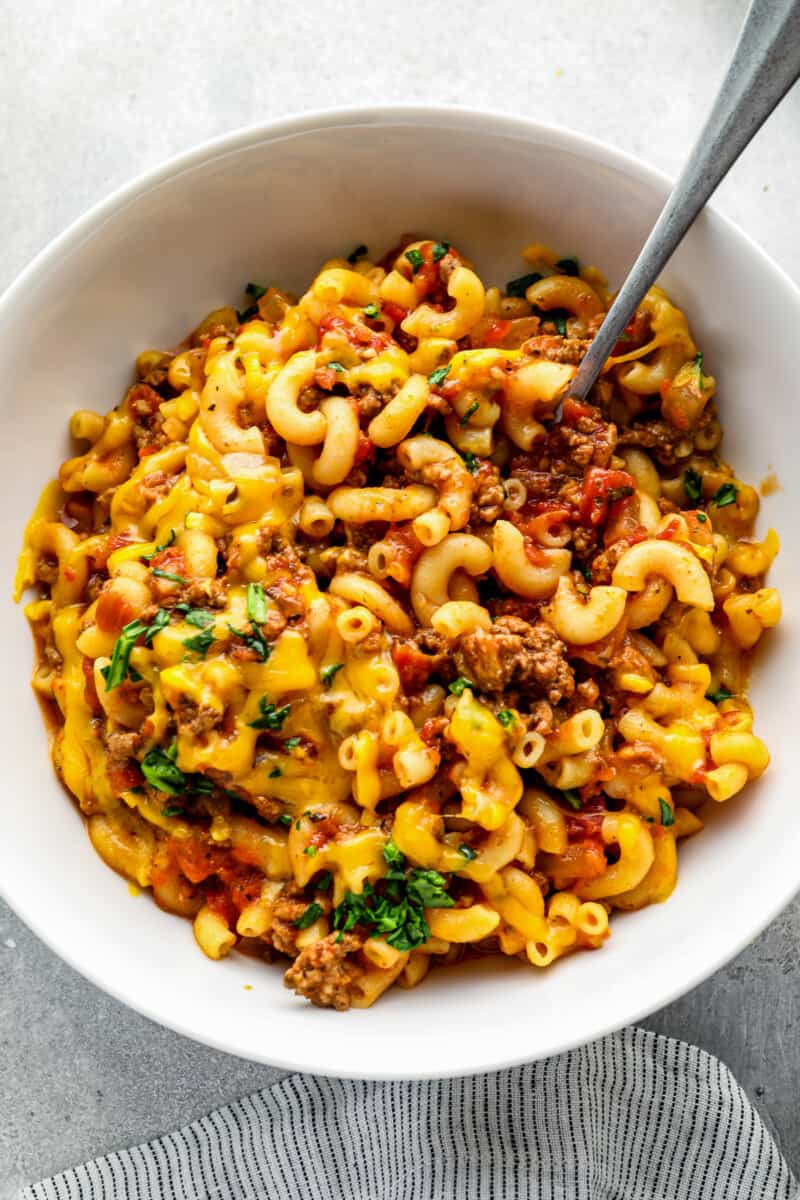 Cheesy, beefy, and flavorful as can be goulash is the best way to use up that box of elbow macaroni that's been sitting in your pantry!
If you make this recipe be sure to upload a photo in the comment section below or leave a rating. Enjoy! You can also jump to recipe.