Sweet and salty, this Asian-inspired Crock Pot Honey Garlic Chicken is loaded with the most amazing flavors. This dump slow cooker recipe is one delicious and hassle-free family dinner.
What's in Slow Cooker Honey Garlic Chicken?
This crockpot version of honey garlic chicken is one fuss-free dinner that doesn't compromise on flavor. The sauce is perfectly sweet and salty and the chicken thighs are wonderfully juicy and flavorful.
Chicken Thighs: This recipe uses bone-in chicken thighs. Boneless thighs or chicken breasts will require a slightly shorter cooking time.
Soy Sauce: Adds a salty and umami flavor.
Ketchup: Adds a rich, deep, tomatoey flavor.
Honey: For a sweet and sticky sauce. You can also use agave nectar.
Garlic: Adds a bit of earthy flavor.
Cornstarch + Water: Combine to create a thick sauce.
Sesame Seeds: Add a bit of crunch and nutty flavor.
Green Onion: Adds a pop of freshness and color.
Pro Tip: Make sure to use cold water for the cornstarch slurry, as hot water will cause it to clump up.
Variations on Crockpot Honey Garlic Chicken
This honey garlic chicken is perfectly balanced as is, but you can make minor adjustments to better suit your personal tastes. Try mixing the honey-garlic sauce with some barbecue sauce to create a spicy, smokey, and slightly acidic dish. For a citrusy twist, try adding a few tablespoons of orange marmalade to the sauce. Yum!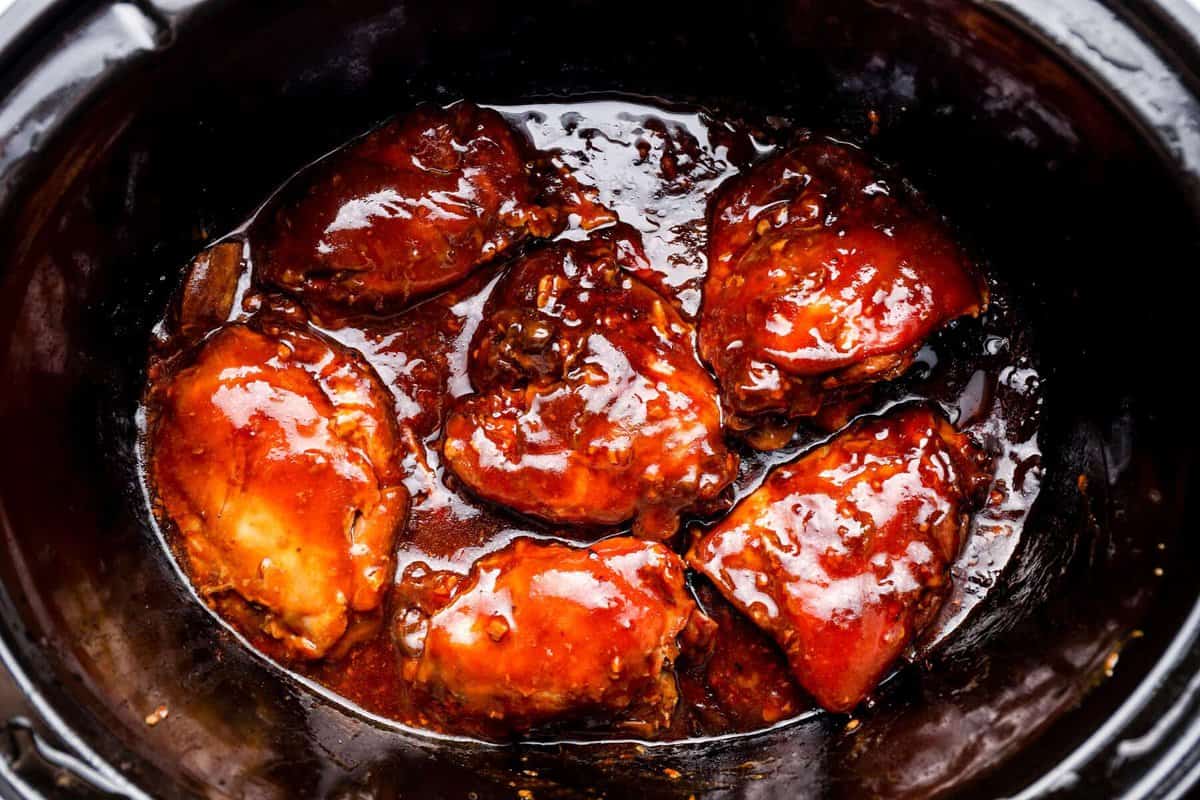 What kind of chicken should I use?
I like using skinless, bone-in chicken thighs for this crockpot recipe. You can use boneless chicken thighs, but I find the bone does keep the chicken moist while it cooks. Instead of chicken thighs, chicken breasts are a great option!
Can I use frozen chicken?
Yes. If using frozen chicken thighs, thaw them in the refrigerator before using in this recipe.
How do I know when the chicken is cooked through?
Cook the chicken on high for 2-3 hours or on low for 4-5 hours, until the internal temperature of the thickest part of the chicken reaches 165°F.
Is this chicken recipe gluten free?
This recipe is not gluten free. For a gluten free version, use tamari instead of soy sauce and make sure the rest of the ingredients you use are gluten free.
How long does honey garlic chicken last?
Store leftover chicken in an airtight container in the refrigerator for up to 4 days or in the freezer for up to 2 months.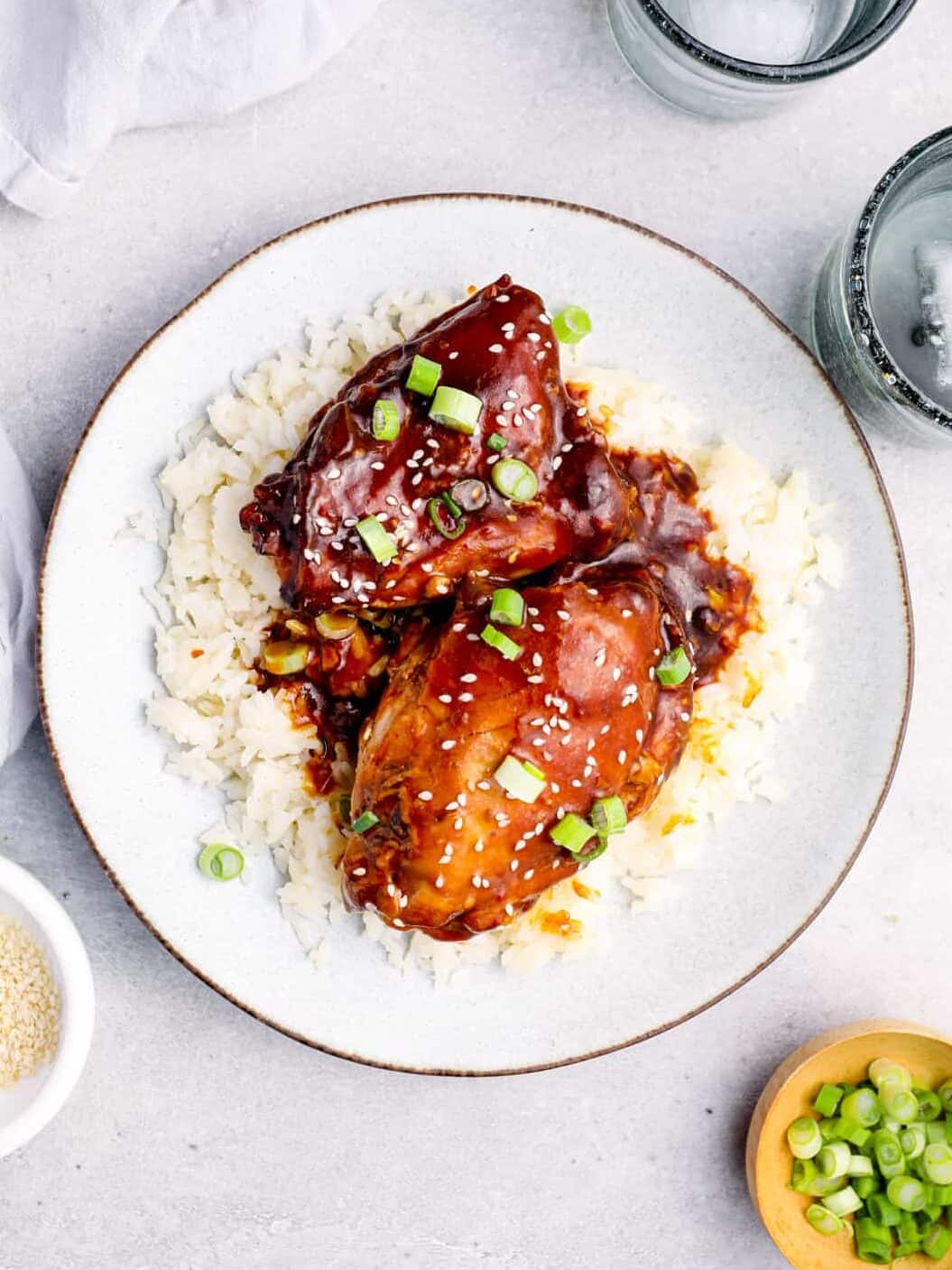 How to Store and Reheat
These chicken thighs are best served as soon as they are cooked so that the meat is tender and juicy. If you do have leftovers, they will keep well, covered in the fridge for up to 3 days. Reheat in the oven at 360°F – add a couple of tablespoons of water to the baking dish and cover with foil so that they don't fry out.
How to Freeze
Freeze honey garlic chicken in an airtight container or Ziplock bag for up to 3 months. Let thaw overnight in the refrigerator before reheating.
Serving Suggestions
This honey garlic chicken is great to serve up in a bed of rice, quinoa, or mashed potatoes. It's delicious like that, or serve it up with a veggie side like sautéed carrots, spicy cheesy broccoli, or sautéed green beans.
5-Star Review
"Made this tonight with bonelss skinless thighs and cooked low for 4 hours and they were amazing and very easy. Served over white rice! This is now going to be in my weekly rotation! Thank you" – Stephanie
More Honey Garlic Chicken Recipes We Love