Crock Pot Sloppy Joes are an easy way to make a family favorite. These Bacon Cheeseburger Sloppy Joes will wow everyone with their flavor! This easy slow cooker sloppy joes recipe is creamy, delicious, and loved by all.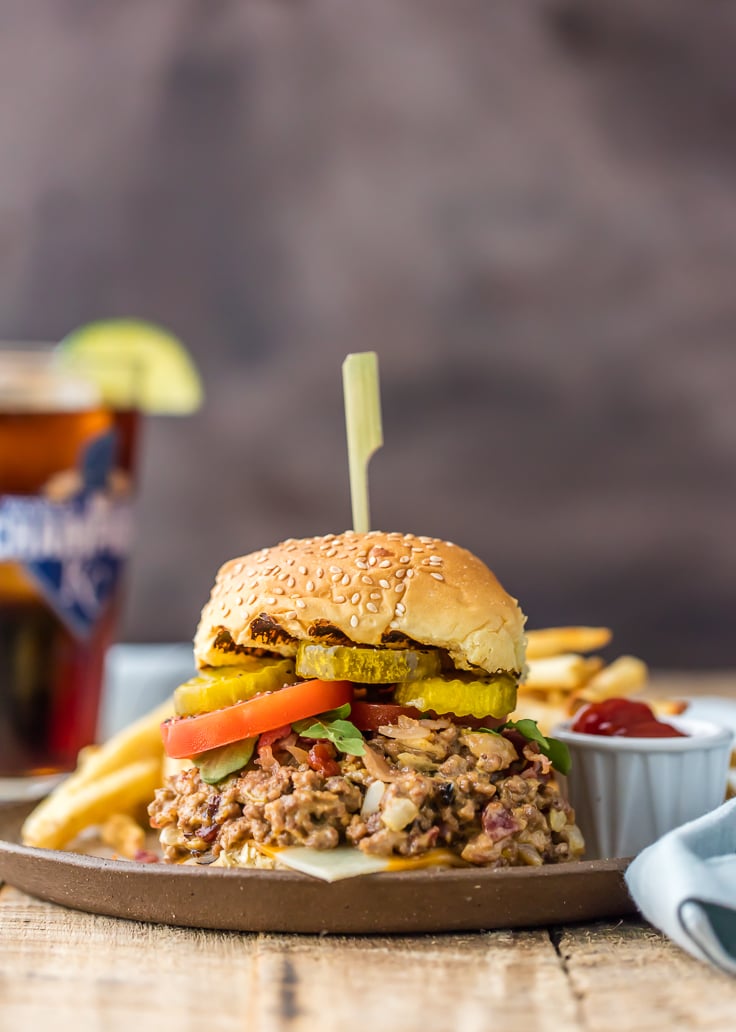 Crock Pot Sloppy Joes (Bacon Cheeseburger!)
Crock pot sloppy joes are so easy to make when you need to feed a lot of people. This bacon cheeseburger sloppy joes recipe is perfect for game day!
When baseball season rolls around, I'm sat watching, just as excited, as everyone else. The last thing I want to do is worry about cooking for everyone!
These slow cooker sloppy joes mean I can have delicious food prepared for me and my guests, without missing any of the action. I'm OBSESSED with this bacon cheeseburger flavor, one of the best sloppy joe recipes ever!
These babies are filled with cheese, ground beef, and bacon, then topped off like a regular burger. SO good! You'll definitely be getting messy with these guys, but isn't that the point of sloppy joes?
Make game day meals easy with this crock pot sloppy joe recipe!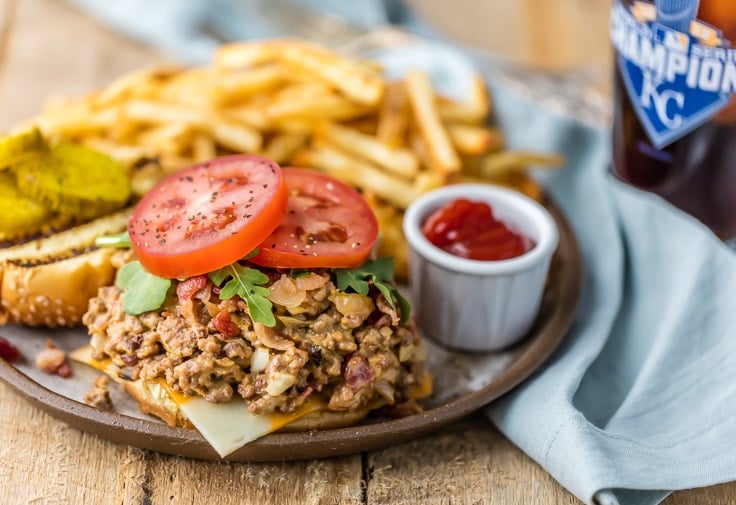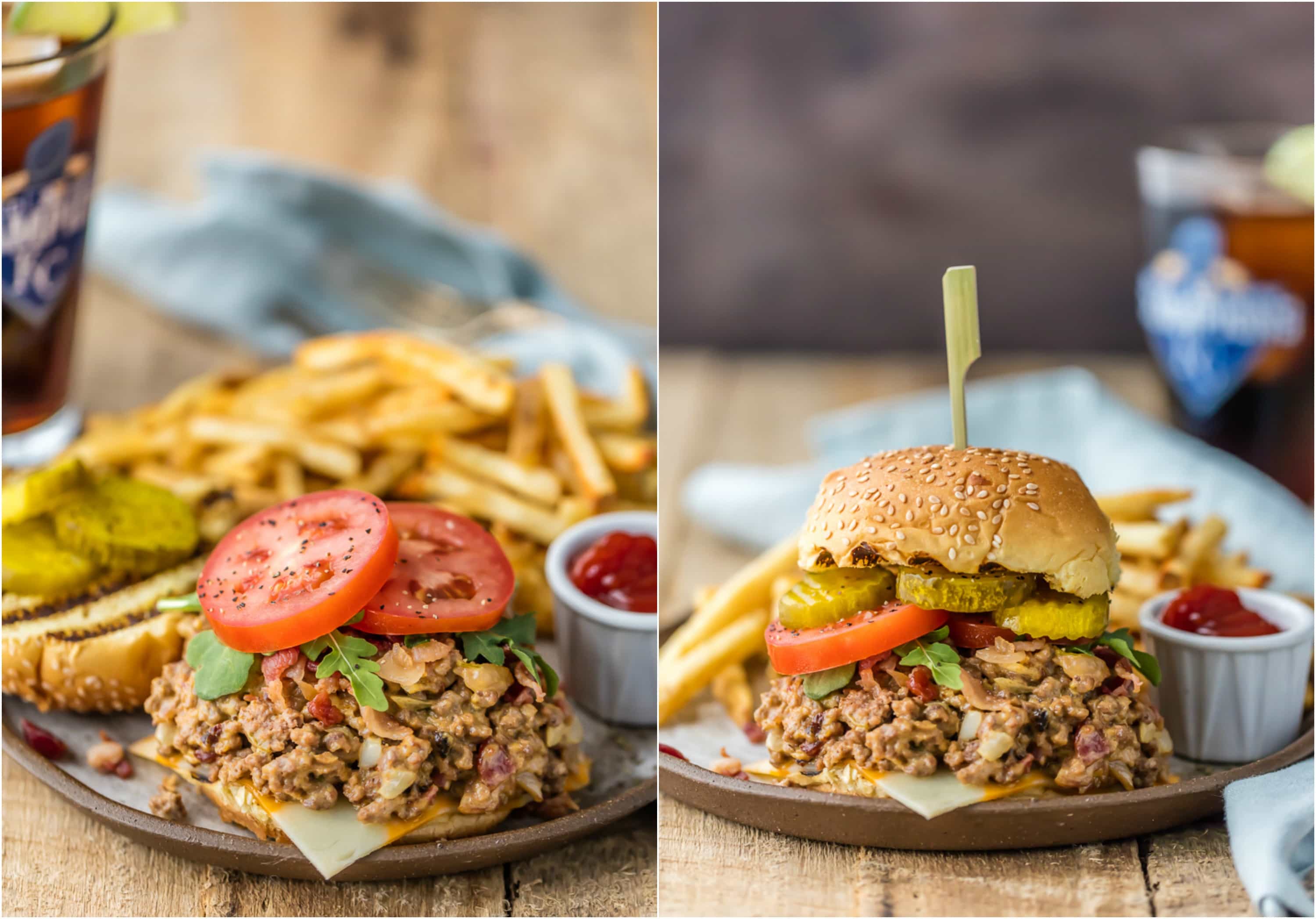 Easy Slow Cooker Sloppy Joes
These crock pot sloppy joes remind me of a restaurant that used to be in Kirksville called Crumbles and Cream. They made "burgers" like this. and it was so good, it inspired me to create some bacon cheeseburger sloppy joes! You will never believe how easy these are to throw together in a slow cooker. Kids love them, adults love them, WIN WIN!
Serve this slow cooker sloppy joe recipe with fries and a coke poured into a Royals WORLD CHAMPS glass? Now that's a good lunch!
What's in bacon cheeseburger sloppy joes?
Ground Beef
Garlic
Velveeta
Onions
Bacon
Talk about DELICIOUS!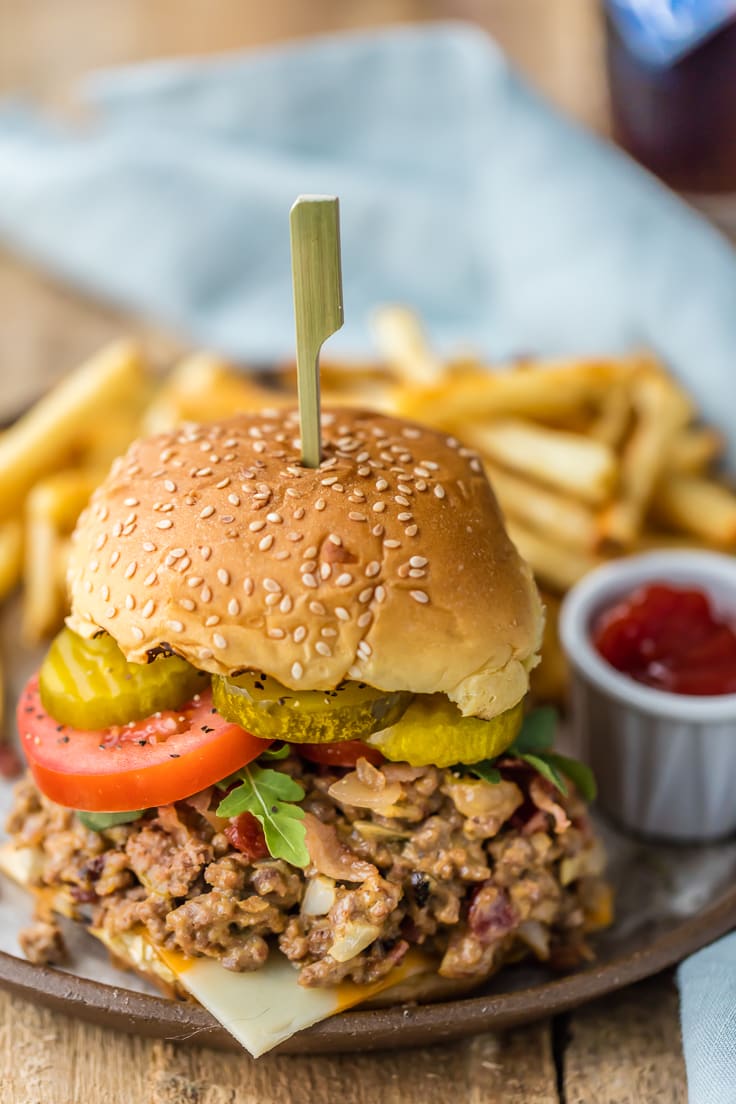 How to Make Sloppy Joes in a Crock Pot
I hope you love these slow cooker sloppy joes as much as we do. They are so easy to make, and they turn out sooooo flavorful. Here's a quick how to.
Cook the beef and garlic in a skillet for about 8-10 minutes, crumbling it up as you go (it doesn't need to be fully cooked before going into the slow cooker; just a head start).
Next, add the beef into your crock pot, then stir in the cheese, onions, bacon, and salt and pepper.
Cook on low setting for 5-6 hours, or on high for 2 hours (stir every once in a while).
You can keep it in the crock pot to warm while waiting to serve, and when everyone is ready to eat, scoop a big helping onto buns, and add your favorite cheeseburger toppings.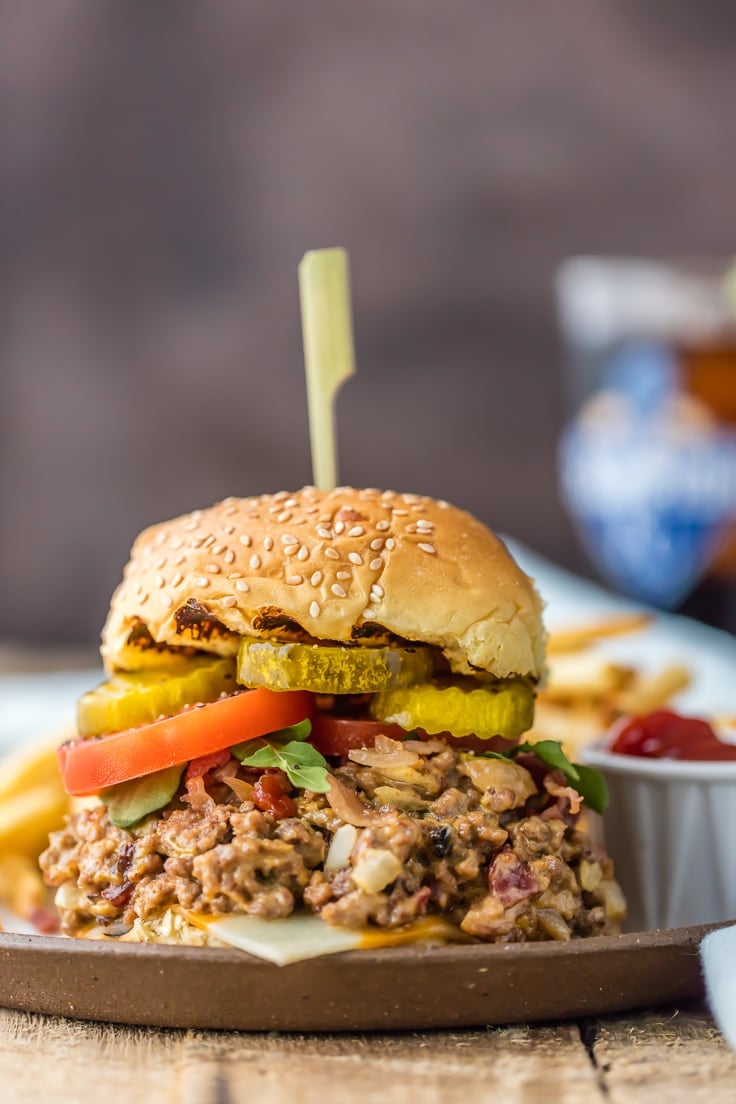 I promise these slow cooker sloppy joes will blow you away! Bacon Cheeseburger Sloppy Joes are kind of genius, and they taste absolutely amazing. Now go watch the game, and don't miss a minute!
See the recipe card for details on how to make Crock Pot Sloppy Joes. Enjoy!
Try these other easy sandwich recipes: