Crockpot Cheeseburgers are an easy way to make a family favorite. They're creamy, cheesy, and delicious. These Cheeseburger Sloppy Joes will wow everyone with their flavor!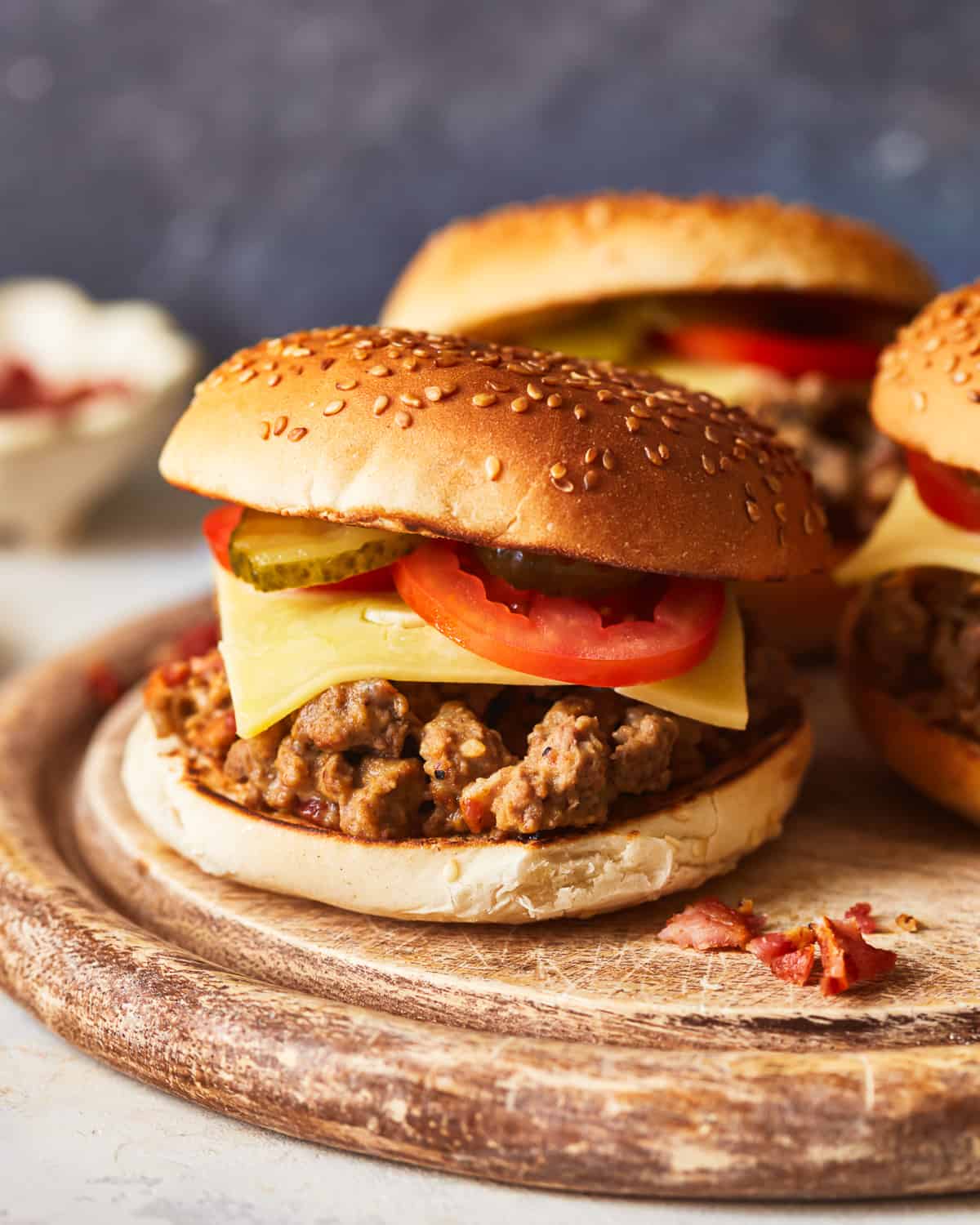 What's in Bacon Cheeseburger Sloppy Joes?
These babies are filled with cheese, ground beef, and bacon, then topped off like a regular burger. So good! You'll definitely be getting messy with these guys, but isn't that the point of sloppy joes?
Ground Beef: I like to use lean ground beef (85-90%) to keep these sloppy joes from becoming too greasy. Don't forget to drain off any excess grease, though!
Garlic: Adds an earthy flavor.
Velveeta: Makes these sandwiches cheesy, creamy, and perfectly sloppy!
Onion: Adds a classic earthy and sweet flavor.
Bacon Crumbles: The perfect addition to give these sandwiches that bacon cheeseburger flavor.
Salt + Pepper: Enhance the flavor of these sloppy joes.
Hamburger Buns: The perfect vessel for both sloppy joes and cheeseburgers. It's a no-brainer!
Toppings: Add some lettuce, tomato, sliced cheese, and pickles for that classic cheeseburger taste!
Pro Tip: Add a slice of cheddar, American, or Swiss cheese to these sandwiches and watch it melt into perfection!
Variations on Crockpot Cheeseburger Sloppy Joes
A classic cheeseburger is a classic for a reason, but you can also dress up these sloppy joes like you would any cheeseburger. Try some of these suggestions:
Turkey Cheeseburger Sloppy Joes: Use ground turkey instead of beef.
BBQ Cheeseburger Sloppy Joes: Add your favorite BBQ sauce to the recipe and top with cheddar cheese and frizzled onions.
Mushroom Swiss Sloppy Joes: Add roasted mushrooms, Swiss cheese, and Worcestershire sauce to the recipe and serve on a pretzel bun topped with caramelized onions.
Breakfast Burger Sloppy Joes: Use half ground beef and half breakfast sausage, and top with a fried egg, cheddar cheese, and avocado slices.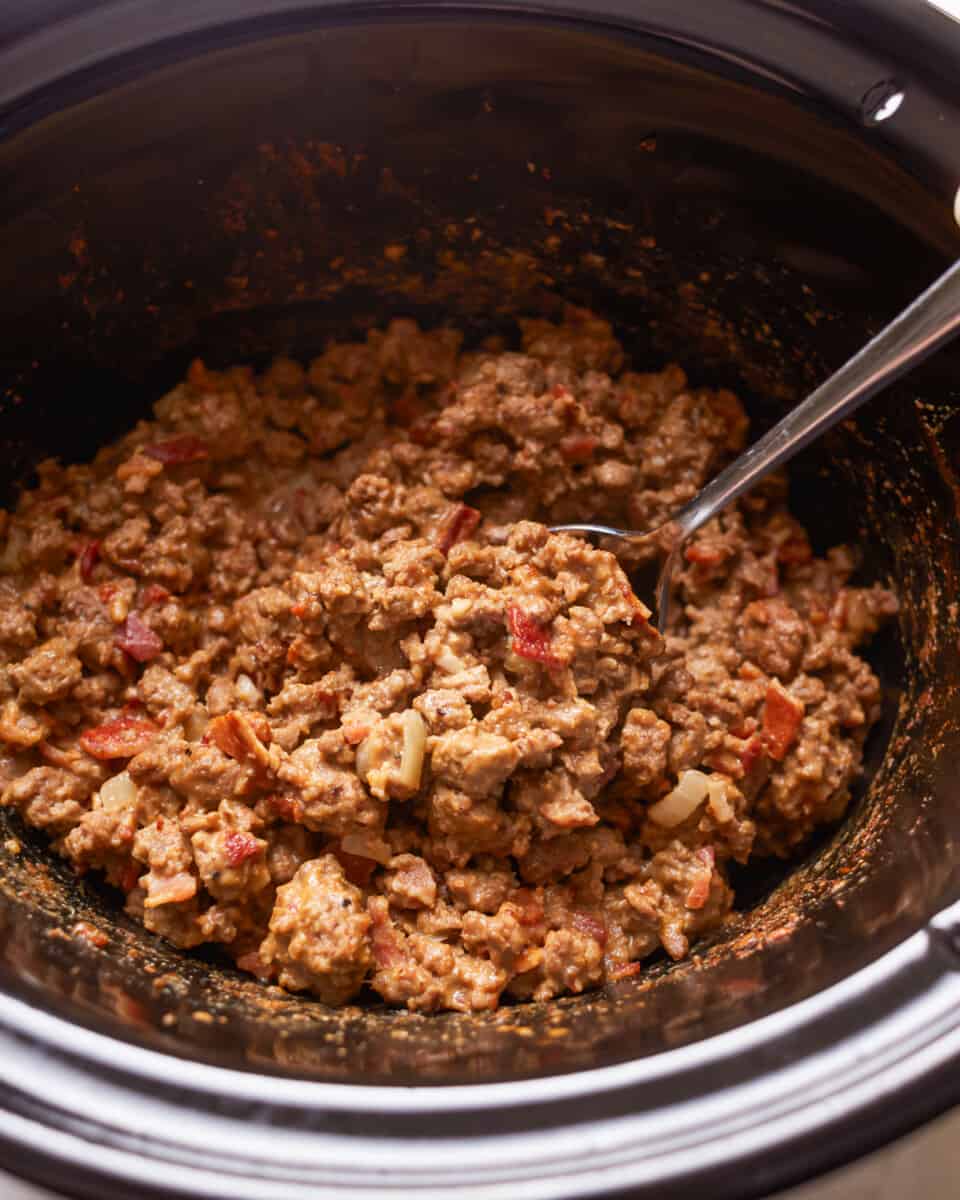 Can I use a different type of cheese instead of Velveeta?
Yes, you can experiment with different types of cheese. Cheddar, Monterey Jack, or even blue cheese would work well in this recipe.
Can I make this recipe on the stovetop instead of using a crockpot?
Yes, you can cook the beef mixture in a skillet on the stovetop instead of a crockpot. Just cook the beef until it's fully cooked and then add the cheese, onion, bacon crumbles, salt, and pepper. Cook until the cheese is melted and the mixture is heated through.
Can I add vegetables to this recipe?
Yes, you can add diced bell peppers, mushrooms, or other vegetables to the beef mixture for extra flavor and nutrition. Just sauté the vegetables in a skillet before adding them to the crockpot.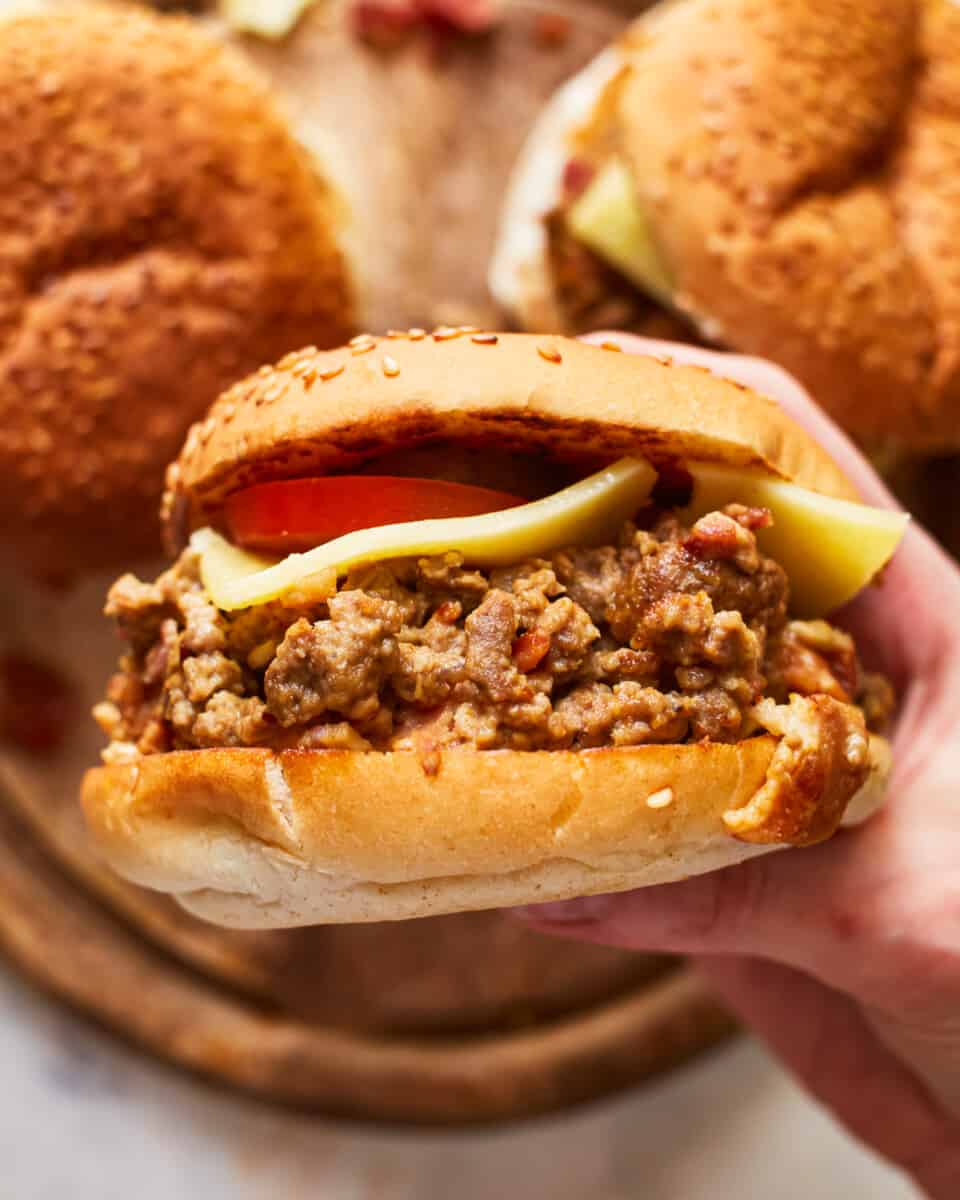 How to Store and Reheat
Store leftover crockpot cheeseburger meat in an airtight container in the refrigerator for up to 4 days. Reheat in the microwave in 30-second increments until hot or on the stovetop until the cheese has melted and the meat is warmed through. Assemble just before serving.
How to Freeze
Freeze crockpot cheeseburger meat in an airtight container or Ziplock bag for up to 3 months. Let thaw overnight in the refrigerator before reheating.
Serving Suggestions
Serve these cheeseburger sloppy joes with fast-food classics, like french fries, cheese fries, chili cheese fries, or bacon cheese fries. For a healthier side, serve up some creamed corn, coleslaw, baked beans, or a garden salad. Top your crockpot cheeseburgers with a dab of my favorite burger sauce to really take them to the next level!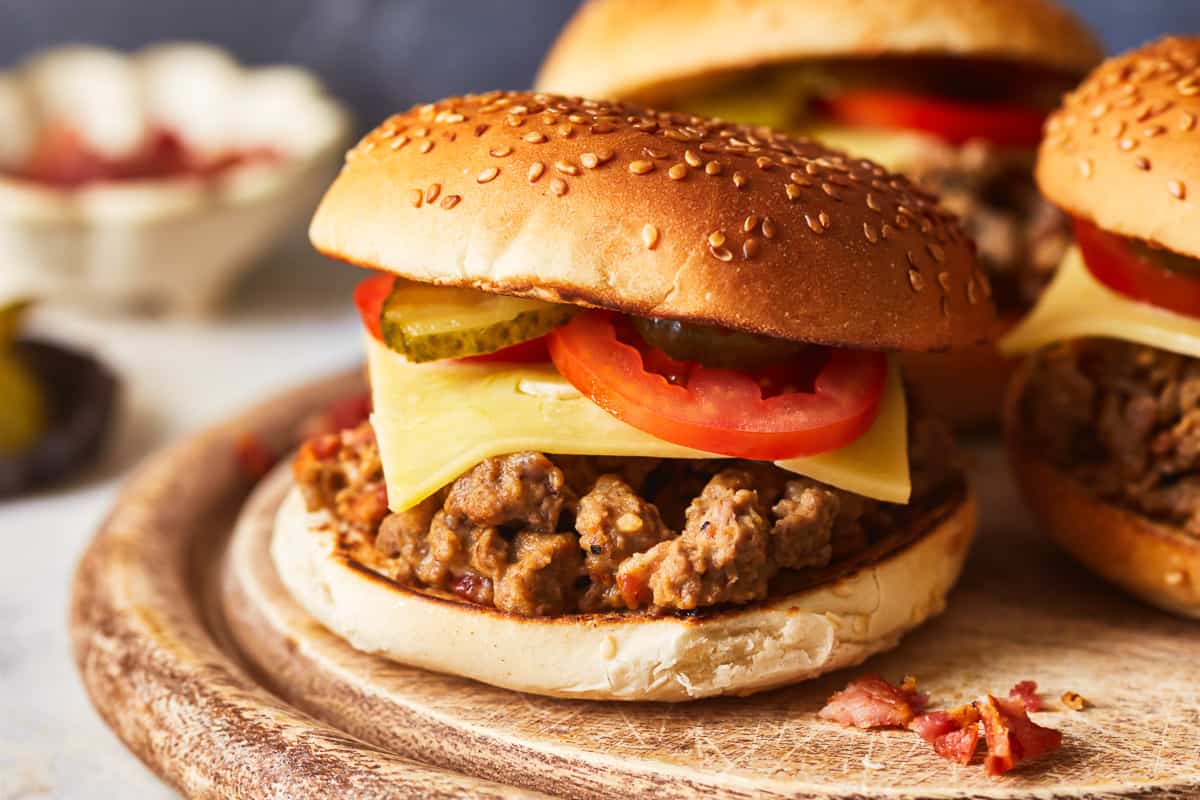 More Sloppy Joe Recipes We Love