FRIED MASHED POTATO BALLS loaded with bacon, cheese, and onions are perfect for Thanksgiving leftovers! Put those leftover potatoes to good use and fry up some cheesy mashed potato bites. These loaded mashed potato balls make the ultimate appetizer or side dish!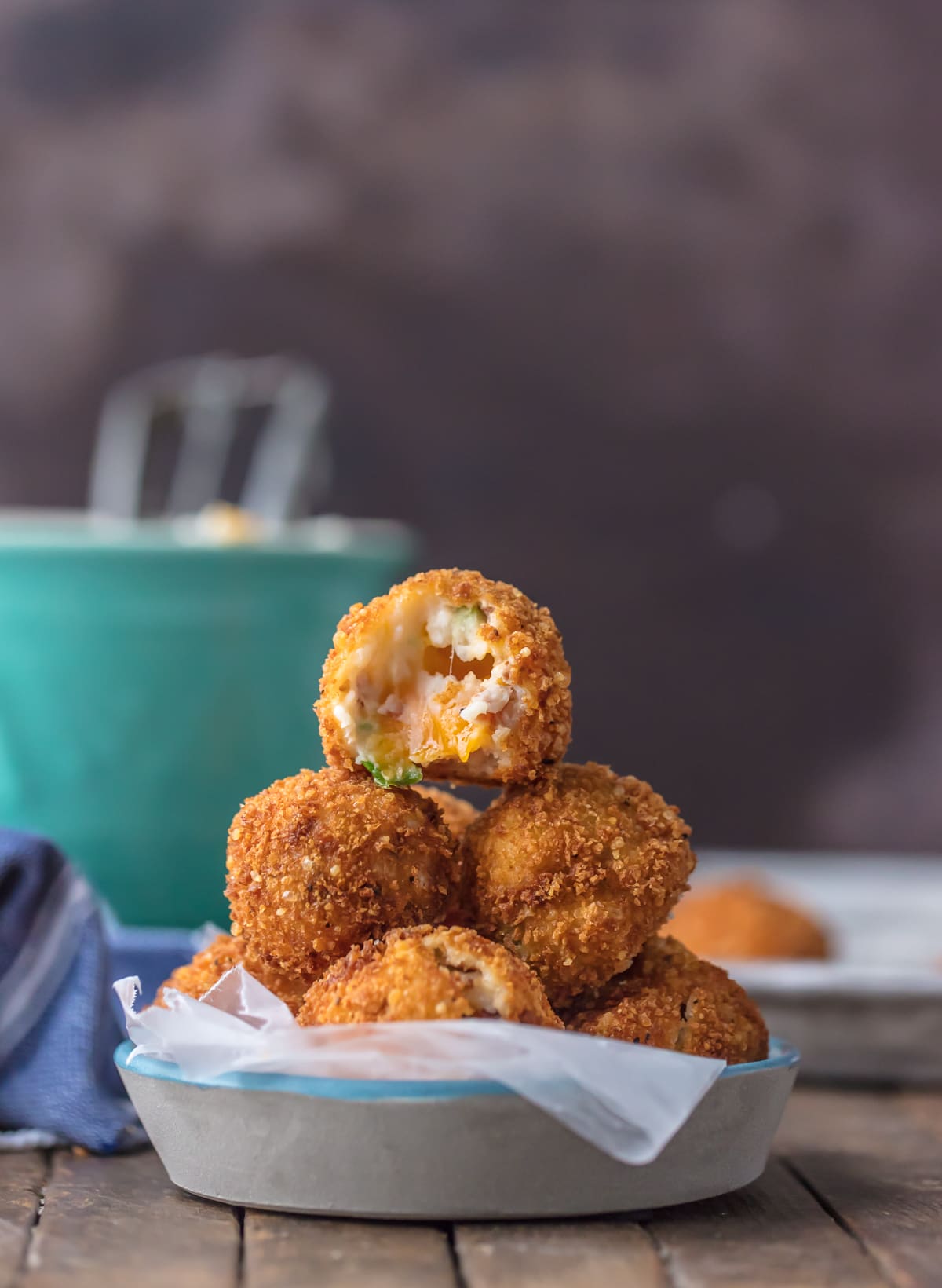 Fried Mashed Potato Balls
Fried Mashed Potato Balls are the perfect way to use up leftovers from Thanksgiving. Fry up some loaded mashed potato bites filled with cheese, bacon, and onions!
These Fried Mashed Potato Balls are coming at you in honor of all those Thanksgiving leftovers. I hope everyone had a fabulous and filling holiday like we did. I'm still stuffed! We had SO MUCH FOOD (Thanks Mom!) and now have SO MANY leftovers. Just the way I like it.
But now…what to even do with those leftovers? There are tons of recipes out there detailing what to do with all that extra turkey, but what about the other stuff? This year we had gobs and gobs (gobbles and gobbles?) of mashed potatoes, and I knew just what I wanted to do with them. Turn them into deep fried mashed potato bites, of course!
These Loaded Mashed Potato Balls are the ultimate appetizer or side dish, and the perfect cheesy way to use up leftover mashed potatoes. Just because Thanksgiving is over doesn't mean we can't still eat amazing food!
Deep Fried Mashed Potato Balls are the best way to use up leftover potatoes from Thanksgiving.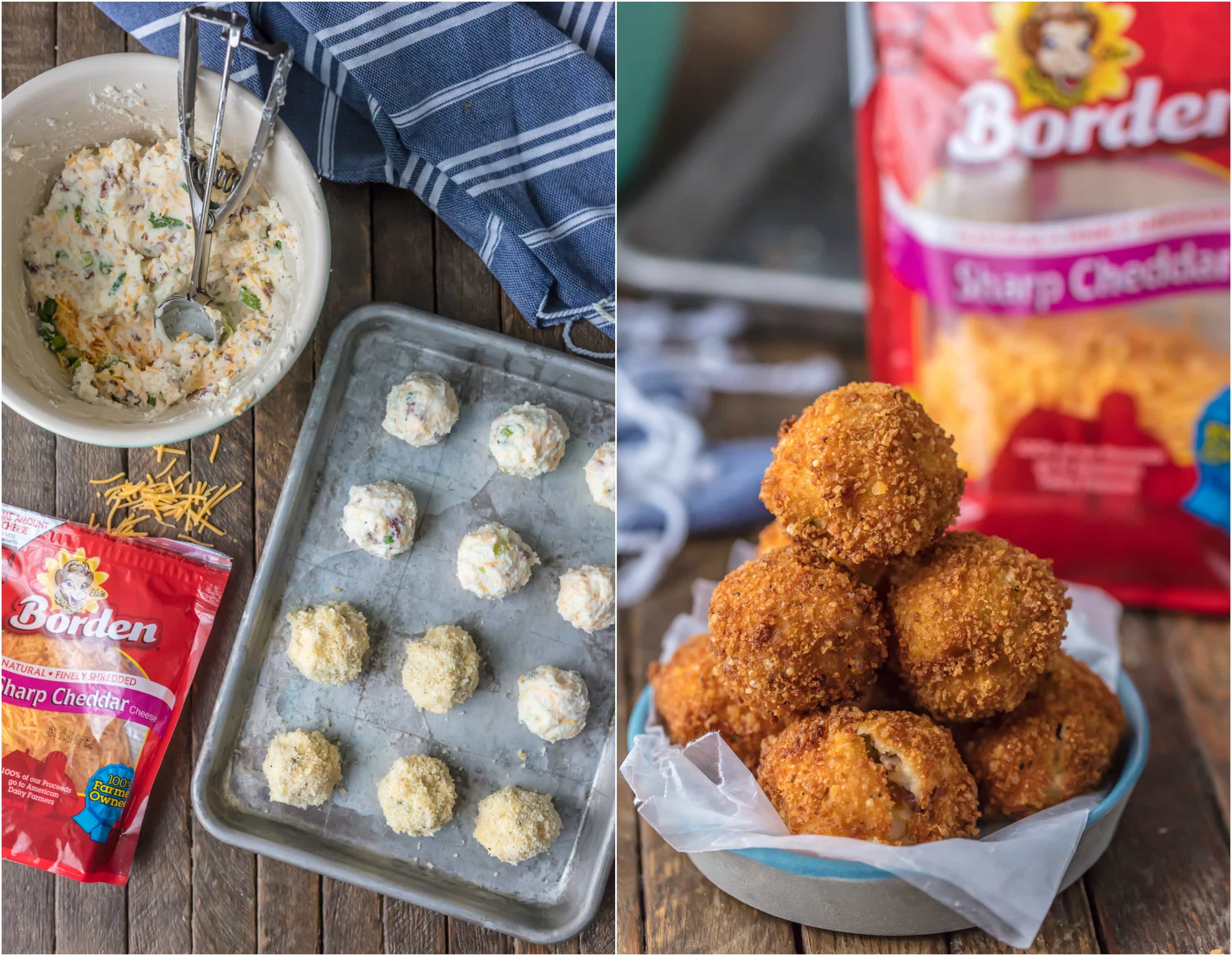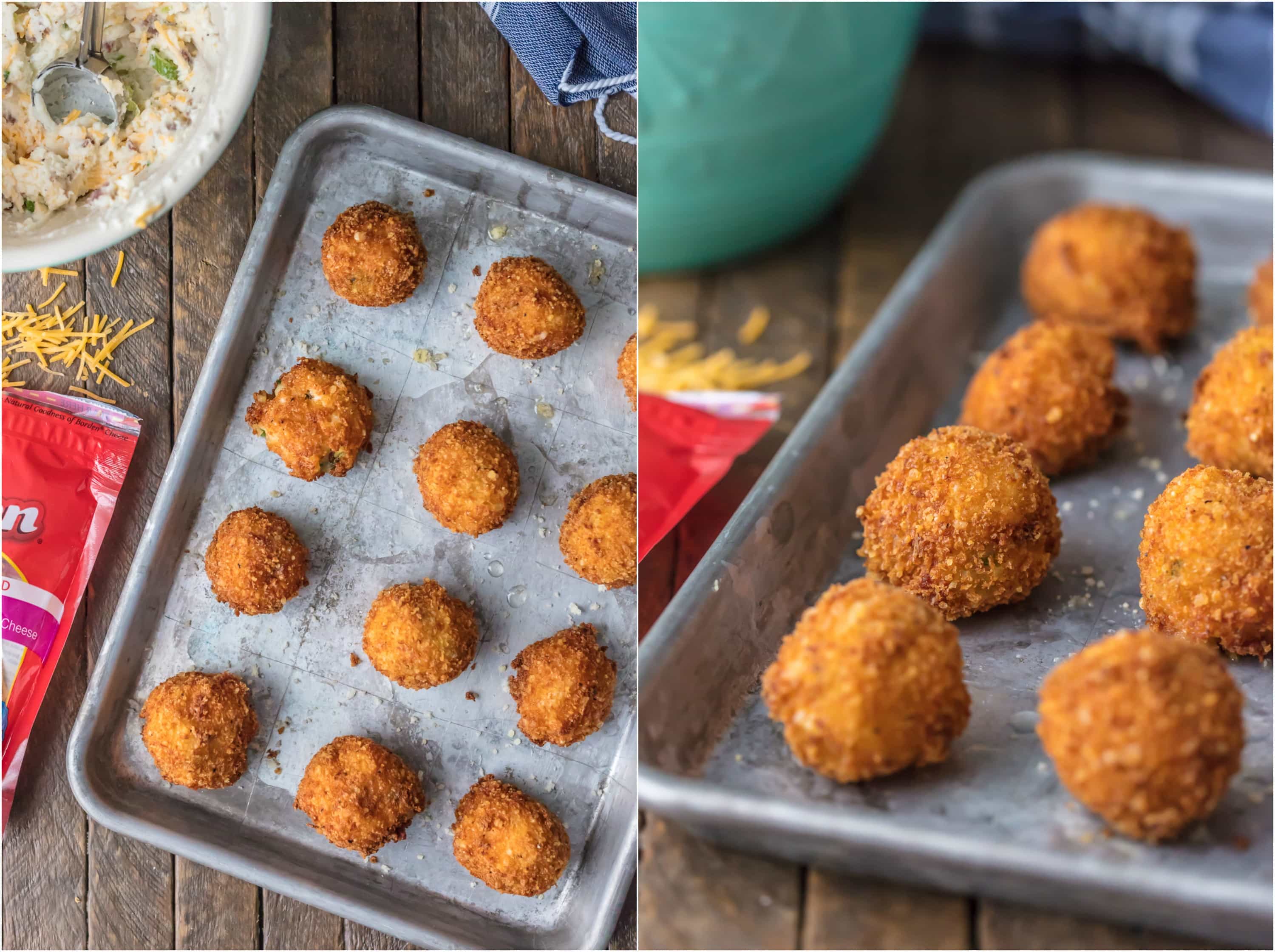 Cheesy Mashed Potato Bites
It's no secret I'm a HUGE cheese lover, and these Fried Mashed Potato Balls are simply LOADED with cheese. I used Borden Finely Shredded Sharp Cheddar as well as Borden Colby Jack Chunks to make this recipe extra delicious and extra cheesy. Borden® Cheese has been bringing us creamy, amazing cheese for generations, and is fully farmer owned by over 8000 farms!
Whether it's baking a hearty cheese casserole in the winter, grilling up a cheeseburger in the summer, or sharing snacks after school, Borden® Cheese makes every meal and every moment better. I know it does with these Loaded Mashed Potato Bites. That chunk of cheese in the middle of each bite is just too heavenly!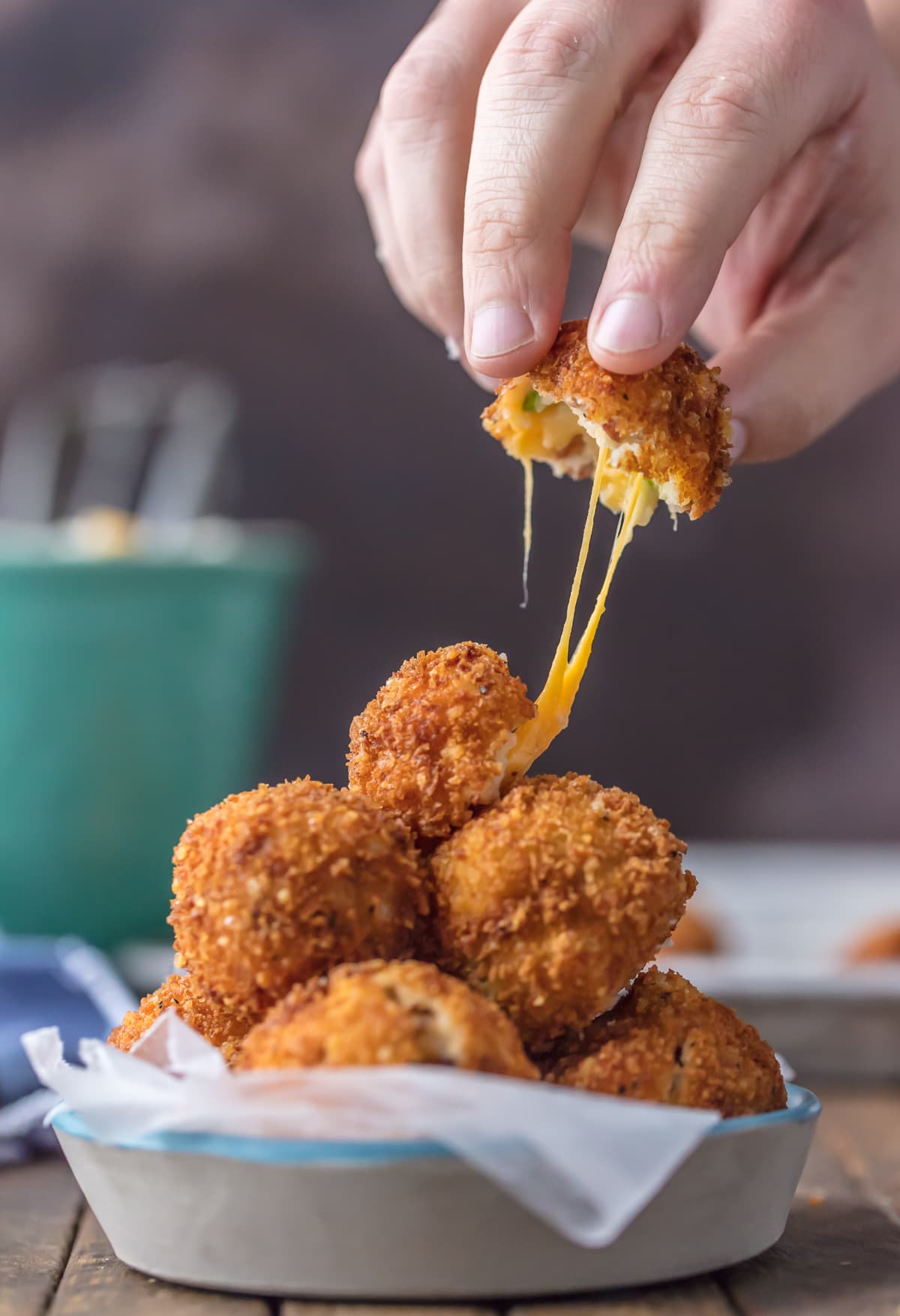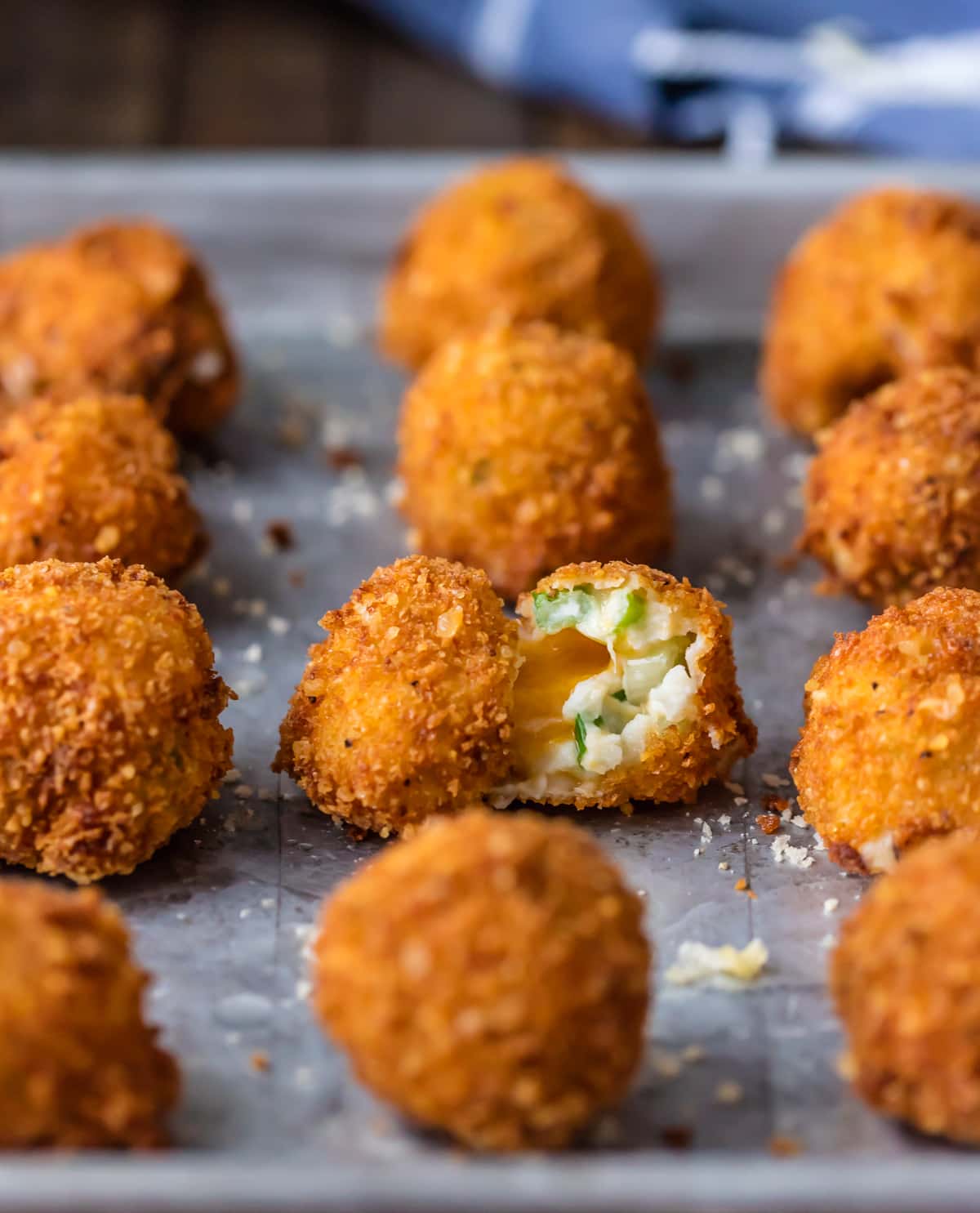 Loaded Mashed Potato Balls
These Deep Fried Loaded Mashed Potato Balls take leftovers from drab to fab in just minutes, and they are SO EASY. to make. Yes, your hands will get a bit dirty, but it's VERY worth it. When you bite into that cheesy goodness, I know you'll agree!
What's in these fried mashed potato balls?
Lots and lots of cheese!
Bacon
Onions
Mashed Potatoes (use leftovers or make the mashed potatoes ahead of time)
You really can't go wrong with these amazing cheesy mashed potato bites! Just like loaded mashed potatoes or a loaded baked potato, but in a deep fried ball. How can you resist, the combination of cheese, potatoes, and bacon? I know I can't!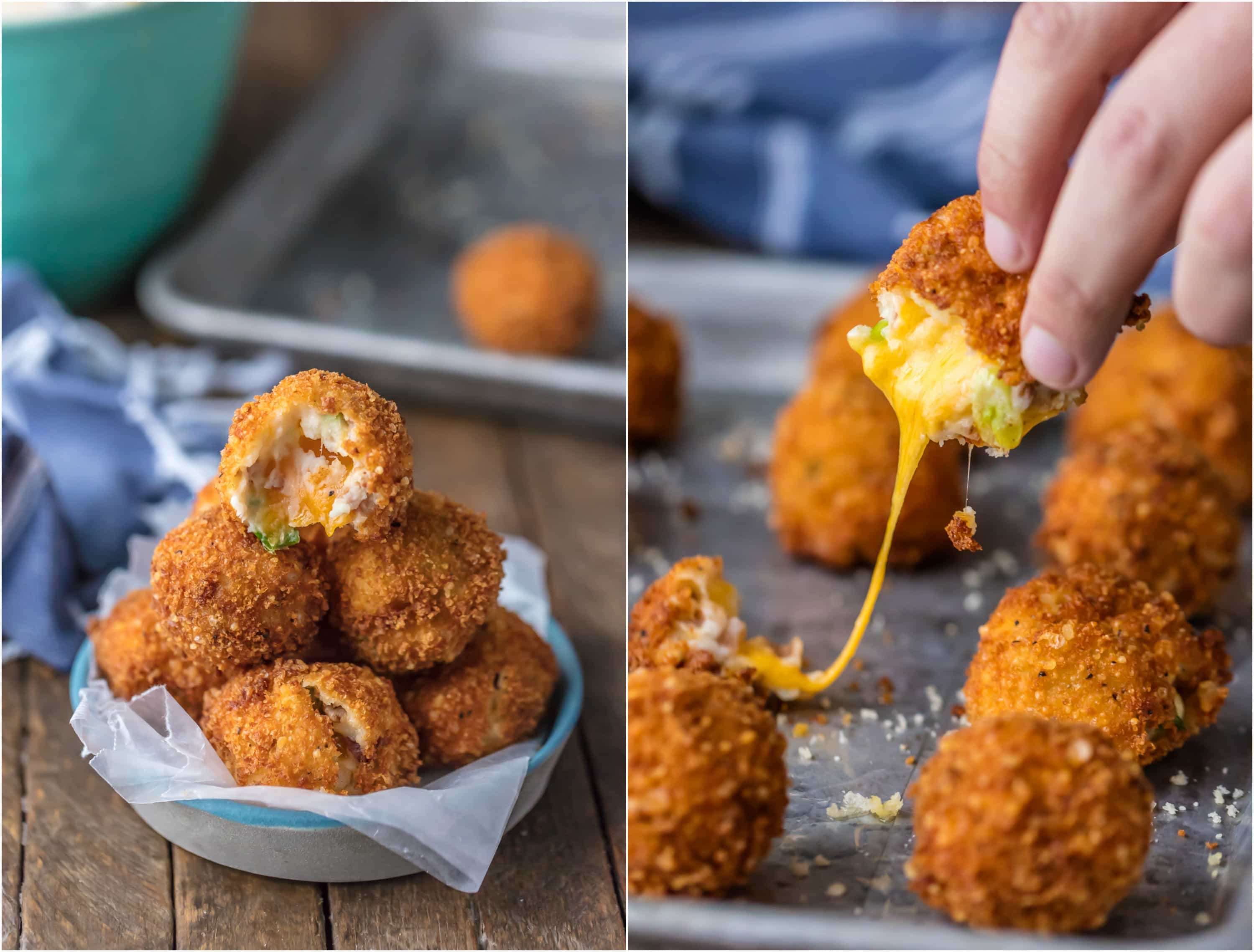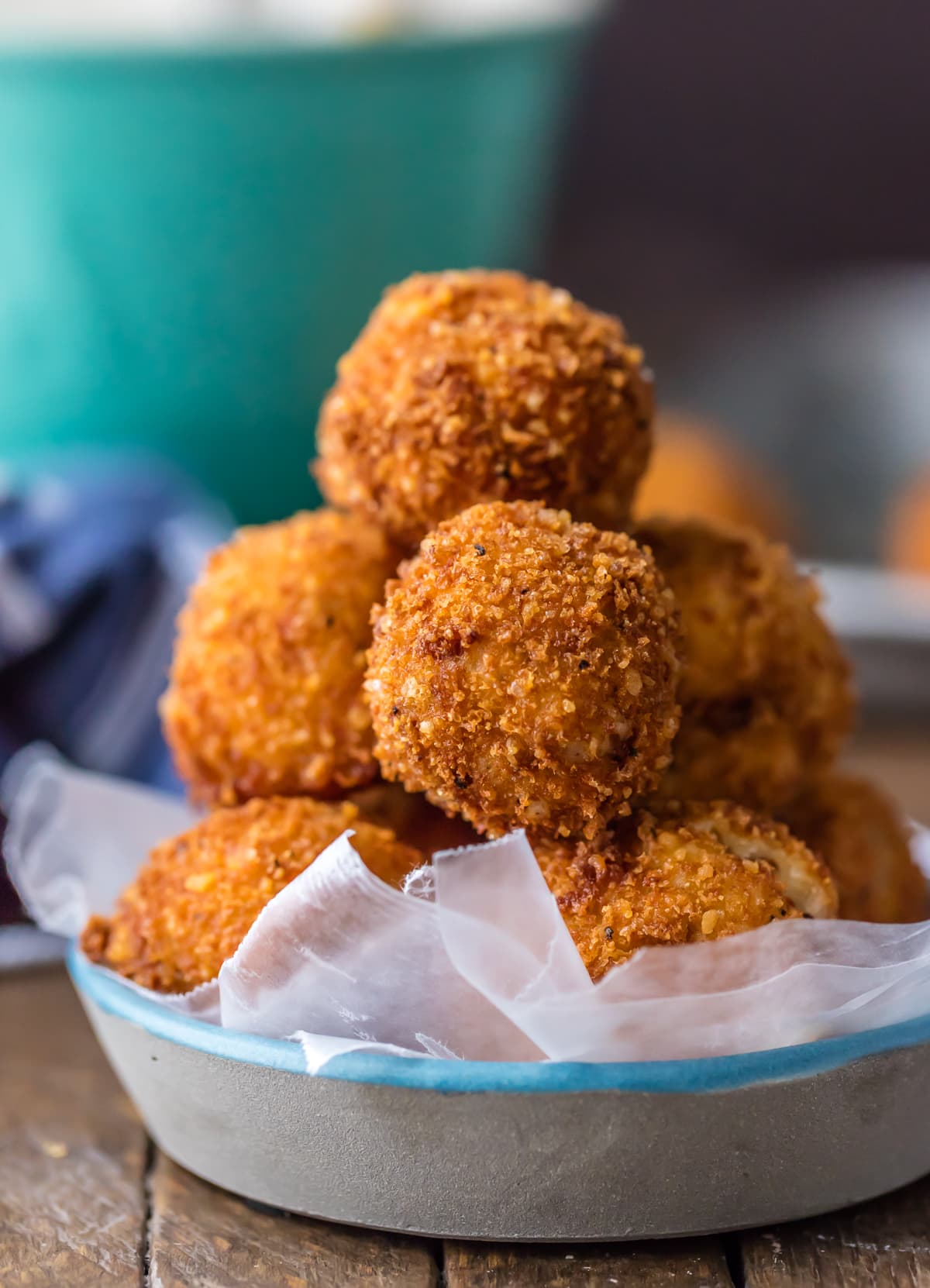 How to Make Fried Mashed Potato Balls
Deep frying anything sounds intimidating, but these fried mashed potato balls are simple. Start with your leftover mashed potatoes, mix in all the extras (bacon, cheese, onions), scoop the potatoes into balls, dip them in breadcrumbs, then fry them up in a large pot or dutch oven on the stove top.
To fry them, just drop the loaded mashed potato balls into hot oil for about 2-3 minutes, then use a slotted spoon to remove them.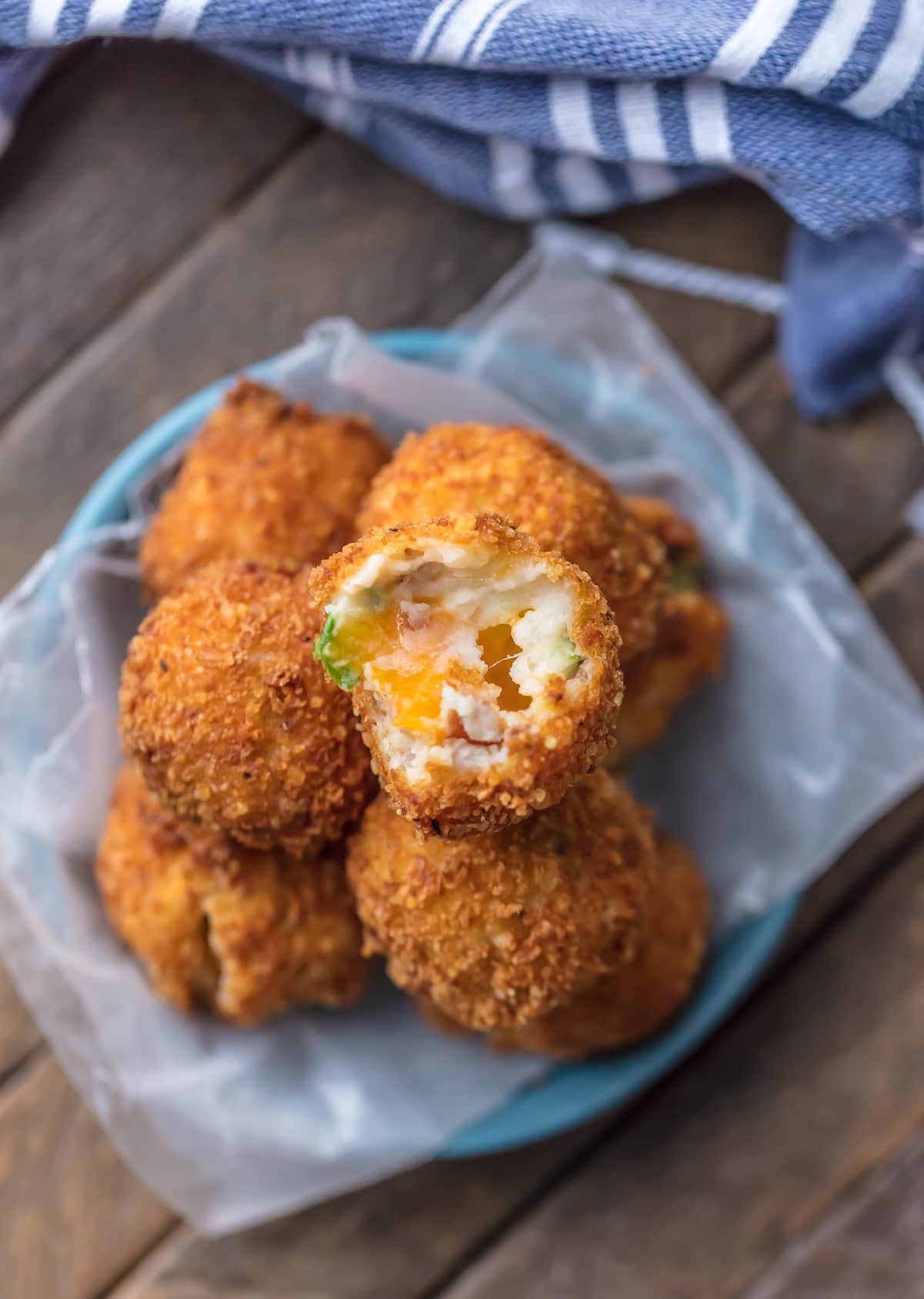 Be sure to check out Borden Cheese when shopping for this fried mashed potato balls recipe! It's available at major grocery stores across the country and in so many varieties, you can't go wrong! Click HERE to find out where to buy near you.
I hope you had a delicious Thanksgiving filled with friends, family, and amazing food! Now, on to CHRISTMAS!
Watch the Video and See the recipe card below for details on how to make Loaded Fried Mashed Potato Balls. Enjoy!
If you like these mashed potato bites, try these other potato recipes: