Make the holidays easy with MAKE AHEAD MASHED POTATOES! This creamy dreamy mashed potato casserole is SO SIMPLE so you don't have to be trapped in the kitchen this Thanksgiving.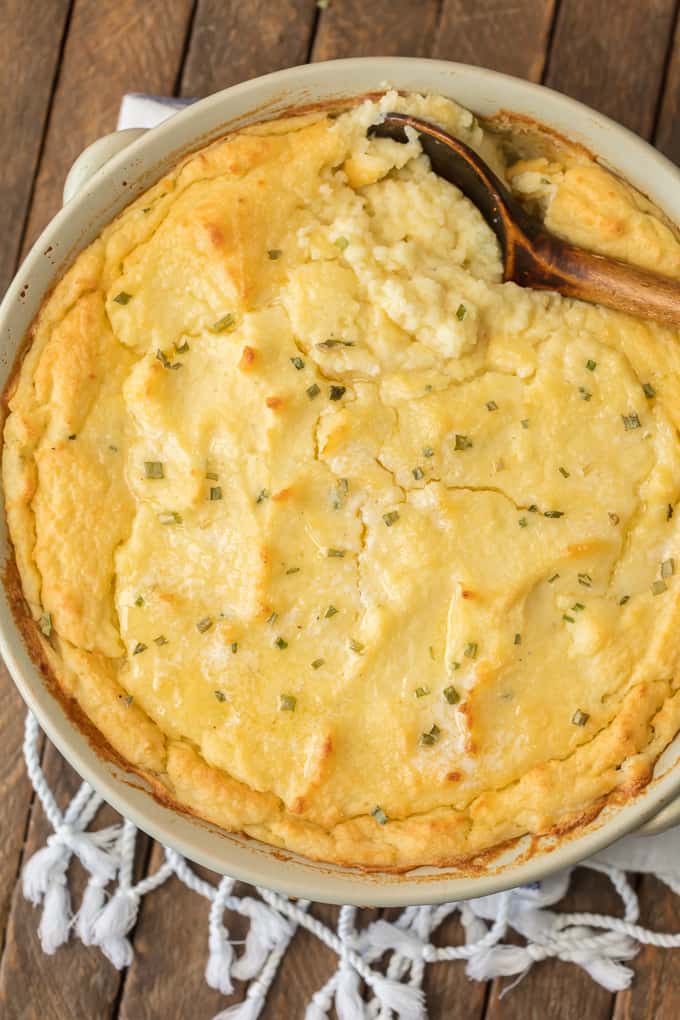 I have been on a major mashed potato kick this year. Thanksgiving is always the most popular holiday on The Cookie Rookie and I wanted to make sure you guys had PLENTY of options for the big day! Great potatoes are an absolute must for Thanksgiving, and we definitely have you covered. We have Herb Roasted Potatoes, Cheesy Herb Scalloped Potatoes, Crispy Parmesan Potato Wedges, Bacon Goat Cheese Mashed Potatoes, Slow Cooker Garlic Butter Mashed Potatoes, and of course tons of sweet potato options!
Those are all great, but also all require a bit of prep. If that's not for you or you don't have the time (hellllo, Thanksgiving is crazy busy!) these Make Ahead Mashed Potatoes are for you! They're equally delicious and can be made up to 2 days in advance! BONUS! You're gonna love these.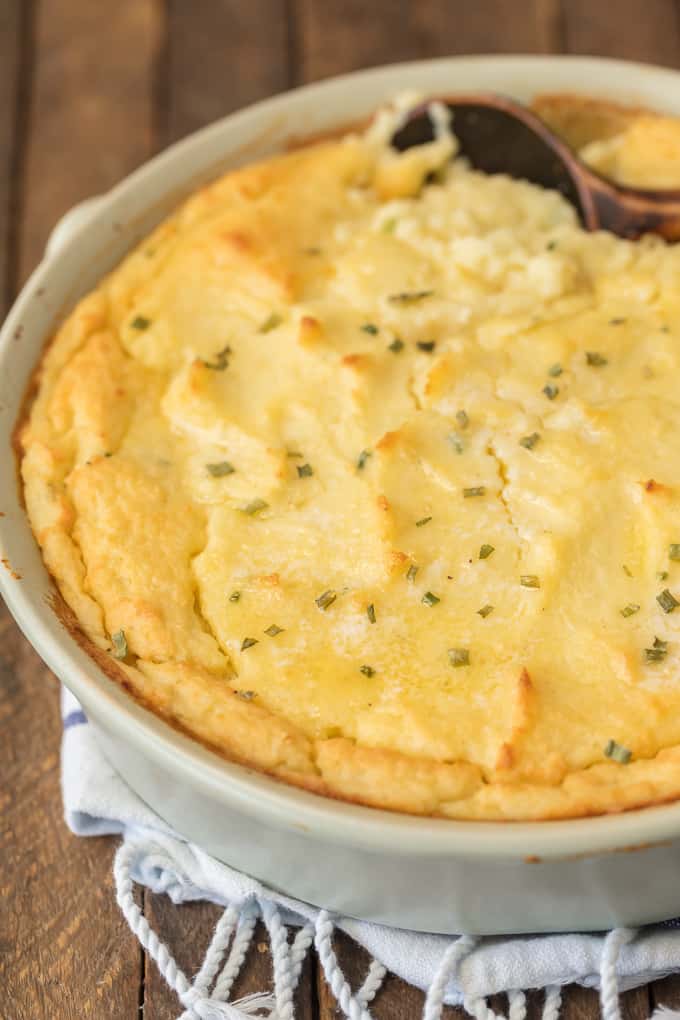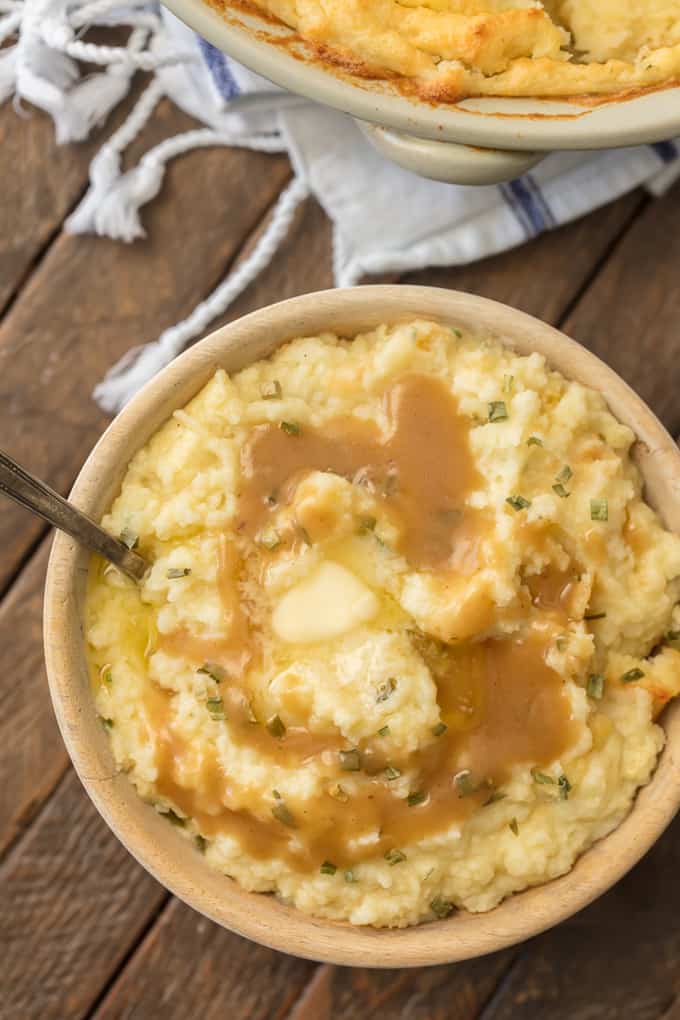 When Mom comes over to help me with blog recipes, I know I'm going to have a day of eating….and eating and eating. This week we made 9 RECIPES in one day to photograph for Thanksgiving. It was a bit wild, but boy was my stomach happy. My feet…not so much.
I'm not ashamed to say I ate my weight in these Make Ahead Mashed Potatoes and they were so satisfying. Even more exciting is I'll get to have them again in just a week and a half at Thanksgiving. They're our clear favorite for the holiday season due to how easy they are to make, and the incredible flavor. Anything I can make 2 days ahead of the big holiday is a winner in my book! Paired with our MAKE AHEAD TURKEY GRAVY we have real perfection on our hands!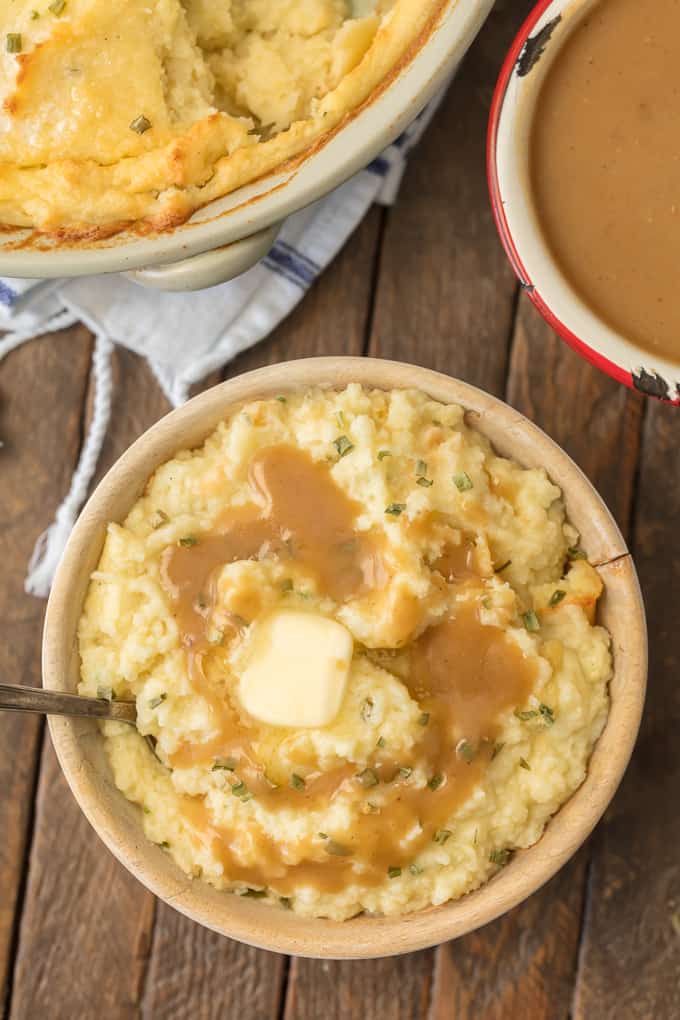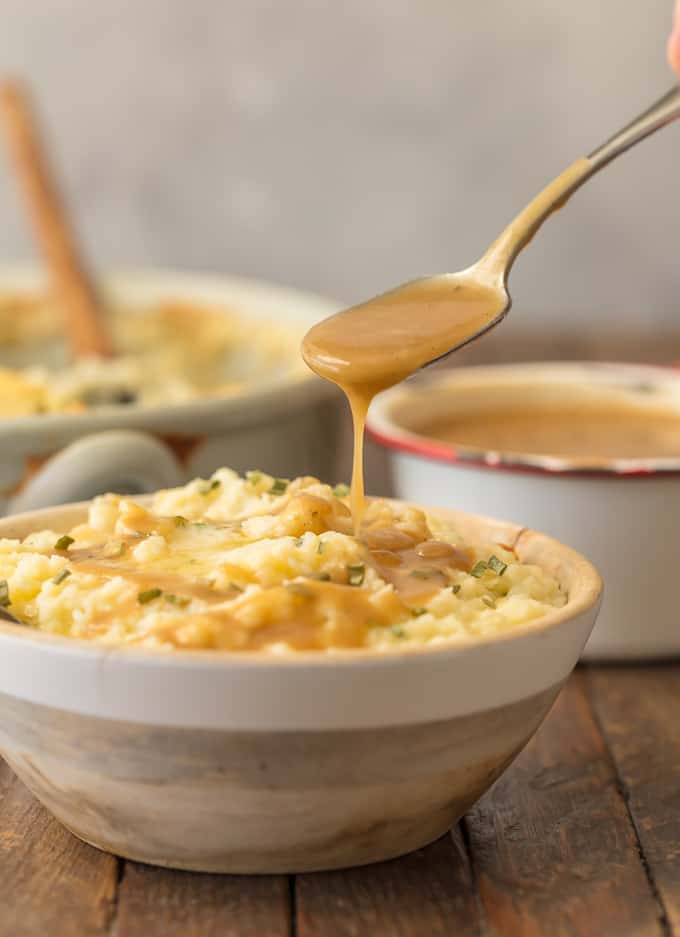 My passion in life these days (other than watching every reality show I can get my hands on) is showing how easy cooking delicious food really can be. I'm here to make you look good with minimal effort. Happy Thanksgiving everyone!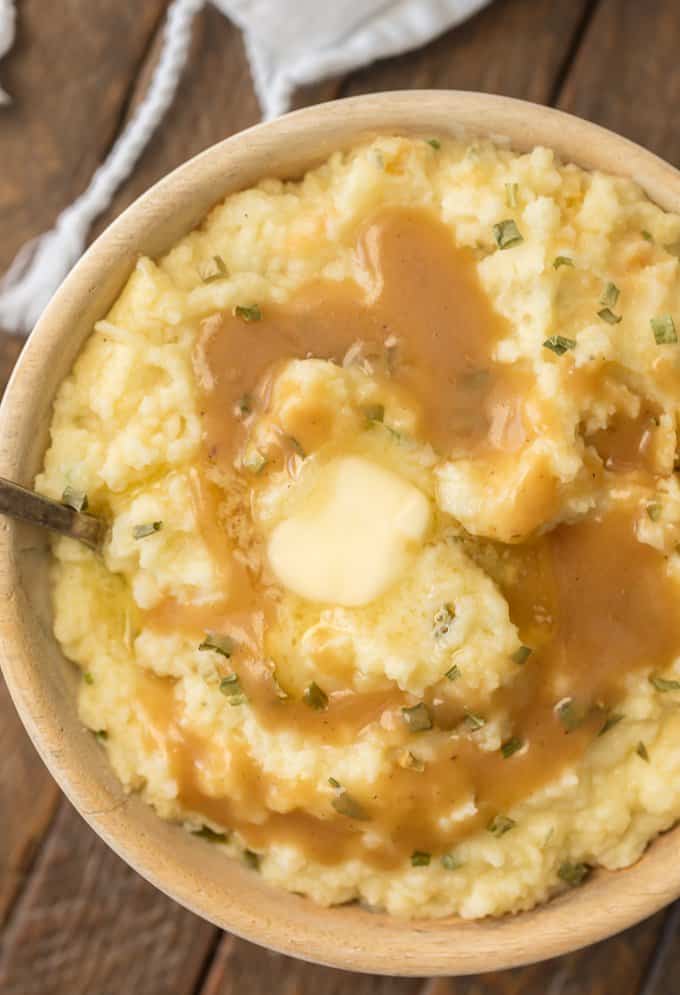 Be sure to pair with our awesome MAKE AHEAD GRAVY (pictured above). ENJOY!
Make Ahead Mashed Potatoes
Make the holidays easy with MAKE AHEAD MASHED POTATOES! This creamy dreamy mashed potato casserole is SO SIMPLE so you don't have to be trapped in the kitchen this Thanksgiving.
Adapted from Pioneer Woman
30 minPrep Time
45 minCook Time
1 hr, 15 Total Time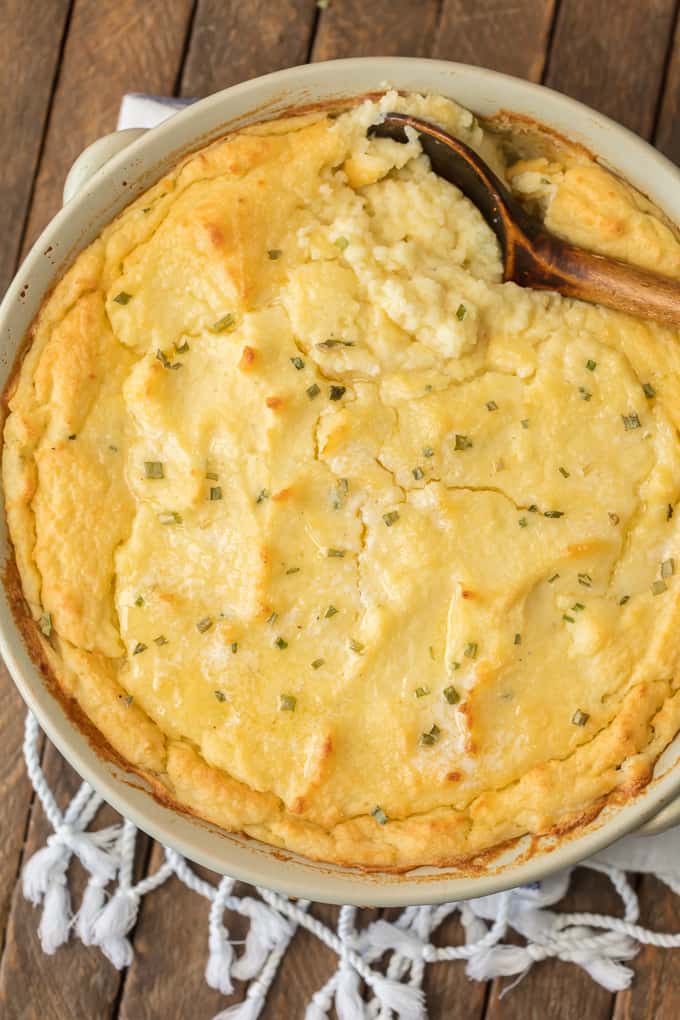 4.3 based on 3 review(s)
Ingredients
For the Potatoes:

5 pounds Yukon Gold Potatoes
¾ cup (1½ sticks) unsalted butter, softened; divided
1 (8 ounce) package cream cheese, softened
½ cup Half-and-Half or whole milk
½-1 teaspoon salt or Lawry's Seasoned Salt, per taste
½ teaspoon freshly ground black pepper
½ teaspoon dried chives, optional

For the Alternate topping:

¼ cup (4 tablespoons) butter, softened
¾ cup bread crumbs
½ cup grated Parmesan cheese
Instructions
For the Potatoes:

Preheat oven to 375°F and spray a 2 quart casserole with cooking spray.
Peel potatoes, remove eyes, and cut into 3" cubes. Steam (or boil) the potatoes just until fork tender, but not falling apart. Remove from heat. Drain the water and place potatoes in the saucepan; mash potatoes one minute over LOW-MED heat to remove the excess moisture/steam from the potatoes. Remove potatoes from heat.
If the saucepan is large enough, leave the potatoes in the pan, and add ½ cup butter, cream cheese, whole milk and seasonings. (If the saucepan is too small, place the potatoes in a large mixing bowl to mash.) Mash the potatoes until they are light and fluffy. Season to taste.
Spoon potatoes into the casserole dish and bake immediately, or cover and refrigerate up to 48 hours.
When ready to bake, heat oven to 375°F.
Cut the remaining ¼ cup butter into smaller pieces and scatter them around the top. (*See below for an alternate topping.)
Bake, uncovered, for 40-45 minutes or until potatoes are hot.

For the Alternate topping:

In a small bowl, combine 4 tablespoons softened butter, breadcrumbs and Parmesan cheese. Mix together until coarse crumbs form. Crumbs can be kept in an airtight container in the fridge up to 3 days. Don't add the butter crumb topping until ready to bake the potatoes.
Enjoy!

Note: This dish can be made up to two days in advance. If making the potatoes ahead, remove them from the fridge 2-3 hours before cooking. Add an additional 10-15 minutes to the baking time.
7.6.7
2472
https://www.thecookierookie.com/make-ahead-mashed-potatoes/