Make Ahead Mashed Potatoes are the ultimate potato side dish for your Thanksgiving or holiday table! This creamy dreamy mashed potato casserole means you don't have to be trapped in the kitchen this holiday. Prep it days ahead of time then pop it in the oven on the day of–it's so easy!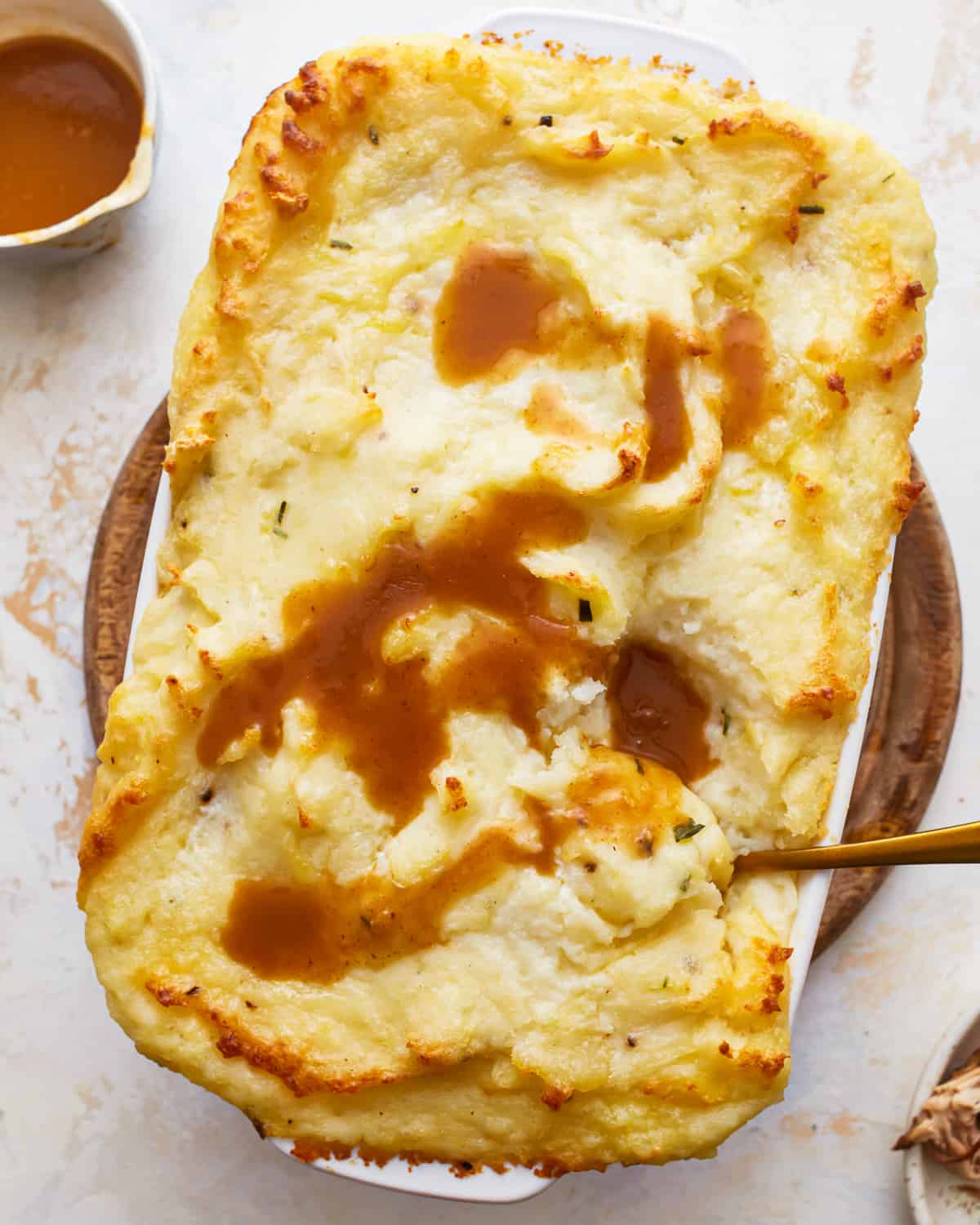 What's in this Make Ahead Mashed Potatoes recipe?
If you're looking for some Thanksgiving dishes you can make ahead of time, then these easy baked mashed potatoes are exactly what you need. Creamy ingredients, simple seasonings, and an optional topping make delicious potatoes!
Potatoes: Yukon Gold potatoes are the best for fluffy mashed potatoes with a creamy texture.
Butter: Softened butter adds richness, moisture, and flavor. We also add cubes of butter on top, which gives them a browned and buttery finish.
Cream Cheese: Softened cream cheese adds a really creamy texture.
Half and Half: Use half and half (or whole milk) for an extra splash of moisture.
Seasonings: I like to use Lawry's seasoned salt for the best flavor, but you can also use regular salt and pepper. Add in some dried chives if you like!
Pro Tip: If you'd like to add a topping to these make ahead potatoes, mix butter, breadcrumbs, and Parmesan cheese, and sprinkle on top before baking.
What else can I add to these make ahead potatoes?
These make ahead mashed potatoes are essentially a casserole that you can prep ahead of time, then bake and serve. So it's easy to add some other ingredients into the mix without any extra steps. Add in bacon crumbles, green onions, minced garlic, caramelized onions, or anything you might usually throw on top.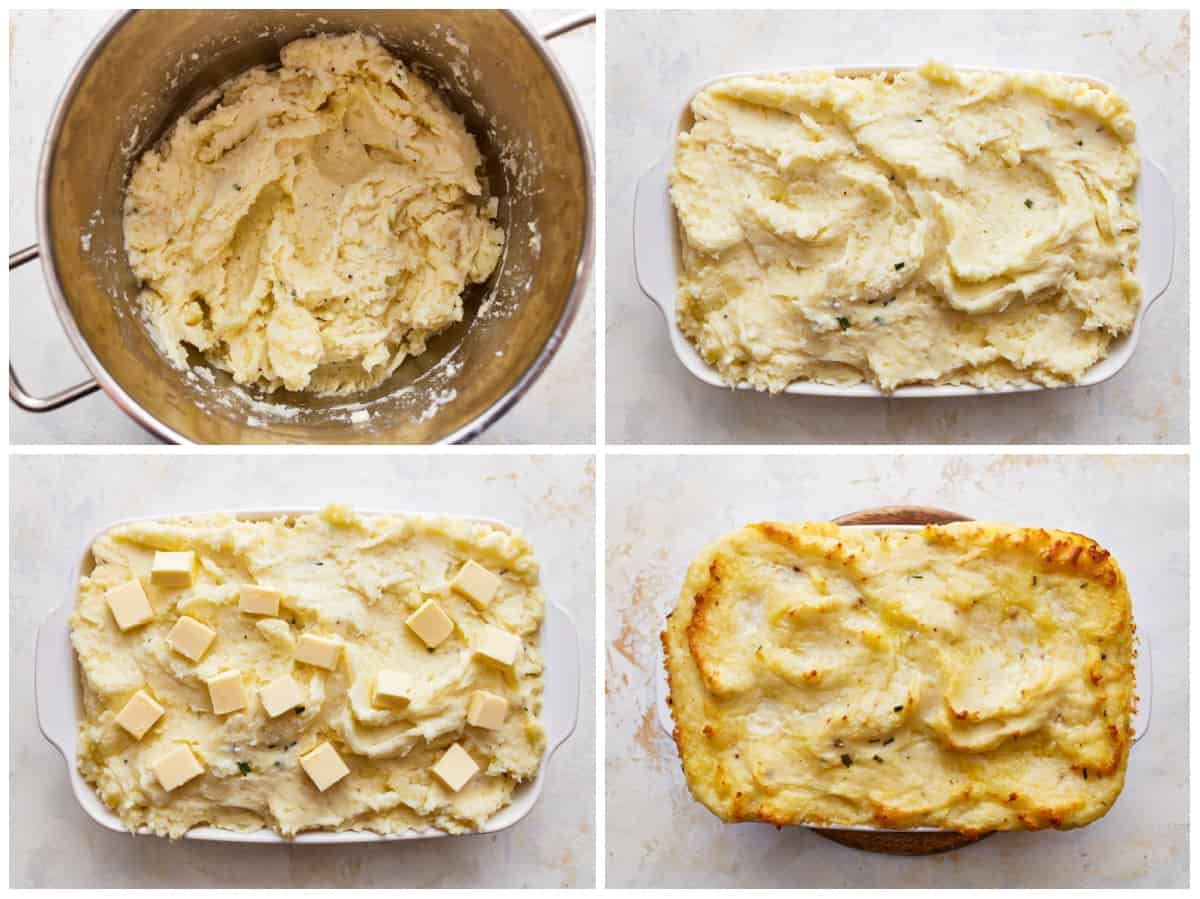 How far ahead of time can I make mashed potatoes?
These potatoes can be cooked, mashed, and prepped for cooking up to 2 days ahead of time.
Can I prep potatoes ahead of time for mashed potatoes?
This recipe boils, mashes, and mixes the potatoes, so they're ready to cook. If you simply want to prepare potatoes to make traditional mashed potatoes on the day of, you can peel and cut them, then submerge them in water (in the fridge) overnight.
How long do you bake mashed potatoes in the oven?
This make ahead mashed potato casserole needs 40-45 minutes to bake in the oven at 375°F. If you cook them straight from the fridge, you might need to add 10-15 minutes.
Can I bake these mashed potatoes right away?
Even though this recipe was designed to be made ahead of time, you can absolutely bake them right after prep and enjoy them immediately.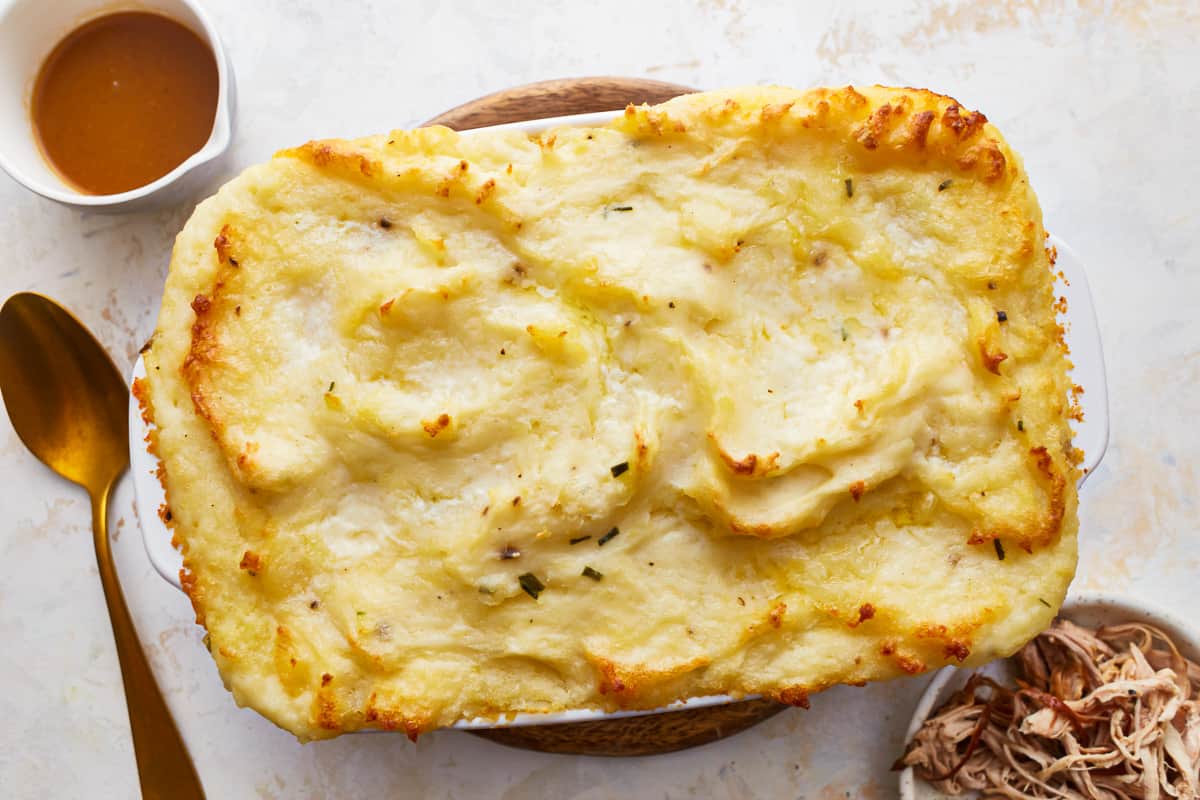 How to Make Ahead, Store, and Cook
Here's how to make these mashed potatoes ahead of time:
Peel and cut potatoes.
Boil potatoes to soften them up.
Mash them up with milk, butter, & cream.
Put the potatoes in a casserole dish, cover, & put them in the refrigerator until you're ready to bake them.
These can be stored in the refrigerator up to 2 days before cooking in the oven.
When ready to cook, let them come to room temperature, then place the prepared potatoes in the oven and bake until warmed through.
How to Store and Reheat Leftovers
After the mashed potatoes have been cooked and dinner has been eaten, you can store leftovers in the fridge or freezer. Store them in an airtight container, and store in the fridge up to 4 days, or the freezer up to 2 months. Reheat in the microwave or oven.
Serving Suggestions
These make ahead mashed potatoes pair perfectly with make ahead gravy, Thanksgiving turkey, and all the rest of your Thanksgiving side dishes!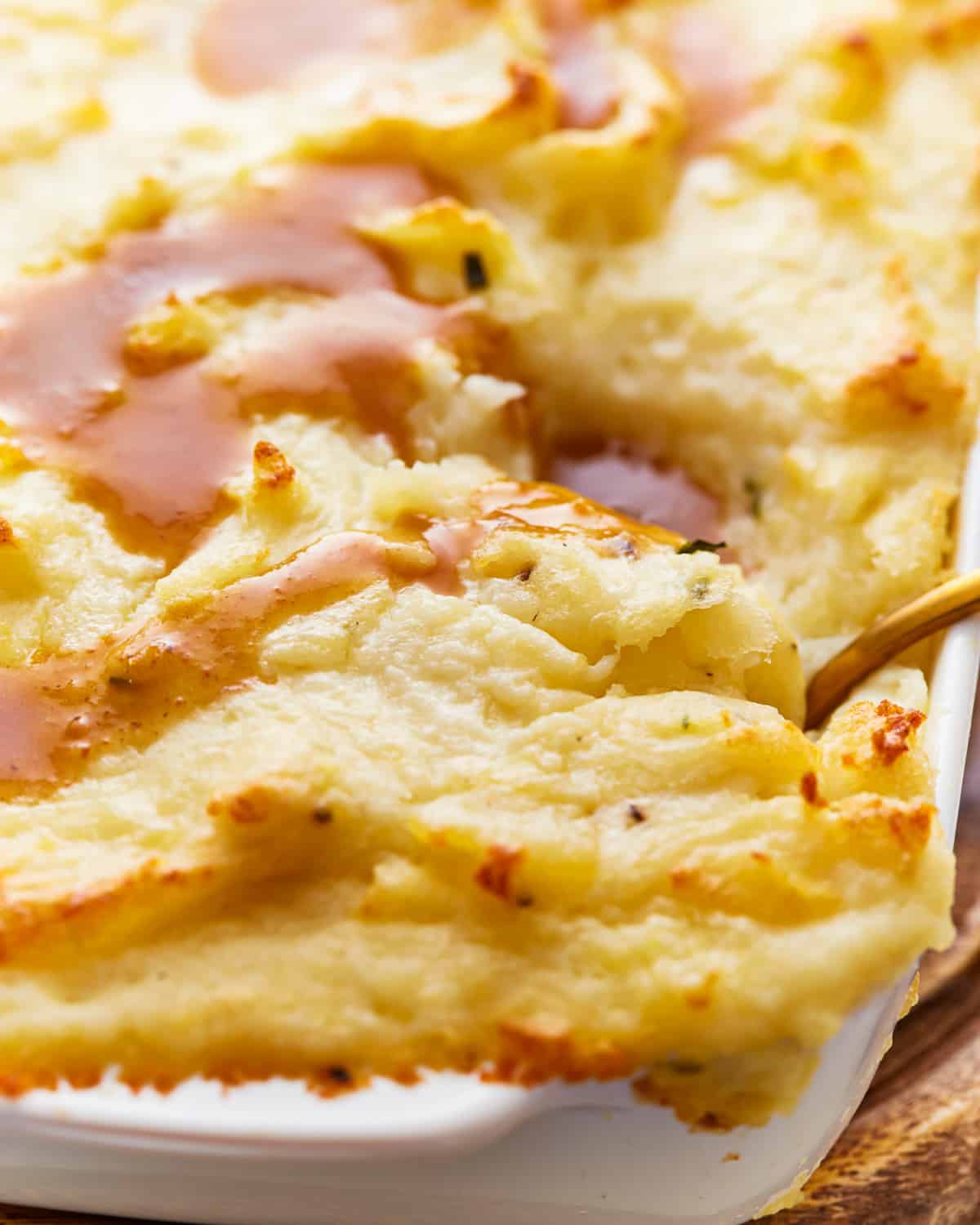 5-Star Review
"Best potatoes!! Tasty and creamy." – Margarette
More Thanksgiving Recipes We Love