This Thanksgiving Leftovers Quesadilla is the answer to your leftover problem. We all need some turkey leftover ideas to use up the extra food from the big feast, and this Turkey, Cranberry, Sage Quesadilla is the solution. Skip the sandwich and use this Thanksgiving leftover recipe instead!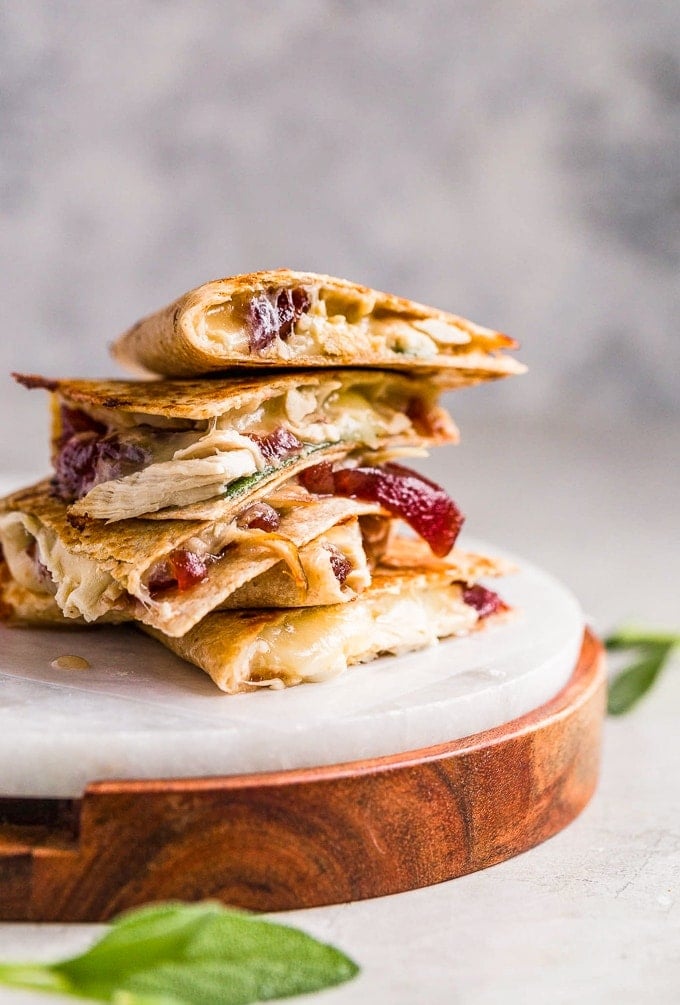 Thanksgiving Leftovers Quesadilla
Thanksgiving leftovers are abundant after the big day. This quesadilla is the perfect Thanksgiving leftover recipe to use up all that extra food, AND have something extra fun and tasty!
Thanksgiving is so close I can TASTE it…Probably because I'm a food blogger and I have been testing Thanksgiving recipes since last summer. But still, it's close! The family, the fun, and (most importantly) the FOOD is all right around the corner. Thanksgiving dinner is great, but some of my favorite eats have always happened the day after with Thanksgiving Leftovers!
We make SO MUCH food for the big feast, and we all end up with soooo many leftovers. They crowd the fridge and call out to you for days, begging to be eaten. I could just eat some re-heated dishes over and over again, but I think we all prefer some creative turkey leftover ideas to use up all that food. Most of us go straight for the classic Thanksgiving sandwich, but I've come up with something even more fun and delicious than that!
I call it the Thanksgiving Leftovers Quesadilla! It's the perfect way to use up all that turkey AND have something really fun to eat that doesn't make you feel like you're eating leftovers. It's made with turkey, cheese, cranberry sauce, and sage. All the flavors of Thanksgiving in a simple quesadilla!
This Turkey, Cranberry, Sage Quesadilla is the best way to use up those Thanksgiving leftovers!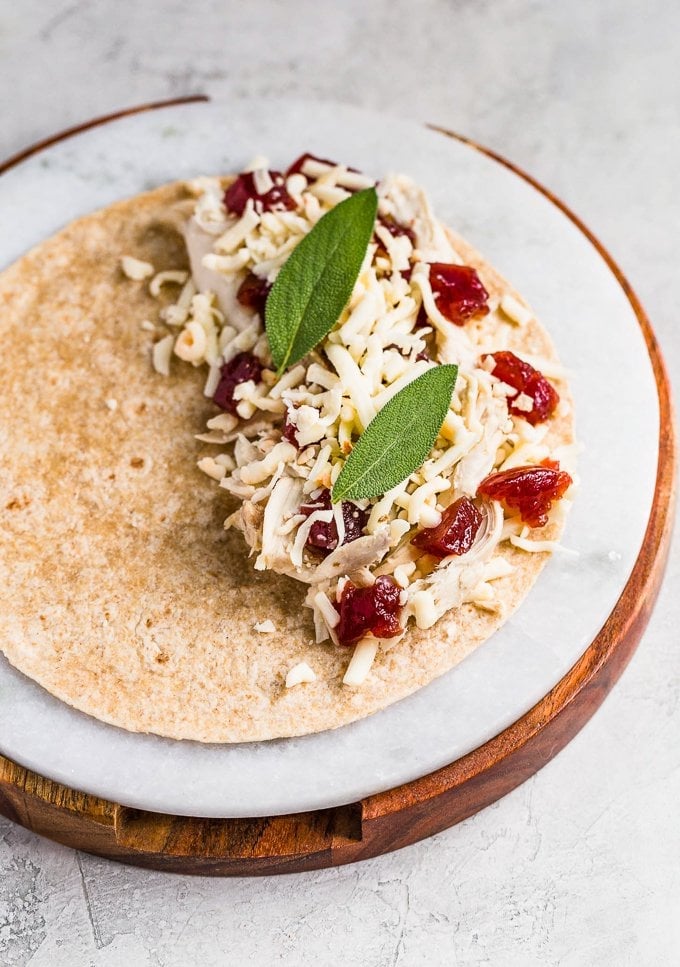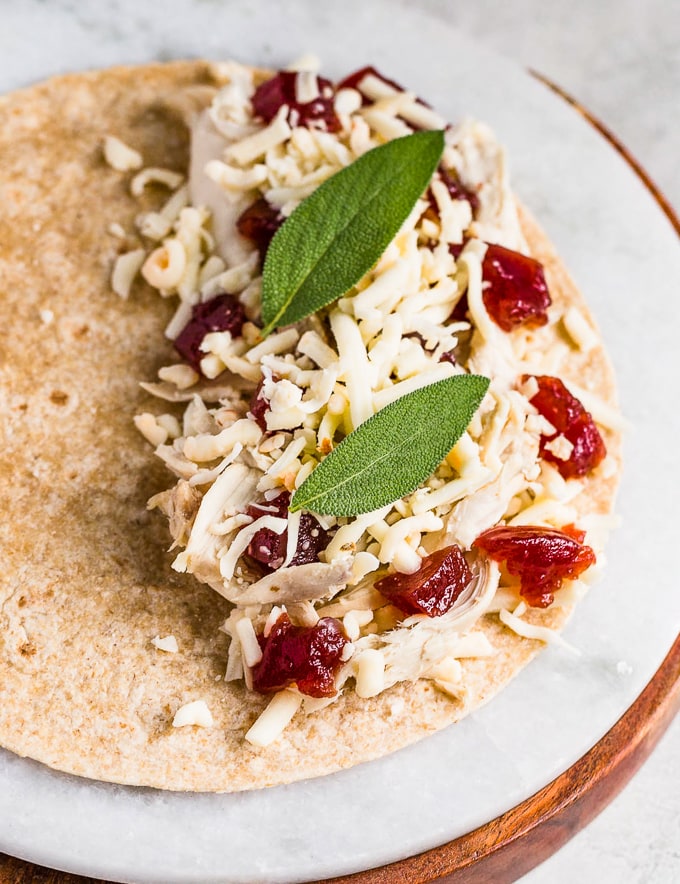 Turkey Leftover Ideas
No Thanksgiving meal is complete without the turkey. You have to make it, and it tastes so amazing as the center of the holiday feast, but there's always so much left after the meal. That leaves most of us wondering what to make with leftover turkey for the next week.
Of course, along with the turkey there are a million other Thanksgiving leftovers. We've got the classic cranberry sauce, and plenty of sage and herbs sitting around. These flavors all work together so well. They taste amazing as a holiday meal, so why not combine them into something else? Why not make them into a quesadilla? Just add in some cheese and we are in business! Making the day after Thanksgiving just as delicious as the actual day with this turkey, cranberry, sage quesadilla. It's the perfect turkey leftover idea!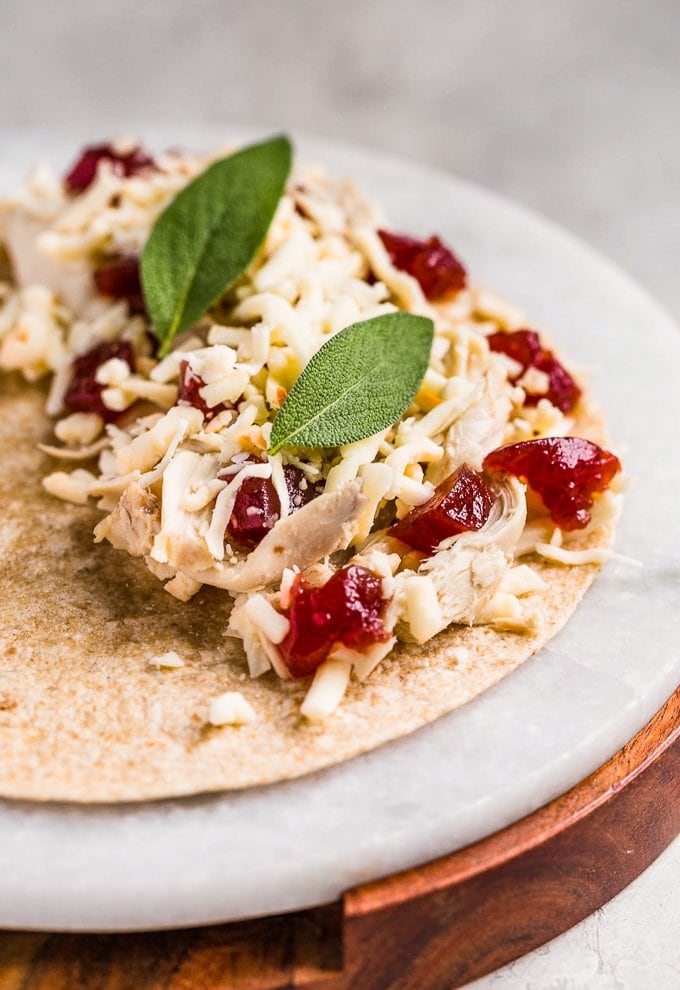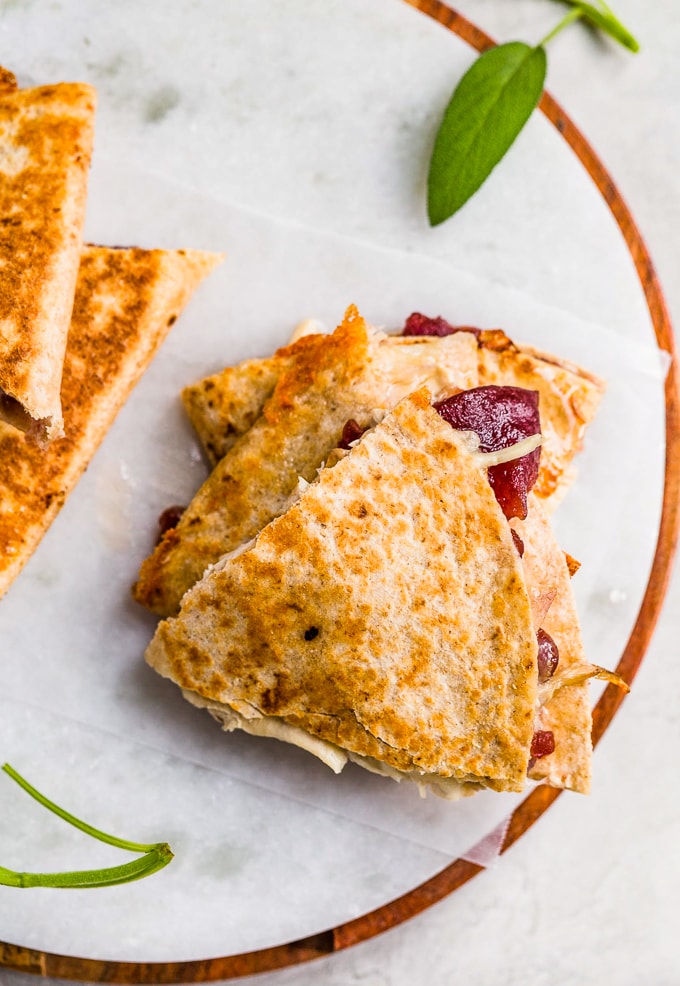 How to Make Thanksgiving Leftovers Quesadilla
I know that after I have all that family in town, slave in the kitchen for hours if not days prior to the big event (well with my kitchen habits, its usually more like hours), and clean up from all the festivities…I'm in no mood to cook again the following day. The next day is prime time for Thanksgiving leftovers! That's why this recipe is so easy. All you have to do is slap all of those leftovers together, set it on the stove top, and let the melty goodness happen. These flavors were meant to be!
I decided to use leftover turkey, cranberry sauce, sage, and cheese (3 different kinds of course!) to make this tasty quesadilla. I figure these are typical things most people will have the day after Thanksgiving, and they taste so good together! I love the way the cranberry sauce and cheese mix together with the turkey. So yummy!
But the best thing about this Thanksgiving leftover recipe is that it's versatile. Use whatever you have, mix it all up, and let it melt together. Pick your favorite leftovers and flavors. Have some sweet potatoes? Add them in! Have a bit of that broccoli casserole? It's the perfect thing to mix in! Have fun with it. You really can't go wrong. with this quesadilla.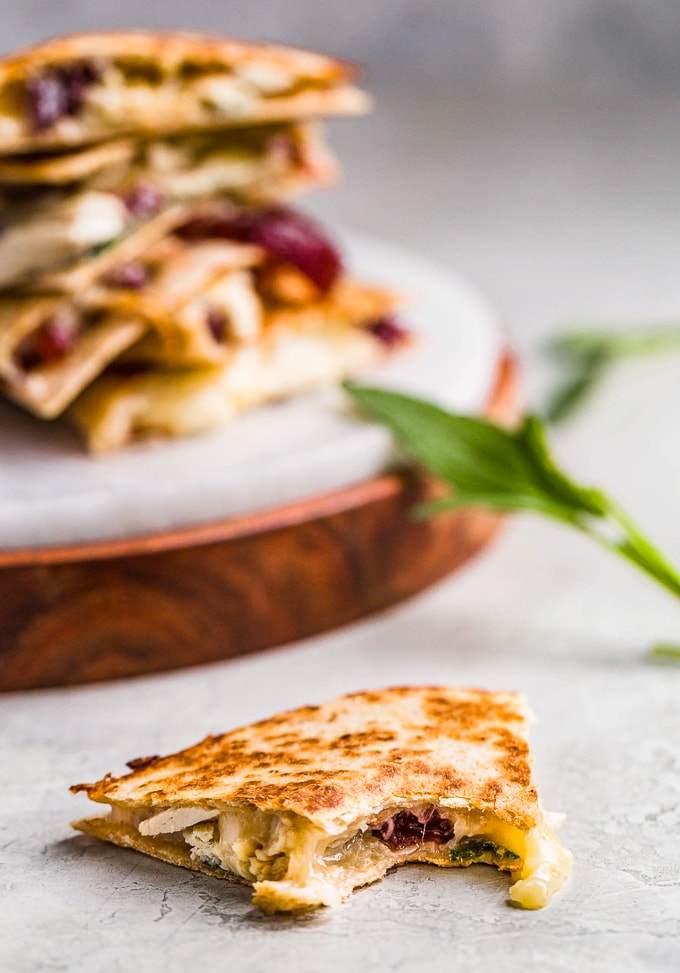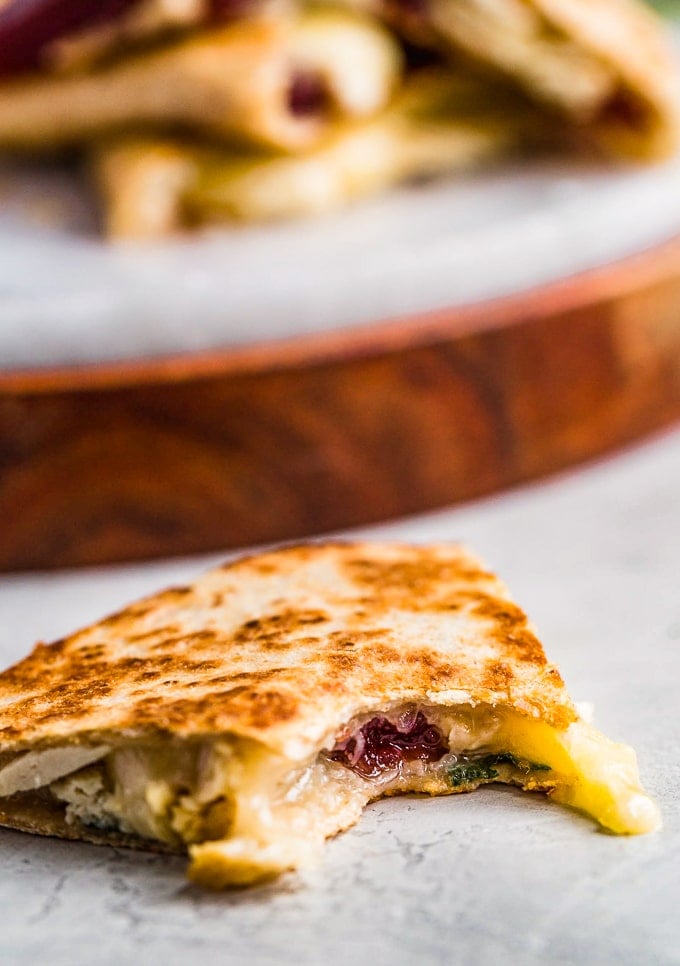 Thanksgiving Leftover Recipes
I know we all wonder what to do with leftover turkey, so coming up with tasty Thanksgiving leftover recipes is so much fun! Leftovers don't have to be boring. You don't have to just eat the same holiday meal over and over again for DAYS after the big feast. Change things up and get creative with those leftovers.
Turkey, mashed potatoes, sweet potatoes, casseroles, green beans, cranberry sauce…don't let it sit and go to waste. You can make a sandwich or a casserole, OR you can make these versatile quesadillas! And try these Fried Mashed Potato Balls to use up those potatoes too.
Get some more Thanksgiving Leftover Recipes right here, and try our Turkey Rice Casserole for that leftover turkey.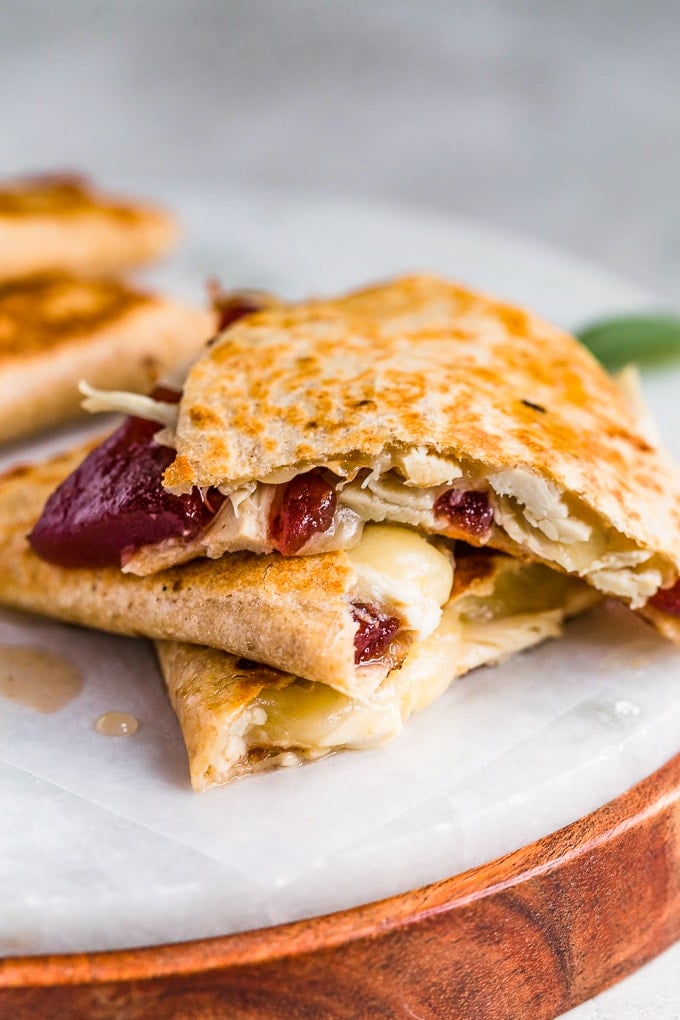 This Thanksgiving Leftovers Quesadilla gives me so much to be thankful for. It's easy, it's versatile, and it's absolutely delicious. It's the perfect Thanksgiving leftover recipe to use up all that turkey.
See the recipe card below for details on how to make Thanksgiving Leftovers Quesadilla. Enjoy!
Try these easy Thanksgiving recipes to make for the big feast: