I anticipate Thanksgiving leftovers in your future. You should make a Thanksgiving Leftovers Quesadilla!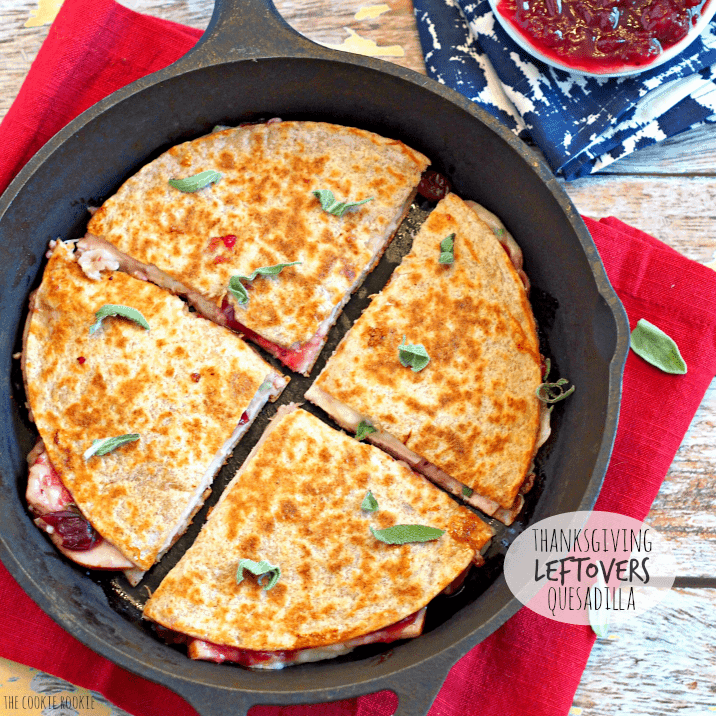 Thanksgiving is so close I can TASTE it.  Probably because I'm a food blogger and have been testing recipes since last summer.  But still, it's close! The family, the fun, the FOOD.  It's right around the corner.  Thanksgiving dinner is great, but some of my favorite eats have always happened the day after.  THE LEFTOVERS.
No Thanksgiving meal is complete without turkey.  Don't forget the cranberry sauce (you can find my favorite recipe HERE).  And definitely don't forget all the cozy spices, especially sage.  They all fit.  They all go together.  Why not make them into a quesadilla??! Add some cheese and we are in business.  The business of making the day after Thanksgiving just as delicious as the actual day.  MMMM.
I know that after I have all that family in town, slave in the kitchen for hours if not days prior to the big event (well with my kitchen habits, its usually more like hours), and clean up from all the festivites…I'm in no mood to cook again the following day.  That's why this is so easy.  Slap all of the ingredients together, set it on the stovetop, and let the melty goodness happen.  These flavors were meant to be.
You could add other Thanksgiving leftovers in there as well.  Sweet potatoes?? Sure, join the party.  Broccoli casserole? Why not?? Have fun with it.  You can't go wrong.
This Thanksgiving Leftovers Quesadilla gives me so much to be thankful for.
 I hope you enjoy it! :)
Thanksgiving Leftovers Quesadilla (3-Cheese Turkey Cranberry & Sage Quesadilla)
Print
Ingredients
4

whole wheat wraps

2

cups

turkey breast

1/2

cup

cranberry sauce

2

cup

shredded cheese

I used cheddar, asiago, and pepperjack!

1/4

cup

fresh sage

chopped
Instructions
Spray a large skillet with olive oil and heat over medium heat

Place the first wrap in the bottom of the skillet and top with 1/4 cup cheese, 1/2 cup turkey, 1/4 cup cranberry sauce, 1/8 cup sage, another 1/4 cup cheese, and the second wrap. Grill for about 5 minutes on each side, or until melty and delicious.

Take off of heat and cut into fourths to serve. Repeat with other ingredients to make second quesadilla.