This Thanksgiving, serve your turkey leftovers quesadilla-style and everybody will sit up and notice! We all need some ideas to use up the extra food from the big feast, and this Three-Cheese Turkey, Cranberry, and Sage Quesadilla is the solution. Skip the sandwich and use this Thanksgiving leftover recipe instead!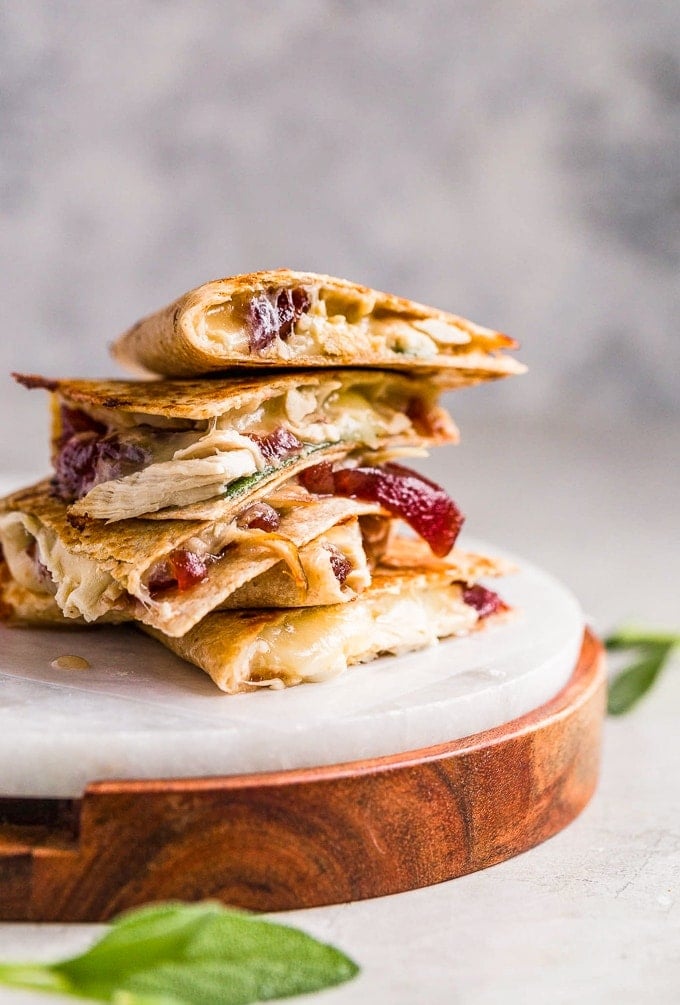 Thanksgiving Leftovers Quesadilla
Thanksgiving is so close I can TASTE it…Probably because I'm a food blogger and I have been testing Thanksgiving recipes since last summer. But still, it's close now, and I'm getting excited.
We make so much food for the big feast, and we end up with soooo many leftovers. They crowd the fridge and call out to you for days, begging to be eaten.
I could eat some re-heated dishes over and over again, but when the food fatigue sets in, it helps to have some creative ideas to re-spark the interest.
I call this one the Thanksgiving Leftovers Quesadilla. Take all the flavors of Thanksgiving (turkey, cheese, cranberry sauce, and sage) and melt them in the middle of two tortillas.
It's the perfect way to use up all that turkey and also have something really fun to eat that doesn't make you feel like you're eating leftovers.
This Turkey, Cranberry, Sage Quesadilla is the best way to use up those Thanksgiving leftovers!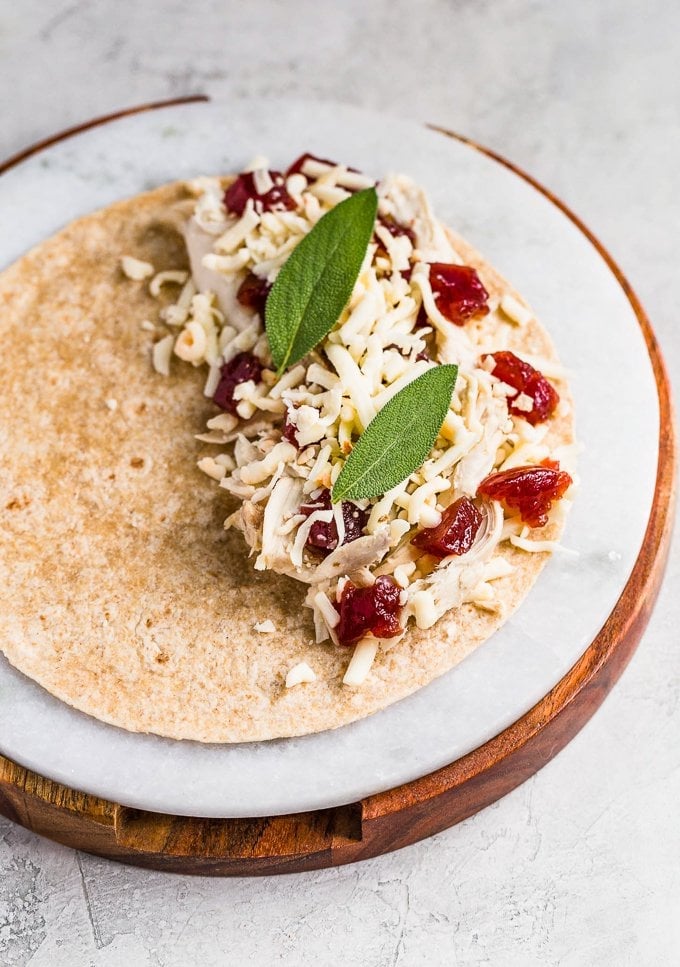 Why You'll Love This Recipe
It's budget-friendly: No need to spend a lot on ingredients. Maybe you already have leftover cheese from Thanksgiving appetizers, and tortillas are very inexpensive. There you go! The rest comes from holiday leftovers.
It's novel: Fight food fatigue with something different. Even the most delicious turkey sandwich gets old after the fourth or fifth one.
It's quick and easy: No casserole to bake this time. These quesadilla are easy to make on the stove top or even microwave.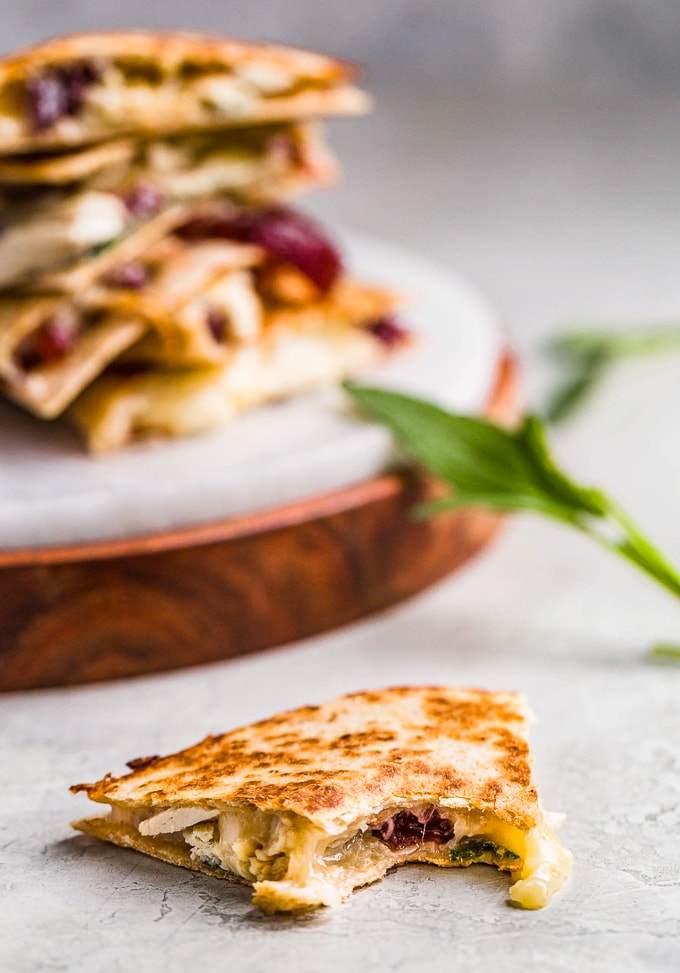 Turkey Leftover Ideas
No Thanksgiving meal is complete without the turkey. And unless you're in a small family, there's always so much left after the meal. Yes, we could roast a smaller turkey, but part of Thanksgiving is figuring out the best way to use those leftovers!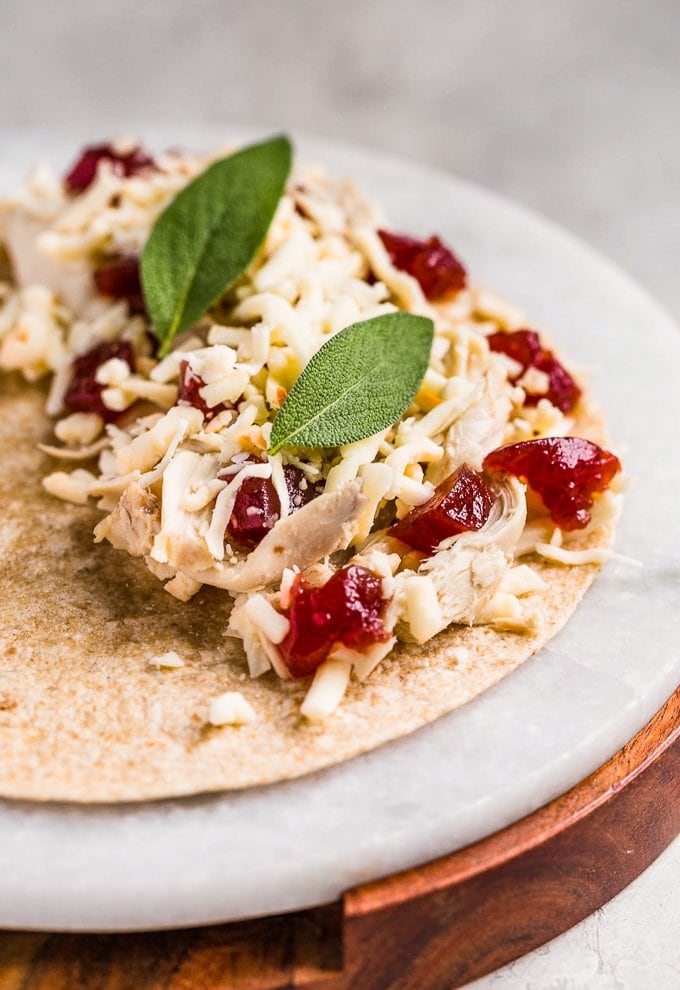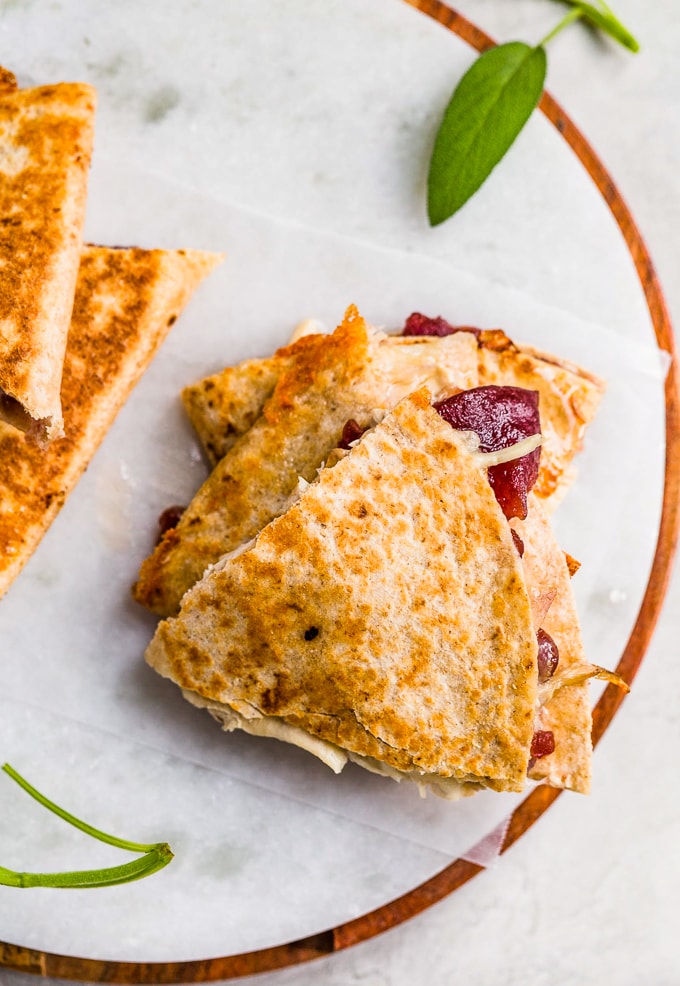 Ingredients
4 whole-wheat tortillas or wraps
2 cups turkey meat, shredded or chopped into small pieces
1/2 cup cranberry sauce
2 cups shredded cheese (such as Cheddar, Asiago, or pepper jack)
1/4 cup fresh sage leaves
vegetable oil spray
The best thing about this Thanksgiving leftover recipe is that it's versatile. Use whatever you have, mix it all up, and let it melt together. Pick your favorite leftovers and flavors. Have some sweet potatoes? Add them in! Broccoli casserole? It's the perfect thing to mix in! Have fun with it. You really can't go wrong with this quesadilla.
How to Make Thanksgiving Leftovers Quesadilla
Spray a large skillet with olive oil and heat.
Place a whole-wheat tortilla wrap in the skillet and top with cheese, turkey, cranberry sauce, sage, more cheese and the second tortilla.
Grill for about 5 minutes on each side, until melty.
Remove from the heat, cut into quarters and enjoy!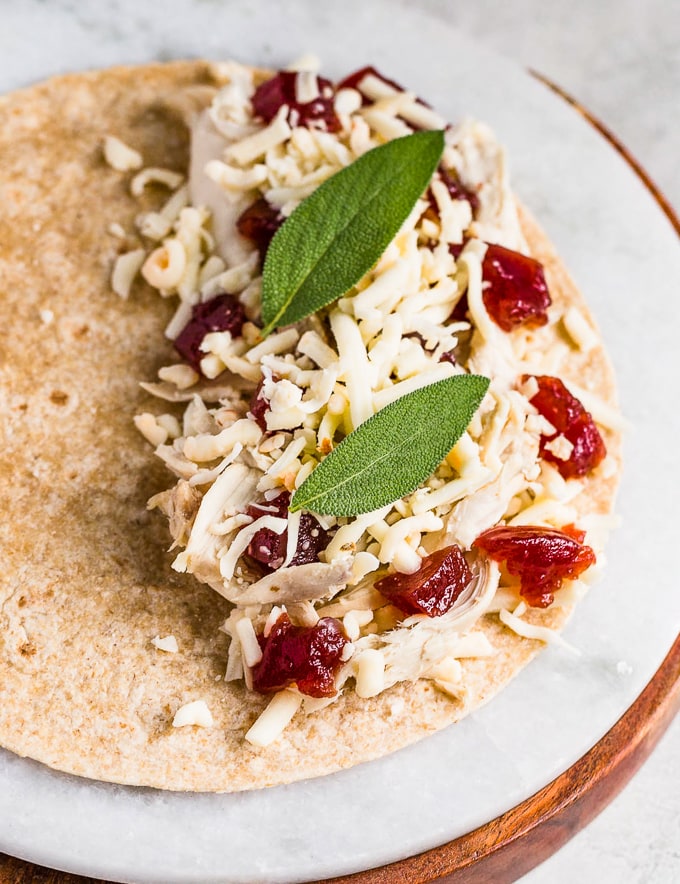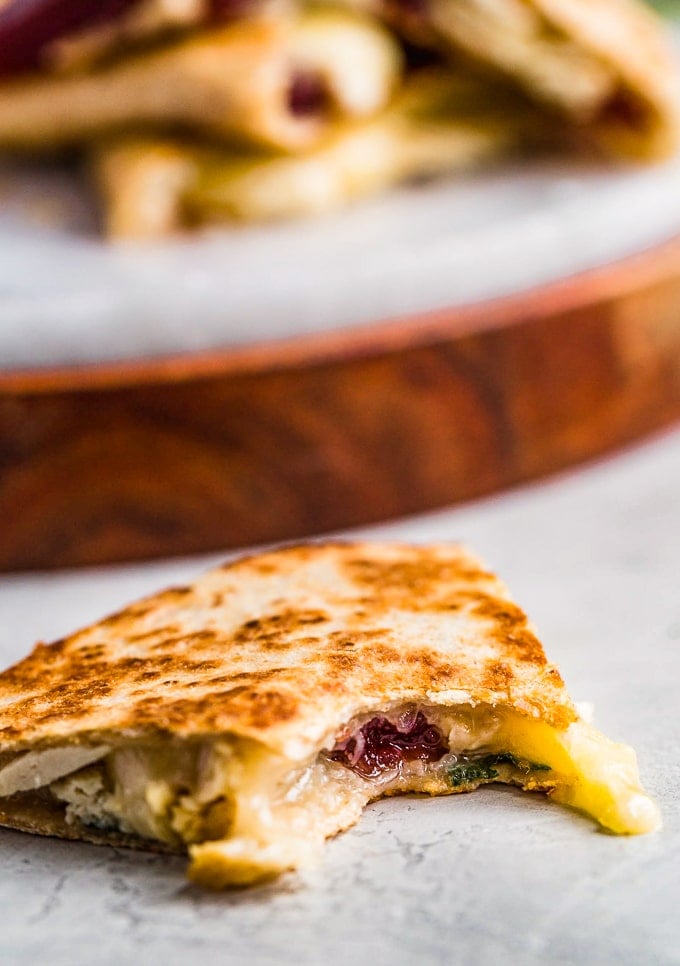 How Do You Flip the Quesadilla Without Making a Mess?
Once the cheese is melted, everything holds together beautifully. But before that happens, it can be tricky to flip the quesadilla. Use a spatula to slide the quesadilla onto a small plate. Top with a second plate, this one inverted. Flip the whole thing, remove the top plate, and slide the tortilla wrap back into the pan to finish browning!
Should I Use Dark Meat or White?
Use whatever meat you prefer, or whatever type you have the most of. Breast meat is easy to cut into bite-sized pieces, dark meat is generally moister….so much to decide!
Do You Have Other Recipes for My Leftovers?
Fried Mashed Potato Balls are out of this world! The fancy name is potato croquettes, and once you try them you'll be sure to make lots of mashed potatoes next Thanksgiving! Get some more Thanksgiving Leftover Recipes right here, and try our Turkey Rice Casserole, too.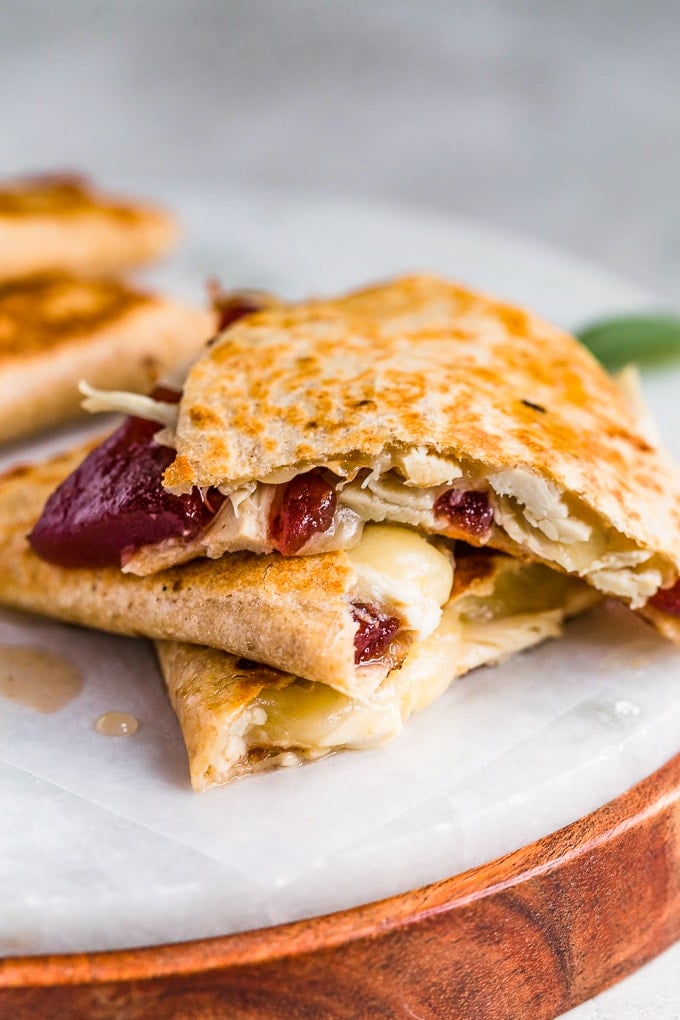 This Thanksgiving Leftovers Quesadilla gives me so much to be thankful for. It's easy, it's versatile, and it's absolutely delicious. It's the perfect Thanksgiving leftover recipe to use up all that turkey.
Try these easy Thanksgiving recipes to make for the big feast: