The perfect baked potato really does exist! Learn how to cook a baked potato in the oven so that it's fluffy on the inside and crispy on the outside. It's so easy to make, and you can finish it off with the best toppings. It's a great side dish for any dinner!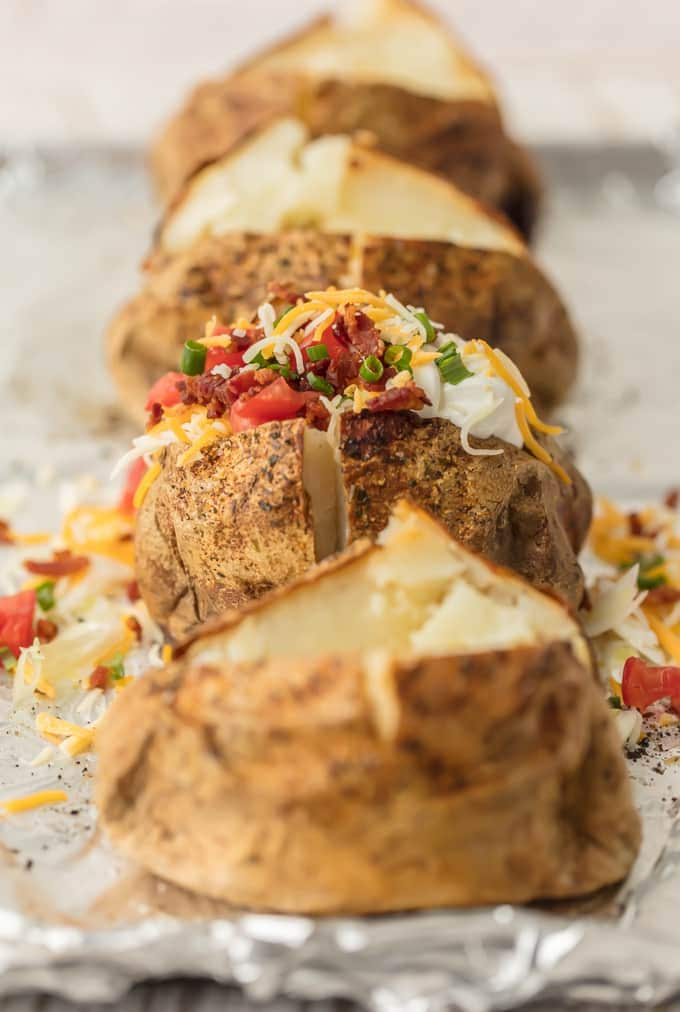 Perfect Baked Potatoes
A baked potato is the best side dish for any dinner. They're simple, classic, and so delicious! Pair it with steak, chicken, burgers, or anything you like.
But before you get to dinner, you'll want to know HOW to cook a baked potato so that it's truly perfect every time. Cooking them in the oven with my tried and true method is so easy. They come out with crispy, well-seasoned skin, and a fluffy, moist interior.
Then you can add any toppings or mix-ins you like (and I'm sharing plenty of ideas for that below). Keep it simple with butter, salt and pepper, or get creative with cheese, veggies, chicken, and more.
Why You'll Love this Baked Potato Recipe:
SIMPLE: This recipe is so simple and straightforward. It's easy to make, and you only need a few basic ingredients.
PERFECT: When I say perfect, I mean it! The skin stays crisp and the flesh gets fluffy and soft. It's truly baked to perfection!
VERSATILE SIDE DISH: Change up the toppings and this becomes the most versatile dish ever. Pair it with any of your favorite entrees for dinner!
I've been known to eat a big baked potato piled up with my favorite toppings for lunch or dinner. When they come out of the oven this perfect, it deserves to be the main dish! Especially if you start adding veggies, cheese, protein, and heartier mix-ins.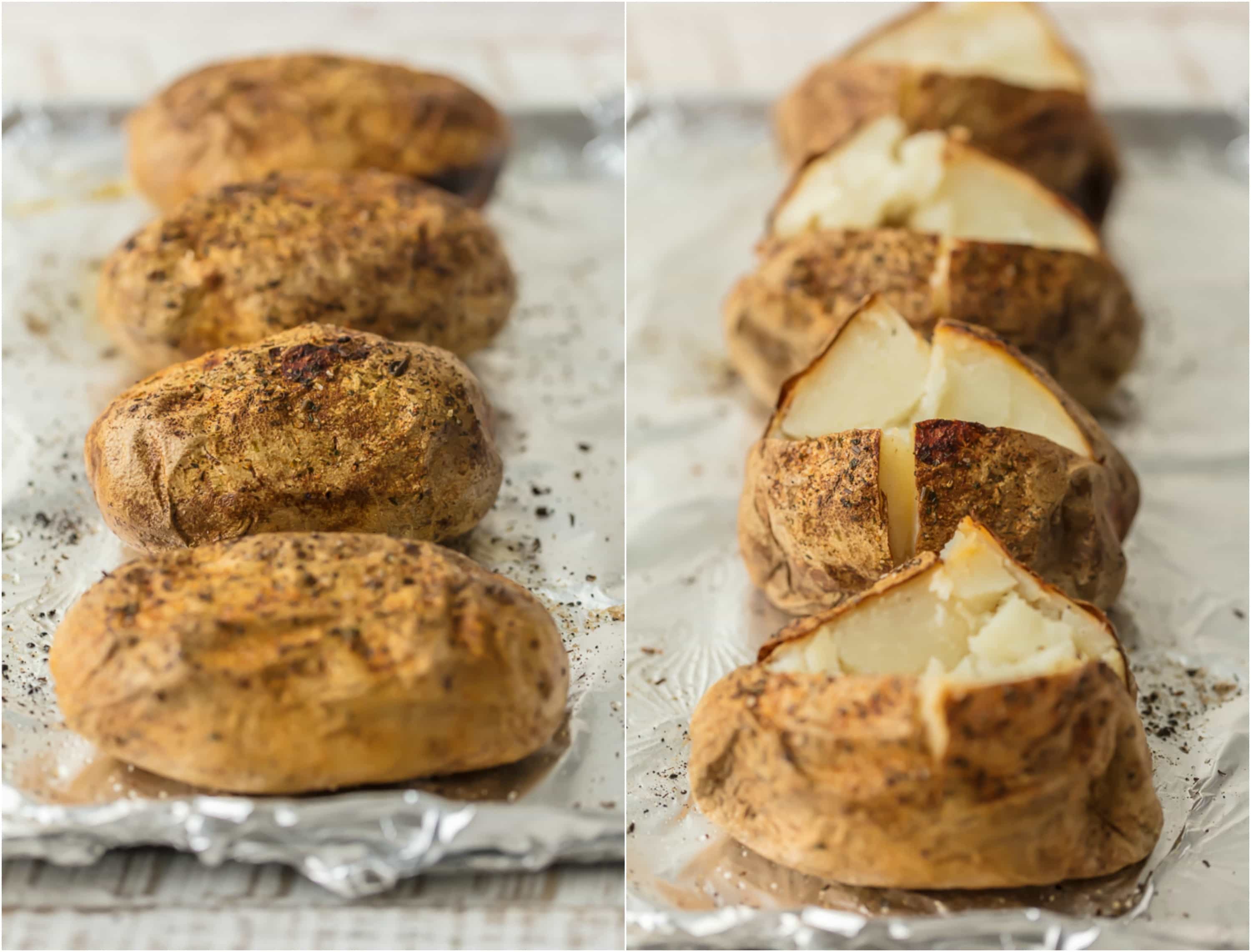 Ingredients & What You'll Need
Potatoes: I recommend using russet potatoes for this recipe (I'll tell you why below). 7-9 oz potatoes are the perfect portion size, and are ideal for the exact cook times listed here.
Salt + Warm Water (Brine): Dissolve salt in warm water to soak the baked potatoes before baking. This draws out moisture to create the perfect texture.
Oil: Vegetable oil works best since we're roasting at a high temp. This crisps up the skin on the potato as it bakes.
Seasonings: Salt and pepper work great, but you can use other seasonings you like as well. Get creative!
Toppings: This is the fun part! Use any toppings or add-ins you like. Butter, sour cream, chives, and shredded cheese are classic options. Check below for even more topping ideas!
You'll also need a rimmed baking sheet and aluminum foil, plus a wire rack, for baking in the oven. That's it!
How to Cook a Baked Potato in the Oven
Be sure to see the recipe card below for full ingredients & instructions!
Prep: Prepare a rimmed baking sheet with rack, and preheat the oven. Prick holes in the potatoes.
Brine: Dissolve salt in warm water, then soak the potato briefly.
Bake: Place the potatoes on the baking sheet, and bake until fully cooked through. Then brush with oil and season, and cook another 10 minutes.
Open: Cut into the potatoes to release steam, then squeeze ends together to push the insides up and out.
Finish: Fill it up with your favorite toppings and serve!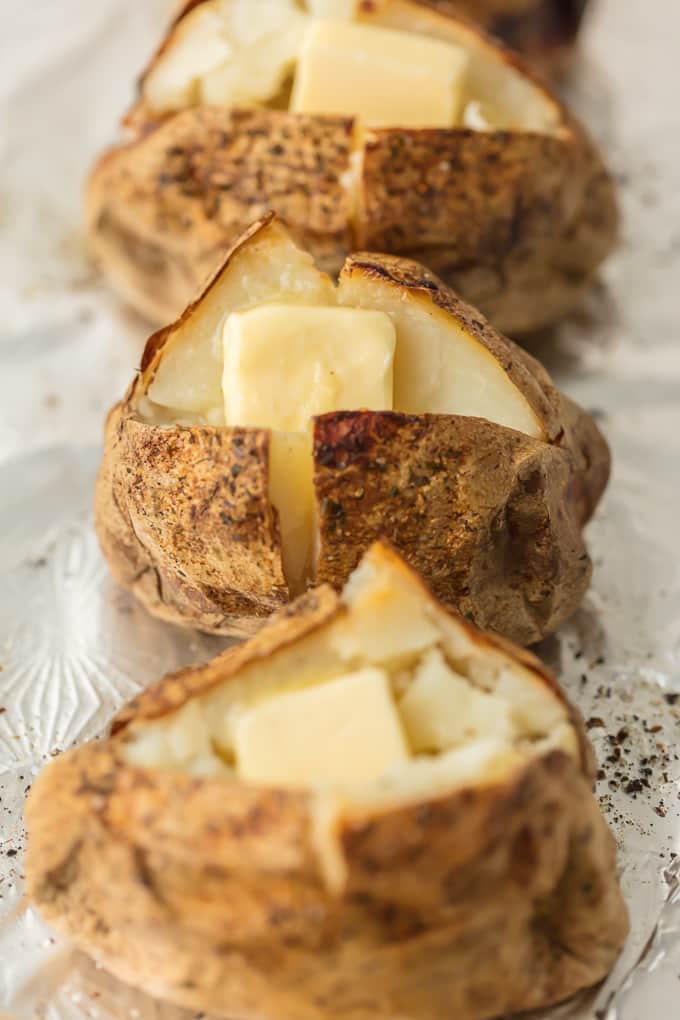 What's the best potato for baked potatoes?
Russet potatoes are the perfect option, because the skin gets crispy (not waxy) and holds up through baking, while the inside gets so soft and fluffy!
What temperature should I cook a baked potato?
I recommend setting your oven to 450F to bake. Use a thermometer to check the center of your potato–it's done when it reaches 205F.
How long do you bake potatoes in the oven?
At 450F, bake for 45-60 minutes (until the interior reaches 205F), and then you'll bake another 10 minutes to finish them off with the oil and seasonings. So the total time is around 1 hour.
Are baked potatoes healthy?
They are high in magnesium and potassium which are both great for heart health. They also contain about 28% of your daily fiber.
Why do you use a wire rack?
Setting them on top of a rack ensures that the hot air fully circulates around every inch of the potato. This prevents any sogginess or uneven cooking.
The Perfect Side Dish
Oven baked potatoes are my favorite side dish for almost any meal. They're simple enough to complement any main dish, but you can also add all the intricate toppings you like to make it just right for tonight's dinner. Here are some serving ideas!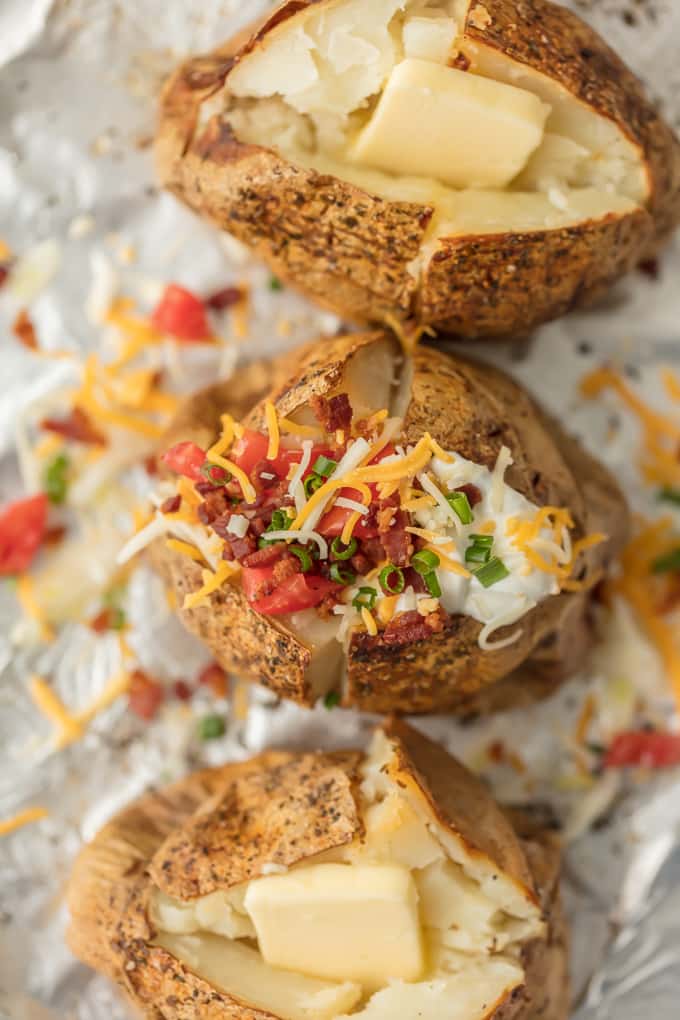 What are the best baked potato toppings?
The toppings are what really make the perfect baked potatoes. Once they're cooked, you can add all kinds of mix-ins to finish them off, and the sky's the limit here! Keep it simple with butter, salt, and pepper. Or load them up with every delicious ingredient you can think of.
Here's a list of favorite toppings, and below are even more creative ideas.
Butter
Sour Cream
Shredded Cheese
Spices and Seasonings
Chives
Green Onions
Caramelized Onions
Jalapenos
More Baked Potato Ideas
Loaded: add bacon bits, shredded cheese, sour cream, and chives.
Broccoli Cheddar: melt lots of cheddar and sprinkle in some small broccoli bits (cook and cut beforehand).
Mexican: shredded Mexican blend cheese, sliced jalapeños, sour cream, pico de gallo, and green onions.
Savory Mushroom: Add sautéed or caramelized onions, sautéed garlic mushrooms, and sprinkle in some cheese too if you like (Swiss or gruyere would be great).
Can I make baked potatoes ahead of time?
Yes! Whether you want to prep a lot of potatoes for a crowd, or just want to make sure they're ready to go when you get home from work, you can prepare and bake them ahead of time. And don't throw out that extra potato either! You can reheat it later.
Once baked, you can store the potatoes in the fridge or freezer, and reheat to eat later. Be sure to poke holes as instructed to release steam, so that it doesn't sit and continue cooking the potato. Let them cool completely. They're best stored without any toppings.
Fridge: Store in resealable bags or airtight containers. Then refrigerate up to 2 days. Warm until heated through.
Freezer: Wrap in aluminum foil then place in freezer-safe bags and remove all air. Freeze up to 6 months (but best within 3 months). Thaw in the fridge before reheating.
Reheat: I recommend reheating in the oven for the best results. Preheat to 350-400F, then bake for just 15-20 minutes (or until heated through). You can also microwave to speed things up, but the skin will likely be soggy and the inside might dry out.
More Potato Recipes We Love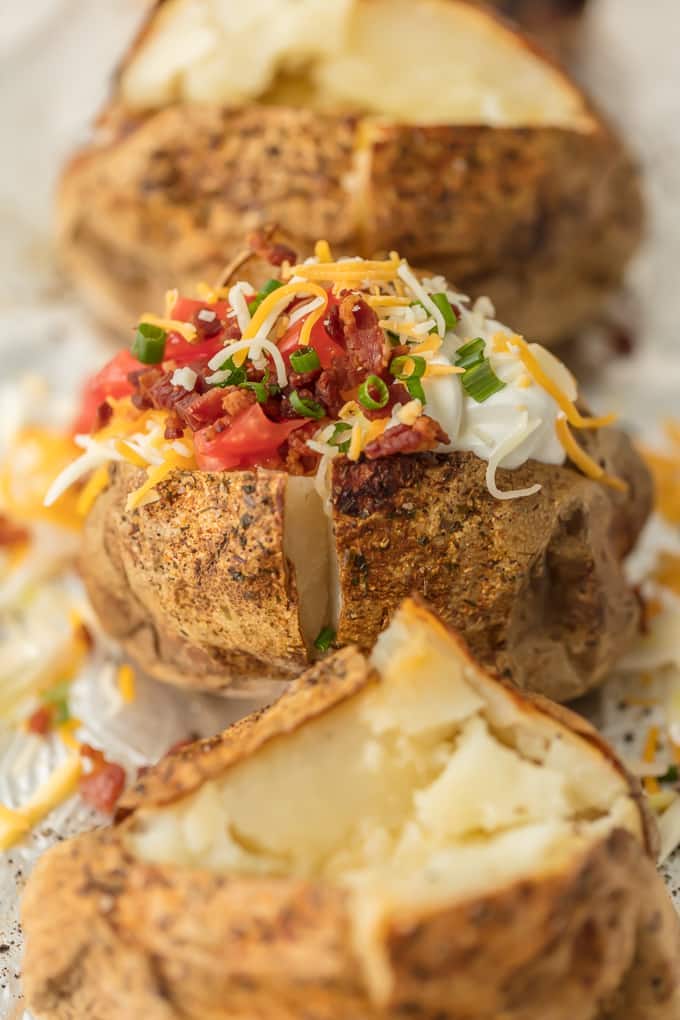 So now that you know how to cook the perfect baked potatoes, you can have them for any dinner, any night! You'll be making them over and over again, because there's really no better side dish or simple meal. Try out different toppings, and it'll be like a different dish every time.
Learn How to Cook
Learn how to cook all the basics so you can have dinner ready with ease! Whether you're a beginner in the kitchen, or just brushing up on some skills, these recipes and how-tos will tell you everything you need to know.
Cooking Basics
If you make this recipe be sure to upload a photo in the comment section below or leave a rating. Enjoy!