Everyone should know HOW TO COOK PERFECT BAKED POTATOES! These potatoes turn out tender, flavorful, and perfect every single time. Top with all the fixings and dig in!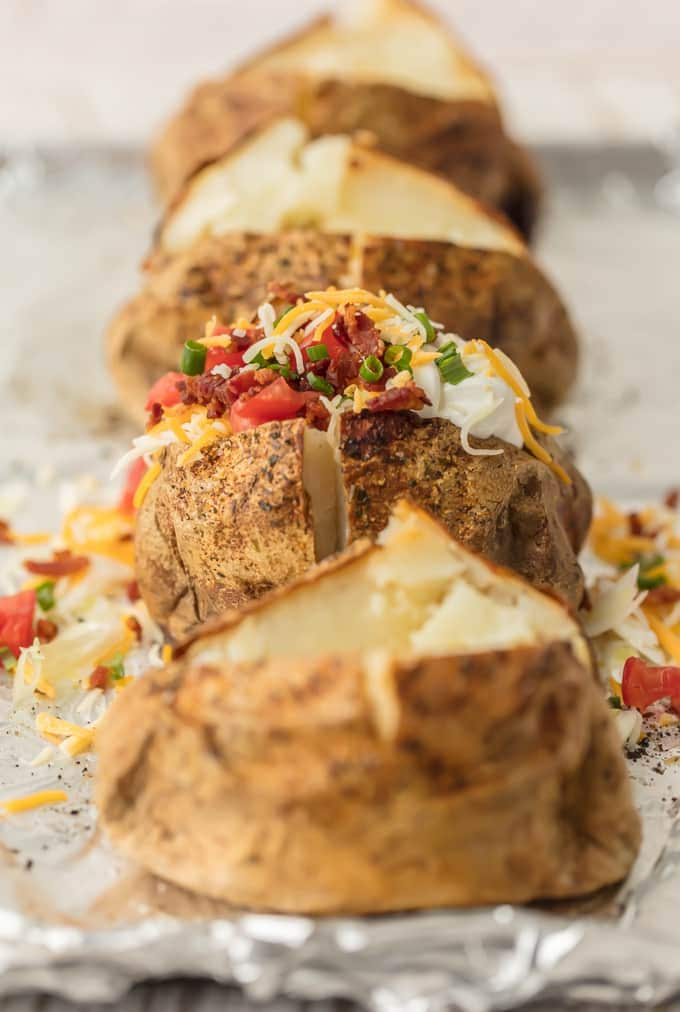 You might think knowing how to cook baked potatoes is common sense, but to me, it simply wasn't! When I didn't know how to cook before I started this site, the easy stuff is what scared me the most. The things that I felt like I should just instinctually know how to do were the most intimidating because I felt asking would be embarrassing. So I just didn't try.
I want The Cookie Rookie to be a resource to you in all types of recipes, even the VERY SIMPLE ones (especially those!) so I am going to start to document more recipes like this one, HOW TO COOK PERFECT BAKED POTATOES!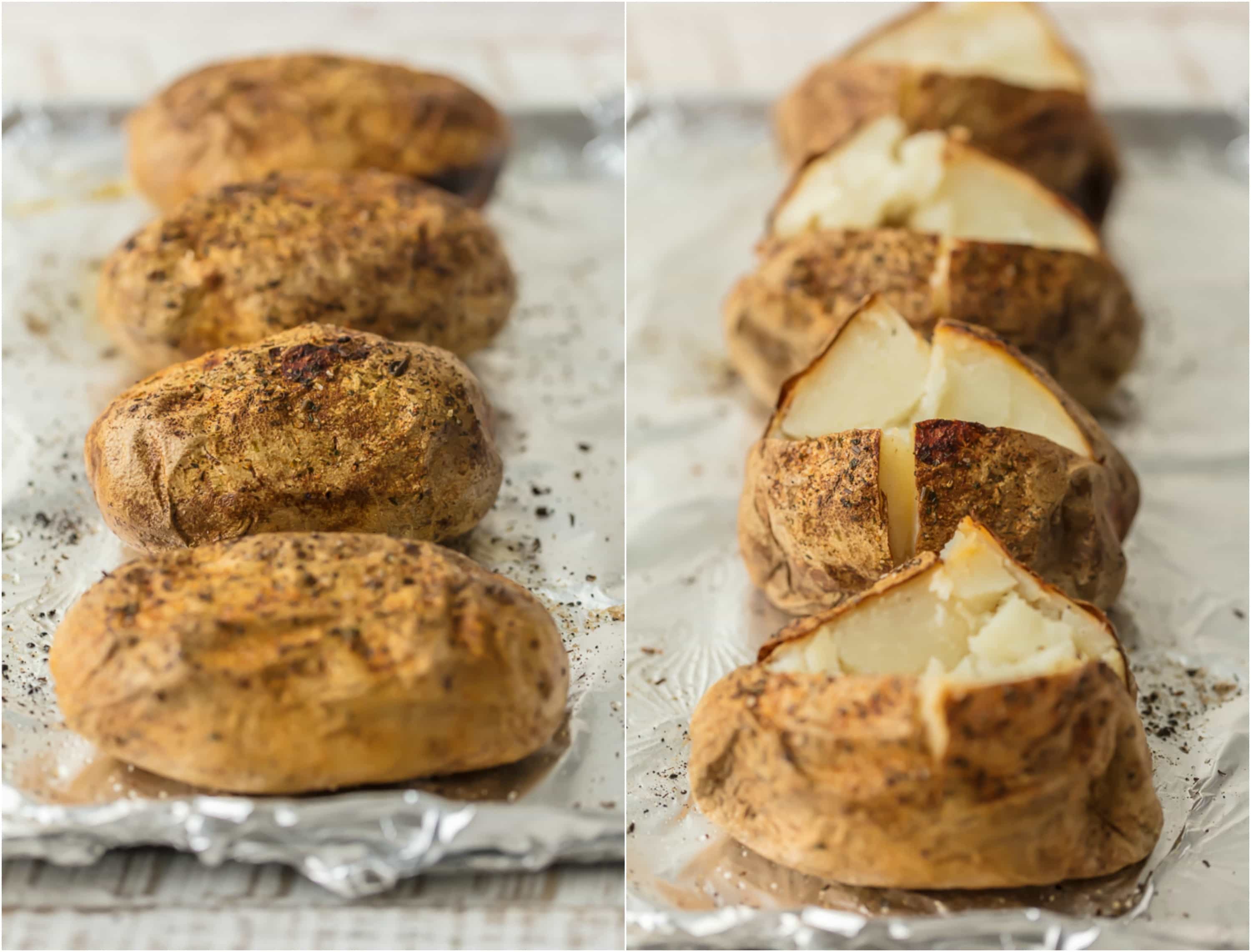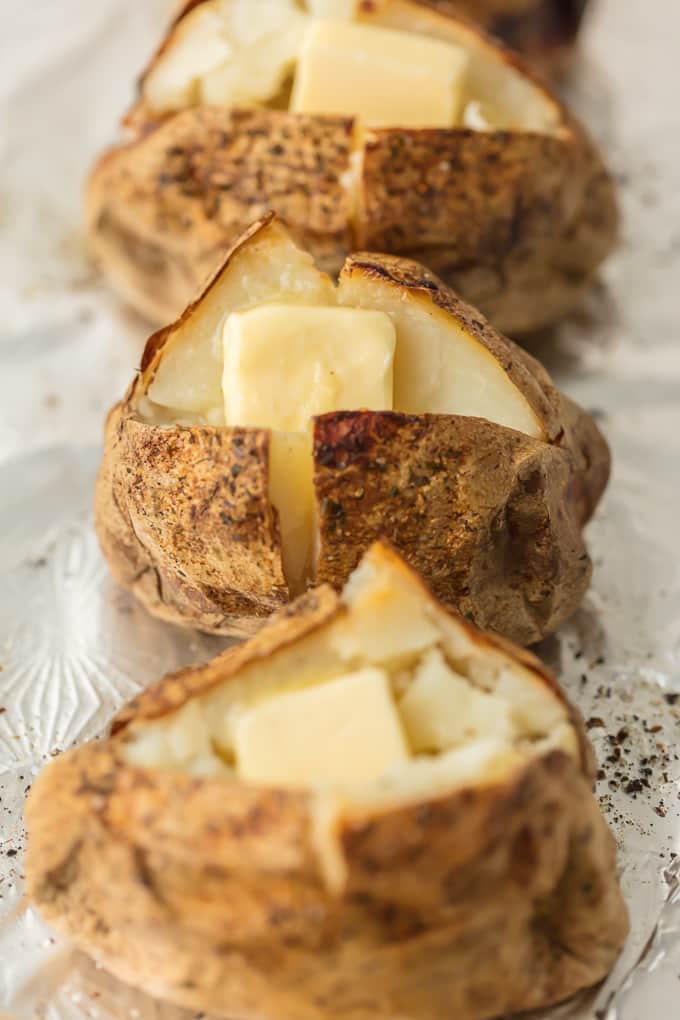 These little tips and tricks to make your potatoes crispy and salty on the outside and tender/delicious on the inside make all the difference in making the perfect potatoes. There's nothing better than a simple ole baked potato side dish for meals such as steak, chicken, and everything in between. My favorite favorite meal in the world is steak and potatoes. How do you like your baked potatoes? I like mine loaded with ALL THE FIXINGS.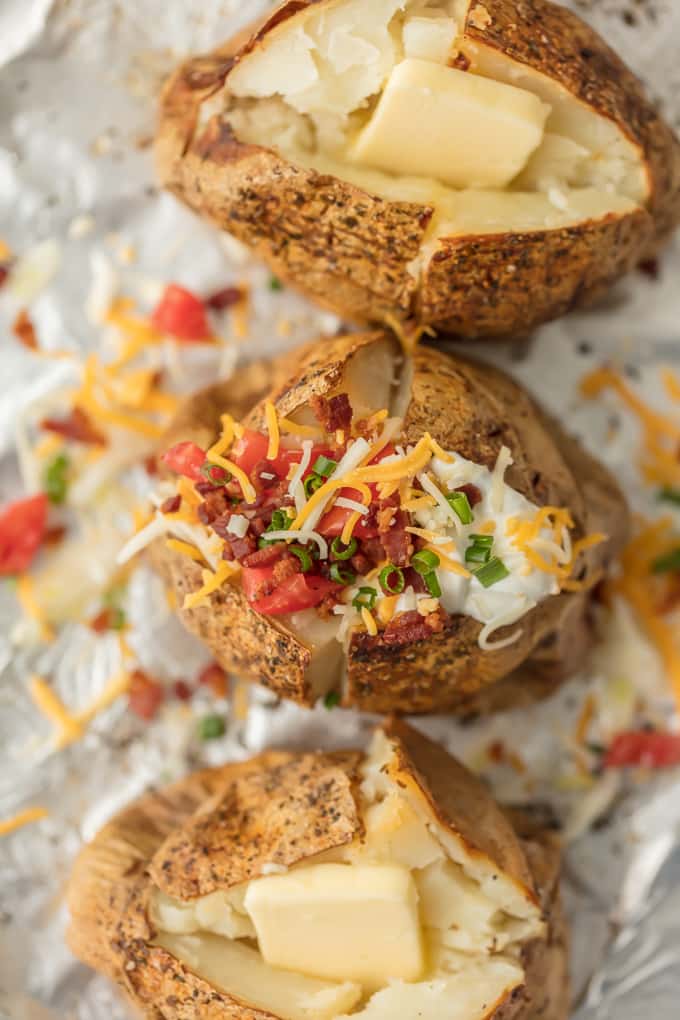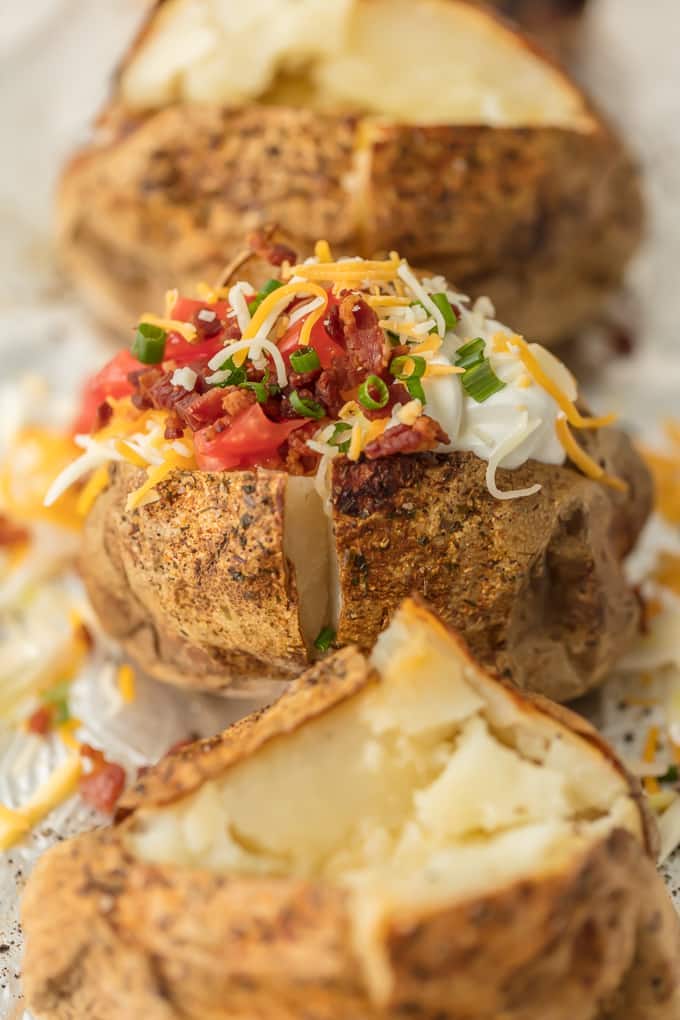 If you've been cooking for years or just starting out, never be embarrassed to brush up on the classics. We love HOW TO recipes around here. (The tips in our HOW TO COOK CORN ON THE COB are my LIFE!).
Enjoy loves!
How To Cook Perfect Baked Potatoes
Adapted from Cooks Illustrated (only the best!)
5 minPrep Time
1 hrCook Time
1 hr, 5 Total Time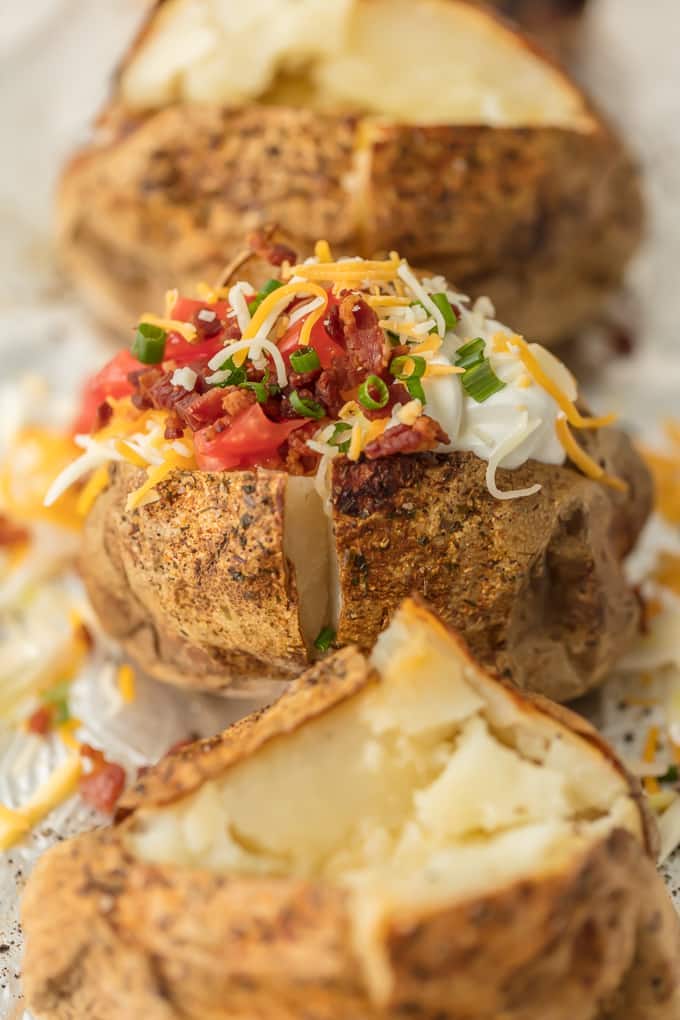 5 based on 5 review(s)
Ingredients
2 cups warm water
3 tablespoons salt
4 (7-9 oz) russet potatoes, scrubbed and lightly pricked with a fork
Olive oil or vegetable oil
Favorite seasonings or seasoning blend, optional

Potato Toppings (optional):

Butter
Sour Cream
Shredded Cheese
Bacon crumbles
Chives, chopped
Green Onions, sliced
Tomatoes, diced
Cooked broccoli
Sautéed onions
Caramelized onions
Cooked Hamburger or Sausage
Chili
Cooked Sweet Potatoes
Goat Cheese
Sautéed mushrooms
Grilled or Rotisserie Chicken
Instructions
Cover a rimmed baking sheet with foil and set a wire rack inside.
Place oven rack in the middle of the oven and heat oven to 450F.
Dissolve salt in warm water, then place the potatoes in the water. Be sure the entire potato is moistened.
Transfer potatoes to the prepared baking sheet and bake at 450F, 45-60 minutes. If using a food thermometer, the center of the largest potato should register 205F.
Remove potatoes from the oven and leave the oven on at 450F. Brush the tops and sides of the potatoes with oil, and sprinkle them with the seasonings (or at least salt and pepper). Place the potatoes back in the oven and bake another 10 minutes.
Transfer potatoes to a serving plate/dish. Immediately after removing the potatoes from the oven (to release steam) use a sharp paring knife to cut a large X into the top of each potato. Use paper towels to hold both ends of the potato and push the potato together. Push firmly (but not too hard), and squeeze the potatoes (slightly harder from the lower sides of the ends of each potato). The flesh will push slightly up and out.
Top the potatoes with your favorite baked potato toppings and serve.
Enjoy!
7.6.7
2448
https://www.thecookierookie.com/cook-perfect-baked-potatoes/