The perfect baked potato really does exist! Learn how to make baked potatoes in the oven so that it's fluffy on the inside and crispy on the outside. It's so easy to make, and you can finish it off with the best toppings. It's a great side dish for any dinner!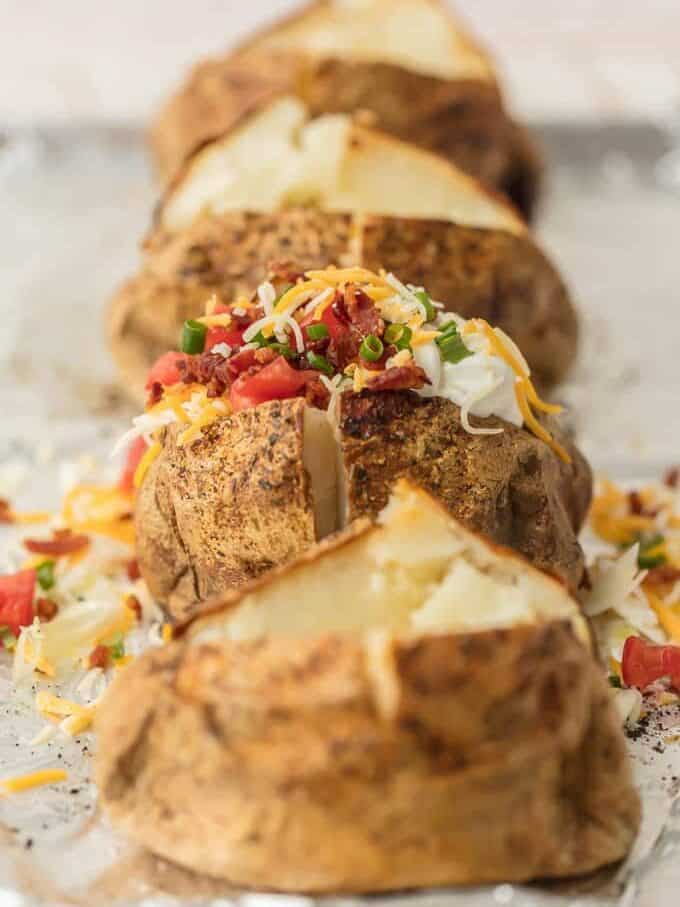 What's in this Baked Potato Recipe?
Cooking baked potatoes in the oven with my tried and true method is so easy. They come out with crispy, well-seasoned skin, and a fluffy, moist interior.
Pro Tip: Use any toppings or add-ins you like. Butter, sour cream, chives, and shredded cheese are classic options. Check below for even more topping ideas!
Variations on a Baked Potato
There are so many delicious ways to enjoy baked potatoes. Try some of these fan favorites: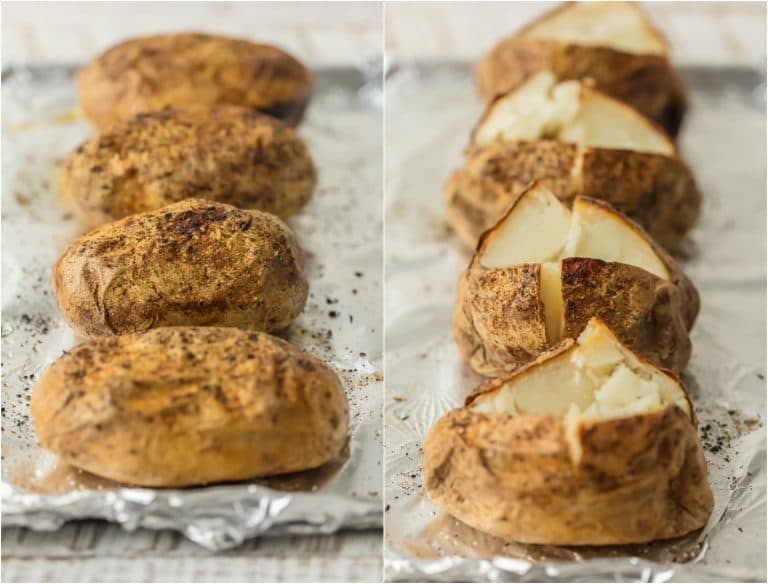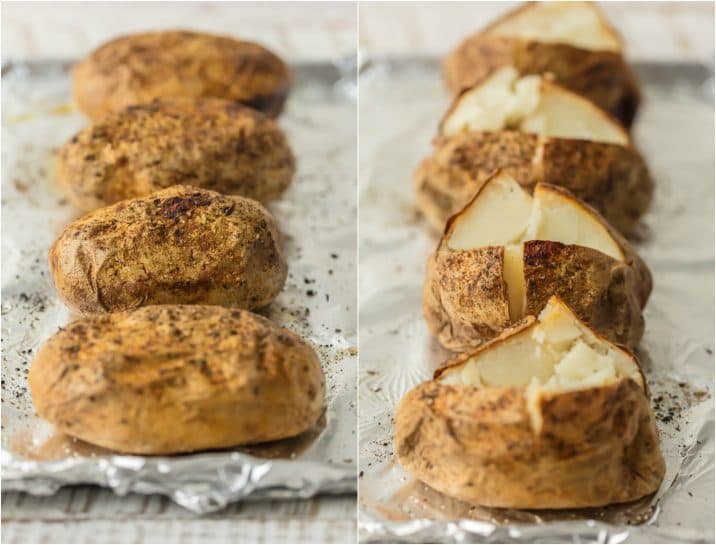 What's the best potato for baked potatoes?
Russet potatoes are the perfect option, because the skin gets crispy (not waxy) and holds up through baking, while the inside gets so soft and fluffy!
What temperature should I cook a baked potato?
I recommend setting your oven to 450°F to bake. Use a thermometer to check the center of your potato–it's done when it reaches 205°F.
How long do you bake potatoes in the oven?
At 450°F, bake for 45-60 minutes (until the interior reaches 205°F), and then you'll bake another 10 minutes to finish them off with the oil and seasonings. So the total time is around 1 hour.
Are baked potatoes healthy?
They are high in magnesium and potassium which are both great for heart health. They also contain about 28% of your daily fiber.
Why do you use a wire rack?
Setting them on top of a rack ensures that the hot air fully circulates around every inch of the potato. This prevents any sogginess or uneven cooking.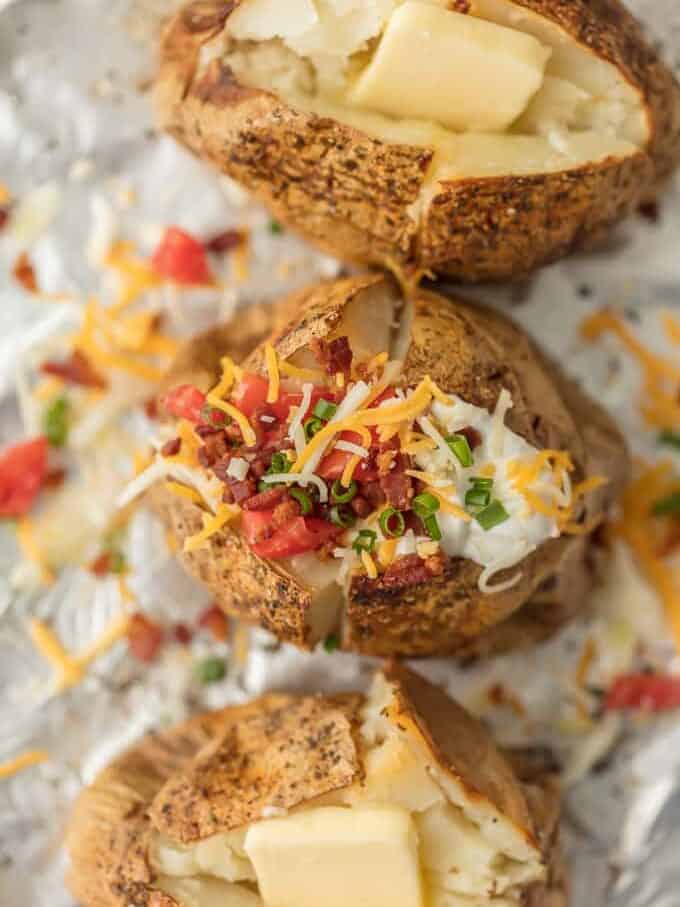 How to Store and Reheat
Store leftover baked potatoes in an airtight container or Ziplock bag in the refrigerator for up to 2 days.
I recommend reheating in the oven for the best results. Preheat to 350-400°F, then bake for just 15-20 minutes (or until heated through). You can also microwave to speed things up, but the skin will likely be soggy and the inside might dry out.
How to Freeze
Wrap the cooked potatoes in aluminum foil, then place them in Ziplock bags and remove all air. Freeze for up to 6 months (but best within 3 months). Let thaw overnight in the refrigerator before reheating.
Serving Suggestions
Oven-baked potatoes are my favorite side dish for almost any meal. They're simple enough to complement any main dish, but you can also add all the intricate toppings you like to make it just right for tonight's dinner. Here are some serving ideas!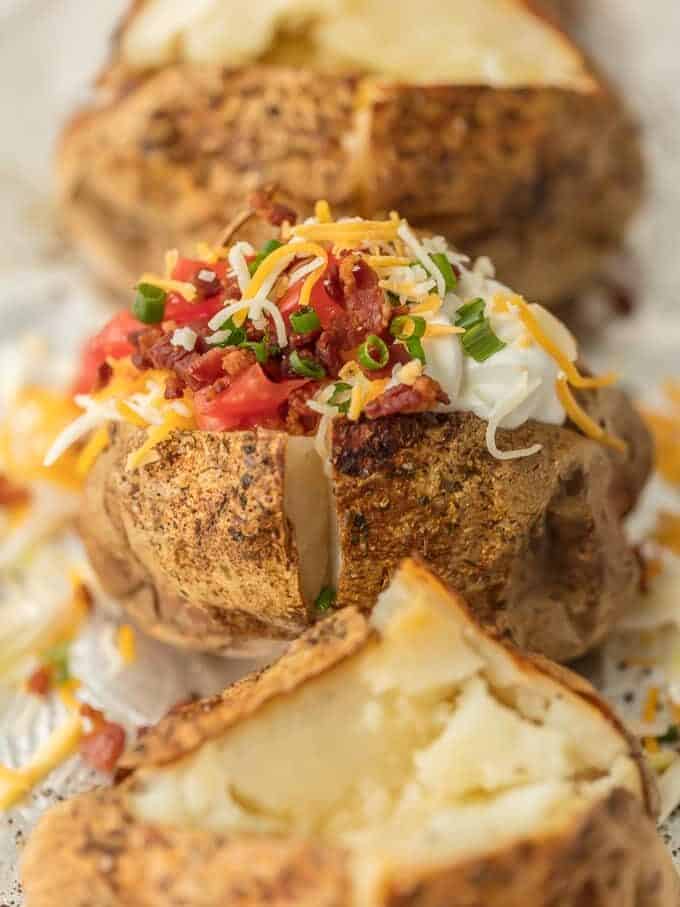 More Potato Recipes We Love