Cheesy Scalloped Potatoes are the perfect side dish for holidays. Scalloped potatoes are a classic that I just can't get enough of. This easy cheesy scalloped potatoes recipe is creamy, delicious, and easy to make ahead of time. Make sure this potato recipe is on your holiday table!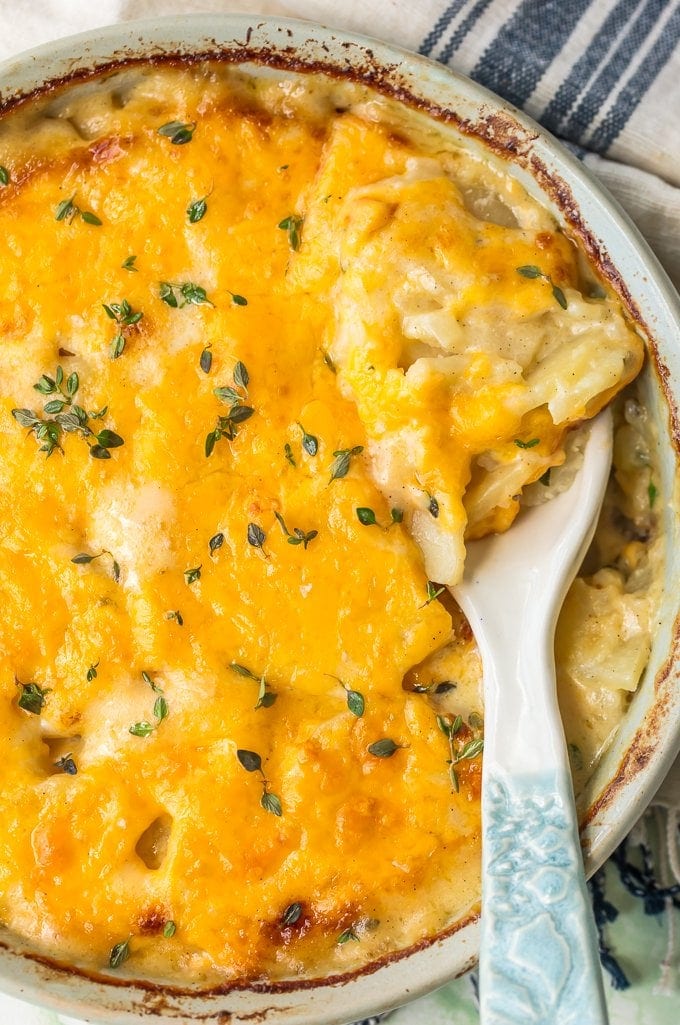 Cheesy Scalloped Potatoes Recipe
Cheesy Scalloped Potatoes are cheesy, creamy, and easy to make. This make ahead scalloped potatoes recipe is perfect for every holiday meal!
Can you think of a more satisfying combination than CHEESE and POTATOES? No? Me neither. These Cheesy Scalloped Potatoes are a holiday dream that I can't wait to make for every Thanksgiving and Christmas meal from now on.
This easy cheesy scalloped potatoes recipe is so creamy and delicious. I love how well the flavors blend together in a hot and bubbly casserole. This holiday side dish is simple to make ahead of time, to help make your holiday cooking go smoothly. Just prep, cover, refrigerate, then bake before the big meal. EASY!
These cheesy scalloped potatoes are just as good for any dinner, any night of the year. It's such a comforting dish to eat during the fall and winter seasons. It goes well with baked chicken, and it's easy to save and reheat leftovers.
Make this easy Cheesy Scalloped Potatoes recipe for your next holiday meal. They're so creamy, so cheesy, and so easy to make ahead of time!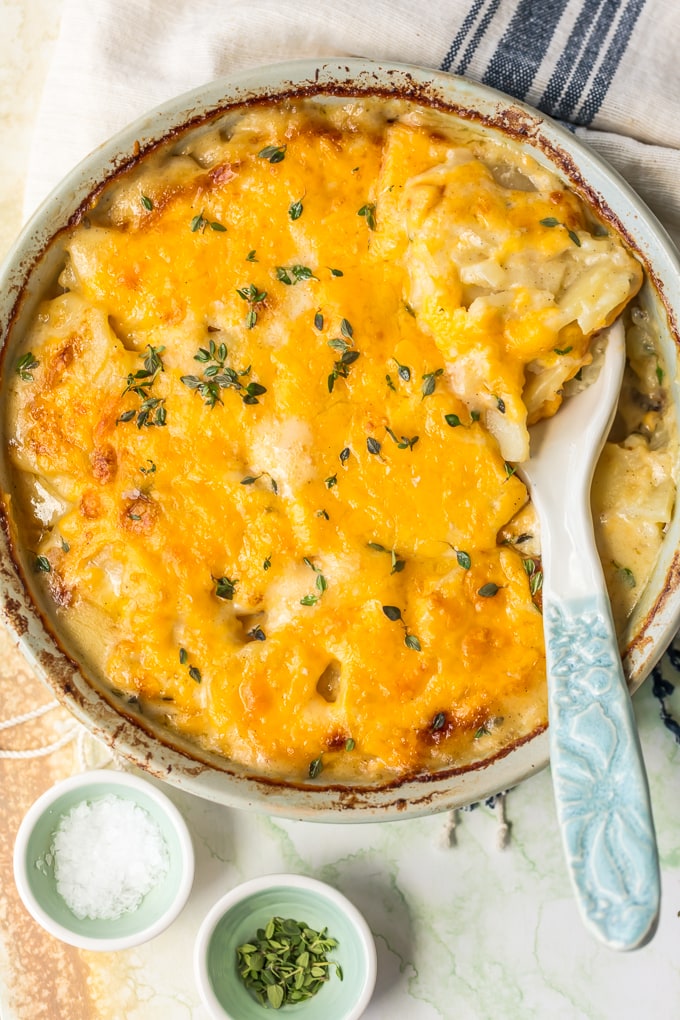 Easy Cheesy Scalloped Potatoes
I love easy recipes for the holidays, especially when they can be made ahead of time. It saves so much time and makes holiday cooking super simple. This EASY Cheesy Scalloped Potatoes recipe is one of my favorite side dishes for Thanksgiving because it's so creamy and…well, CHEESY!
There really aren't too many combinations better than potatoes and cheese if you ask me. A delicious side dish doesn't have to be hard to make, as this cheesy recipe proves!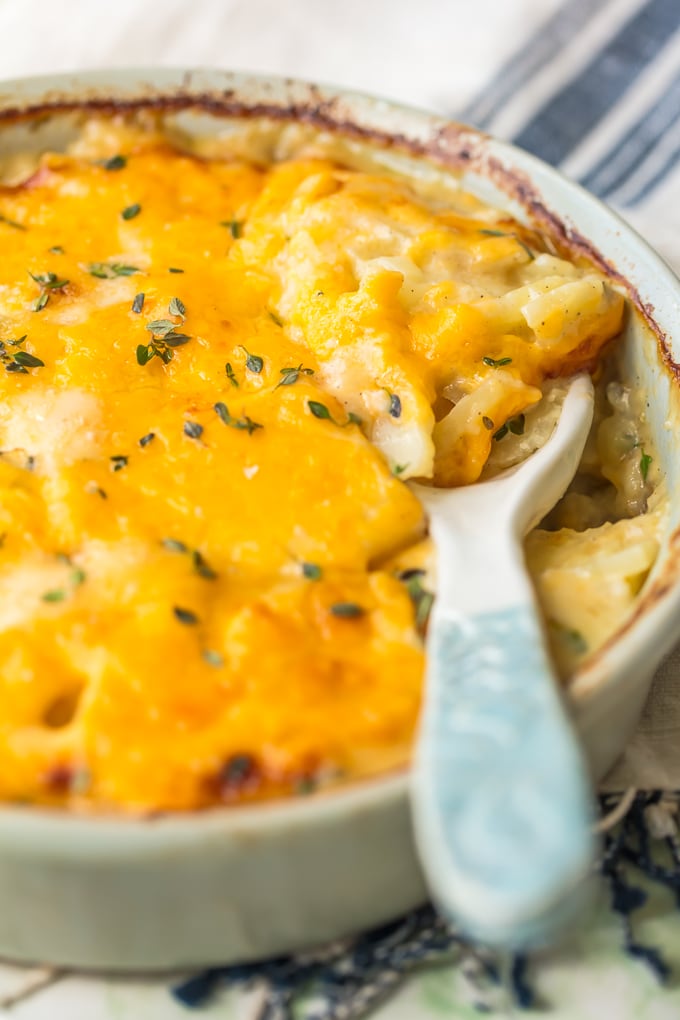 Make Ahead Scalloped Potatoes
I LOVE make ahead recipes because they just make life so much easier. I'm all about making things ahead of time during the holidays, because it's almost impossible to balance every dish in the kitchen all at once. This make ahead scalloped potatoes recipe is simple.
How to make scalloped potatoes ahead of time:
Just prepare the dish according to the recipe card below and pour into the baking dish
At that point, wrap the dish in plastic wrap and refrigerate it for up to 24 hours
When ready to bake, add cheese on top, cover with foil, and bake for 45 minutes at 400°F
Then remove the foil and bake uncovered for another 20-30 minutes
Easy as that! With these cheesy scalloped potatoes prepared the day before, all you have to do is heat them up the day of. Combine them with these other make ahead recipes and your holiday cooking will go smoothly!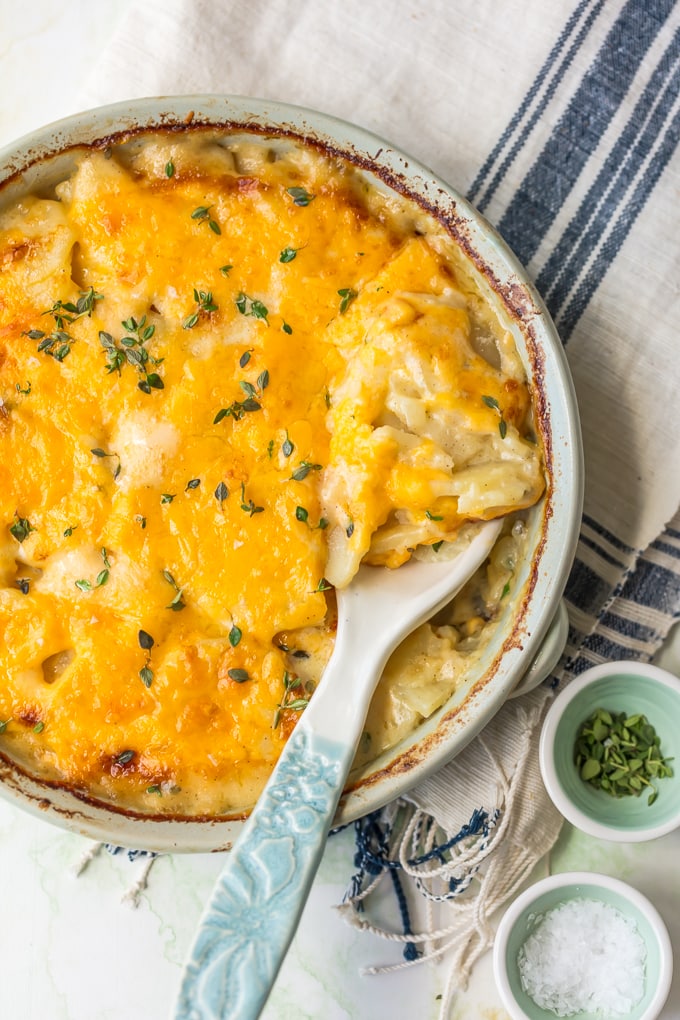 I just can't get enough of these easy cheesy scalloped potatoes! Potatoes and cheese will always be a winner in my book, and I know everyone else will love them too. Try this make ahead scalloped potatoes recipe for your next holiday meal, or just cook them up for a nice dinner.
See the recipe card below for details on how to make Cheesy Scalloped Potatoes. Enjoy!
If you like this cheesy potatoes recipe, try these other potato recipes too: