These deliciously savory Potato Pancakes are so easy to make with leftover mashed potatoes and just a few other ingredients. You might know them as potato cakes or potato fritters, but they're all the same crispy fried little patties that are impossible to resist. They fry up in just a few minutes, and they're so good topped with sour cream!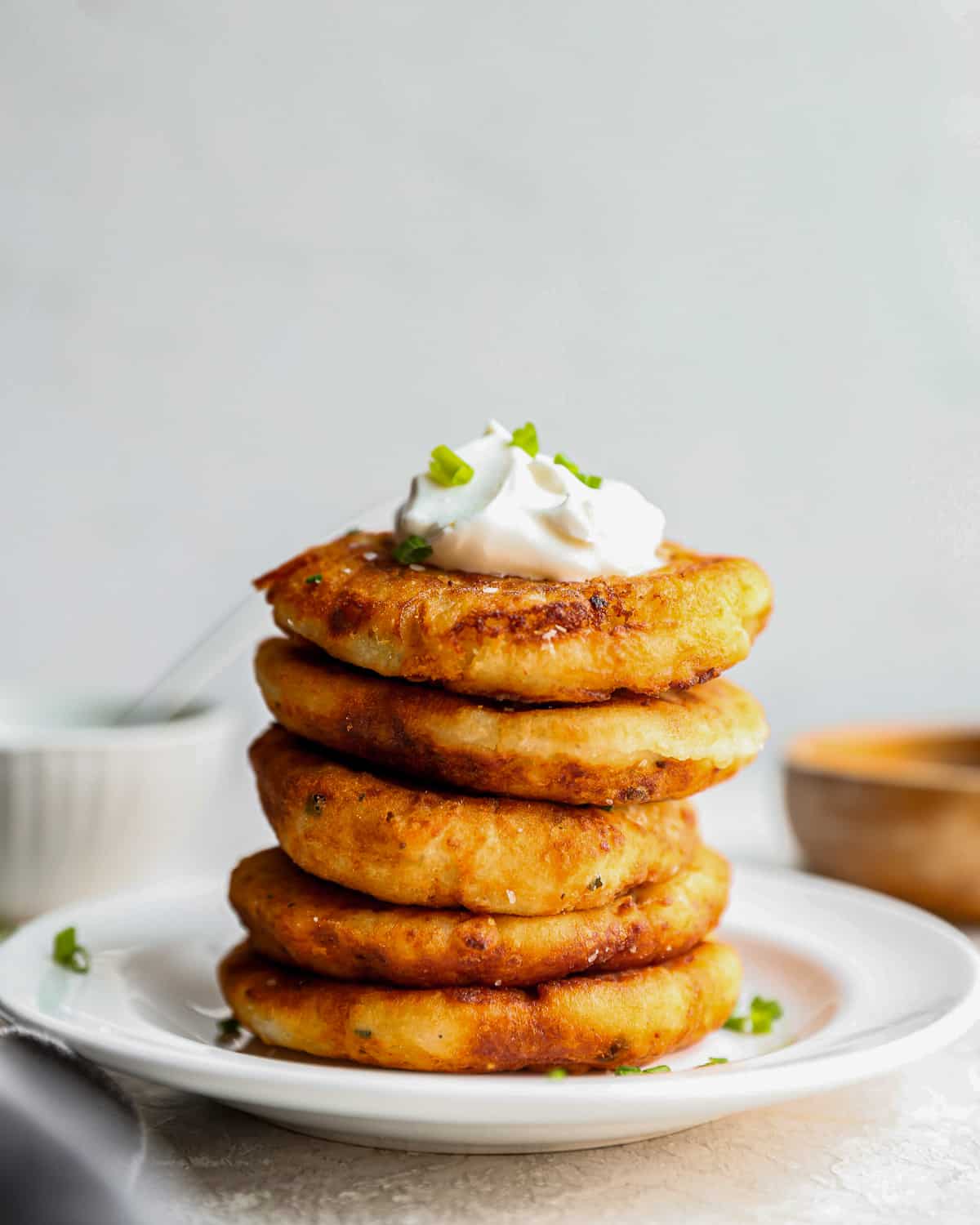 What's in this Potato Pancake Recipe?
These old-fashioned potato cakes are a great way to give your leftover mashed potatoes new life, with just a few simple ingredients and a quick pan-fry!
Mashed Potatoes: Use up leftovers, instant mashed potatoes, or make a batch of my favorite make ahead mashed potatoes a day in advance.
All-Purpose Flour: Thickens the potatoes so they can be shaped into patties.
Chives: Adds a bit of freshness and a subtle onion flavor. Green onions also work.
Salt + Pepper: Enhances the natural flavor of the potatoes.
Egg: Helps bind the potato together so it doesn't fall apart once fried.
Vegetable Oil: The perfect high smoke point neutral oil for frying.
Pro Tip: Serve your potato fritters with sour cream for a nice tangy contrast!
Variations on Potato Cakes
Feel free to add your favorite seasonings to these mashed potato pancakes to make them even more flavorful. Garlic powder, onion powder, ranch seasoning, or Italian seasoning are all great choices. You can also try using mashed sweet potatoes to make sweet potato cakes!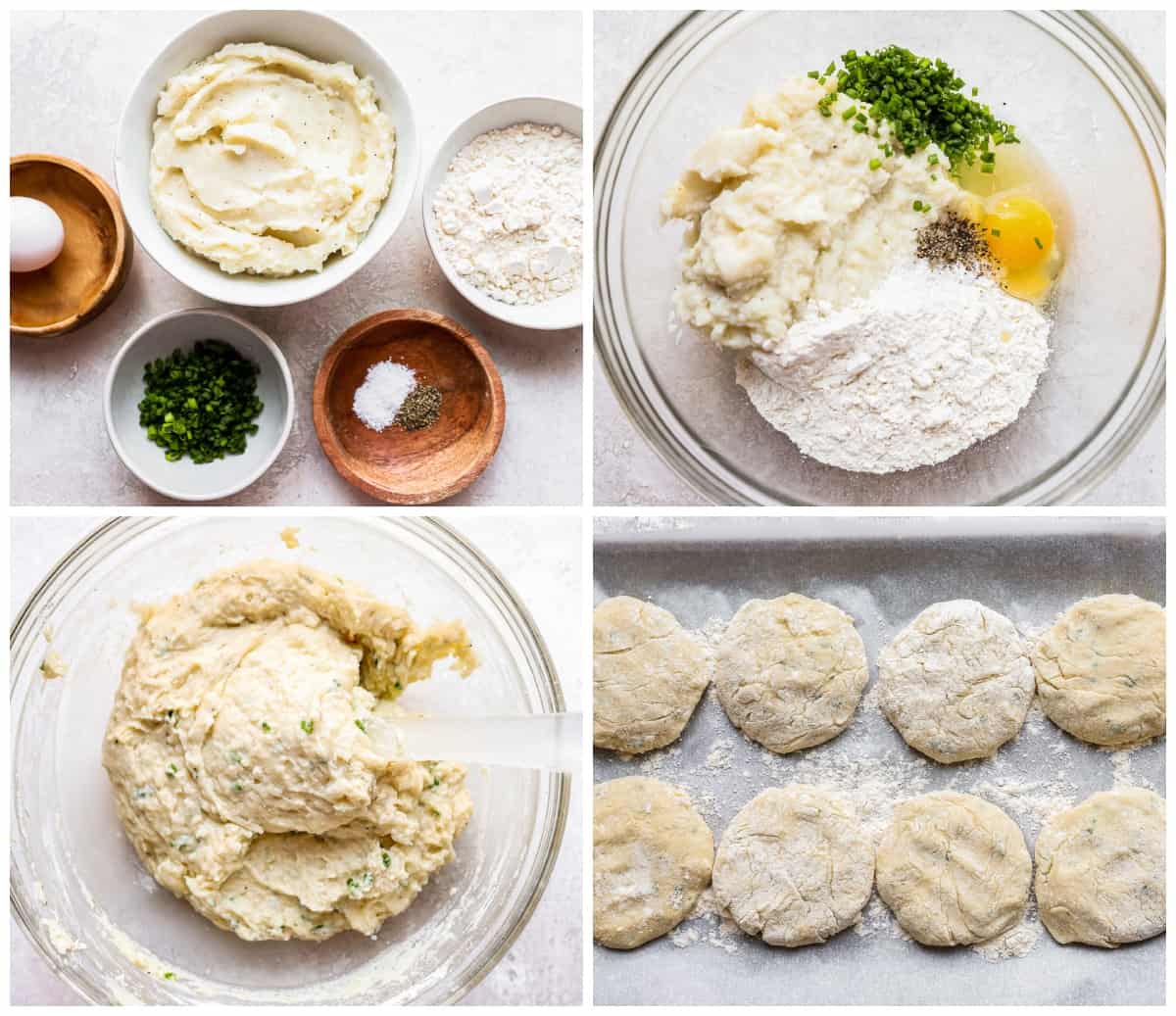 What country are potato cakes from?
Potato pancakes have a rich history in many cultures, including Germany, Austria, Russia, and Poland.
Are potato cakes and hash browns the same?
Nope! Potato pancakes are mixed with a binder and seasoning and formed into patties, whereas hashbrowns are simply pan-fried shredded potatoes.
What's the difference between potato pancakes and latkes?
While the two foods are very similar, latkes include baking powder and matzo meal.
What is another name for potato cakes?
These potato cakes go by so many names, like potato patties, potato scallops, or potato fritters.
How do you keep potato patties from falling apart?
Egg is the primary binder in these potato cakes, and flour also helps to keep them together. If the patties still aren't sticking well after adding these binders, try refrigerating them for 10-15 minutes to help them firm up.
How do you eat potato cakes?
I like to serve these with a dollop of sour cream and fresh chives. However, you can also serve them as a side dish to a meal.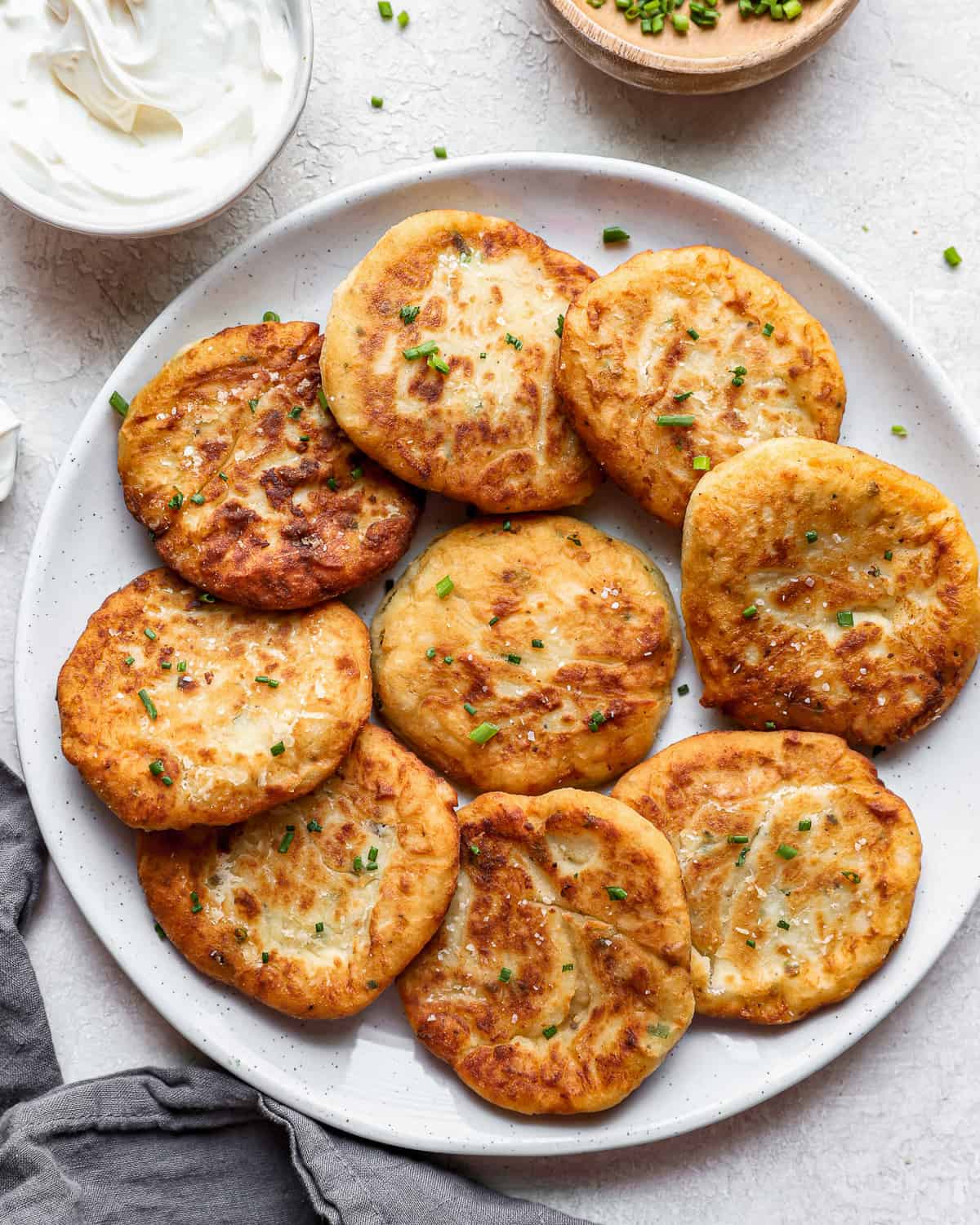 How to Store and Reheat
Store leftover potato pancakes in an airtight container in the refrigerator for up to 5 days. Reheat by lightly frying in oil or placing in a 350°F oven for about 10 minutes.
How to Freeze
Freeze mashed potato fritters in a single layer on a lined baking sheet until solid, about 1-2 hours. Transfer to an airtight container or Ziplock bag to store for up to 3 months. Let thaw overnight in the refrigerator before reheating.
Serving Suggestions
Serve these savory potato cakes traditionally with sour cream, or topped with cucumber tomato salad as an appetizer. They also taste delicious with mustard sauce or your favorite grainy mustard.
They pair wonderfully with whole roasted chicken, grilled ribeye, baked pork chops, air fryer salmon, garlic butter shrimp, or sweet and sour brisket.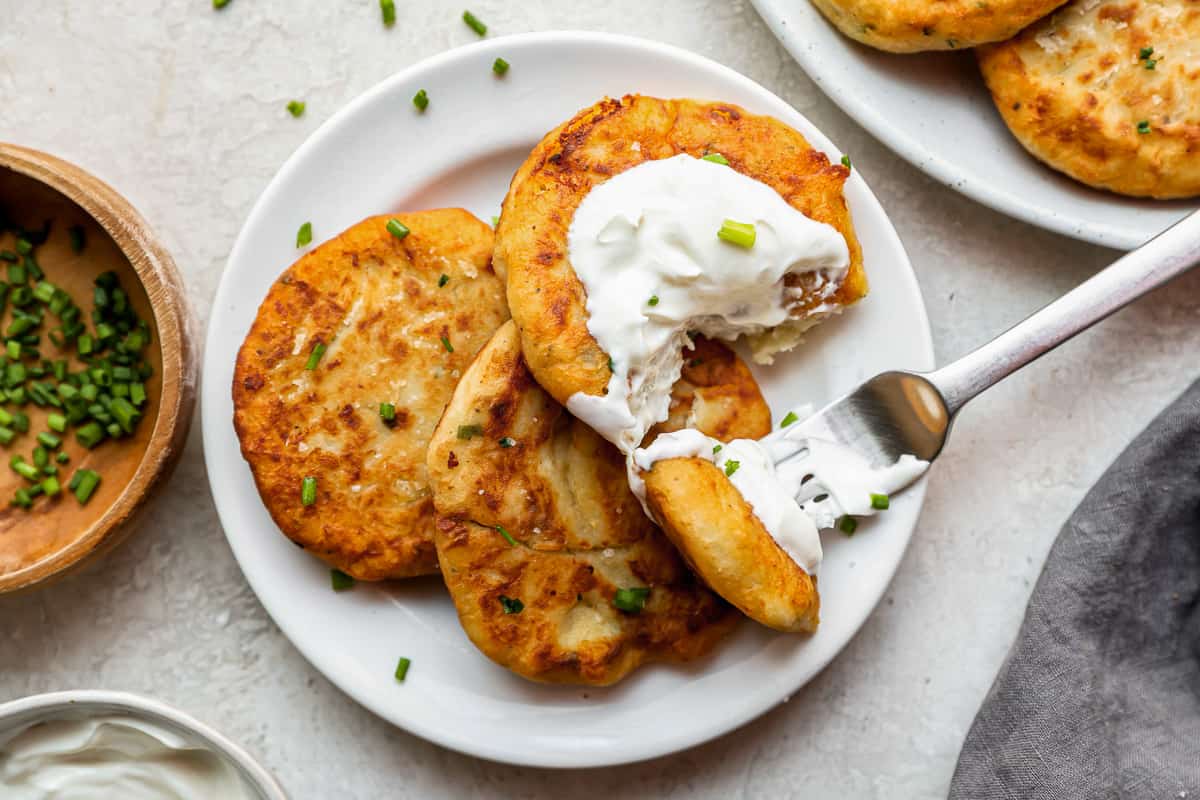 More Fried Potato Recipes We Love