Loaded Baked Potato Soup is one of the best comfort food soups for a cold Winter night! It doesn't get more comforting than this LOADED BAKED POTATO SOUP RECIPE. This creamy hearty potato soup is loaded with bacon, potatoes, cheese, sour cream, and so much more. Loaded Potato Soup warms the soul.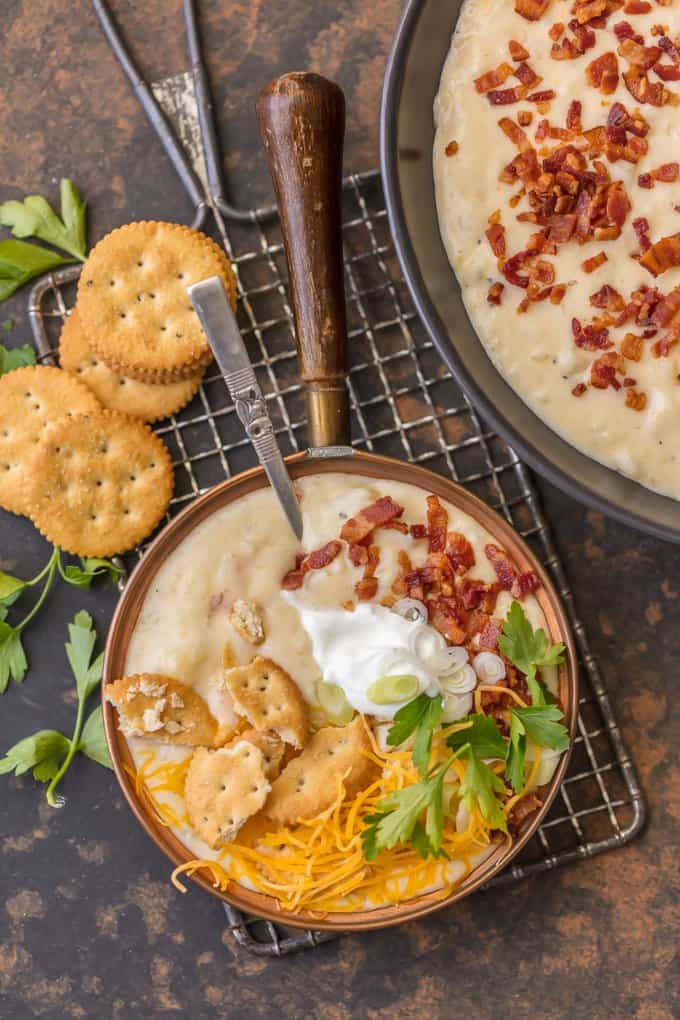 Best Baked Potato Soup Recipe
This Loaded Baked Potato Soup Recipe is getting me through this Winter. Can you believe Thanksgiving just came and went in a serious hurry?! How is 2017 already coming to an end. Honestly when I look down and see that I have an almost 9 month old I'm in SHOCK and cannot believe it. WHAT IN THE WORLD? Wasn't it just yesterday I was starting this blog? (No…it was about 1000 recipes and 5 years ago!) C-razy. Proof that we need to slow down, enjoy life, and savor our FOOD.
This Loaded Baked Potato Soup is everything I want from comfort food this time of year. Creamy, dreamy, hot, AMAZING!
I have lots and lots of soups on this blog, ranging from Creamy White Chicken Chili to Skinny Chicken Tortilla Soup. I love them all, and this one fits right into the mix. An instant winner! This is the type of soup recipe I'll make again and again.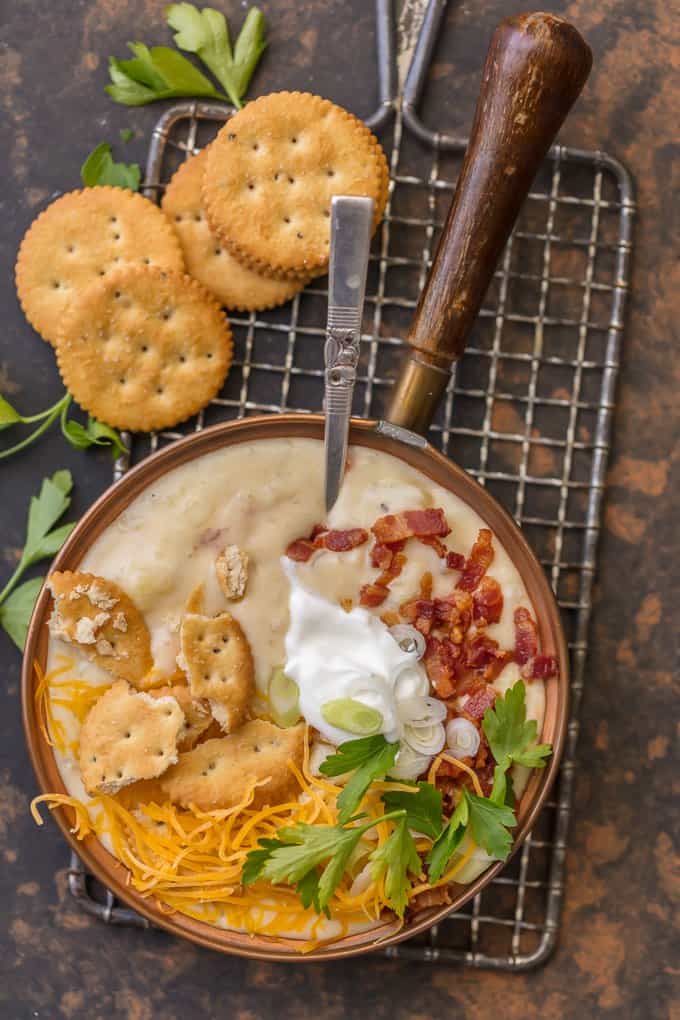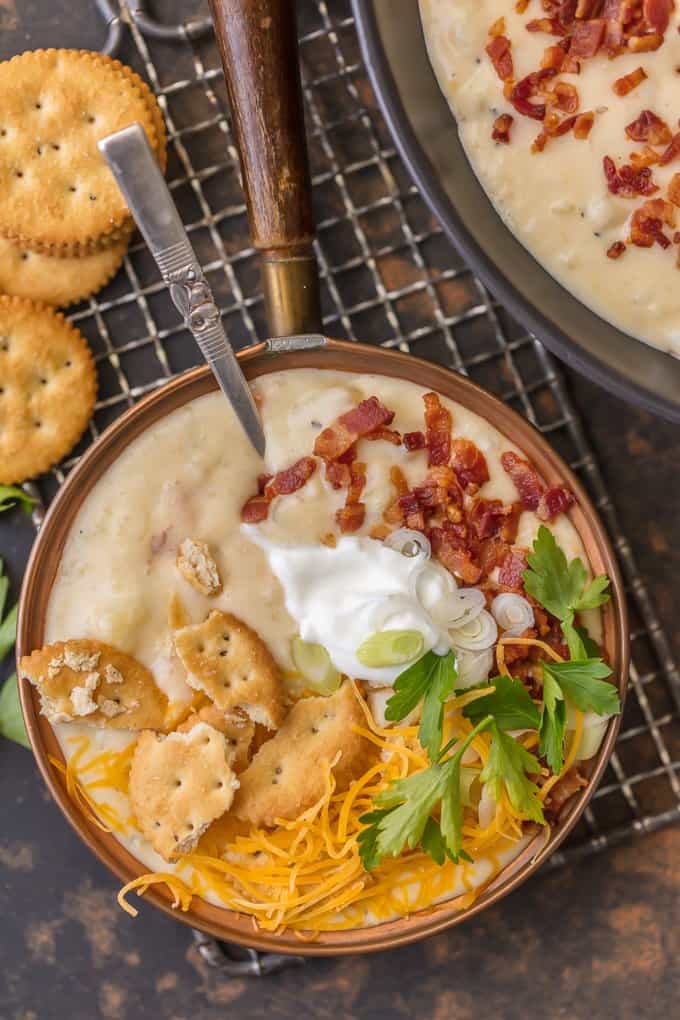 This Loaded Baked Potato Soup has everything you'd expect from…loaded baked potatoes :). Bacon, sour cream, cheese, onions, everything! It's nothing ground breaking but dang is it delicious. You don't mess with amazing flavors if you don't have to. People have loved these flavors for years and years for good reason. I know you'll love this as much as we do!
If you love a perfect baked potato, loaded to the nines, you'll love this Loaded Baked Potato Soup Recipe!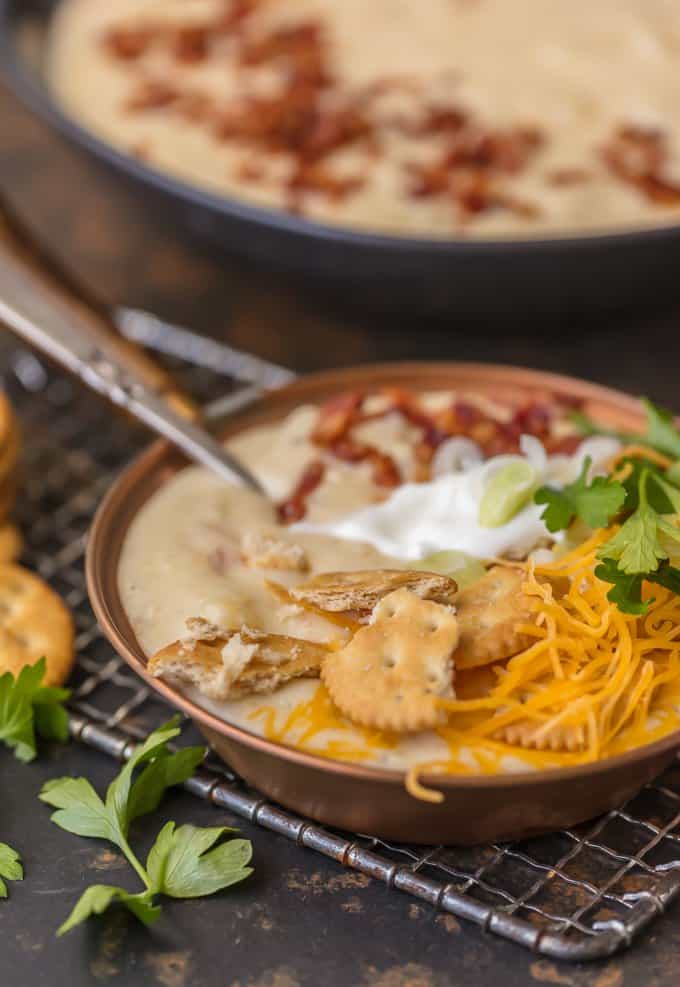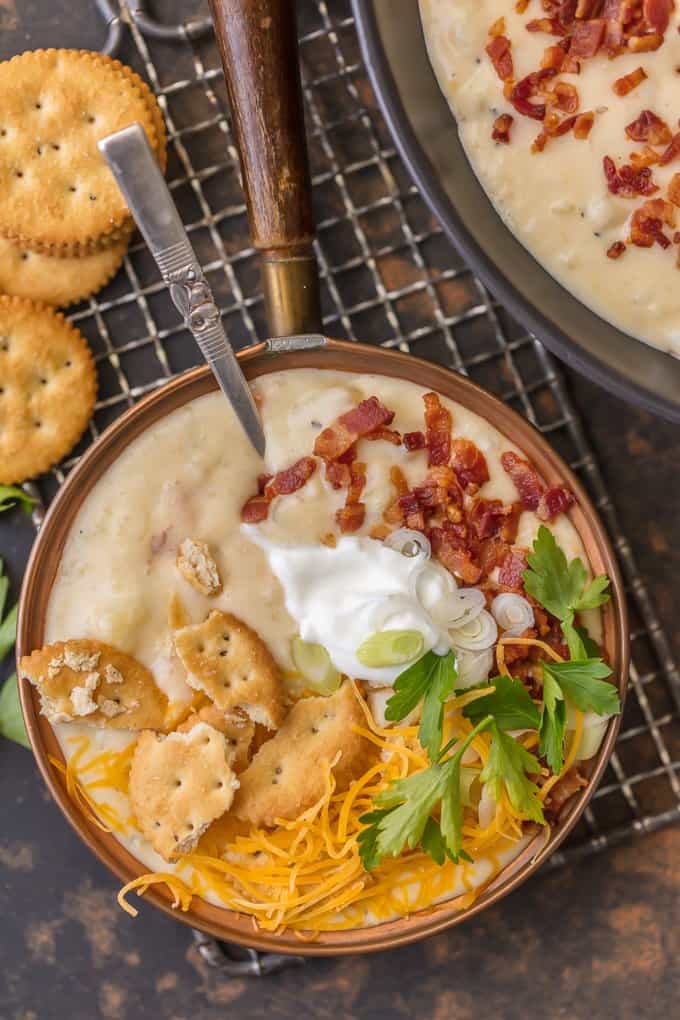 Can you reheat Baked Potato Soup
Yes! This tasty soup recipe reheats beautifully, making it a staple in our house!
It's been a while since I've made this so writing about it has me CRAVING it. I guess I know what I'm making for dinner tonight! Pat, if you're reading this (he gets in trouble for never reading this…so I'm quite sure he's not), get excited for coming home from work!
I think even Henry might like a little taste. (I love that he's enjoying more and more foods lately. So fun to watch him experience all the foods we love) Such a great soup for the entire family to scarf down.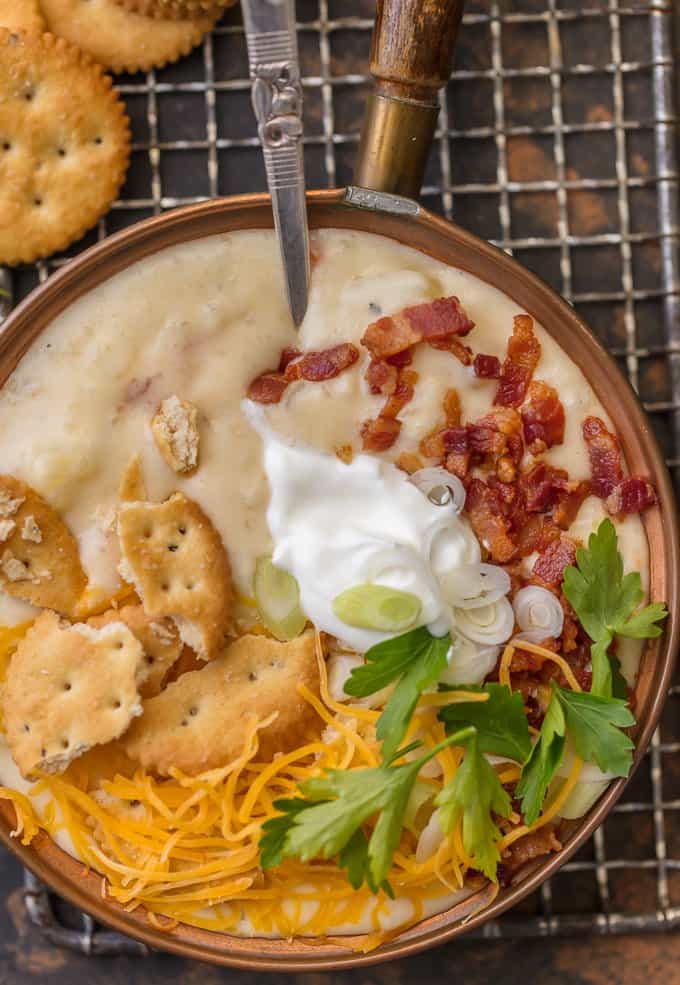 Can I freeze soup with potatoes in it?
You can! If you plan to make this soup in order to freeze it, I recommend leaving the creamy ingredients out until reheating. So make it according to instructions, leaving out the milk, cheese, and sour cream, freeze, and then add those ingredients after thawing. The potatoes may get a bit grainy, but they'll be fine. You can always use an immersion blender to blend them up when reheating and make an all-over creamy and thick soup.
How do you thicken potato soup?
This Loaded Baked Potato Soup is pretty thick already, but if you find yourself needing to make it even thicker, you can use cornstarch or flour. Whisk a few tablespoons of either separately into some broth and then pour into the main soup pot and whisk to combine. Easy peasy!
Are potatoes a starch or a carb???
BOTH! Potatoes are a starch and starches are a carbohydrate…so potatoes are a complex carb! I get that question a lot. I guess the answer is pretty straight forward!
See the recipe card below for full details on How to Make Loaded Baked Potato Soup. Enjoy!
More Soup Recipes perfect for a cold night: