Loaded Baked Potato Soup is one of the best comfort food soups for a cold winter night! It doesn't get more comforting than this easy baked potato soup recipe. This creamy hearty potato soup is loaded with bacon, potatoes, cheese, sour cream, and so much more. This soup warms the soul.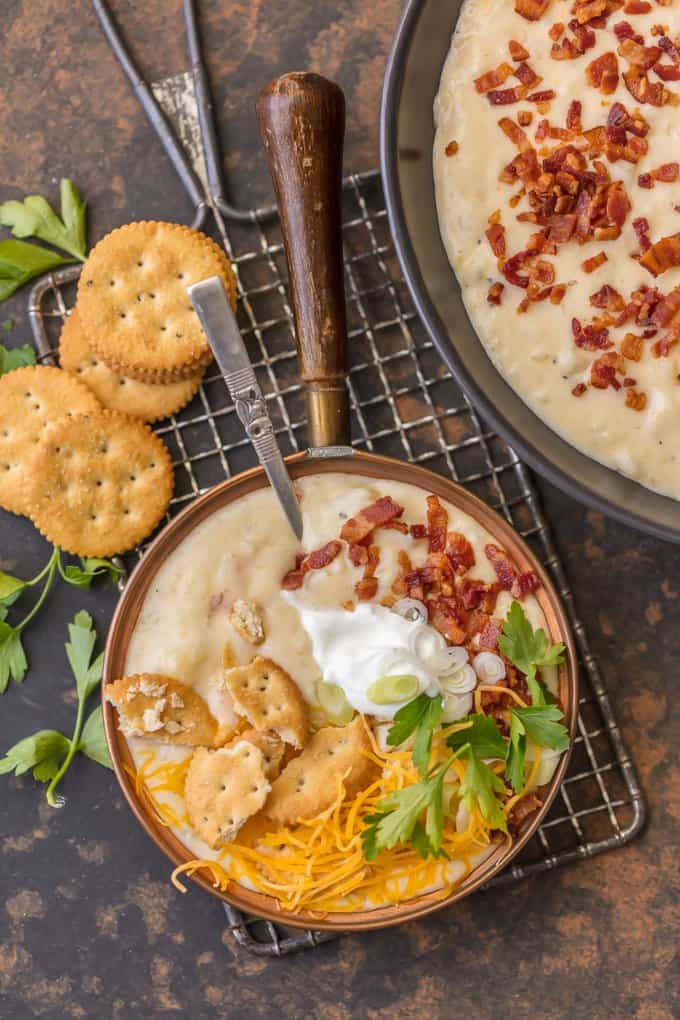 Loaded Baked Potato Soup
Baked potato soup is a super warm and filling soup that's just perfect for cold nights. This recipe is so comforting and delicious!
This Loaded Baked Potato Soup is really getting me through this winter. It's so warm and hearty, and I can't get enough of it. It's super creamy and filled with all the best ingredients, just like a baked potato! Something about eating it in soup form just makes it more comforting.
This easy Baked Potato Soup recipe is everything I want from comfort food this time of year. Creamy, dreamy, hot, AMAZING!
I have lots and lots of soups on this blog, ranging from Creamy White Chicken Chili to Skinny Chicken Tortilla Soup. I love them all, and this one fits right into the mix. An instant winner! This is the type of soup recipe I'll make again and again.
Top of this baked potato soup with bacon, cheese, sour cream, and more; just like a baked potato!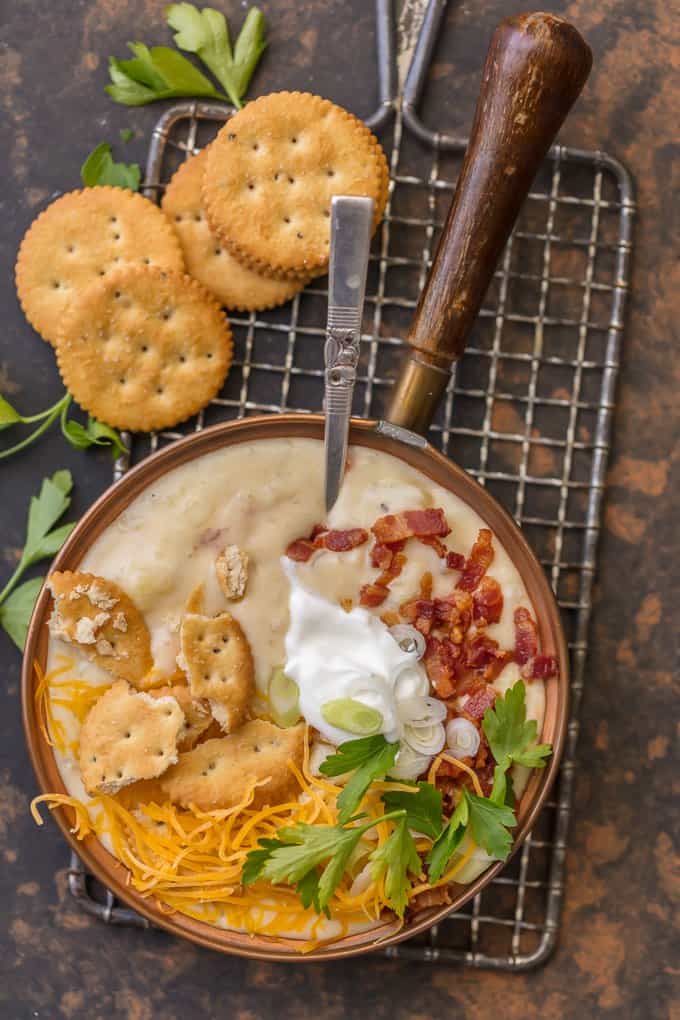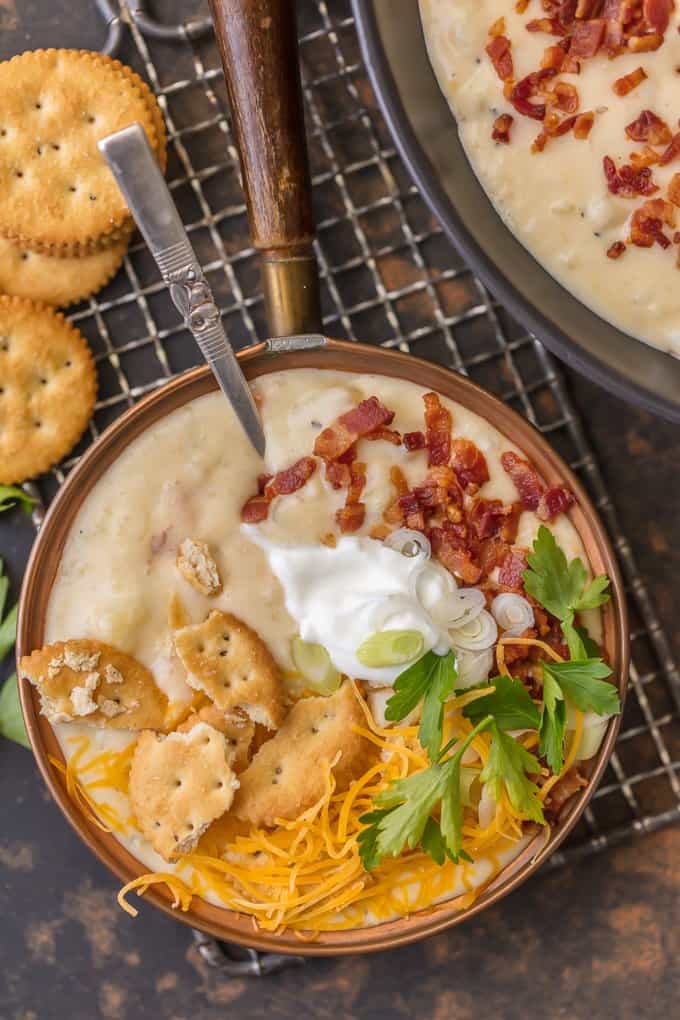 Easy Baked Potato Soup
This Loaded Baked Potato Soup has everything you'd expect from…loaded baked potatoes. Bacon, sour cream, cheese, onions, everything! It's nothing ground breaking but dang is it delicious.
You don't mess with amazing flavors if you don't have to. People have loved these flavors for years and years for good reason. I know you'll love this as much as we do!
If you love a perfect baked potato, loaded to the nines, you'll love this easy soup recipe! Don't forget the toppings!
Best Baked Potato Soup Toppings
Shredded Cheese
Bacon Bits
Green Onions
Crushed Crackers
Sour Cream
Jalapenos
Cilantro
Shredded Chicken
Just pretend it's a baked potato and go crazy with those toppings!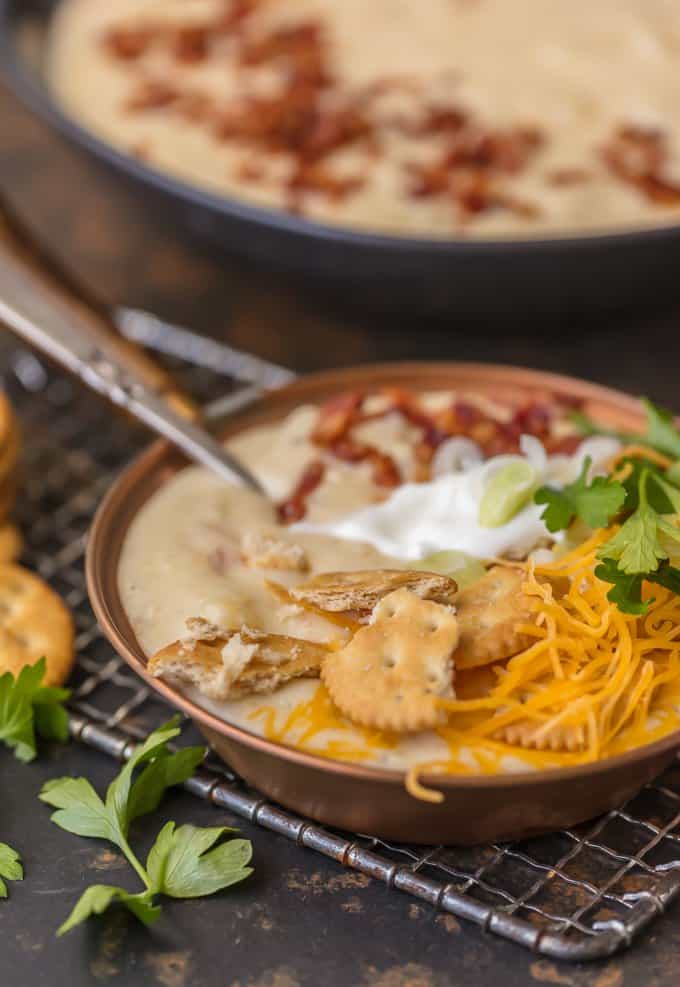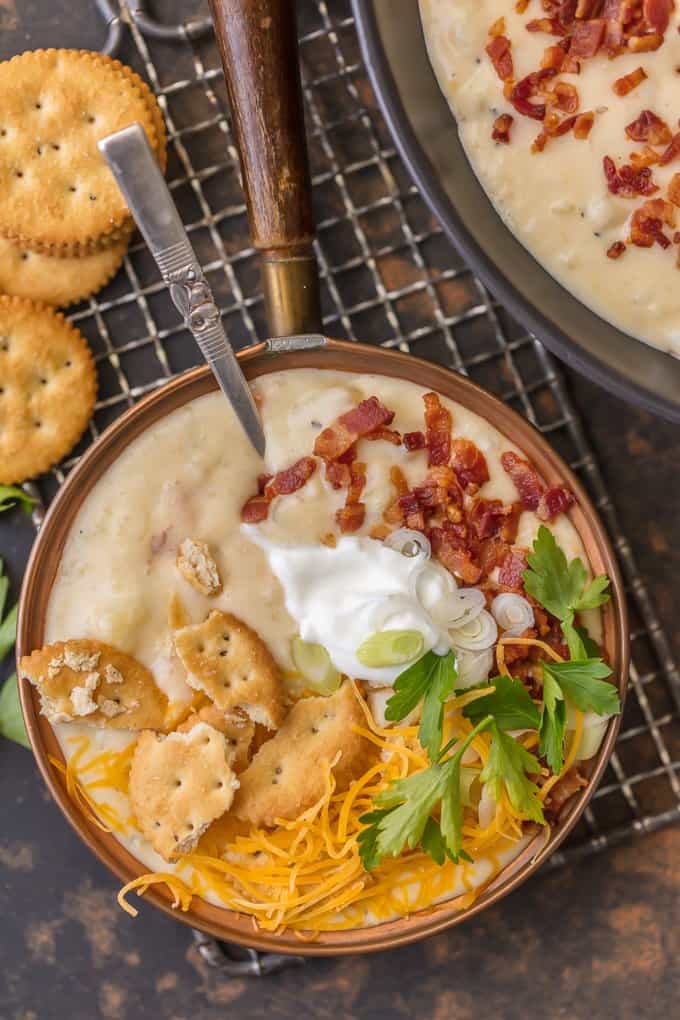 How to Make Loaded Baked Potato Soup
Heat oven to 425°F. Clean the baking potatoes and pierce each with a fork. Cover in foil and bake for 1 hour or until tender when pierced with a fork. Remove from the oven and cool to touch. Peel the potatoes. Roughly mash two of the potatoes, and dice the other two potatoes. Set the potatoes aside.
While the potatoes cook, place the sliced bacon in a large skillet and turn the heat to medium-high. Cook the bacon until just crisp and transfer to a paper-towel lined plate. Reserve 2 tablespoons of the bacon grease and save the rest for later use. (Be sure to refrigerate the excess bacon grease, if any.)
Add 4 tablespoons butter to the bacon grease and turn the heat to low. When grease/butter mixture is just hot, add the diced carrots and cook (covered) for 3 minutes. Cover and stir every 1 minute. Add the onions, cover and cook for and additional 3 minutes, stirring every minute.
When the carrots are tender, turn the heat to low, remove the lid and add the minced garlic. Cook 1 more minute.
Sprinkle the sautéed vegetables with the flour, stir and cook over low heat 1 minute. Stir constantly.
Add the milk and vegetable broth while stirring/whisking continuously.
Turn heat to medium, and whisk continuously while adding the milk and vegetable stock. Cook and whisk until the mixture comes to a boil. Reduce heat to low and cook until mixture thickens, 10-20 minutes.
Stir in the potatoes, cheese and sour cream. Taste, then season with salt & black pepper.
Be sure to watch the video to see the step by step process of this loaded baked potato soup recipe. It's SO good and SO easy to make.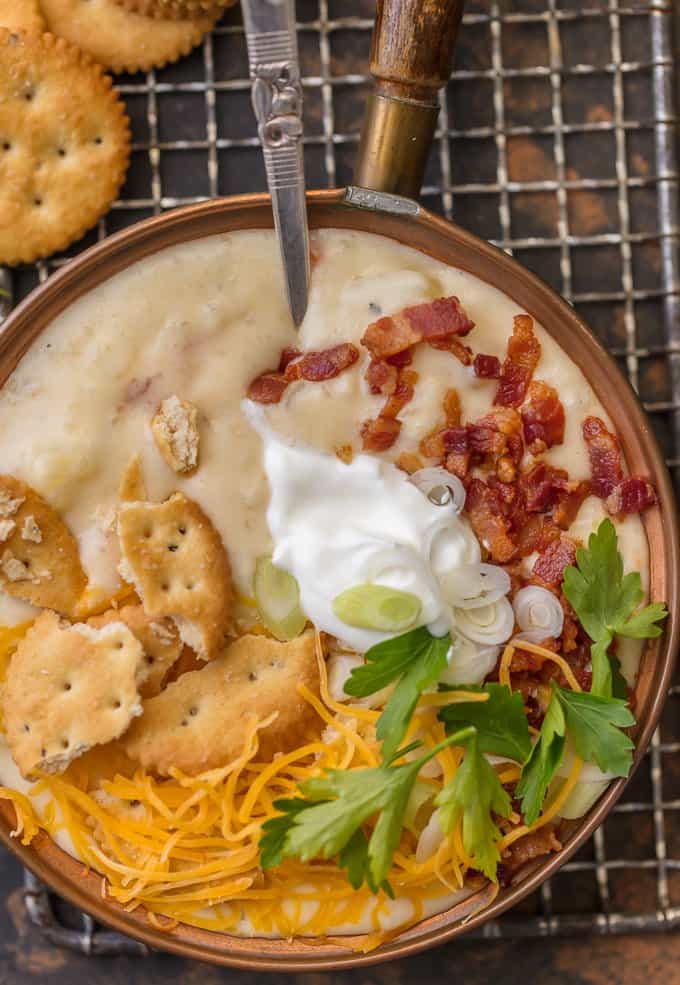 Can you reheat Baked Potato Soup?
Yes! This tasty soup recipe reheats beautifully, making it a staple in our house!
Can I freeze soup with potatoes in it?
You can! If you plan to make this soup in order to freeze it, I recommend leaving the creamy ingredients out until reheating. So make it according to instructions, leaving out the milk, cheese, and sour cream, freeze, and then add those ingredients after thawing.
The potatoes may get a bit grainy, but they'll be fine. You can always use an immersion blender to blend them up when reheating and make an all-over creamy and thick soup.
How do you thicken potato soup?
This Loaded Baked Potato Soup is pretty thick already, but if you find yourself needing to make it even thicker, you can use cornstarch or flour.
Whisk a few tablespoons of either separately into some broth and then pour into the main soup pot and whisk to combine. Easy peasy!
Are potatoes a starch or a carb?
BOTH! Potatoes are a starch and starches are a carbohydrate…so potatoes are a complex carb! I get that question a lot. I guess the answer is pretty straight forward!
More Soup Recipes perfect for a cold night:
If you make this recipe be sure to upload a photo in the comment section below or leave a rating. Enjoy! You can also jump to recipe.