This Easter Bread recipe is so fun and festive! This simple sweet bread recipe is filled with flavor, and topped with sprinkles for a special treat. The Orange Almond flavor is perfect for Easter Sunday!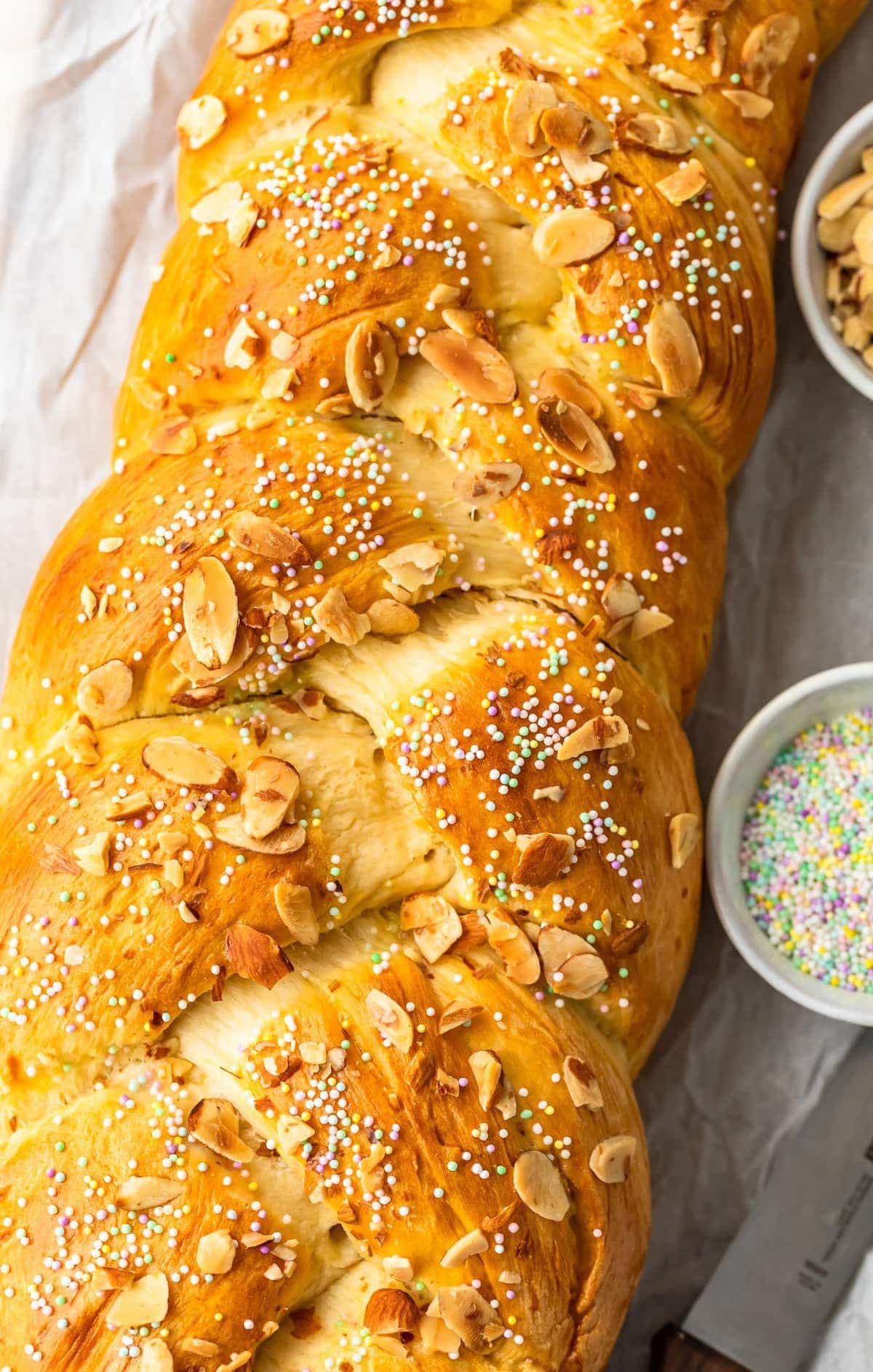 Easter Bread Recipe
With Easter Sunday fast approaching, I'm excited to share this easy Easter Bread Recipe with you guys. It's a delicious sweet bread recipe with orange and almond flavors mixed in, and then we top it off with almonds and colorful sprinkles to really give it an Easter look!
This Orange Almond Bread is soooo delicious. It's just the right level of sweet, so it fits right in with dinner AND dessert.
If you're not a master bread maker, don't worry! This Easter sweet bread recipe is super easy to follow, so you can have a special treat even if baking isn't your forte. It will look so cute on the table along with all of your other favorite Easter recipes!
This Orange Almond Sweet Bread is just perfect for Easter. The added sprinkles make it so festive and fun!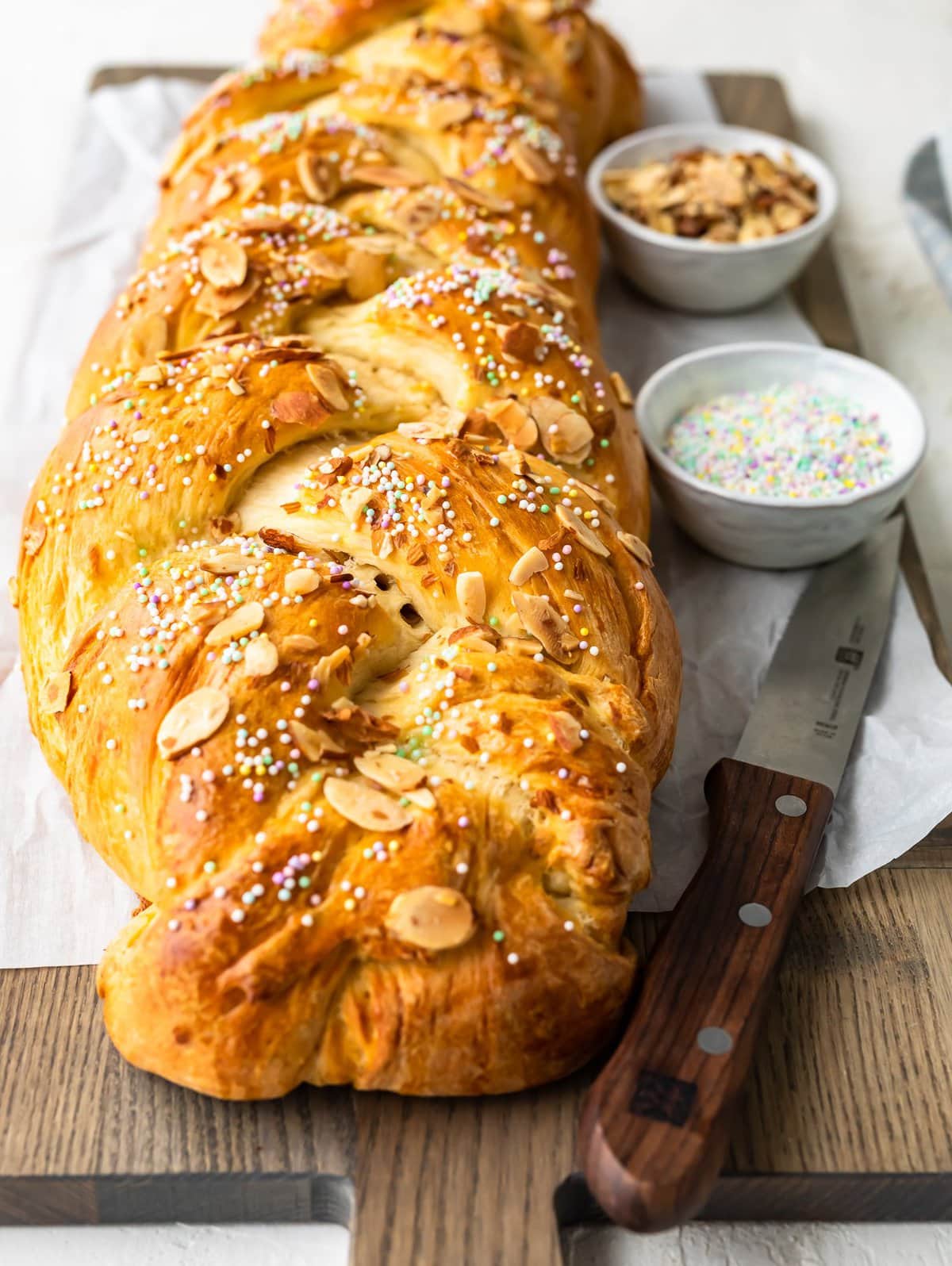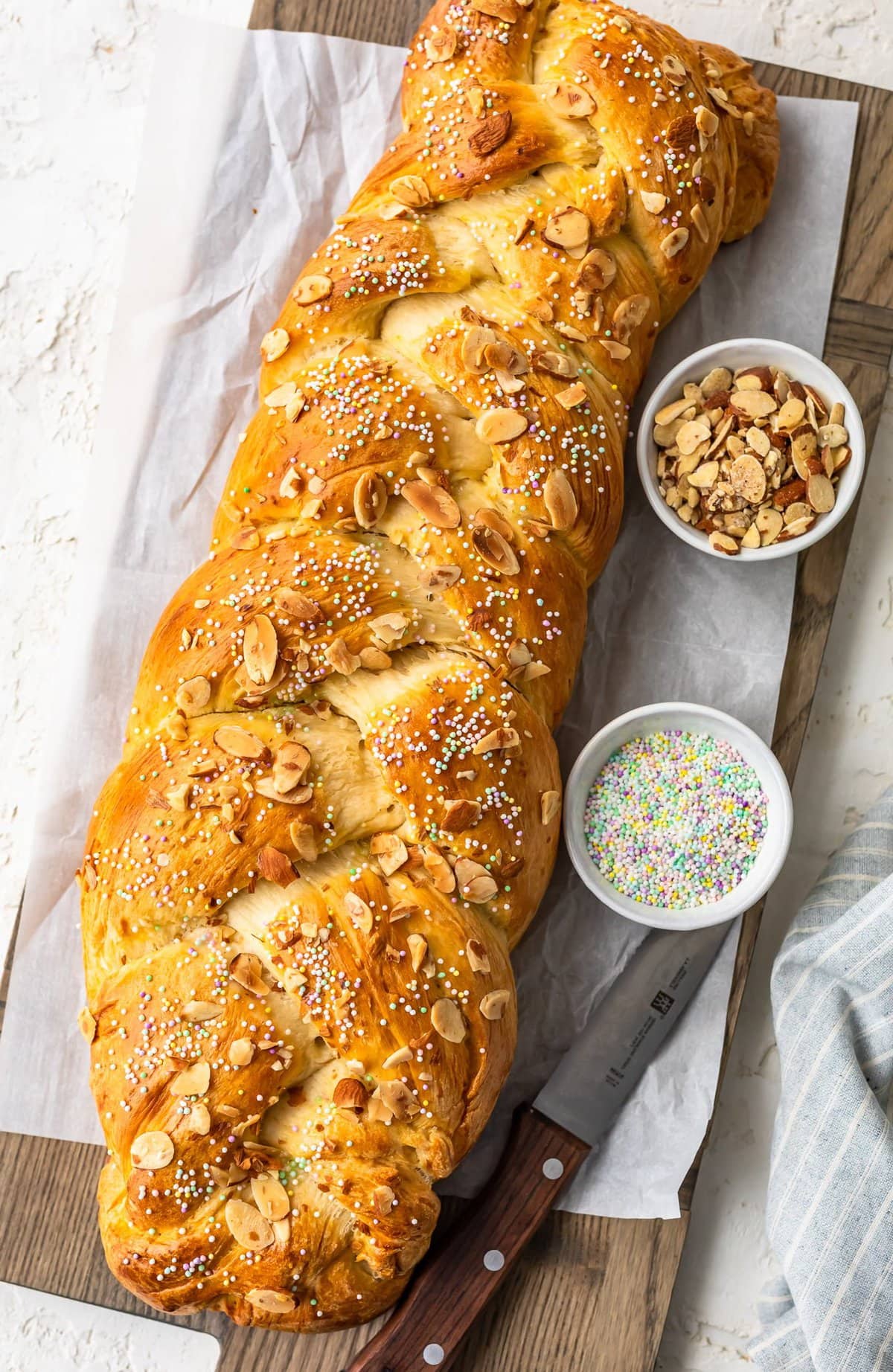 Easter Sweet Bread Recipe
There's something about freshly baked bread on the holidays that feels extra special. This almond sweet bread recipe makes the perfect Easter Bread for brunch, dinner, or just a little sweet treat. Break off a piece and share the rest with loved ones!
Orange Almond Bread
The orange and almond flavors in this bread mix together so well. It's just a lightly sweet, fruity, nutty flavor that blends into the overall sweetness of the bread. The sliced almonds and sprinkles brushed on top give it a nice texture and just make it look extra pretty (presentation is important, after all!).
If you decide to make this sweet bread recipe for another occasion (other than Easter), you could always leave off the sprinkles. But they are a festive touch for the holiday that everyone will appreciate!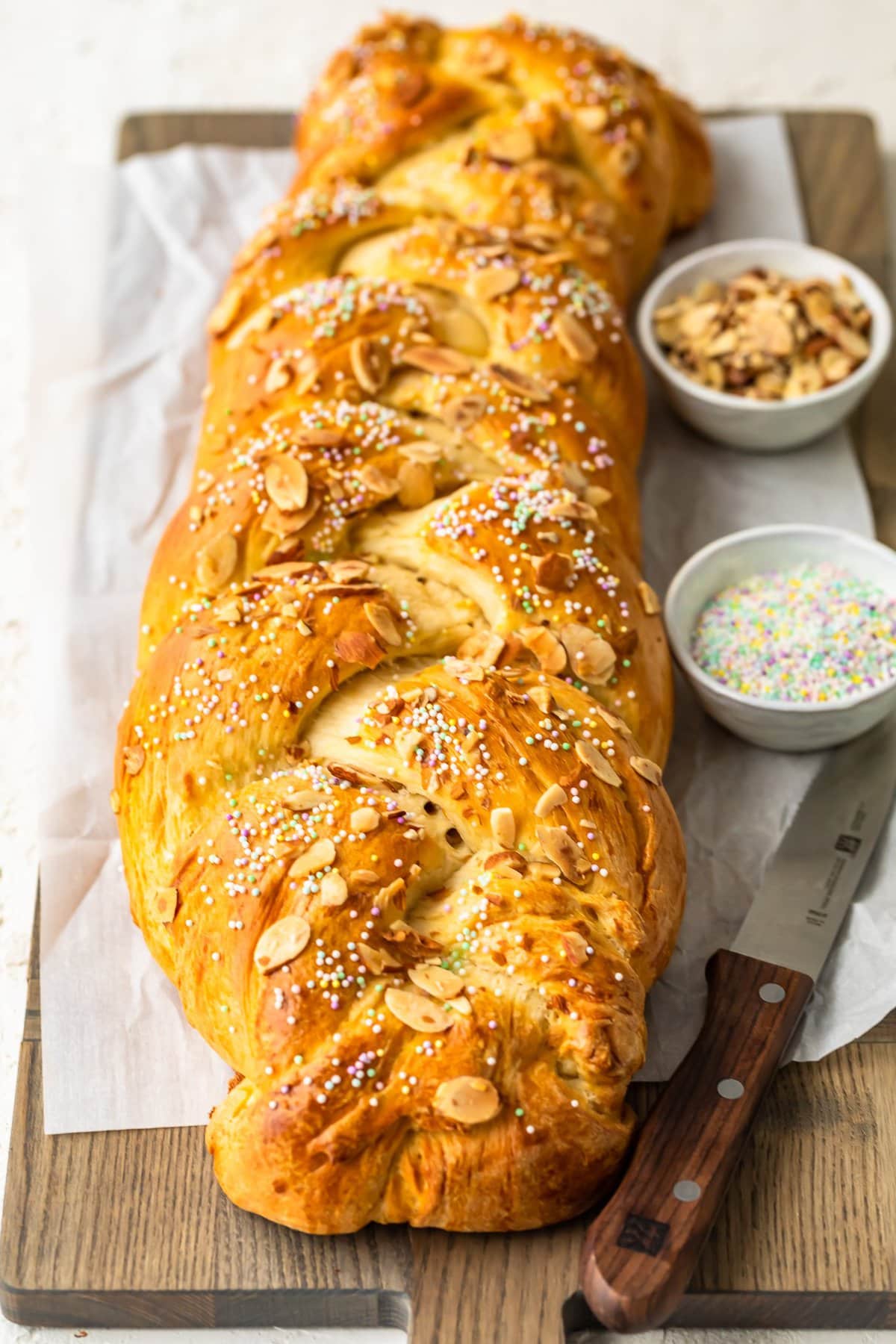 How to Make Orange Almond Sweet Bread
While this sweet bread recipe is simple enough for beginners (I believe in you!), it is a detailed process with very specific steps. I wrote everything out in the recipe card in easy-to-follow steps, so as long as you read and follow the instructions, you shouldn't have any issues!
A few quick tips:
This recipe requires time to rise, rest, and bake, so give yourself plenty of time to make this before you're ready to serve it (a few hours, at the very least).
Use an instant-read thermometer to make sure the milk/butter/almond mixture is the right temperature (120-130°F).
Create a floured surface on your counter tops to work with the dough after you've made it in the mixer. Spend about 6-8 minutes kneading the dough until it becomes smooth and elastic.
After kneading the dough, butter it and place it in a large bowl, cover with plastic wrap, then put it in a warm spot to rise (it should double in size).
To create the braided shape of this Easter bread, you'll split the dough into thirds, and then braid them together before baking.
When brushing the topping onto the bread, focus the almonds and sprinkles towards the middle of the loaf. The bread will expand and spread as it bakes, so that will keep it all on top of the loaf.
Check the recipe card below for the full, detailed instructions for this Orange Almond Sweet Bread recipe!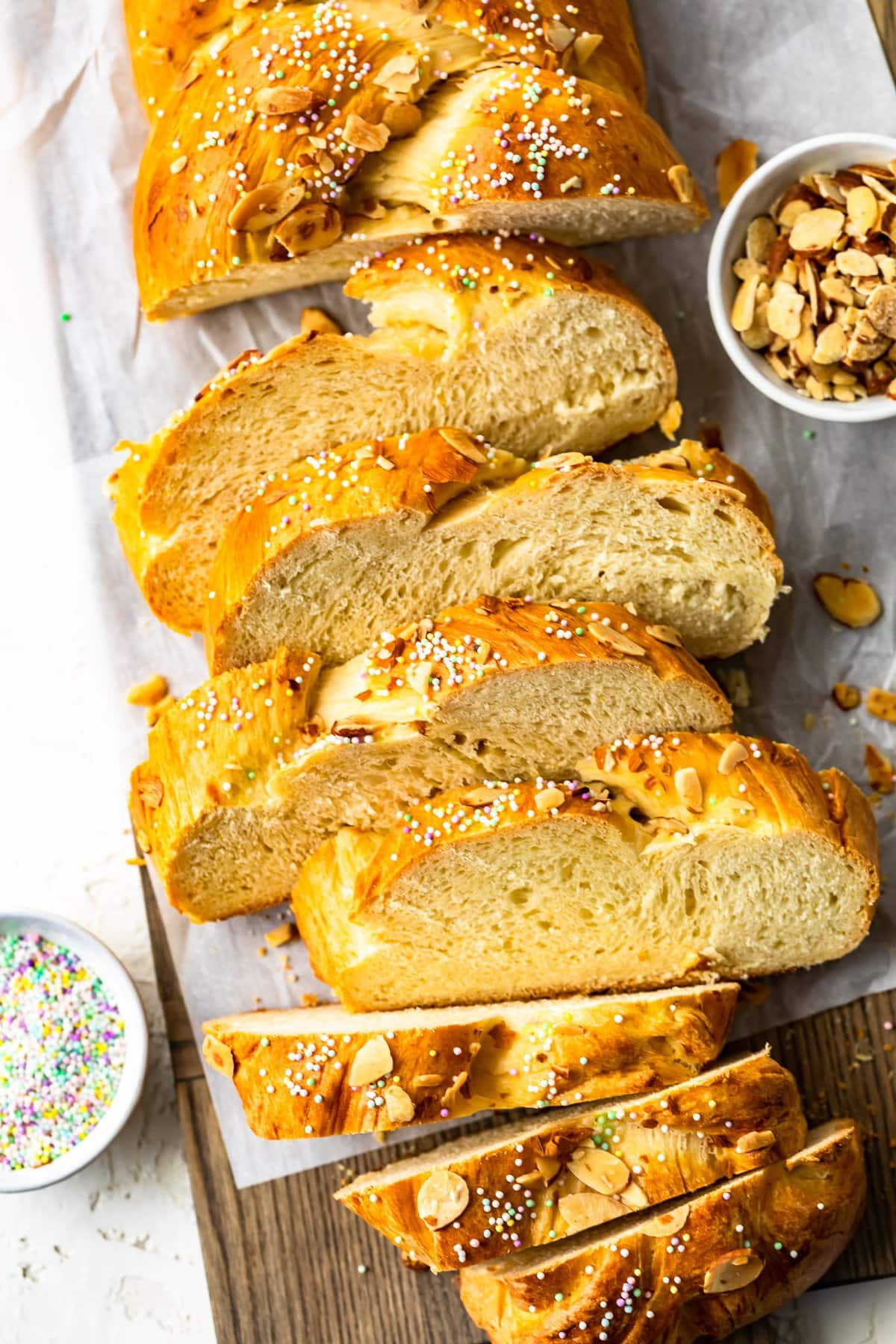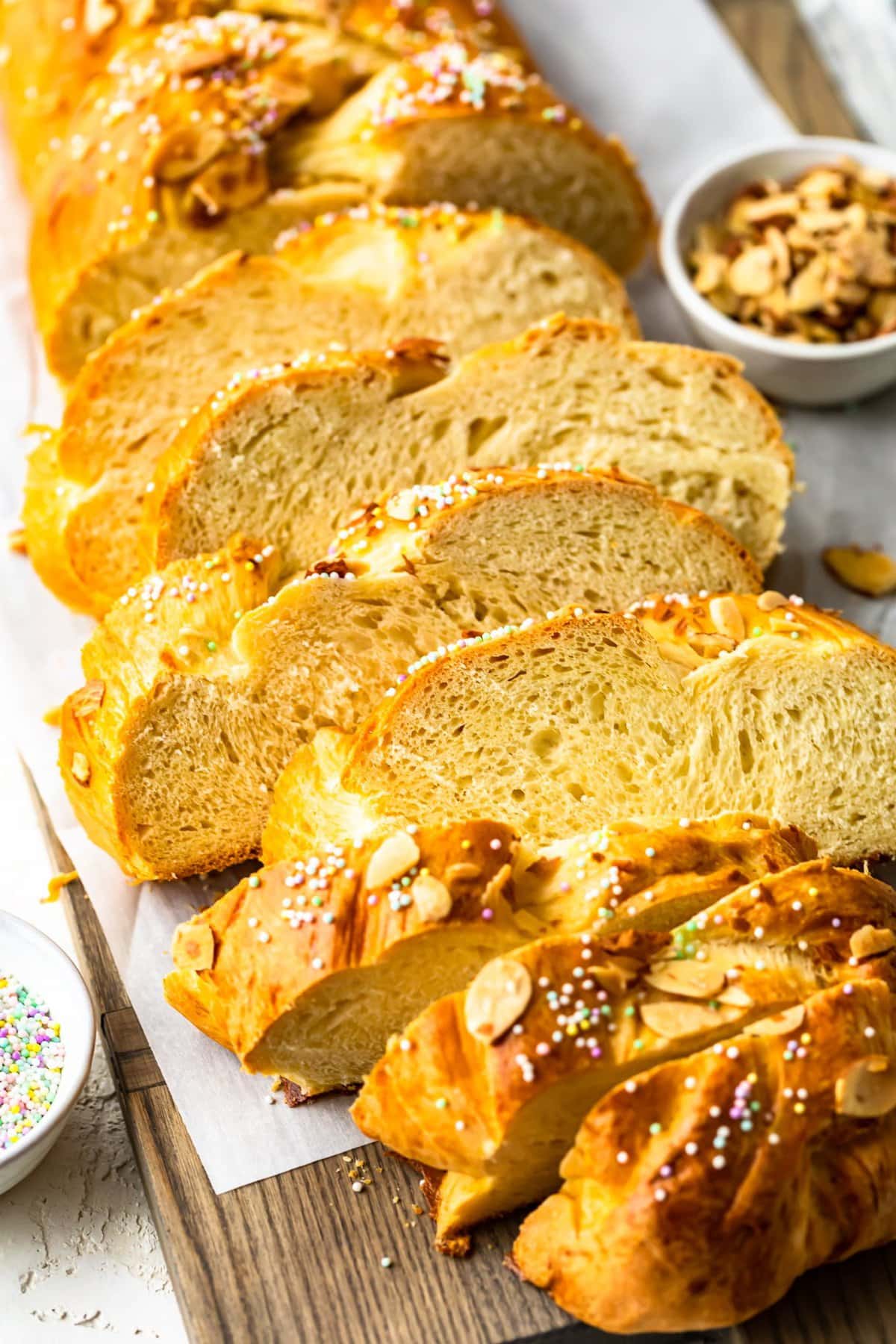 Favorite Easter Recipes
You know what's so great about this recipe? Besides the fact that it's just delicious, of course…
This easy Easter bread recipe works for every part of Easter Sunday. Whether you need a sweet bread recipe for Easter Brunch; some bread to serve with Easter dinner; or just something sweet and simple to add to the Easter Desserts table; this recipe works for all of it!
Here are a few more favorite Easter Recipes to try.
Favorite Easter Recipes
These recipes are all so fun for Easter Sunday!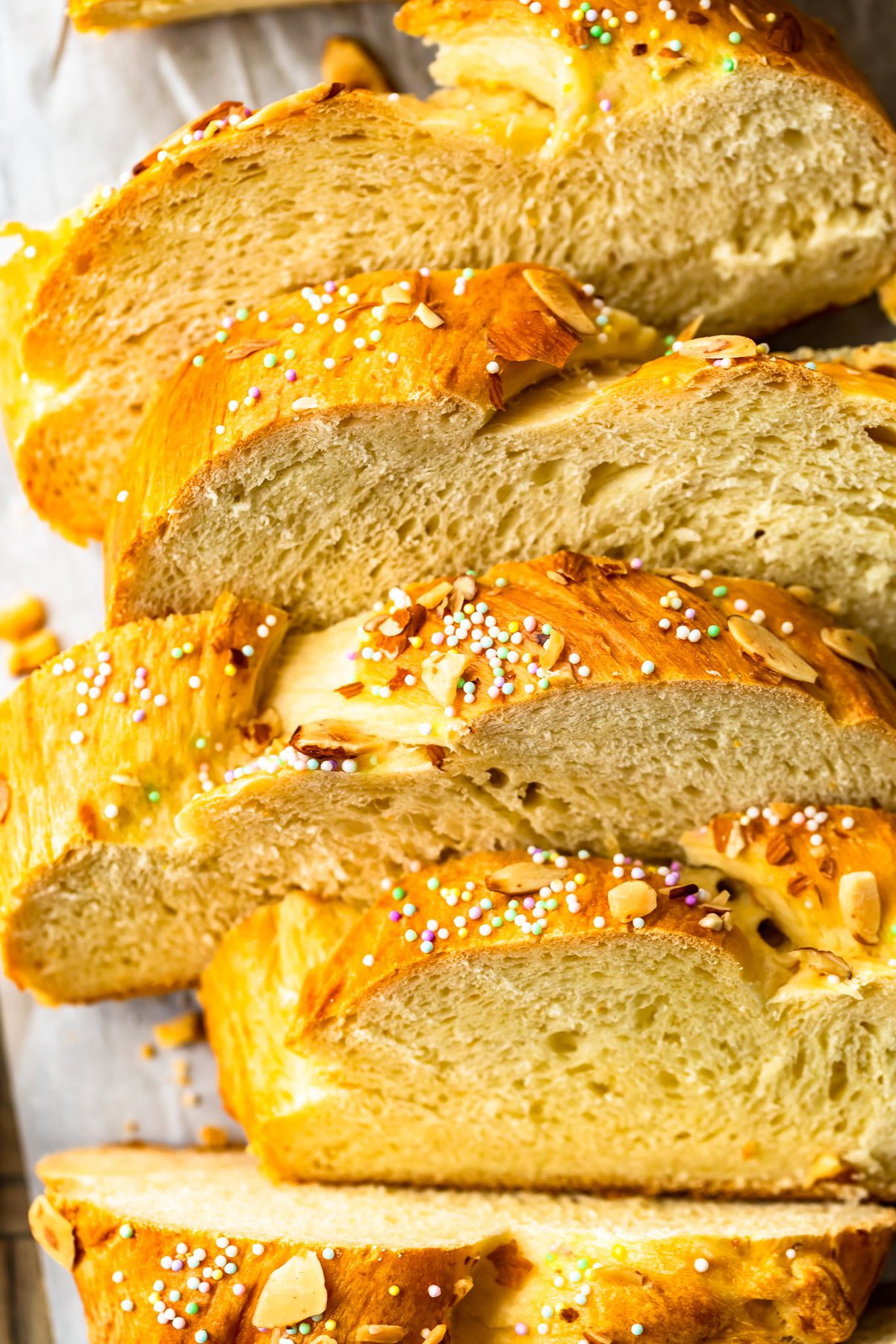 I can't wait for you to try this fun Easter bread recipe! It will add something really festive to your holiday celebrations. Happy Easter!
See the recipe card for details on how to make this Orange Almond Easter Bread recipe. Enjoy!
If you like this recipe, try some of our other favorite bread recipes: