This traditional Italian Easter bread recipe is an enriched yeast bread, made with eggs, milk, sugar, butter, and flour. The orange almond flavor is subtle but delectable, and the colorful sprinkles on top are perfectly festive for Easter Sunday. Serve this braided almond sweet bread for brunch, a post-lunch treat, or with dinner.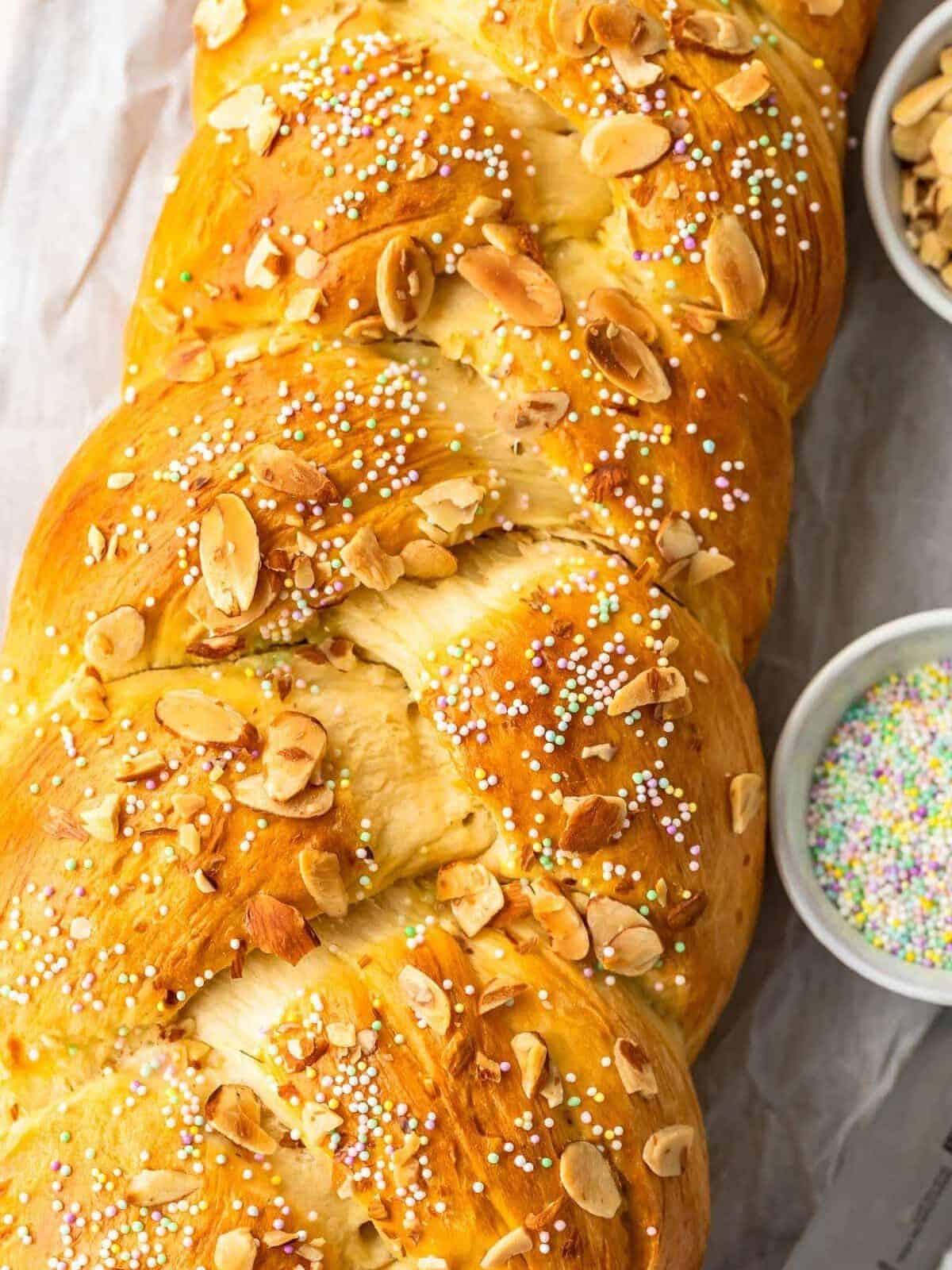 What's in Easter Bread?
This orange and almond sweet bread definitely requires a few steps to make, but it's well worth the effort to have this on Easter. It's easier than it looks and it's so delicious!
Flour: Start with all-purpose flour to make the bread dough.
Milk: The milk helps to activate the yeast, and it adds moisture into the dough.
Yeast: Use packages of active dry yeast. It's important to heat the milk to the right temperature (120-130F) so that the yeast activates properly.
Eggs: Adding eggs to this bread helps with leavening, texture, and flavor.
Butter: Unsalted butter adds richness.
Sugar: Granulated sugar adds sweetness to the dough.
Almond Extract: This adds a delicious almond flavor to the bread.
Orange Zest: This brings a citrusy, zesty taste.
To make the delicious topping for this sweet bread, you'll need another egg, cold water, sliced almonds, and of course, some colorful sprinkles for a festive finish.
Can I change the flavor of this sweet bread recipe?
The orange almond flavor of this sweet Easter bread is delicious, but you can change things up if you prefer.
Swap out the almond extract for another flavor, like vanilla extract or lemon extract.
You can skip the orange zest if you don't want that citrus-y flavor, or you can use lemon zest instead.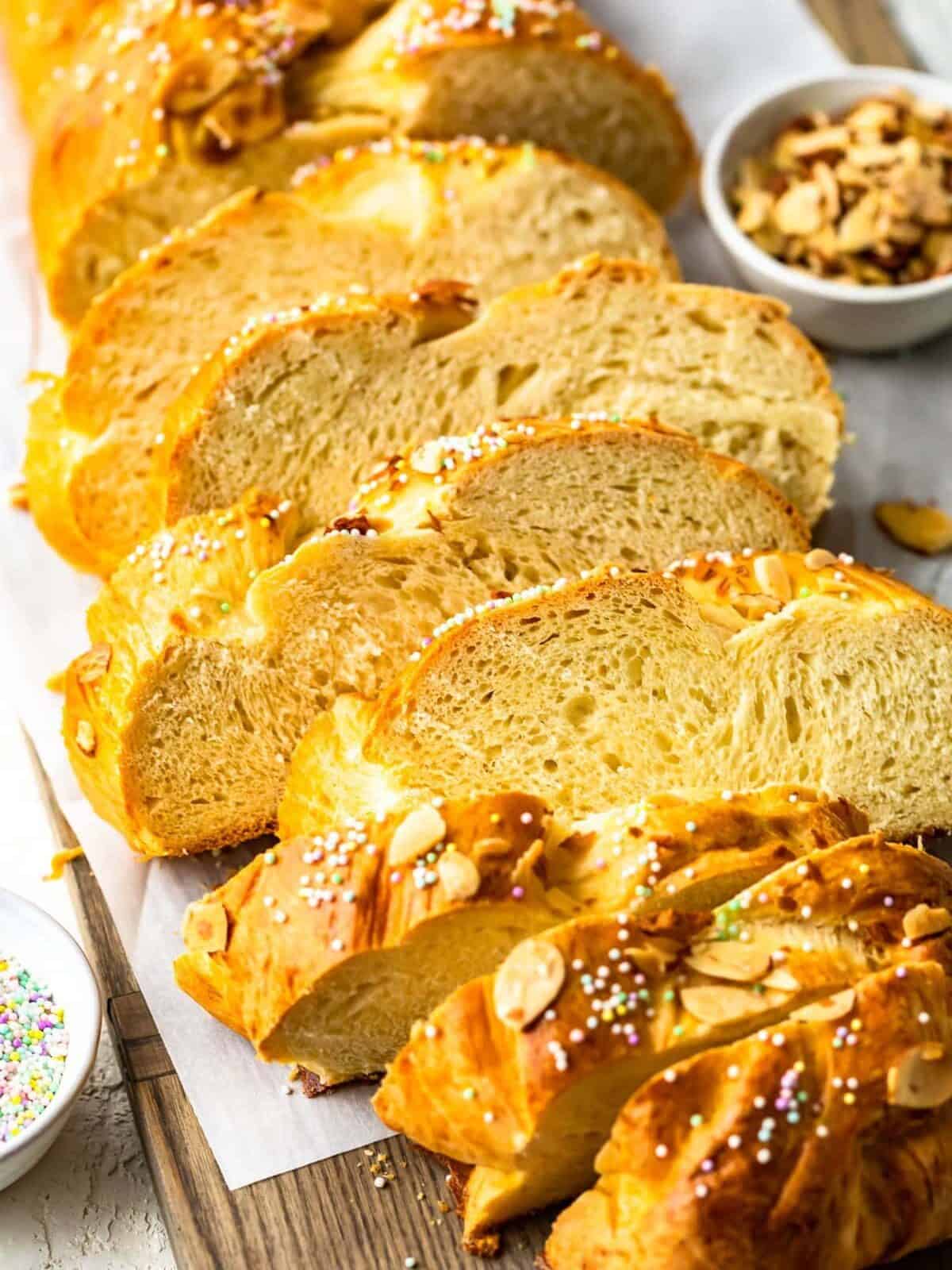 What is traditional Easter bread?
Easter bread is made with a yeast dough enriched with ingredients like butter, milk, and eggs, and sweetened with sugar and sometimes other flavors. It's similar to brioche or challah (egg breads). It's typically braided, sometimes formed into wreaths, and topped with colorful sprinkles.
How do you activate yeast?
Using active dry yeast requires a short proofing process before mixing it in with the rest of the dough. To do this, warm the milk mixture to the right temperature–it must be between 120-130F (any lower and it won't activate, any higher and it will kill the yeast), so use a thermometer to check. You will then mix the warm milk mixture with the yeast (along with the other ingredients instructed) and beat for 2 minutes.
How do you braid bread dough?
Separate the bread dough into 3 even sections and roll into long ropes. Place the strips of dough onto a baking tray covered with cooking spray and parchment paper (so it doesn't stick), and press the 3 pieces together at one end. Grab a piece of dough from the outside and lay it over the middle section. Then grab the other outer section and lay it over the new middle section. Repeat, alternating which side you're grabbing from, always bringing it over the middle section. Tuck the ends under.
How long day you bake Italian Easter bread?
This bread should be baked at 350F, for 40-55 minutes, or until it turns a golden brown color. It should also sound hollow when tapped.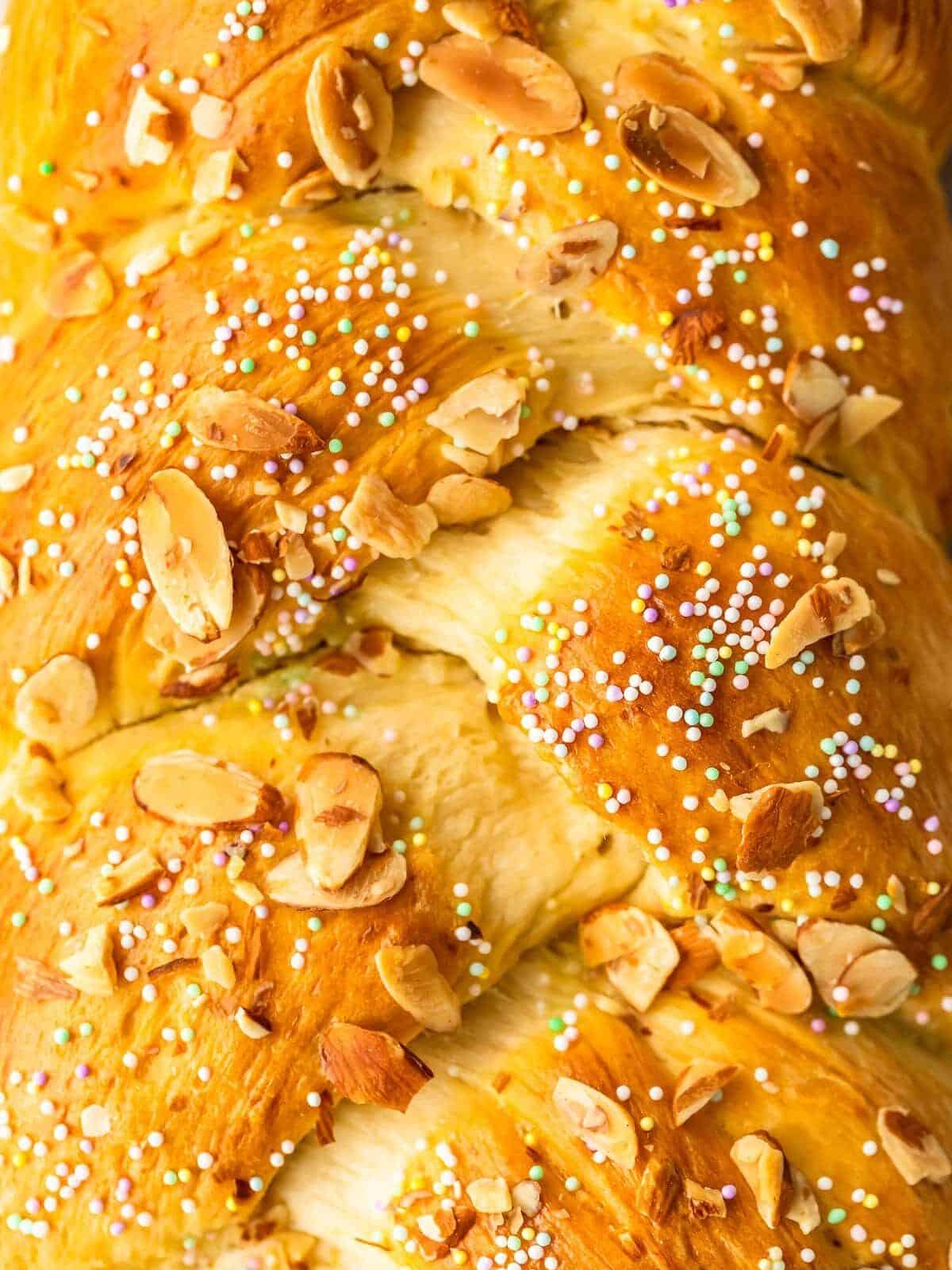 How to Store Almond Sweet Bread
Store leftover Easter bread in an airtight container or resealable bag, and keep it at room temperature for up to 5 days.
How to Freeze Braided Easter Bread
Place this egg bread in a freezer-safe container or resealable bag, and freeze for up to 2 months. Let it thaw before serving.
What to Serve with Italian Easter Bread
This almond bread makes a great treat any time on Easter Sunday. It pairs well with coffee for a sweet breakfast, and it is perfect for the Easter Brunch table. It also makes a fun post-feast dessert bread, and it actually tastes great served alongside your Easter ham or lunch too.