This rosemary focaccia bread recipe is so simple to make, and it's filled with the most deliciously herby flavor. It has the perfect chewy texture that's just irresistible, then topped with fresh rosemary, sea salt, and plenty of olive oil! Serve it with pasta, pizza, or any of your favorite main dishes.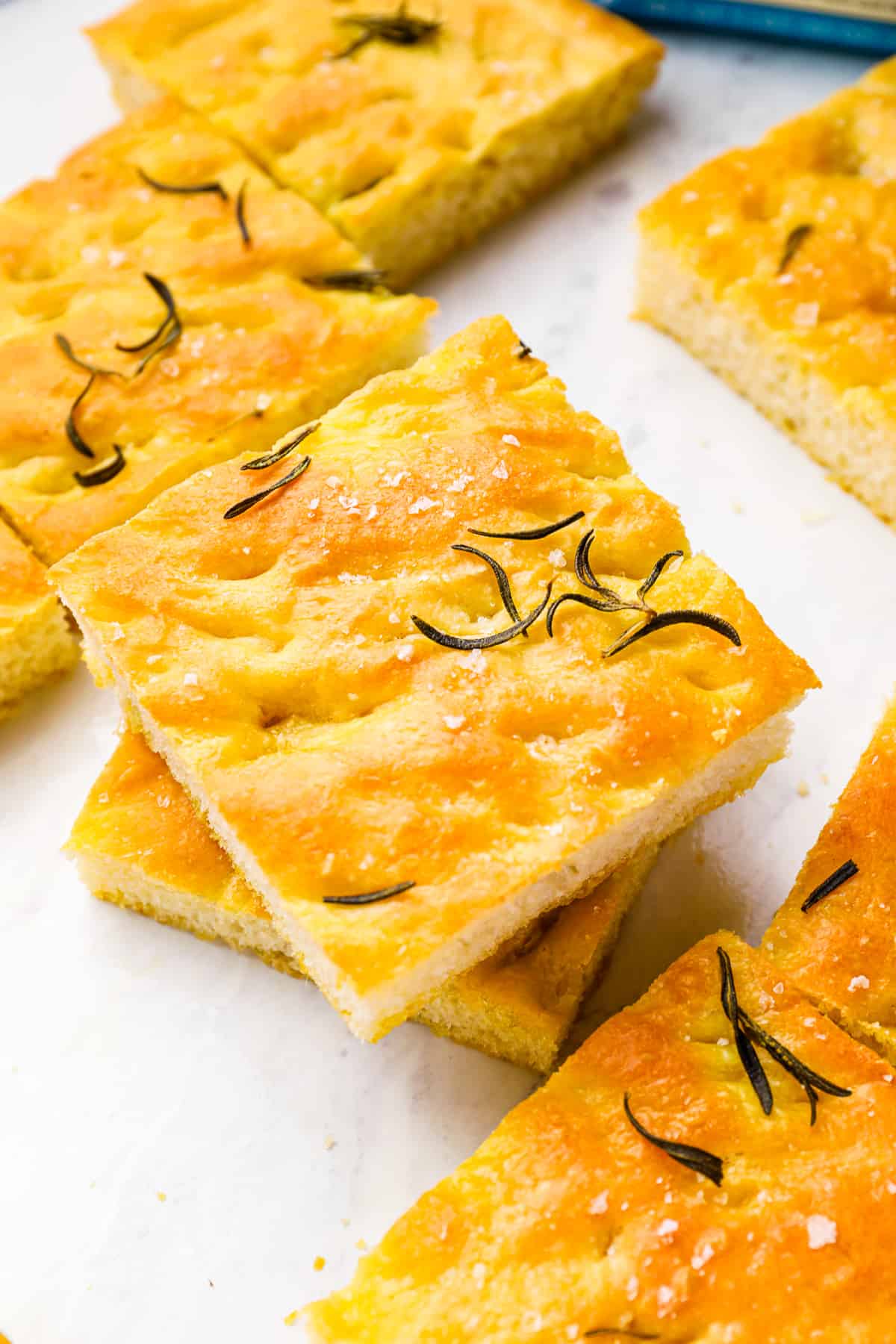 Focaccia with Rosemary
Rosemary focaccia is one of our favorite breads to serve at dinner time. It's soft and chewy, with lots of olive oil to create that signature texture. Topped with plenty of rosemary and sea salt, the flavor is just perfect!
This easy focaccia bread recipe will come in handy on both weeknights and special occasions. It's great paired with any of your favorite pastas or Italian dishes, and makes a great side for those fancier entrees too.
Why You'll Love this Rosemary Focaccia Recipe:
Soft and Chewy: Focaccia bread has such a unique texture and I just can't get enough. It's soft, moist, fluffy, and chewy, with a bit of crunch fresh out of the oven.
Flavorful: The simple flavor of olive oil-drenched bread is already irresistible, but the addition of rosemary and sea salt really makes it amazing.
Simple: This homemade flatbread recipe is easier to make than you think! A few quick steps to whip up the dough, bake it, and it's ready to eat.
Everyone will love this focaccia with rosemary so much, they'll be going in for seconds. It works as a side dish or as an appetizer–never a wrong way to serve it!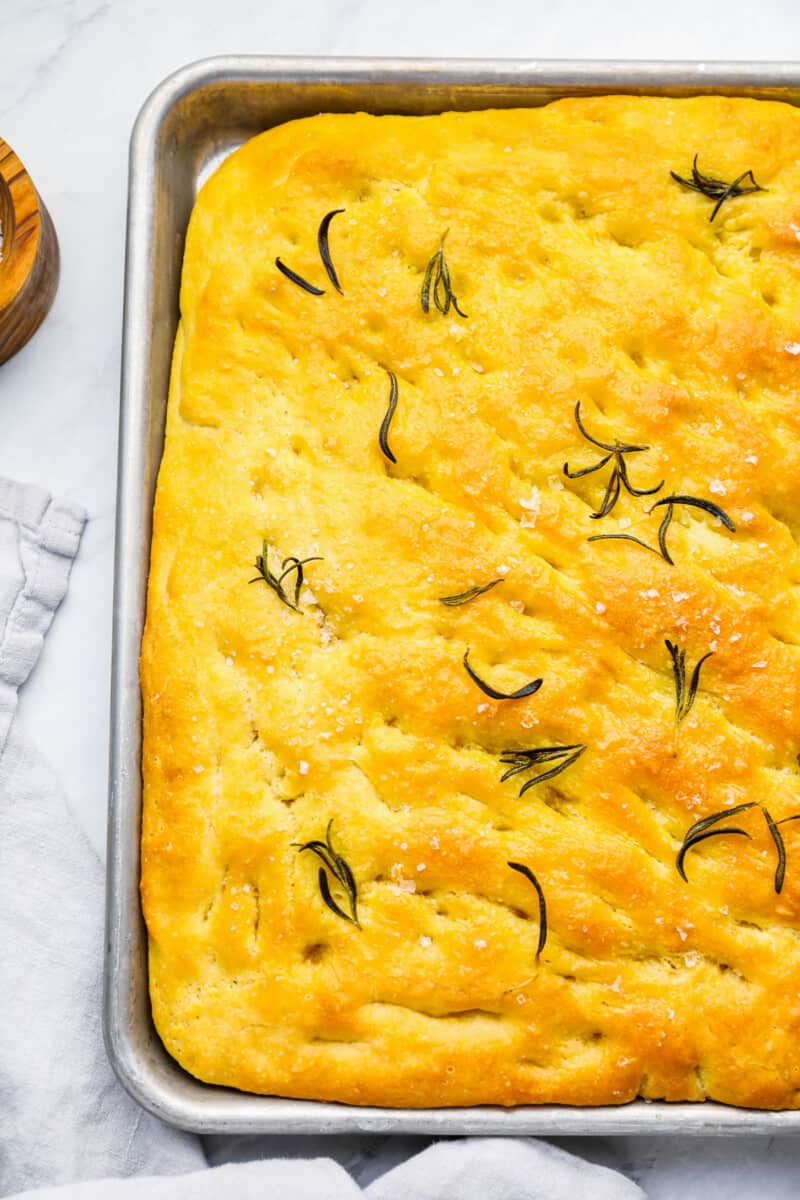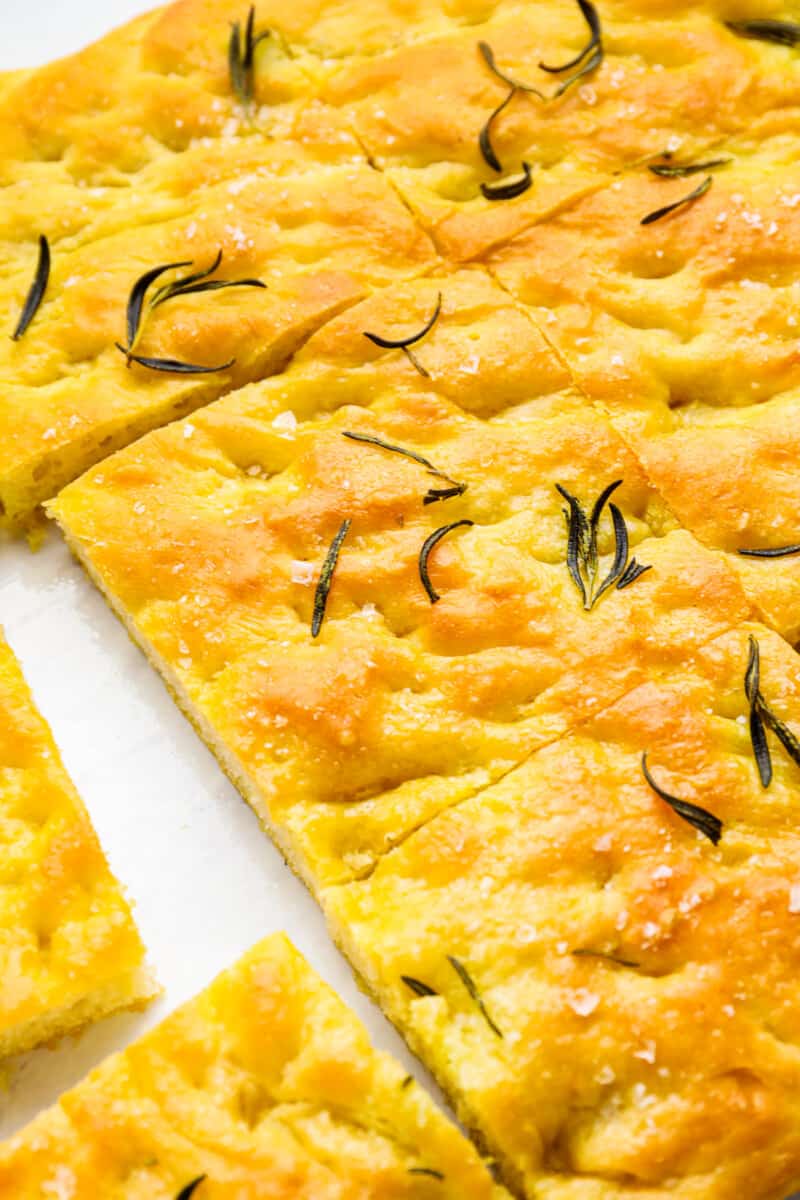 How to Make Rosemary Focaccia
You can jump to the recipe card for full ingredients & instructions!
Start by activating the yeast with warm water and sugar.
In a mixing bowl, whisk together flour and salt, then add the yeast and olive oil.
Mix until the dough comes together, then knead briefly on a floured surface until it creates a nice ball of dough that isn't too sticky.
Let it rise in a covered bowl, until it doubles in size.
Stretch the dough out in a baking pan, create the dimples, then cover and let the dough rise a second time.
Top the focaccia dough with rosemary, olive oil, and sea salt, then bake.
Let it cool, slice and serve!
Recipe Notes
Best Flour for Baking
For this recipe I used Bob's Red Mill's Unbleached White All Purpose Flour. We use this in every baking recipe that calls for all-purpose flour and it has never let us down.
Bob's Red Mill has an amazing and well-founded reputation. Their quality products speak for themselves, and I'm honored to work with them.
People love Bob's Red Mill products for all sorts of reasons. I love the versatility of their line of products (they have everything!), the packaging (releasable flour bags for the win), and the consistency of quality.
Here are some of my other favorite Bob's Red Mill Recipes: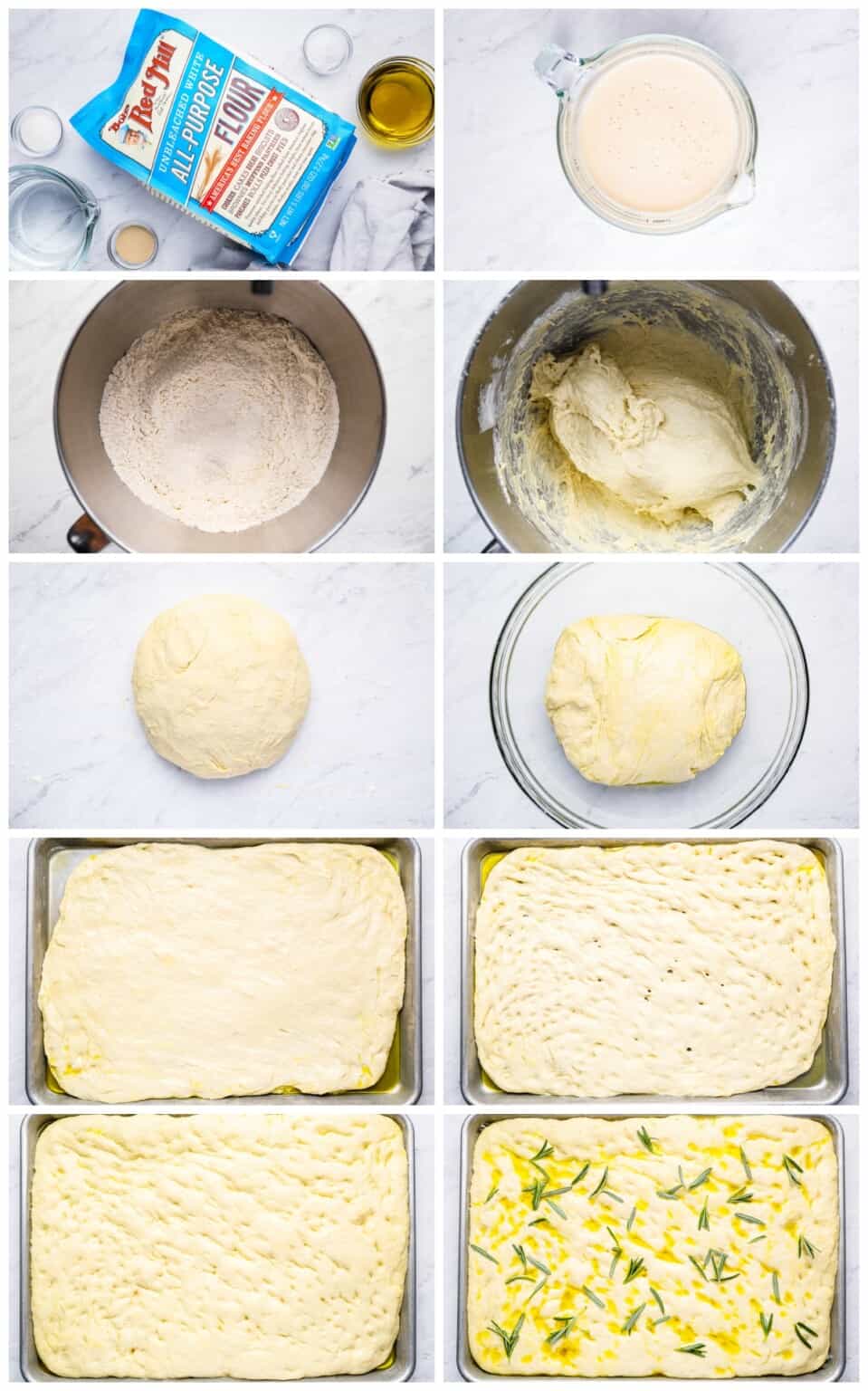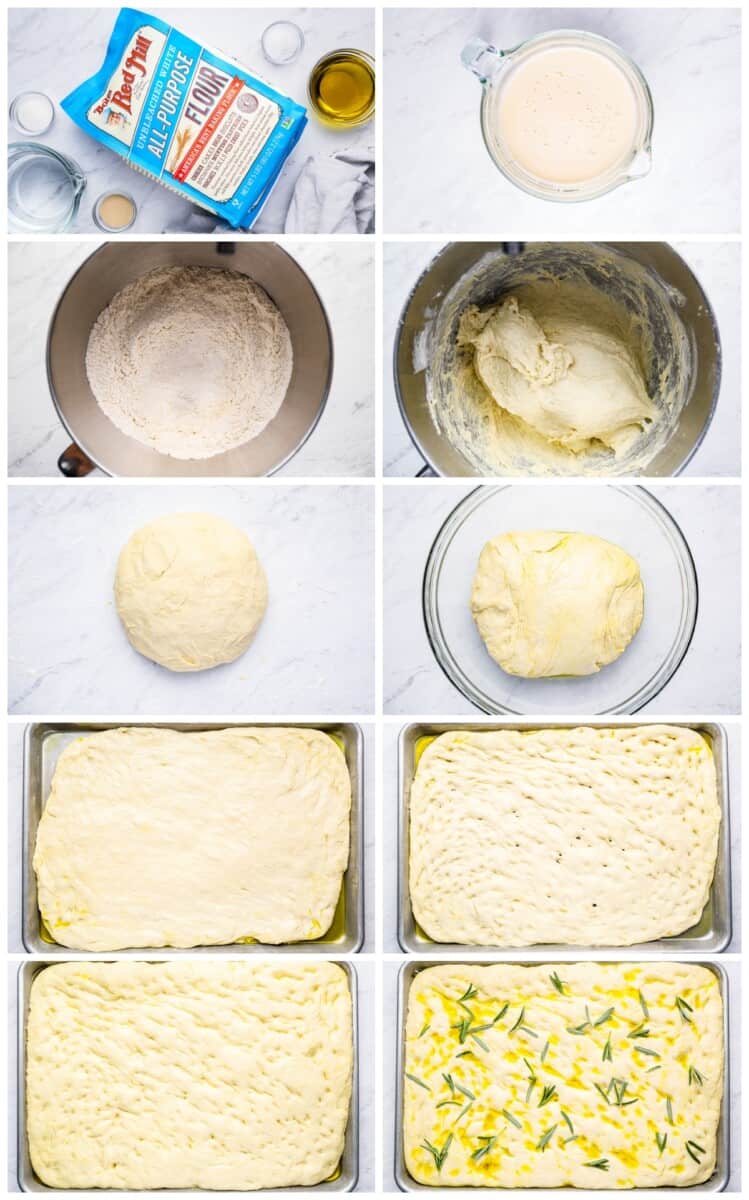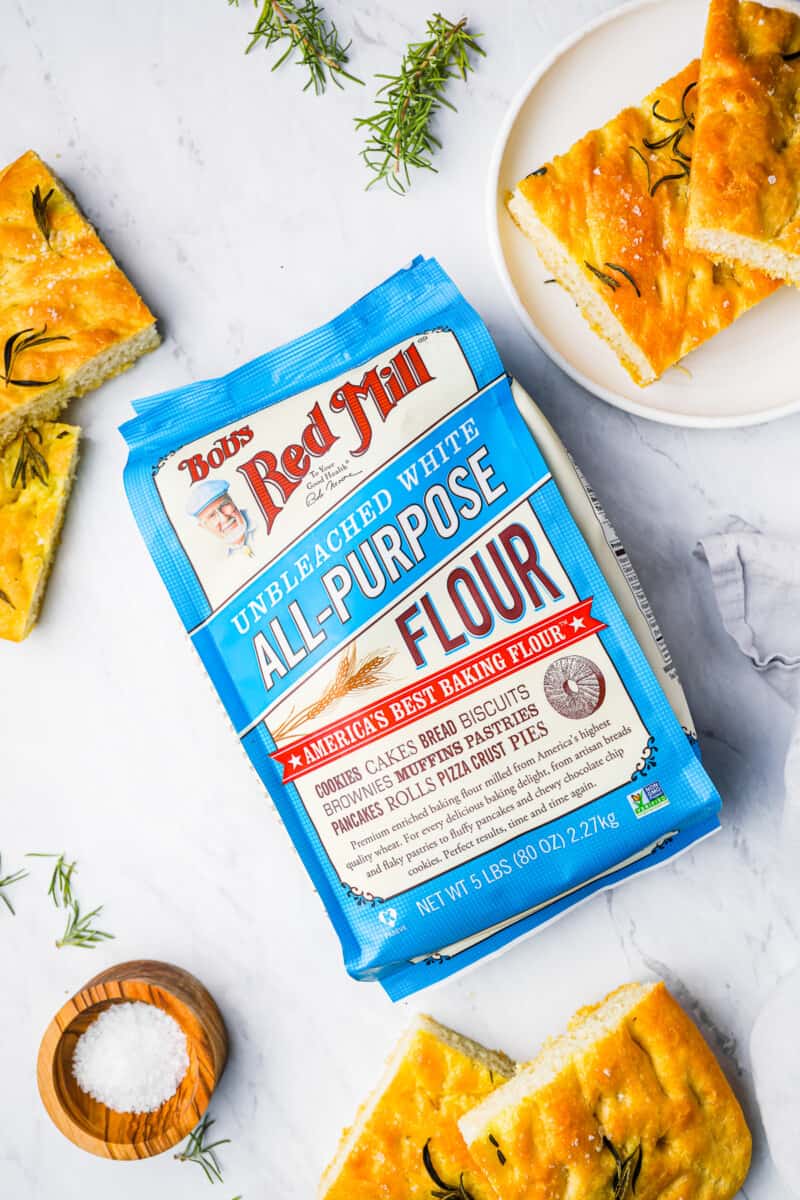 What is rosemary focaccia?
Focaccia is a traditional Italian bread that has a similar texture to pizza dough. It is a flatbread that is oven-baked and it is very flavorful. It is made with bread flour which is high in gluten and brushed with a generous amount of olive oil. This bread is topped with rosemary for a delicious, herbaceous flavor!
How is focaccia different from other breads?
While focaccia bread is made with the same staple ingredients as traditional breads, it contains more yeast for a fluffier texture and is dimpled to seal in moisture. It is also generously coated with olive oil for a rich taste!
What do you serve with rosemary focaccia?
This focaccia recipe is so flavorful and delicious, it's perfect as part of a bread basket appetizer served with some good quality olive oil, balsamic vinegar, and salt. It's a great sandwich bread, too. Simply cut a piece in half and fill it with cheeses, meats, and salad – you can grill them too if you wish. This bread makes a great side for Italian soups and main courses.
Serving Suggestions
This focaccia bread with rosemary is a favorite for pasta night! It also makes a great appetizer before dinner, and pairs well with your favorite wine or cocktails. Here are some favorite dishes to serve it with.
This bread is perfect for soaking up extra olive oil or sauces from your dinner. So add it to your plate and dip away!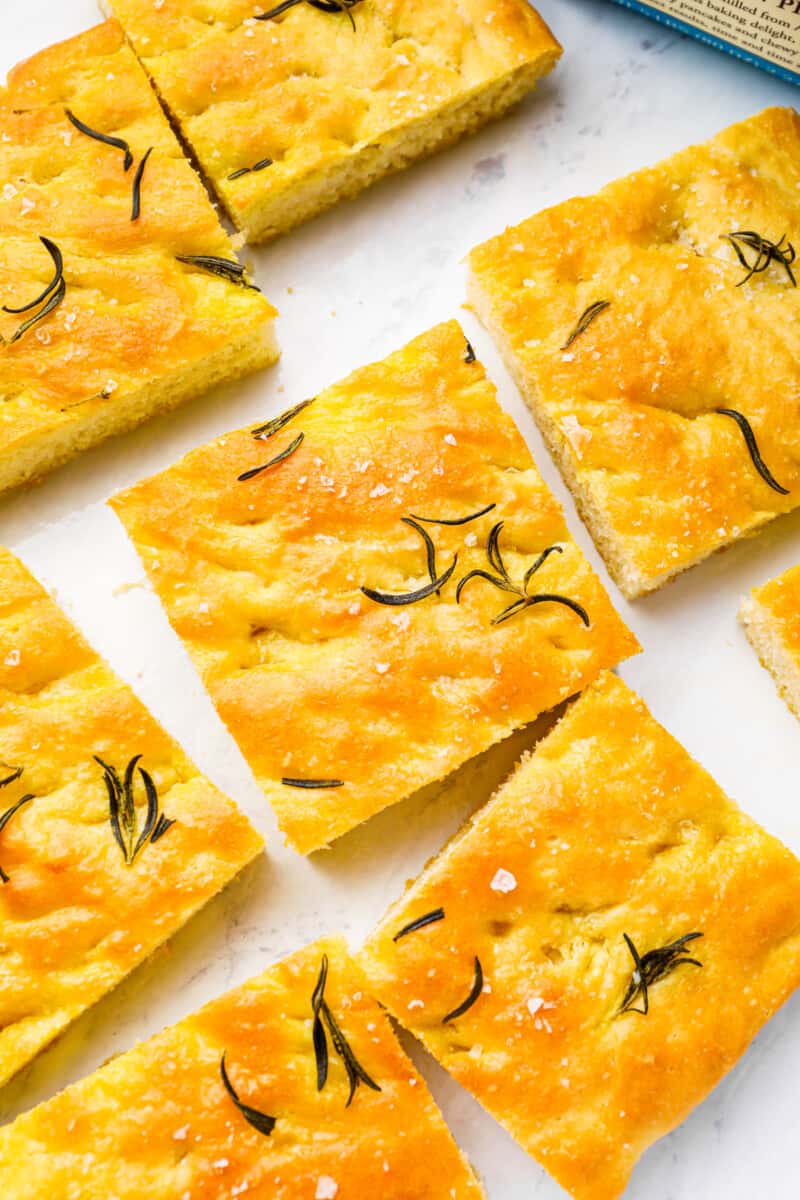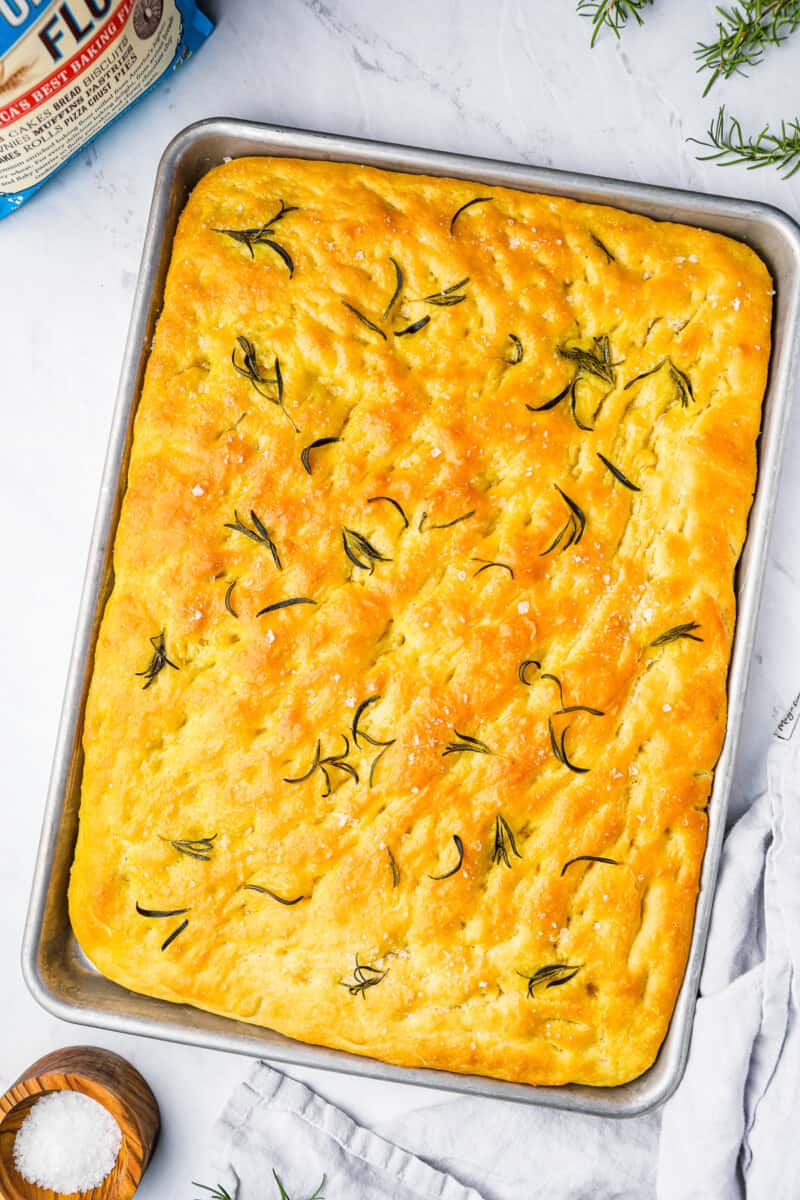 The "dimples" help to draw the warm and air olive oil through all of the bread as it bakes, so everything is moist, crispy, and flavorful.
Make Ahead Instructions
To make this rosemary focaccia bread in advance, follow the recipe through step 6, storing the dough tightly covered in the refrigerator overnight instead of on the counter for an hour. The next day, unwrap the dough and let it come to room temperature for 20-30 minutes before continuing with the recipe as written.
Storage Instructions
Store leftover rosemary focaccia in an airtight container at room temperature for up to 2 days. Enjoy at room temperature or reheat loosely wrapped in aluminum foil at 350°F for 10-15 minutes.
Freezing Instructions
Freeze rosemary focaccia cut into individual slices wrapped in 2 layers of plastic wrap and 1 layer of aluminum foil for up to 1 month. Let thaw overnight in the refrigerator before reheating.
Variations
Add several cloves of minced garlic to the dough for garlicky focaccia.
You can also add minced garlic or red pepper flakes to your last ¼ cup of oil to add even more flavor!
Sprinkle Parmesan cheese over top of the finished focaccia.
Try different fresh or dried herbs, such as sage, thyme, oregano, or Italian seasoning.
Tips for the Best Rosemary Focaccia
If your yeast doesn't activate, try once more making sure the water is the correct temperature. If it still does not work, the yeast has gone bad and you will need to get a fresh batch of yeast before proceeding with the recipe.
Use the best quality olive oil for this recipe, one that has a rich flavor.
If you do not have a stand mixer, you can mix the dough together by hand. Make sure to knead the dough until it is smooth and elastic.
For a thicker focaccia bread, bake it in a 9×13-inch baking pan. For a thinner bread, keep it in a large baking sheet!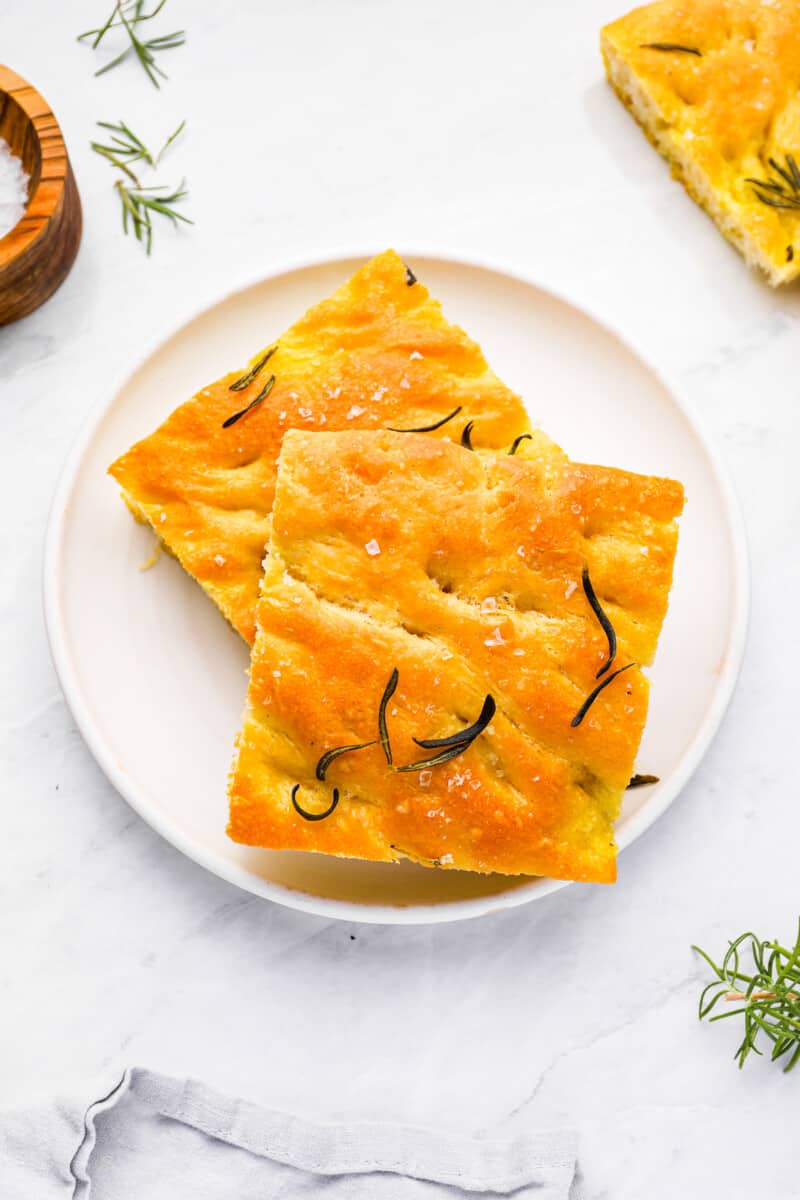 Once you learn how to make this rosemary focaccia recipe, you're going to be pulling it out every chance you get. It's just so deliciously chewy, and the rosemary finishes it off perfectly.
If you make this recipe be sure to upload a photo in the comment section below or leave a rating. Enjoy! You can also jump to recipe.