These homemade Hot Cross Buns are sweet, fluffy, and perfect for Good Friday, Easter Sunday, or any day! A rich golden brown and full of spices, these are sure to become part of your Easter tradition if they aren't already.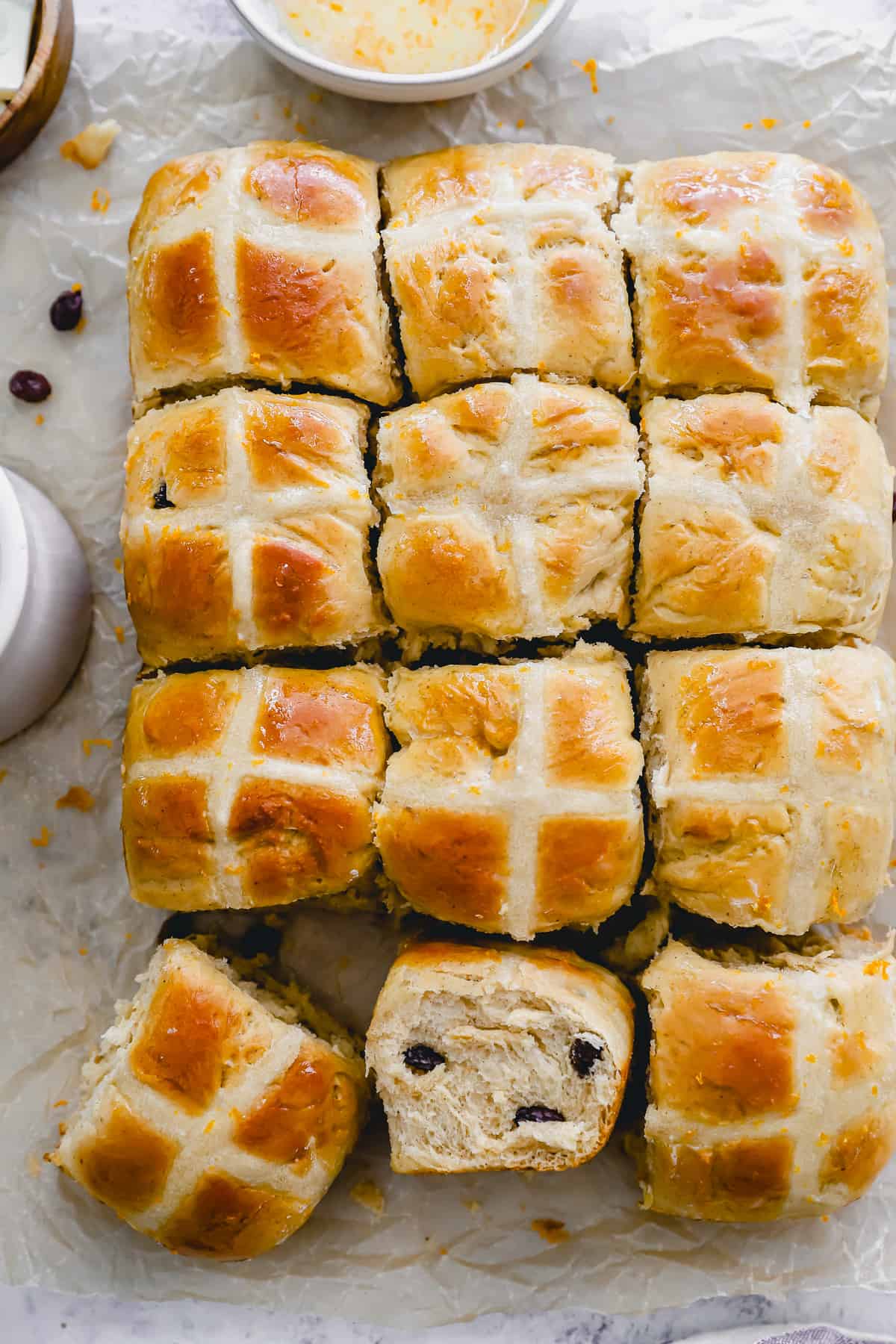 What's in a Hot Cross Bun?
It's that time of year! A good hot cross bun is made with love, and the finest ingredients around.
Milk: Be sure to use warm milk heated to the proper temperature to make sure the yeast activates.
Sugar: All sweet rolls need white sugar. And don't forget powdered sugar for the icing cross!
Yeast: Use active dry yeast.
Flour: All purpose flour works best to create the base of the dough.
Salt: Just a bit of salt to balance out all the flavors.
Spices: Ground cinnamon, nutmeg, and allspice add a warming flavor.
Raisins: Healthy, sweet, and adds a bit of texture.
Eggs: You'll need 3 total.
Butter: Unsalted butter is best.
Water: You'll need water for the egg wash.
Orange Zest: This adds a zingy citrus flavor.
Pro Tip: If your yeast has been opened already or has been sitting in the back of your cabinet, it's a great idea to proof it and make sure it's still usable. Do this by adding the instant yeast and a small amount of warm water. If the yeast mixture starts bubbling, you're good to go!
Variations on Hot Cross Buns
This recipe is already vegetarian-friendly, but can easily be made to accommodate a vegan diet. Just swap the milk for your favorite plant-based milk (like oat milk) and leave out the eggs (you may need to add a bit more milk to get the sticky dough to come together), and swap the butter for vegetable, canola, or coconut oil. You can even skip the "egg wash" the top of the dough with plant-based milk to get that shiny glaze.
Feel free to mix all purpose flour with strong bread flour for the ultimate rise.
Raisins not your thing? Try dried figs, blueberries, cranberries, or any of your other favorite fruits.
Spice up those warm spices by adding a dash of cardamom, cloves, or star anise to the dough.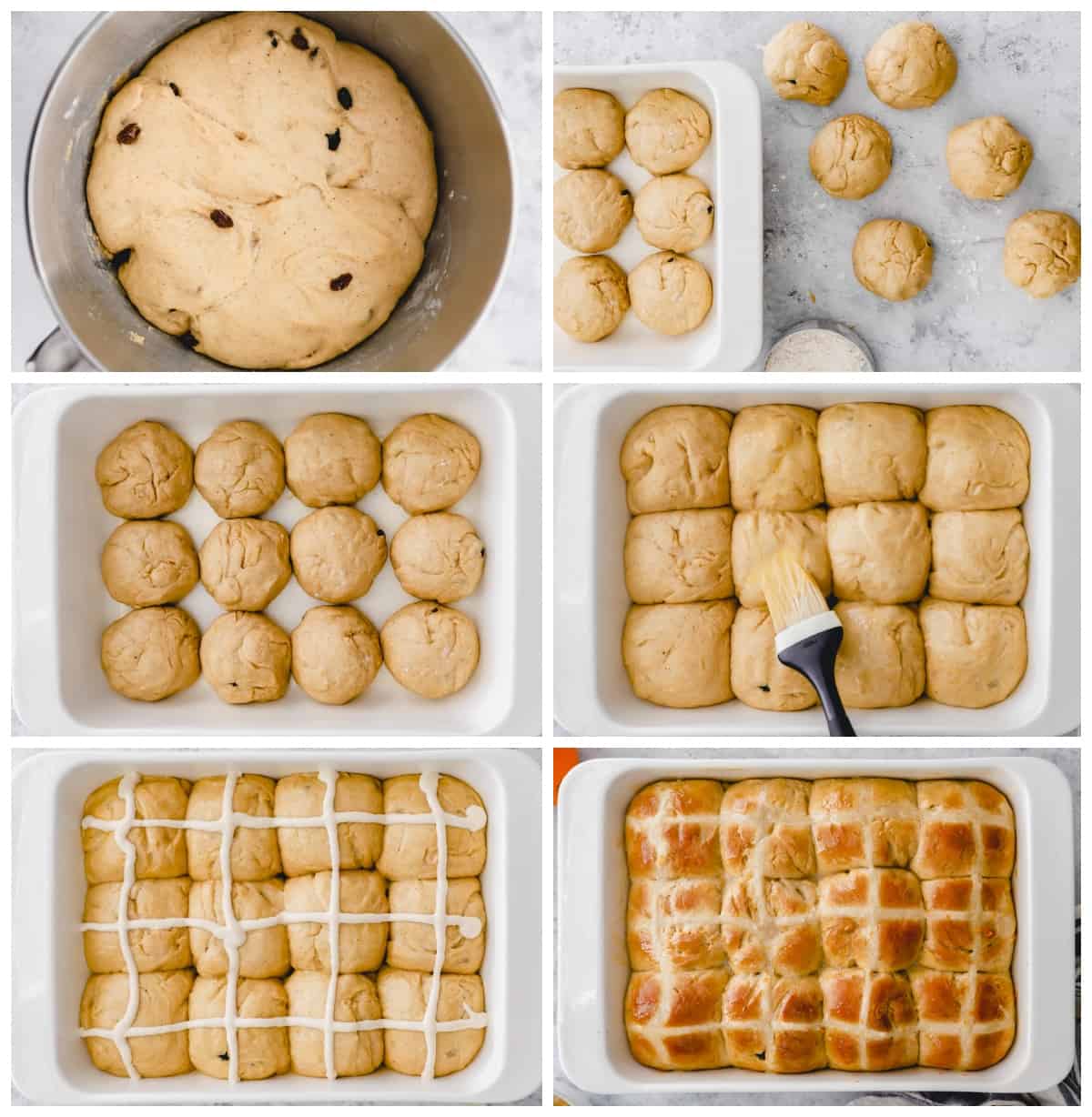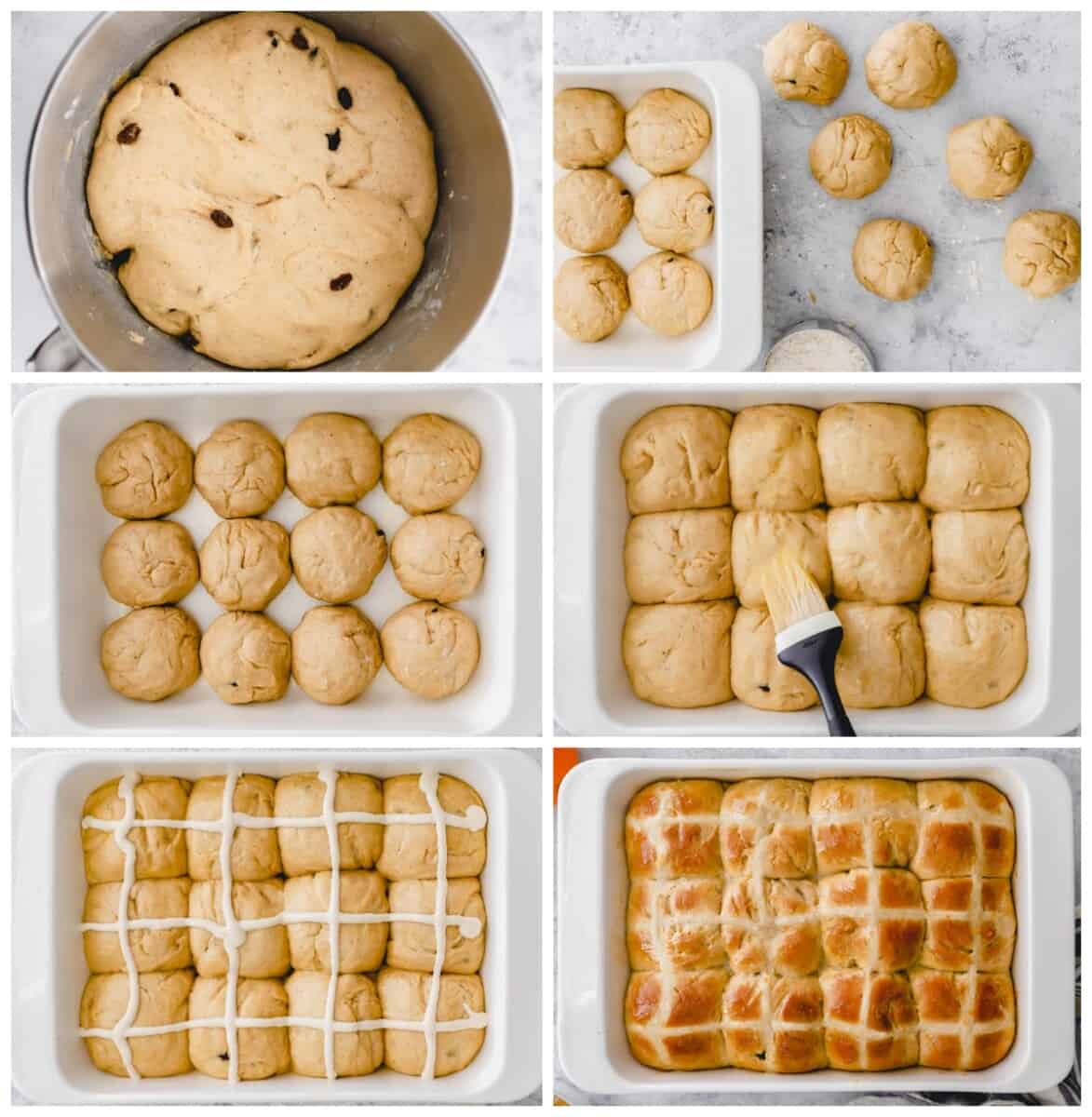 What are hot cross buns?
Hot cross buns are yeasted sweet buns filled with dried fruits and/or candied citrus peels and decorated with a white cross and topped with icing. They taste like a cross between a cinnamon roll and a dinner roll and are commonly eaten at Easter!
Why do Christians eat hot cross buns on Easter?
Because of their decorative cross (representing the crucifix) and warm spices (representing the spices used to embalm Jesus), these sweet rolls are symbolic of the day Jesus was crucified.
What is the white stuff on top of the buns?
The white cross on traditional hot cross buns is a paste made from flour and water. It doesn't really add flavor to the buns, just decoration. You can also simply score a cross shape on the top of each bun and skip the paste if you prefer.
Can you make hot cross buns in advance?
Yes! Fully-baked hot cross buns can be made up to 3 days in advance of when you plan to serve them. You can also prep the buns through step 8 and chill them overnight in the refrigerator before baking them!
How do you eat a hot cross bun?
You can eat a hot cross bun as a side with your Easter meal or as a breakfast or snack item. They're delicious any time of day. They're yummy on their own, but you can also slather them in butter or cream cheese!
Can you freeze hot cross buns?
Yes! These buns will keep well in the freezer for up to 3 months. Let them thaw at room temperature for a few hours before enjoying them.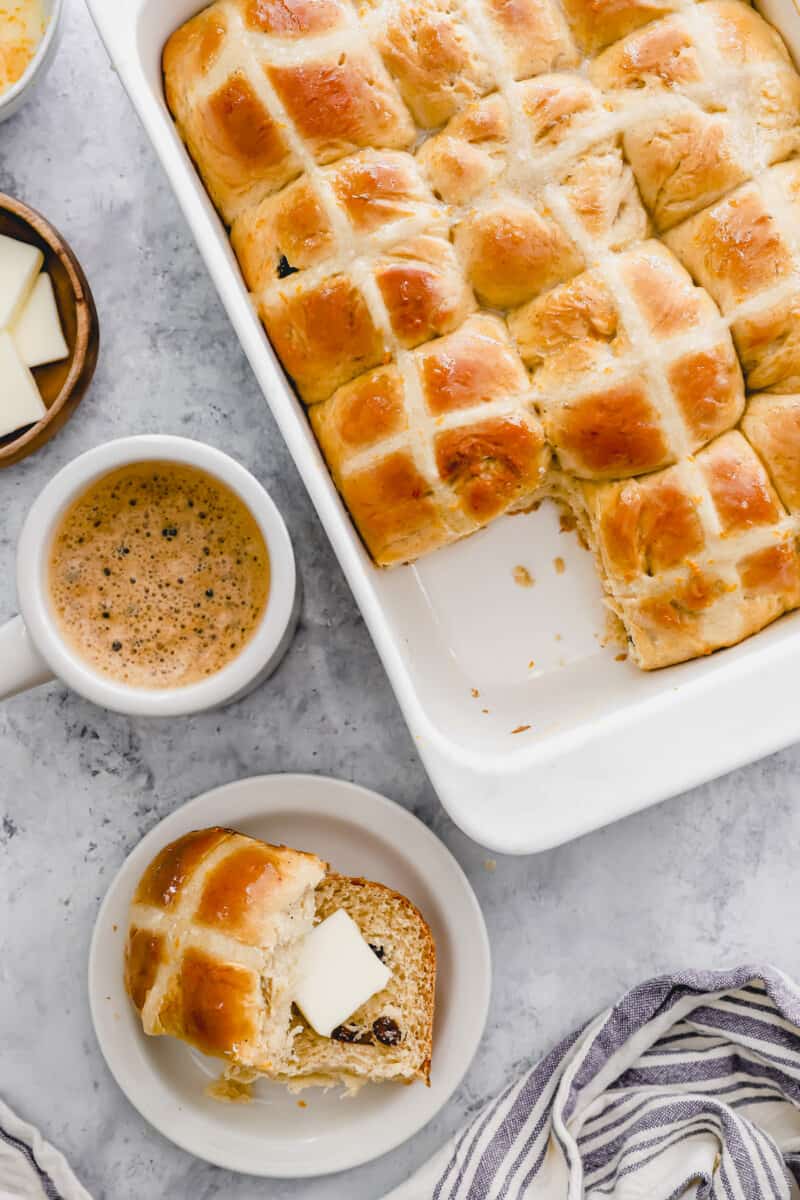 How to Make Ahead and Store
You can prepare the buns through step 8, placing them in the refrigerator to slow rise instead of the counter. They can be left in the refrigerator for up to 24 hours. Let come to room temperature for 30 minutes before egg washing, adding the cross paste, and baking. Store leftover buns in an airtight container at room temperature for up to 3 days or in the refrigerator for up to 5 days.
How to Freeze
Freeze hot cross buns in a single layer on a lined baking sheet until solid, about 1-2 hours. Transfer to an airtight container or Ziplock bag for up to 3 months. Let thaw at room temperature before enjoying.
What to Serve with Easter Hot Cross Buns
This traditional recipe goes well with a glass of warm milk, Chocolate Coffee, or a delicious Orange Julius. Serve it side by side with your favorite breakfast treats like an Egg McMuffin, or have the ultimate sweet tooth spread by adding Sticky Buns to the table. I love serving these with Easter brunch!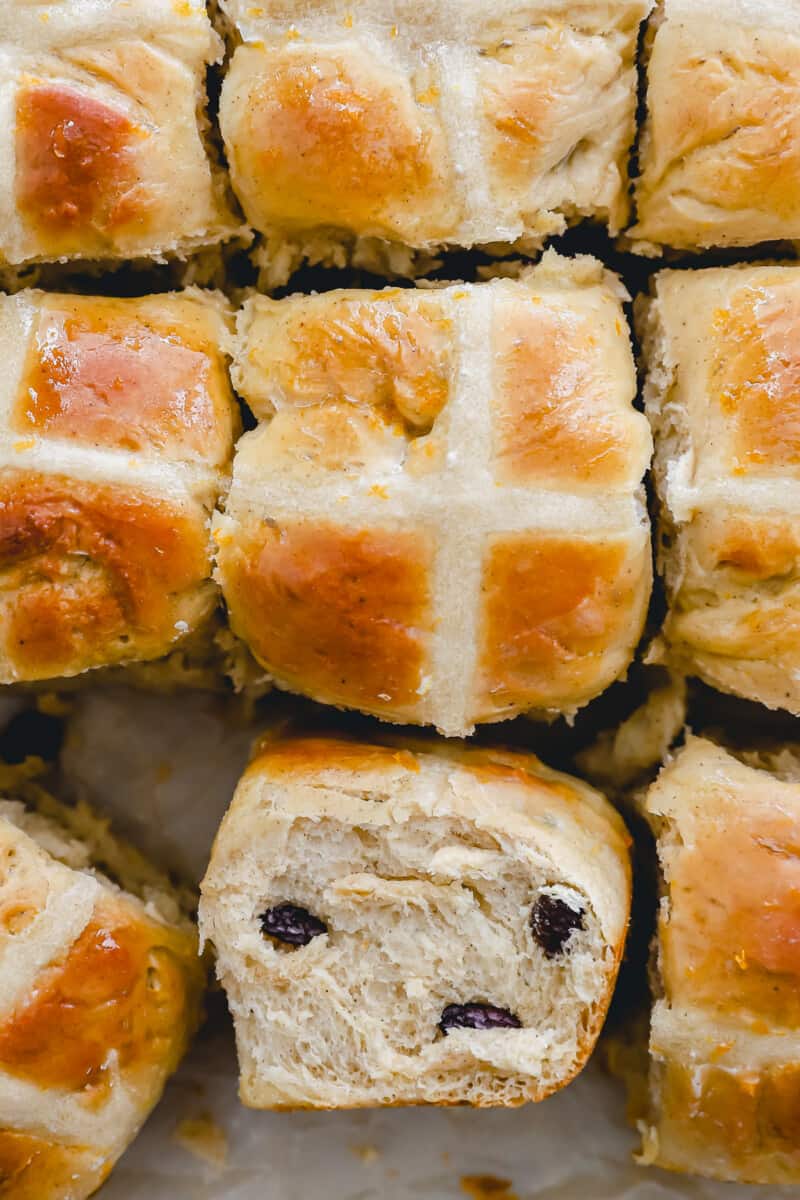 More Easter Bread Recipes We Love