Homemade Croissants are easier to make than you may think! This recipe yields freshly baked croissants that taste like they're straight from a bakery. They're perfectly soft, flaky, and buttery as can be. Your mornings just got so much more delicious!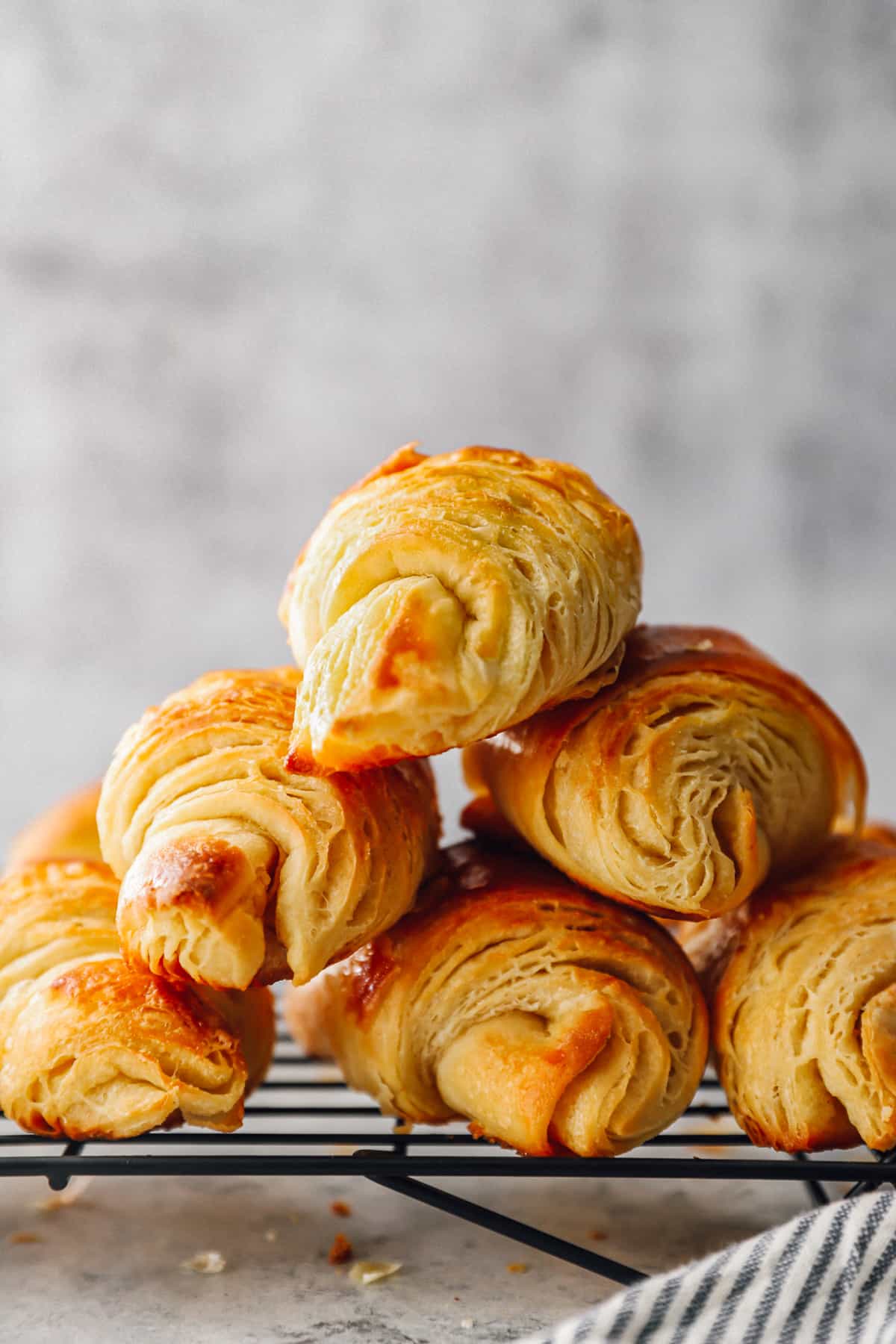 Homemade Croissants
I don't think there's anything more satisfying than biting into a homemade Croissant! This easy recipe always yields the BEST results. You know those lackluster, flavorless, limp Croissants you can usually grab at the drive-thru or at the grocery store?
Those just don't cut it for me. I like when my Croissants taste like they're fresh out of a Parisian bakery! Plus, mastering the art of this breakfast treat is a fairly easy task. Just follow my simple step-by-step instructions and helpful tips and tricks!
Why You'll Love this Croissant Recipe:
So Flaky: Every soft, flaky layer of these Croissants is baked to pure heavenly perfection.
Impressive: Hosting a holiday breakfast or brunch with friends? Impress everyone with these homemade breakfast treats!
Easy: While this recipe does have a few steps that really require your full attention, it's nothing you can't handle. You'll be surprised at how easy this recipe really is!
Enjoying a freshly baked Croissant with your cup of coffee first thing in the morning is the BEST way to start your day!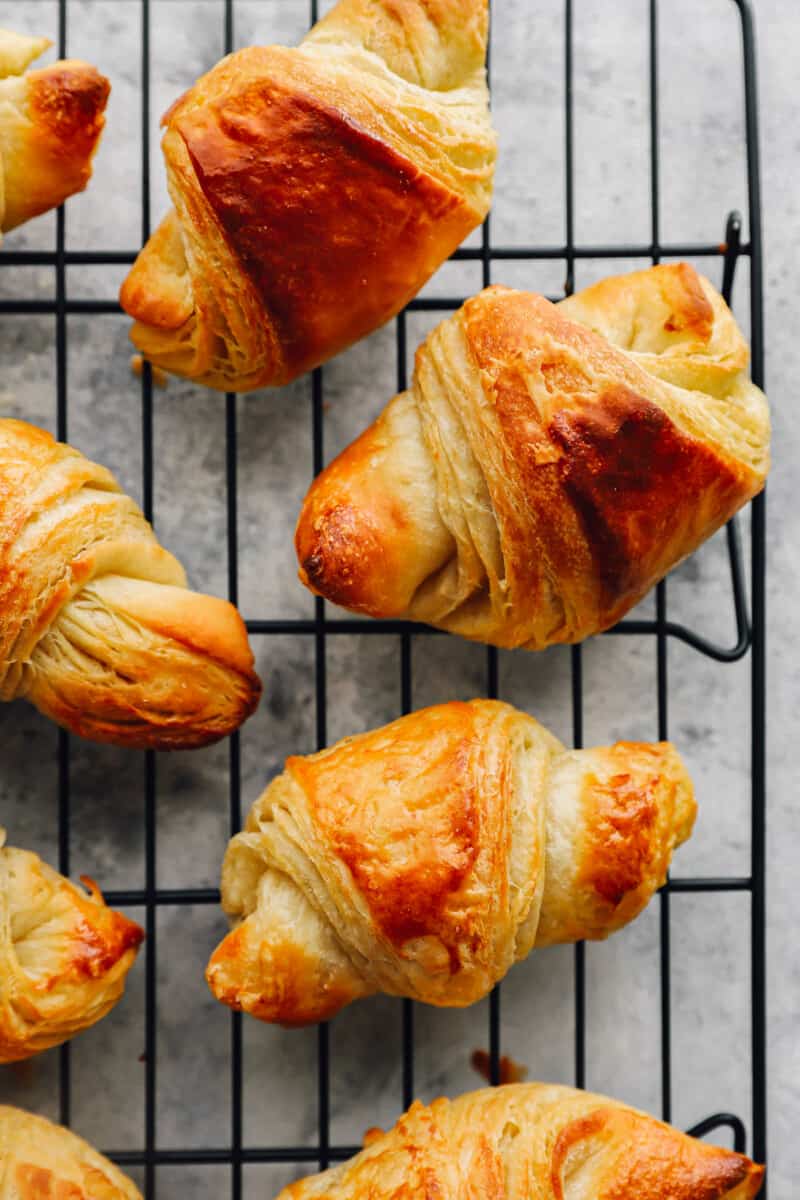 How to Make Croissants
You can jump to the recipe card for full ingredients & instructions!
Stir together the milk, yeast, and sugar. Let it rest.
Using the dough hook, incorporate the butter. Gradually add the flour.
Continue to mix until a dough forms.
Knead the dough on your countertop. Wrap in plastic wrap and chill.
Roll the dough into a rectangle. Cover and chill.
Spread softened butter into a rectangle shape on a sheet of parchment paper. Refrigerate.
Place the butter onto the dough.
Fold the dough to cover the butter. Refrigerate.
Roll it out into a larger rectangle. Divide the dough into thirds. Fold it again. Refrigerate.
Repeat this process of chilling and folding.
Use a pizza cutter to cut the dough into triangles.
Roll the triangles into croissants.
Let the dough rest at room temperature before chilling.
Brush each croissant with egg wash.
Bake at 375°F for 15-20 minutes.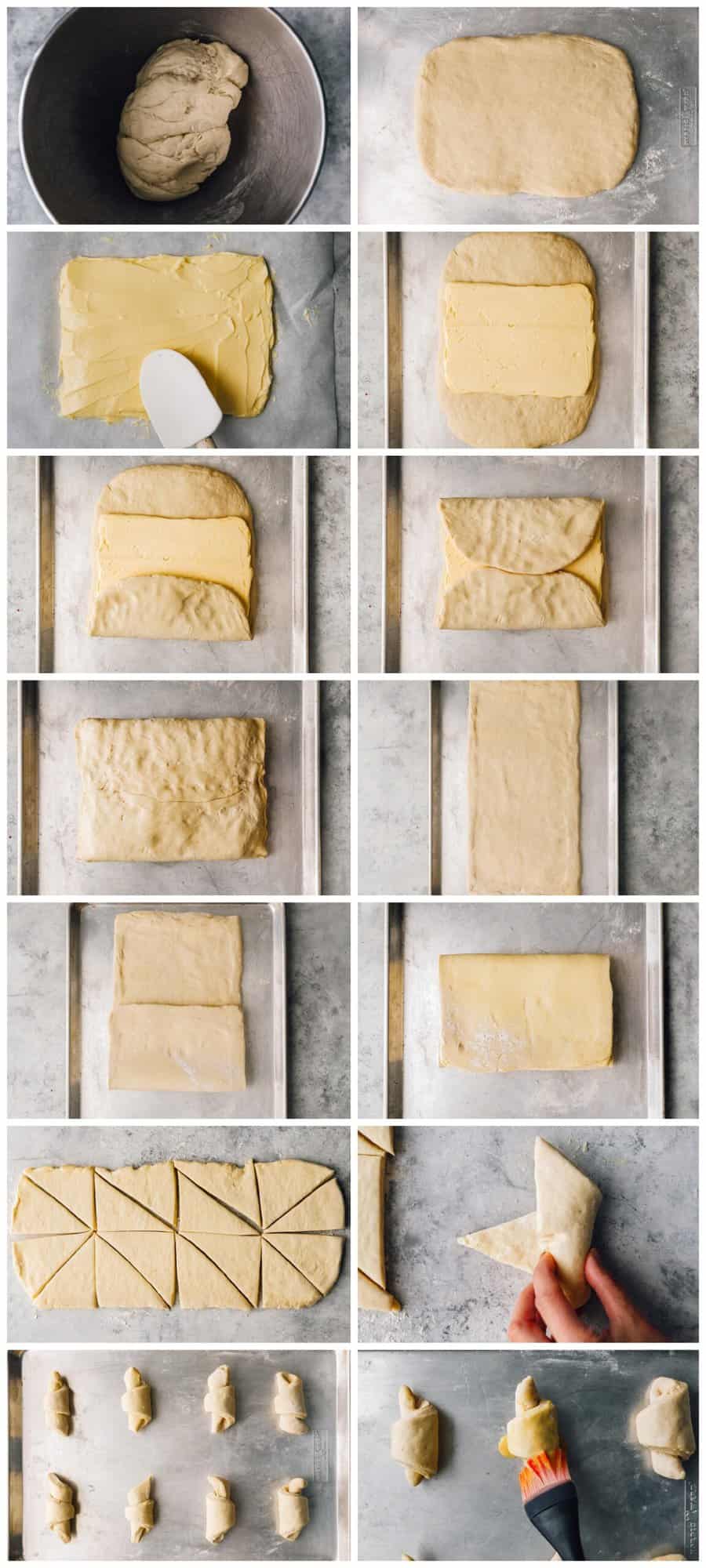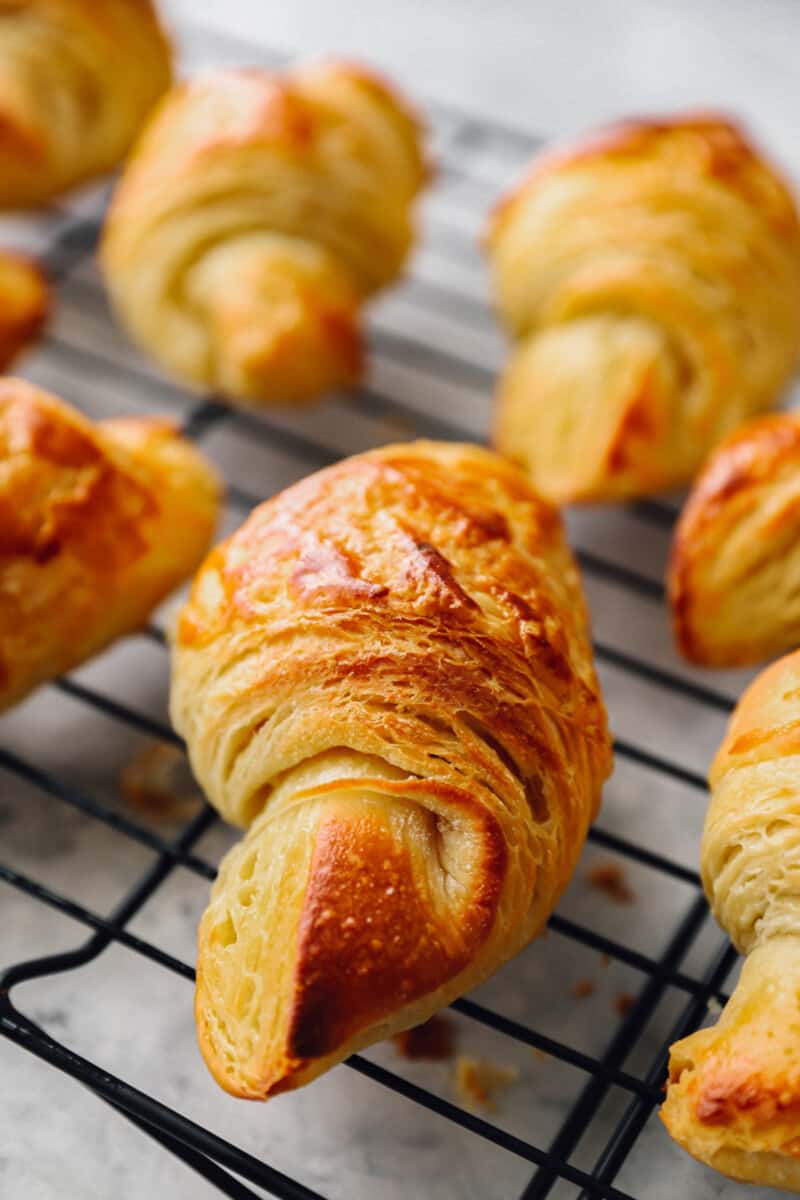 Are croissants bread or pastry?
Although croissants are quite bready, they are actually a type of laminated pastry.
How many calories in a croissant?
Each of these croissants is 281 calories.
Are croissants healthy?
Croissants are a fun food, not a healthy one. They're pretty high in carbs and fat, and they are best enjoyed in moderation.
How many carbs in a croissant?
These croissants contain 26 grams of carbohydrates, which is 6% of the recommended daily value.
What does it mean to "laminate" croissant dough?
Lamination is the process of folding dough with butter to create flaky layers. When the laminated dough bakes, the butter melts and creates steam, making tons of individual flaky layers in the dough. The process involves chilling flat layers of butter and placing them on rolled-out dough, folding them up, and repeating until you have many, many layers!
Can dogs eat croissants?
No! Croissants are too high in fat and carbs for dogs and can cause stomach upset and weight gain. It's best to keep these far away from your furry friends!
Why did my croissants leak butter?
When baking croissants, some butter leakage is normal. However, if a lot of butter is leaking out of your croissants, your butter layers may not have been chilled enough before baking. It's important to chill the dough between each step in order to keep the butter firm enough to remain in the dough during baking.
Can you freeze croissants?
Absolutely! Croissants will keep well in the freezer for up to 1 month!
Learning how to make croissants at home is such a great skill to have. Nothing is better than a buttery, flaky croissant fresh from the oven!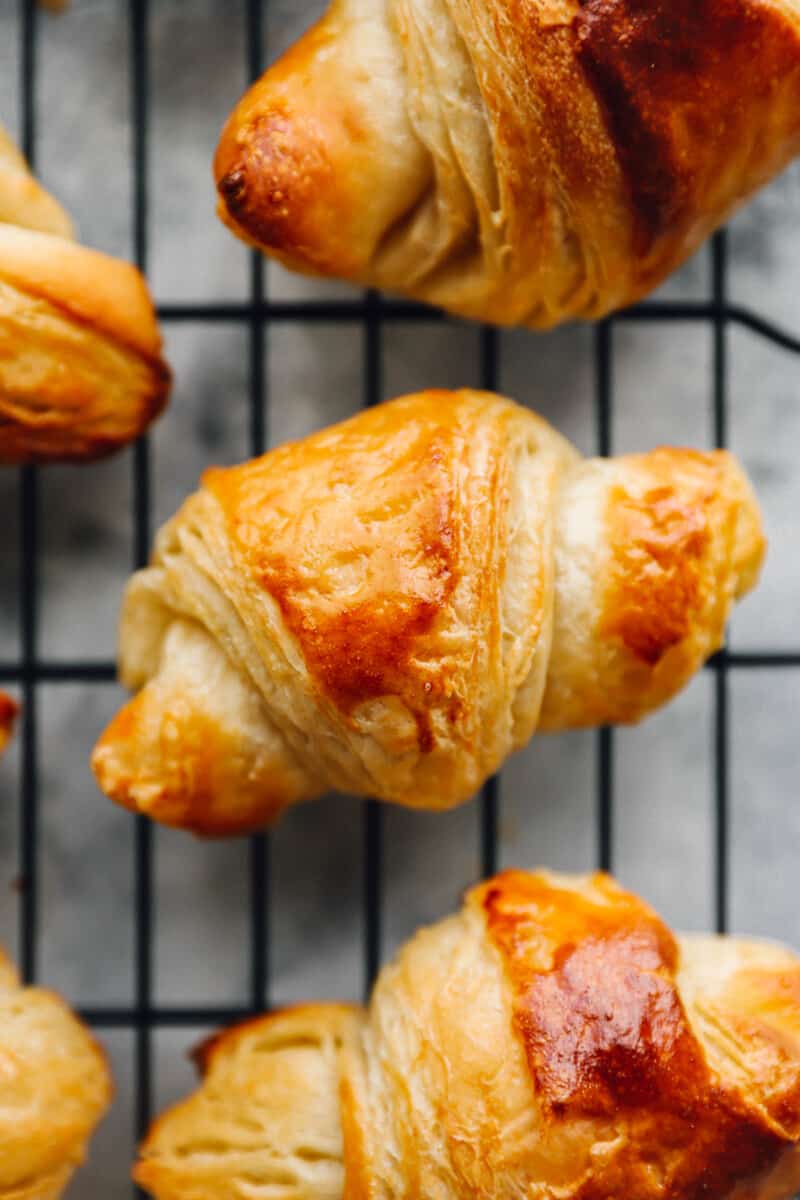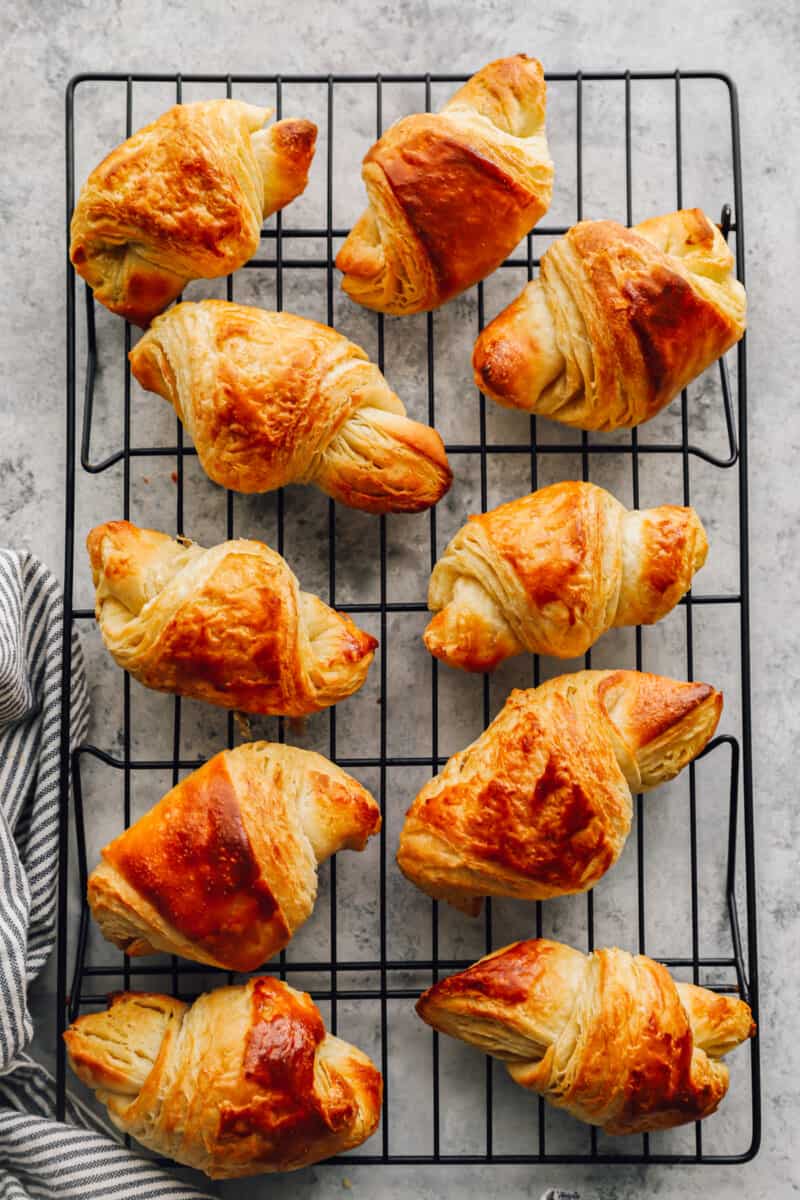 Make Ahead Instructions
These croissants are a great multi-day recipe! I recommend splitting it up as follows:
Day 1: Prepare the dough, then let it chill overnight.
Day 2: Laminate the dough and let it sit in the refrigerator overnight again.
Day 3: Cut the dough and bake the croissants. You can also cut and shape the croissants and freeze them for up to 1 month. Let thaw overnight in the refrigerator or on the counter for 1 hour before baking.
Storage Instructions
Store leftover croissants in an airtight container at room temperature for up to 3 days or in the refrigerator for up to 5 days.
Freezing Instructions
Freeze croissants in a single layer on a lined baking sheet until solid, about 1-2 hours. Transfer to an airtight container or Ziplock bag to store for up to 1 month. Let thaw at room temperature for 1 hour before baking.
Croissant Fillings
You can add various fillings to your croissants before rolling them. Try:
Nutella
Fruit jam
Chocolate
Brown sugar
Chopped nuts
Shredded cheese
Pesto
Tomato sauce
Tips for the Best Croissants
Don't expect perfect results on the first try! Practice, practice, practice!
Don't rush the process. I recommend breaking this recipe out over 3 days.
I highly recommend using a kitchen scale for this recipe to ensure the most accurate results.
Make sure your yeast is active before using it. If it doesn't bubble after resting for a few minutes, discard it and start again.
Make sure the milk is warm, but not hot. If the milk is too hot, it could kill the yeast!
Keep the dough as cold as possible. When in doubt, stick it back in the refrigerator for 20 minutes.
Don't chill the butter for more than 30 minutes; otherwise, it will be too hard to work with.
If the dough or butter is too difficult to roll out, let it rest at room temperature for a few minutes. You want it cold, but still pliable!
Lightly flour your work surface and rolling pin to prevent the dough from sticking and tearing.
If you notice air bubbles in your dough as you roll it out, gently pop them with a toothpick, then lightly flour the area.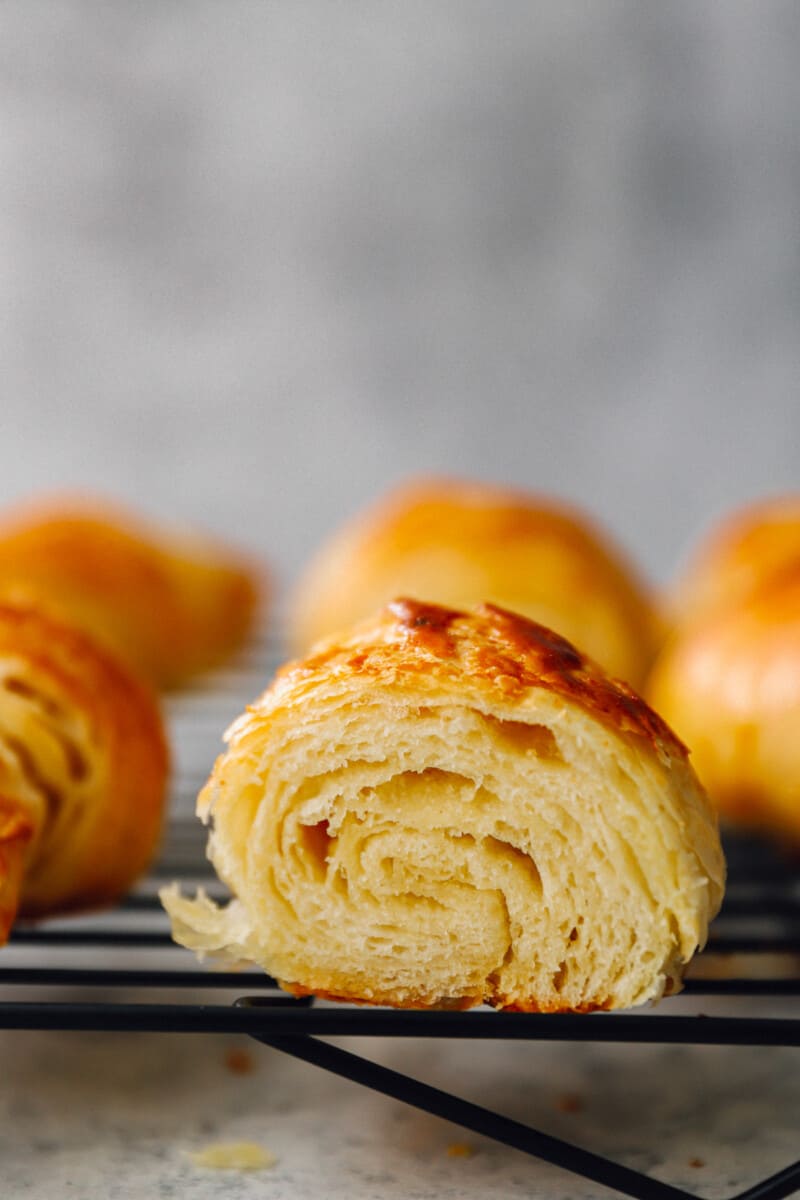 A flaky exterior that gives way to a soft, buttery, fluffy interior is key when biting into a Croissant. This recipe never fails to deliver those key elements! Get ready to knead and roll, because this is a baking staple you'll want to make time and time again.
If you make this recipe be sure to upload a photo in the comment section below or leave a rating. Enjoy! You can also jump to recipe.