This post is sponsored by Danish Creamery. All opinions are my own.
This moist Brown Butter Banana Bread is made extra flavorful with browned butter. Rich and delicious, with the perfect texture, great for any time of the day!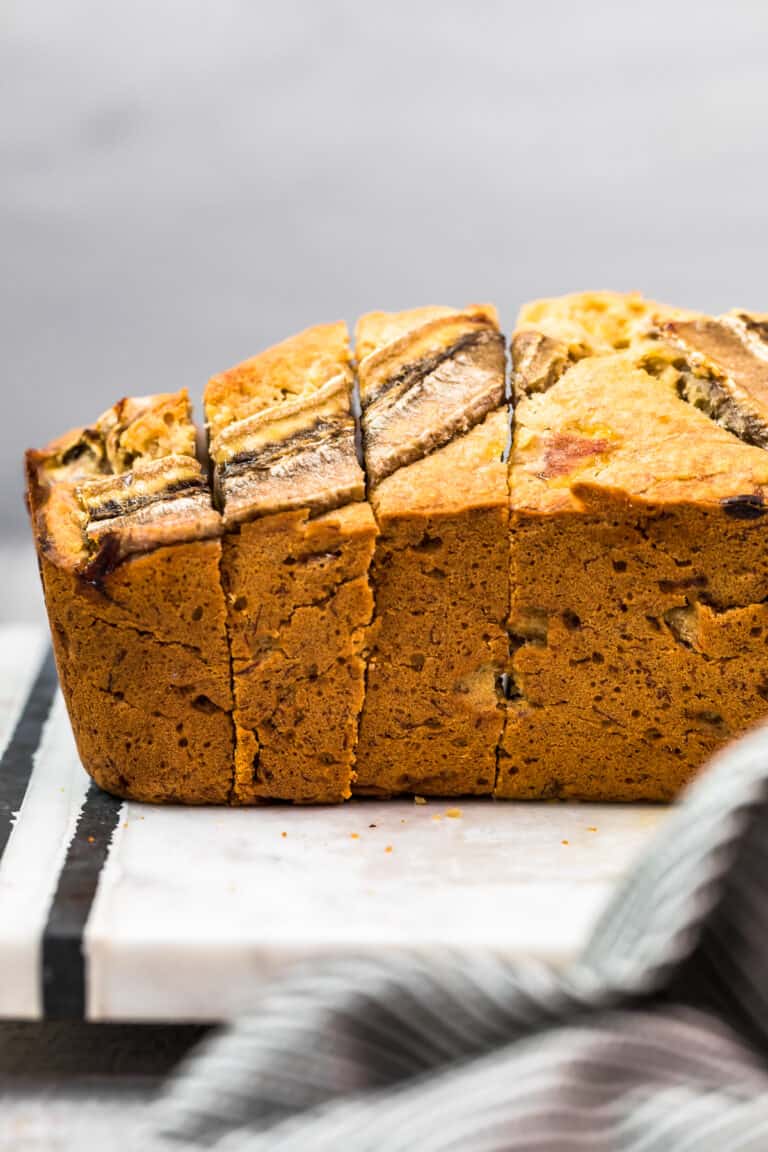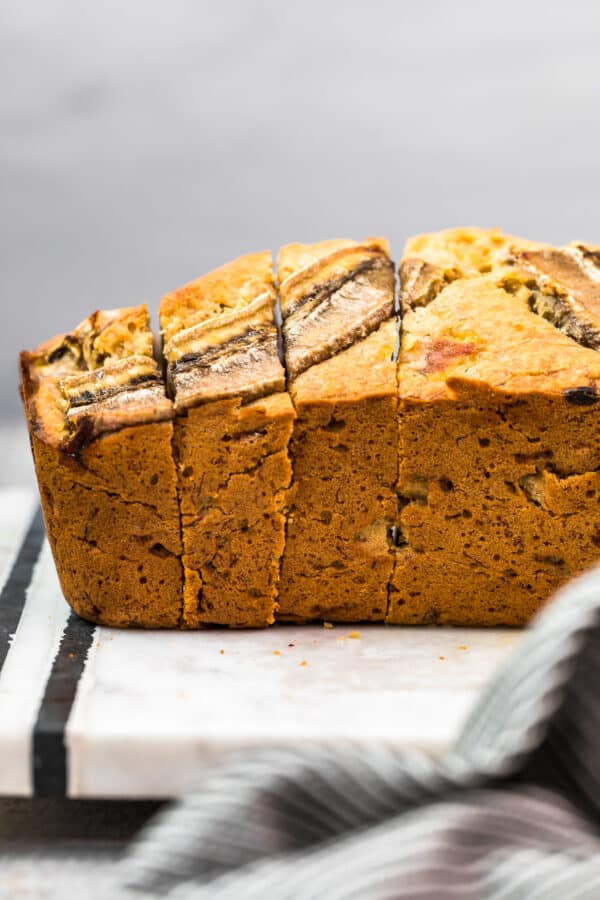 I think we have a winner… this is the best banana bread in town! Besides sounding like a tongue twister, this Brown Butter Banana Bread is the ultimate loaf, plus it's a breeze to whip up.
Made with creamy European style butter and very ripe bananas, this is rich and packed with flavor. Have it for breakfast, dessert or just as a snack. Whatever the case just have it, you will not be disappointed!
Why this Brown Butter Banana Bread is so good!
Made with browned butter. Browning the butter adds a hint of addictive nuttiness and intense buttery flavor to the loaf.
Perfectly sweet. The brown sugar adds a lovely molasses richness, without overpowering the bananas.
Easy to make! The banana bread batter comes together easily, mainly with staples already lurking in your kitchen.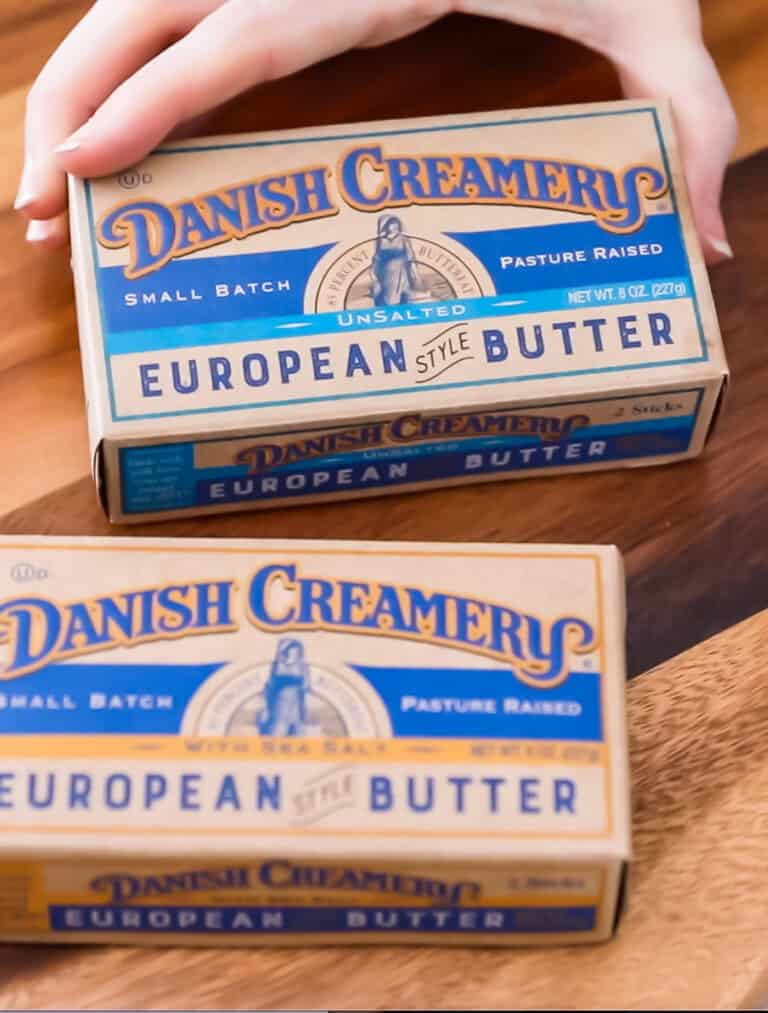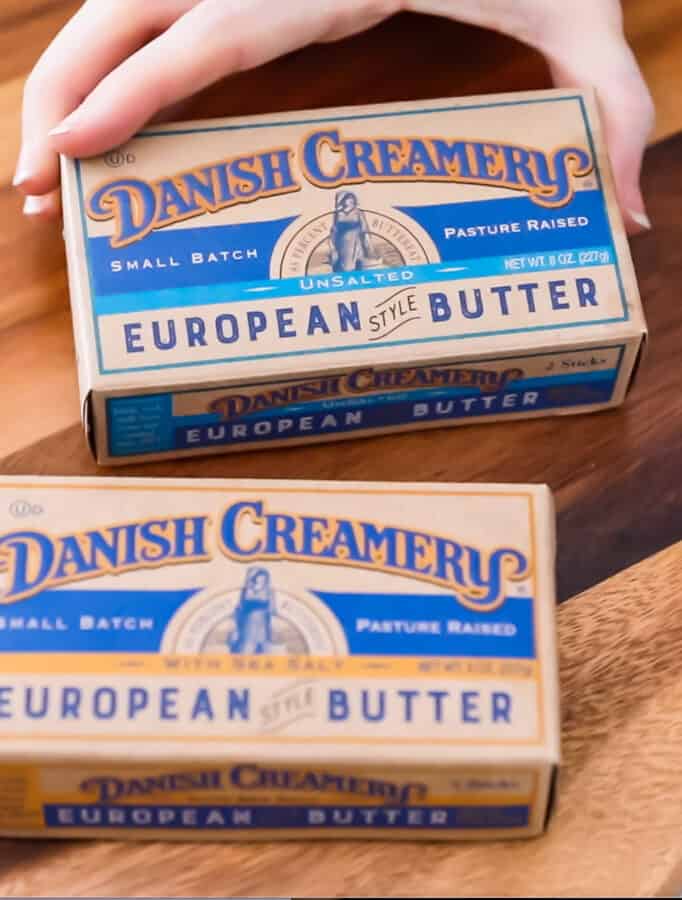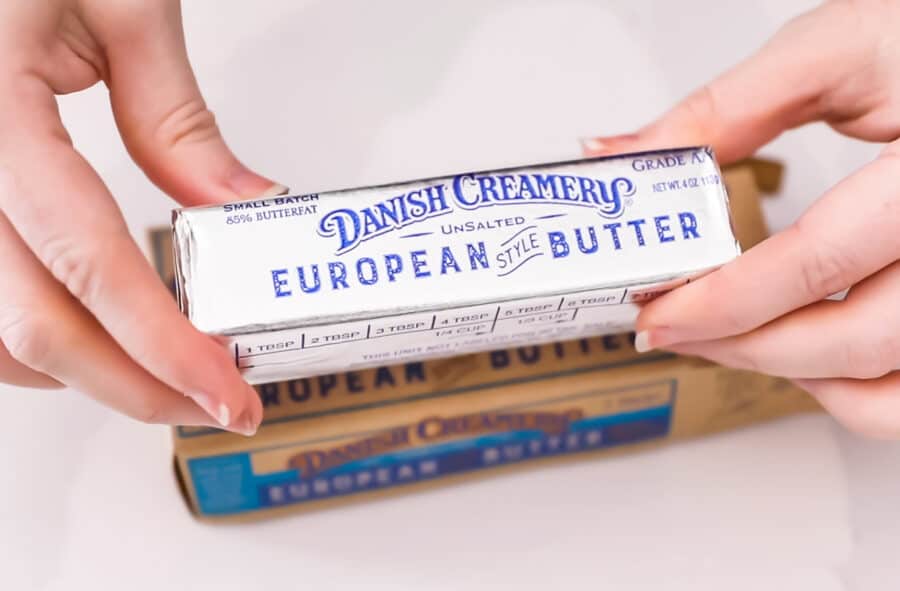 The Best Browned Butter
To make this ultimate Banana Bread I made browned butter. I used Danish Creamy Unsalted European Style Butter and was blown away by the quality, taste, and creaminess!
Quality ingredients make ALL the difference in baking, so I hope you give Danish Creamery a try. Their butter is churned fresh (DAILY!), and made from pasture-raised cows.
Grass fed is always better!! I love to use small batch butter like this and am proud to be working with Danish Creamery this year.
Ingredients
Unsalted Butter: I used Danish Creamery European Style Unsalted Butter.
All Purpose Flour
Bananas: Very ripe (soft and darkly speckled)
Brown Sugar
Baking Soda
Table Salt
Sour Cream
Vanilla Extract
Overly Ripe Banana: For the topping (optional)
How to make this Brown Butter Banana Bread
Be sure to scroll to the bottom for the full recipe
Whisk butter in a pan until melted, allow to cook until the butter froths and you smell a nutty aroma.
In a large bowl whisk the dry ingredients and set aside. Then in another bowl mix your wet ingredients. Fold your wet ingredient mix into the dry mix.
Then pour the batter into a pan, top with a sliced banana and bake for around 60 mins.
Serve warm or at room temp – enjoy!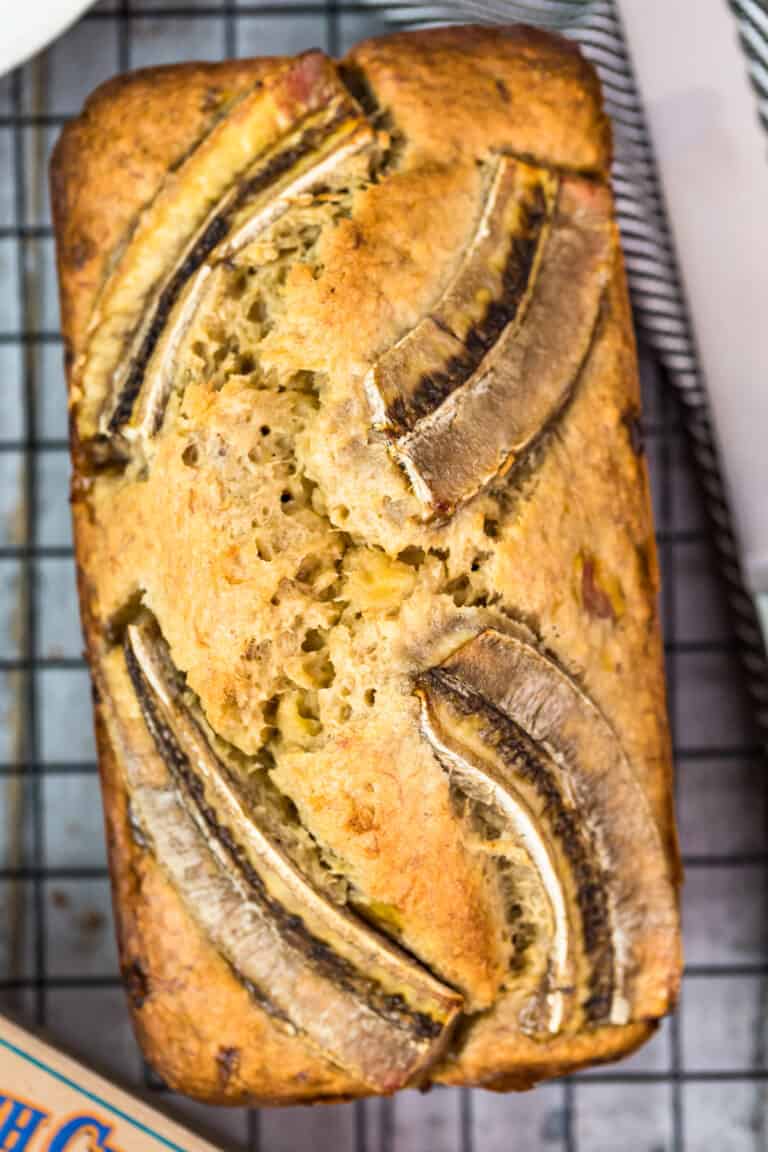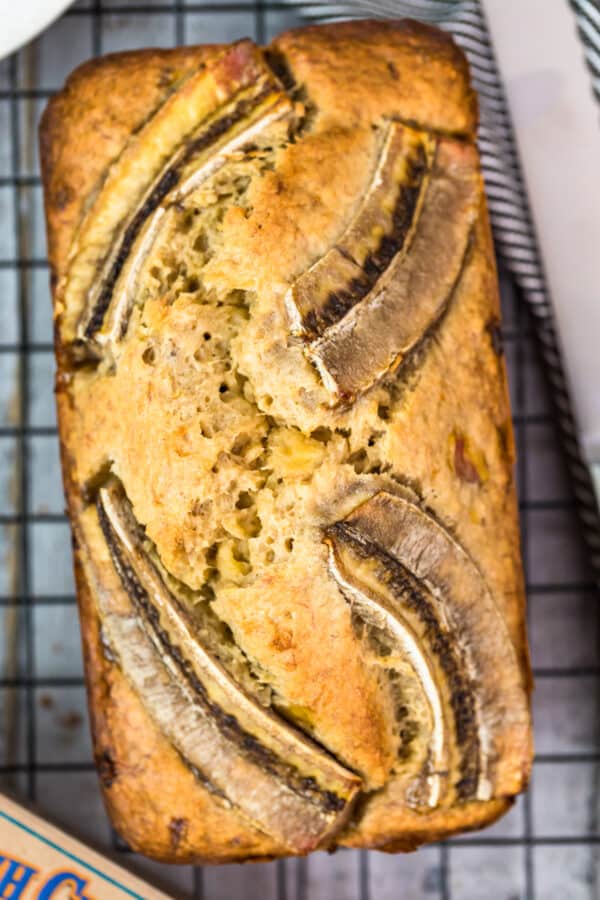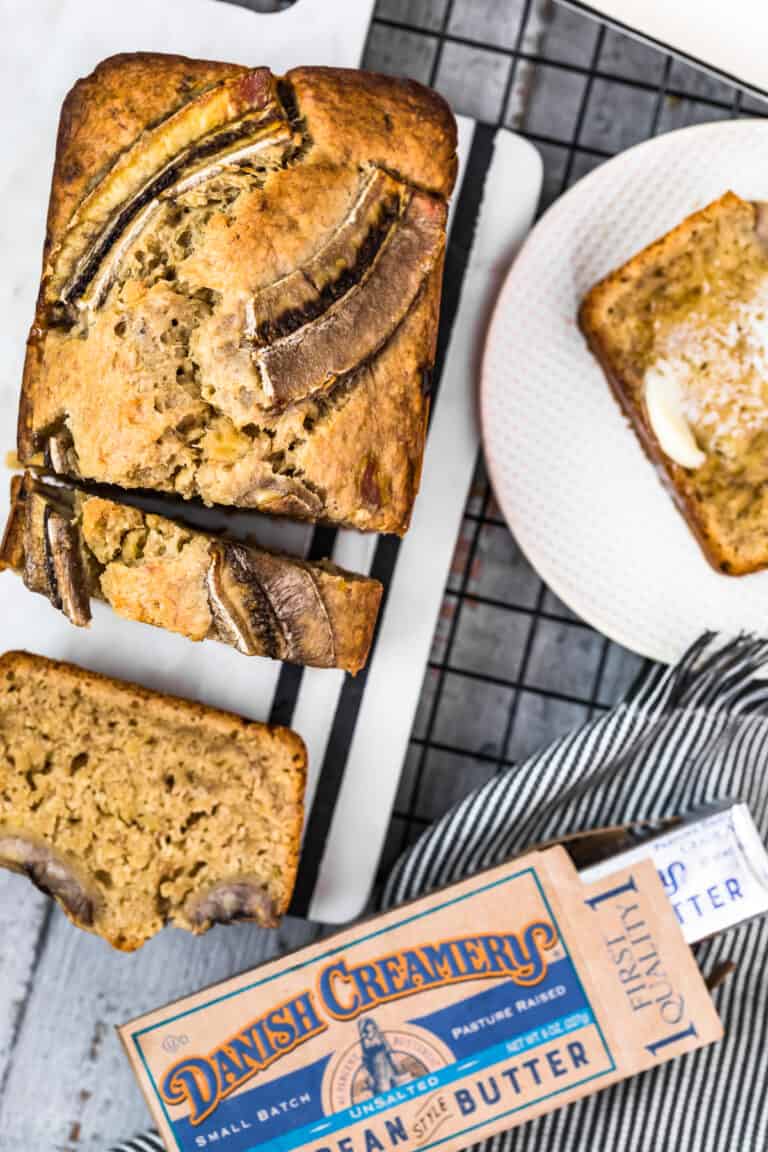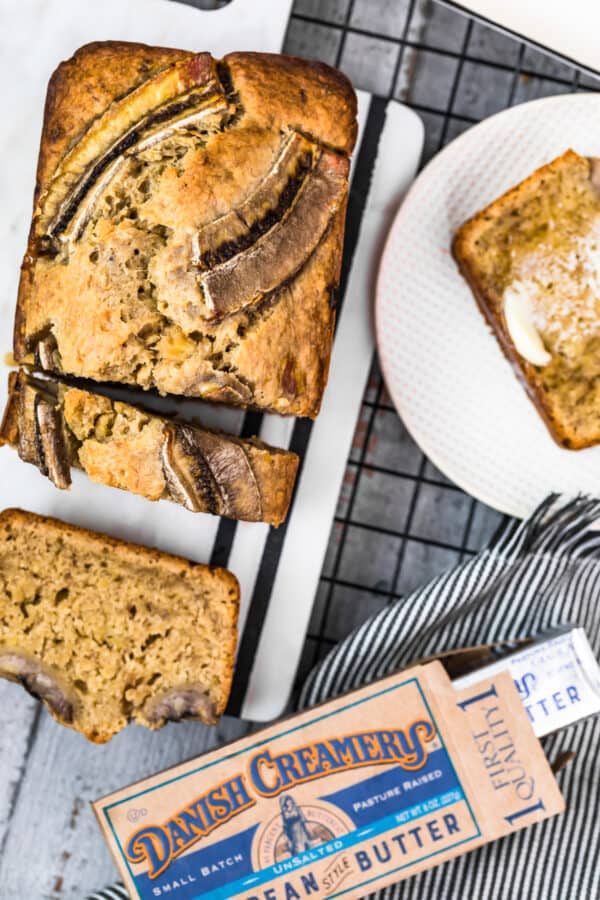 How do I know when my butter has browned?
Butter is comprised of three elements: fat, milk solids and water. By browning butter you are evaporating the water, this results in a rich, golden-brown liquid with an intensely "buttery" taste and a lovely nuttiness to it.
Once the butter is melted completely, turn the heat down to medium. Occasionally swirl the pan to ensure that the milk solids are being evenly browned.
The browned butter is ready when the milk solids become golden brown in color, oil slightly darkens in color, and the butter has a nutty aroma, about 2 to 3 minutes.
How ripe should bananas be for banana bread?
The best bananas for banana bread aren't yellow; they're practically black. Or they're at least speckled with black/brown, with just the barest hint of green at the stem.
And again, the darker the better: there's no such thing as a too-ripe banana when you're making banana bread.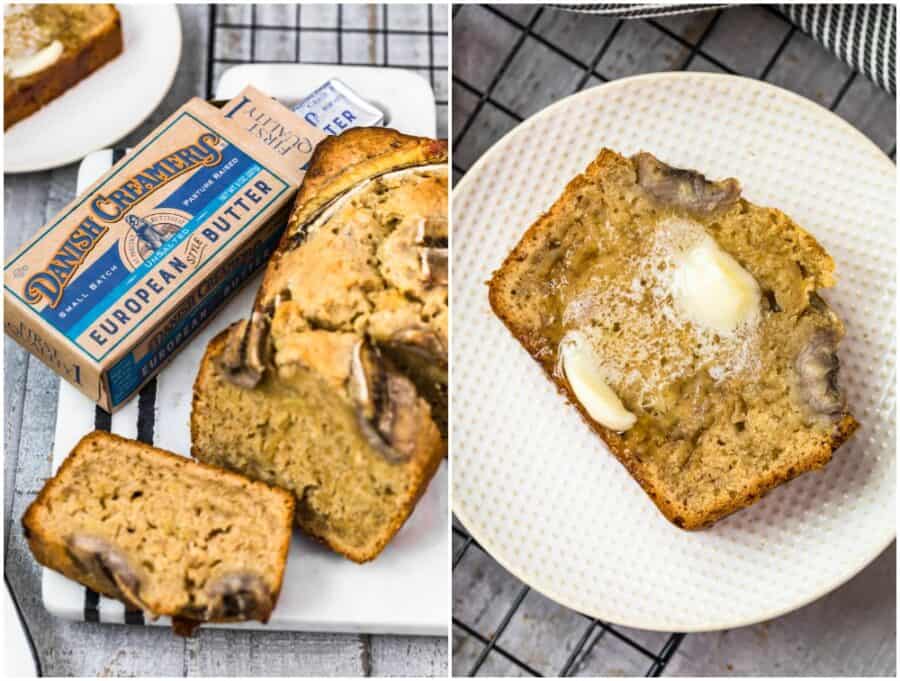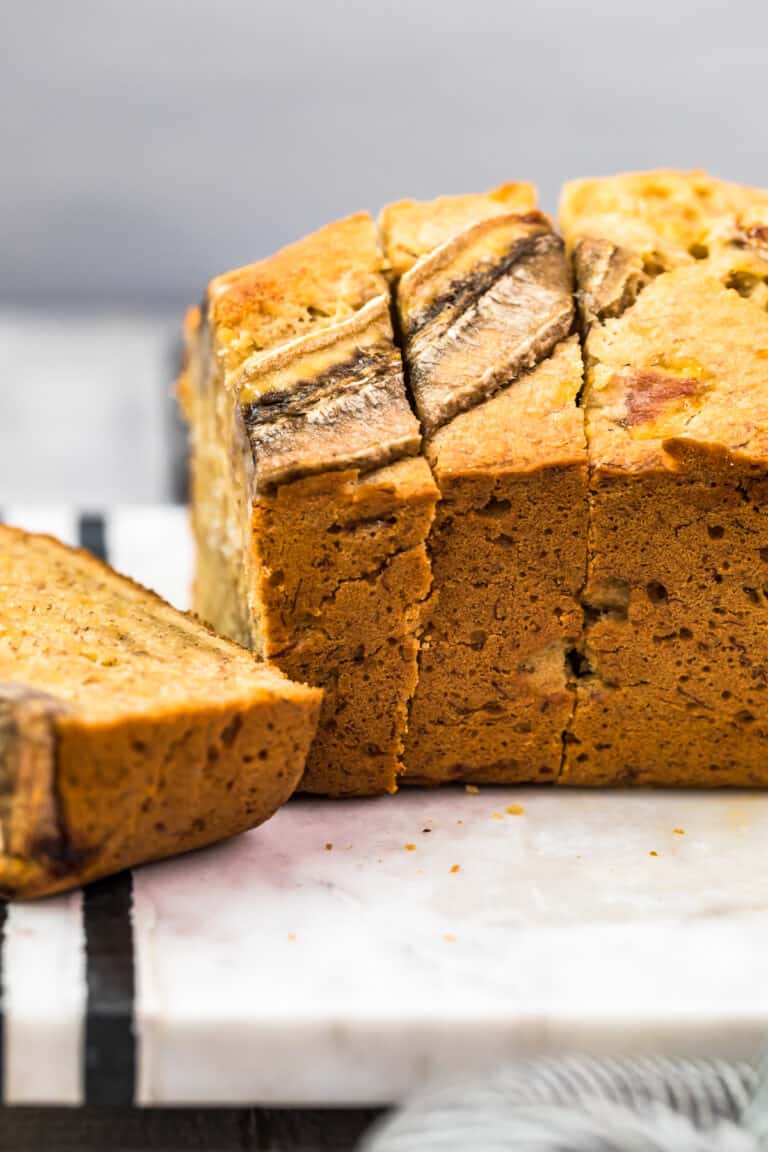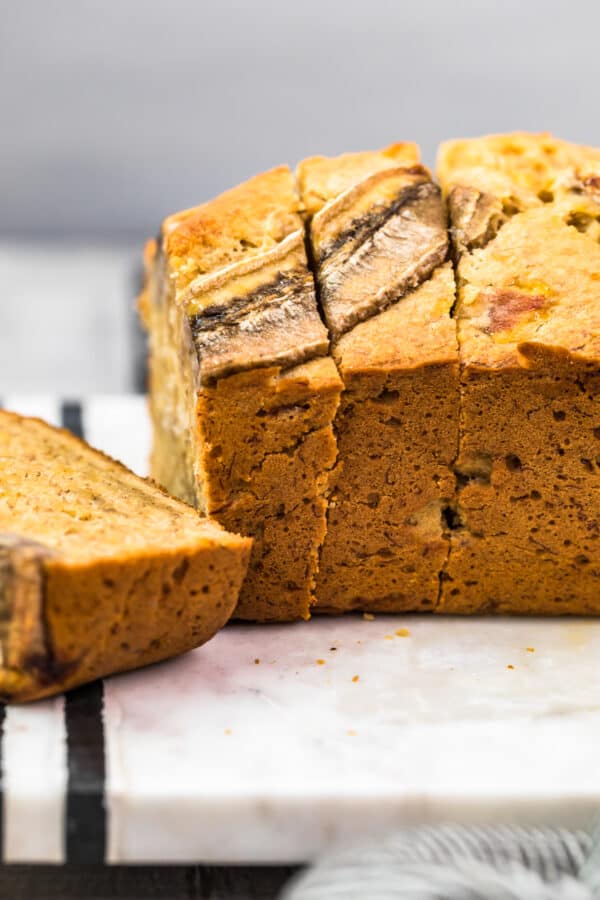 Can I freeze banana bread?
Cool the banana bread completely, then tightly wrap the loaf or slices (individually or grouped) in 2-3 layers of plastic wrap or aluminum foil.
Place wrapped banana bread in a large freezer-friendly storage bag or reusable container.
Date the bag and freeze for up to 3-4 months. Thaw wrapped or unwrapped in the refrigerator or at room temperature.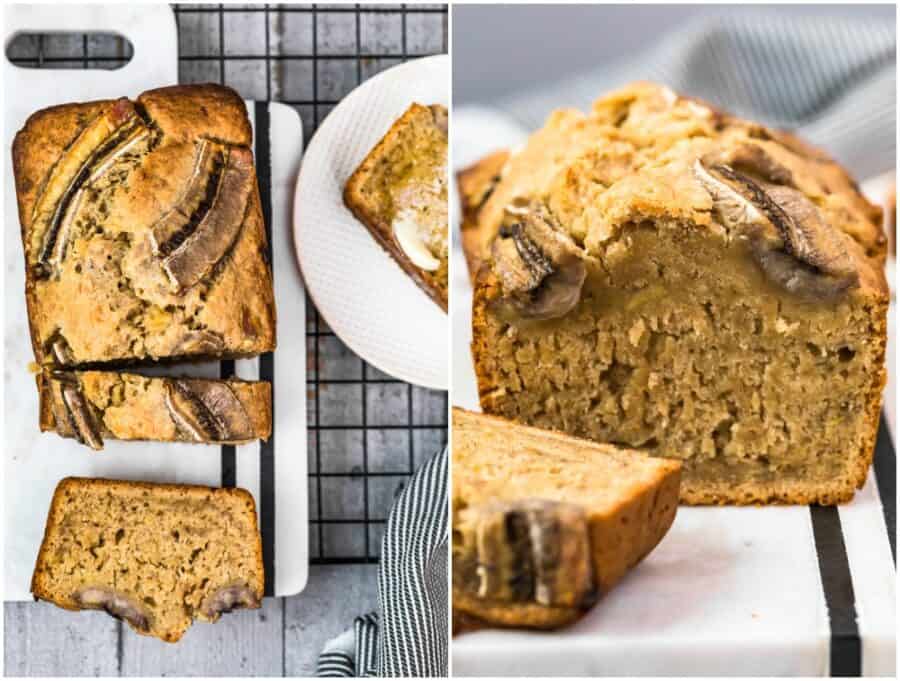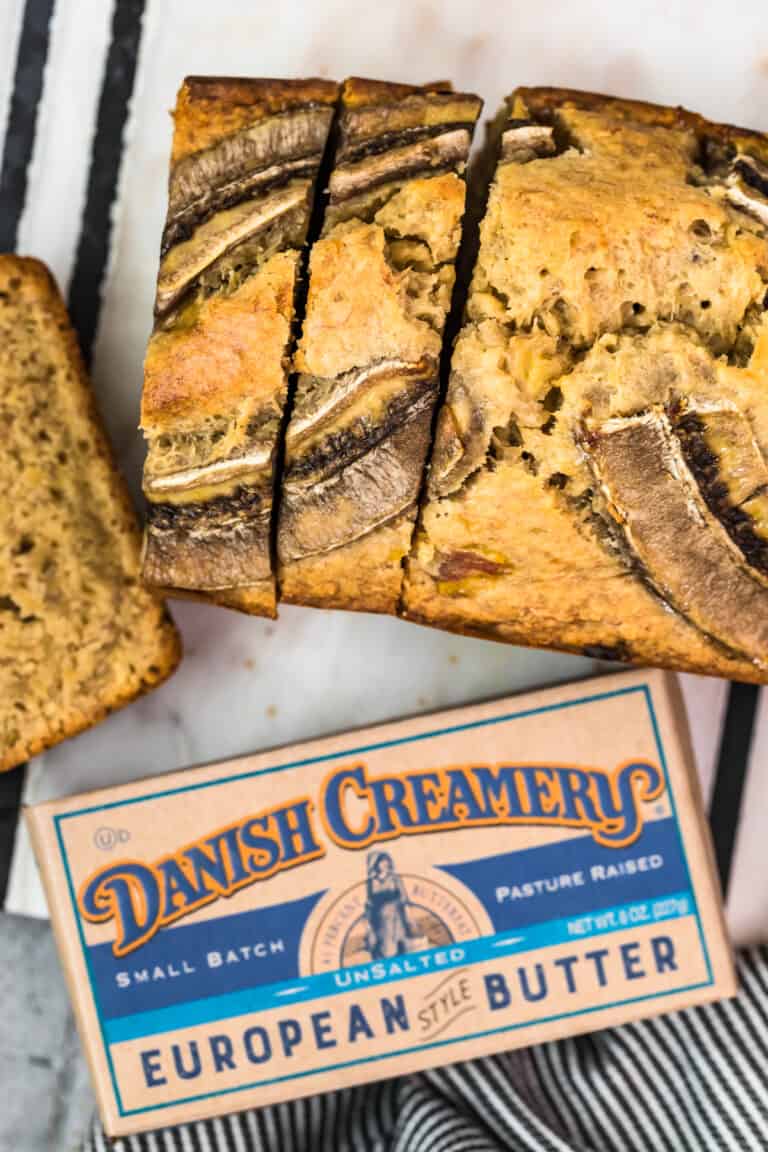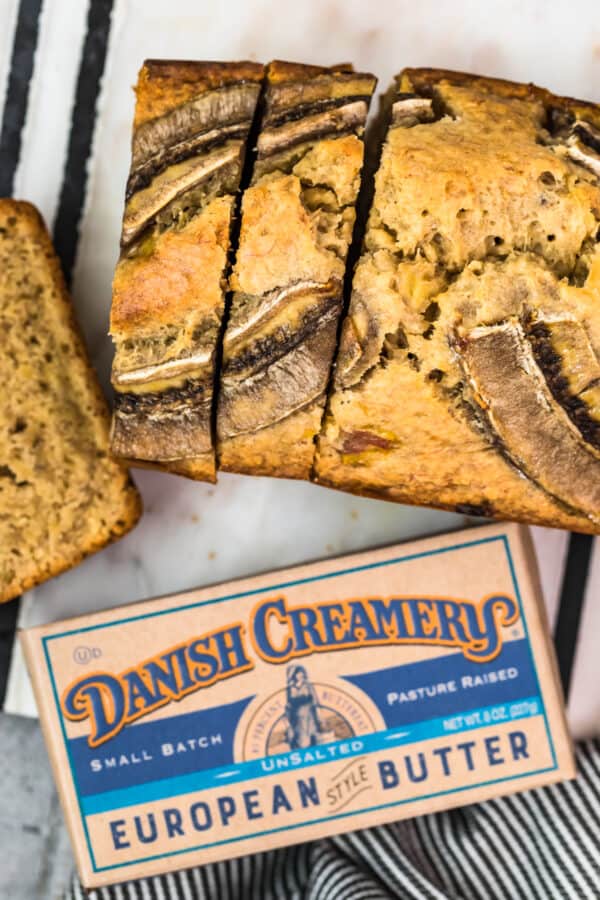 Top Tips for this Brown Butter Banana Bread
Use very ripe, brown spotted bananas for the best banana bread flavor. Extra ripe bananas add more sweetness and a richer flavor.
Watch your butter carefully and stir constantly as you brown it. As soon as you see brown flecks and smell a nutty, toasted aroma, remove the brown butter from the hot pan to prevent burning.
Be careful to not over-bake your banana bread. It's done when a tester inserted into the center of the loaf comes out with a few moist crumbs attached.
Freeze banana bread in slices because the slices thaw much quicker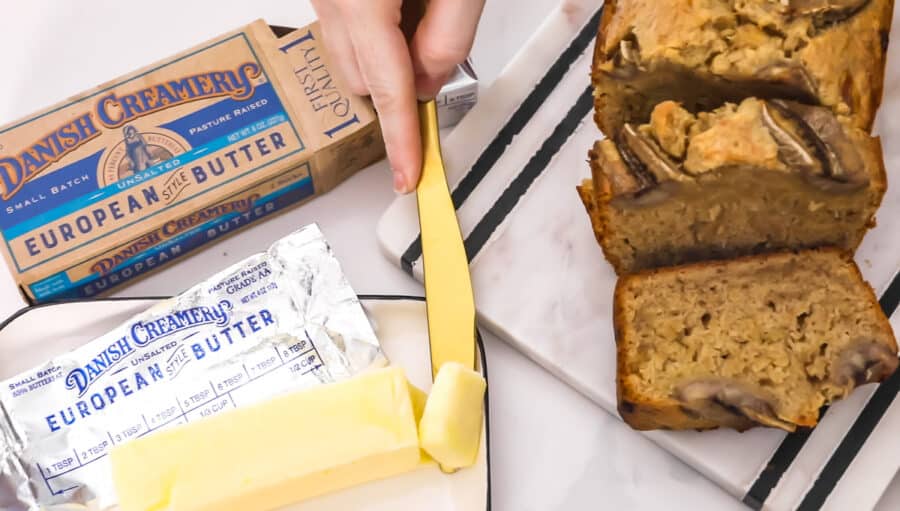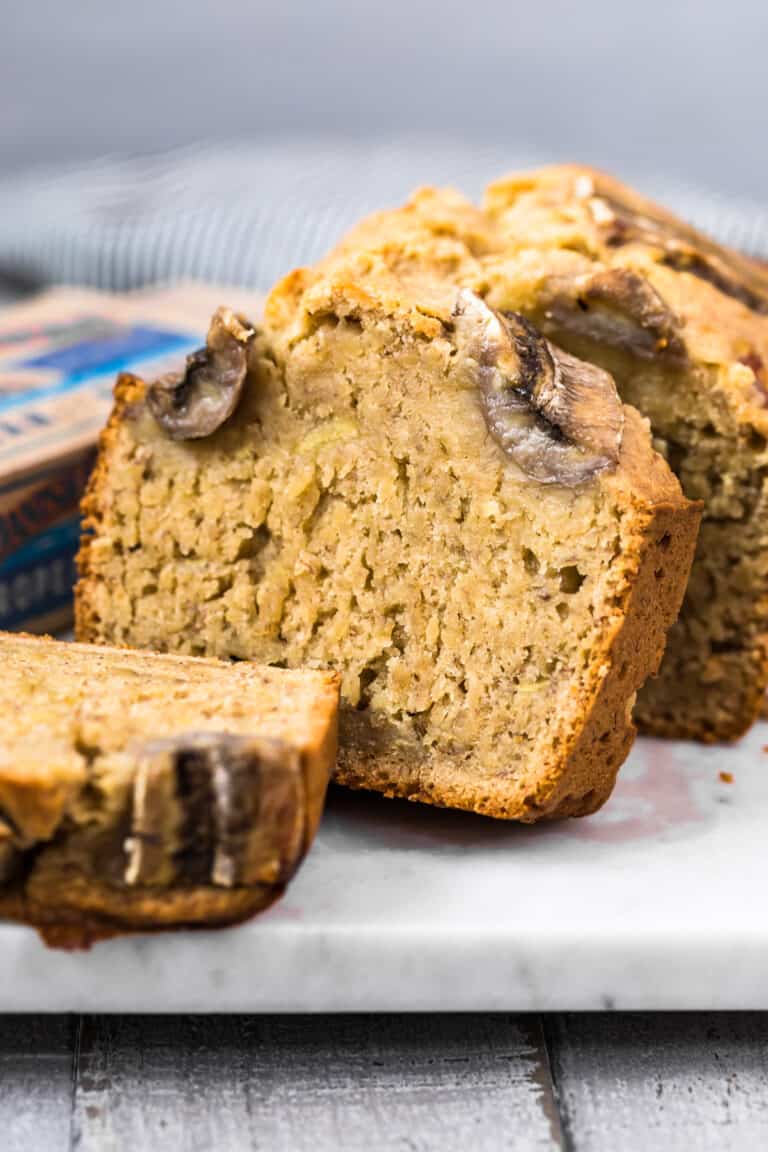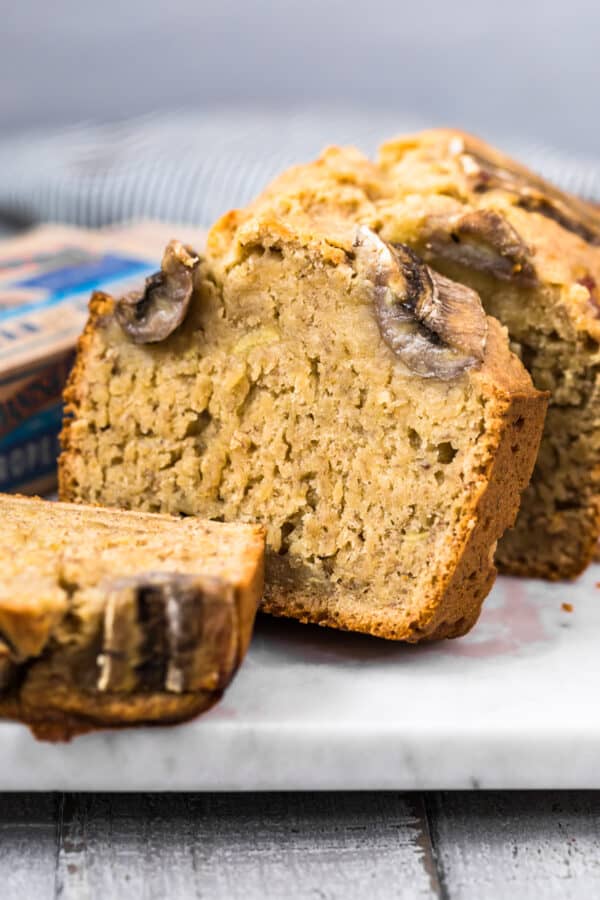 Other delicious cakes & breads
Have you tried this Brown Butter Banana Bread recipe? Feel free to leave a star rating and I'd love to hear from you in the comments below!