Pears are all the rage this Fall, and for good reason! This Easy Pear Butter is the perfect quick treat for spreading on toast and English muffins.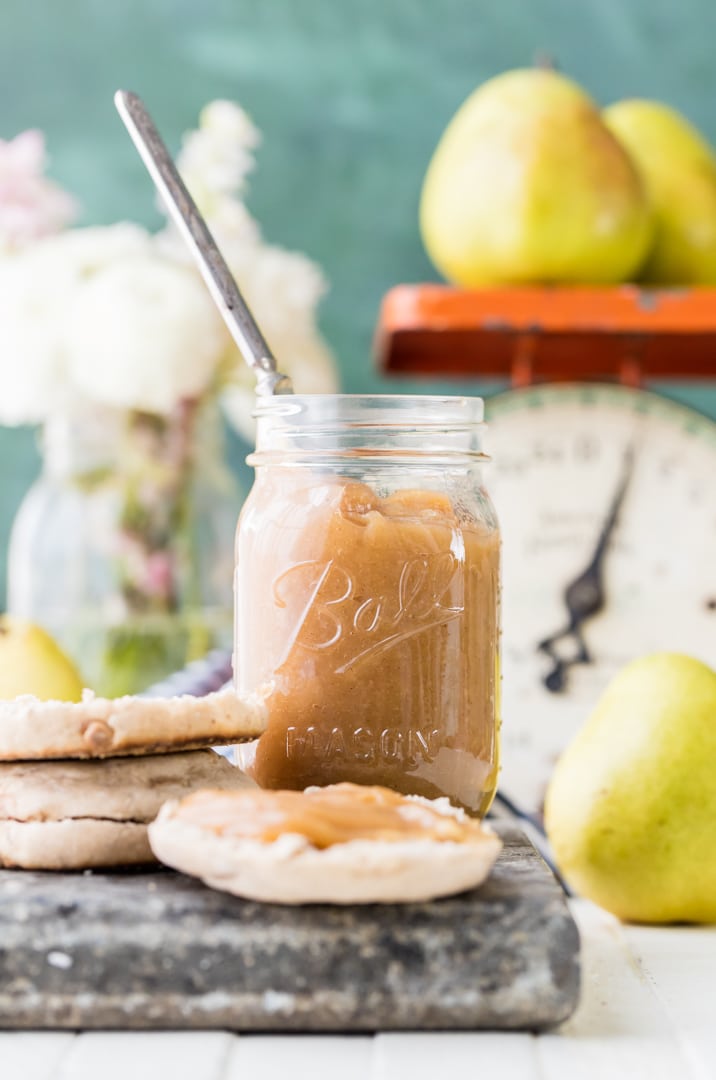 My mom makes the absolute best Apple Butter, and it was a staple at our house growing up. The thing I remember apart from the amazing smells and delicious taste was what a process it was. I set out to find an easy version, and wanted to make it with PEARS!!
Pears are the Autumn's finest fruit, and I'm so in love with this one hour easy pear butter. So easy and so delish!
I adapted this fool-proof recipe from one of my favorite blogs, Gimme Some Oven! You can see her original recipe HERE.
This is the perfect sweet spread for breakfast toast, english muffins, or licking straight off the spoon. No? Just me?? I'm in love!
Be sure to check out my Browned Butter recipe too!
Why you will love this recipe!
Perfectly spiced: With flavors of cinnamon, nutmeg and cloves, this is the perfect fall treat.
Make ahead: This pear butter keeps well in the fridge and is also freezer friendly.
One pot: Just heat all the ingredients on the stovetop, blend and enjoy!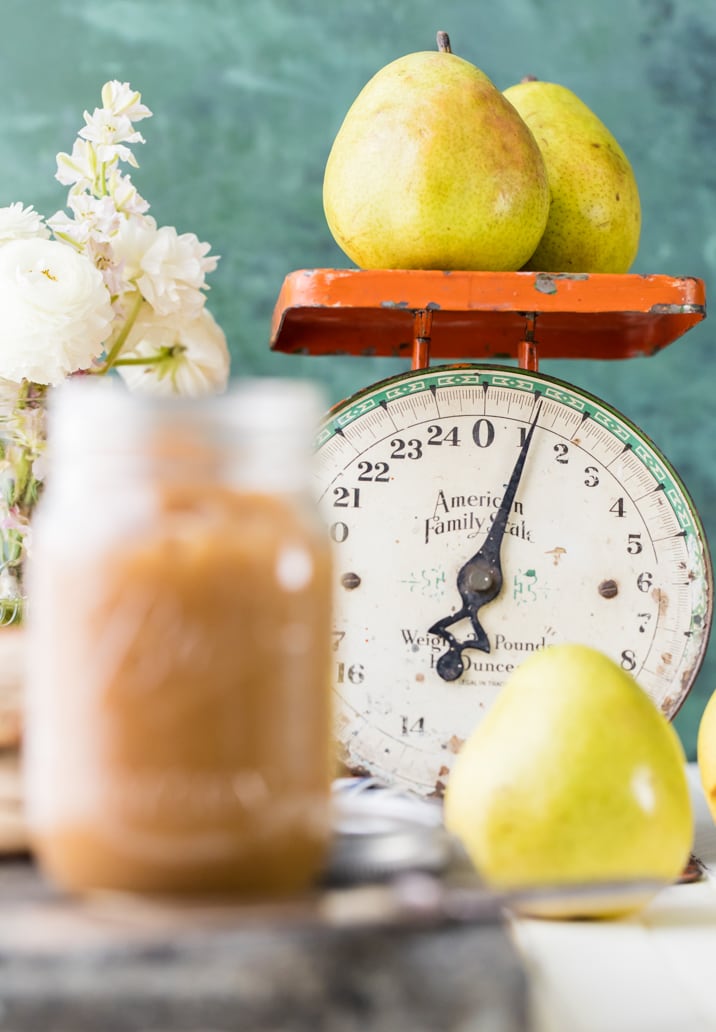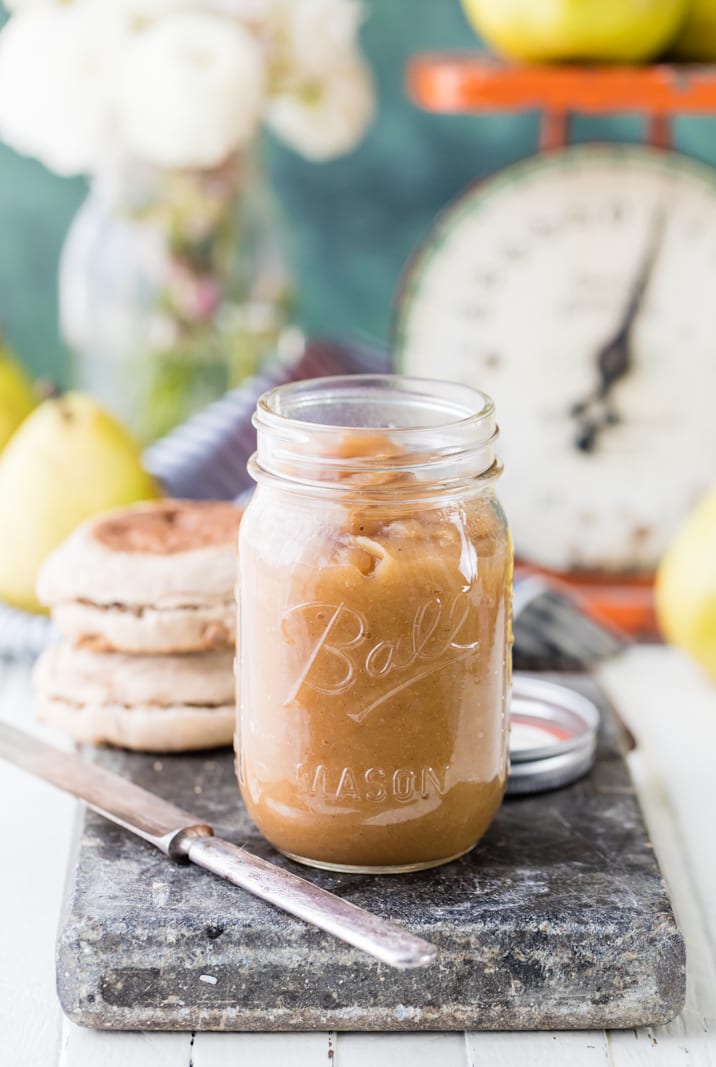 How to make pear butter
Be sure to scroll down for the full recipe!
Add all ingredients to a pot and bring to a boil.
Partially cover and simmer, stirring occasionally.
Once cooled, blend til smooth.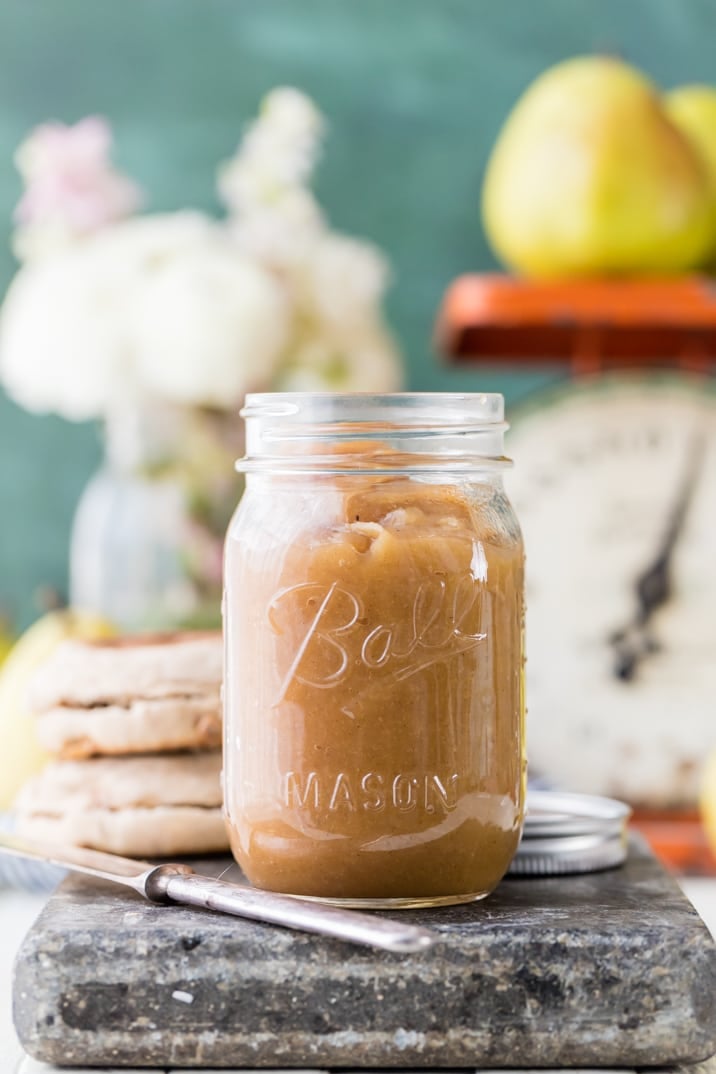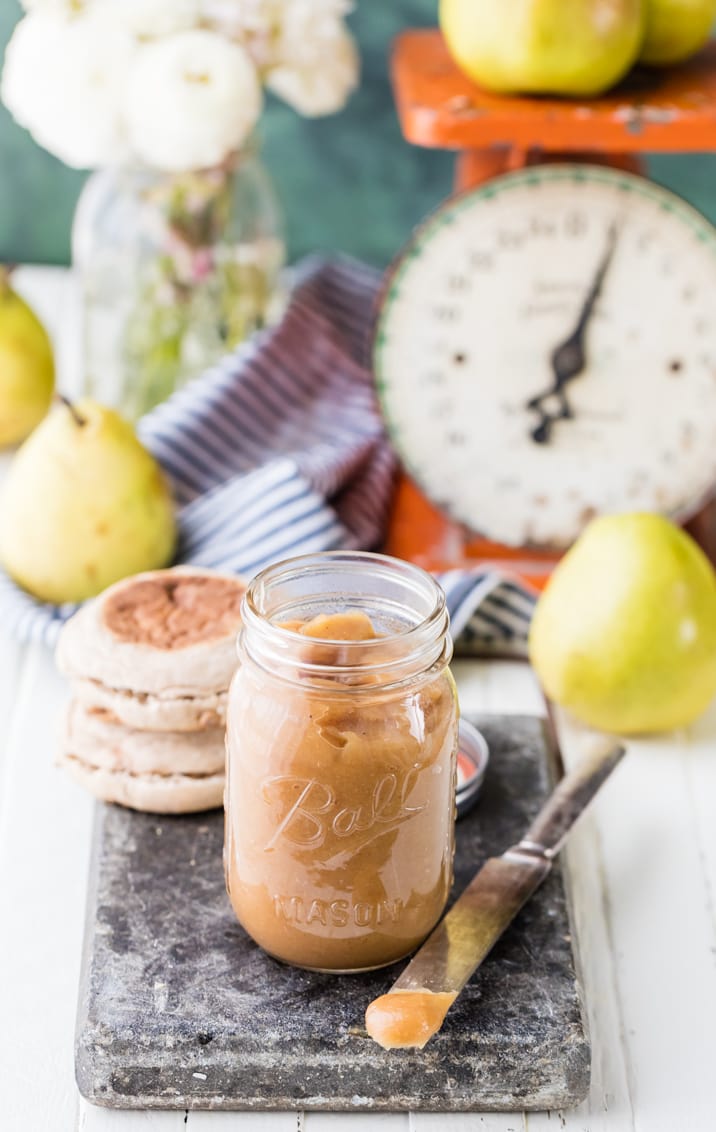 Do you need to peel the pears?
You can make this recipe with either canned pears, which require no prep (you just need to drain them), or you can use fresh. If using fresh core them and cut them into chunks. You don't have to peel fresh pears as we do blend them after cooking to get a smooth butter.
How long does it keep?
This easy pear butter will keep well in the fridge for up to 3 weeks. Let it cool completely before placing into a sealable jar.
Can you freeze it?
Yes, be sure to make a big batch as this will freeze for up to a year. Make a big batch in fall and enjoy it into the warmer months! Thaw it in the fridge overnight before using.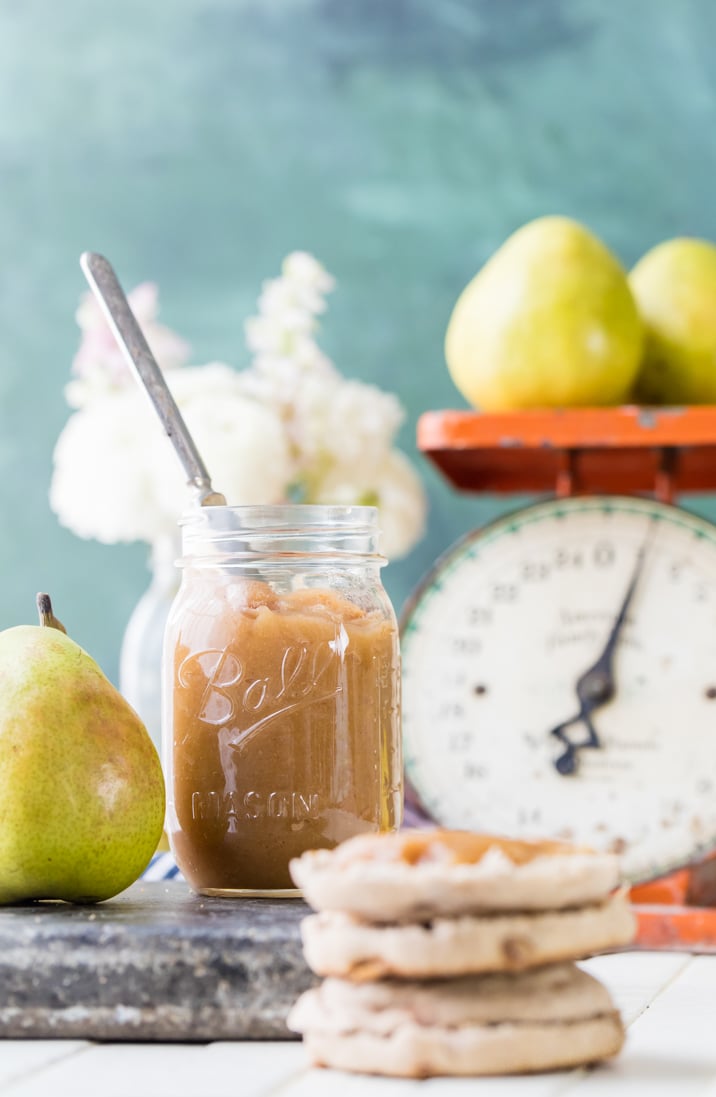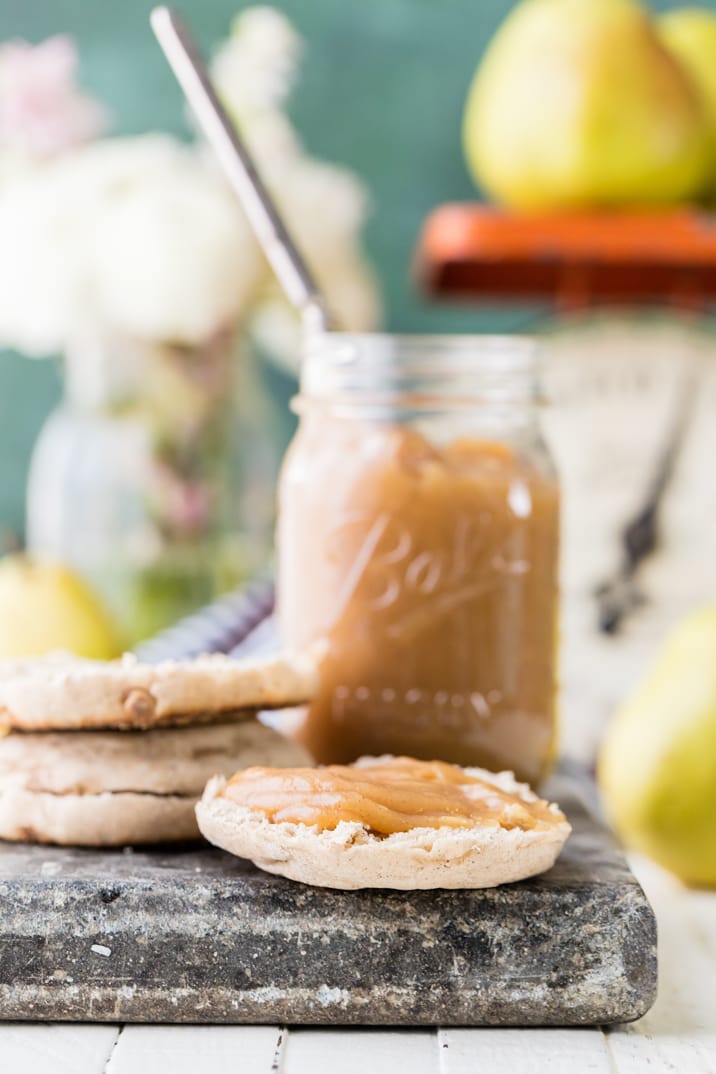 Recipe Notes and Tips
Simmer the ingredients with the lid partially covering the pot. This will help to trap some of the steam so that it doesn't dry out.
Stir the pear butter occasionally as it cooks so that it doesn't burn to the bottom of the pan.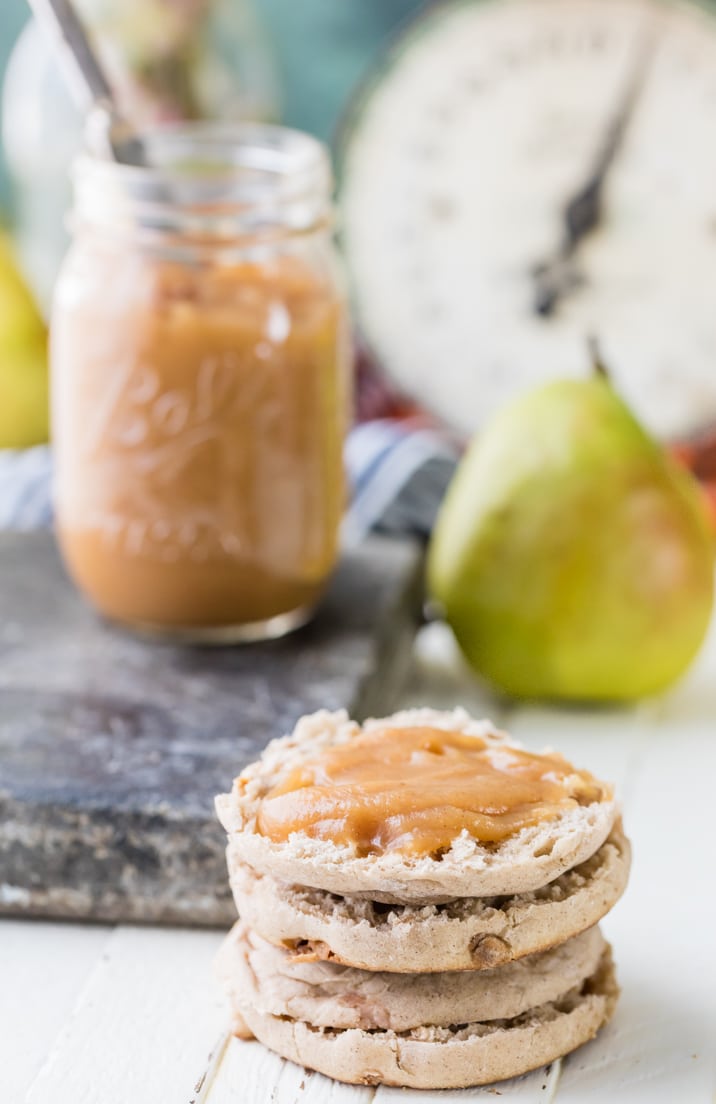 This easy pear butter is so delicious guys, I seriously can not get enough of it! So simple and so full of flavor! Get spreading!
More Pear Recipes