Pear Butter is perfect for spreading on toast, english muffins, and so much more! The vibrant flavor of fresh pears is made even more scrumptious with ingredients like sweet brown sugar, tangy lemon juice, and warm spices. This will be your new favorite rustic fall recipe!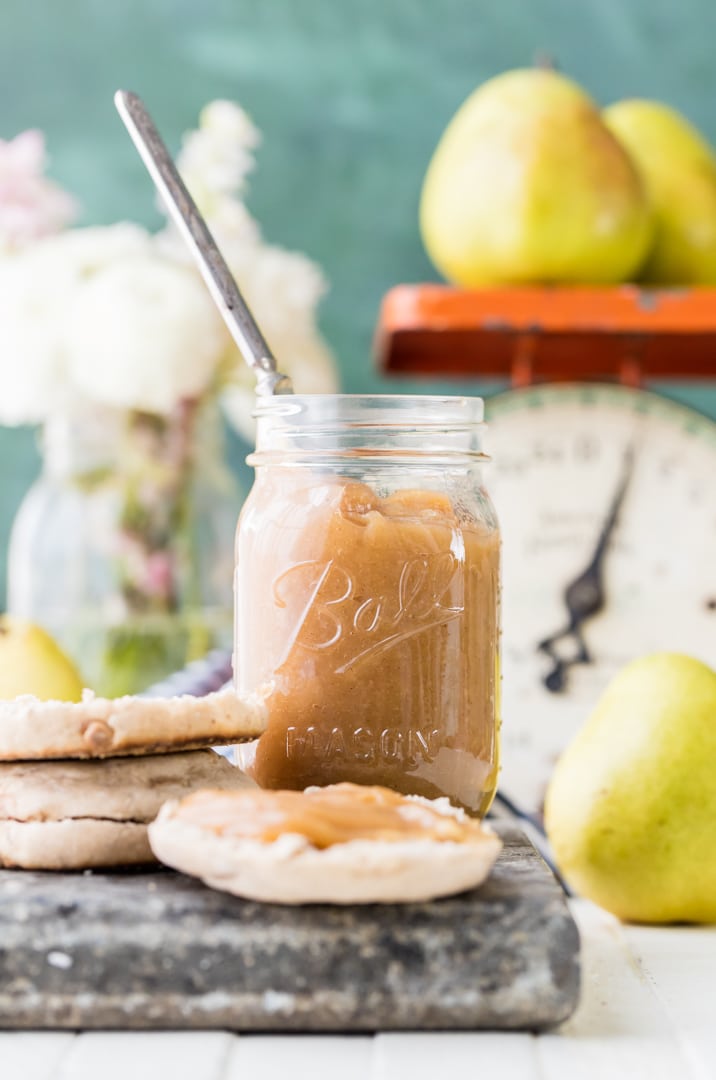 What's in this Pear Butter Recipe
With flavors of cinnamon, nutmeg and cloves, this spiced pear butter is the perfect fall treat.
Pears: You can use a 3 cans of chopped pears that are drained, or about 6 cored and chopped fresh pears.
Brown Sugar: You can always make your own by combining one cup of white granulated sugar with 1 TBSP of molasses.
Agave Nectar: Honey works instead if preferred.
Lemon Juice: For the best flavor and natural acidity, try to only use freshly squeezed lemon juice and not the bottled kind. Plus, if you use a fresh lemon, you can add the zest as well.
Spices: A mix of ginger, nutmeg, cinnamon, cloves, salt and an optional star anise create the very best fall flavor.
PRO TIP: Simmer the ingredients with the lid partially covering the pot. This will help to trap some of the steam so that it doesn't dry out.
Do I need to peel the pears?
You can make this recipe with either canned pears, which require no prep (you just need to drain them), or you can use fresh. If using fresh core them and cut them into chunks. You don't have to peel fresh pears as we do blend them after cooking to get a smooth butter.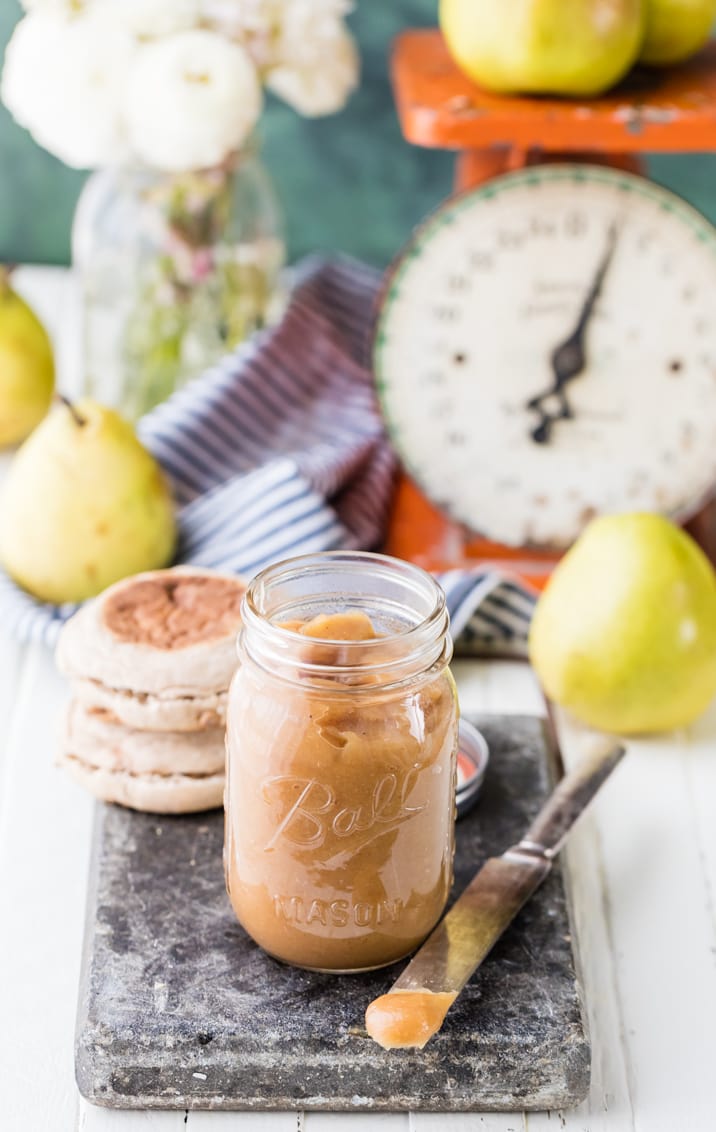 How do I thicken my pear butter?
Make sure it has enough time to simmer! If you try to rush the process too much, you may end up with watery results. Also, keep in mind that pear butter tends to thicken as it cools.
Do I have to use star anise?
Nope! While I love the subtle note of licorice from star anise, it's not essential for the recipe. It can be a challenge to find this spice at some grocery stores. Luckily, this pear butter is still delicious without it.
Why did my pear butter burn?
The key is to keep stirring! Stir the pear butter occasionally as it cooks so that it doesn't burn to the bottom of the pan.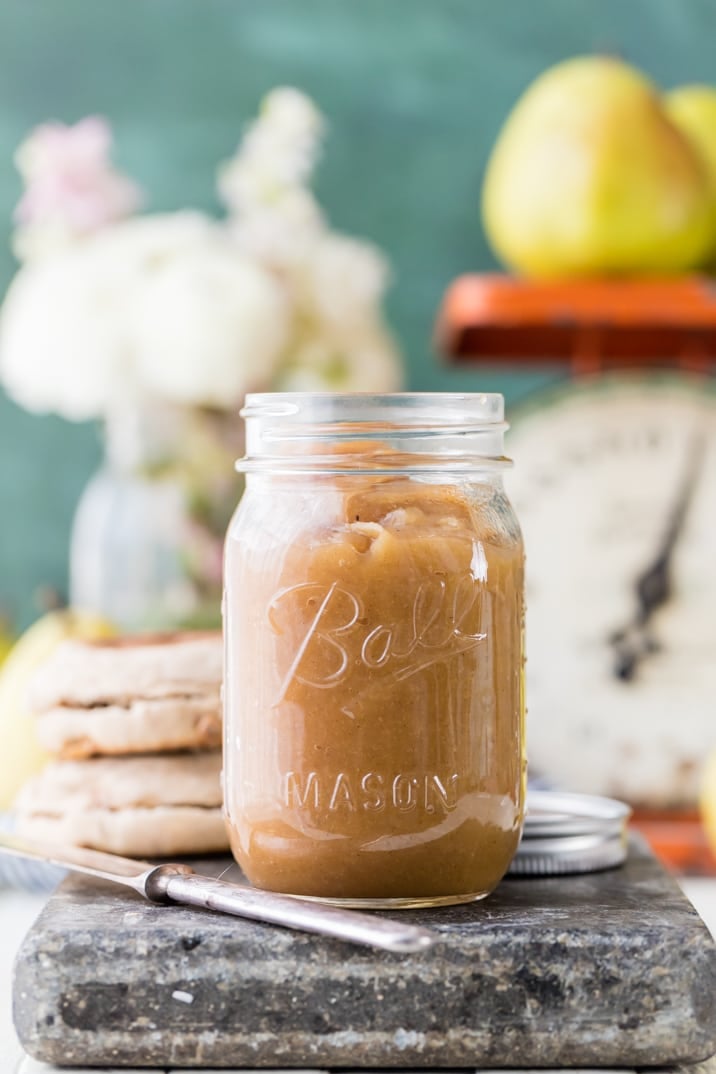 How to Store
This easy pear butter will keep well in the fridge for up to 3 weeks. Let it cool completely before placing into a sealable jar.
How to Freeze
Be sure to make a big batch as this will freeze for up to a year! Make a big batch in fall and enjoy it into the warmer months. Thaw it in the fridge overnight before using.
Serving Suggestions
You can serve pear butter with so many things! I love spreading it on a piece of toast or an english muffin for a quick morning treat. It's also amazing on pancakes and waffles. Any way you would use apple butter works well for pear butter!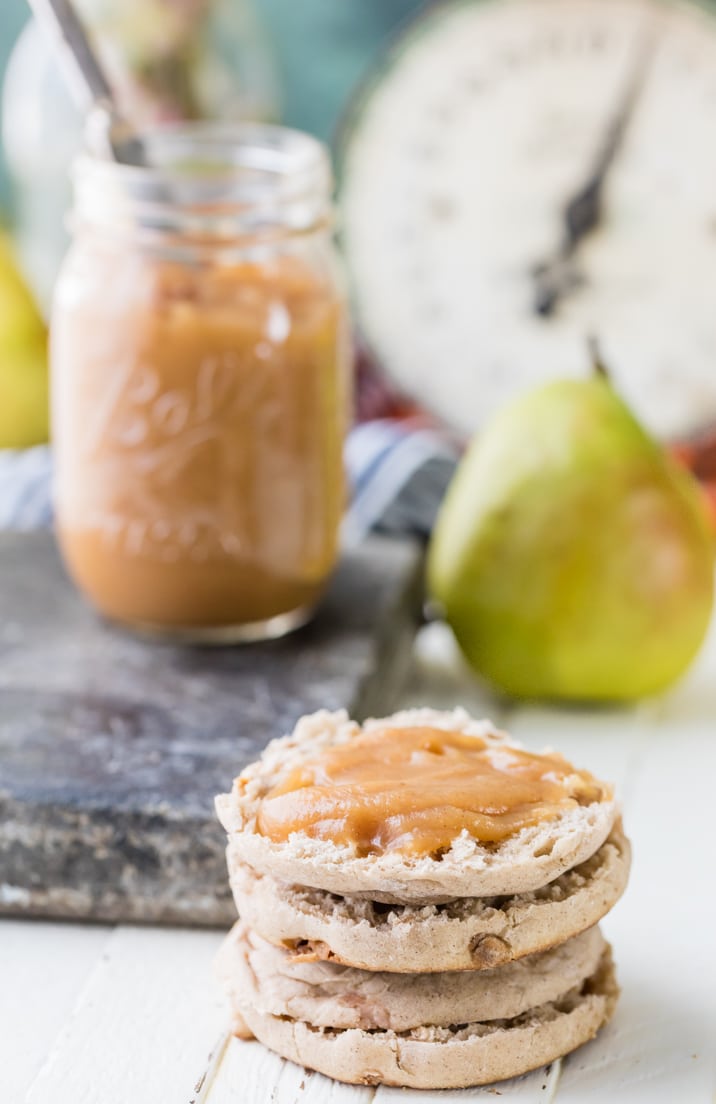 5-Star Review
"Thanks, your recipe is the tasty answer to our bounty of pears. It is easy to make, as promised." – Mary K.
More Easy Fall Recipes We Love