Pumpkin Flavored Whipped Cream is exactly what we all need for fall! Top off all of your favorite desserts (pumpkin pie, pumpkin cheesecake, pumpkin anything) with this Pumpkin Spice Whipped Cream recipe.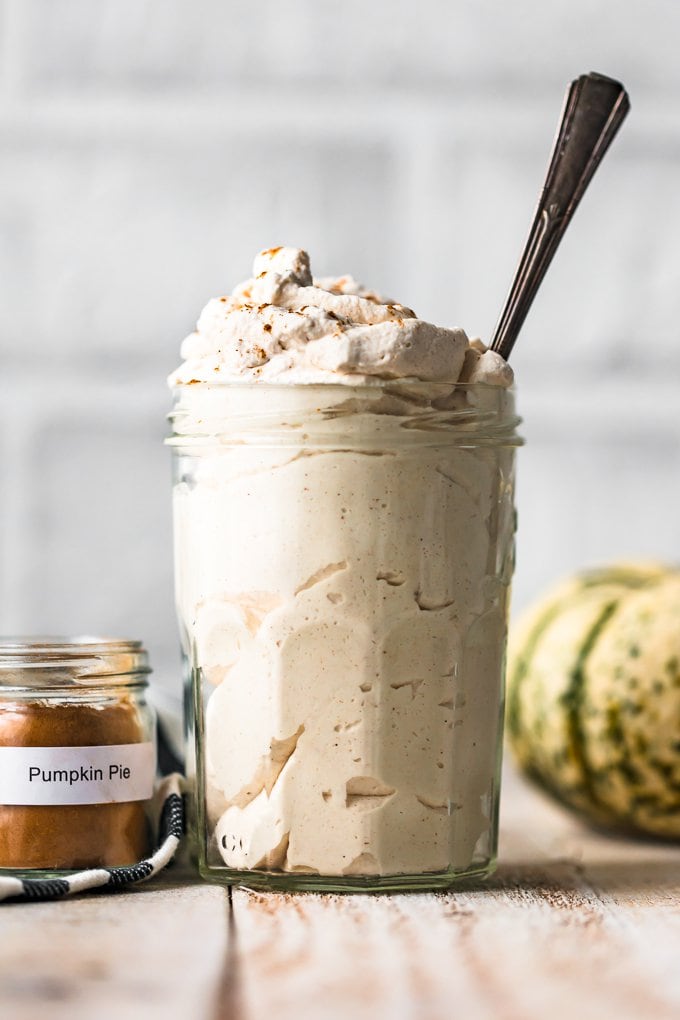 Pumpkin Spice Whipped Cream
There is NEVER enough pumpkin. From September through November, just about the only thought that goes through my head is: what pumpkin recipes can I come up with this season?
I think this Pumpkin Flavored Whipped Cream recipe is the absolute perfect idea because it brings pumpkin to everything. It works on our Pumpkin Pie Cheesecake, add a dollop to your Homemade Pumpkin Spice Latte, and it would also be delicious on Homemade Pumpkin Pie. But the beauty of this pumpkin spice whipped cream is that now you can put pumpkin on anything!
Seriously, add this fluffy whipped topping to any pie, cake, tart, cheesecake, ice cream…the sky is the limit here. Thanksgiving won't be complete without this stuff!
Make this Pumpkin Spice Flavored Whipped Cream recipe to top off every holiday dessert!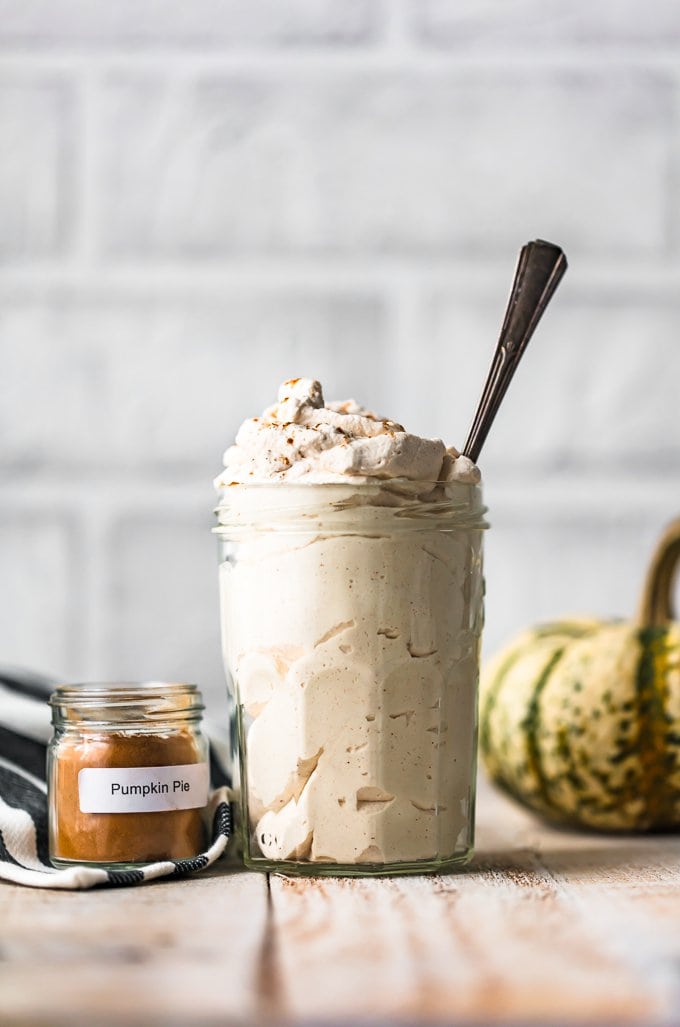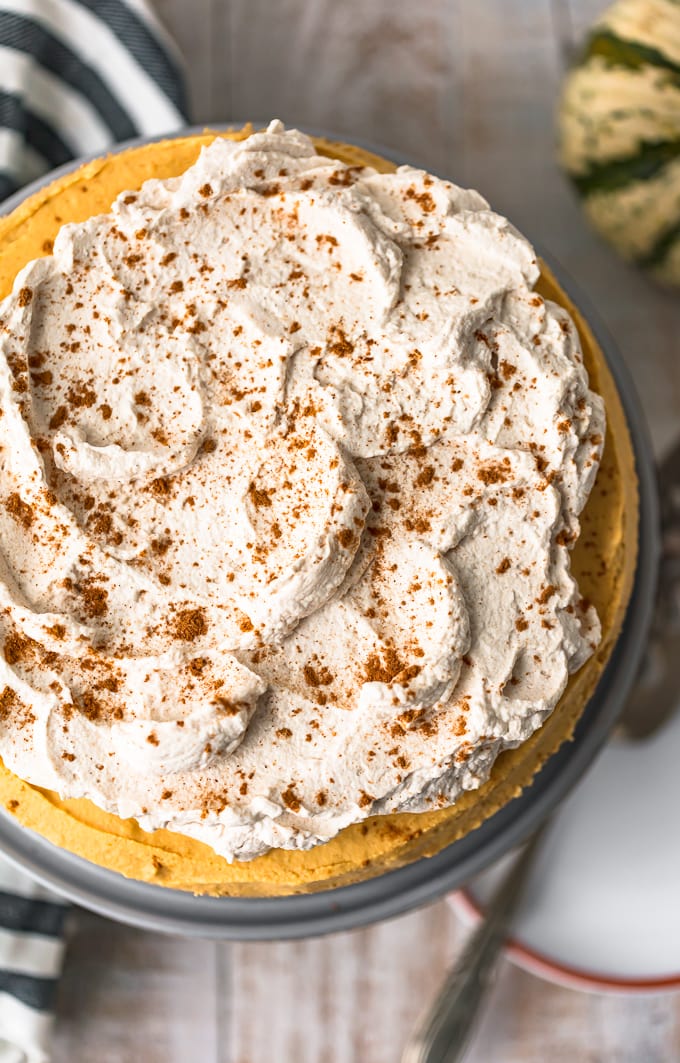 Pumpkin Flavored Whipped Cream Ingredients
This fluffy pumpkin flavored whipped cream is pretty simple. You only need four ingredients to make it, and of course it's all about getting the perfect pumpkin flavor.
So what's in it?
Heavy Whipping Cream
Pumpkin Pie Spice
Powdered Sugar
Pumpkin Pie Coffee Syrup (or Pumpkin Coffee Creamer)
Homemade Pumpkin Pie Spice
Pumpkin Pie Spice is an important part of this pumpkin spice whipped cream. Not only is it in the whipped cream, but it also makes the perfect topping to the topping. After you throw a dollop of the pumpkin whipped cream on top of your pie/cheesecake/etc., an extra sprinkle of pumpkin pie spice adds that final touch! Get the recipe for our Homemade Pumpkin Pie Spice right here.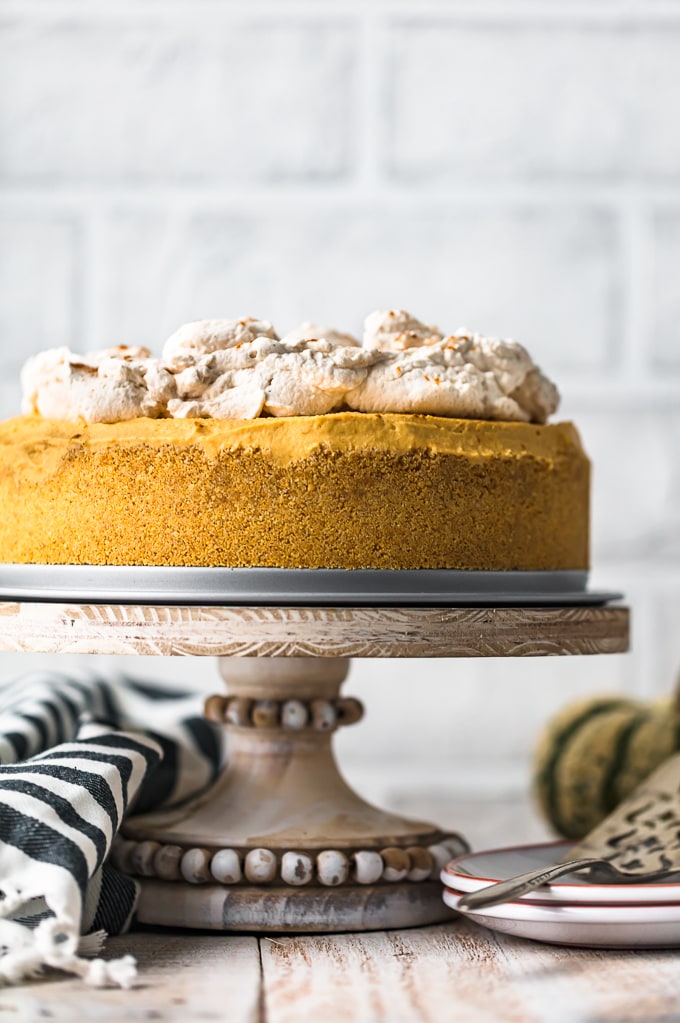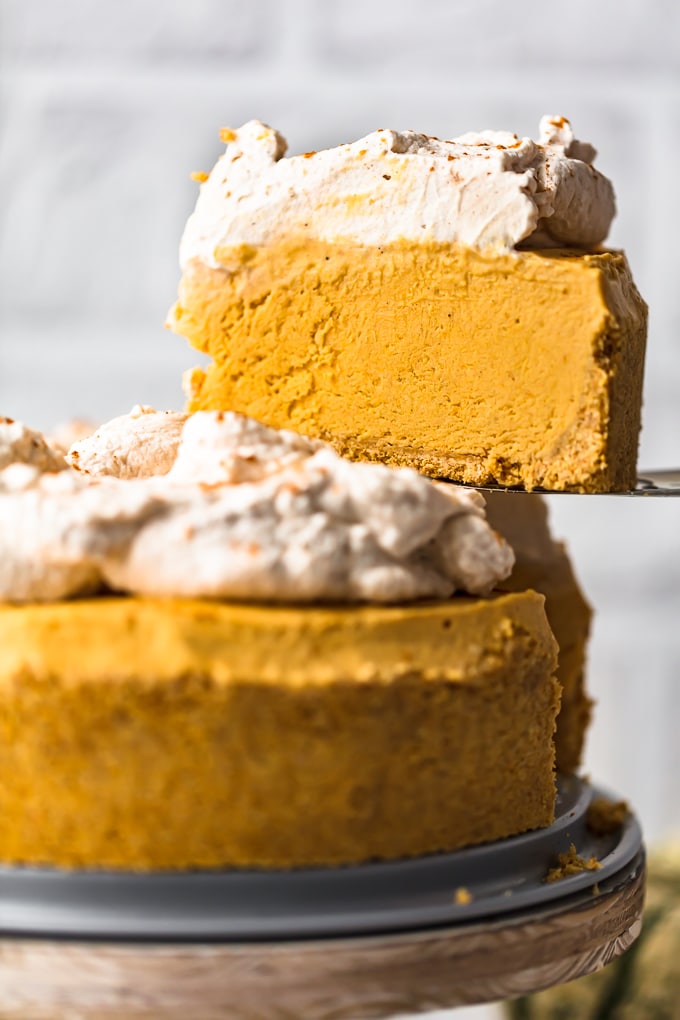 How to Make Pumpkin Spice Whipped Cream
This stuff is really easy to make, so you can quickly whip some up any time you need it (and trust me, you need it!). If you're making this for the Pumpkin Pie Cheesecake, you don't need to make this until the rest of your cheesecake is done. This recipe will only take about 10 minutes!
We are using an electric mixer with the whisk attachment to make this. Set the mixing bowl and the whisk in the refrigerator for about 10 minutes before making the whipped cream.
Whisk together the whipping cream and powdered sugar until soft peaks form.
Then add in the pumpkin pie spice and pumpkin syrup, and continue to whisk until the peaks become stiff.
And done!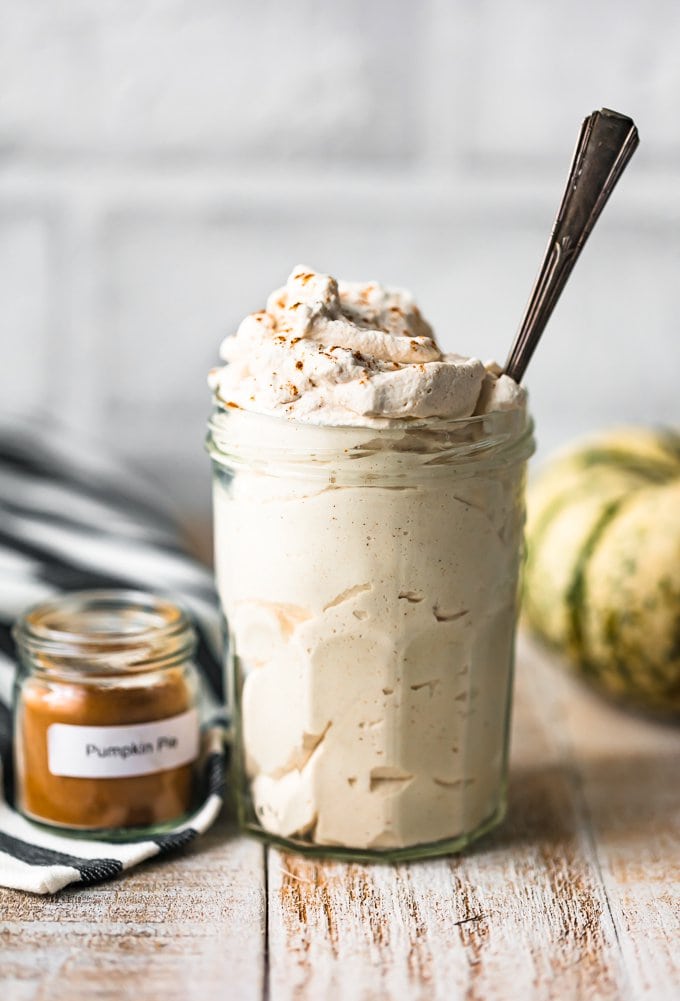 I absolutely love this delicious Pumpkin Spice Flavored Whipped Cream! I know you guys will love it too, so go on and start topping all your desserts with this. Let me know what you come up with! And if you prefer, try this Stabilized Whipped Cream recipe too.
See the recipe card below for details on how to make Pumpkin Spice Flavored Whipped Cream. Enjoy!