Apple Butter is an easy to make fall staple that you'll love having on hand all season long! Apples are made warm and delicious with brown sugar, cinnamon, and more. Spread this buttery concoction on toast, waffles, or whatever else your heart desires to experience true fall flavor!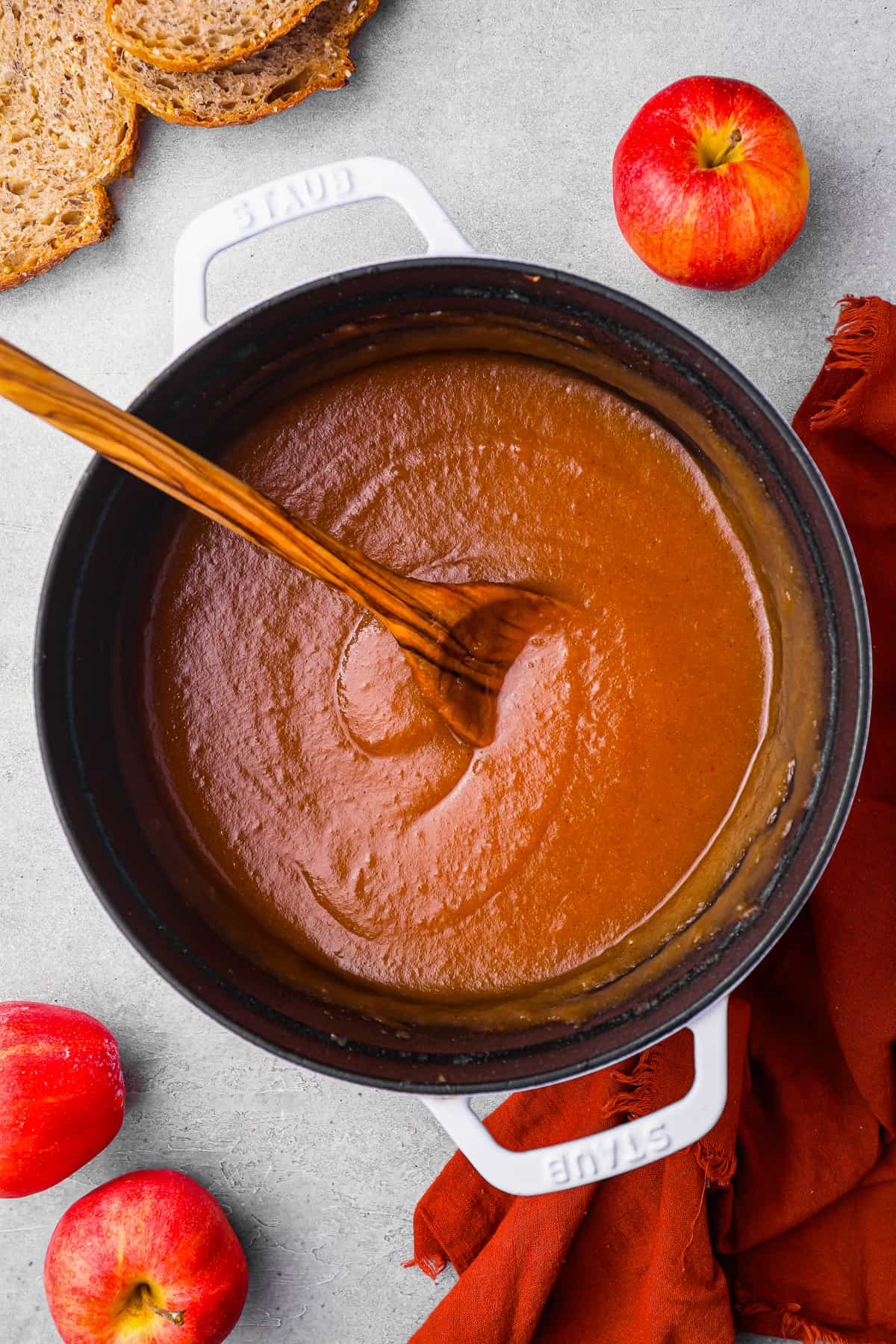 Homemade Apple Butter
There's nothing more fall flavored than Apple Butter! This autumnal staple can be found in just about any country gift shop you ever stroll through, but I'll let you in on a little secret… I've never, ever bought a jar that tastes better than this tried and true homemade recipe.
You'll feel like a rustic home cook after making your very own! Oh, and your kitchen will smell like true autumn bliss – it yields better aroma than any candle ever could. Keep this homemade Apple Butter in your fridge all fall long so you can always reach for it when the craving strikes!
Why You'll Love this Apple Butter Recipe:
All Natural: Unlike most jars of store-bought stuff, this recipe doesn't include a long list of preservatives or artificial ingredients. Just fresh apples and few other things.
Spreadable: You can spread it on so many things, or use it as a dip! It goes so well with waffles, pancakes, toast, and more.
Rustic: There's something about making homemade Apple Butter that just feels so rustic and cozy!
Keeping a jar of sweet, smooth, and spiced Apple Butter in your fridge is the most delicious way to enjoy the fall months.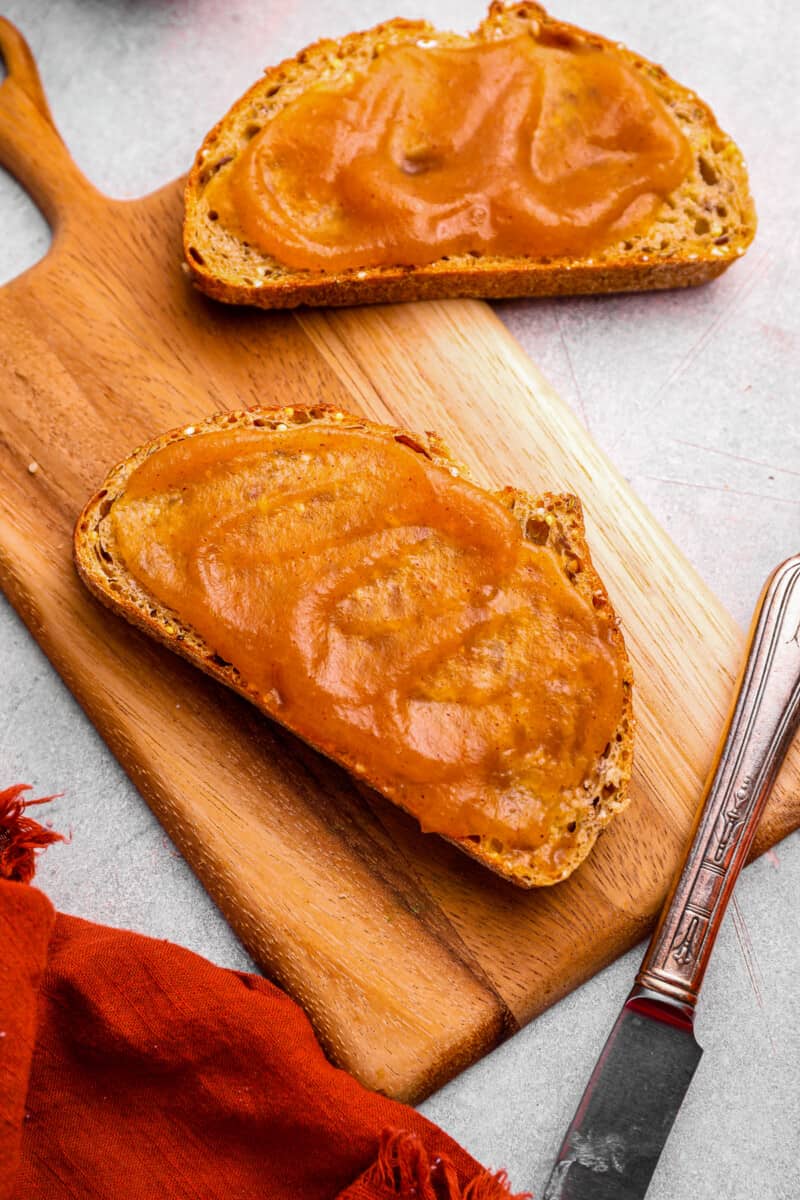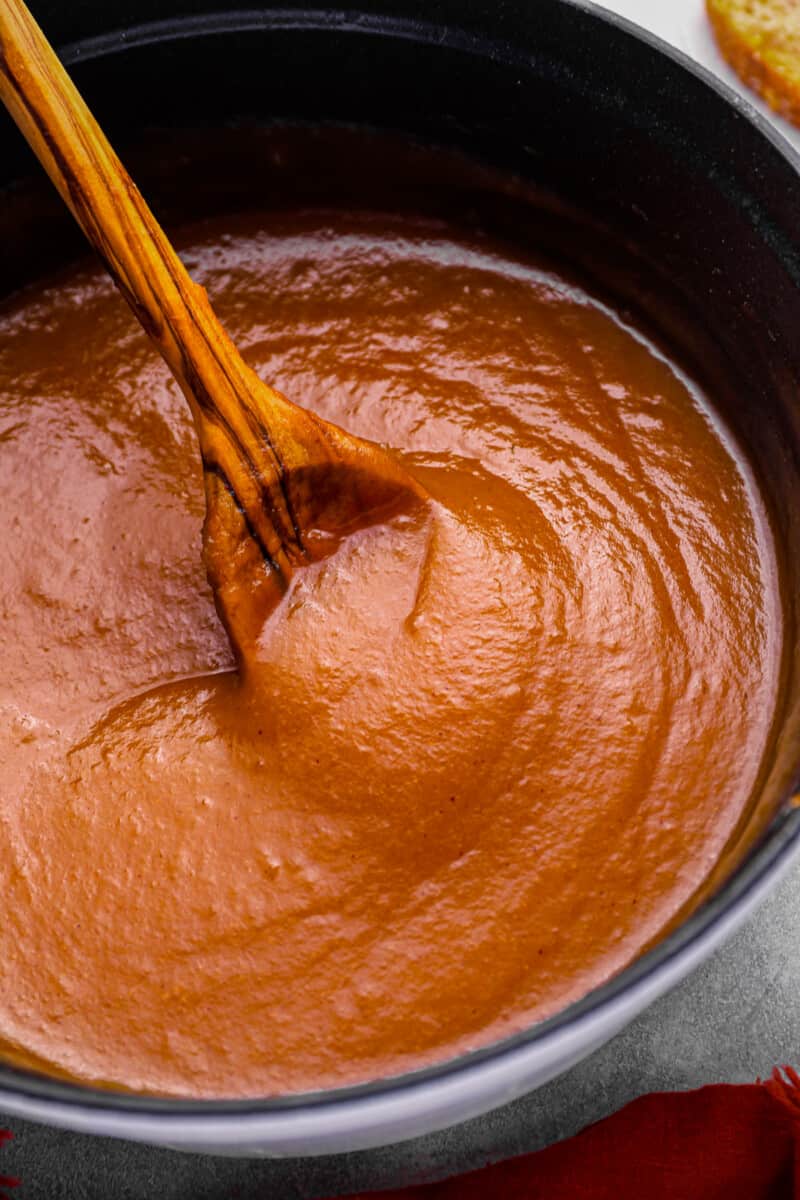 How to Make Apple Butter
You can jump to the recipe card for full ingredients & instructions!
Simmer the apples, apple cider vinegar, and water.
Blend the mixture together in a food processor and return to the pot.
Stir in the brown sugar, sugar, and cinnamon.
Remove from the heat and stir in the vanilla.
Recipe Notes
Apples: I like a mix of sweet and tart apples, but use your favorites!
Apple Cider Vinegar: Adds a bit of tartness to balance the sweetness.
Water: Helps the apples to cook down without burning.
Sugar: A mix of brown and granulated sugar sweetens the apple butter and deepens the flavor.
Cinnamon: Adds classic holiday flavor.
Vanilla: Enhances the sweetness and cinnamon.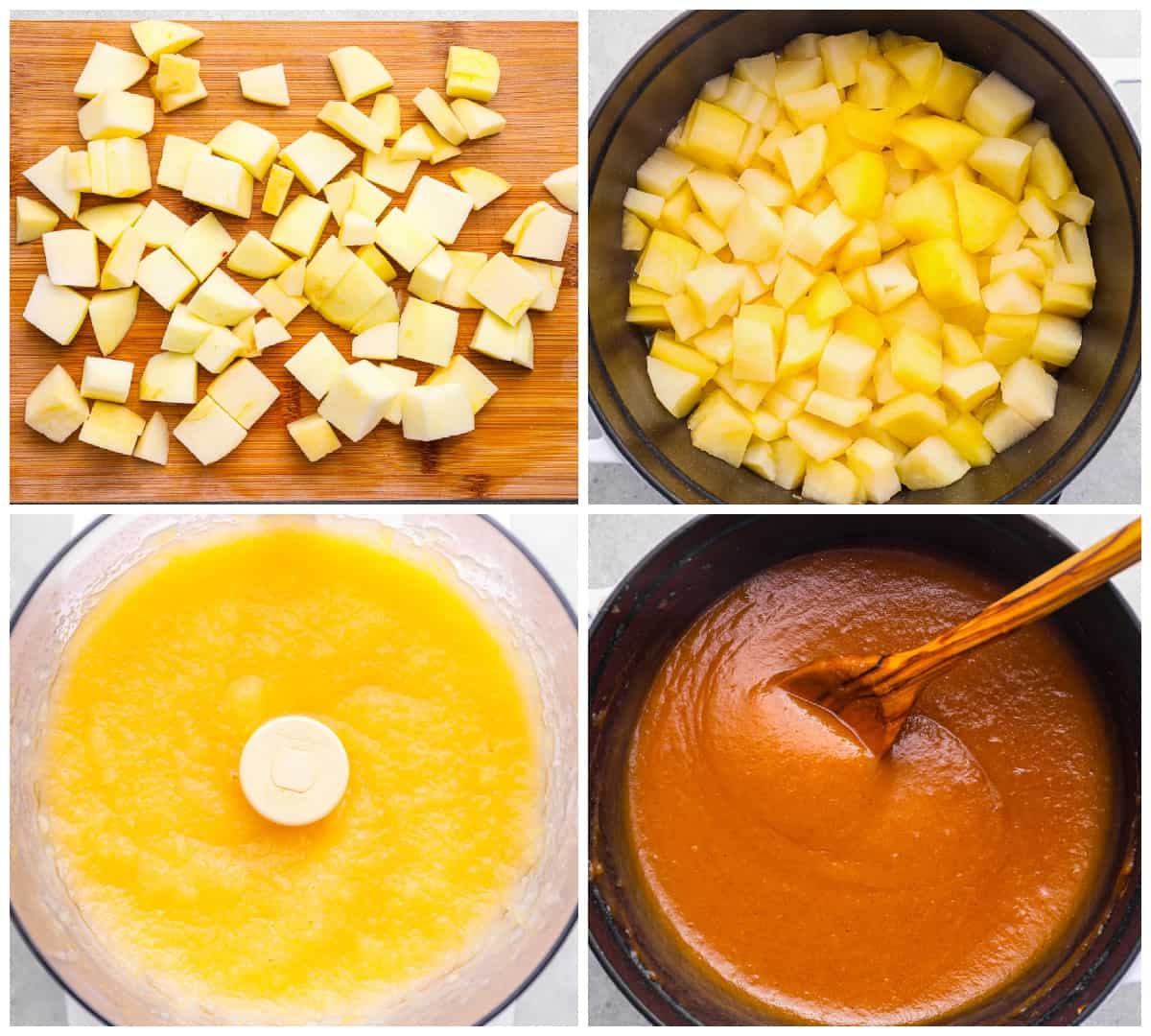 What is apple butter?
Apple butter is a concentrated paste made from cooked-down apples and spices.
Does apple butter contain butter?
No, apple butter does not contain any actual butter. "Butter" refers to the spreadable consistency of the apples once they've been cooked down.
Is apple butter just applesauce?
Apple butter is like a super-concentrated applesauce. It's been cooked down even more, reducing the moisture content and creating a silky, intensely apple-flavored "butter". It's akin to the difference between tomato sauce and tomato paste.
What are the best apples for apple butter?
Generally, softer varieties of apples work best for apple butter. These include Golden Delicious, Jonagold, Fuji, and McIntosh. However, I like a mix of apples, so I usually include Granny Smith for tartness and Honeycrisp for sweetness.
Is apple butter healthy?
Apple butter is made from whole apples, so it does contain a bit of fiber. However, it is also very high in sugar, so it should be enjoyed in moderation.
Can I make apple butter in a crockpot or instant pot?
Absolutely! To make apple butter in a crockpot, add all ingredients except for the vanilla to your crockpot and cook on low for about 10 hours, stirring occasionally. Uncover, stir in the vanilla, and cook for another 2 hours, then blend until smooth.

Follow this recipe to make apple butter in an instant pot, add all of the ingredients to your instant pot, set the vent to sealing, then pressure cook (manual) for 15 minutes at high pressure. Let release naturally for 20 minutes, then turn the dial to vent and let the remaining steam release. Blend the apple mixture until smooth. If the mixture still seems runny, cook it on the sauté function until thickened.
How do I thicken apple butter?
To thicken apple butter, continue to cook it until it reaches your desired consistency. Apples contain pectin, which is a great natural thickener. Be sure to keep it on low heat, though, or it could scorch. Keep in mind that it will continue to thicken as it cools.
Does apple butter need to be refrigerated?
Yes, apple butter should be refrigerated!
How long does apple butter last?
If properly stored in an airtight container in the refrigerator, homemade apple butter will last for up to 3 months. If frozen, it will keep for up to 1 year.
How do I can apple butter?
To can this apple butter, follow the instructions recommended here: Ball Canning Guide.
What is apple butter used for?
Apple butter is great as is on toast or pancakes, stirred into oatmeal, or eaten with cheese and crackers. You can also add it to baked goods or brush it on chicken or pork.
Can dogs have apple butter?
No, dogs should not have apple butter, as it contains too much added sugar for them. Feel free to feed them any raw apple scraps (be sure to remove any seeds or stems) as you're making the apple butter, though.
Need a good gift idea? Jar your Apple Butter and slap a ribbon on it! Handing out jars of this to neighbors, teachers, friends, and family is always fun.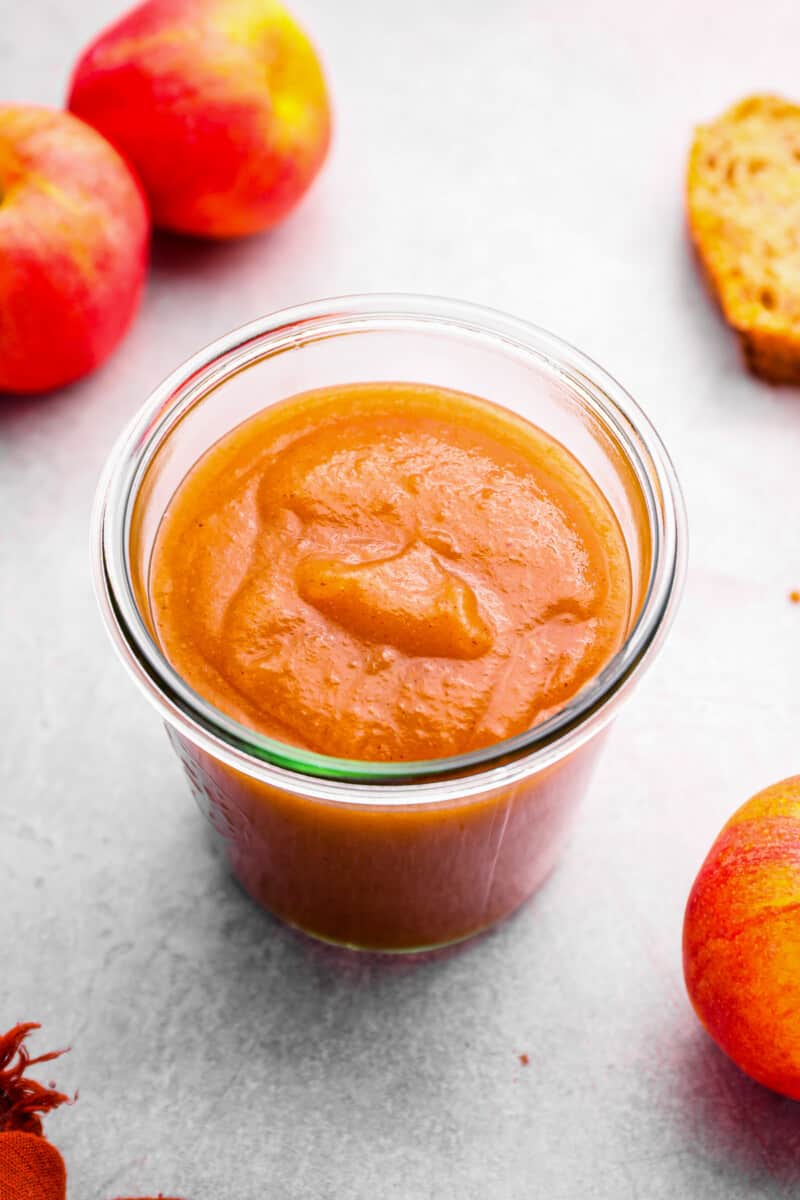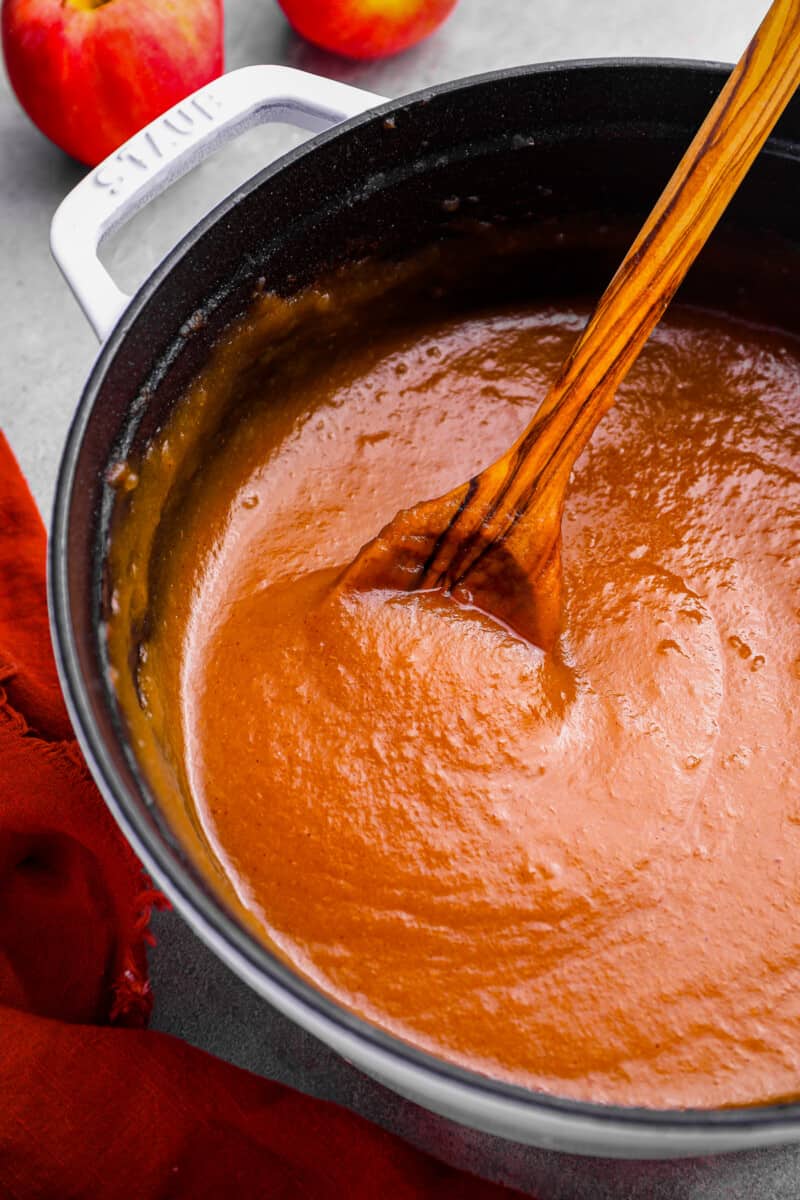 This is the perfect way to use apples in the midst of the fall season, but luckily, you can make this any time of year.
Make Ahead Instructions
This apple butter is a great make ahead recipe. It will keep for up to 3 months in the refrigerator, so make a big batch and give some as gifts!
Storage Instructions
Store leftover apple butter in an airtight container in the refrigerator for up to 3 months. Enjoy cold or at room temperature.
Freezing Instructions
Freeze apple butter in an airtight container with headspace at the top for expansion. It will keep in the freezer for up to 1 year. Let thaw overnight in the refrigerator before using.
Substitutions
Feel free to use any combination of apples you like.
If using tart apples, swap the apple cider vinegar for sweet apple cider.
In place of the cinnamon, you could use pie spice.
Recipes To Use Apple Butter In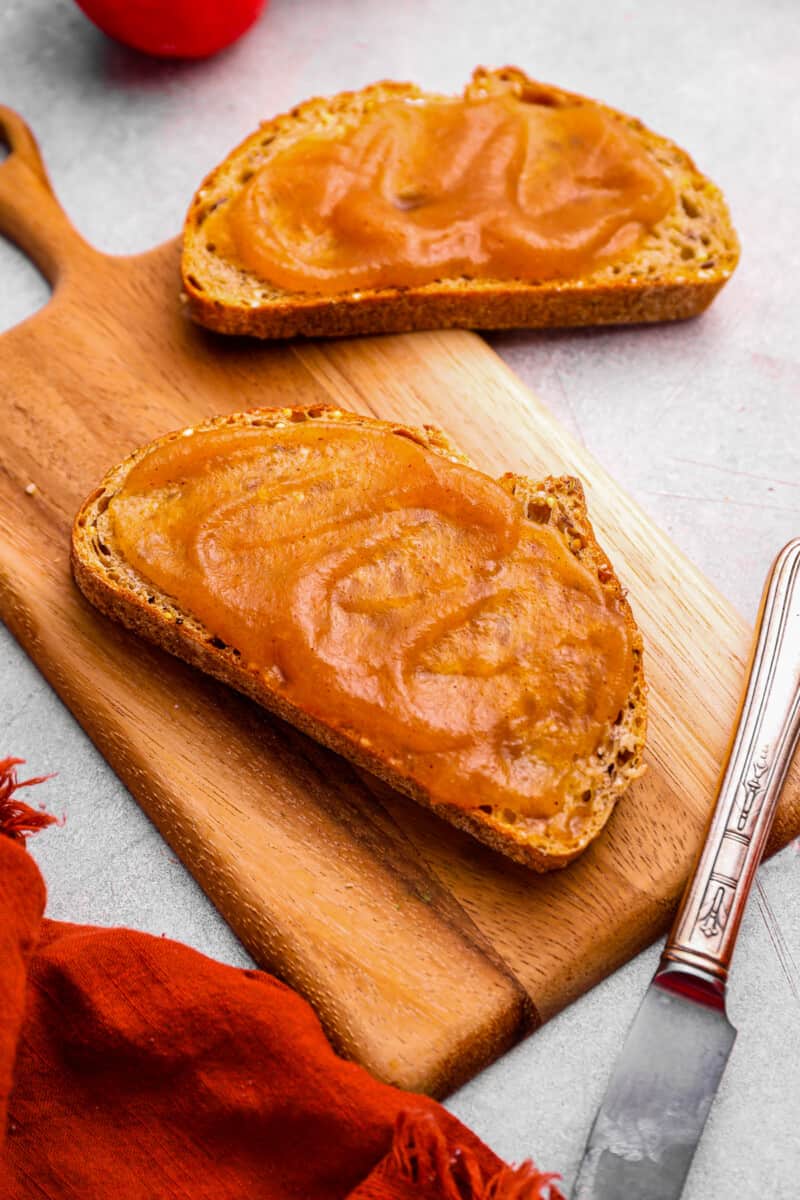 Once you make this scrumptious Apple Butter, you're going to be hooked! Year after year you'll want to keep a jar of this fall spiced butter in your fridge. Making this is a tradition you'll be happy to institute in your kitchen!
If you make this recipe be sure to upload a photo in the comment section below or leave a rating. Enjoy! You can also jump to recipe.