Belgian Waffles are both hearty and fluffy – the best of both worlds! This classic breakfast staple is made with a handful of ingredients you likely already have in your kitchen. Top them off with syrup, berries, and whipped cream for the best bite!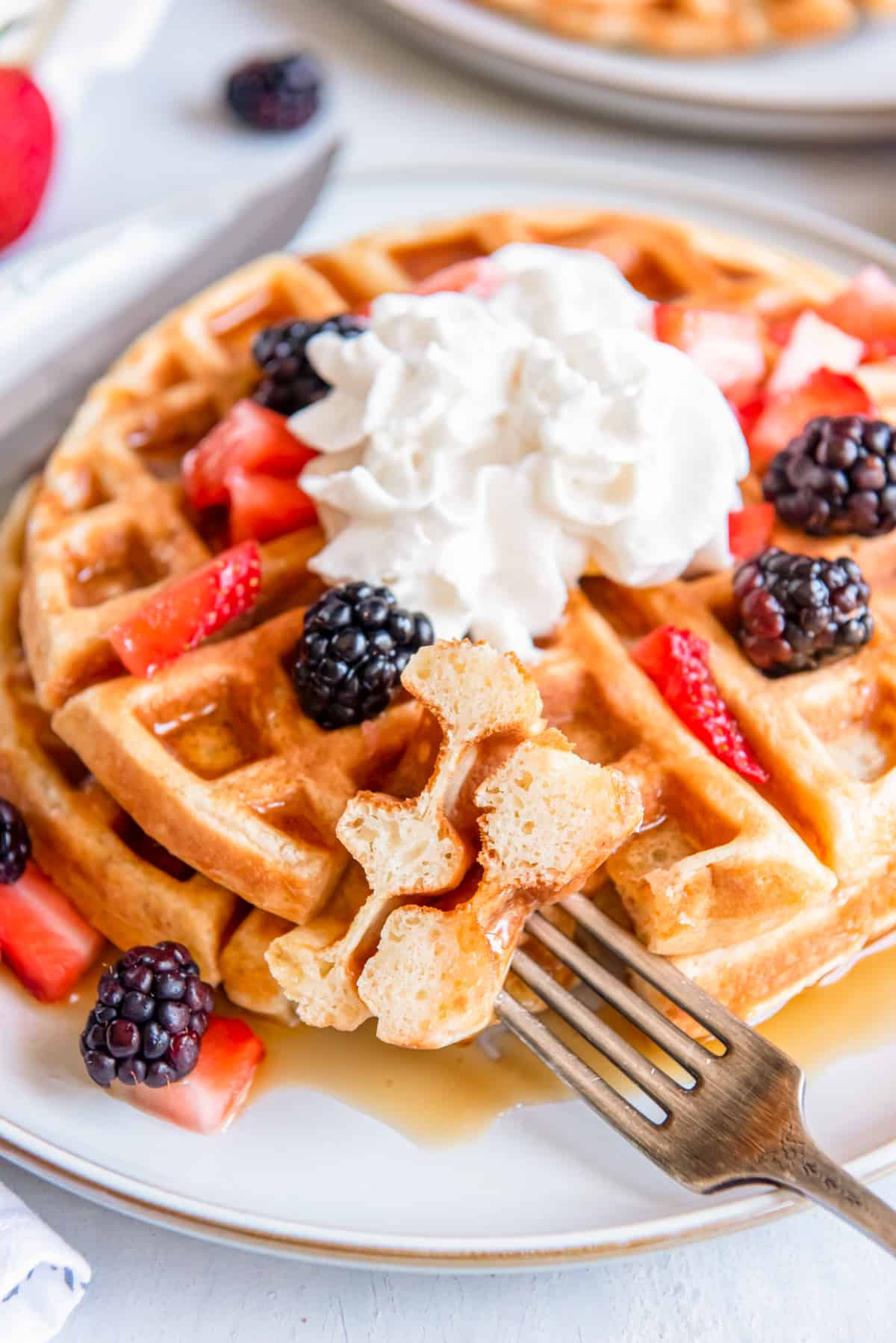 Homemade Belgian Waffles
Enjoying a stack of thick, fluffy Belgian Waffles is always the best way to start the day! The key to making authentic Belgian Waffles is by having the right waffle press that creates those signature deep squares we all know and love. They really hold the syrup like a dream!
You know your waffles are good when the inside is perfectly soft and fluffy, while the outside has a delightful crisp to it. By using my simple mix of ingredients for this batter, your waffles will turn out perfect every time.
Just be sure not to overfill the waffle iron in all your excitement…we've all been there before!
Why You'll Love this Belgian Waffles Recipe:
Fluffy: Soft and fluffy waffles are loved by everyone! This batter always cooks to create the best fluffy waffles, and the kids will be glad you made them.
Classic: You've likely seen Belgian Waffles listed on every breakfast menu you've ever seen. There's a reason for that – they're a classic breakfast staple!
Easy: Make the batter, pour it in the waffle iron, and enjoy. Once you make this quick and easy recipe, you'll be hosting your own brunch veery weekend!
No matter how you choose to top off your homemade Belgian Waffles, it's going to be delicious. Butter, berries, and powdered sugar are just a few of the best toppings to toss onto your waffles, but there's room for creativity! Oh, and of course you can't forget the syrup.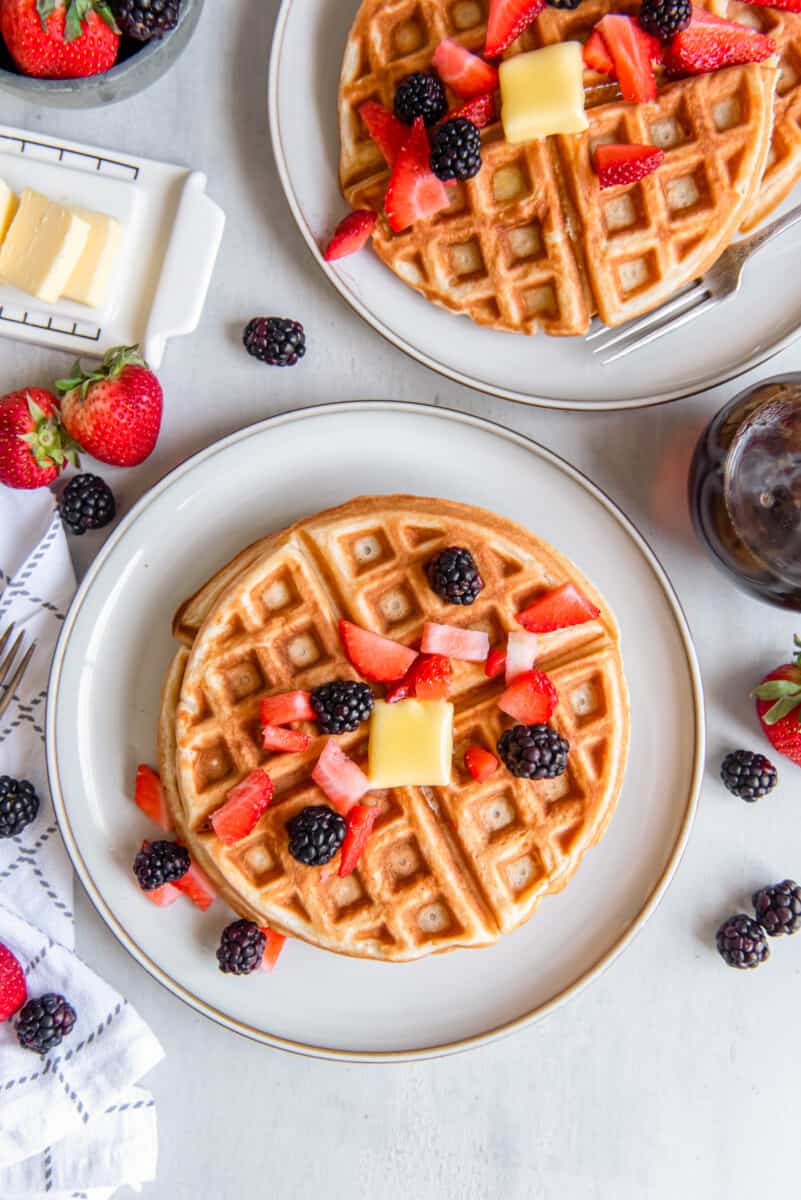 How to Make Belgian Waffles
You can jump to the recipe card for full ingredients & instructions!
Whisk together the dry ingredients and create a well.
In another bowl, stir together the wet ingredients.
Combine the wet and dry ingredients.
Whisk the egg whites until they're stiff, then fold them into the batter.
Cook the waffles using your waffle press.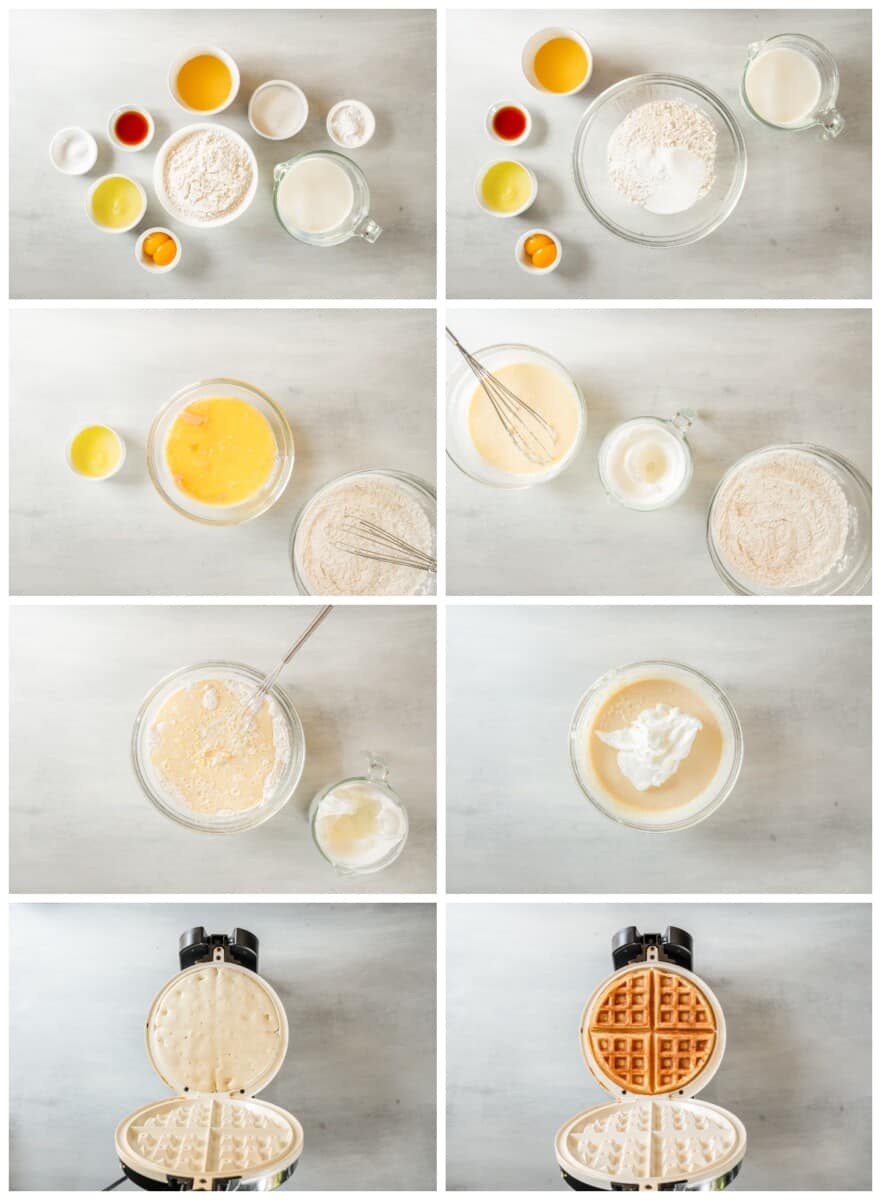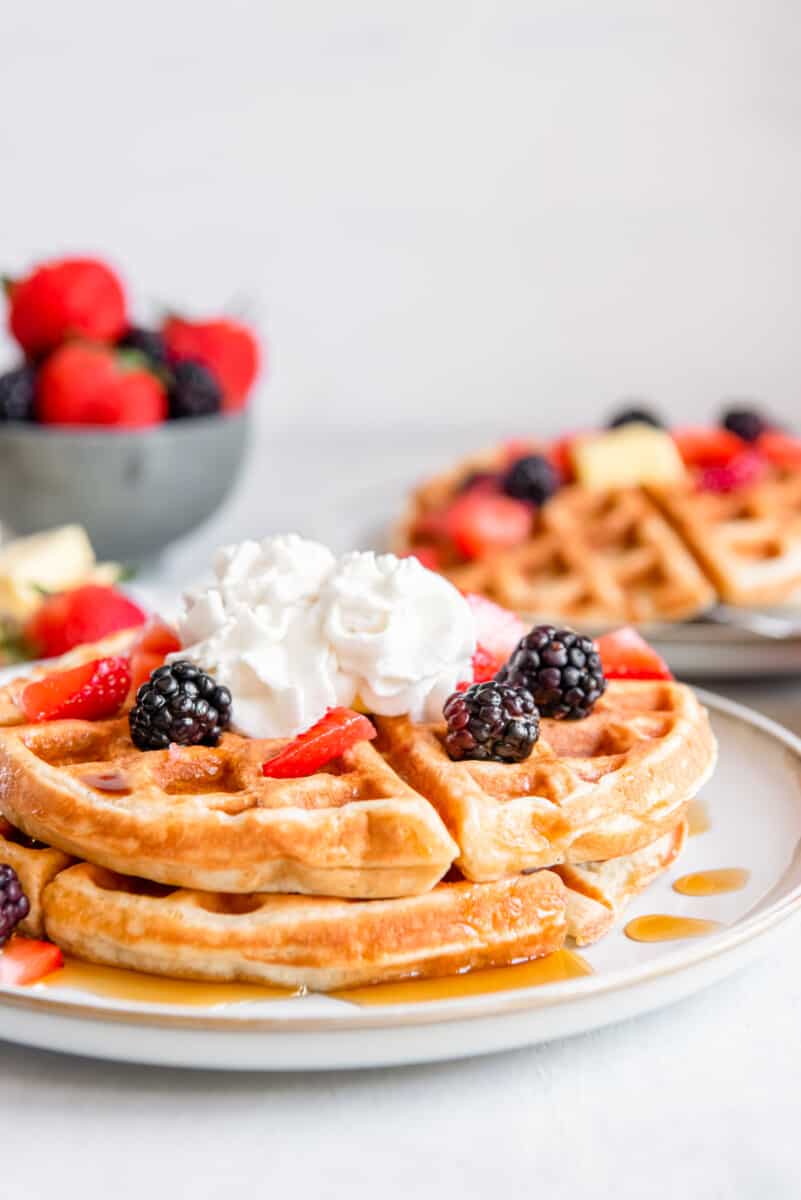 Why are they called Belgian waffles?
The original name for this style of waffle is actually Brussels waffles, as they were invented in the capital city. However, upon realizing that Americans at the time did not know that Brussels was in Belgium, the name was changed to Belgian waffles.
What's the difference between Belgian waffles and regular waffles?
Belgian waffles are thicker and larger than regular waffles due to being made in a waffle iron with deeper grids. Traditional Belgian waffles were made with yeast, but we opted for baking powder for a quicker, easier recipe.
How can I make Belgian waffles gluten-free?
To make these waffles gluten-free, us a gluten-free 1:1 baking flour, such as Cup4Cup.
Can I use this Belgian waffle recipe to make pancakes instead?
Yes, but they may come out a bit crisper and less fluffy. I really recommend using a pancake recipe to make pancakes for the best results.
Serving Suggestions
Good morning! Round out your breakfast or brunch with scrambled eggs, brown sugar bacon, and home fries. And don't forget a tasty coffee to pair with your waffles.
Thick, fluffy Belgian Waffles with all the right fixings is undeniably one of the most delicious ways to kick start your morning!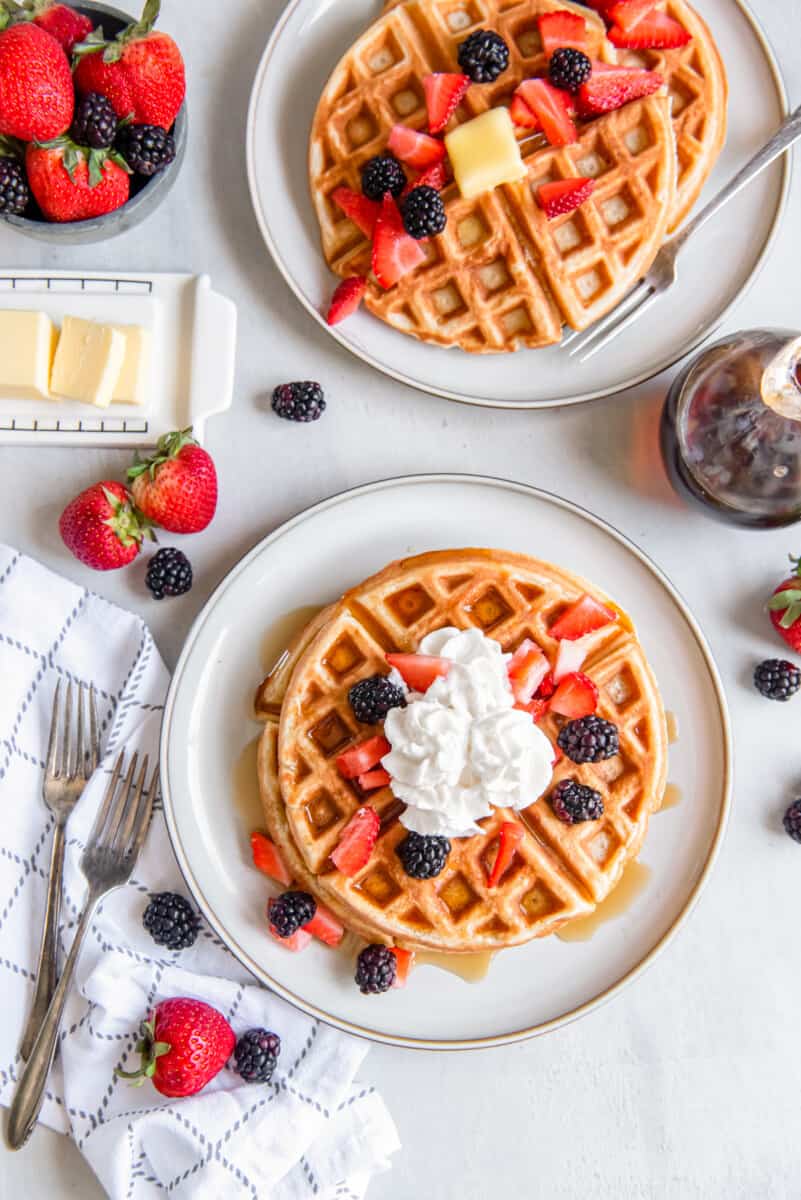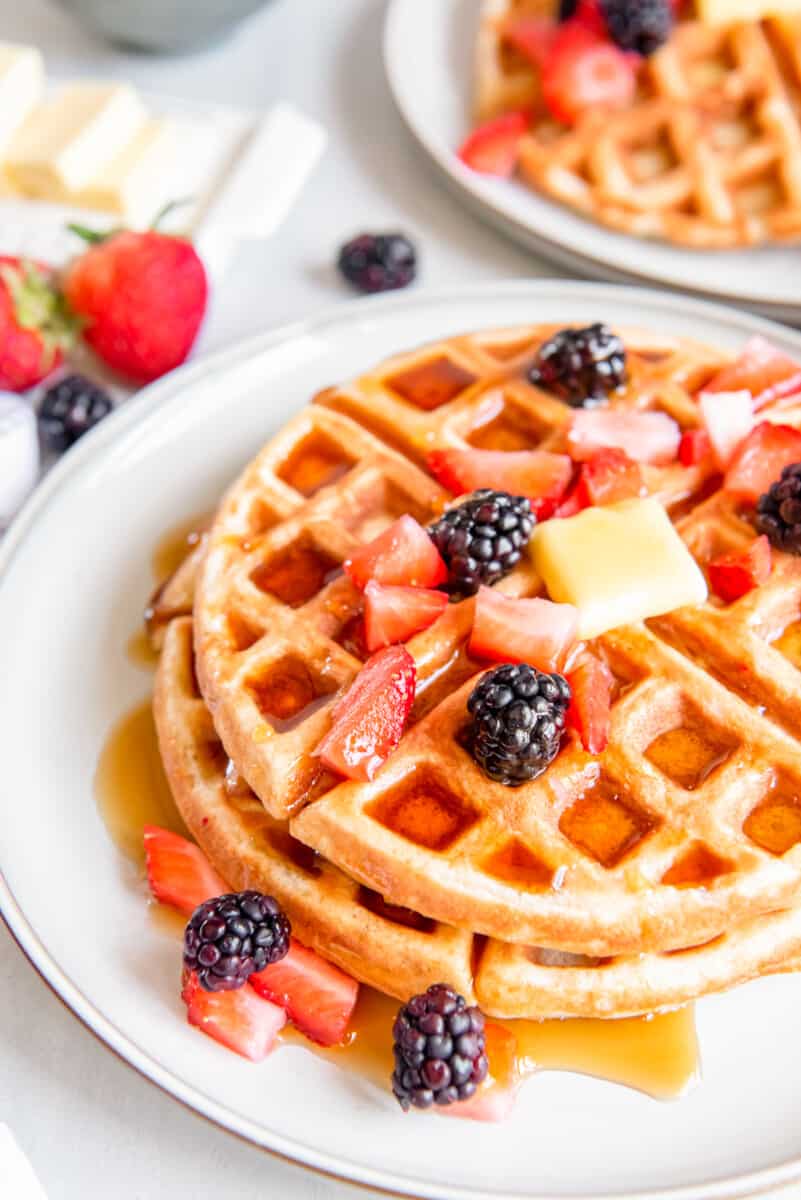 Make Ahead Instructions
While these waffles are best enjoyed on the day they are made, they can be made up to 1 day in advance and stored in an airtight container in the refrigerator until ready to reheat.
Storage Instructions
Store leftover Belgian waffles in an airtight container in the refrigerator for up to 2 days. Reheat in a 250°F oven for 10 minutes.
Freezing Instructions
Freeze Belgian waffles in a single layer on a parchment-lined baking sheet until solid, about 1-2 hours. Transfer to an airtight container or Ziplock bag to store for up to 3 months. Reheat directly from frozen, adding an additional 2-3 minutes to the bake time.
Scaling up
Easily double this recipe to feed up to 10 people!
Topping Suggestions
These waffles are great on their own or with classic powdered sugar. However, you can also top them with:
Maple Syrup
Chocolate Chips
Bananas
Berries
Sprinkles
Fruit Jam
Tips for the Best Belgian Waffles
Use room temperature ingredients for the best results.
For tangier, richer waffles, replace the milk with buttermilk.
Do not overmix the batter. This can lead to tough, chewy waffles.
Gently fold in the egg whites to avoid deflating them.
Serve the Belgian waffles hot as they come off the iron. Leaving them out will lead to soggy waffles.
Keep the waffles warm and crisp by placing them on a lined baking sheet in a 200°F oven until ready to serve.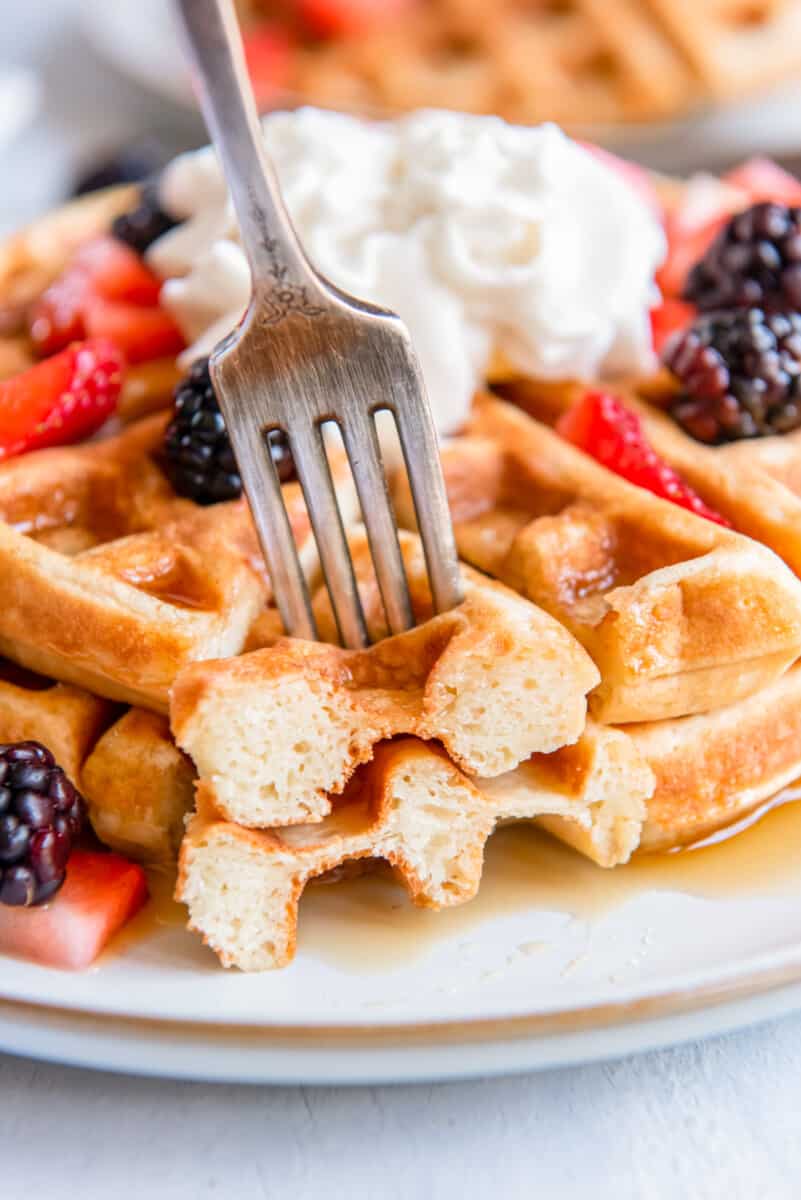 Homemade Belgian Waffles are ideal for treating your family or for hosting brunch with friends! They're soft, fluffy, sweet, and beloved by all. Plug in the waffle press and get to cooking!
If you make this recipe be sure to upload a photo in the comment section below or leave a rating. Enjoy! You can also jump to recipe.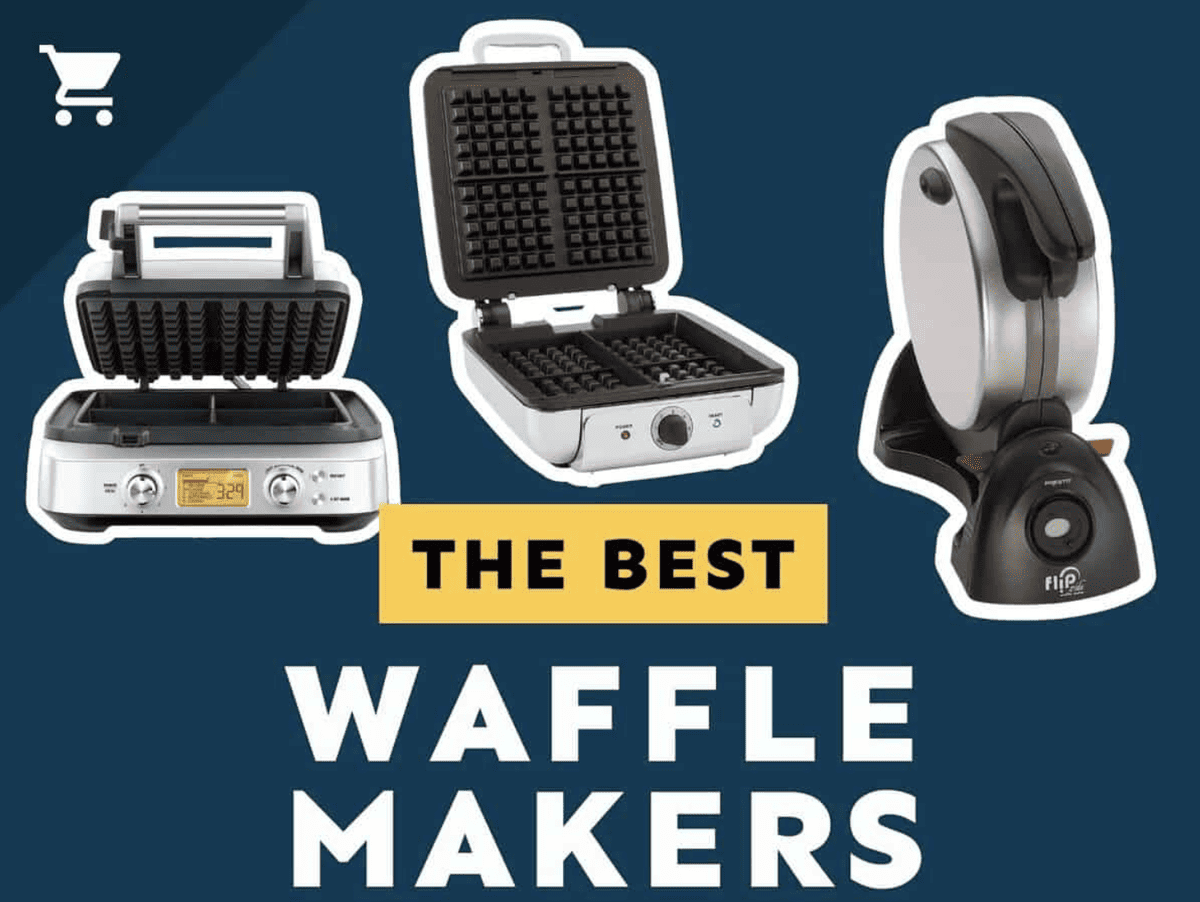 Best Waffle Makers
We have reviewed our top 7 Waffle Makers! Get reviews, pros, cons, and prices!
Best Waffle Makers