These warm, buttery, spiced Baked Apples are such a great way to use up any fresh apples you pick this fall season! Apple slices are tossed with cinnamon, nutmeg, and brown sugar to create the most simple yet delectable flavor. Just bake them in the oven, and you'll have a tasty treat to enjoy!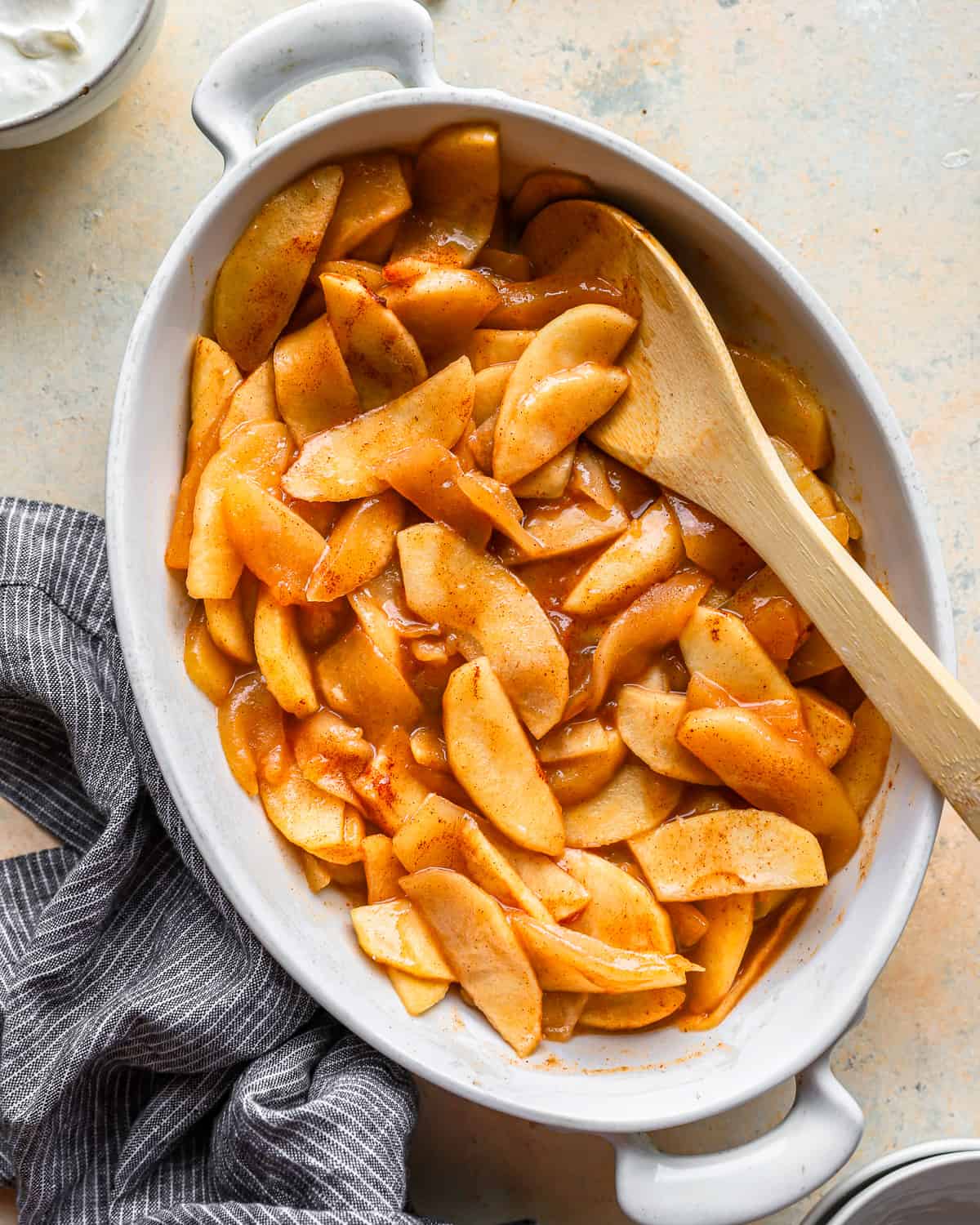 What's in this Baked Apples Recipe?
Fresh, juicy apples are baked in a combination of brown sugar, lemon juice, cornstarch, salt, and warm spices, then topped with butter for a simple craving-busting dessert!
Apples: With their Juicy, honey-sweet flavor, Honeycrisp apples are the perfect choice for this dish. You could also use Cortland, Fuji, Granny Smith, Jonagold, or Braeburn.
Brown Sugar: Sweetens the apples and gives them a warm molasses flavor.
Lemon Juice: Prevents the apple slices from turning brown.
Water + Cornstarch: Thickens the apples as they release their juices during baking.
Cinnamon: Adds a warm, spicy flavor.
Nutmeg: Adds a nutty, earthy, and slightly sweet flavor.
Kosher Salt: Enhances the natural flavor of the apples.
Unsalted Butter: Adds richness and buttery flavor to the apples.
Pro Tip: Use an apple slicer to easily remove the cores and cut the apples into evenly-sized slices.
Variations on Baked Cinnamon Apple Slices
Try using honey butter before baking the apples, or add honey or maple syrup into the mix for a different type of sweetness. You can also sprinkle walnuts, pecans, or another nut into the baking dish.
You can follow this recipe with just about any fruit. Try it with peaches, nectarines, pitted cherries, strawberries, or blueberries!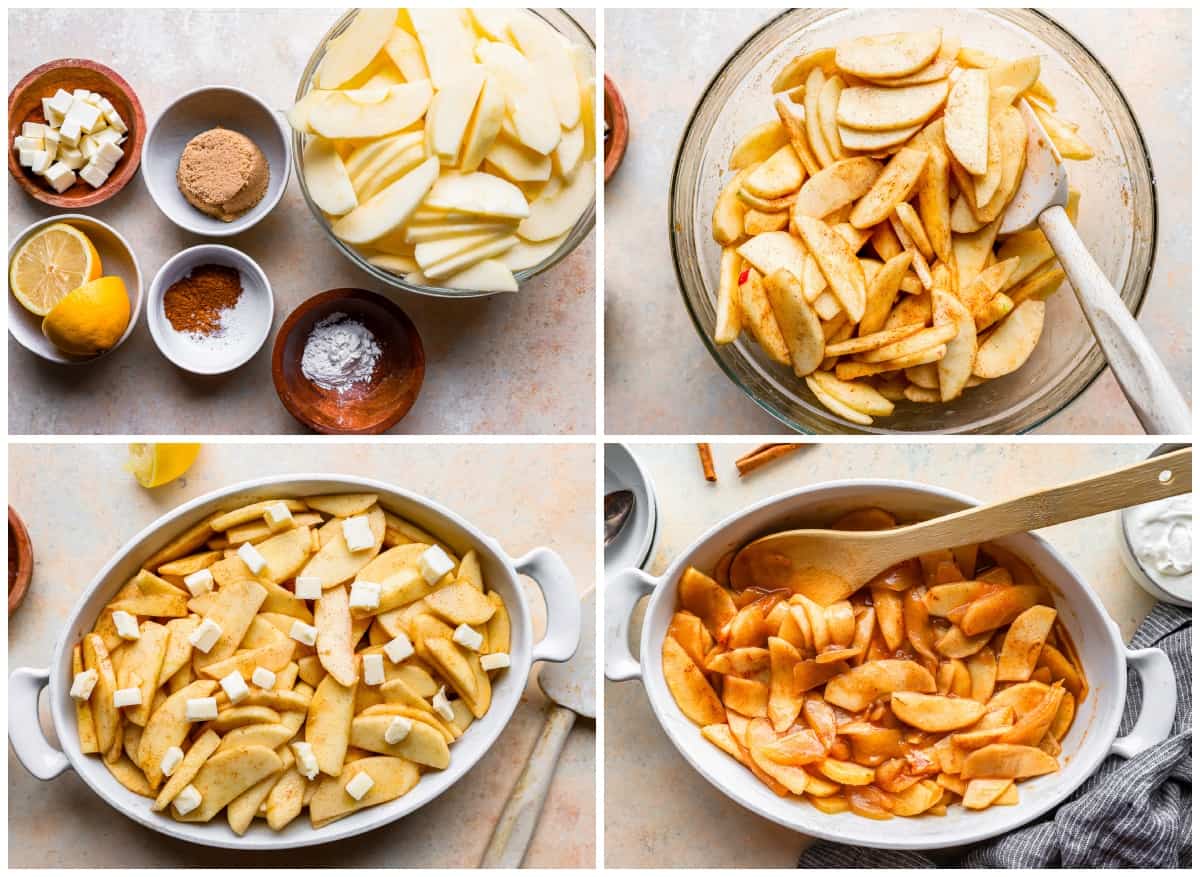 What kind of apple is best baked?
The best apples for baking are those that are firm enough to hold their shape during the baking process. I personally love the flavor of Honeycrisp apples, but any "baking apple" will work!
How do you cut apples for baking?
If you have an apple corer/cutter, that works great! Otherwise, place the apple upright on your cutting board and slice one side off a few millimeters from the core. Place the apple flat side down and cut the remaining sides off. Cut the apple pieces into evenly-thick wedges.
Do you have to peel apples to bake them?
While I chose to peel my apples, you can leave the skin on if you prefer!
Should you soak apples before baking?
There's no need to soak these apples; however, I do like to add lemon juice to keep them from browning.
Are baked apples healthier than raw?
Baking apples does result in the loss of some nutrients, but they are still a healthy choice!
Does cooking apples destroy the fiber?
No, cooking apples does not destroy the fiber. If you choose to leave the skin on, these apples will still be a good source of fiber.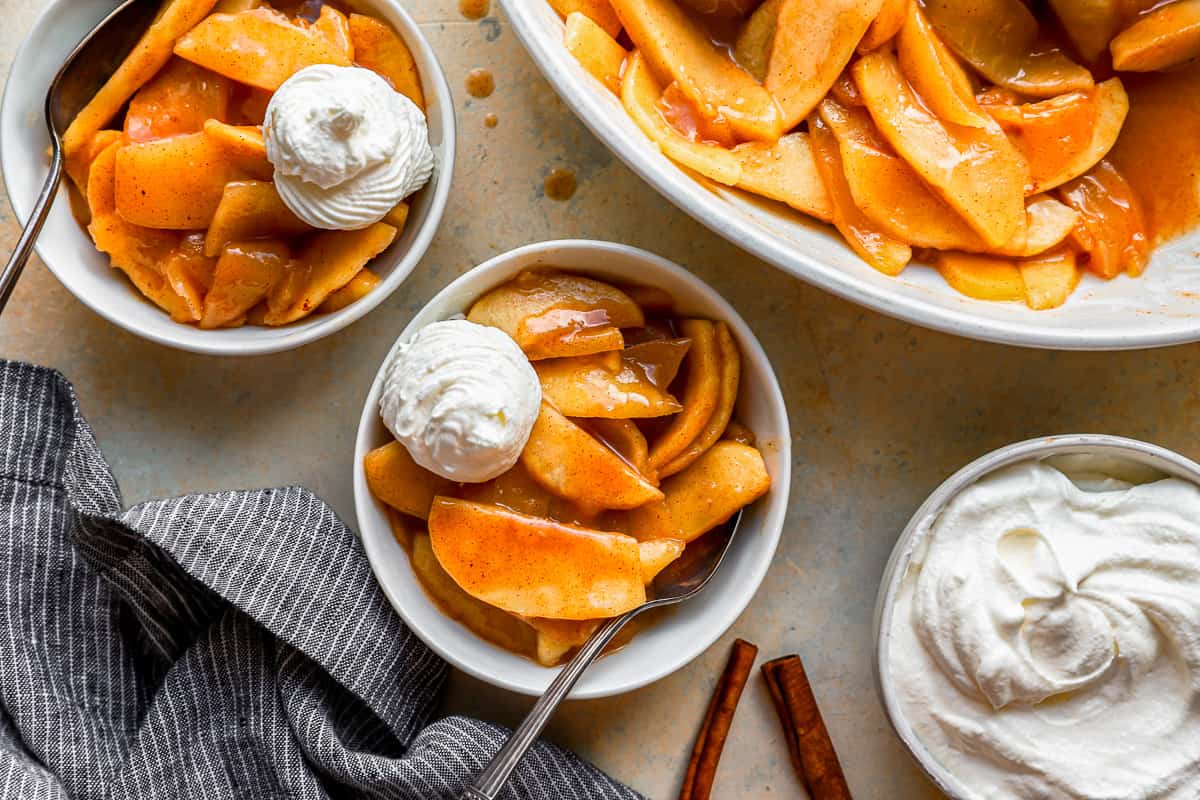 How to Store and Reheat
Store leftover cinnamon apples in an airtight container in the refrigerator for up to 4 days. Reheat in the microwave in 30-second increments or in a saucepan set over medium heat until warmed through.
I do not recommend freezing these spiced apples, because they will turn mushy once thawed.
Serving Suggestions
Top these warm baked apples with a dollop of whipped cream, Greek yogurt, or ricotta cheese and a drizzle of caramel sauce. Serve with wedges of baked pie crust or cinnamon tortilla chips, or top individual servings with maple syrup granola for a bit of crunch. An apple crisp macchiato or some crockpot apple cider would make such a yummy pairing! These make a great topping for lots of apple desserts, so don't be afraid use them on everything.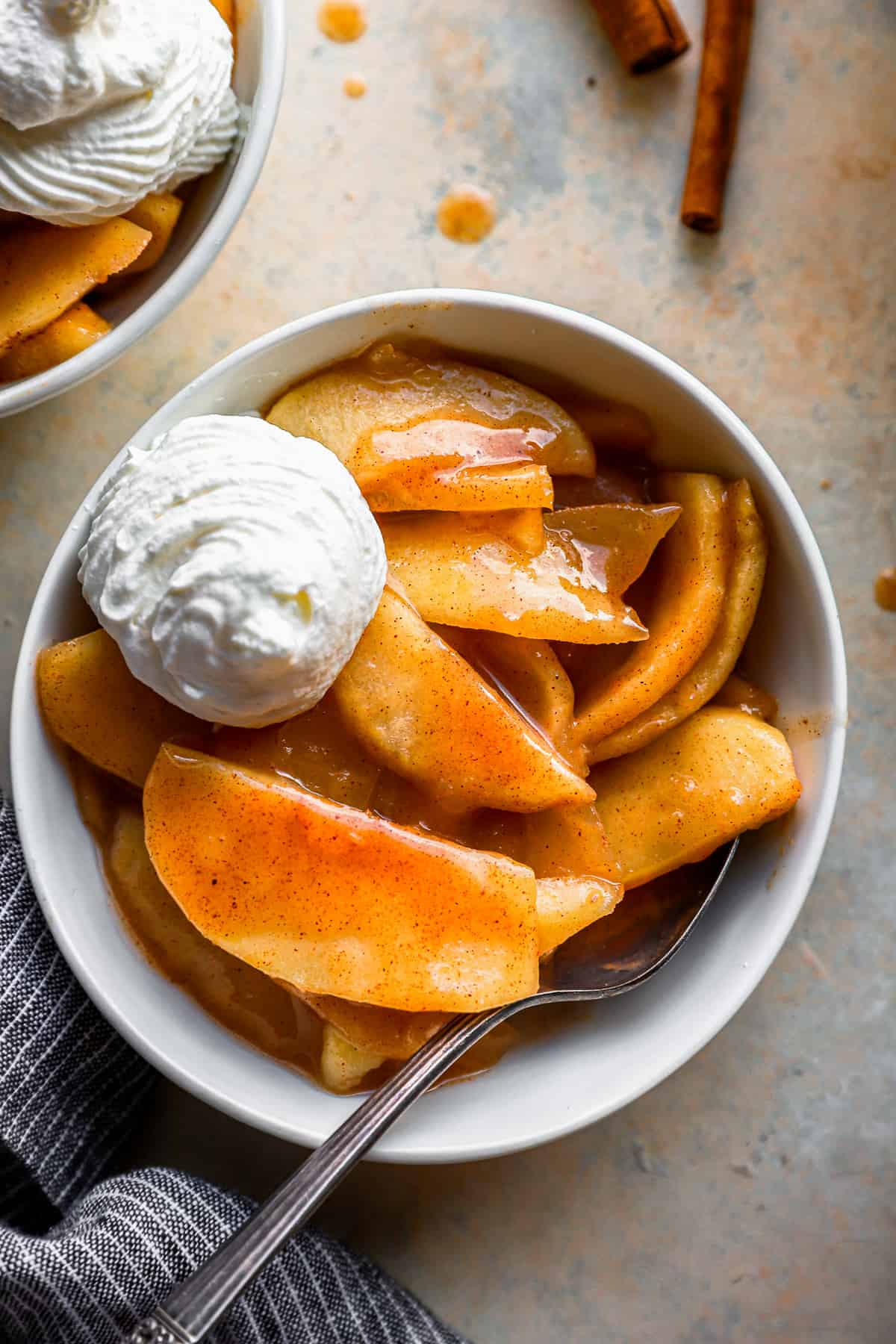 More Apple Recipes We Love