Easy Guacamole Recipe…I've never heard three words sound more beautiful! This simple and delicious Food Processor Guacamole is filled with great ingredients, and only takes a few minutes to make. No chunks here, just smoooooth guac!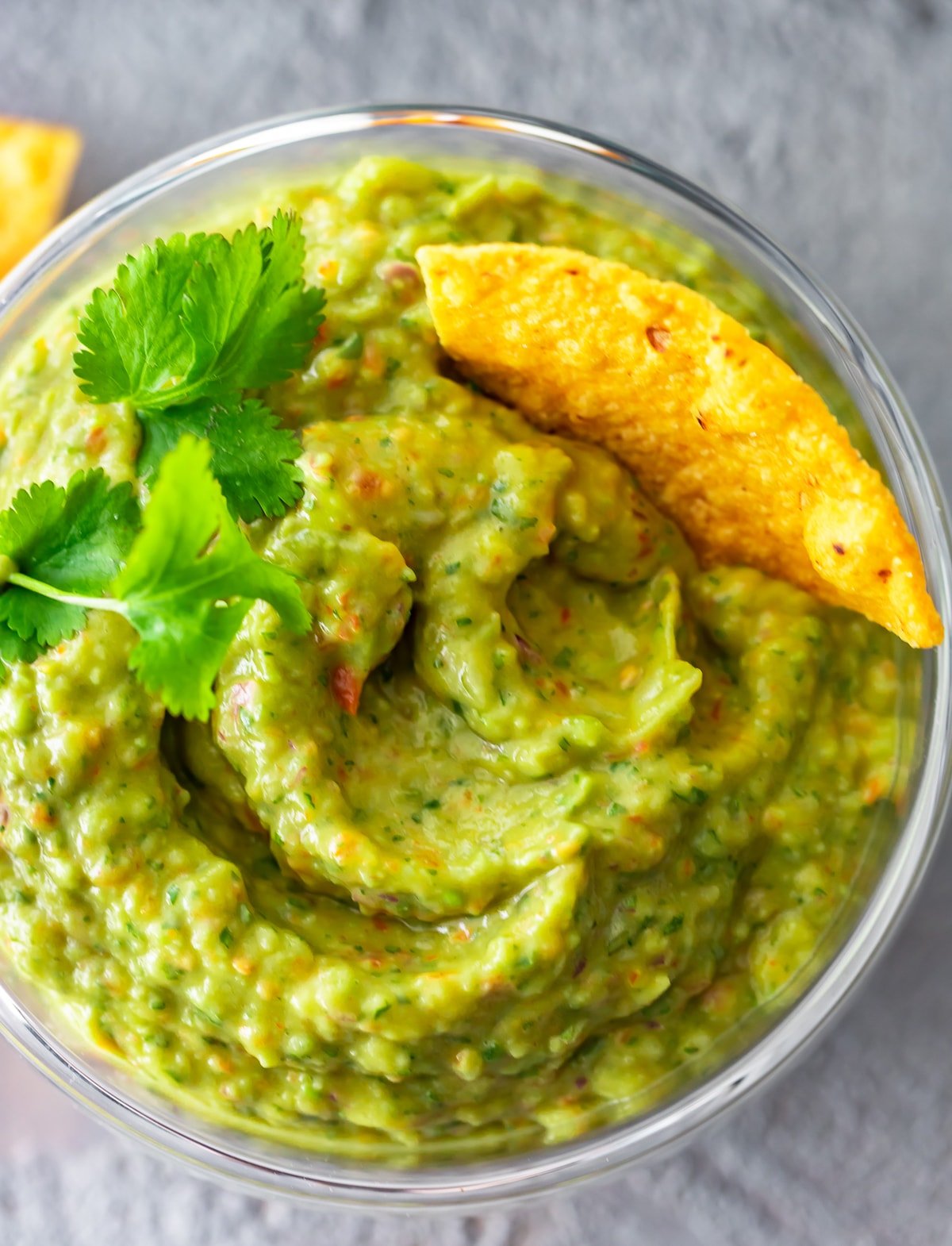 Easy Guacamole Recipe
This super easy guacamole recipe is so delicious. Blend everything together in a food processor for the ultimate easy dip recipe!
Guacamole is always easy to make–it's just a few ingredients plus a bit of mixing. But Food Processor Guacamole takes it to the next level by blending all of the ingredients into the perfect texture!
You get all the amazing flavor of avocados, tomatoes, onions, and jalapenos, without the chunky texture. I mean, there's nothing wrong with a chunky guacamole. I love it! But sometimes we just want that super smooth and creamy consistency for your chips. Plus you can skip the chopping, because who has time for that?
I know you're going to just LOVE this guacamole recipe for Cinco de Mayo, Taco Tuesday, or any other occasion. There's never a wrong time for guac after all!
How do you make guacamole in the easiest way? With a food processor! Blend everything into the perfect flavor and enjoy.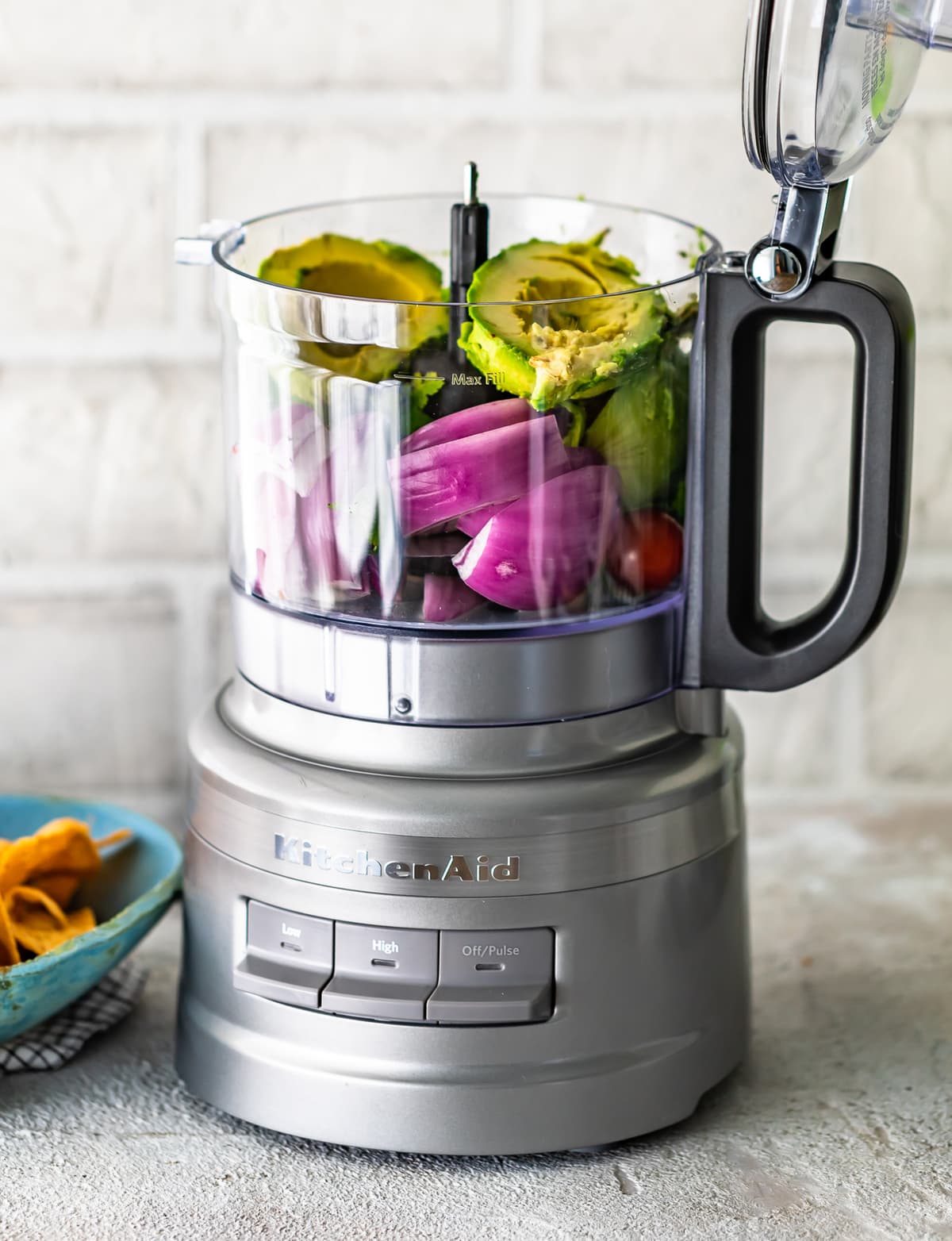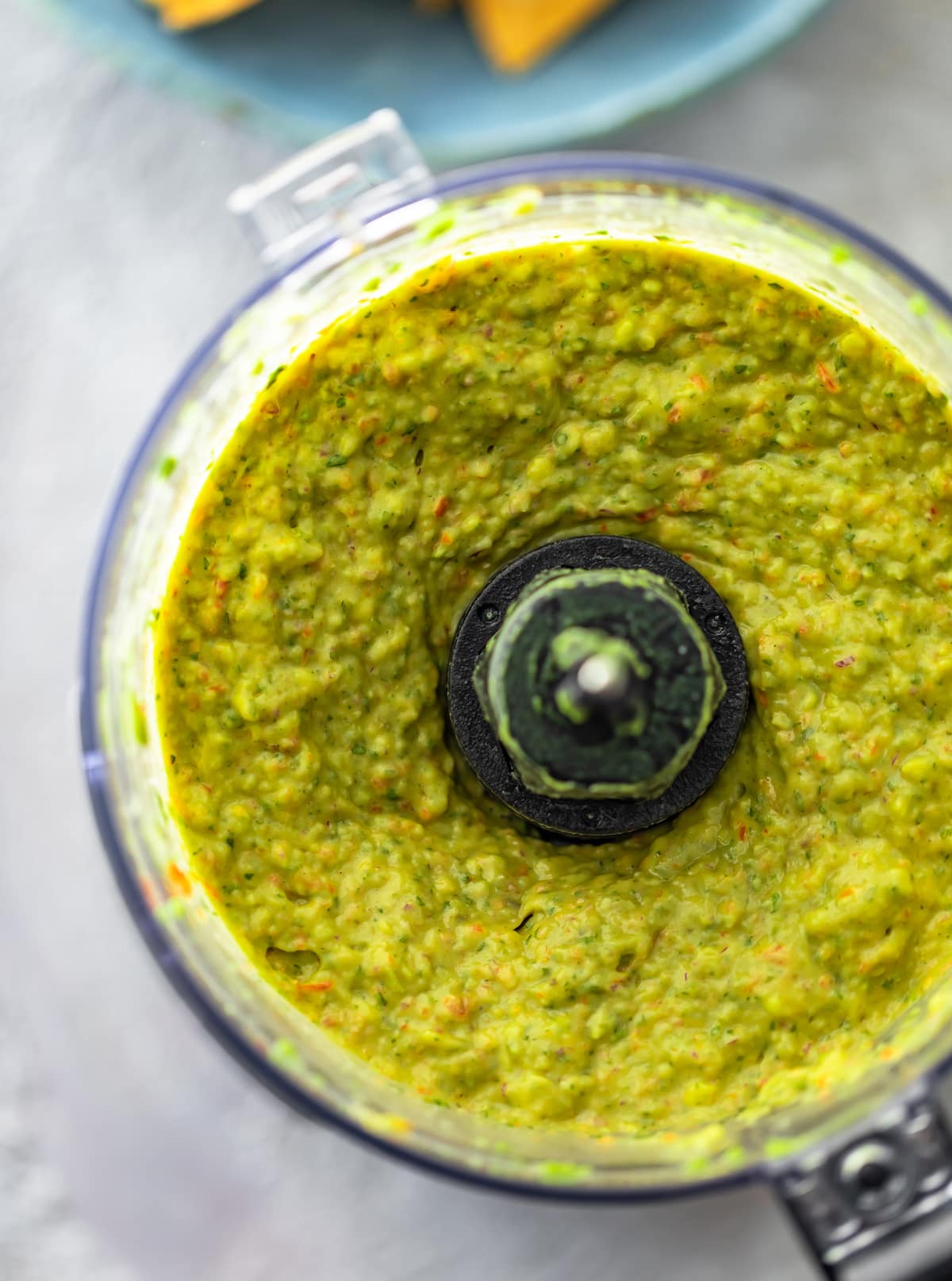 Food Processor Guacamole
I absolutely love my food processor. It comes in handy during so many occasions, and just makes cooking so much easier. I'm always looking for new ways to use it, and the perfect guacamole recipe seemed like a great idea!
Normally I'd just mash up the avocado and blend everything by hand, but why do that when you can just throw it all in and let the machine do it for you? It creates the smoothest, creamiest texture you can imagine!
The great thing about this recipe is you don't have to chop up all your ingredients into small pieces before you begin. The power of the food processor does all the work for you.
With this easy guacamole recipe, you get all the flavor of those great ingredients without the chunks…or if you like a chunky guac, you can just pulse slowly until you get the consistency you want.
Best Easy Guac Ingredients:
Avocados
Red Onion
Cherry Tomatoes
Jalapenos (with or without seeds, depending on how spicy you want it)
Cilantro
Lime Juice
Salt
What do you eat Guacamole with?
What do you eat guacamole with? Um, what do you NOT eat guacamole with? My quick answer is that you can eat it with everything. My more realistic answer is that you can use it on all your favorite Mexican dishes!
Of course guac is made for dipping, so serve it with your favorite tortilla chips and let everyone go to town. There's no quicker way to empty a bowl of guacamole.
But instead of just an appetizer, you can also use it as a dip or topping on tacos, burritos, nachos, enchiladas, salads, chicken breast, casseroles…the list goes on and on. The flavor goes well with typical Tex-Mex ingredients like cheese, beans, chicken, tortillas, etc.
Try this easy guacamole recipe as a topping on some of these favorite dishes:
Tex Mex Recipes we Love
These Mexican Favorites would be perfect topped with a dollop of this Guacamole Dip!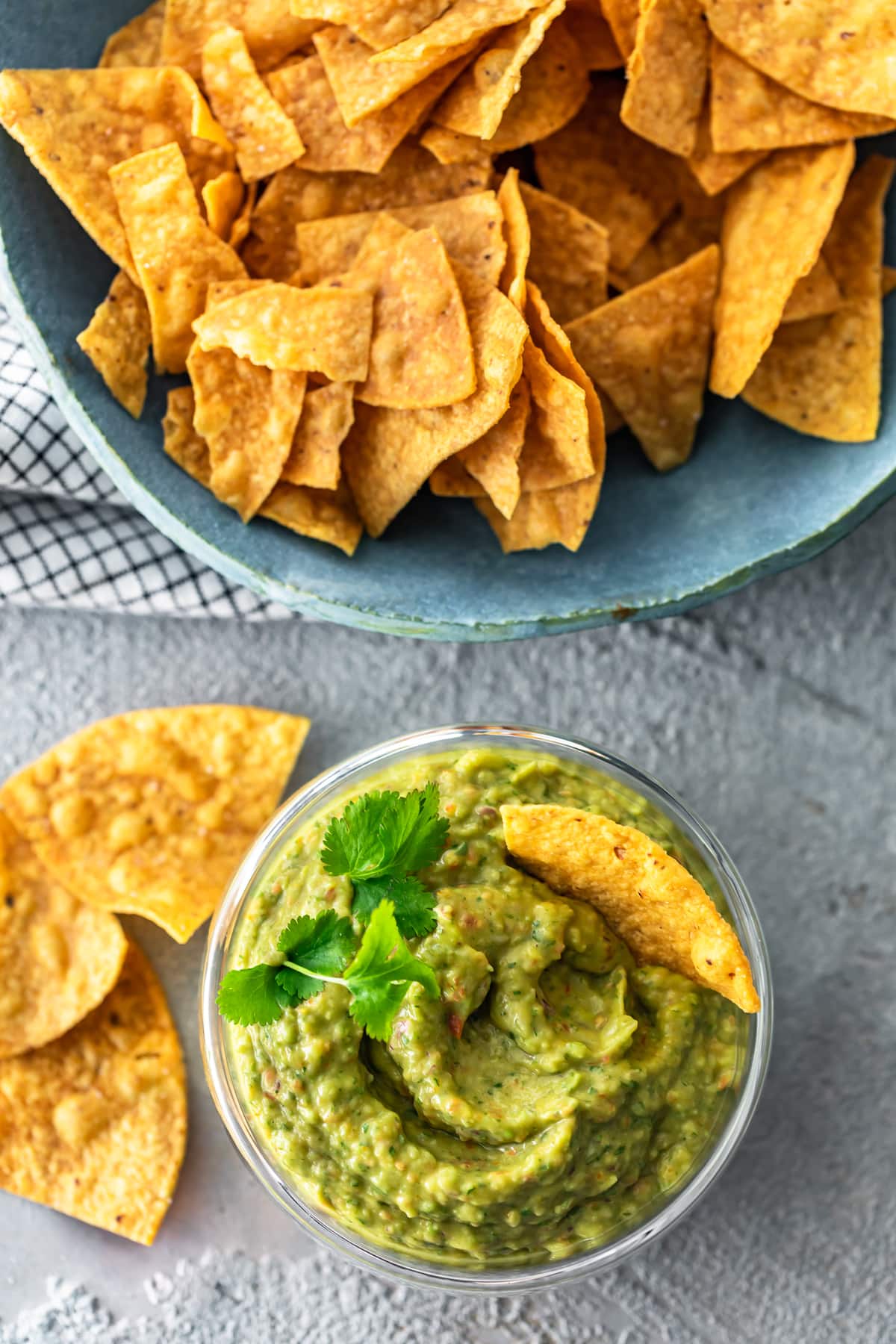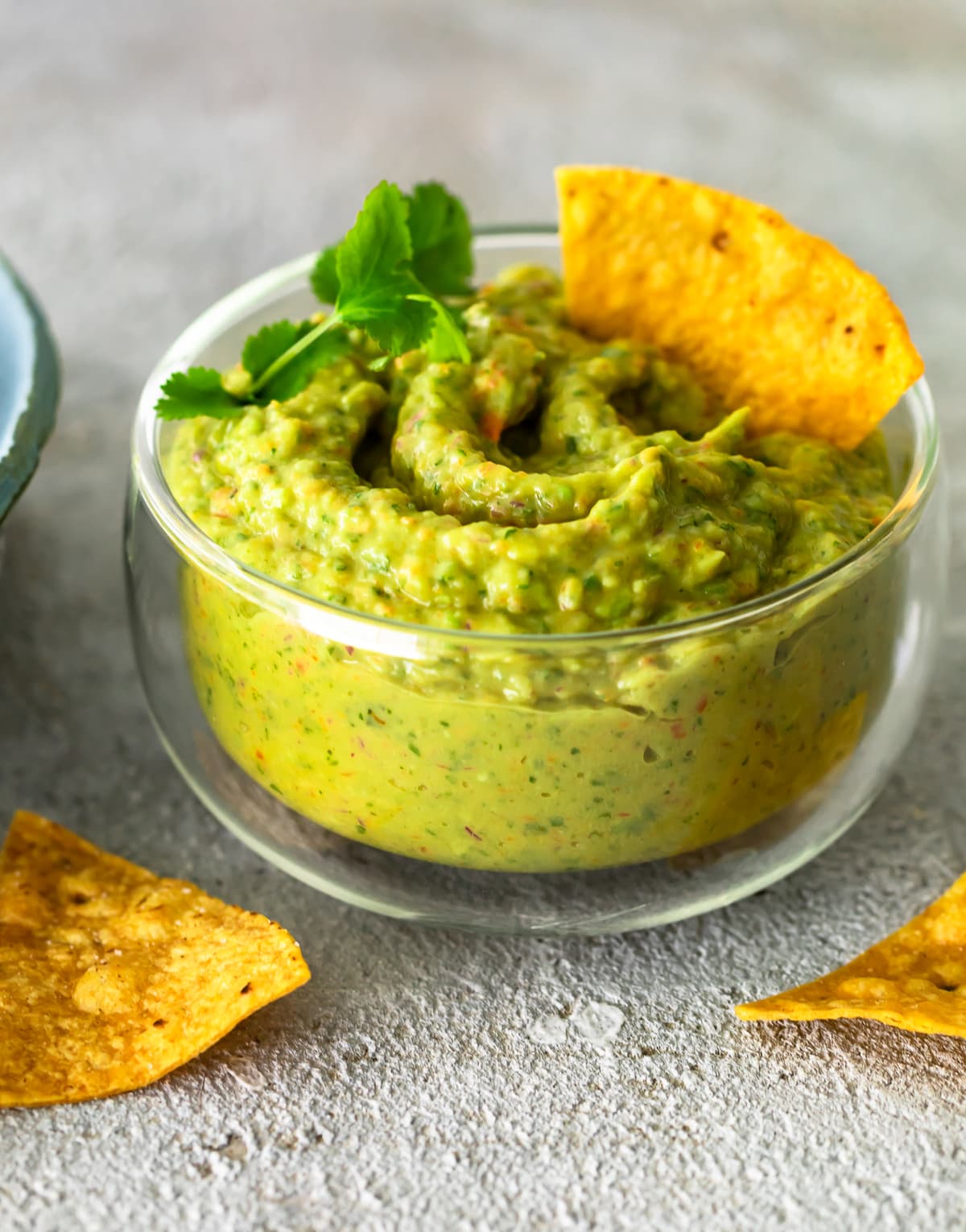 How Do You Make Guacamole in a Food Processor?
Prep your ingredients, throw them in the food processor, pulse, and done. That's all there is to this simple dip recipe! Give it 5 minutes and you've got the most delicious guac ready to serve.
You can use any food processor you have. So if you've already got one in your kitchen, consider this recipe next time you need an easy and quick guacamole recipe.
Just pulse until you reach your desired consistency; as smooth or as chunky as you like! Because sometimes you're in the mood for chunky guac, and sometimes you want it nice and creamy. There's no right or wrong here!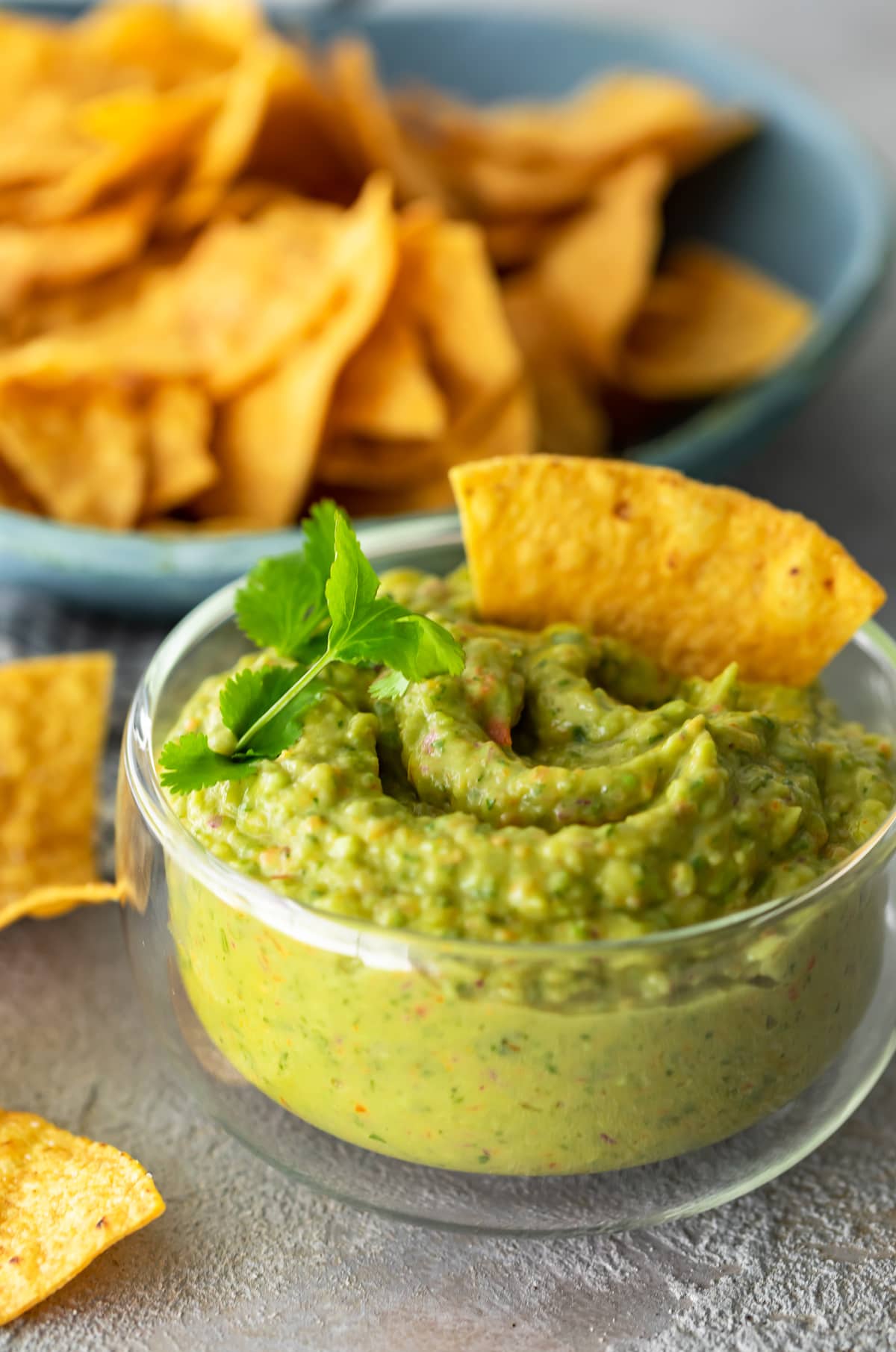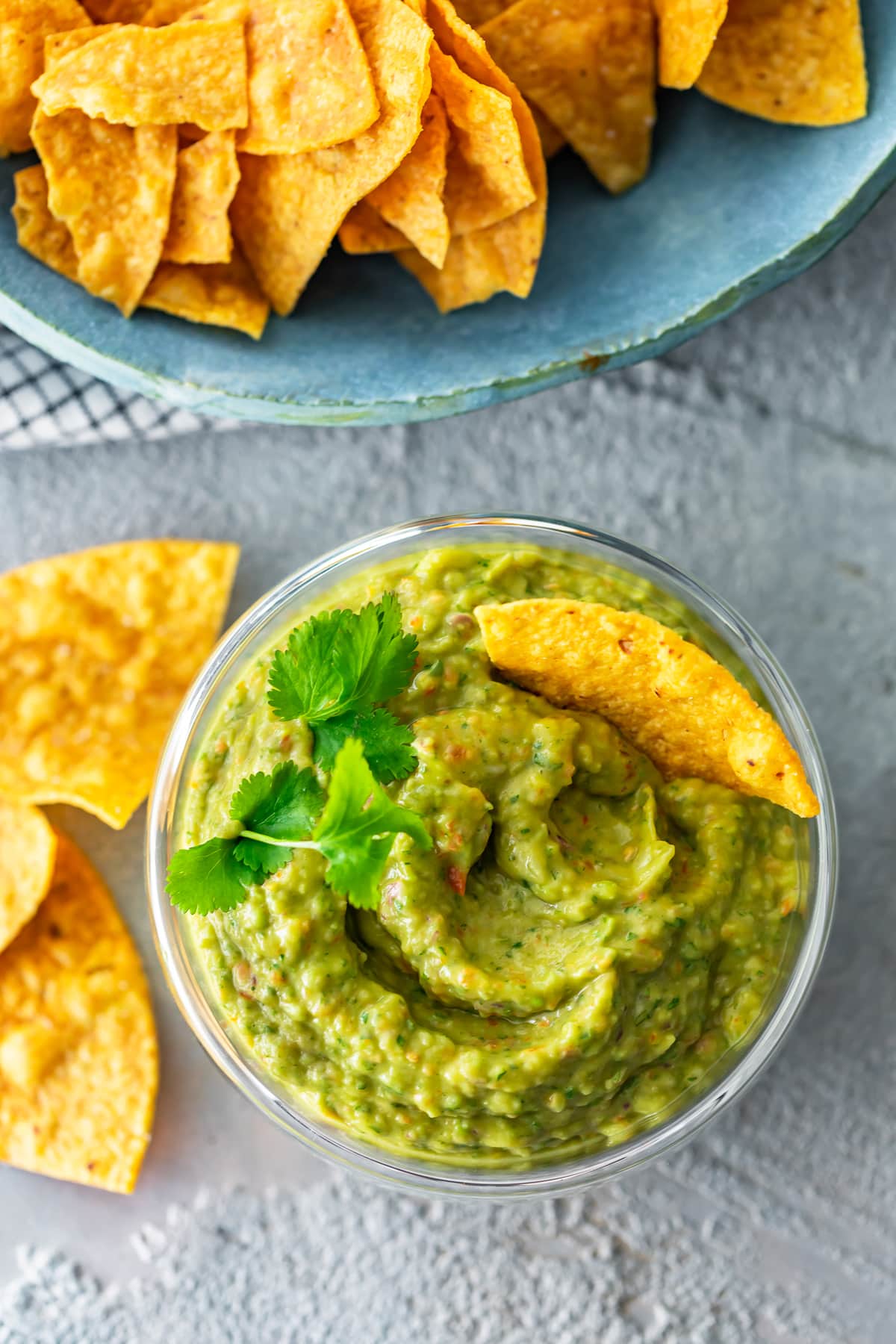 Homemade Tortilla Chips
You can't serve guac without tortilla chips! While a bag of store bought chips will do, homemade tortilla chips are the best dipping tool. I love baking my own chips for parties just to add an extra special detail to my dips. They come out crispy, crunchy, and SO fresh. I especially like serving them while they're still warm.
I have recipes for Garlic Parmesan Tortilla Chips and Tequila Lime Tortilla Chips (my fave for queso, salsa, or guac). But you can use the same basic recipe and process to make your homemade chips and customize your flavor. A bit of sea salt would be a great option for simple homemade tortilla chips for dipping.
Easy Dips for Cinco de Mayo
Cinco de Mayo is the Day of Dips around here. I love all the tacos and burritos, and of course all the margaritas, but it would be nothing without the dips. If you're throwing a party to celebrate (or just celebrating at home on your own), you need lots of quesos, salsas, and of course this easy guac recipe.
Here are my fave Cinco de Mayo Dips: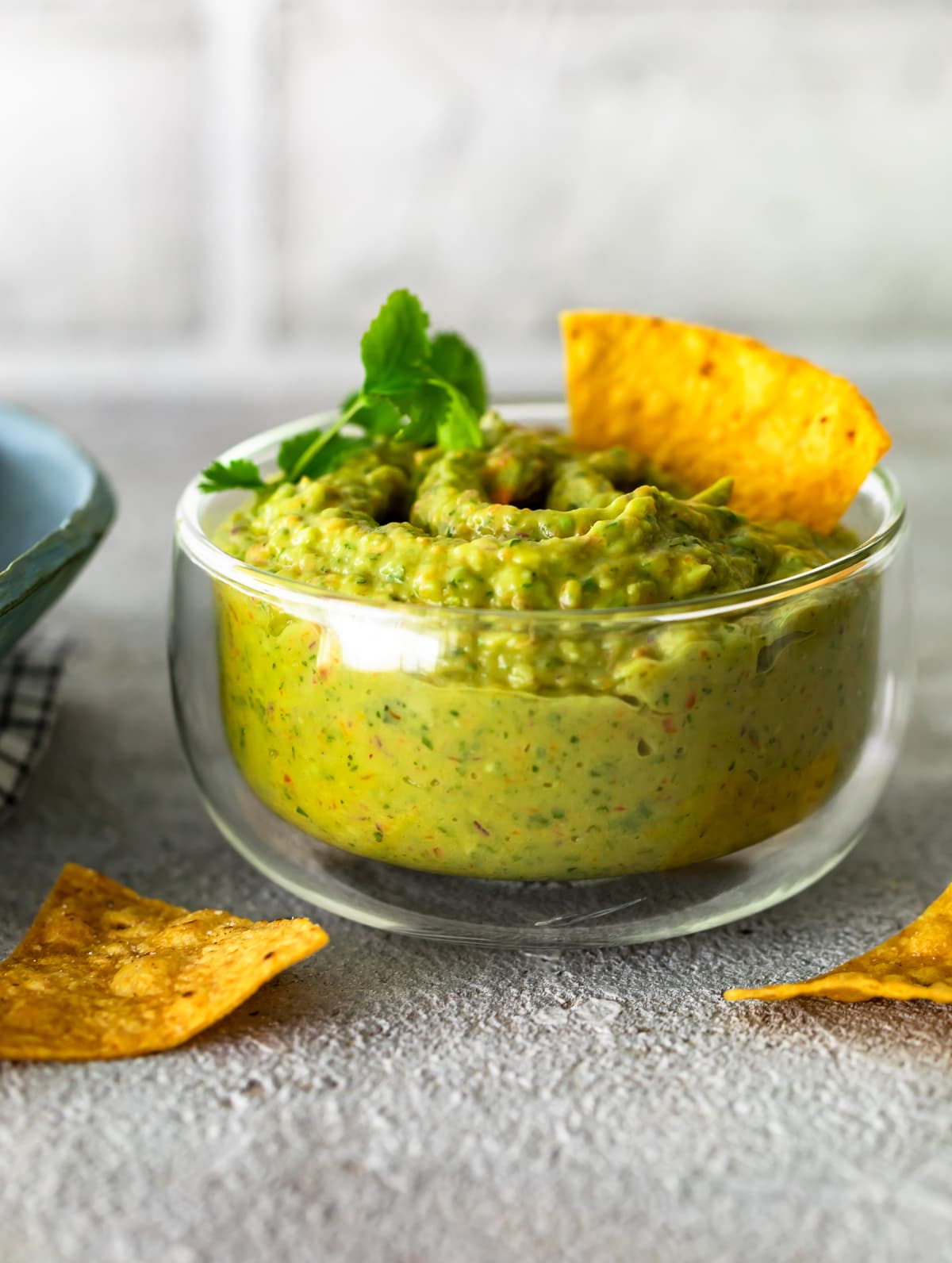 This food processor guacamole recipe is EASY. Perfect for parties, game day, or any time you need a quick snack!
See the recipe card for details on how to make guacamole in a food processor. Enjoy!
Don't forget to try our other guacamole recipes: