Homemade Tortilla Chips with Garlic Parmesan are a delicious and easy snack you can bake for Cinco de Mayo! It's so easy to make these Baked Tortilla Chips, and they're healthier and tastier than store bought! They're the easiest and most flavorful way to elevate chips and salsa.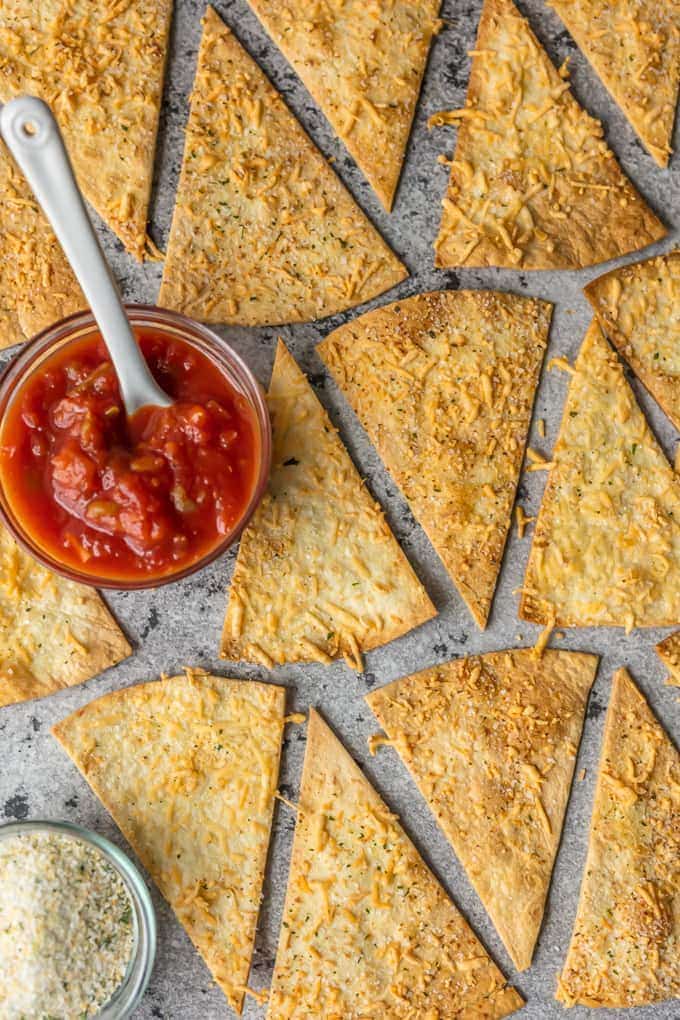 I love these Baked Tortilla Chips. Homemade Tortilla Chips are simply better than store bought.
Homemade Tortilla Chips are my LIFE during the Summer. I can never get enough chips and salsa, and I feel like Baked Tortilla Chips are the perfect compliment to an amazing salsa or queso! With Cinco de Mayo rapidly approaching you better have your Mexican Food game on LOCK…ready for the best food holiday of the year.
If you're planning to make nachos, chips and salsa, queso, or just sit around and drink margaritas…these Garlic Parmesan Tortilla Chips are a MUST MAKE! And you have to make your own fresh chips for Taco Night too!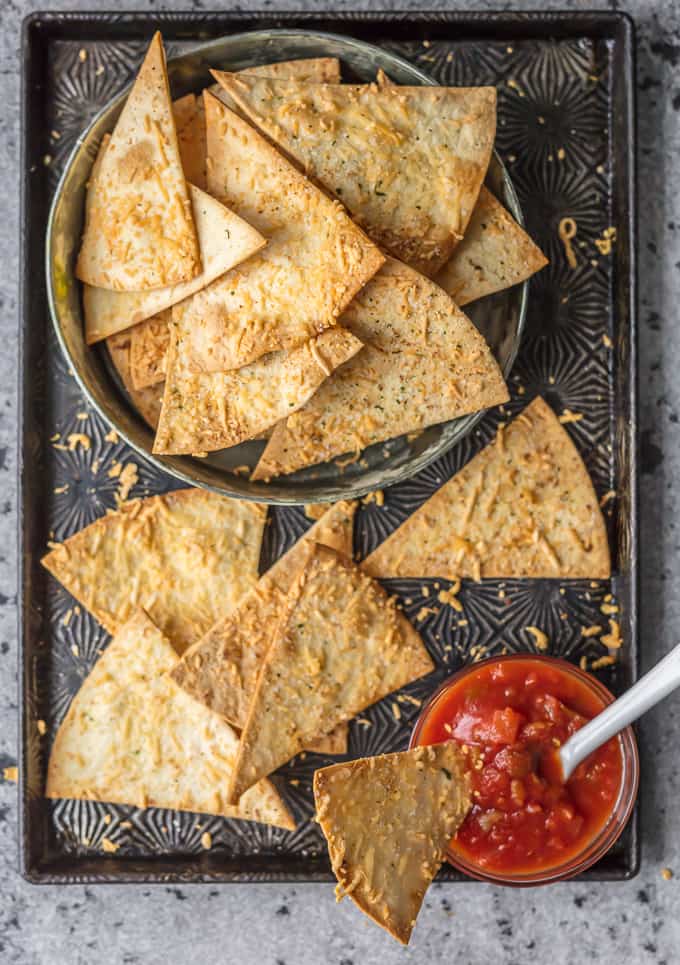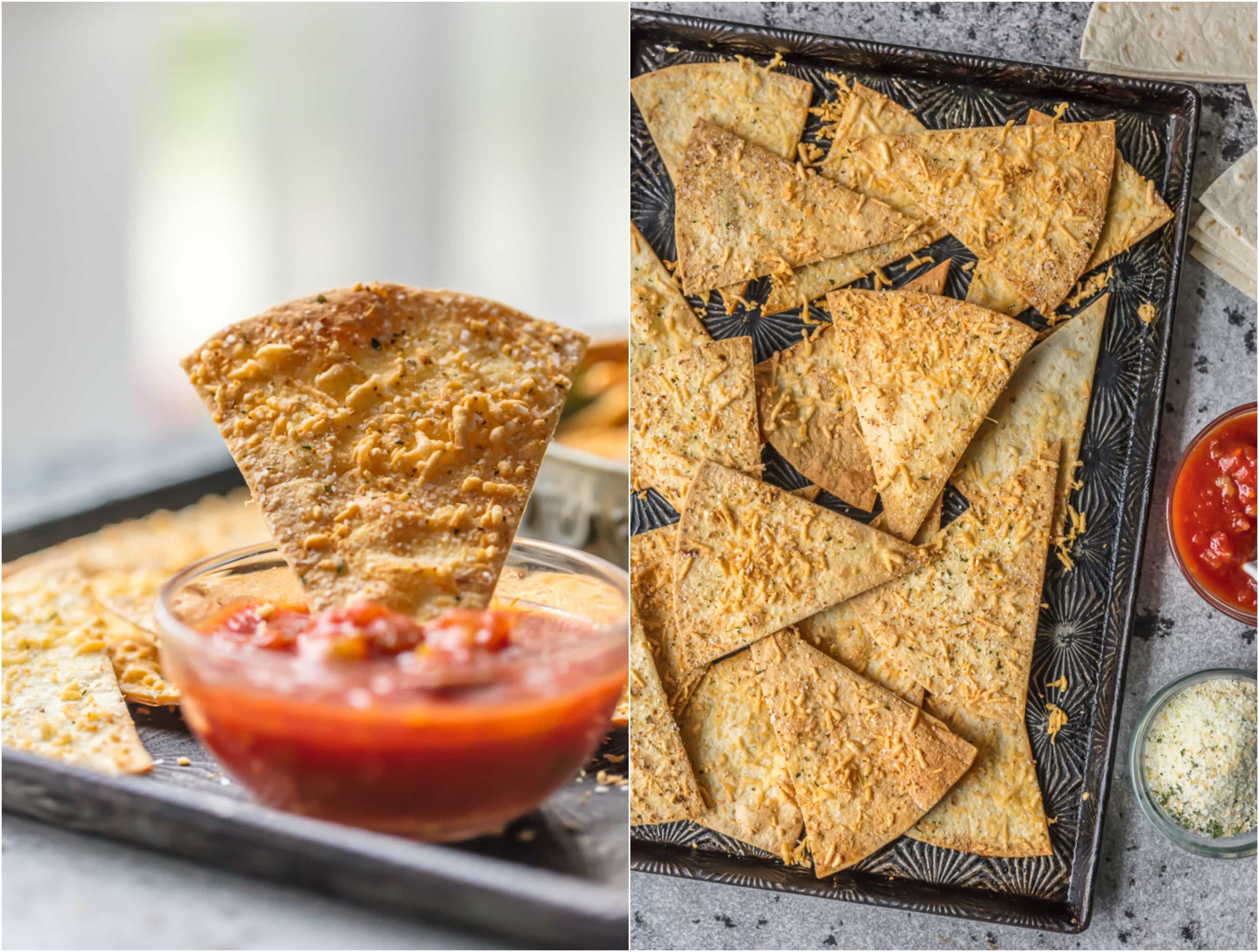 Tips for making Homemade Tortilla Chips:
We love BAKED Tortilla Chips using flour tortillas, but you can also fry your homemade tortilla chips. You can use corn or flour tortillas, although we wrote this recipe with flour tortillas (TIP: Using Corn Tortillas can make this a Gluten Free Recipe!).
If frying, you can sprinkle on your seasoning after removing from the oil, before the hot chips have dried. If baking, we recommend spraying all the tortilla triangles with nonstick olive oil spray, sprinkling with your seasonings (in this case garlic salt and shredded parmesan) and then baking until crisp.
These Baked Tortilla Chips are SO EASY and use only 4 INGREDIENTS. This is a fool-proof way to have the ultimate tailgate party or Cinco de Mayo celebration!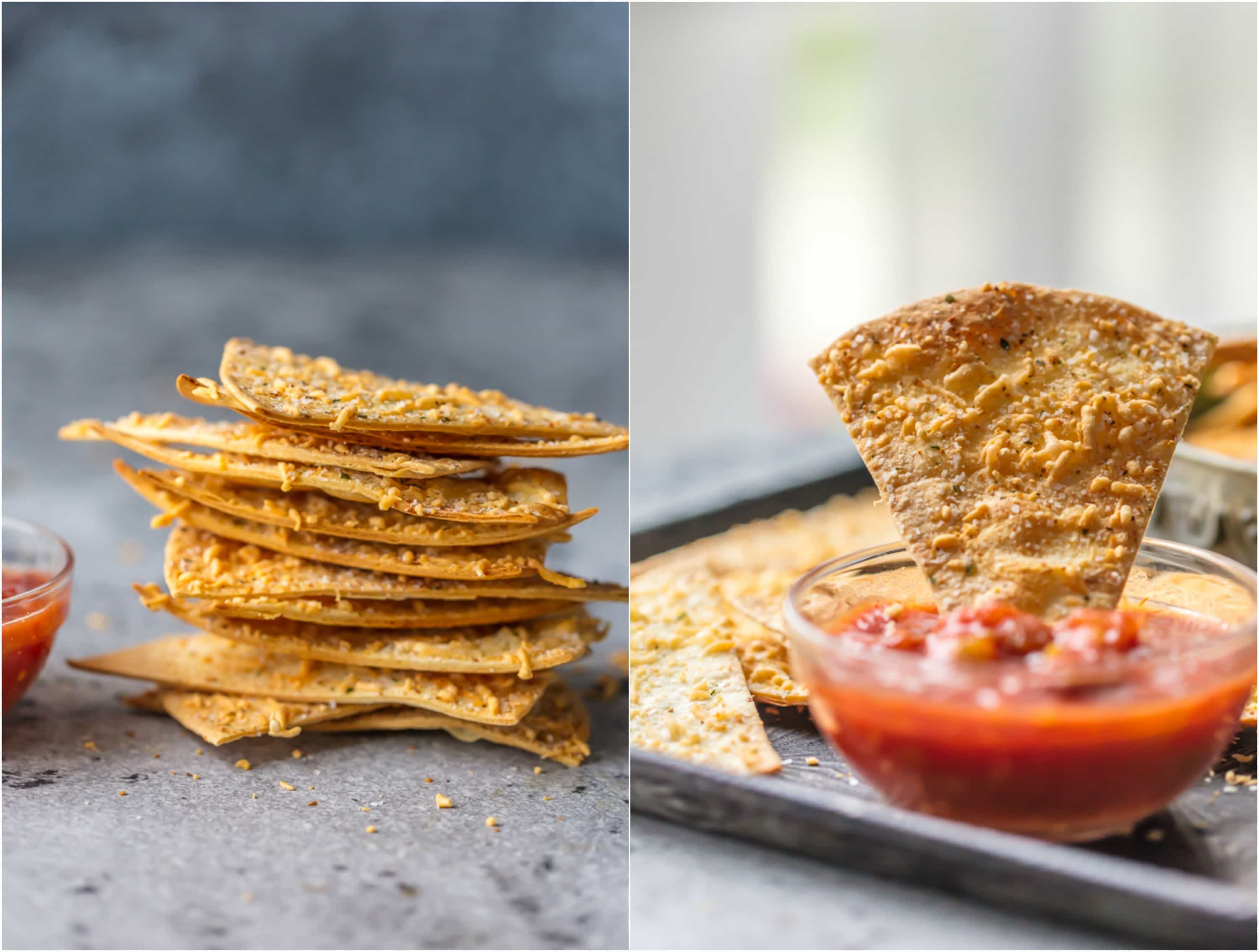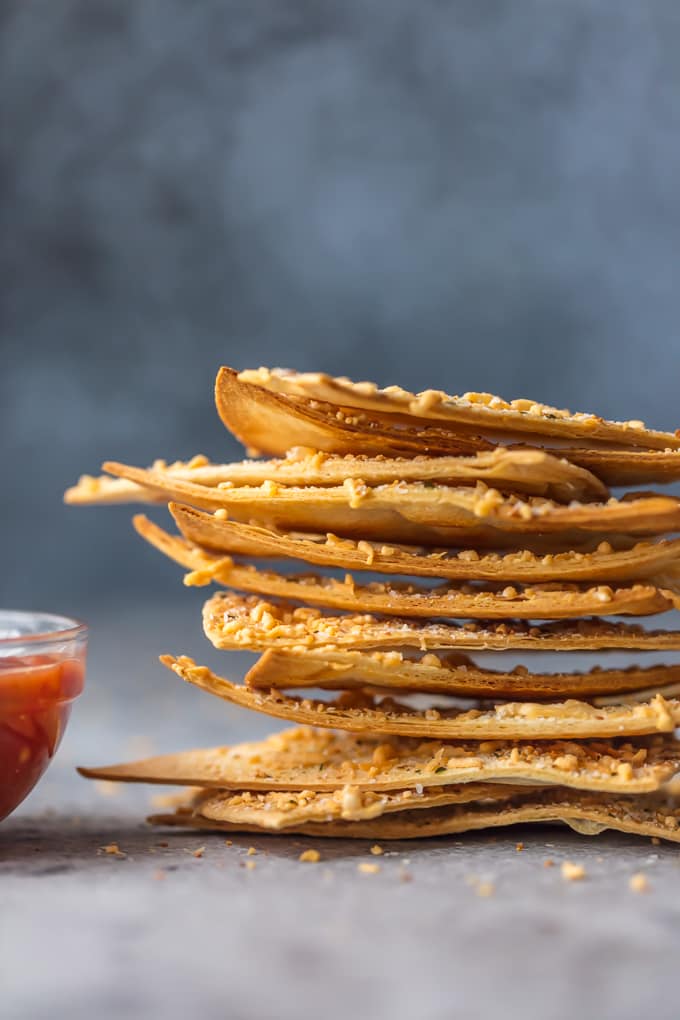 Are Homemade Tortilla Chips good for you?
Typically, fried tortilla chips are pretty high in fat…because you're frying in oil. These Baked Tortilla Chips have under 100 calories per serving and are still crispy and delicious! I'm a big fan and I hope you love them too.
How do you make Nachos in the oven?
I LOVE to bake nachos! You can start with this Homemade Tortilla Chip Recipe and then make Baked Nachos super easily. They're the BEST! We love these Baked Chicken Nachos on a Sheet Pan and also these Baked Foil Packet Nachos! Both are awesome and easy recipes.
Can you make Baked Tortilla Chips in other flavors?
YES! One of our favorite Cinco de Mayo Recipes on The Cookie Rookie is our Tequila Lime Baked Tortilla Chips! Love that unique, fun, and bright flavor combination.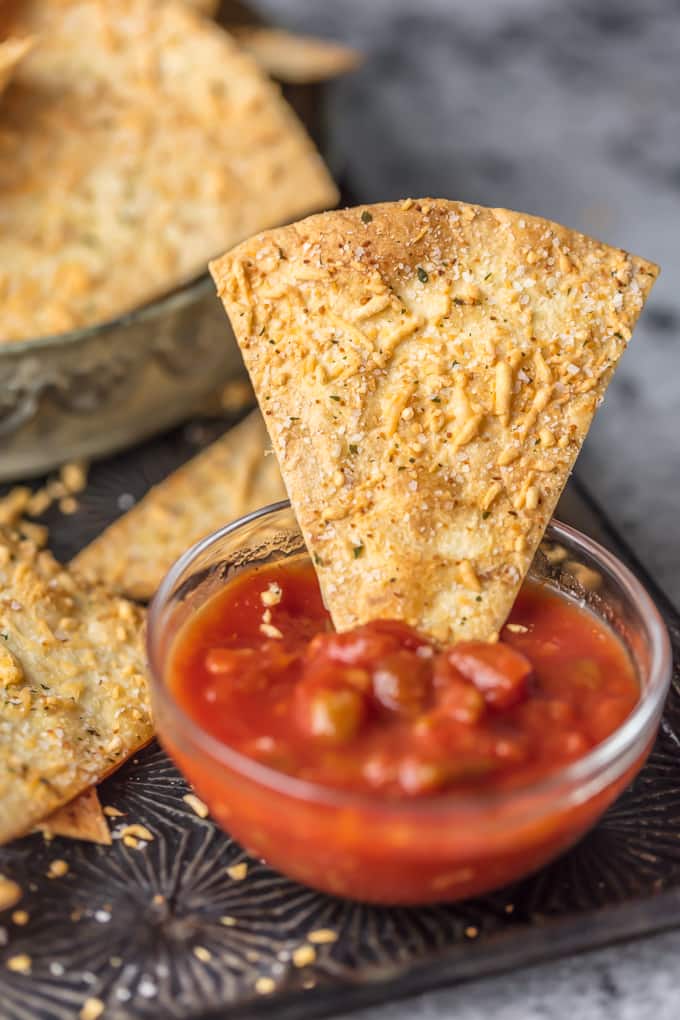 What drinks to pair with Homemade Tortilla Chips
There's nothing better to pair with Homemade Tortilla Chips than an amazing Margarita! We have compiled all our favorite Margarita Recipes in the ULTIMATE MARGARITA GUIDE. From classic to unique to flavored to frozen, we have you covered! Be sure to check it out today.
I love these Baked Tortilla Chips for anytime of year, but make them NON-STOP in the Summer. Even Summer BBQ needs a big ol' bowl of these crispy baked chips served with salsa. Party time!
See the recipe card below for How to Make Homemade Tortilla Chips. Enjoy!
Check out some more of our favorite Cinco de Mayo recipes: