Tequila Lime Tortilla Chips are an easy way to add extra flavor to chips and dip or nachos. These baked tortilla chips are baked instead of fried, and so easy to make. This simple healthy tortilla chips recipe can be made in minutes at home, using soft flour tortillas.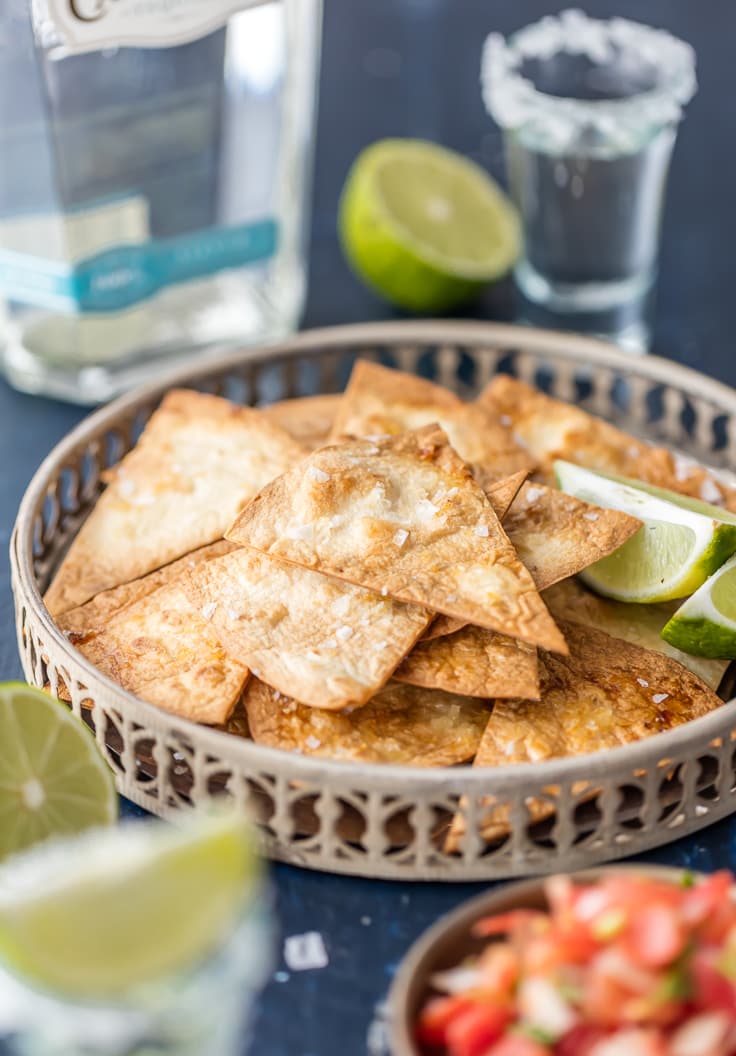 Tequila Lime Tortilla Chips
This homemade tortilla chips recipe is simple. The tequila lime flavor makes these chips perfect for snacking and dipping!
In case you haven't noticed, we are a family that LOVES chips and dip. Cheese dip, salsa, layered dips, all of it. I have SO many dip recipes, so it's only fair that I have some homemade tortilla chips to go along with them.
These Tequila Lime Tortilla Chips are so perfect. I love the saltiness with hints of lime to add extra flavor to whatever you're eating. I could snack away on them all day, and they make great dip chips. Plus they are perfect for our Tequila Lime Chicken Nachos!
These healthy tortilla chips are baked instead of fried, made with flour tortillas cut into individual chips. It's so simple to make these, and they are totally crave-worthy. Next time you make dip for a party, make some baked tortilla chips to go along with it!
This Tequila Lime Tortilla Chips recipe is so easy! Make your own chips at home to eat with all the best dips!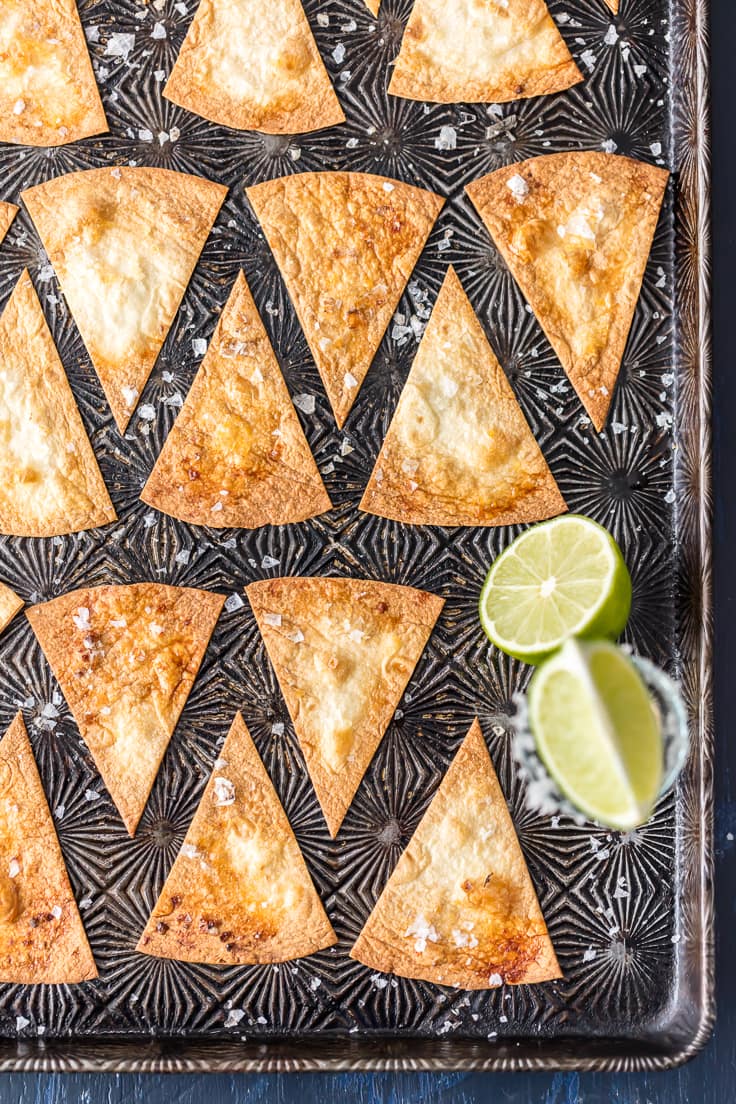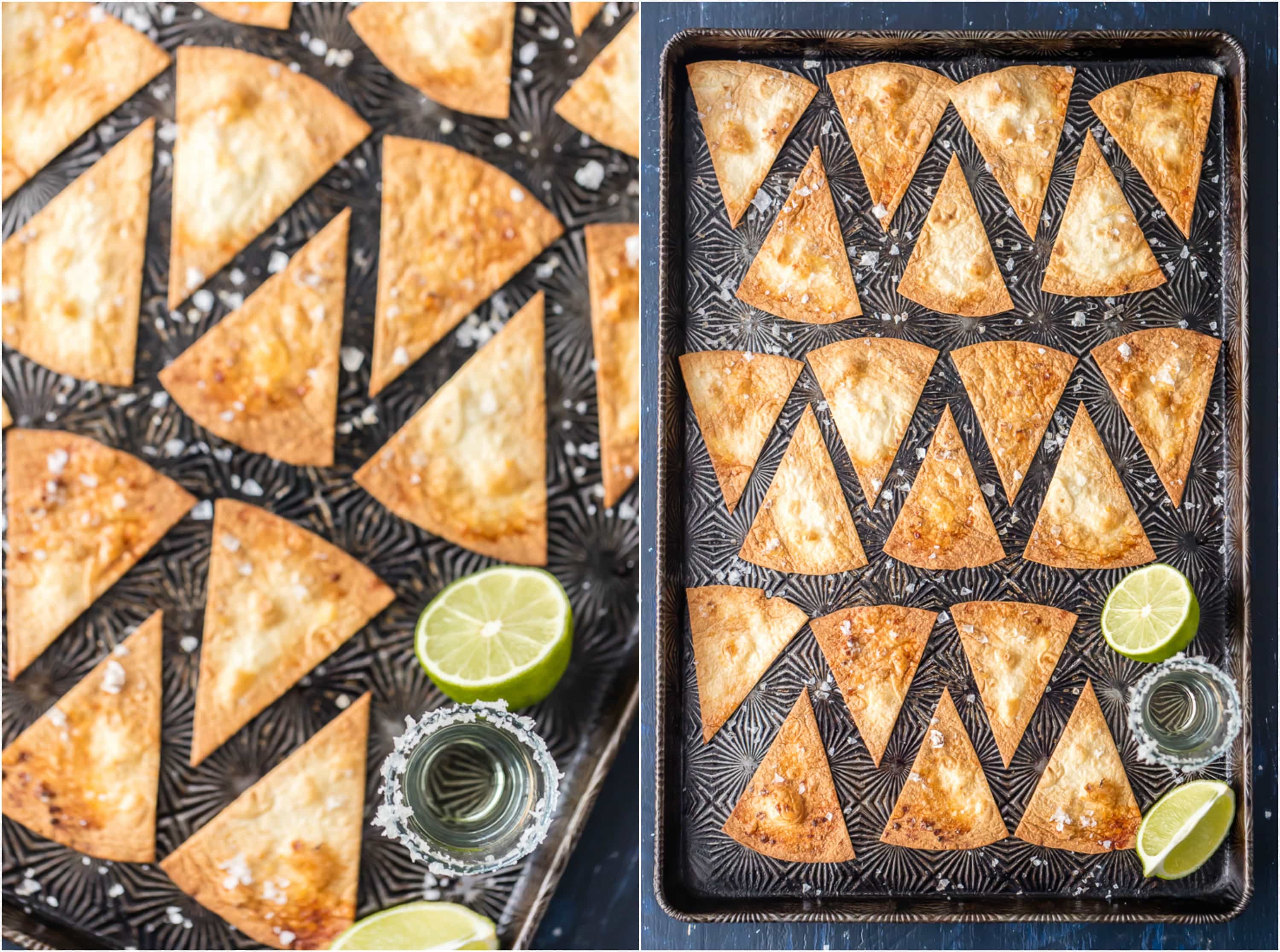 Homemade Baked Tortilla Chips
I'm not kidding when I saw we are OBSESSED with chips and dip around here. I'm always making salsa and queso for parties, for snacking, for any reason I can think of. So I finally decided to make some homemade tortilla chips to go along with all that dip. These baked chips turned out so well; they taste so fresh and crispy! I used Old El Paso Burrito Tortillas, cut them into 8 chips, and they turned out to be the perfect size.
I thought the Tequila Lime flavor would be extra fun, instead of just making plain chips. It adds the perfect kick. I can't stop snacking on these! Just give me a bowl of these tortilla chips, a vat of queso, and a pitcher of margaritas, and I'm a happy gal. At least on game day or Cinco de Mayo, I have a good excuse to do just that…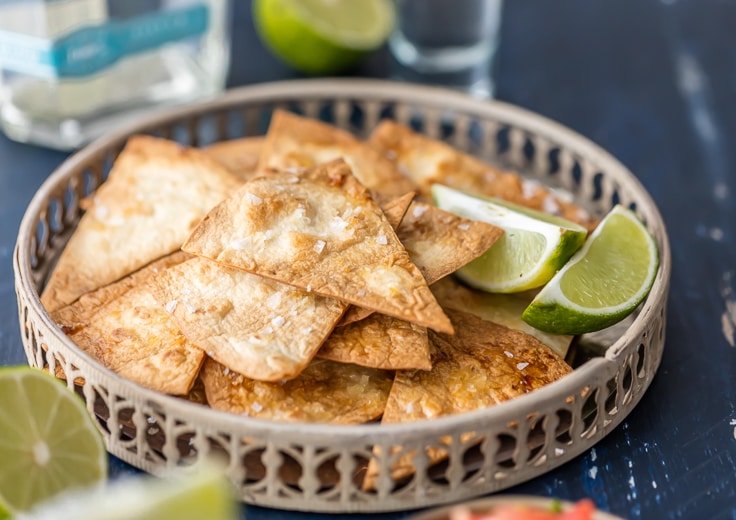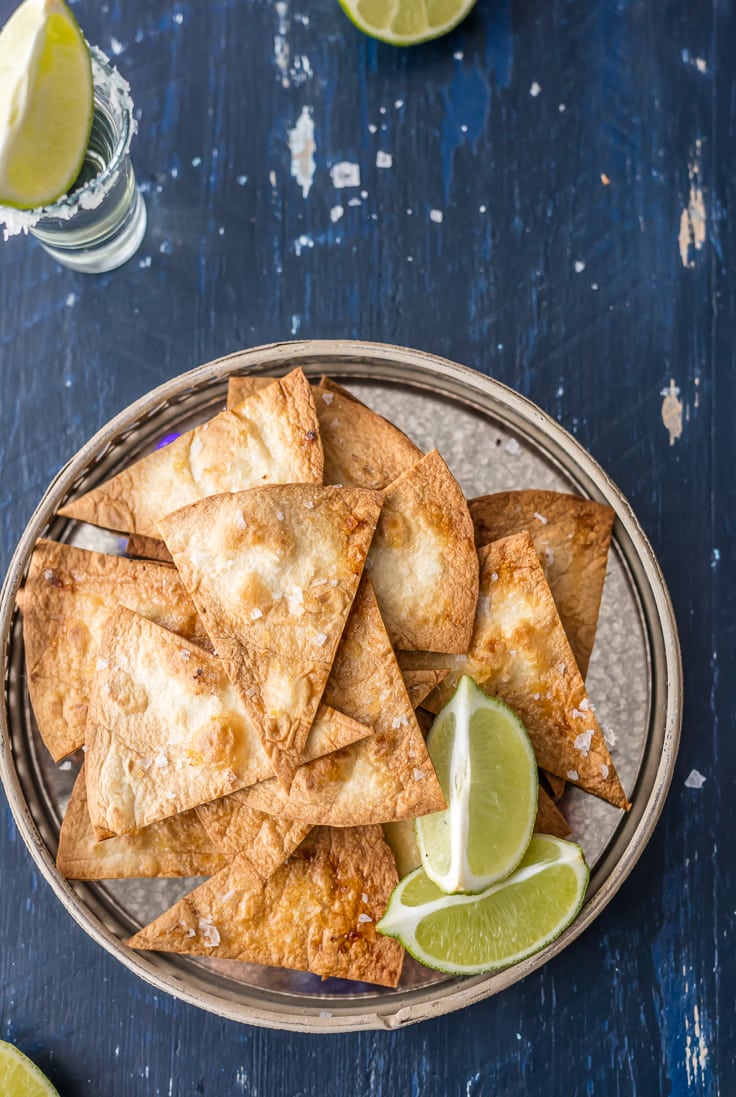 How to Make Tequila Lime Tortilla Chips
Who needs a bag of store-bought chips when you can easily make super flavorful and crispy tortilla chips at home? This flour tortilla chips recipe come out of the oven tasting amazing! So ready to dip them and get to snacking.
How to make homemade tortilla chips:
Start by cutting the flour tortillas into wedges/chips.
In a saucepan, mix the tequila, lime juice, and sugar. Bring the mixture to a boil, the reduce heat and let it simmer for 8-10 minutes.
Arrange the tortilla chips on a baking sheet in a single layer.
Spray the chips lightly with olive oil spray, then brush them with the tequila lime mixture, and then sprinkle them with sea salt.
Bake them for 5-8 minutes at 400°F.
The tortillas will turn slightly brown and get crispy when they're done. Serve them with your favorite dips and eat away!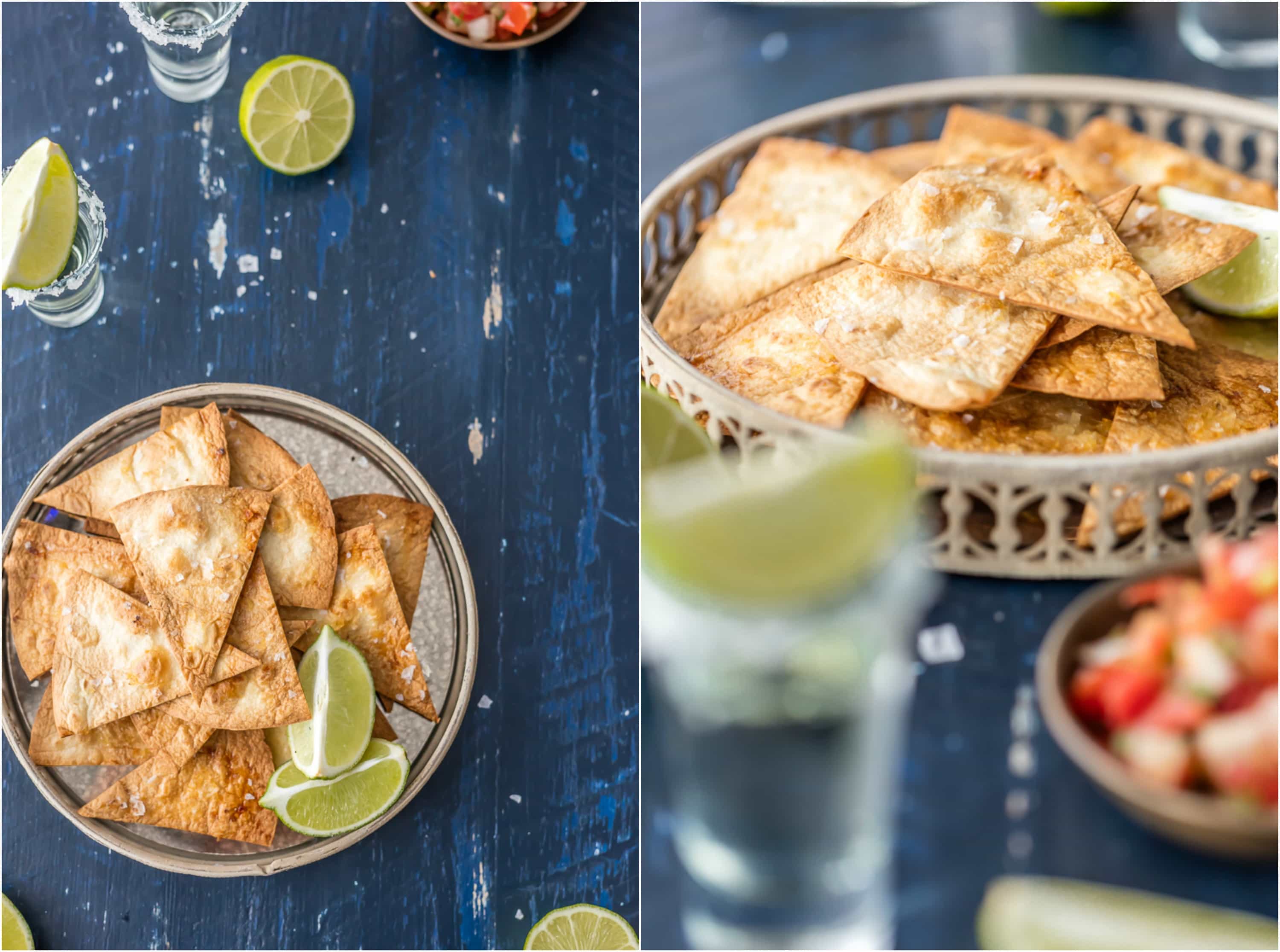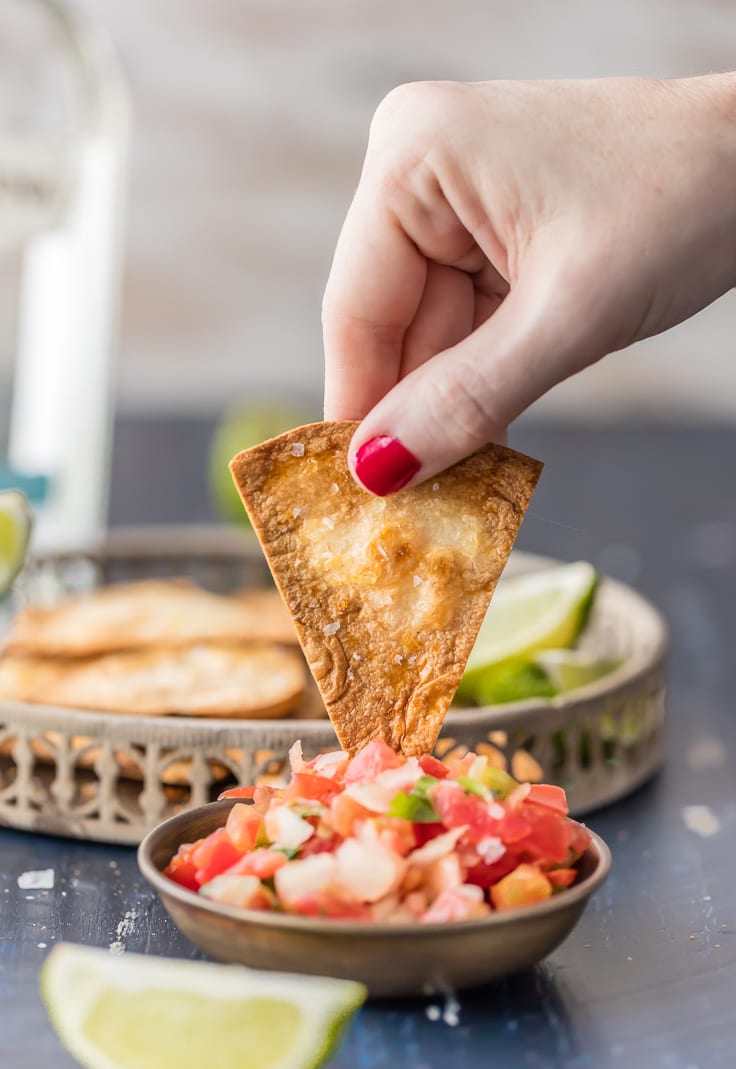 These Tequila Lime Tortilla Chips is a definite favorite for parties. If you're looking for another homemade tortilla chips recipe, try our Garlic Parmesan Tortilla Chips!
See the recipe card below for details on how to make Tequila Lime Tortilla Chips. Enjoy!
Make this tortilla chips recipe to eat with our favorite dips: