BEEF TORTILLA SOUP is such an easy and delicious comfort food! Loaded with spices, corn, tomatoes, and everything you'd expect from the perfect tortilla soup. Top with shredded cheese, tortilla strips, and all the fixings for the ultimate easy tortilla soup!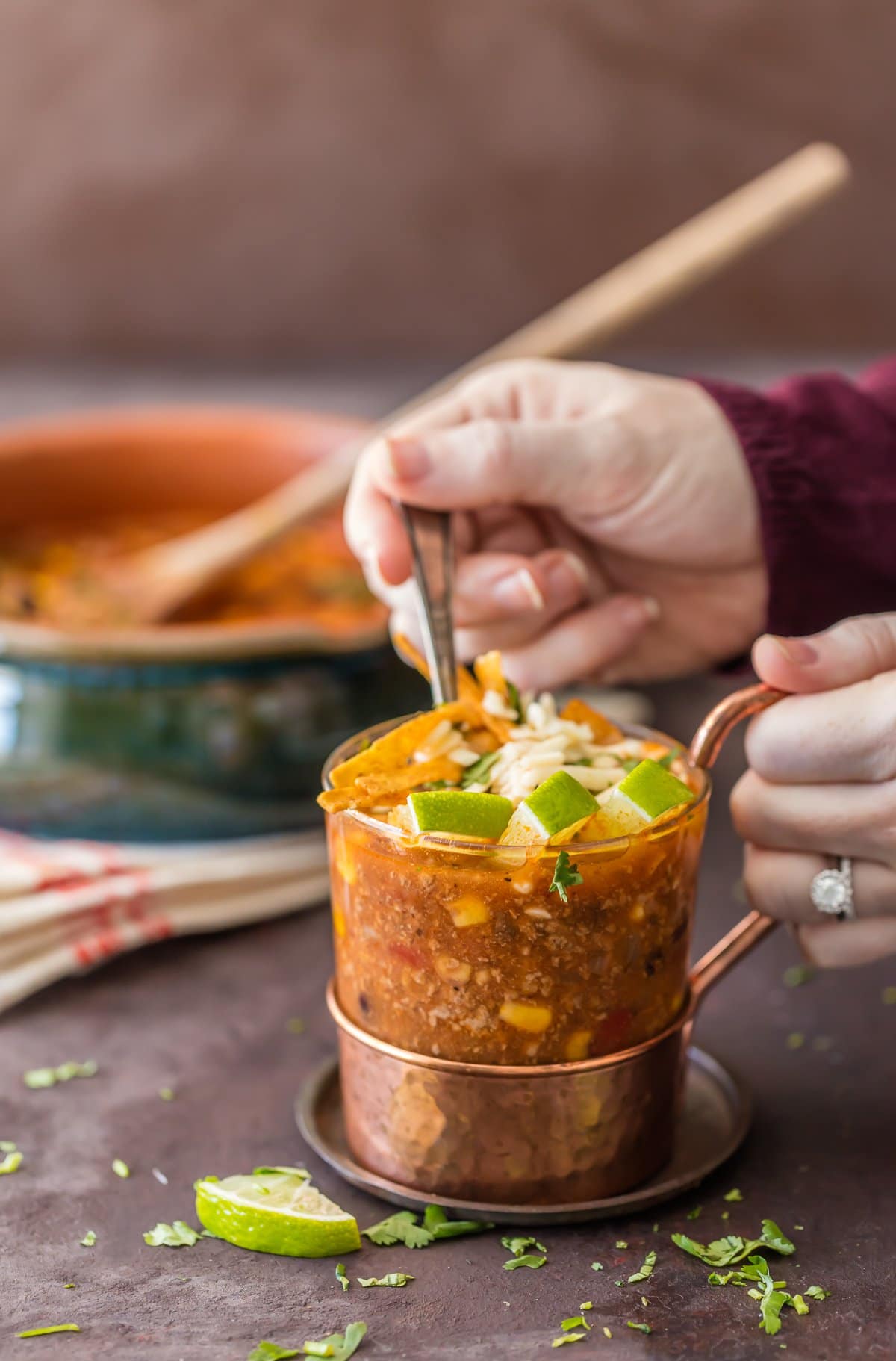 Beef Tortilla Soup
Beef Tortilla Soup is just like my other favorite easy tortilla soup recipes, but with beef instead of chicken. It's hearty, simple, and delicious!
Welcome to one of my very favorite winter recipes! There's nothing quite like a good, hearty soup to provide comfort on a chilly night, and this Beef Tortilla Soup is second to none.
I knew I loved Chicken Tortilla Soup, but this beef version is equally as delicious, and it's just as easy. It's a total win win! This soup has all the same flavors you'd expect from tortilla soup, but with beef instead of chicken. It adds an extra heartiness that is perfect for cold nights. This is my mom Susie's recipe, so you know it must be good! She doesn't swing and miss…she always knows the best recipes. You should be pretty excited about this easy tortilla soup recipe!
Beef Tortilla Soup is the kind of recipe your family will ask for again and again. I know we do! My poor Mom…she gets so many requests for her to make us food. Lucky for us she always says yes!
If you like chicken tortilla soup, then you'll love Beef Tortilla Soup too!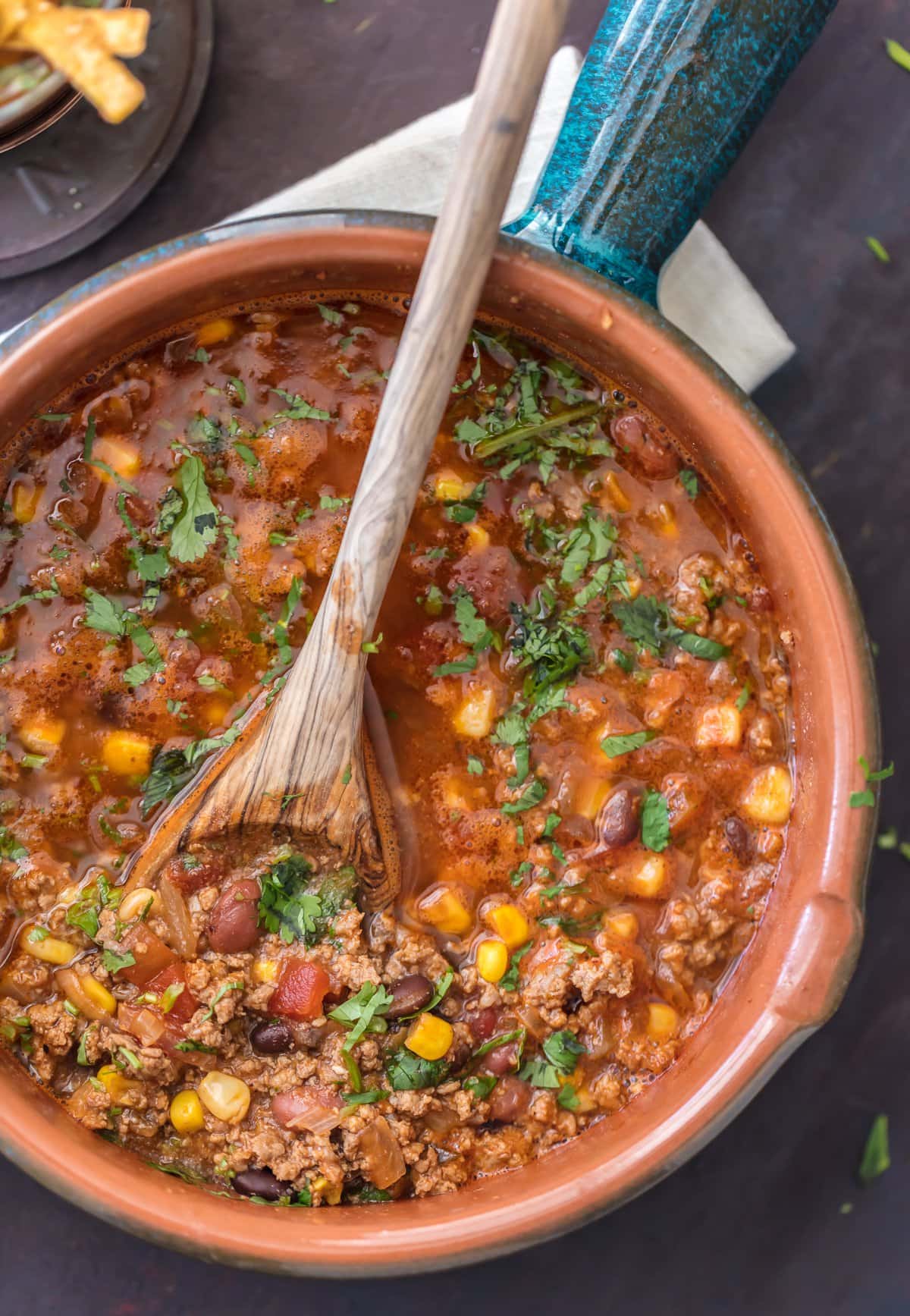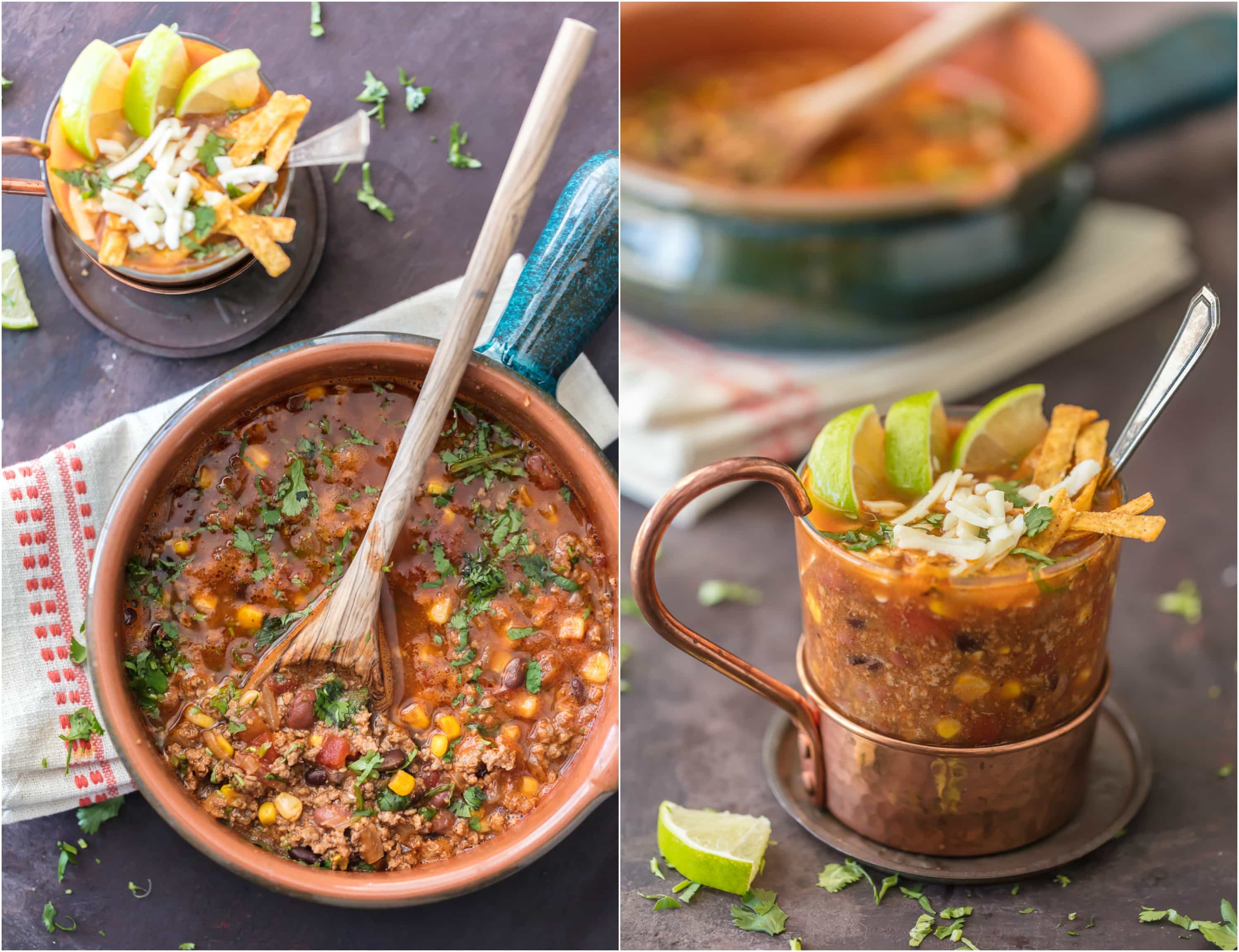 Easy Tortilla Soup Recipe
When a soup is loaded with beef, beans, corn, cilantro, tomatoes, and so much more…you know it's going to be good. When its topped with tortilla chips, cheese, sour cream, and whatever else your little heart desires, you know it's going to be GREAT!
This Beef Tortilla Soup checks all of the boxes. It's easy to make, perfect for freezing and saving for later, and it is sure to warm the stomach on any cold night. Don't you want to just dive right in? You'll be making this easy tortilla soup recipe over and over again before you know it!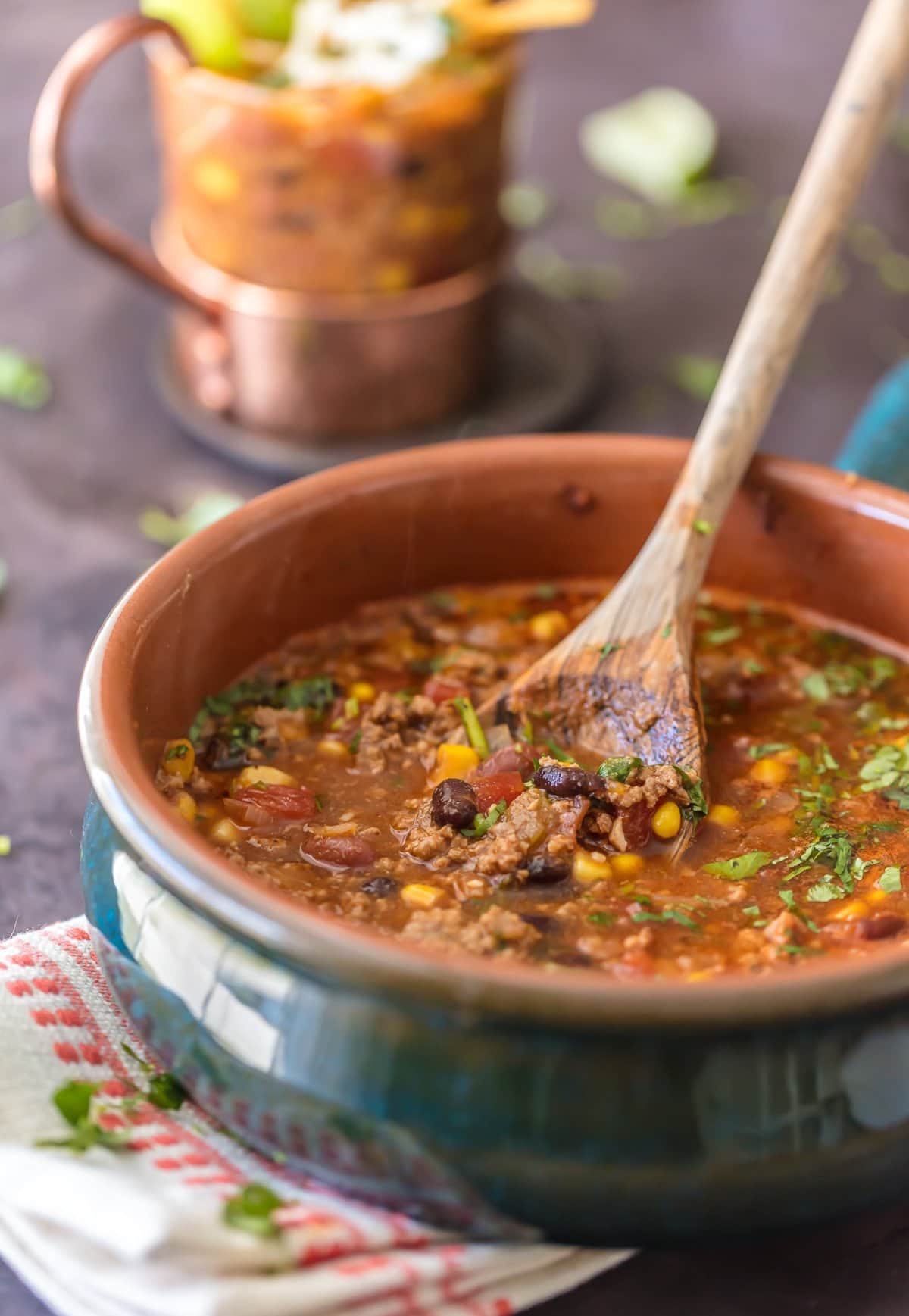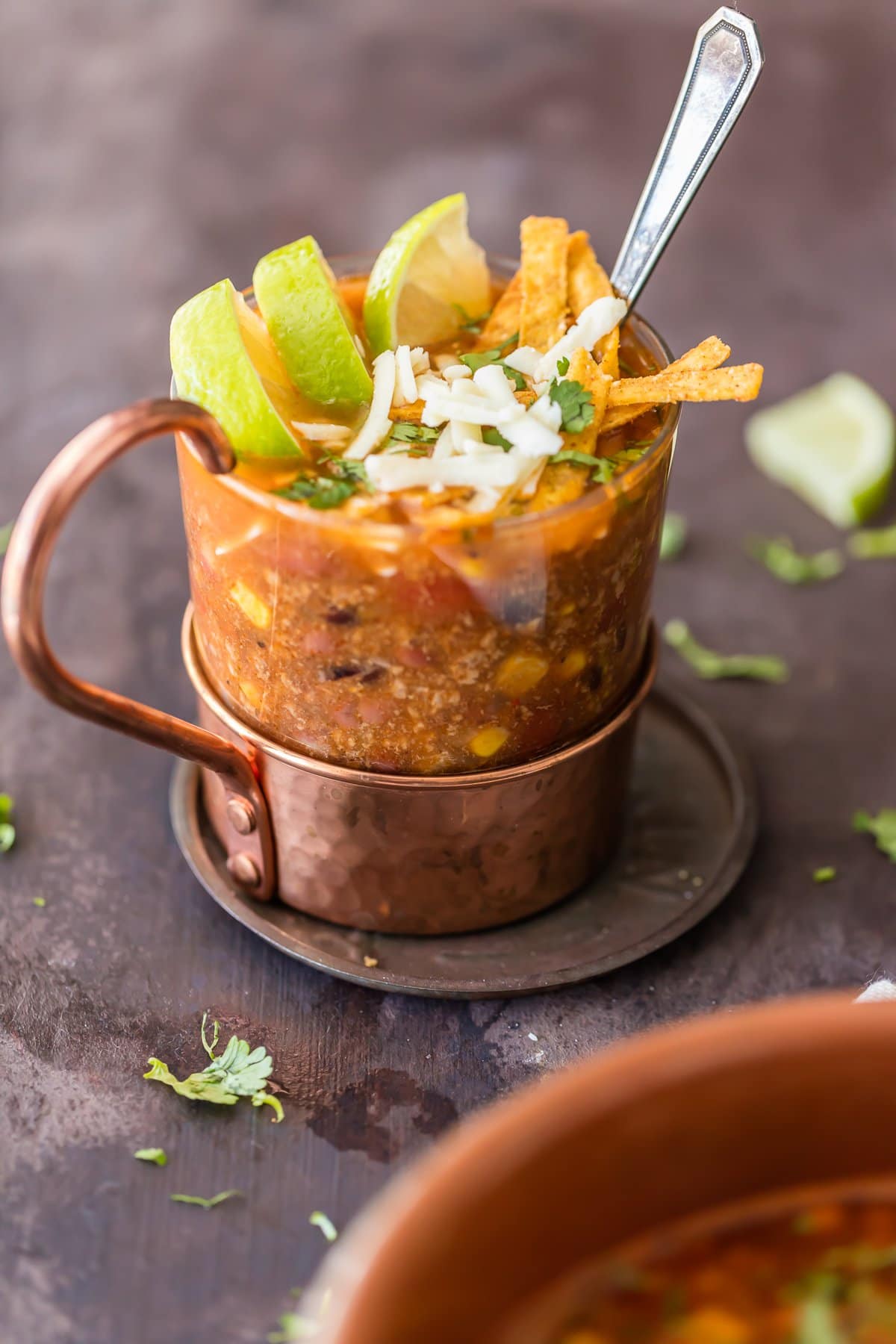 How to Make Beef Tortilla Soup
I love a simple soup recipe, and this easy tortilla soup is exactly that! It's almost surprisingly easy considering how delicious it is. This beef tortilla soup is filled with corn, beef, onions, beans, and so much more.
How to Make Beef Tortilla Soup:
Begin by browning the beef and draining the grease, then set aside
Heat oil & butter in dutch oven or soup pot
Add onion and saute, then add garlic and cook
Add the rest of the ingredients (except cheese, cilantro, and tortilla chips) and cover the pot
Bring soup to a boil, then reduce heat to simmer for 45 minutes to 1 hour
Stir in cilantro at the end
A super easy tortilla soup recipe that's absolutely delicious! Serve the beef tortilla soup topped with shredded cheese, tortilla strips, and anything else you desire (extra herbs, avocado slices, sour cream, etc). Store any leftovers in the refrigerator (for a few days) or freezer (for a few months), and reheat any time. Make a big batch to keep throughout the winter months when you need a quick and tasty dinner!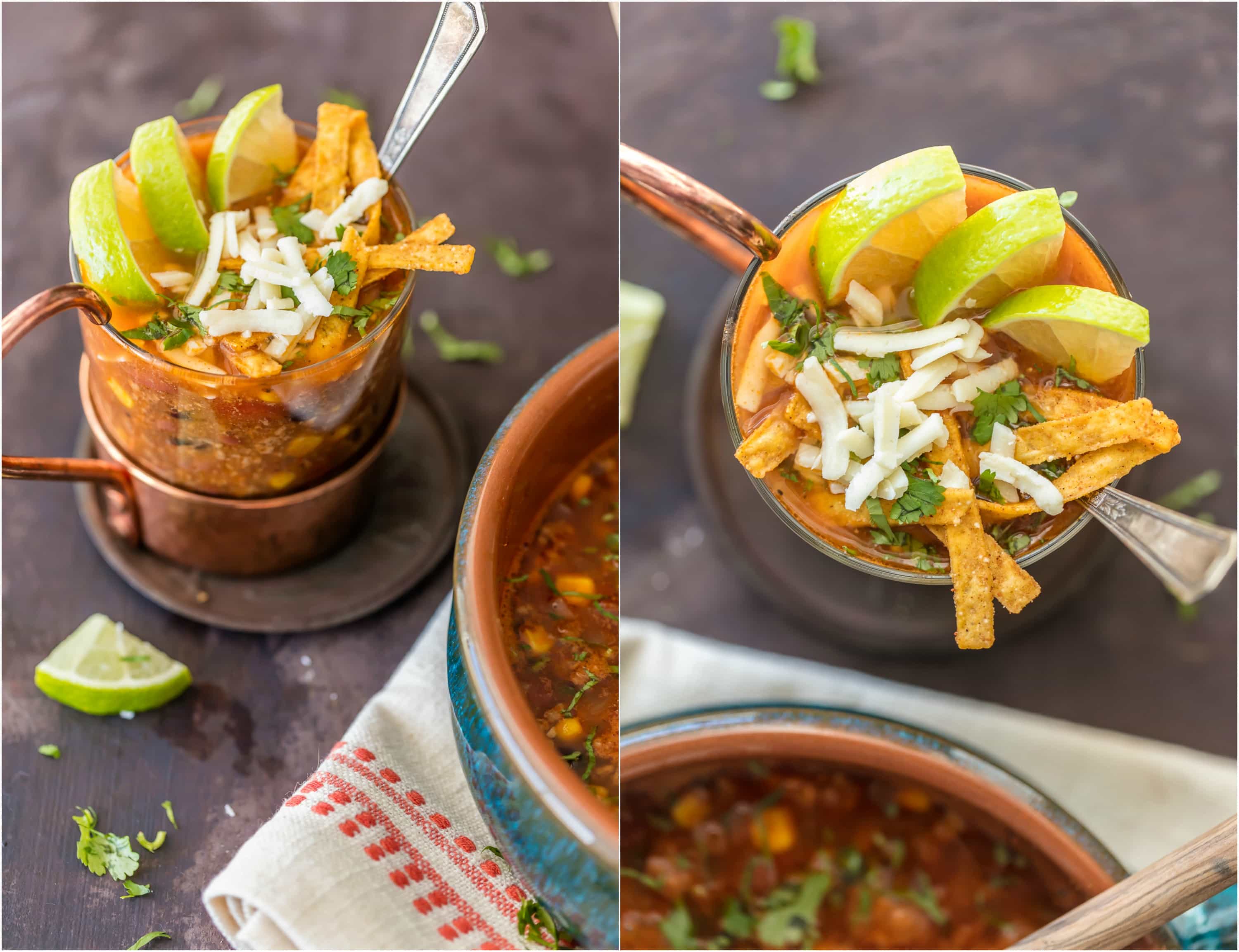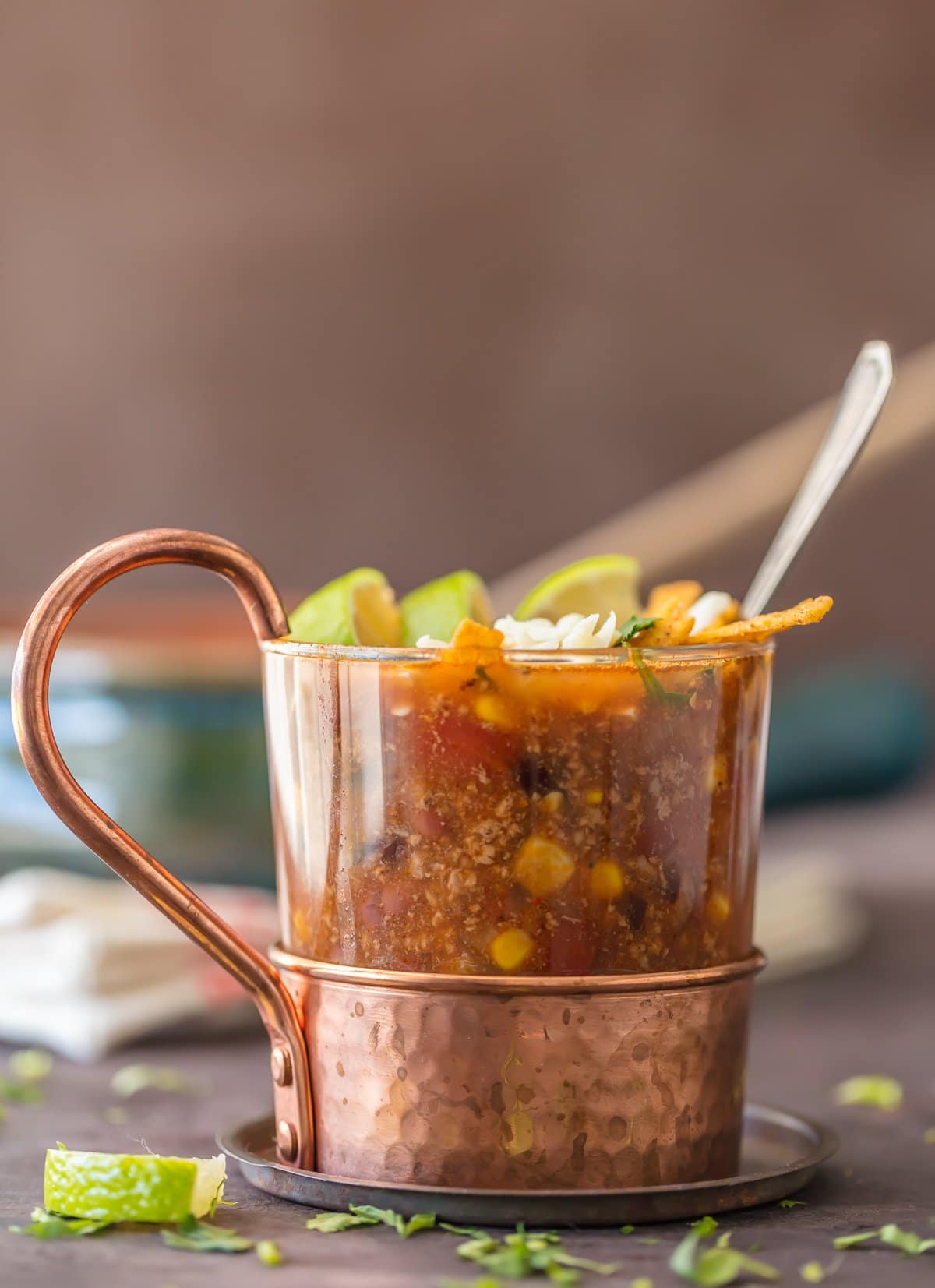 I hope your family loves this Beef Tortilla Soup as much as we do! It's such a source of comfort throughout the colder months, but also hits the spot if you have a Summer soup craving. No? Just me?? I'm a soup year round kind of girl…they're just too good! Be sure to check out our other favorite comfort food soups such as White Chicken Chili (WITH CREAM CHEESE!) and Meatball Parmesan Soup!
See the recipe card below for instructions on How to Make Beef Tortilla Soup.
If you like this easy tortilla soup recipe, try these other easy soup recipes: