BEEF TORTILLA SOUP is such an easy and delicious comfort food! Loaded with spices, corn, tomatoes, and everything you'd expect from the perfect tortilla soup. Top with shredded cheese, tortilla strips, and all the fixings for the ultimate easy Winter meal!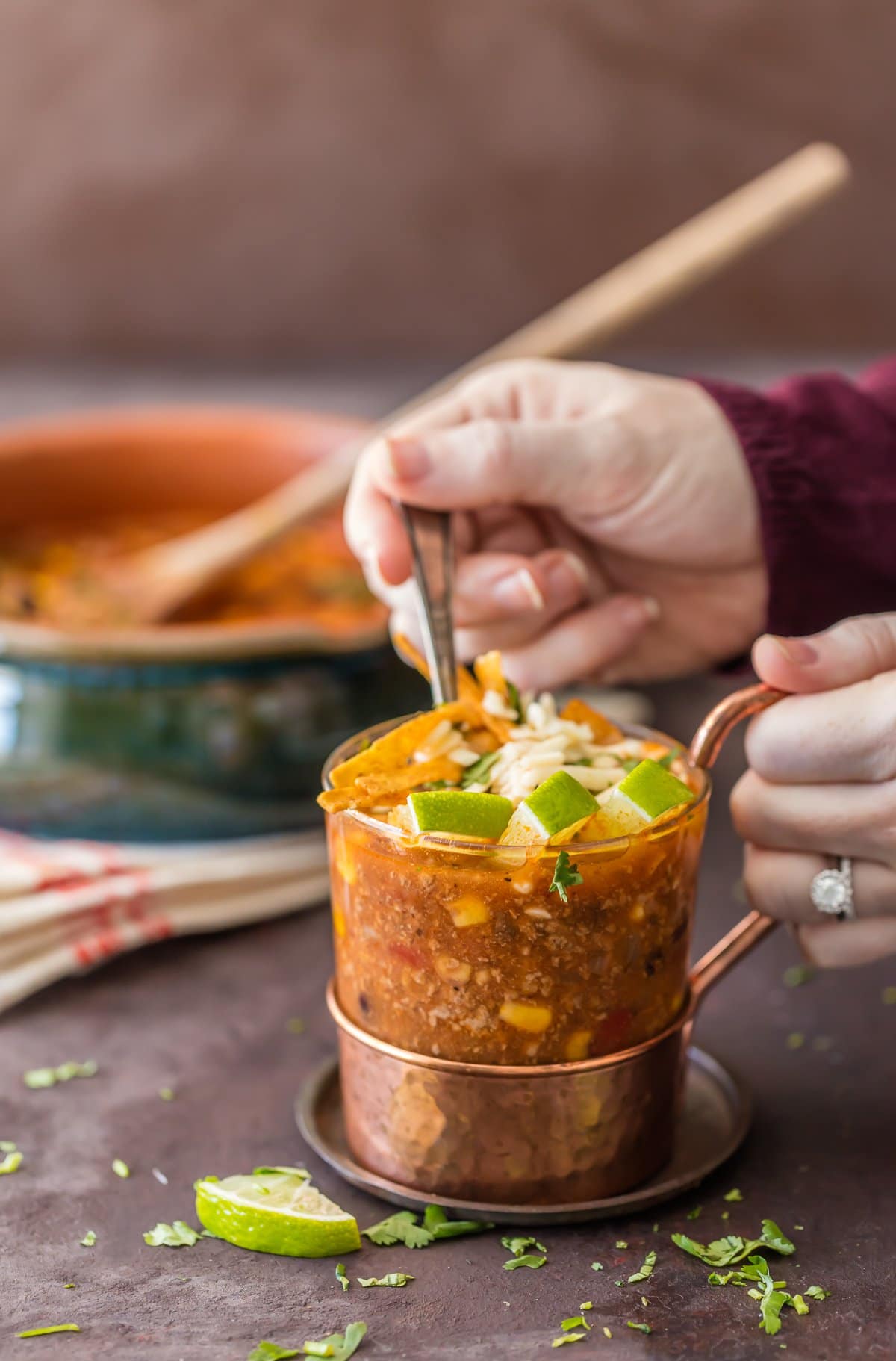 Welcome to one of my very favorite Winter recipes! There's nothing quite like a good hearty soup to provide comfort on a chilly night, and this Beef Tortilla Soup is second to none. I knew I loved Chicken Tortilla Soup, but this Beef version is equally as delicious and just as easy, a total win win! This is my mom Susie's recipe, so you know it must be good! She doesn't swing and miss…she always knows the best recipes. You should be pretty excited about this!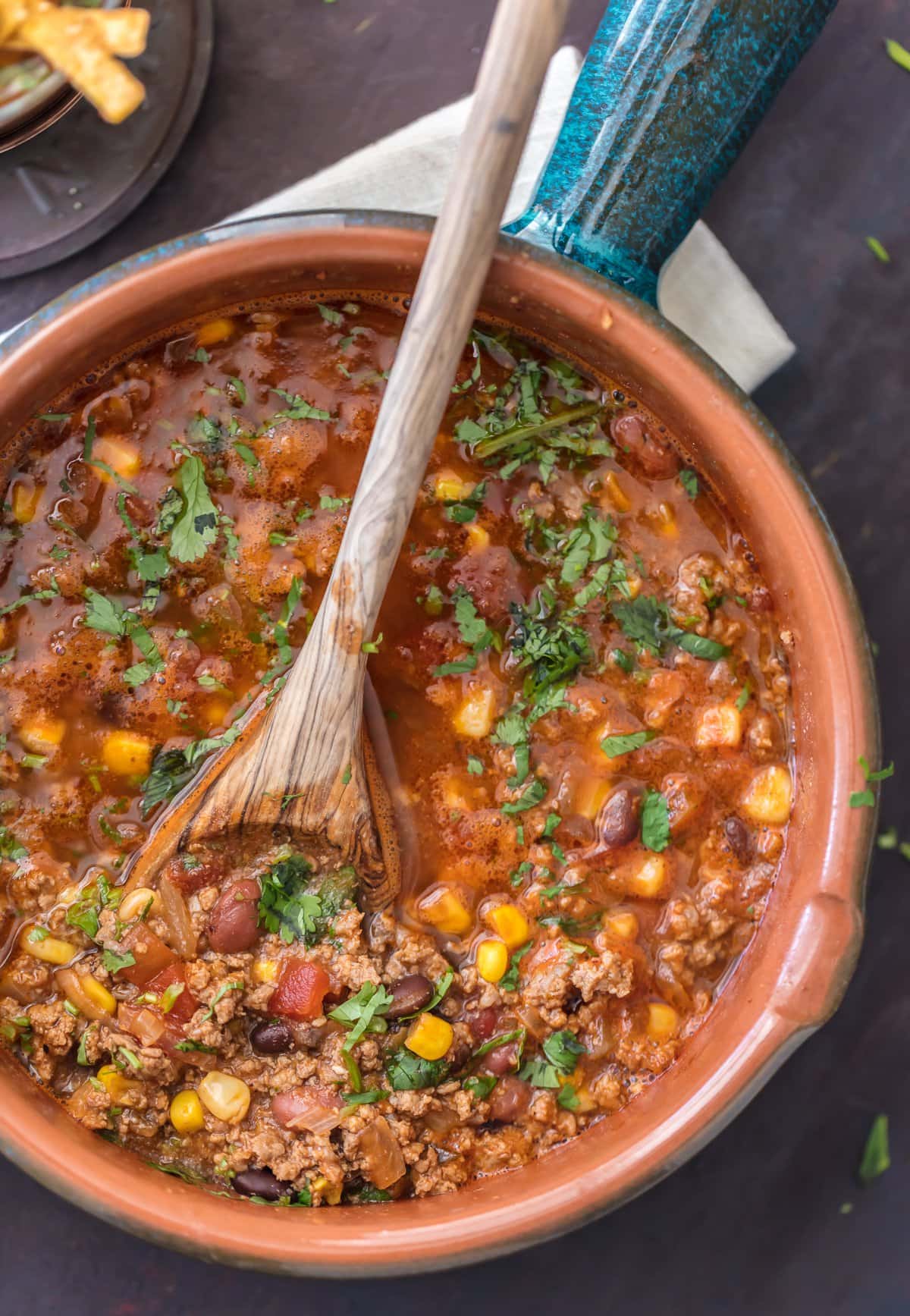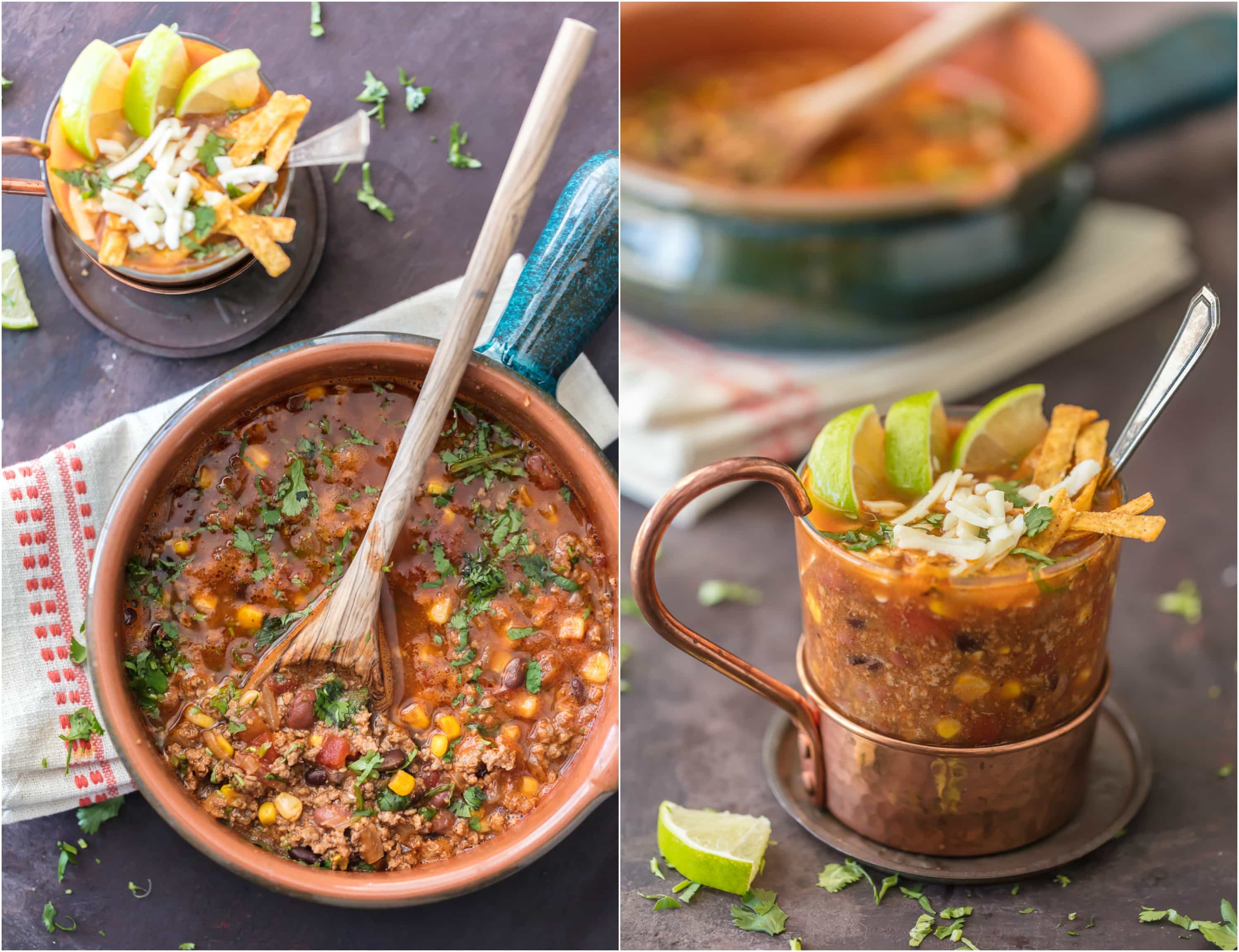 When a soup is loaded with beef, beans, corn, cilantro, tomatoes, and so much more…you know it's going to be good. When its topped with tortilla chips, cheese, sour cream, and whatever else your little heart desires, you know it's going to be GREAT. This Beef Tortilla Soup checks all of the boxes. Its easy to make, perfect for freezing and saving for later, and is sure to warm the stomach on any cold night. Don't you want to just dive right in?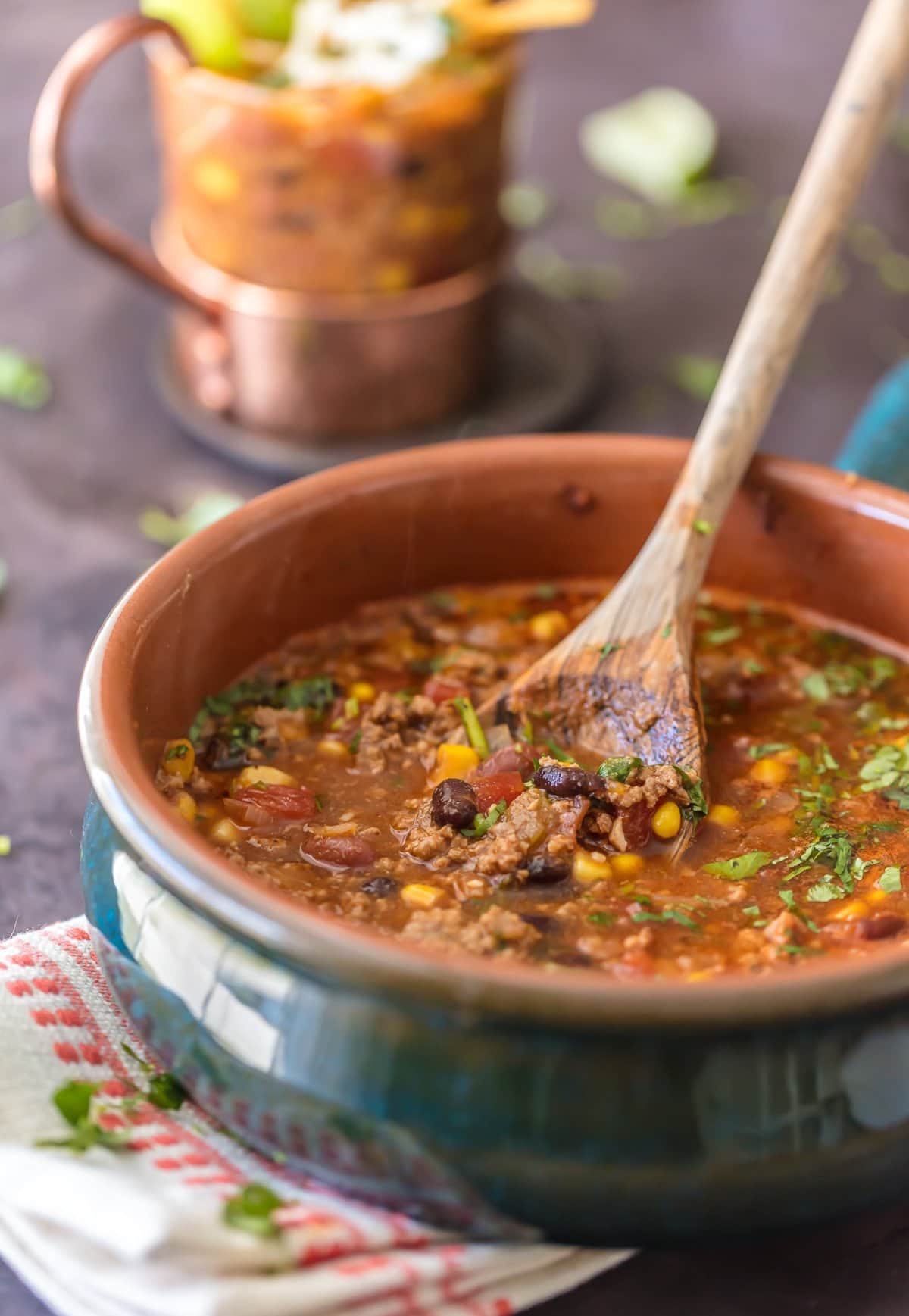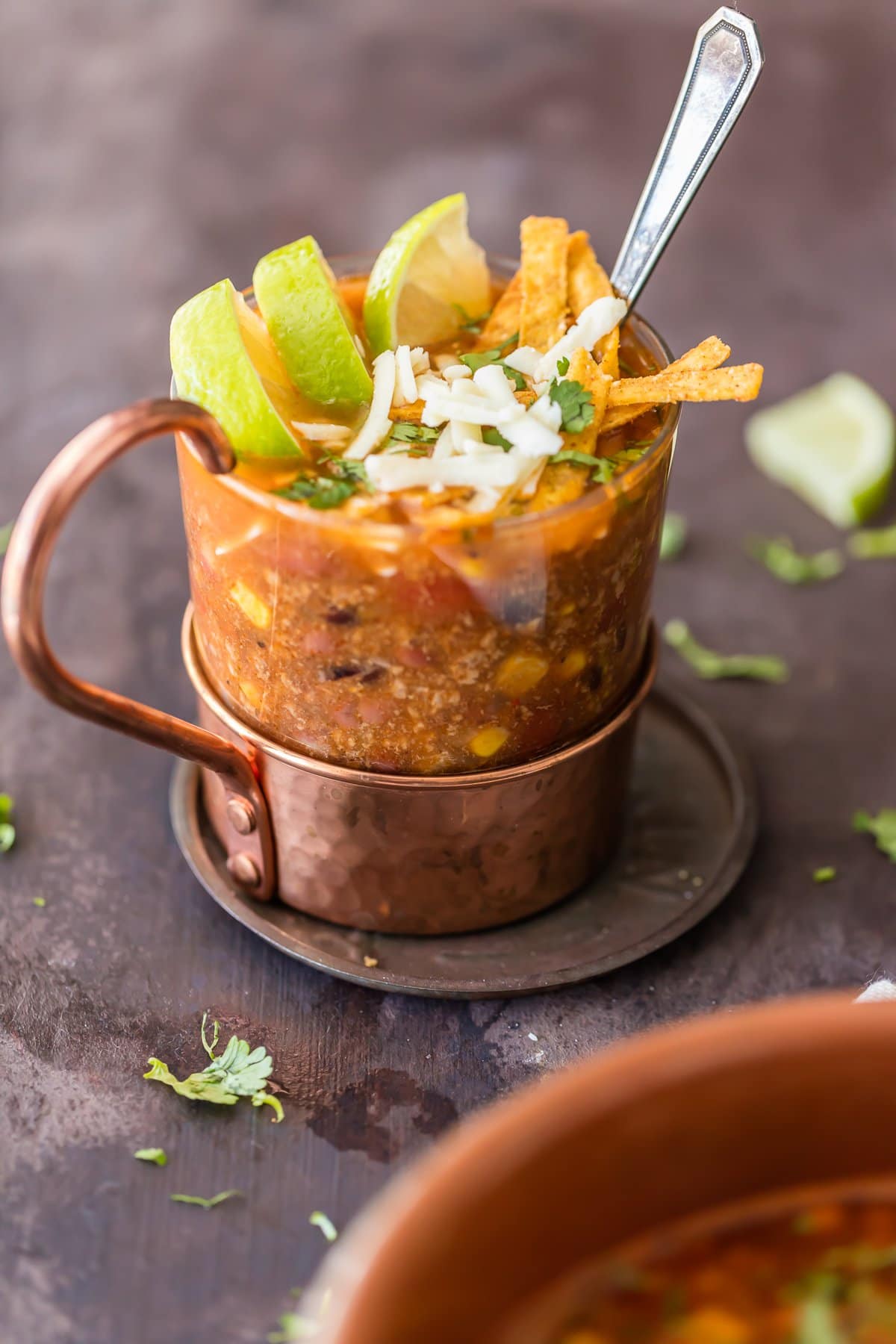 This Beef Tortilla Soup is the kind of recipe your family will ask for again and again. I know we do! My poor Mom…she gets so many requests for her to make us food. Lucky for us she always says yes!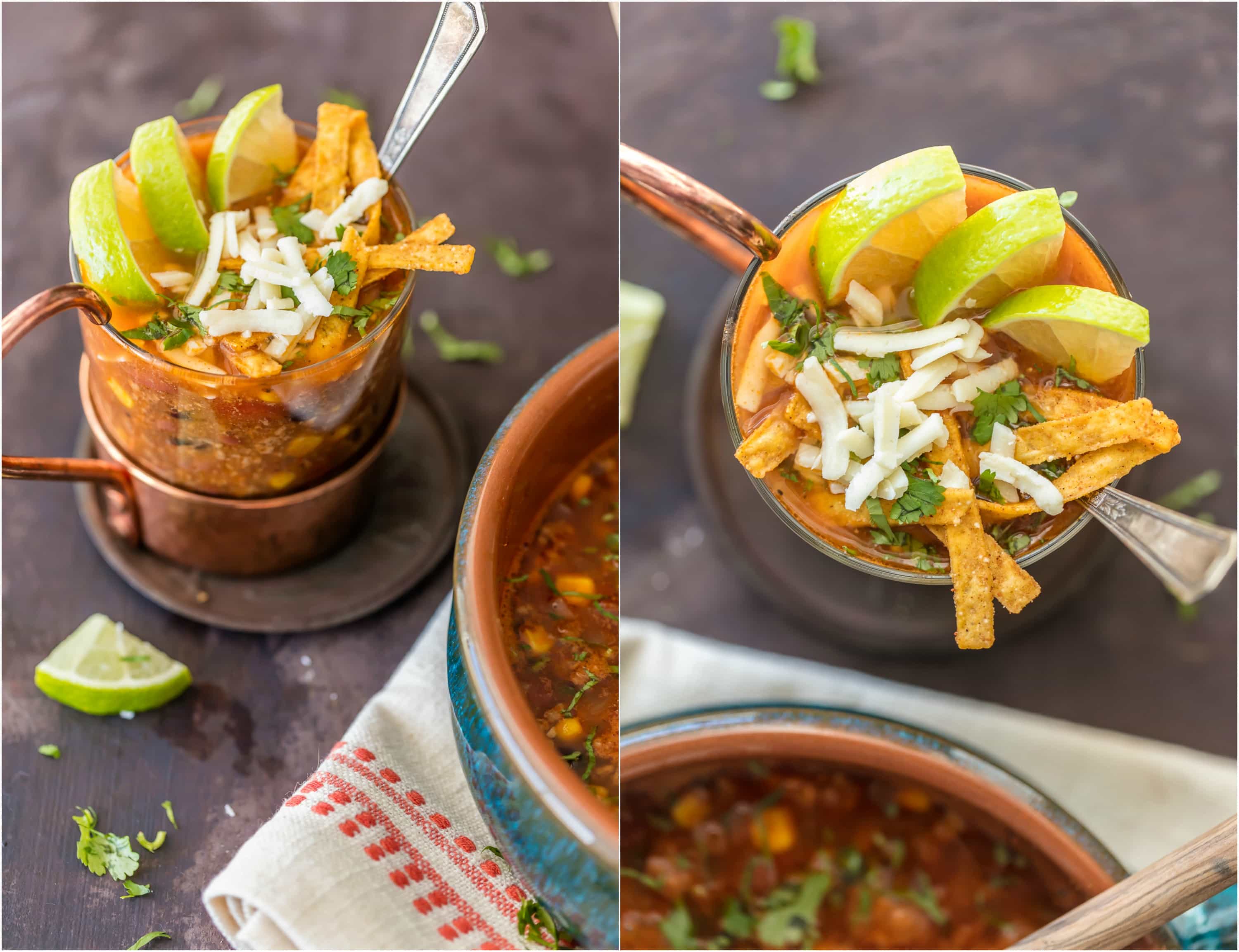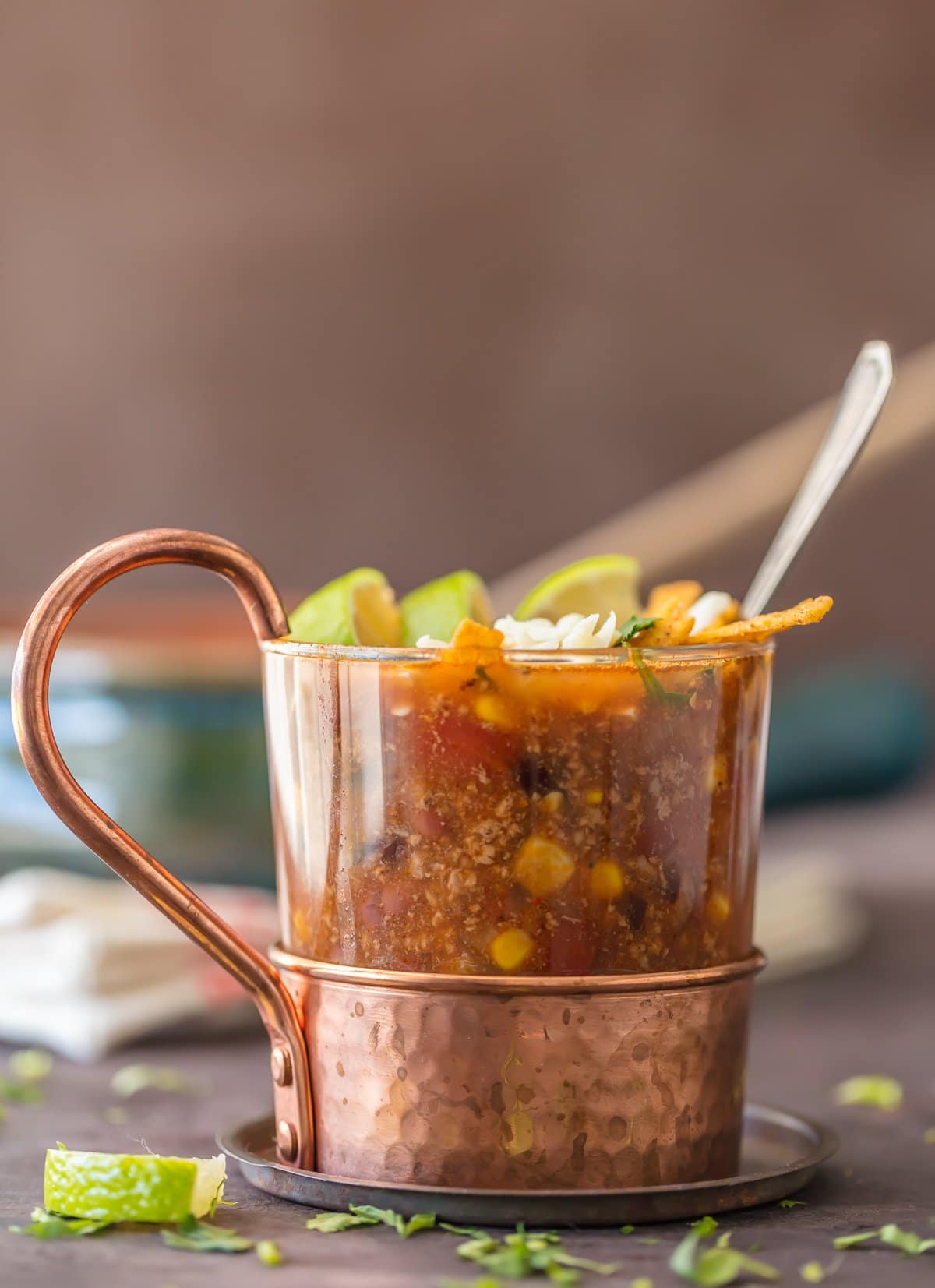 I hope your family loves this Beef Tortilla Soup as much as we do! It's such a source of comfort throughout the colder months, but also hits the spot if you have a Summer soup craving. No? Just me?? I'm a soup year round kind of girl…they're just too good! Be sure to check out our other favorite comfort food soups such as White Chicken Chili (WITH CREAM CHEESE!) and Meatball Parmesan Soup!
Enjoy!
Beef Tortilla Soup
15 minPrep Time
1 hrCook Time
1 hr, 15 Total Time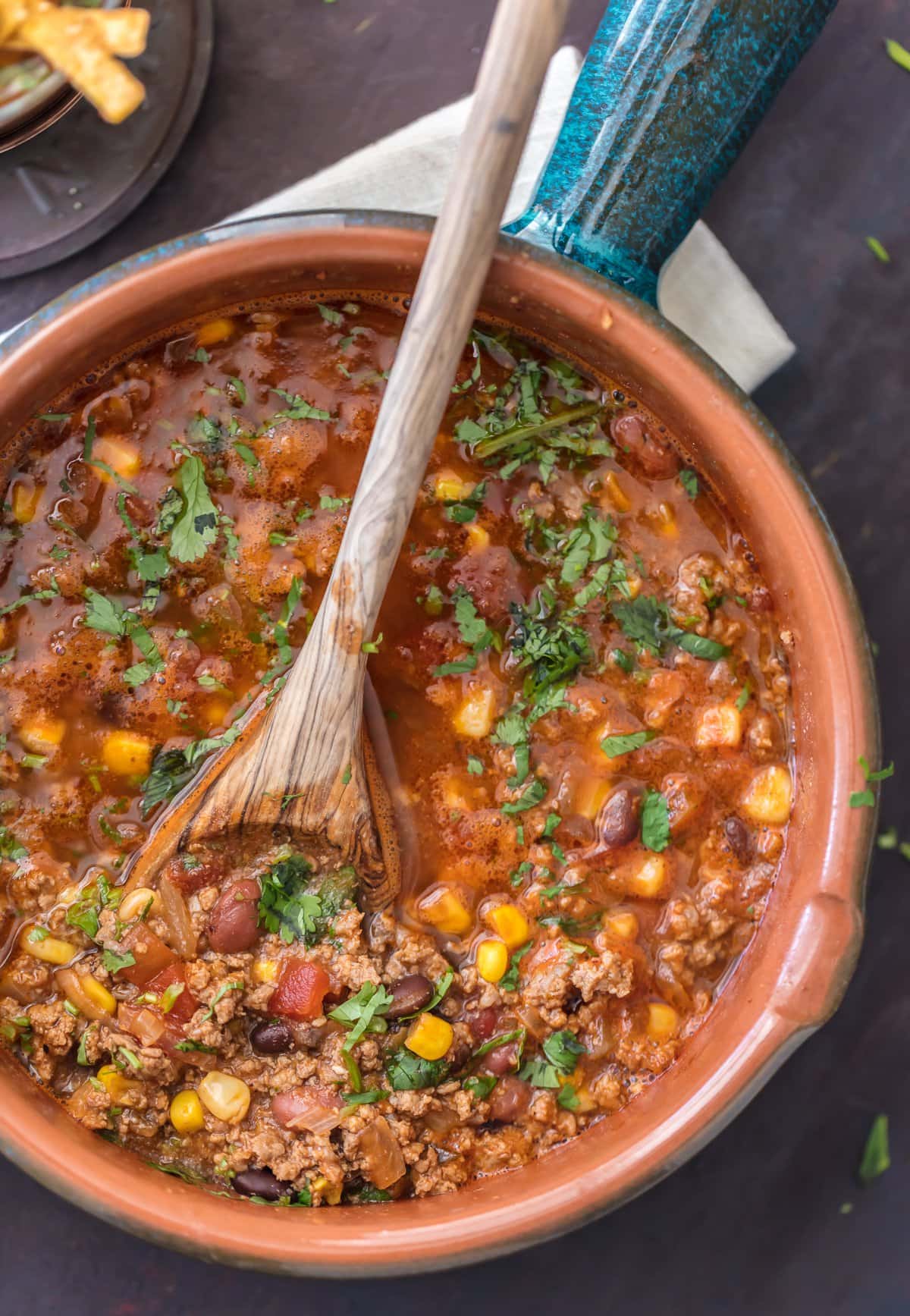 5 based on 1 review(s)
Ingredients
2 lbs lean ground chuck, browned and drained of grease
2 tablespoons canola or olive oil
2 tablespoons butter
1 onion, diced
3 cloves garlic, minced
1 can Rotel tomatoes (or generic)
2 cups beef broth
2 cups chicken broth
1 cups water
3 cups tomato juice
1 tablespoon chili powder
1½ teaspoons ground cumin
2 tablespoons Worcestershire Sauce
1 tablespoon bottled steak sauce (your favorite)
1 can black beans, drained
1 can red beans, drained
1 can whole kernel corn
Juice of ½ fresh lime
2 tablespoons fresh cilantro, chopped
Tortilla chips like regular Tostitos
Shredded cheese, Mexican blend, Cheddar or your favorite
Optional Toppings:
Sour Cream
Avocado slices
Instructions
Heat oil and butter over medium heat in a large Dutch oven or soup pan.
Add chopped onion and sauté until translucent. Add minced garlic and cook and additional 30 seconds.
Add ingredients (including the browned ground chuck), but NOT the cilantro, chips and cheese.
Cover the pot, bring the soup to a boil, reduce the heat to low and simmer 45-60 minutes.
Add freshly chopped cilantro and stir well.
To serve:
Pour soup into heatproof bowls and top with tortilla chips and shredded cheese.
Serve immediately.
If desired, garnish with avocado slices and/or sour cream.
Enjoy!
7.6.7
2372
https://www.thecookierookie.com/beef-tortilla-soup/