French toast casserole is always on the menu when planning an extra special weekend breakfast for my family. I make this easy breakfast casserole recipe the night before, so I can easily pop everything into the oven with an easy-to-make topping the next day. Fresh fruit, like bananas or blueberries, always adds a gorgeous and delicious finish to an already yummy dish.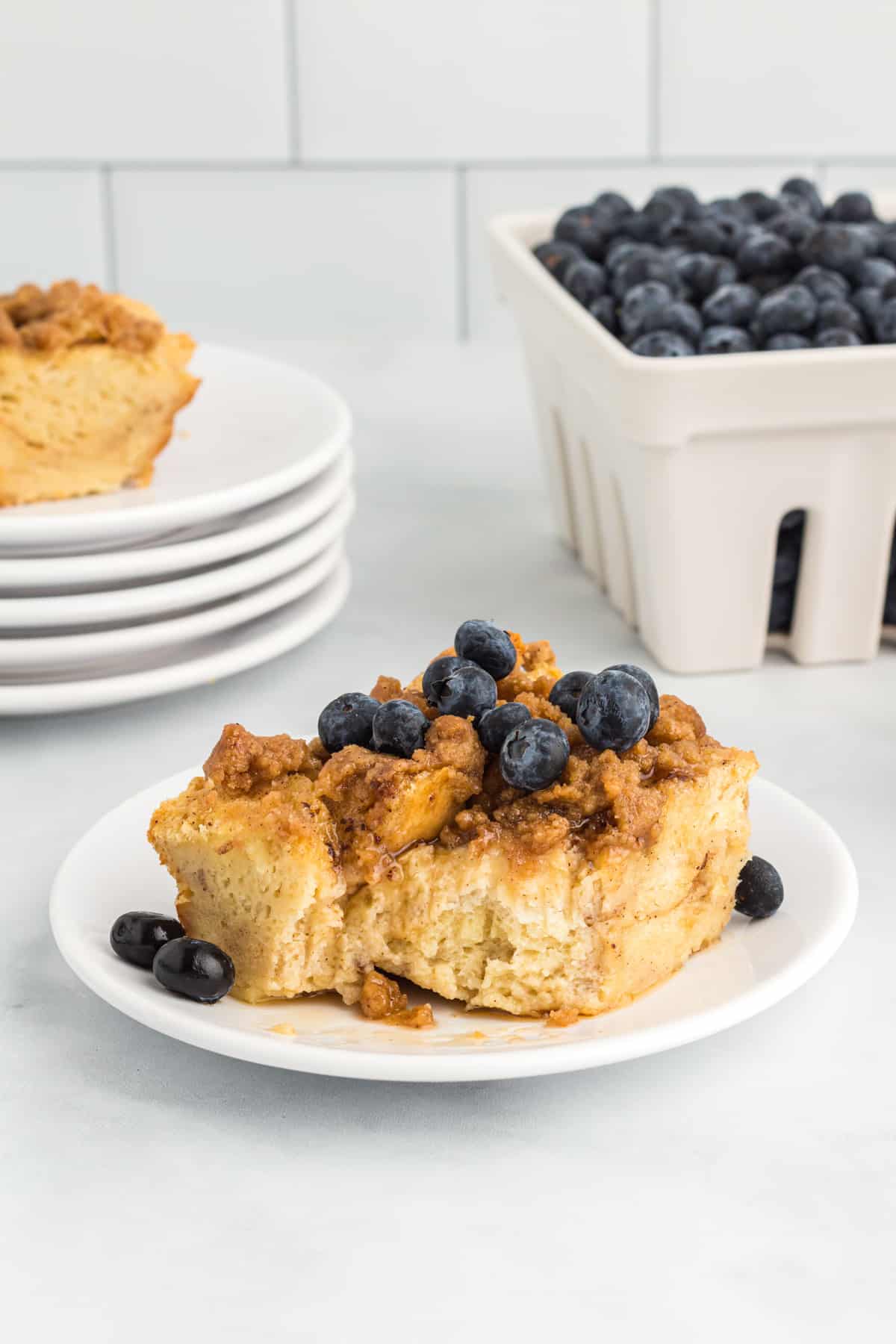 Easy Overnight French Toast Casserole Recipe
This overnight breakfast casserole makes a casual weekend breakfast seem more special somehow. It is also perfect for holidays and Christmas mornings.
Did I mention how delicious this recipe is? The combination of crusty French or sourdough bread, eggs, whole milk, heavy cream, brown sugar, syrup, vanilla, and cinnamon creates an out-of-this-world alchemy of deliciousness.
Why You'll Love this French Toast Casserole Recipe:
Time Saver: No more waking up early to get breakfast on the table in the mornings. Prep this the night before so it's ready to bake!
Less Mess: Making French toast the traditional way often gets messy. Keep it simple by throwing everything into one dish!
Crowd Pleaser: Every time I make this casserole for breakfast, I get endless compliments!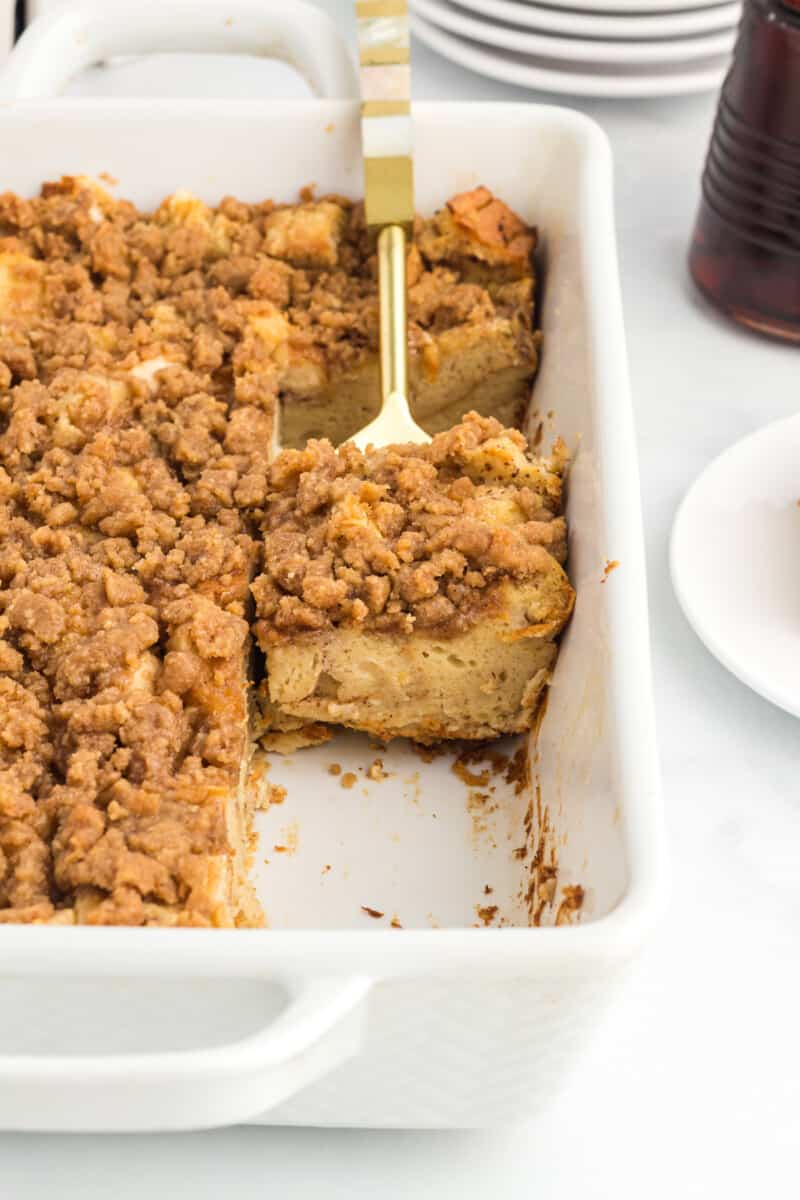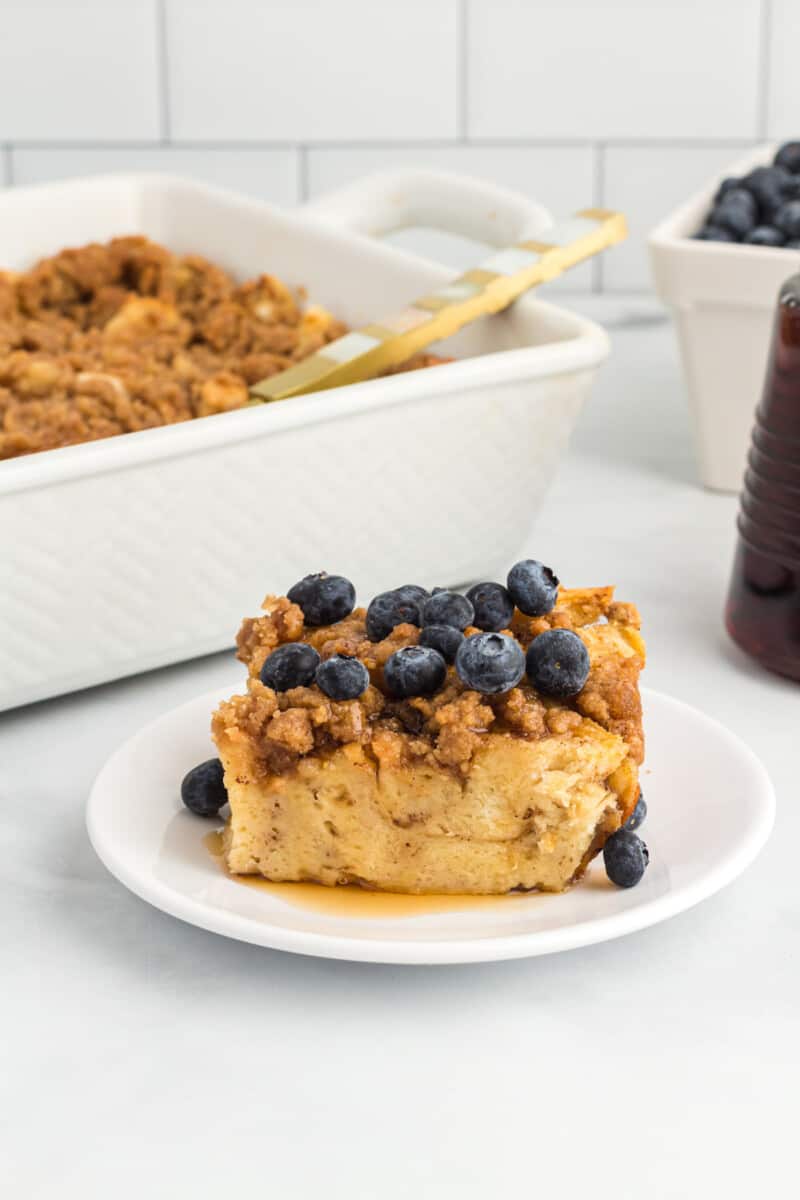 How to Make French Toast Casserole (Quick and Easy)
You can jump to the recipe card for full ingredients & instructions!
Prepare the casserole dish.
Whisk together all the ingredients except the bread.
Into the dish, pour the egg mixture over the cubed bread.
Cover the dish and let sit in the fridge overnight.
In the morning, preheat the oven.
Prepare the crumble and sprinkle it over the casserole.
Bake the casserole, covered for the first 20 minutes.
Serve warm with syrup, and enjoy!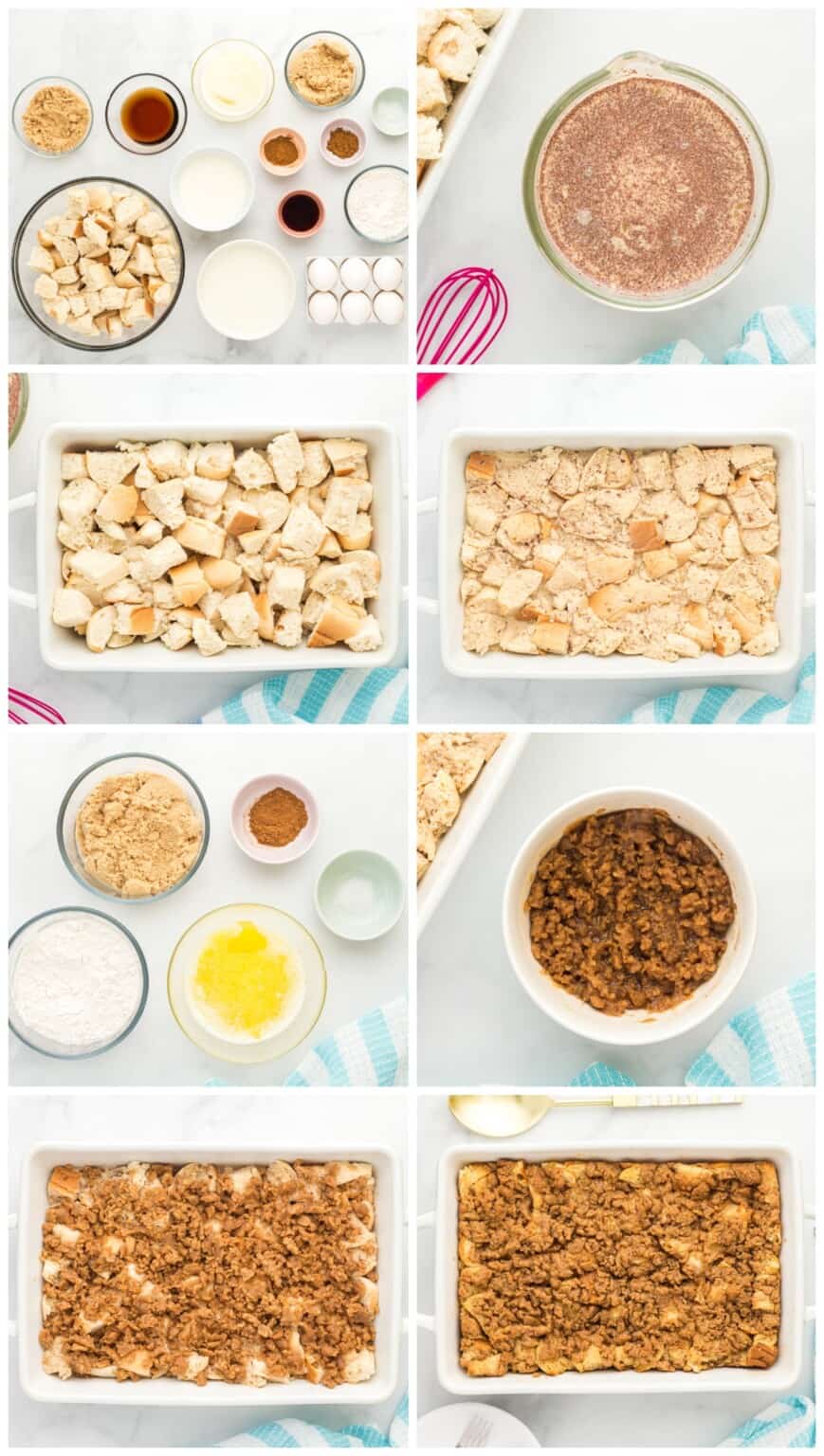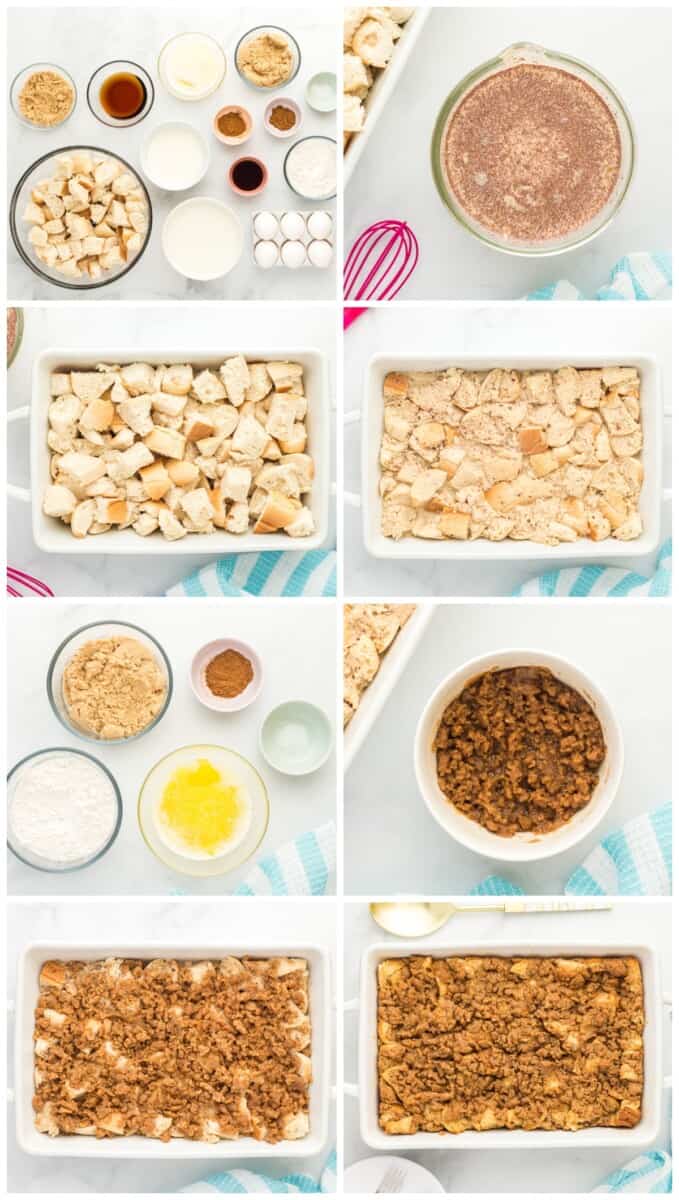 What is the best kind of bread to use in French toast casserole?
I recommend using a crusty bread, like French bread or sourdough. Softer breads will lead to a soggy casserole, so be sure to choose a dry, crusty bread! You can also choose something like day-old brioche or challah bread for a more decadent casserole.
Does French toast casserole need to sit in the fridge overnight or can I bake it right away?
This French toast casserole should sit in the fridge overnight so the bread has time to soak up the wet mixture. If you don't let it sit and soak up the wet mixture, it will be soggy after baking.
Why is my French toast casserole soggy?
French toast casserole can become soggy if the bread is too soft or if the casserole has not been cooked long enough. Using day-old bread is the key to avoiding a soggy casserole, and choosing a crustier bread will give you double insurance. If you do not have any day-old bread on hand, toast fresh bread cubes in a 350°F oven for 10 minutes, tossing halfway through, until lightly dried.
How can I make French toast casserole gluten-free?
To make this casserole gluten-free, use gluten-free bread and a gluten-free 1:1 flour in place of the all-purpose flour.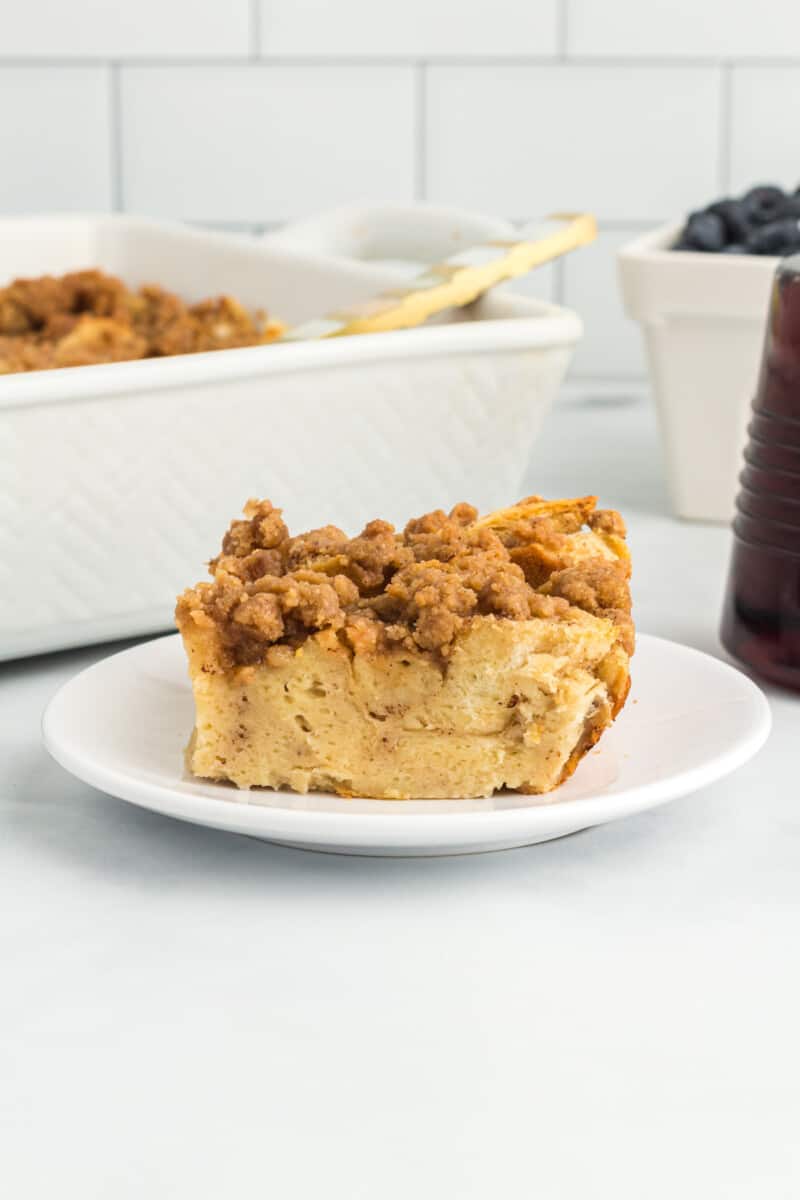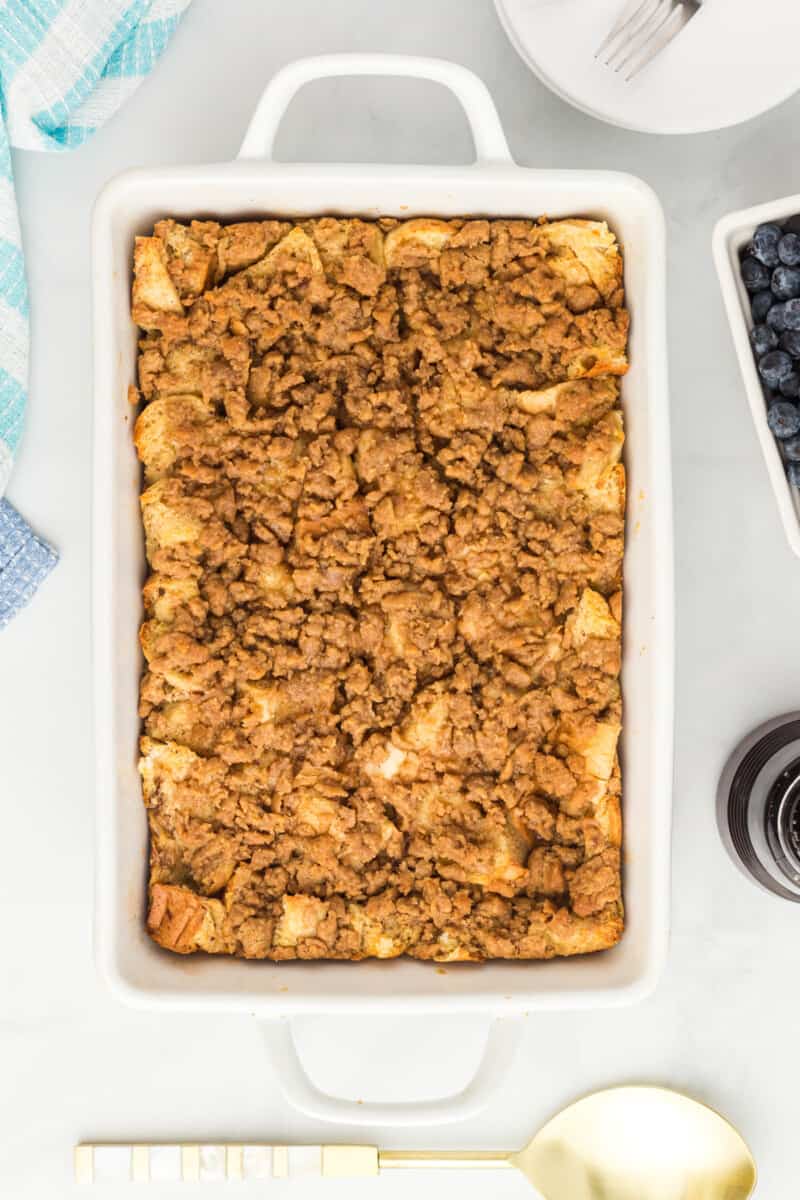 Whip up this crowd-favorite for Mother's Day brunch, Easter Brunch, or any morning that needs a special treat!
Make Ahead Instructions
This casserole is designed to be made ahead and refrigerated for at least 8 hours or up to overnight. This gives the bread time to soak up the egg mixture, leading to the best flavor and texture.
Storage Instructions
Store leftover French toast casserole in an airtight container in the refrigerator for up to 3 days. Reheat in a 350°F oven until hot, about 25-30 minutes.
Freezing Instructions
This French toast casserole can be frozen both fully baked and unbaked.
To Freeze Baked: Cover tightly in 2 layers of plastic wrap and 1 layer of aluminum foil and freeze for up to 3 months. Let thaw overnight in the refrigerator and remove the plastic wrap before reheating.
To Freeze Unbaked: Prepare the recipe up to step 4, but do not refrigerate overnight. Instead, place the casserole in the freezer tightly wrapped in 2 layers of plastic wrap and 1 layer of aluminum foil and freeze for up to 2 months. Thaw overnight in the refrigerator, remove the plastic wrap, then bake as directed.
Variations
Try this French toast casserole with other fruits, such as diced apples or pears, sliced bananas, raspberries, strawberries, blackberries, or cranberries.
Add chopped nuts to the crumble topping, such as walnuts or pecans.
Omit the blueberries and crumble topping and add chopped cooked bacon, ham, or sausage and shredded cheddar cheese to make a sweet and savory casserole.
While I don't recommend replacing the eggs, you can make this recipe dairy-free by using a non-dairy milk/cream and dairy-free butter.
To make this recipe gluten-free, use gluten-free bread and gluten-free 1:1 flour.
Tips for the Best Blueberry French Toast Casserole
Make sure to use a dry, crusty, day-old bread. To dry it even further, cube it and leave it out on the counter overnight or bake in a 350°F oven for 10 minutes, stirring halfway.
Don't skip the overnight rest in the refrigerator. This allows the egg mixture to be better absorbed and improves the flavor.
Remove the casserole from the refrigerator about 45 minutes before baking (while the oven preheats) to help it bake more evenly.
The crumble topping is optional but delicious!
You can easily halve this recipe and bake in an 8×8 or 9×9-inch baking pan. Baking time may be slightly less than for a larger casserole.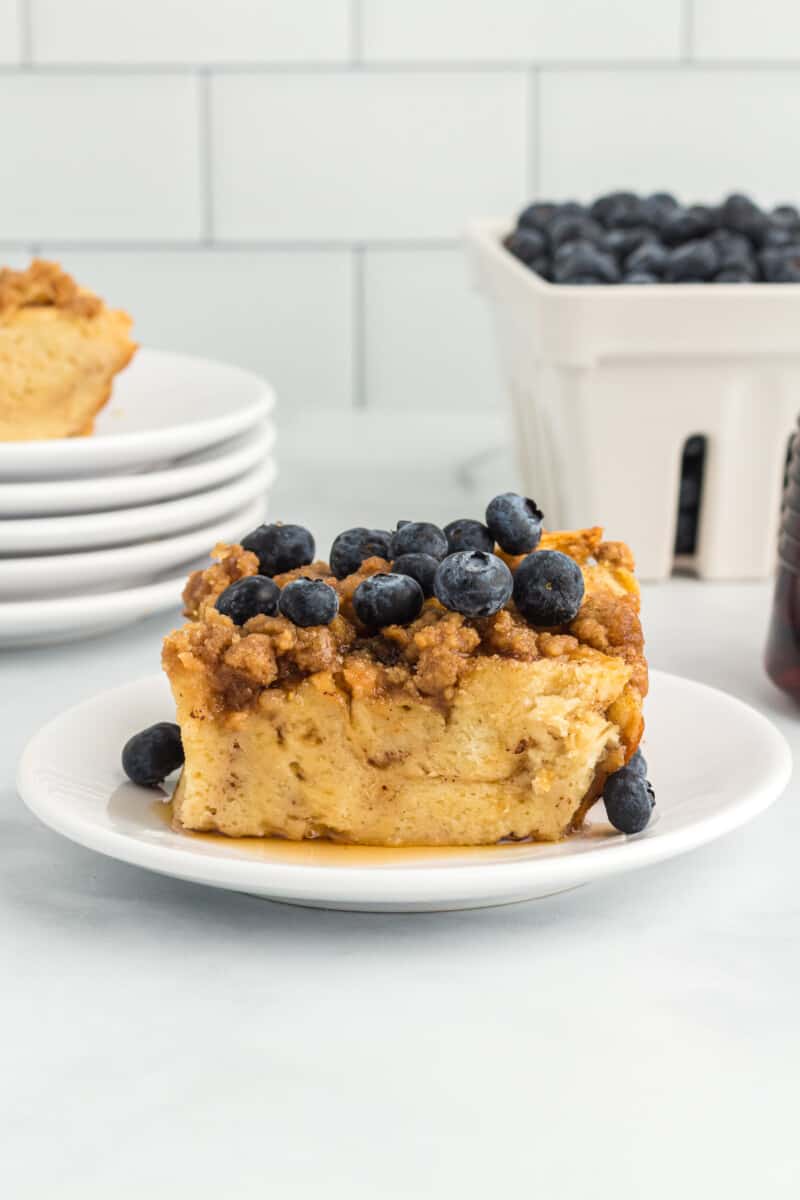 This gorgeous and tasty French toast casserole is the make-ahead breakfast of your dreams. It's decadent, sweet, and cinnamony – and always satisfying!
If you make this recipe be sure to upload a photo in the comment section below or leave a rating. Enjoy! You can also jump to recipe.