BUFFALO CHICKEN DIP BITES are amazing! Deep Fried Balls of cheesy buffalo ranch chicken dip rolled twice in breading and deep fried to pop-able perfection. This is one of our favorite game day recipes for tailgating. Bring on the Buffalo Chicken Bites for Super Bowl or for any time you need a delicious and unique appetizer!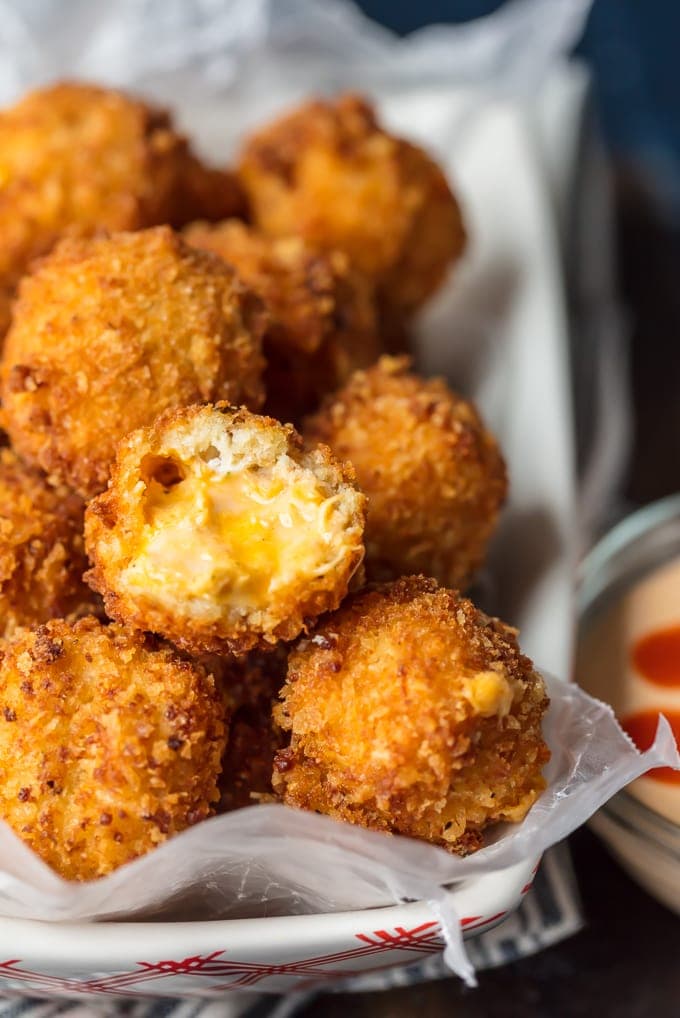 Fried Buffalo Chicken Bites
These Buffalo Chicken Dip Bites are right up my alley. I seriously cannot get enough so I try to make every version I can possibly think of. Buffalo Chicken Sandwiches, Buffalo Chicken Enchiladas, Buffalo Chicken Pasta Salad, Buffalo Shrimp Tacos, and now Buffalo Chicken Bites.
Deep Fried Buffalo Chicken Dip is fueling my addiction. I have such a love affair with buffalo sauce. One of the first times I wanted to cook was when I wanted to learn how to make buffalo chicken dip for a Super Bowl party.
Annnyway, I have always loved buffalo sauce and these Fried Bites are such a fun twist on a game day favorite.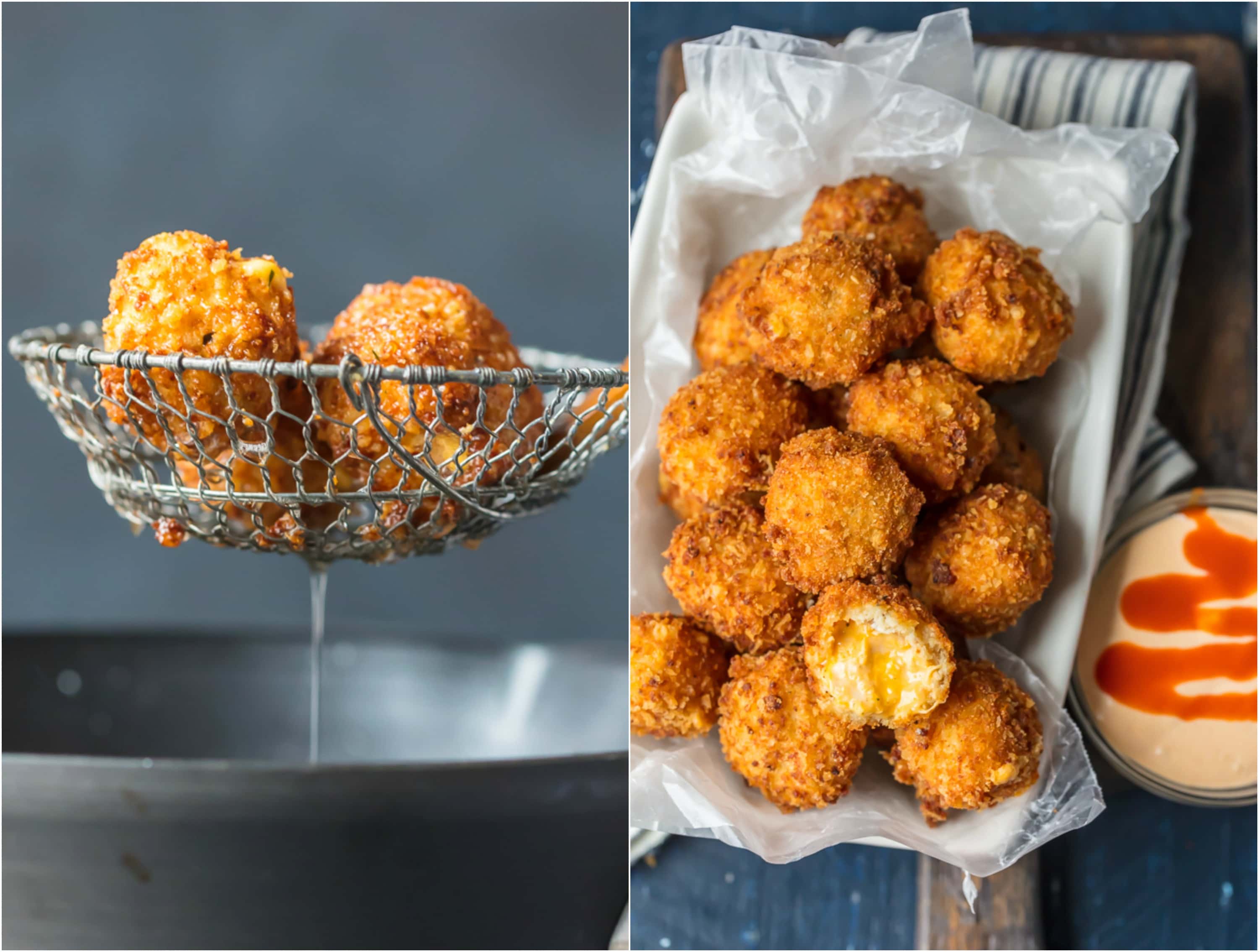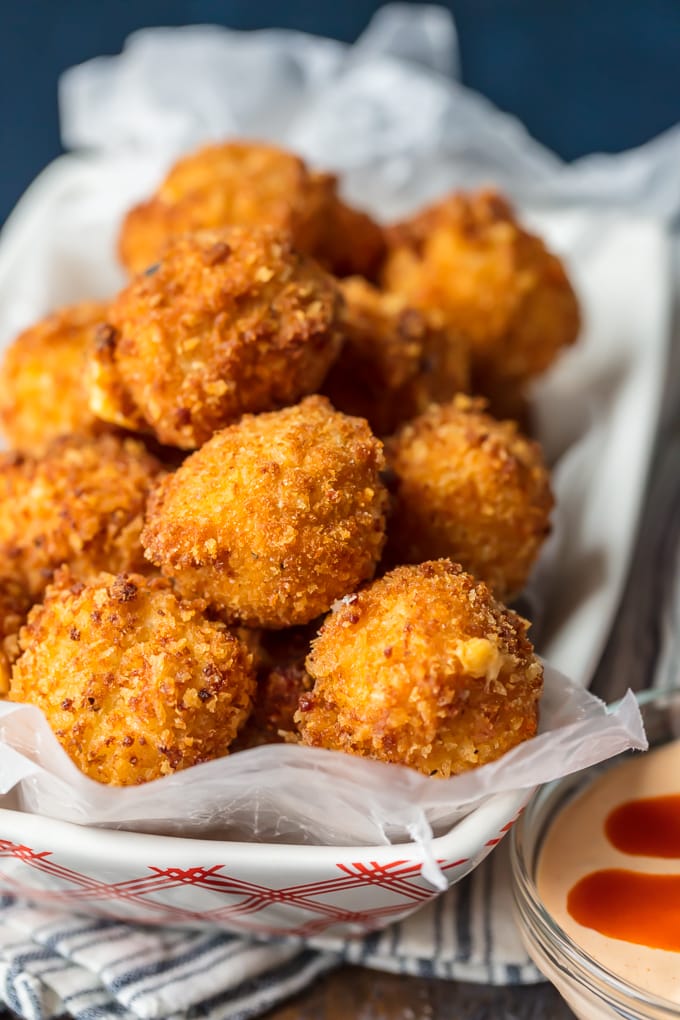 Spicy Fried Buffalo Chicken Dip
Buffalo Chicken Dip Bites were inspired by Mozzarella Sticks. I saw Buffalo Chicken Mozzarella Sticks on a FB Tasty video and knew I had to try my hand. I just had to. Mom and I got together and tested out the recipe and these delicious bites were born. We found the sticks to be too big and even after frying still had a frozen center. AMAZING idea but it didn't quite translate into perfection.
Making these Buffalo Chicken Bites smaller and adding a double batter made them one of the most epic tailgating recipes we have made to date! Crispy outside, molten cheesy inside, buffalo chicken dip and mozzarella stick IN ONE! Obsessed.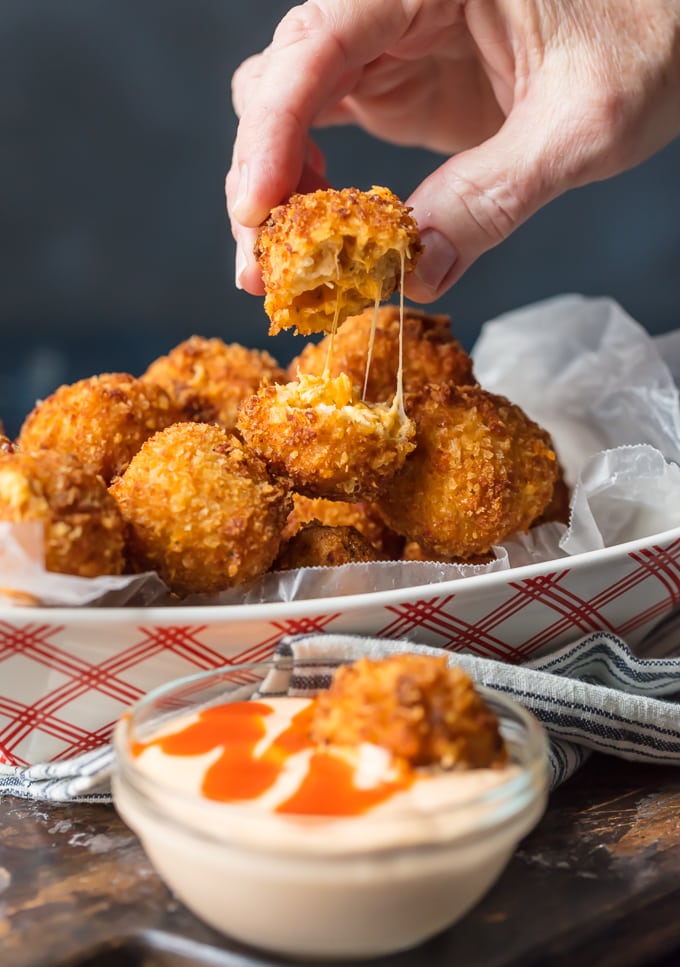 How do you make shredded chicken?
I used cooked rotisserie chicken for this recipe, but if you'd prefer to cook and shred your own chicken, it's easy!
Place your chicken in a skillet or sauce pan and cover with about an inch of water.
Bring to a boil and then reduce to simmer for 10-12 minutes.
When the internal temperature reaches 165°F it's done!
Remove from water and heat and use two forks to shred.
Then you're half way there on this recipe!
Can you freeze these?
YES! These would freeze beautifully! Just make sure you seal them very tightly in a container before freezing.
Dipping Sauces for your Buffalo Chicken Bites
Sure, these are filled with dip, but that doesn't mean you don't need some sauce to dip them in! Here are some favorites: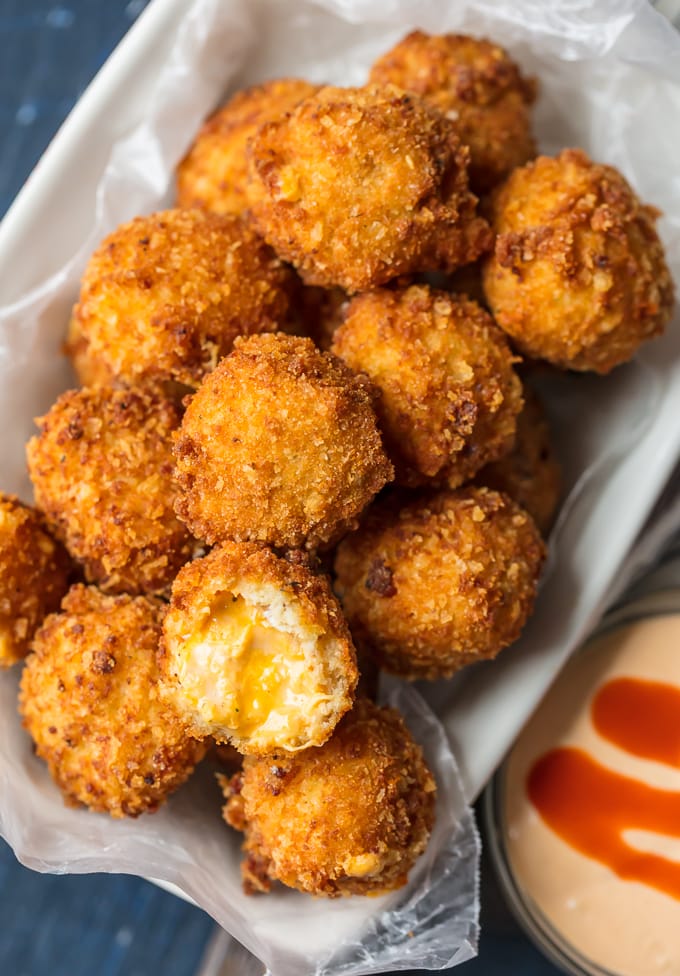 Each and every good tailgate party needs these Fried Buffalo Chicken Dip Bites. They're just the right size, perfect when dipped in creamy ranch, and right up my alley. Which I hope means you will love them as much as I do. We tested and tried them until we think we got them just right, and I hope you agree!
How to Make Homemade Buffalo Sauce
This recipe calls for buffalo sauce and you better believe we've got you covered! You can always buy some at the store if you prefer, but you can also make your own! Here is my Homemade Buffalo Sauce Recipe. It's easy to make, and you can make big batch and store it ahead of time to prepare for these (plus it makes a great dip if you want to be extra).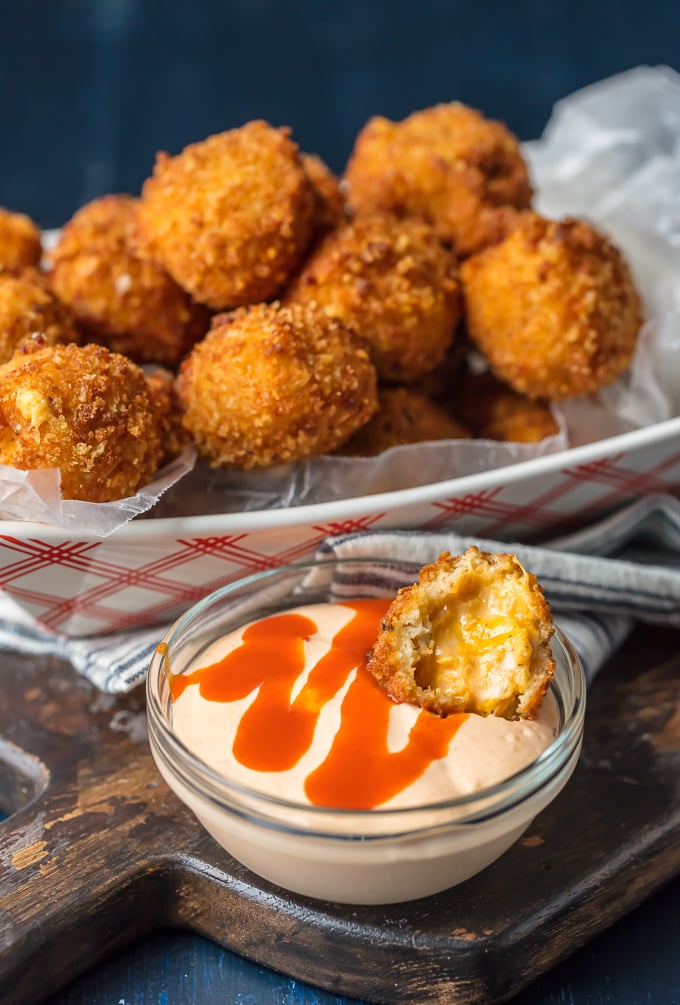 What are you waiting for? These Fried Buffalo Chicken Dip Bites are calling your name, I just know it! Get to deep frying!
See the recipe card below for full details on How to Make Buffalo Chicken Dip Bites. Enjoy!
More delicious appetizers to try: