If you're a fan of the simple and sweet flavor of sugar cookies, you're going to love these frosted Sugar Cookie Bars! They have a deliciously tender texture, the perfect level of sweetness, and the simple icing on top is the best finish. These are so fun to make for holidays and parties!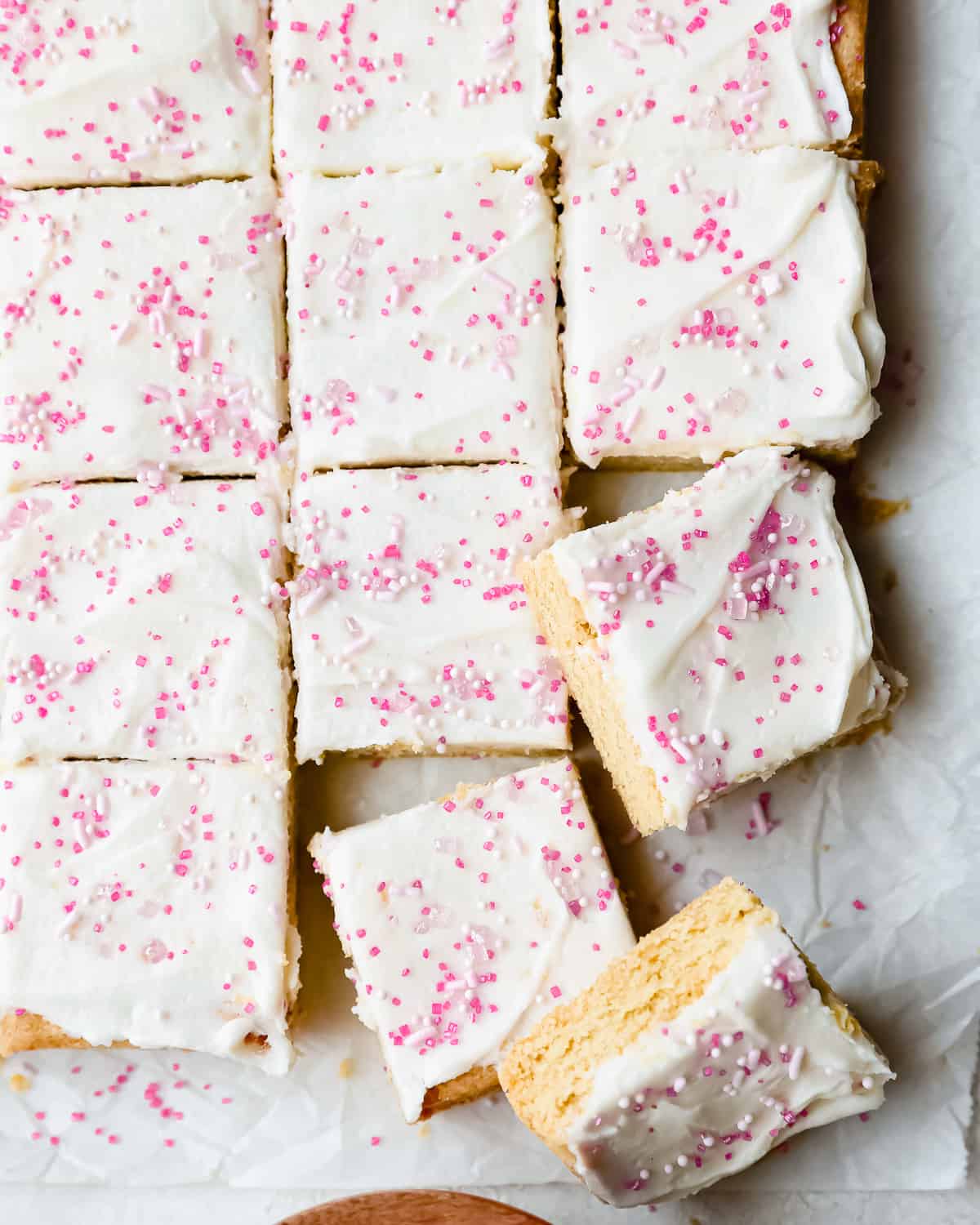 What's in this Sugar Cookie Bars Recipe?
Sweet, chewy sugar cookies are baked into bar form and frosted with the yummiest vanilla frosting you've ever tasted!
Unsalted Butter: Adds moisture, richness, and flavor to the bars and forms the base of the frosting.
Sugar: A combination of granulated and brown sugar gives the bars a rich sweetness, while powdered sugar sweetens the frosting without making it gritty.
Vanilla Extract: Enhances the sweetness of the bars and the frosting.
Almond Extract: Adds a slightly nutty flavor to the bars.
Eggs: Add richness and structure to the bars.
Baking Soda: Helps the bars rise in the oven.
Kosher Salt: Enhances the natural flavor of the cookie bars.
Milk: Helps thin the frosting to a spreadable consistency.
Pro Tip: Top your sugar cookie bars with colorful sprinkles for different holidays and parties!
Variations on Frosted Sugar Cookie Bars
These cookie bars are so easy to make festive for any event! You can simply use colorful sprinkles, or mix food coloring into the frosting to make it any color you like. Try adding some ground cinnamon or nutmeg to the dough for a warm, spicy flavor, or fold in some chopped nuts!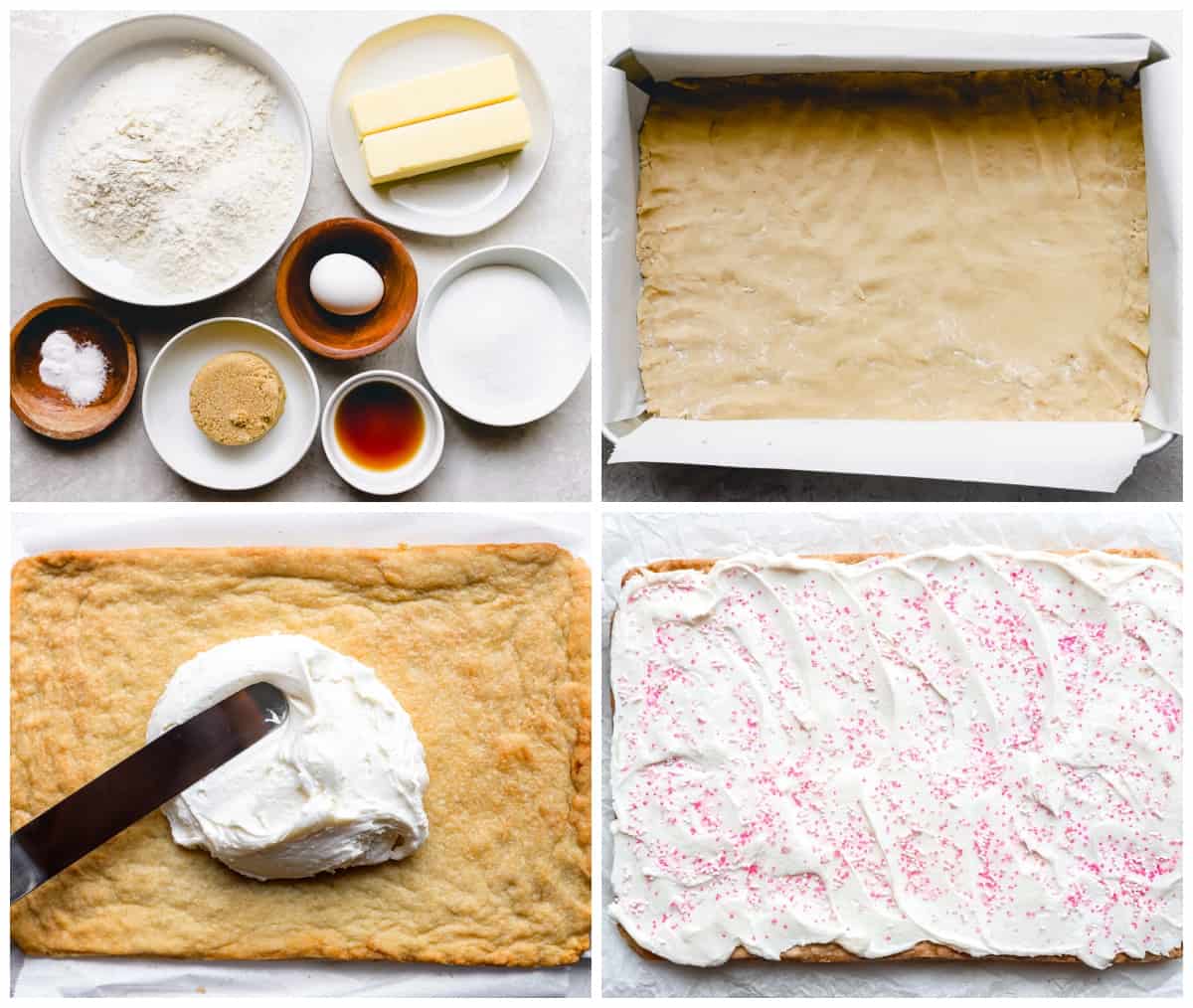 Should sugar cookie bars be crunchy or soft?
These sugar cookie bars should be soft and tender, not crunchy!
Why are my sugar cookie bars gummy?
If your bars are gummy in the middle, it means they are underbaked. If you haven't cooled and frosted them yet, put them back into the oven for a few more minutes to finish baking.
How can I keep my sugar cookie bars soft?
To keep these cookie bars soft, tightly cover them with plastic wrap or place them in an airtight container and enjoy them within 2 days. After 2 days, you'll need to refrigerate them, which can make them a bit more firm or dry.
What makes sugar cookie bars too hard?
If you overbaked these cookie bars, they may turn out hard and crispy. They can also turn out tough if the ingredients were overmixed, so take care not to overwork the dough.
Do cookie bars need to be refrigerated?
These bars can be left out at room temperature for up to 2 days.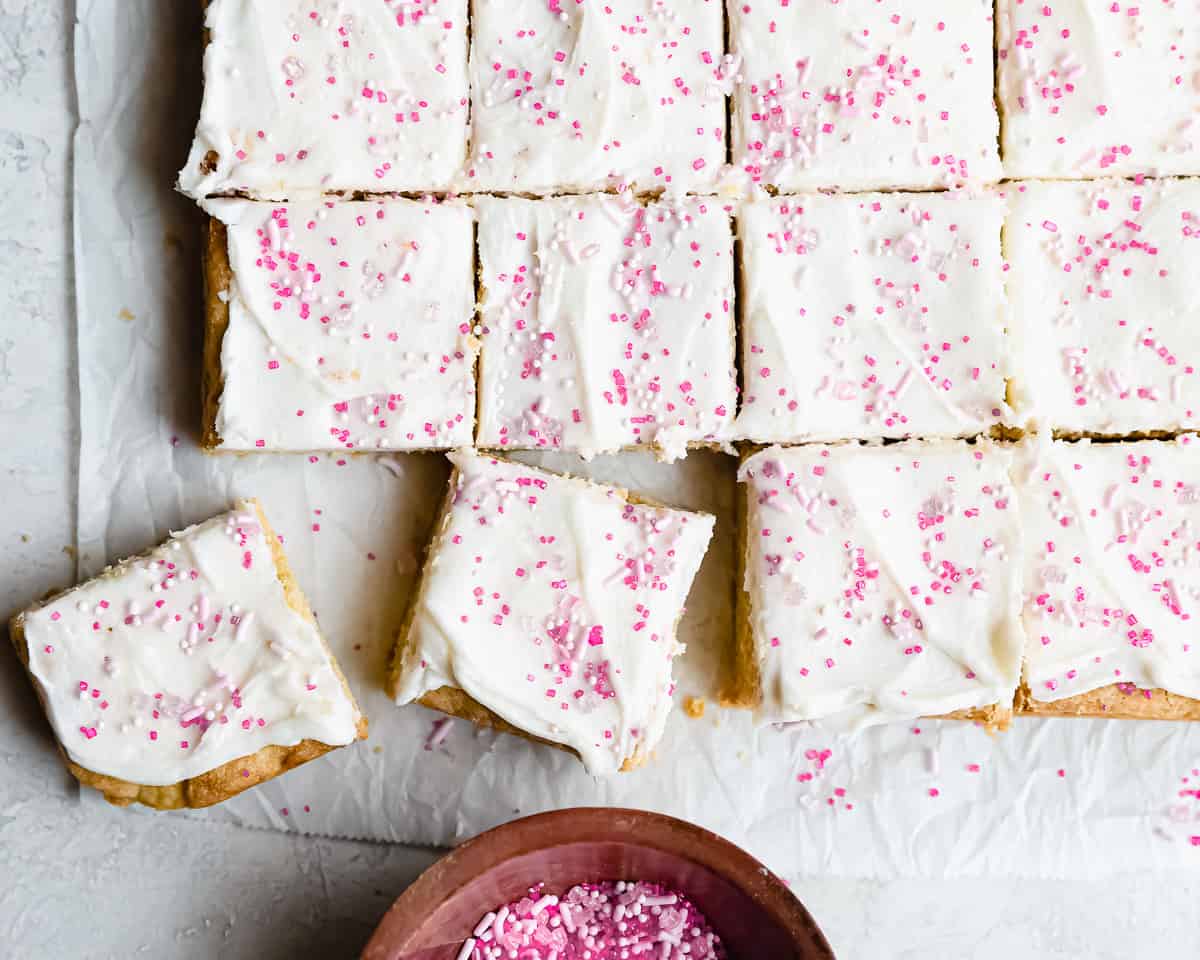 How to Store
Store frosted sugar cookie bars in an airtight container at room temperature for up to 2 days or in the refrigerator for up to 4 days. Enjoy at room temperature.
How to Freeze
Freeze sugar cookie bars in a single layer on a lined baking sheet until solid, about 1-2 hours. Transfer to an airtight container or Ziplock bag with wax or parchment paper between the bars to protect the frosting for up to 1 month. Let thaw overnight in the refrigerator before enjoying.
Serving Suggestions
Serve these sweet cookie bars topped with the included frosting recipe, or try chocolate buttercream frosting for a different take. Enjoy them with scoops of red velvet ice cream and a French vanilla iced coffee!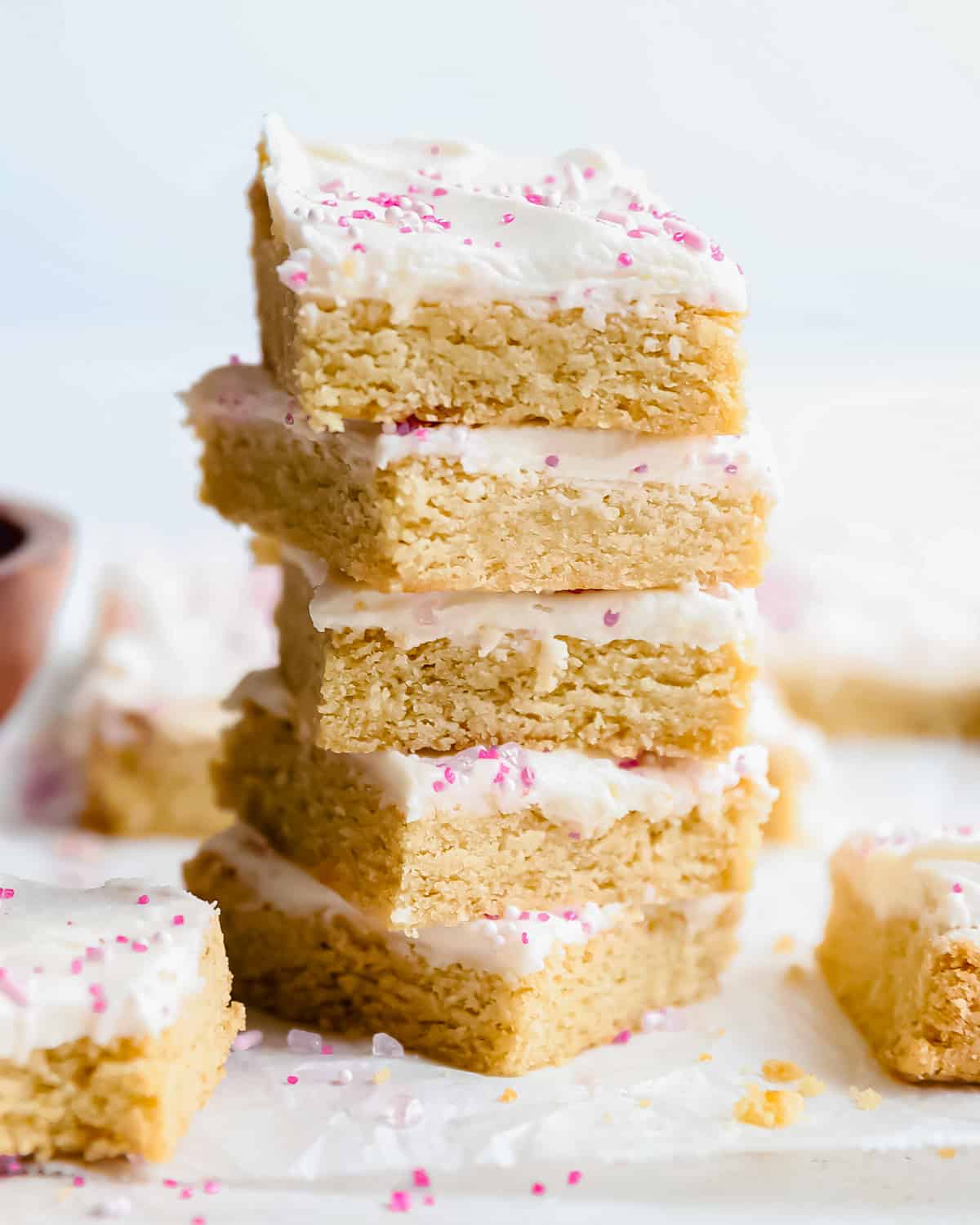 More Sugar Cookie Recipes We Love