Lofthouse Cookies are those iconic and irresistible grocery store cookies that often tempt me right before I hit the checkout line. Homemade Lofthouse sugar cookies are easier to make than you might think and always worth the extra time and effort. With their dense but super soft texture, pretty pink buttercream frosting, and festive sprinkles, they are always a winner in my house.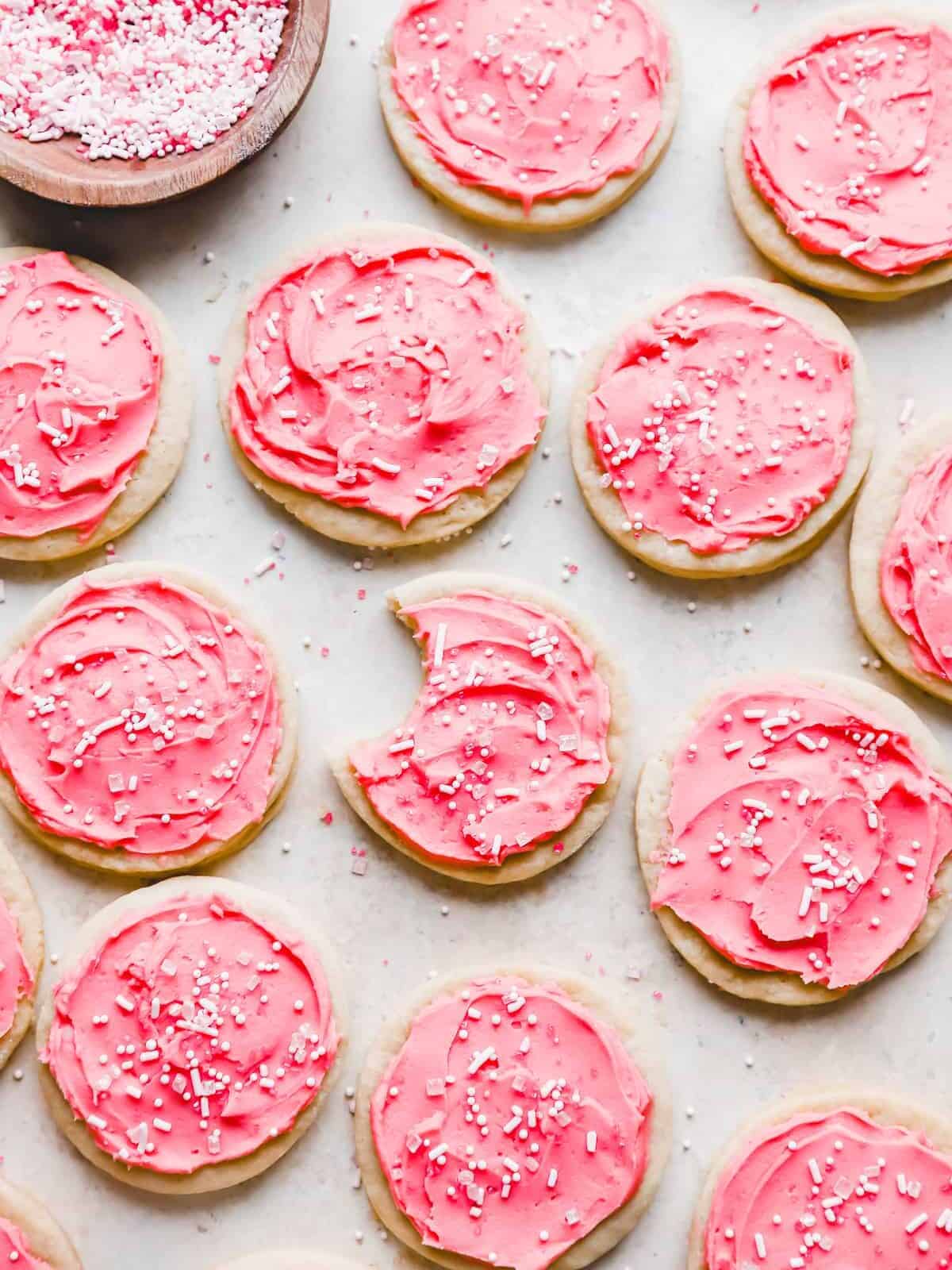 What's in Frosted Sugar Cookies?
Frosted Lofthouse sugar cookies are the prettiest, loveliest cookies to make with simple, familiar ingredients you likely already have in your pantry and fridge.
Flour: Use all-purpose flour for this recipe for the best results.
Baking Powder: Baking powder is an easy-to-find staple in most pantries. I prefer buying aluminum free.
Baking Soda: The addition of baking soda helps the cookie dough rise even more and helps balance out the acidity of the sour cream.
Cornstarch: Cornstarch is a gluten-free binder and thickening agent that also helps prevent the cookies from crumbling.
Salt: Don't skip the salt as it enhances the flavor of the entire recipe.
Butter: Use unsalted butter for this recipe (do not substitute margarine).
Sugar: Sugar adds sweetness as well as structure to the cookie dough.
Eggs: Eggs are nature's perfect baking ingredient that add volume (and protein) to the cookie batter – I like to use farm fresh or cage-free eggs whenever possible.
Sour Cream: Regular sour cream make the cookies moister and richer.
Vanilla Extract: A little vanilla extract from the aromatic vanilla bean adds the perfect flavor to this otherwise perfect cookie.
Almond Extract: Almond extract usually sits next to the vanilla extract in the spice section of the supermarket, or you can find some excellent options online.
Milk: I like to use low-fat, grass-fed milk in my recipes, but any milk will work.
Pro Tip: If you are out of milk, you can also use unsweetened almond milk as an alternative.
Holiday Lofthouse Sugar Cookies
These soft-baked sugar cookies are easy to style for any holiday.
For Valentine's Day, make them as pictured with pink frosting and pink and white sprinkles. For Mardi Gras, try purple frosting with yellow and green sprinkles. For Saint Patrick's Day, use green frosting and clover-shaped sprinkles. For Easter, opt for a mix of soft pastels. For Fourth of July, leave the frosting white and add red and blue sprinkles. For Halloween, use orange frosting and purple and black sprinkles. And for Christmas, leave the frosting white and add red and green sprinkles!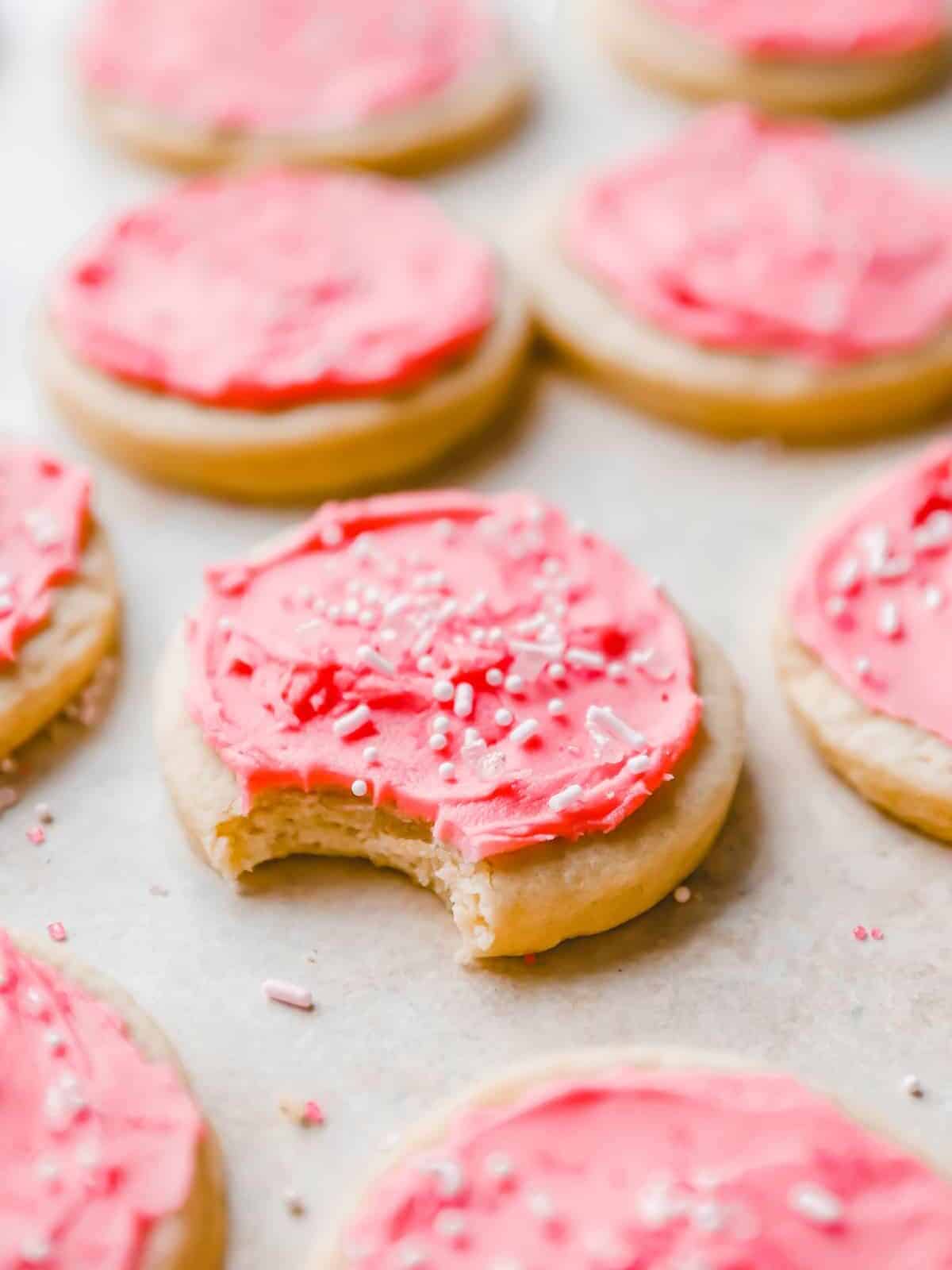 Trademark Note: In the spirit of transparency, I want to note that this is a copycat recipe for an existing product. Lofthouse is a proprietary brand that I want to acknowledge and give credit to.
Why are Lofthouse cookies so good?
Lofthouse cookies are made with both baking soda and baking powder to give them a fluffier, less crumbly texture that's never chewy. They also include cornstarch to keep them tender and sour cream for moisture.
What does cornstarch do in cookies?
Cornstarch helps to make the cookies soft and tender. It also helps the cookies to spread less by thickening up the dough!
Do I have to chill cookies before baking them?
Yes! Chilling the cookie dough before baking helps prevent the dough from spreading in the oven.
How long do frosted sugar cookies last?
These cookies will keep in an airtight container at room temperature for up to 2 days or in the refrigerator for up to 5 days
Can you freeze frosted sugar cookies?
Absolutely! I recommend freezing them in a single layer on a lined baking sheet until they are frozen solid. This way, the frosting will not smear. Then, carefully transfer them to an airtight container or Ziplock bag with parchment between the cookies to store.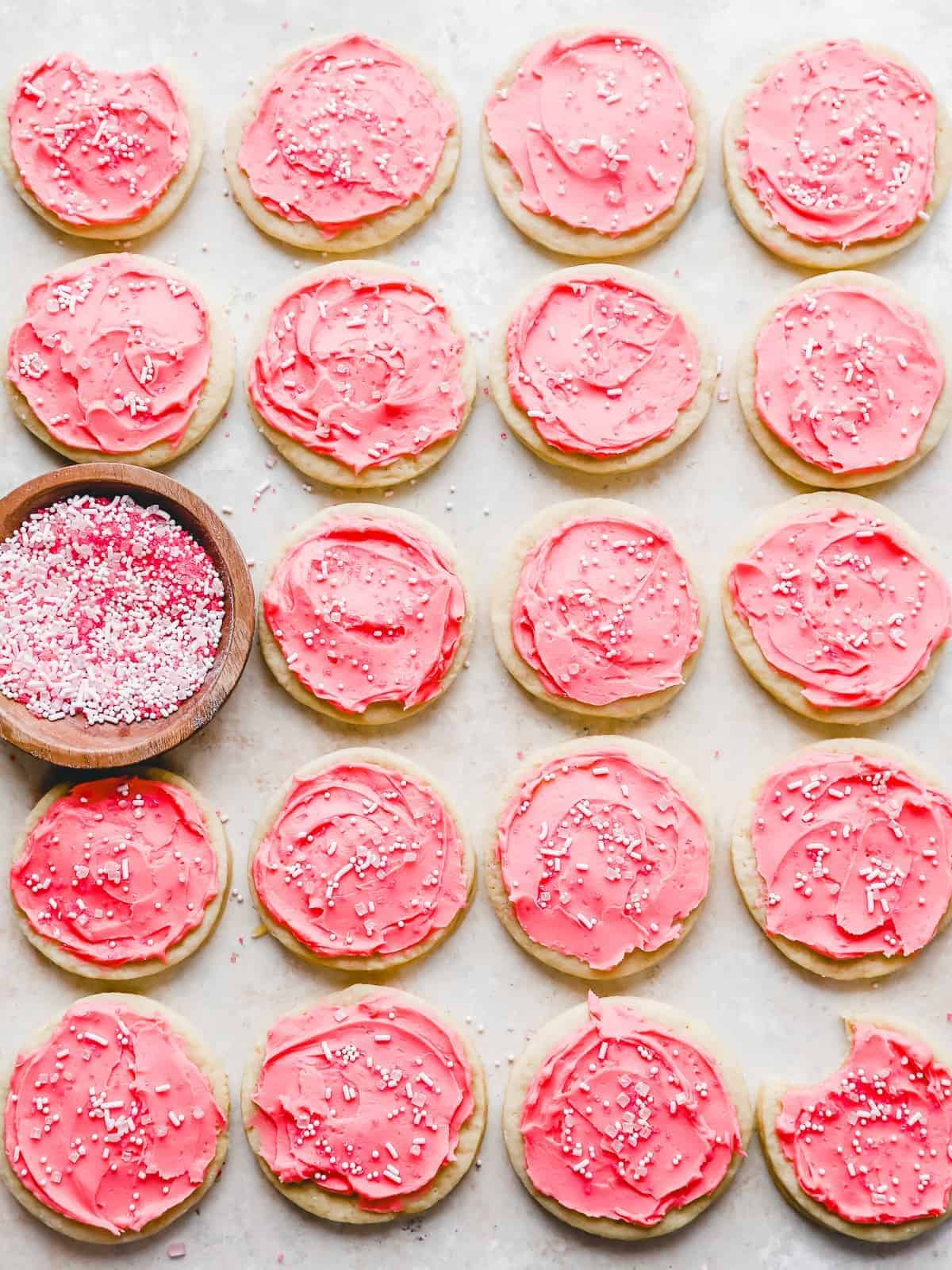 How to Store Soft Frosted Sugar Cookies
Store leftover Lofthouse cookies in a single layer in an airtight container at room temperature for up to 2 days or in the refrigerator for up to 5 days. Serve cold or at room temperature.
How to Freeze Pink Frosted Sugar Cookies
Freeze Lofthouse cookies in a single layer on a lined baking sheet until solid, about 1-2 hours. Transfer to an airtight container or Ziplock bag with parchment between the layers to store for up to 1 month. Let thaw at room temperature for at least 30 minutes before enjoying.
What to Serve with Lofthouse Sugar Cookies
The only thing you need to enjoy with Lofthouse Cookies is perhaps a cold and tall glass of milk!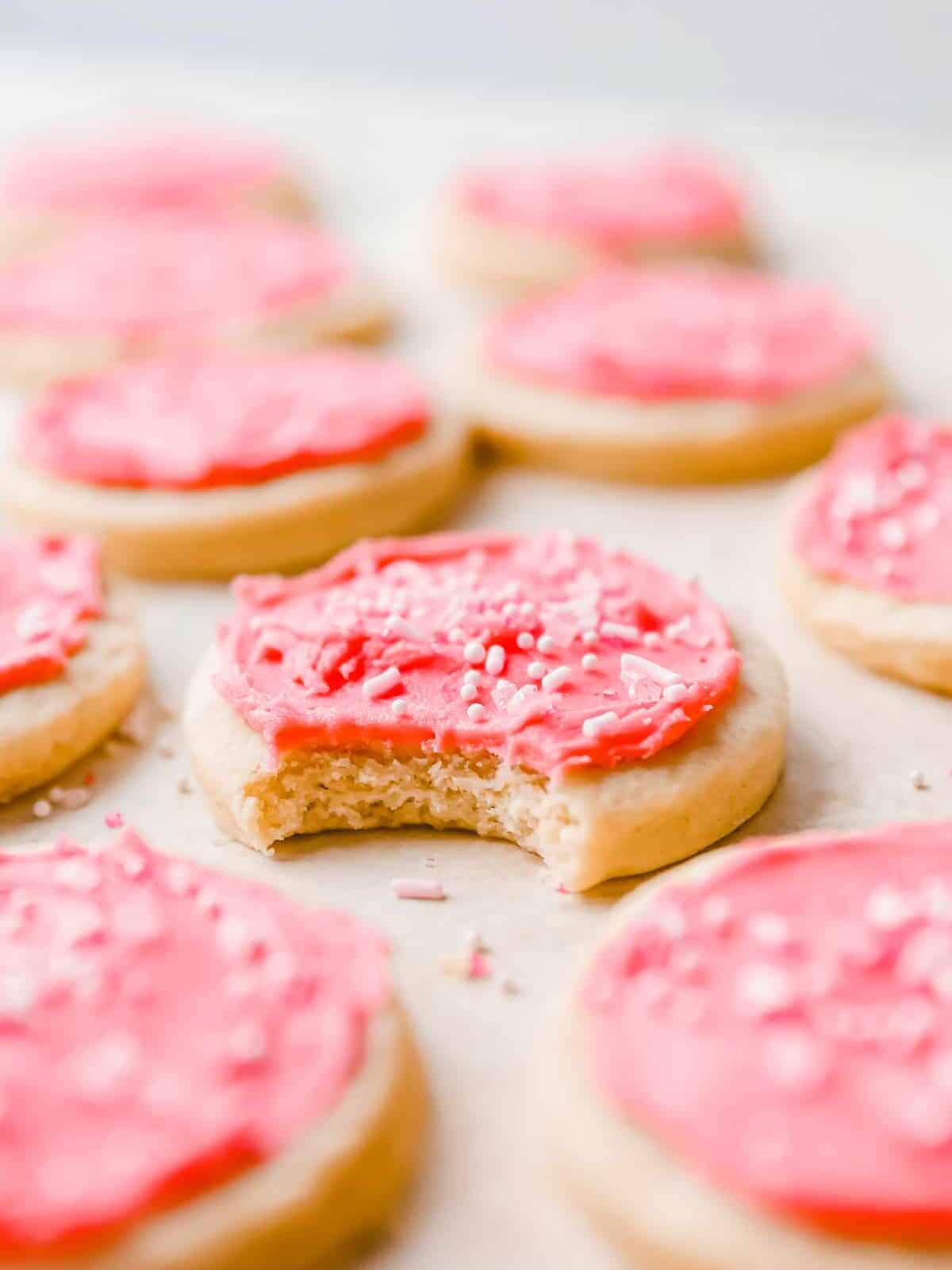 More Sugar Cookie Recipes We Love