This LEMON BUTTER SALMON IN PARCHMENT is our favorite way to cook a healthy and delicious seafood meal at home! Asparagus and onion topped with succulent salmon, lemons, and thyme, and drizzled in lemon butter. SO EASY and amazingly good!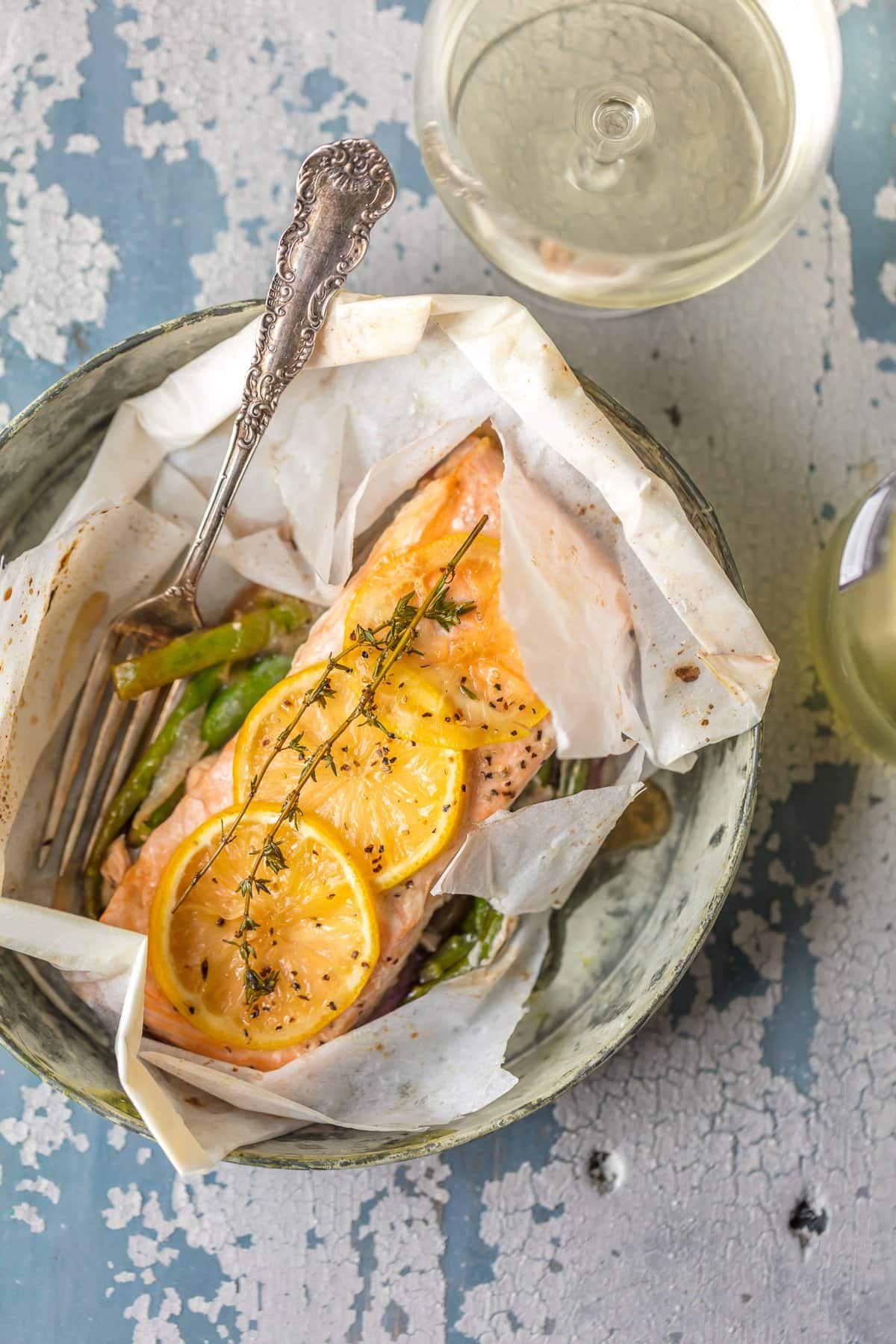 It's been a while since I've been this excited about a dinner recipe. Usually its the cheesy dips and gameday apps that are my favorites, but this LEMON BUTTER SALMON IN PARCHMENT is so incredibly easy, delicious, PRETTY, and healthy that it has instantly climbed the ranks as one of my favorite recipes on the blog. The simple flavors and prep make it such a great dinner option for any dinner party, quiet night at home, or any meal in between.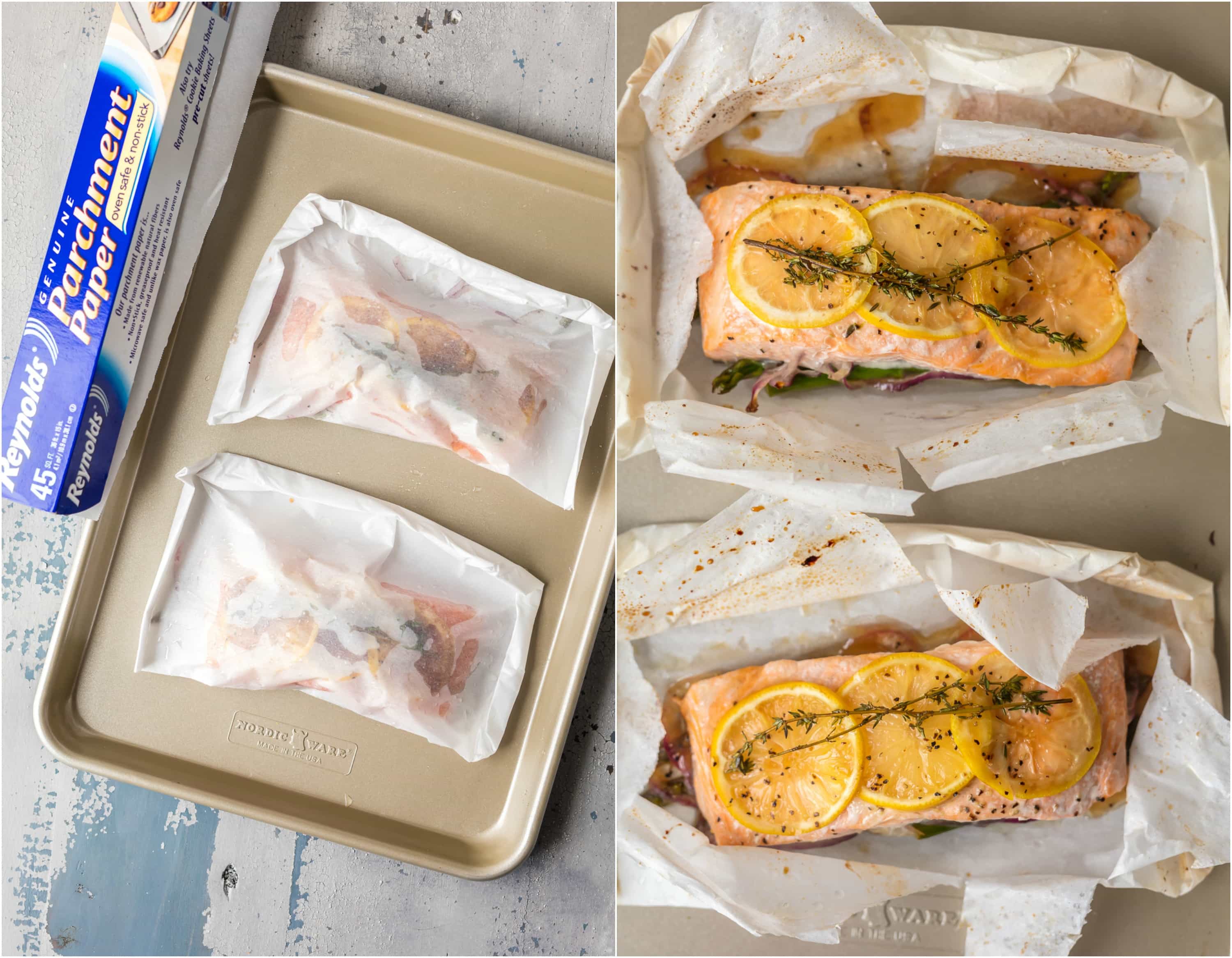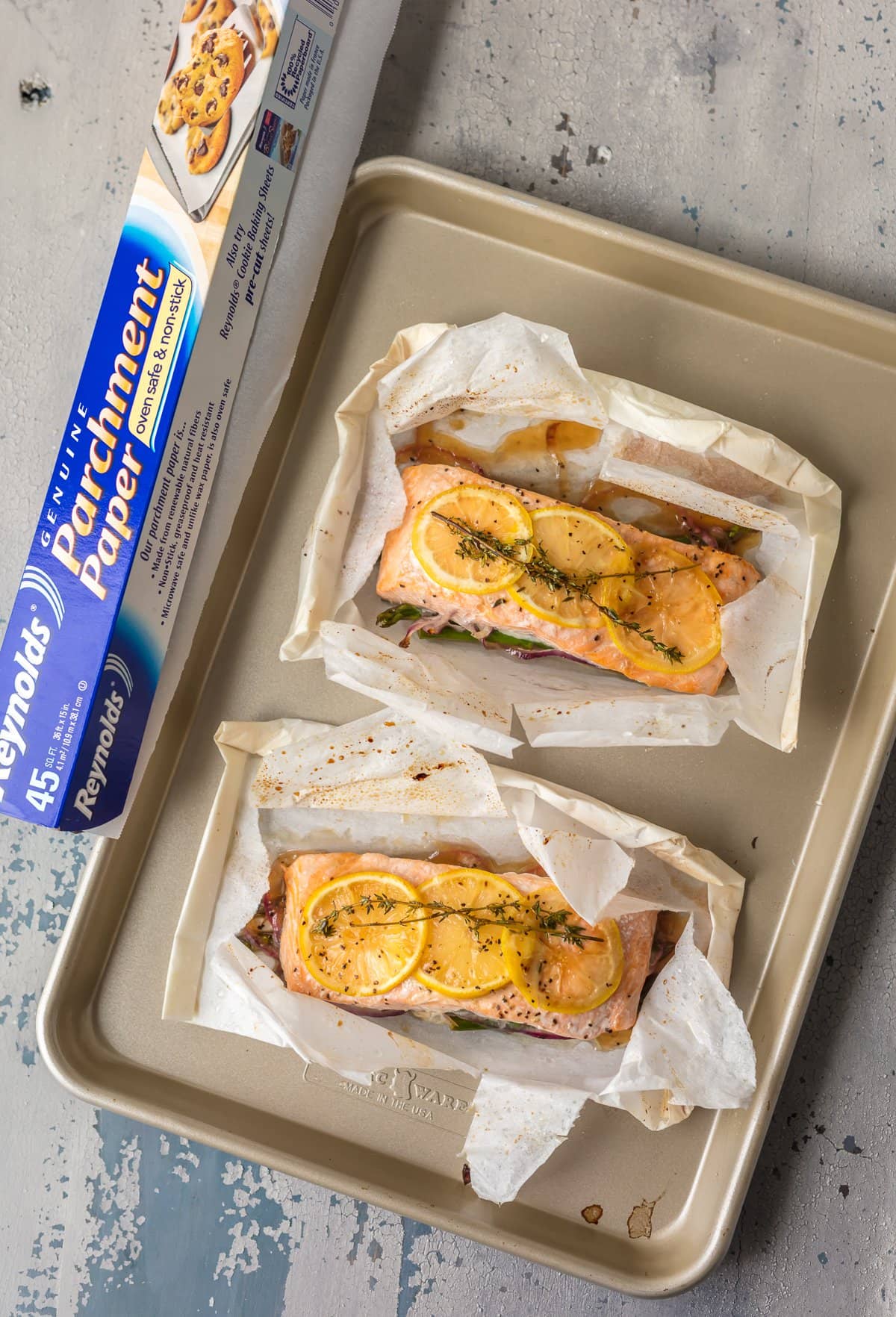 I'm THRILLED to be an 2017 Reynolds Ambassador. Is there any better company on the planet! They're products are my very favorite when baking (remember these Loaded Salted Caramel Soft Batch Cookies?!) I have used Reynolds® Parchment Paper before so many times. It's the perfect tool for mess-free cooking. You can roll out dough on it, use it for decorating a homemade gift, ice cookies on it for simple clean up, and even wrap seafood and veggies in it for easy cooking! Saves your counters and your time! You can transfer the meal directly from the baking sheet to the counter, and vice versa, with no mess. No non-stick spray required…it's already non-stick and grease-proof on its own! Win, win. This Lemon Butter Salmon in Parchment would be a sticky mess without Reynolds. As it was, it was the simplest clean up we have had in a long time. I'm hooked.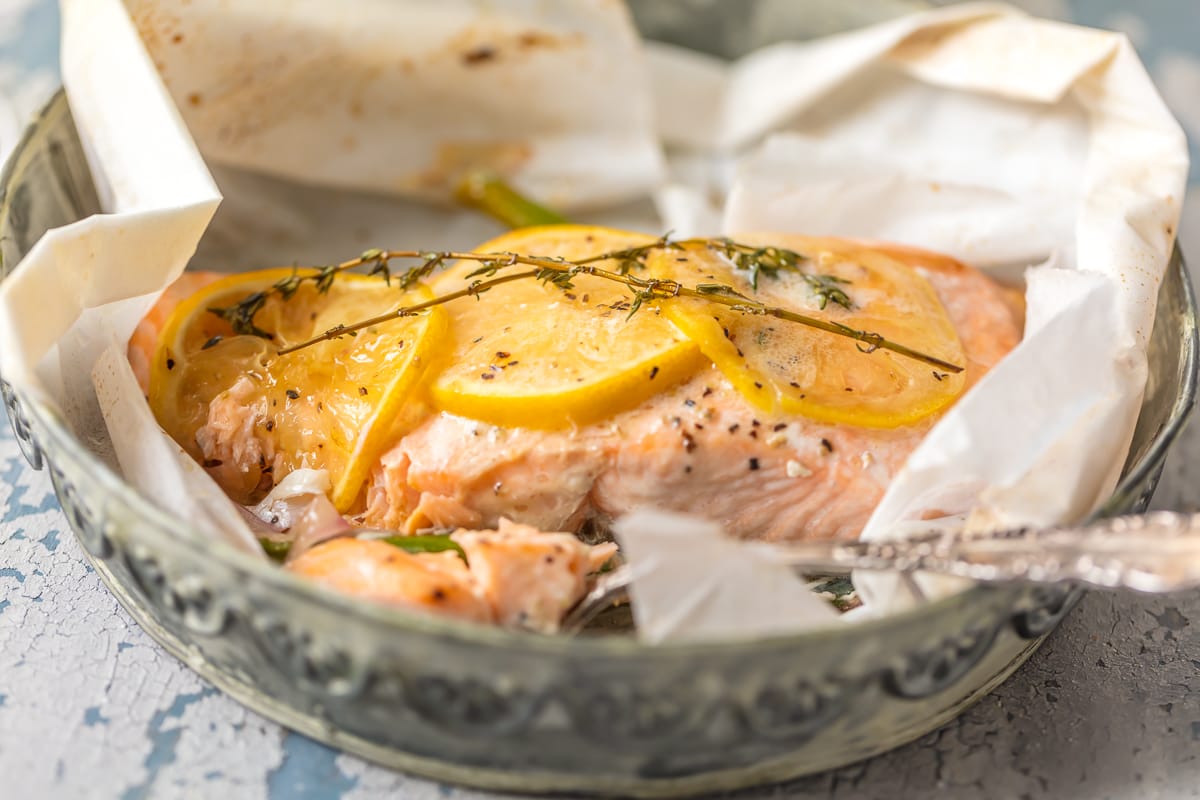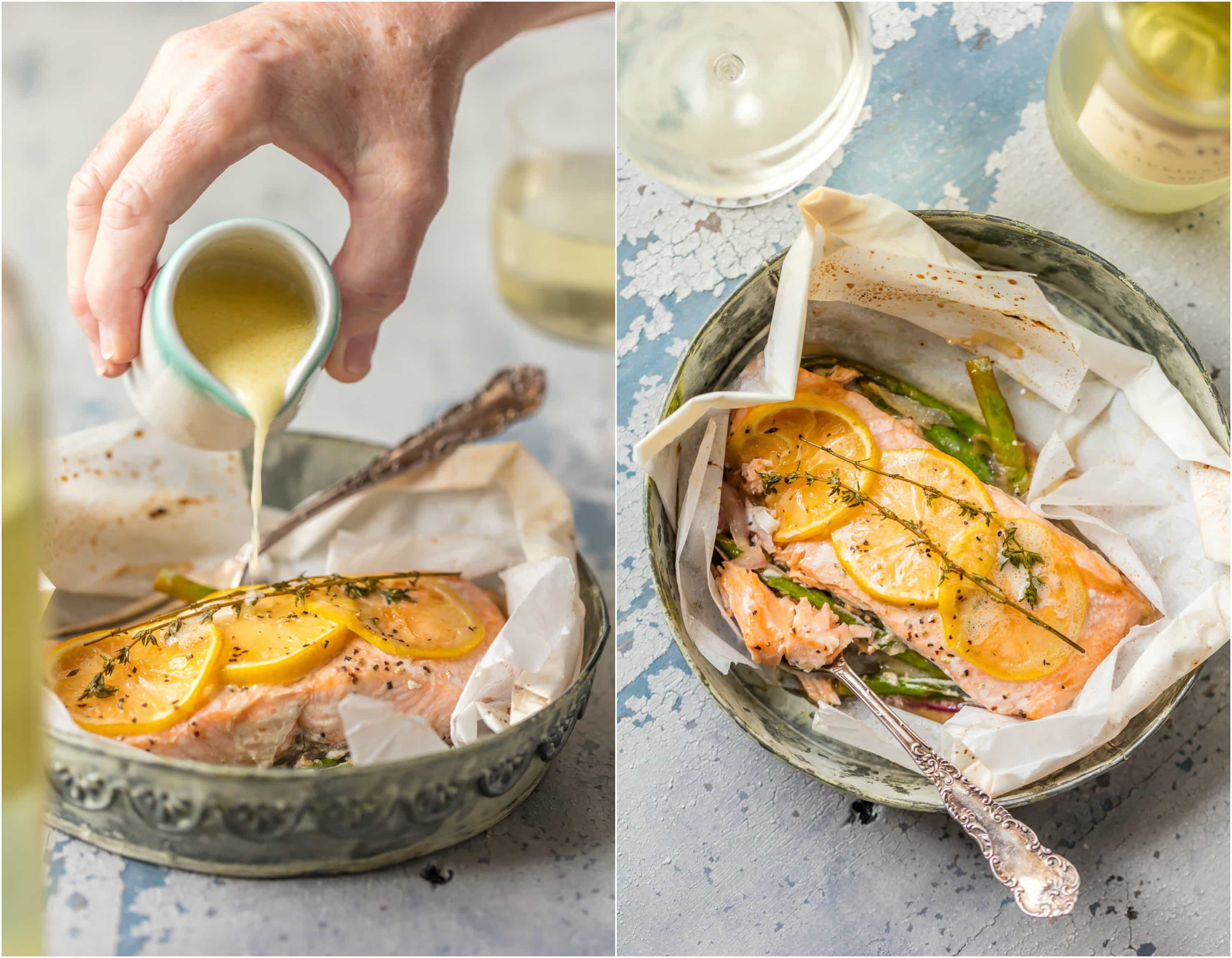 Pat is always asking me to do more seafood, and he was SO excited about this recipe. I made it just in time for Valentine's Day and won tons of wife points. He doesn't need to know just how easy it was. Its a matter of throwing everything in the parchment, sealing, and baking for 15 minutes. The steam does the rest. It's truly that easy to make a 5 star meal in your own kitchen!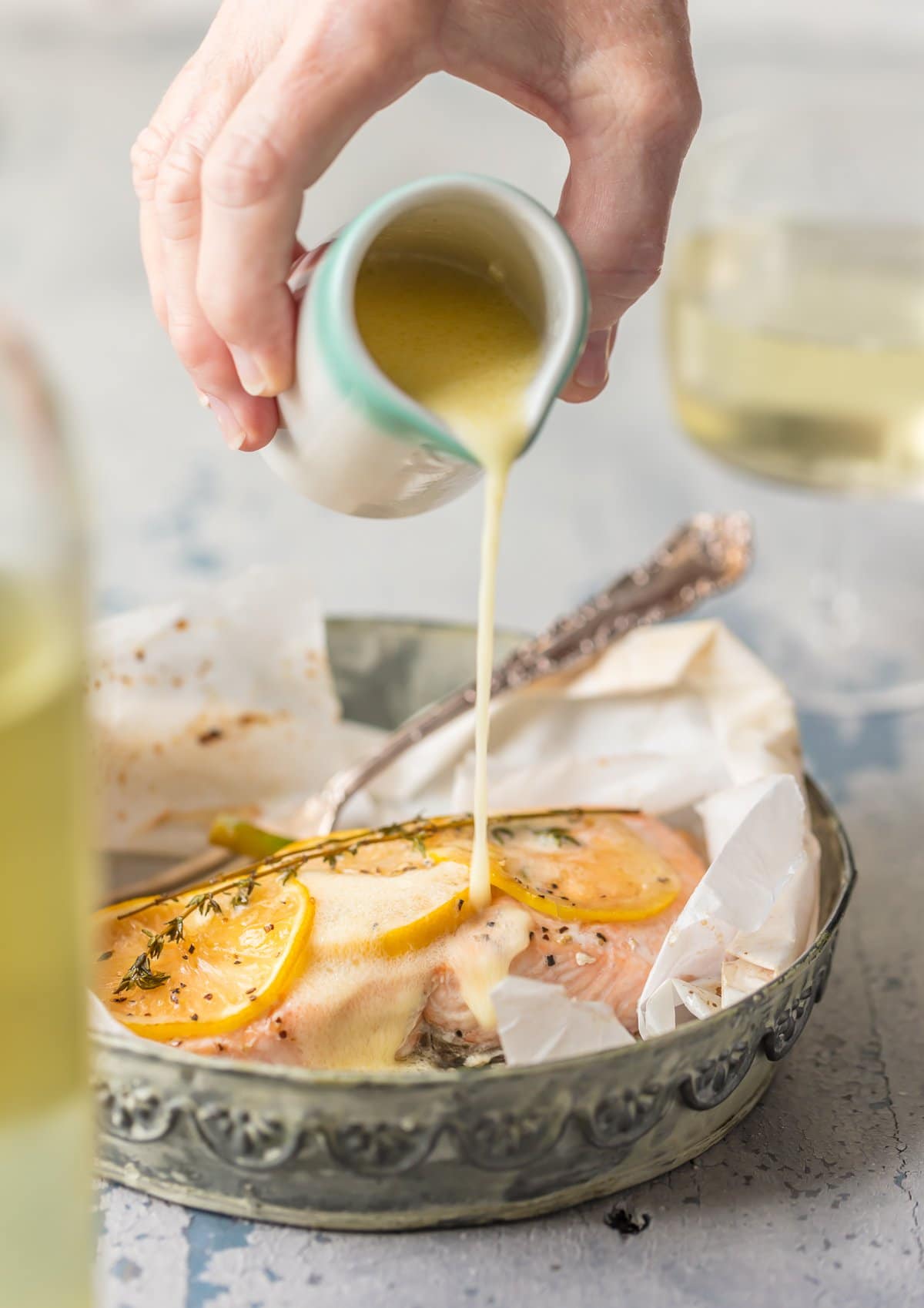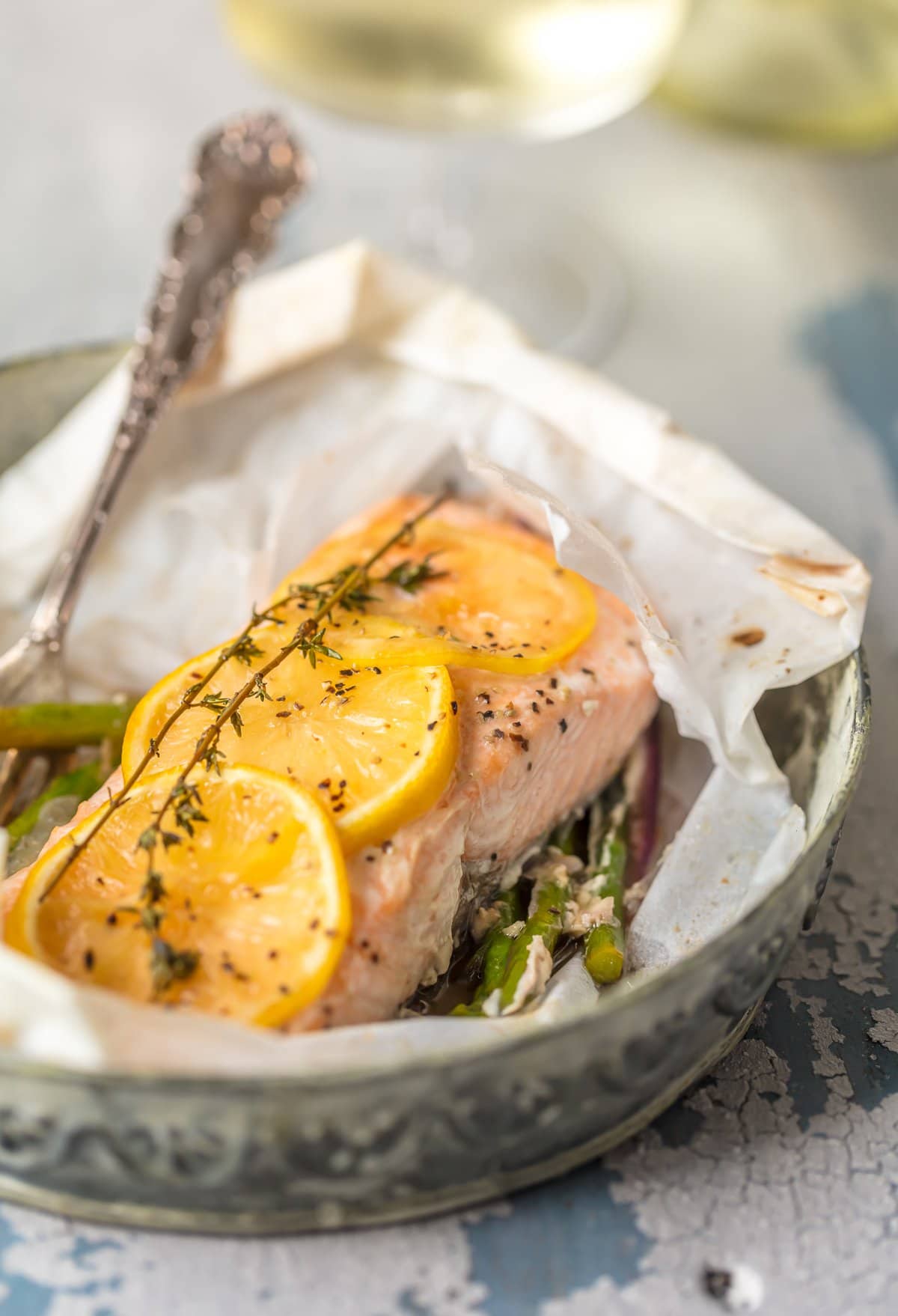 I hope you love this Lemon Butter Salmon in Parchment as much as we did. The bright flavors, simple prep, and ZERO cleanup make it an absolute dream. Thank you Reynolds for making this meal so so so darn easy!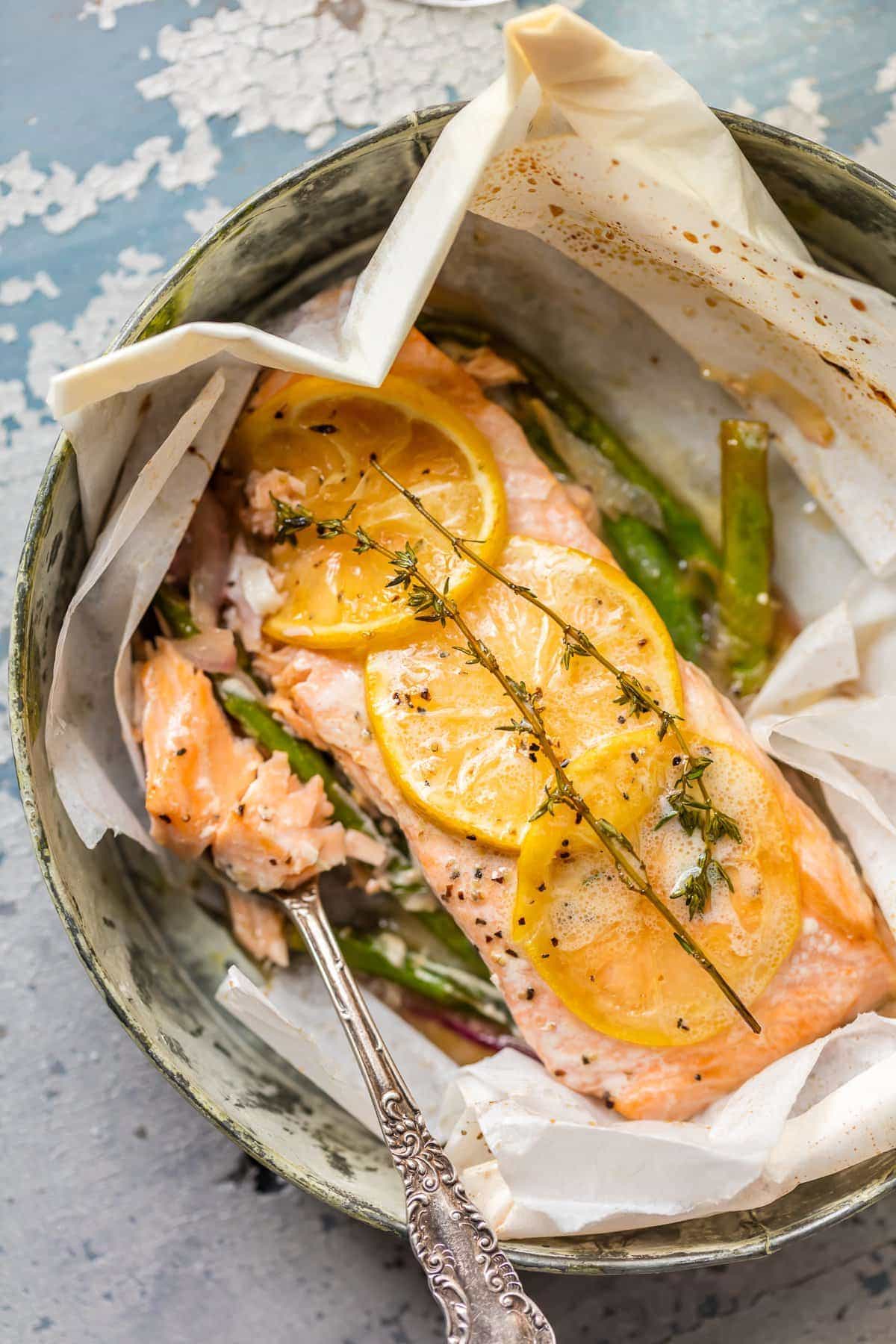 Lemon Butter Salmon in Parchment
15 minPrep Time
15 minCook Time
30 minTotal Time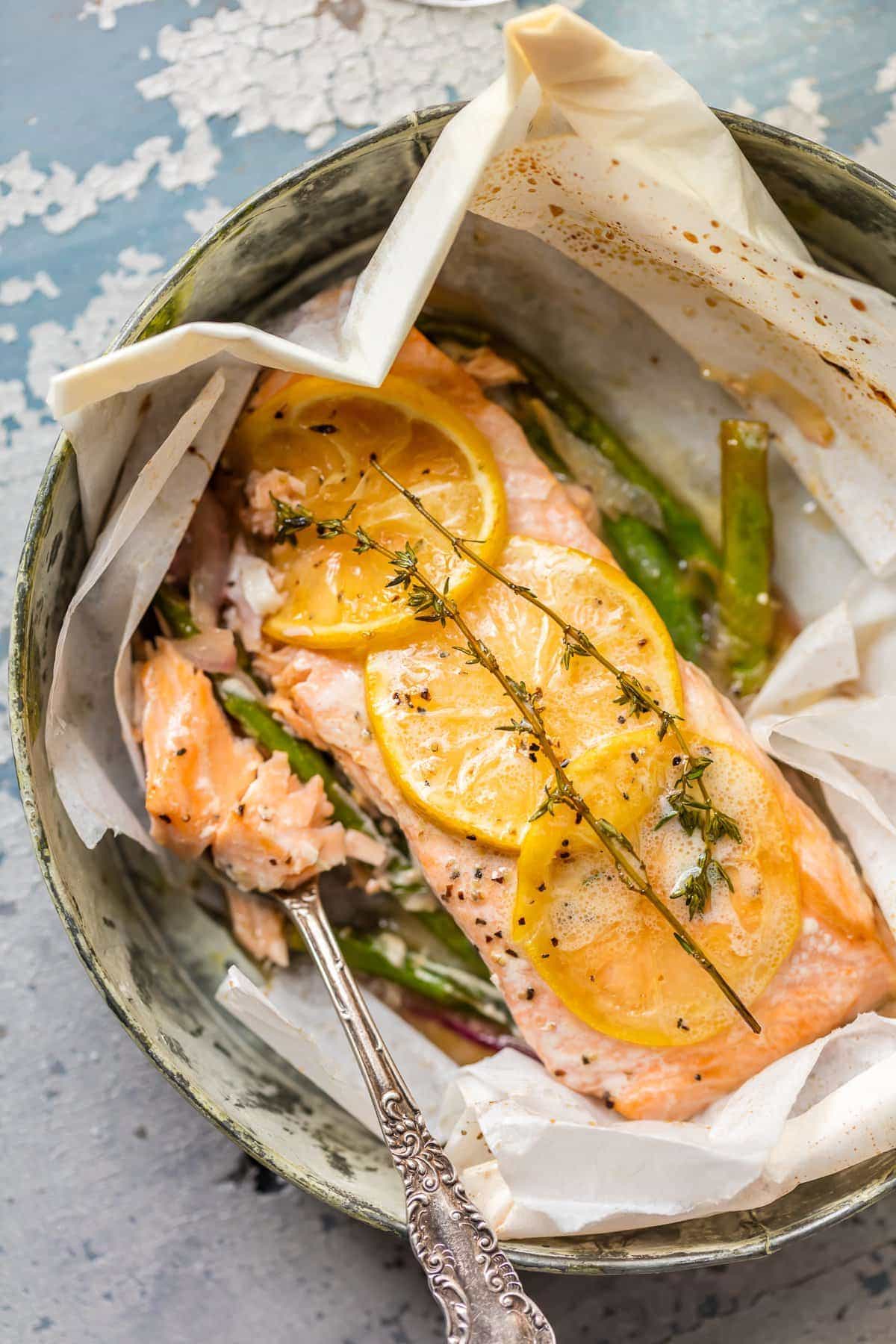 5 based on 2 review(s)
Ingredients
For the salmon:

6 stalks asparagus, trimmed
4-6 slices red onion, thinly sliced
2 (6 oz.) salmon fillets
4 teaspoons olive oil
6 lemon slices, very thinly cut
kosher salt
freshly ground black pepper
4 sprigs fresh thyme
2 teaspoons white wine, use a good drinking wine, NOT cooking wine
kosher salt
4 teaspoons dark brown sugar

For the Lemon Butter Sauce:

½ cup white wine; chardonnay or semi-dry
1 shallot or 1 tablespoon sweet yellow onion, minced
1 cup butter, unsalted, cut into 12 pieces
¼ cup heavy cream
1 lemon, juice & zest
Instructions
For the Lemon Butter Sauce:

In a small saucepan, combine the wine and the minced onion. Bring to a boil and reduce the temperature to medium heat until liquid reduces to 2 tablespoons.
Reduce heat to low and whisk in the butter, two pieces at a time, until butter is fully incorporated.
Whisk in cream, lemon juice and zest.
If serving immediately, keep warm in a bowl set over hot water. If serving at a later date (within 3 days), pour the butter in a covered dish and keep in the fridge. When ready to use, warm gently, in the microwave, and whisk before serving.

For the Salmon:

Preheat oven to 375 degrees F.
Fold 2 (16 by-12-inch) parchment paper rectangles in half lengthwise.
Place 3 stalks of asparagus then 2 onion slices, in the middle, and near the fold of each parchment paper.
Drizzle vegetables lightly with olive oil and sprinkle with salt and pepper.
Place salmon fillets on the vegetables and drizzle with olive oil. Season the salmon with salt and pepper.
Lay lemon slices and fresh thyme on the salmon.
Drizzle each salmon with 1 teaspoon white wine.
Sprinkle each salmon with 2-teaspoons brown sugar.
Fold the parchment paper over the salmon and vegetables, at the fold. Starting at one corner, crimp the edges to seal the parchment packet. Be sure to fold and seal the edges tightly so no steam escapes.
Brush the tops of the salmon packets with olive oil.
Set the salmon packets on a baking sheet lined with foil.
Bake at 375 degrees F, on the center rack, in the oven for 15-16 minutes, depending on personal preference.
DO NOT OPEN.
Remove salmon from the oven and, carefully, cut open the top of the packet and serve the salmon in the paper. If desired, remove the skin before serving.
Warm the lemon butter and drizzle it over the salmon.
Serve immediately.
Enjoy!
7.6.7
2383
https://www.thecookierookie.com/lemon-butter-salmon-parchment/
I'm THRILLED to be an 2017 Reynolds Ambassador. Thank you so much for supporting the brands that help support The Cookie Rookie!